The Daily Stirrer is constantly looking at the news and trying to dig out the stiory behind the story. With latest news that does not make mainstream media and controversial reporting and opinion, we are loking forward to bringing you inside information on the disintegration of the European Union, the replacement of the Petrodollar as global reserve currency, the continuing decay of the USA (unless Trump can neutralise the authoritarian warmongers of the deep state, and we don't think he can) and the ongoing problems caused by the flood of illegal immigrants from the third world to Europe and North America. We certainly do live in Interesting Times.
Daily Stirrer, January 2018
Editor's note: The Daily Stirrer believs in the universal right of free speech, this does not mean we necessarily agree with the views expressed by our contributors.
30 January, 2019
---
29 January, 2019
28 January, 2019
---
Nobody involved with The Daily Stirrer has seen or heard any Brexiteers hysterical predictions of a thirty years recession, but Remainers are not known for their honesty or level headedness. However Hill was not done with the anti - Brexit hyperbole.
The government cannot simply cut and paste the 120,000 EU statutes into UK law and then make changes to them gradually, she said. "The UK will need to set up new enforcement bodies and transfer new powers to regulators to create our own domestic regimes," she said.
She's talking through her posterior orifice again. Those laws are alread in British law and can be undone gradually. That has already been clarified by constitutional lawyers.
Effects Felt for 30 Years
Hill made five references to Anneli Howard, whose CV describes her as a leading junior lawyer in telecommunications law, in the article but the alleged expert's professional status as a junior lawyer hardly qualifies her opinion as authoritative.

Hill's moans about a 1930s recession and claims even ardent Brexiters agree it could be decades, in the same paragraph. Again she does not name these Brexiteers.

In an linked-to article by The Guardian, titled: Two, 50 or 100 years: when do leavers think Brexit will pay off? writer Emine Saner very misleading.

This is what Jacob Rees-Mogg, the Brexiteer alluded to actually said: "We won't know the full economic consequences for a very long time." That is quite accurate. Benefits accrue every year.

Former Brexit Secretart David Davis said "There is no reason why many of these cannot be achieved within two years."

Hill managed to take an already purposely-overhyped headline title and turn it into a complete fabricated lie, fake news that links recessions to a 30-year wait for the full benefits to be known.

After 16 paragraphs of total scaremongering and attempted scattering of Fear, Uncertainty and Doubt, Hill mentions the counter-claims.

Collins, an international economics professor, is certainly correct, but notice the slant of the article and the title.
30-Year Recession
The idea of a 30-year recession wins first prize for the most stupid statement ever about Brexit, and that is saying quite a lot.

Hill deserves an award herself (for bad journalism of fake news maybe,) for producing an absurd article full of politically biased nonsense, without even properly referencing who one her alleged "experts" is.

The Guardian frequently presents fake news articles with left-wing progressive and anti - Brexit slants. Hill and Saner provide today's examples.

As for that predicted 30-year recession:

Short-term, the EU will get hit much harder than the UK. Germany will get hit the hardest. At that point the EU, if it survives, will be ready for serious trade agreement negotiations with the UK.
27 January, 2019
26 January, 2019
---
25 January, 2019
---
---
24 January, 2019
---
---
---
11 January, 2019
---
10 January, 2019<.h3>

Salvini Visits Poland To Discuss "Eurosceptic Alliance"

Finding himself and other European Union (EU) leaders opposed to political integration of the bloc into a federal superstate dominated by Germany and France under constant pressure from the increasingly authoritarian EU commission as it tries to impose its globalist agenda on member states, the de fact leader of Italy's democratic government, Matteo salvini, is not without allies. Salvini is emerging as the Eurosceptic figurehead for EU member states that have embraced a more conservative, populist or anti-immigration position or found themselves at loggerheads with the authoritarian, unelected, bureaucracy in Brussels, either through Article 7 threats against Hungary, a rule-of-law investigation into Poland's ruling party or threats of an excessive debt proceeding against Italy. The leaders of these states finally appear to be banding together to try and push back against Brussels.

According to a report from Reuters, Matteo Salvini, nominally Italy's Deputy Prime Minister because the EU, once again showing its contempt for democracy, refused to accept the leader of the democratically elected government, is planning to meet with the leader of Poland's ruling party, Jaroslaw Kaczynski, on Wednesday to look at the possibility of creating a "eurosceptic alliance" to contest in the European Parliamentary elections in May, and probably replace the dominant pro - federalism alliance in the European Parliament.


Matteo Salvini

The idea is part of a broader plan by eurosceptic governments that hope to "fundamentally shift the political balance of the European Union after the Europe - wide election." Salvini's visit to Warsaw will take place at the invitation of Polish Interior Minister Joachim Brudzinski.

"(The election) will show whether the eurosceptic voices within Europe are on the rise or if the rise has been curtailed for the moment," said Michal Baranowski, the head of the German Marshall Fund's Warsaw office.

Salvini, the leader of Italy's Eurosceptic, anti-immigrant League Party and one of the two men effectively running the country (along with Movement Five Star leader Luigi Di Maio), has repeatedly criticized the EU for meddling in the domestic politics of member states and warned that Italy's is ready to leave the single currency system. The country was bullied into joining when tying its weak economy to Germany's industrial powerhouse was always going to result in an economic catastrophe for Italy and both Salvini and Di Maio are on record as saying membership of the Euro has harmed Italy.

The May elections are important for creating a "reformist" bloc that supporters hope can change the EU from within, halting the push towards political union and returning the bloc to its originally stated purpose of being simply a free trade and economic cooperation organisation of sovereign states.

Meanwhile the deluded duo, Angela Merkel and Emmanuel Macron set the stage for a nucleus of a European Federal Superstate by signing a "twinning" treaty to strengthen Franco-German ties, a move which has been criticised in both nations as an "erosion" of national sovereignty. It is certainly an ill advised step with Merkel, at the head of a fragile coalition, while Marcon's elitist, globalist policies have caused civil unrest in his country as Yellow Vest protestors stage disruptive protests.

The German chancellor, architech of the immigration crisis that triggered the conflict among EU member states and the resurgence of nationalism among voters, and the aloof, globalist French president who prmised he would govern "in the manner of a Roman God" are set to formalise their already close co-operation with shared defence, foreign and economic policy, and business regulations in what is seen as an attempt to create a prototype for a more politically integrated Europe, The Times reports.

As European Union members, states have already abandoned many of their sovereign rights by ditching their national currencies for the euro, agreeing to open borders within the bloc, and submitting to European courts as their highest legal arbiter.

---

div id="190110-fake-news"> UK academic says Integrity Initiative fatally hurt by leaks The Integrity Initiative, a UK based NGO set up to combat misinformation (a.k.a fake news) by spreading the fake news governments and supra - national bureaucracies want us to see is in trouble, in fact some of its critics say it is so damaged by leaks revealing the organisation dismissed true reports as misinformation and promoted goverment favourable narratives which were fabricated to divert and distract attention from those organisations trying to report events with integrity.
The Integrity Initiative website states:
We are a network of people and organizations from across Europe dedicated to revealing and combating propaganda and disinformation. Our broader aim is also to educate on how to spot disinformation and verify sources. This kind of work attracts the extremely hostile and aggressive attention of disinformation actors, like the Kremlin and its various proxies, so we hope you understand that our members mostly prefer to remain anonymous. The facts and information we present are all in the public domain, however, and you can investigate for yourselves. The network is coordinated from the UK. We are not a government body but we do work with government departments and agencies who share our aims.

That final sentence is pretty damning, since when did government departments have any interest in or committment to putting the truth in the public domain?

READ ALL: UK academic says Integrity Initiative fatally hurt by leaks
---
9 January,2019
---
8 January, 2019
---
---
7 January, 2019
---
---
6 January, 2019
---
---
---
5 January, 2019
---
UK Government Loves Extremists, bans Opponents Of Extremism
Anti - immigration campaigner Tommy Robinson is thrown in jail for trying to report on the rape trial of one on the muslim gangs accused of systematically grooming and raping young English girls in a northern industrial town. Canadian blogger Lauren Southern is denied entry to the country on the grounds that criticism of Islamic extremism published in her blogs pose a threat to public order. Yet Islamic hate preacher are allowed to call on their followers and all Muslims to kill non Muslims while #MeToo feminists say it is OK for Muslim men to rape because "multiculturalism and diversity."
If it sometimes seems possible to the causual obsrver that the UK government has greater committment to Islam than to serving the interests of Christian and secular people who make up the vast majority of the population, it will seem blatantly obvious after you have read this article.
---
---
German Interior Minister Demands Tougher Asylum Laws After 'Orgy of Violence' Mob Attack

Migrant gang violence is a daily occurrence in Germany
German Federal Interior Minister Horst Seehofer demanded stricter controls on asylum seekers after a mob of migrants rampaged through the town of Amberg injuring a dozen peopleon Saturday.
Seehofer, leader of the Bavarian Christian Social Union (CSU), the party that is propping up Angela Merkel's fragile coalition government said that in view of the random attacks, the laws on asylum would be tightened and deportation policies would be stramloned, Kronen Zeitung reports.
"The events in Amberg have upset me a lot. These are violent excesses that we can not tolerate," Seehofer said and added, "If asylum seekers commit violent crimes, they must leave our country. If existing laws are not enough, they need to be changed. To this end, I will make proposals to the coalition."
The CSU along with Chancellor Angela Merkel's Christian Democratic Union (CDU) and the Social Democrats form the grand coalition government, an uncomfortable alliance formed because of Merkel's determination to defy the democratic will and keep the anti-mass migration Alternative for Germany (AfD) out of government. The left - of - centre Social Democrats are traditional adversaries of Merkel's conservative CDU, which means the coalition partners have little common ground on which to build a legislative programme.
According to reports from Germany, the CSU, drifting closer to AfD positions in response to public hostility to merkel's policies, is looking to clamp down on asylum seekers who are frequent delinquents. Seehofer will seek to detain migrants who have been sentenced to probation or suspended sentences in other European Union member states.
"It can not be the case that repeat offenders take on a suspended sentence. This also applies Europe-wide," an internal CSU paper is reported to have said likely in reference to the Strasbourg terror attacker who had been convicted of crimes in France, Germany, and Switzerland.
Seehofer also commented on the xenophobic truck attack that occurred on New Year's Eve in Bottrop saying, "It is part of political credibility to pursue both cases with decisiveness and rigour."
The statements of the German interior minister, who has always been far more critical of mass migration than Chancellor Merkel, bear a striking similarity to a statement issued last year by Austrian Interior Minister Herbert Kickl of the populist Freedom Party (FPÖ).
Mr Kickl also promised asylum reformhttps://www.breitbart.com/europe/2018/03/14/austrian-government-overhaul-asylum-laws-violent-migrant-attacks/ following a series of violent incidents in Vienna that included the stabbing of a family by an Afghan migrant.
RELATED POSTS:
German Justice Minister Runs From Stage As Angry Audience Members Yell "TRAITOR!"
The peoples' pushback against European federalisation and genocide of Europe's white working classes by flooding nation states with third world immigrants continues to gather pace as, with the onset of warmer weather, the flow of illegal immigrants into Europe starts to increase towards last year's levels.
Starting Pistol Fired In Race To Succeed Merkel
While the odds of Merkel being deposed by a putsch in her own party may seem slim, they have been improved vastly by her party's monumental failure in German state elections on Sunday, with her migration policy as the rationale for huge numbers of voters abandoning the CDU for the anti - integration, anti - immigration AfD party.
Merkel Isolated As Europe Splits Over Refugee Crisis
With the UK Prime Minister David Cameron still desperately trying to convince his 'revised terms' of British membership of the EU are a really good deal, when in fact they will change nothing, our attention should shift to developments elsewhere in Europe.
Labour MP Says Cologne Sex Attacks 'Very Similiar' to Normal Weekend in Birmingham
Speaking as a panelist on BBC television's political debate show Question Time on Thursday 28 January, Labour MP Jess Phillips said the mass sex attacks which took place in Cologne, Germany on New Year's Eve 2016 were no worse than an average weekend night in Birmingham UK
Watch two Finnish shopgirls out a couple of male Muslim shoplifters. Arthur's introduction (in his usual inimitable style) to this video from Finland might offend some people, but the attitude of Muslim immigrants that they can just walk into shops and take what they want, force themselves on women whenever they please, molest young children and tel us how to run our countries in Europe needs to be challenged.
Are The Ruling Elites waking Up At Last To The Problems Cause By Mass Muslim Immigration?
The WEF had been dubbed Bilderberg Lite, a meeting to which the public (assuming they can afford £$€stupid for a cup of very mediocre coffee) is talking about a different matter this time round. Europe's immigration crisis and the similar though not so immediate problem in the USA, and the likely consequences for the economies of the developed world is top of the agenda.
Immigration Germany
Immigration omnibus
Immigrant Invasion
Immigrant rapes
Immigrant Sharia zones
Immigration omnibus
Immigration marginalising europes white working class
Immigration: Europe a promised land for Muslim immigrants, hell for European women
Sweden's national suicide
Sweden's descent into third world dystopia - omnibus
Europe's Immigration Crisis (October / November / December 2015)
Equal Rights Campaigners Not Christians Are Imposing Their Belief On Others
A Liberal's Dilemmas
The Philosophy of Anarchy
Nanny Orwell
The Partisan Politics Of Failure
---
---
3 January, 2019
De - Dollarisation: More Nations backing Away From The US$
Image source: www.footagefirm.com
In a year which saw the global geopolitical spiralling back towards cold war polarisation, with the nuclear arms race of the 1950s to 70s being replaced by the weaponisation of currencies, the global community is dividing into two camps, those nations that still support using the US$ as the principle medium for cross border trade, and those, led obviously by Russia and China (with enthusiastic support from Iran,)that favour the new methods of settling accounts through technological payment systems that need no reserve curencies, only a few trusted currencies.
The so called 'trade wars' being caused by economic sanctions and tariff disputes conflicts which are mainly being triggered by Washington as US organisations try to keep the bid for global economic hegemony (never a realistic ambition,) on track have forced countries that displeased The State department to seek alternative payment systems to those currently dominated by the US dollar.
As mentioned above, and as this page has reported many times, rather than simply dumping the dollar and adopting the UK£ or European unions Euro ( € ) and Japanese Yen, China is trying to internationalize its own currency, the yuan, which was recently included in the IMF basket of internationally traded currencies along with the currencies mentioned above. As well as launching a rival to the Petrodollar, an oil futures contract backed by gold and called rather unimaginatively, The Petroyuan, Beijing has this year, in collaboration with Russia implemented an electronic currency exchange system for settling cross border trades with international partners in the currency of the vendor's home nation.
The escalating trade conflict between the United States and China, and the imposition of economic sanctions against Beijing's biggest allies, Iran and Russia, have forced China to free itself of dollar dependency. And China's ambition of supplanting the USA as the world's biggest economy can never be achieved as long as the USA controls the reserve currency.
Russia, like China has been reducing its holdings in US Treasury Bonds at an accelerating rate for several years as well as collaborating with its ally in creating alternatives to dollar - based systems such as SWIFT ( Society for Worldwide Interbank Financial Telecommunication ) for settlements. President Vladimir Putin said in 2018 the US is "making a colossal strategic mistake" by "undermining confidence in the dollar."Putin has never called for restricting dollar transactions or banning the use of US currency but his government has quietly been making bilateral agreements with trading partners to use alternative system. Russian Finance Minister Anton Siluanov announced earlier this year that the country planned to offload its holdings of US Treasuries in favor of more secure assets, such as the ruble, the euro, gold and rare metals.
The country has been forced towards de-dollarizing the economy because of the constantly growing burden of sanctions that have been imposed since 2014 over a number of issues. Ironically these sanctions have hit US allies that trade with Russia far harder than they have hit Russia itself, while the USA sells virtually nothing to Russia and so is immune to the adverse effects of its sanctions. Thanks to Russia's development of an alternative to SWIFT, nations have a route to carrying out sanction busting trades that are invisible to the US security agencies.
Moscow has managed to partially remove the dollar from its export trade, signing currency-swap agreements with countries including China, India, Iran, Turkey, Pakistan, Kazakhstan and Australia. It is widely understood the EU has agreed that its member states can use alternatives to dollar denominated systems though no details of any that have are yet known. Russia has recently formally proposed a system using the euro instead of the US dollar in trade with European Union member states.
Sanctions have forced the Iranian government to seek alternative to the US dollar in payment for its oil exports. So ffar it has concluded deals for settlement of oil trades with India using the Indian rupee and with Pakistan using the UK£. It also negotiated a barter deal with neighboring Iraq. The partners are also planning to use the Iraqi dinar for mutual transactions to reduce reliance on the US dollar amid banking problems connected to US sanctions.
Late in 2018 Turkish President Recep Tayyip Erdogan announced a new policy of switching to non-dollar trading with his country's international partners. Turkey's leader also announced that Ankara is preparing to conduct trade through national currencies with China, Russia and Ukraine. It already trades with Eurozone member nations in Euros. Turkey has also discussed replacing the US dollar with national currencies in trade (mainly oil) transactions with Iran.
Relations between the USA and Ankara have been deteriorating for two years. Aware (and who isn't) of the CIA's involvement in the ousting of a democratically elected pro - Moscow government in Ukraine, since the failed military coup against him in 2016 President Erdogan has suspected Washington was behind the bid to topple his regime. Erdogan has also directly accused Washington of harboring exiled cleric Fethullah Gulen, whom Ankara blames for masterminding the coup.
The European Union has discussed switching payments on trades with Iran from the US dollar to the Euro after Washington threatened to sanction European firms trading with or working on projects in Iran, according to reports. This has become a realistic possibility as the US, having sanctioined a nation or organisation, insists that everybody else obeys those sanctions. A way around that will help EU firms to retain one of the world's largest markets, which was opened for trade after the historic nuclear deal signed by Tehran and the P5+1 powers (China, France, Russia, UK, US, plus Germany) in June 2015.
India, with the world's sixth-largest economy, and growing rapidly, is one of the biggest merchandise importers and exporters. As a nation with an economy dependent on trade, the country is more vulnerable than most to geopolitical conflicts and as a major trading partner of both Russia and China, is significantly impacted by economic sanctions that curtail its ability to trade. Thus the arrogant practice of the USA in applying sanctions to those nations which trade with counties it has sanctioned is particularly tough on India as well as being one of the policies that made Washington unpopular among emerging economies that trade with Russia, Iran and China.
Earlier this year, Delhi switched to ruble payments on supplies of Russian S-400 air-defense systems as a result of US economic penalties introduced against nations that trade with Moscow. The country was also obliged to switch to the rupee in purchases of Iranian crude after Washington reinstituted sanctions against Tehran. In December, India and the United Arab Emirates sealed a currency-swap agreement to boost trade and investment without the involvement of a third currency.
Taking into account that India is the third-largest country by purchasing power parity, steps of this kind could considerably diminish the role of the greenback in global trading.
Numerous other nations, large and small, are also making moves to render their international trade immune to US trade wars and sanctions. Australia, Brazil, Japan, South Africa, Nigeria, Thailand, Philippines, Egypt, Nigeria and Malaysia are all known to have been involved in non - dollar international trades and it is likely many more have too. Many people in the USA, on reading this and similar reports elsewhere, will immediately blame Donald Trump, but the problems began long before he burst on the political scene. If fact no particular blame can be attached to any particular president or administration.
The problem comes from the Deep State, Military / Industrial Complex, call it what you will, and the faceless manipulators in Washington that have based US foreign policy on military intervention in nations that tried to go their own way. Thus the US is seen as having abused is position as the holder of the reserve currency to impose policy on sovereign nations. There was bound to be a backlash sometime. 2018 looks like the year that backlash got serious.
MORE ON CURRENCY WARS
US Becoming Isolated As Key Ally Japan Considers Joining China-Led Investment Bank Japan's foreign minister signaled cautious approval of the institution that the United States has warned against. The opposition to the AIIB began crumbling after Britain said earlier this month that it would join the institution, saying it was in its national interest. France, Germany and Italy swiftly followed suit.
De-Dollarization Du Jour: Russia's Largest Bank Issues Yuan-Denominated Guarantees
Yuan Bonds Leading the charge to multipolarity and de-dollarization are Russia, resugent despite economic sanctions and the rising superpower in waiting, China. The downgrading of the dollar is clearly demonstrated in the launch of the BRICS bank and the establishment of the AIIB.
De-Dollarization Accelerates As More Washington "Allies" Follow Australia To China-Led Bank For many years the dollar has been the currency in which the world's nations settled cross-border transactions and the so called petrodollar became the only currency in which oil could be traded. In recent years however, as other nations, particularly the BRICS group, Brazil, Russia, India, China and South Africa, the leading nations outside the dominant US / European group, have been making moves to end the domination of the US dollar.
Germany Alarmed by Aggressive NATO Stance On Ukraine As the US pro war rhetoric pumps up the tensions between Russia, its allies and the west in Ukraine we revisit once more the truth about which world power has been relentlessly pushing for war since 2009. It isn't Russia or China, though they are not likely to back down.
De-Dollarization Accelerates: Russia Launches SWIFT-Alternative Linking 91 Entities Among the information revealed in The Great Leaks of 2013 were the documents that exposed the extent to which NSA and GCHQ had been secretly 'monitoring' the SWIFT payments system and recording details of cash flowing between nations and organisations. It appears the revelation was the last straws for Russia, China, and other sovereign nations ...
Kiev Breaches Minsk Agreement Within Hours We all knew the ceasefire agreed by Angela Merkel, Francoise Hollande, Vladimir Putin and Ukrainian Nazi leader Poroschenko would not hold. The people whose country stands to gain most from war, that is of course Barack Obama and John Kerry, President and secretary of State of the USA, the country that wants and needs perpetual war, were trying derail the fragile deal while the four leaders were still negotiating.
India's Ruling BJP Party Crushed In Regional Poll
India gets it own UKIP and they are already winning elections as The Common Man party shocks the establishment by tapping into the anger about institutuionalised corruption in the world's biggest democracy
Another Conspiracy Theory Becomes Fact: Oil Collapse Is All About Obama's Proxy War With Russia. While we are distracted with sex scandals at home and terrorists rampaging through the middle east and Africa, the US / EU / NATO confrontation with Russia / China / Iran is geting into a very dangerous state. While the Chinese led move to dump the US dollar as global reserve currency is causing economic chaos, the USA attempts to provoke armed conflict with Russia are getting more reckless and desperate.
Russia throws down the gauntlet: energy supply to Europe cut off; petrodollar abandoned as currency war escalates
There are some big moves taking place on the global stage that you need to know about, as this could all lead to World War III. Yesterday Russia cut off its natural gas supply to Europe, "plunging the continent into an energy crisis 'within hours' as a dispute with Ukraine escalated," the Daily Mail reported.
Russia along with three quarters of the world, is isolated The latest EU sanctions announced today after last weeks NATO summit have left Russia increasingly isolated in the world according to mainstream media reports of the response from western governments.
Without American leadership, democracy is in peril? Not really. Much of the corporate propaganda spouting mainstream media are forecasting a bad outcome from the current chaose in Ukraine, with ISIS aka ISIL aka Islamic State in Syria and Iraq and the imminent collapse of the petrodollar. The consensus is that the west is currently not winning because of the failure of American leadership. This is untrue, most of the problems exist because America is leading the world towards war.
G77 Nations vow to destroy petrodollar and America's New World Order By leading the G7, G8 and G20 economic groups for the past few decades the US government has managed to exploit its status as holder of the global reserve currency until it appeared on the brink og global economic hegemony. The Americans overplayed their hand however, became too blatant in their bullying of smaller nations and helping corporate interests override national laws. Now the world is closing ranks against the USA. Can't say we're sorry.
American Dollar Dumped The status of the US dollar as global reserve currency has kept the Americasn economy afloat for several decades in spite of the US government's vast debt and profligate public spending. It has looked for some time as if rival powers led by the Chinese were getting ready to topple the dollar from supremacy.
Iran's Oil and the US Dollar
You can't reason with religious fanatics. When the USA (was it the Bush or the Clinton administration?) first imposed economic sanctions on Iran in the hope of turning a medievalist theocracy into a liberal democracy it was always going to backfire. As the US tightened sanctions under Obama, Iran has attacked the USA where it is most vulnerable, taking the initiative in moves to replace the US Dollar as the global reserve currency
Money From Rock Better Than Money From Air
Strange things are happening in the finance markets, very strange. As the FT and Dow Jones main indexes go up and down faster than a whores knickers, commodity prices are behaving weirdly too.
2 January, 2019
Japanese researchers develop a prototype humandroid to replace human labourers
Image source: Natural News
There's no doubt about it, scientidts are a creepy - weird, dangerously obsessive bunch of wankers. They are so disgusted by their own humanity (well it just isn't scientific enough for them,) they would rather be machines than people. But to stop them feeling like emotionally crippled losers because of their machine - like behaviour, they want to replace all the rest of us with machines. Now I can understand why scientists want to develop sex robots although I think it's well out of order when they start saying in future we will all have sex robots as our lovers. Just because scientists find it easier to have a meaningful relationship with a wank machine does not mean we all will.
A policy of strictly controlloing immigration, astronomical housing costs and high taxation, high presure education and social conditioning to seek status and success in Japan have led to a disastrously low birth rate and labour shortages in some vital areas. These have forced businesses, government and private individuals to resort to using robots for its labor needs. An article on Geek.com reports that researchers are developing a humanoid robot that will replace human workers in the construction industry.
Created by the Institute of Advanced Industrial Science and Technology (AIST), the HRP-5P construction robot is six feet tall and vaguely resembles one of those tin cans with smiley faces that appeared in 1950s sci-fi movies, the ones that always rebel and try to murder their human masters.
As the name implies, HRP-5P is the fifth model of an increasingly long line of androids. The harbinger of the future robot economy of Japan was HRP-1, which first debuted in 1998.
While HRP-5P is the latest and most advanced unit, the earlier incarnations are still being used. The older HRP-2 Reinforcement was upgraded before serving as the AIST representative at the 2015 DARPA Robotics challenge, an international competition where autonomous robots sought to accomplish various tasks such as driving cars.
AIST has spent 20 years working on developing robots capabilities to a level which enables them to accomplish a wide variety of tasks with minimal human control. Some of the HRP series' most significant achievements involve crossing rough terrain and adjusting valves with precision.
However, while the humanoid robots could pull off delicate tasks with ease, they did not possess the physical capability of human workers when it came to heavy duty work. The earlier models were unable to replicate truly human movement in complex environments such as construction sites.
The new model does not initially look impressive. It moves and works quite slowly, especially when compared to a human. However, its artificial intelligence is analytical and rigorous. This electronic brain allows it to take full advantage of its extremely flexible joints, which can match or exceed the movement range of a human.
It is also immune to the physical exhaustion and emotional problems that plague human workers. So it will be able to work all day and all night, long after the humans have headed home to sleep.
But what happens when the batteries run low and there is no human around to plug in its charger?
ET Phone Home - The Science Of Wasting Taxpayers' Money
When one of the most famous and highly promoted science fanboys starts to question the official narrative about exploring distant galaxies, meeting exotic aliens (and inviting them all to come to earth and live on welfare in the western democracies) we have to wonder did he fail to win the prize for whackiest theory at this year's Star Trek convention or something?
Chinese Lunar Rover Finds No Evidence of American Moon Landings
As the 'Science Squad' (Brian Cox, Dara O'Briain and assorted Star Wars fans) get hyper over Major Tim Peake 'going into space' I call for scepticism. He hasn't gone into 'space', the space station is in a fixed orbit 250 miles above the earth and that is within the earth's atmosphere, in the layer known as The Thermosphere, which is not even the outermost sphere of the atmosphere.
Philo and Sophia - The Page For Lovers Of Wisdom
You might find some of the more bizarre fringes of philosophy and thought from history and from around the world here here, among the original thinking of our contributors. As with most pages in The Greenteeth Labyrinth this is not a page for academics or conventional students but for explorers and people who like to play with fresh or off - centre ideas.
Has Nasa found another 'Earth' in corner of Milky Way?
The science clowns are going off their heads again, getting over-excited about the 'discovery' by the Kepler project of Earth 2, an earth like planet that it would only take twenty million ryears to reach in our fastest spacecraft id. What planet do these do these idiots live on?
NASA Engineer Admits They Can't Get Past Van Allen Belts
Can it be that the conspiracy Theorists have once again been right all along. Or is there another explanation for the apparent contradiction. Thius one is going top have comment threads and social media going crazy.
It Doesn't Take Much To get Scientists ExcitedYesterday we saw on television news bulletins pictures of scientists jumping up and down, screaming and shouting and generally behaving they way we would expect from Liverpool football supporters if they heard Mario Balotelli had been transferred to another club. What was the cause of this celebrationette? You might well ask ...
New Physics Theory Proposes Time Is Disappearing From Our Universe.I have never understood why we invest so much money in theoretical physics, which basically means blokes with pointy heads sitting around having intellectual wanks as they dream up constantly whackier theories to explain how our universe works. One idea they cling to fondly which I find crazy, is that time is somehow material than can be stretched, compressed, kicked around like a football and made to disappear.

Wormholes: The science behind Interstellar TravelIn a newly released video (embedded below)physicist Dr Simon Foster explains how 'Wormholes' the theoretical "shortcuts" through space-time, known as Einstein – Rosen bridges could enable travel across space and time and make interstellar travel possible.
by Ian R Thorpe

Beam Me Up Brian* - Scientists Say Star Trek Style Teleporation Is PossibleIt has become more and more obvious that the current generation of scientis ts are a bunch of OCD geeks who can't differentiate between science fact and science fiction. While scientists are increasingly seen to be certifiably insane psychotics who have completely detached themselves from reality, politicians are dupes who can be persuaded that colonising solar systems of stars so distant it would take our fastest spacecraft thousands of years to reach them is somehow a vote winner.

Mind Control: How It Works and how The Elite Use ItMind control, the ability of science to deliver a completely compliant and uncomplaining population. It had been the goal of tyrants for over a hundred years, just as the abilty to comtrol human minds and turn us into humandroids has been the goal of mad scientists. But is such scientific advance getting uncomfortably close to reality? The idea of a scientific dictatorship able to subjugate individuality was born over a century ago by insane scientists and control freaks who saw human qualities like empathy and compassion as an obstriction to scientific progress. welcome to Dystoipia.

Levitation: Did Tesla Teach Us How To Get Ourselves UpScience has always been for the terminally insane, the thing was some of the pointy headed insaniacs were actually very creative and clever. Recently though leaders of the scientific community have become more like the jesuits who conducted The Inquisition. Learn about the latest attempts to suppress the amazing inventions of Nikola Tesla.

Infinity And The Myth Of Space And TimeThere is a revolution afoot in the way we think of the universe and humanity's relationship with it. The materialist science of Isaac Newton, the father of modern physics was proving inadequate to deal with the infinitely small and the infinitely large and Albert Einstein's thought experiments floundered on the rock of infinity which defies mathematical enumeration. It looks as if the world's most ancient surviving religion is coming to our rescue.

---
1 January, 2018
HAPPY NEW YEAR EVERYBODY
Billionaire Investor Erik Prince Launches Fund For Electric Car Metals
Cobalt mining in Congo, child labour is common and slave labour possible (western companies contract out work to local agents,), workers rights and safety regulations are non existent. (Source: www.trwn.org/wp-content/ )
A couple of weeks before the turn of the year I wrote a comment under an article singing the praises of electric and hybrid cars, the usual 'clean, green, sustainable, transport of the furure spiel. Now I did not get into the usual criticisms, poor range, length of time to recharge, massive upgrades to the electricity distribution system to support 'fast chargers' whichh are still painfully slow compared with pumps that punp liquid. Nor did I point out the technical problems that will beset these vehicles when they start to be used outside towns and away from the coastal strip. In short, they don't do hills. OK I know some plank is going to say "Ah but regenerative braking systems mean they generate electricity when going down hills," and OK that is true, but what is generated going down is a tiny fraction of what is used to haul car, driver, passengers and battery pack up.
Instead of all that I settled for pointing out that as well as electricity which is mostly generated by coal, other finite resources are essential to the manugacture of these electric vehicles which some stupid politicians say will totally replace fossil fuelled cars and trucks by 2040, (yes I might be talking about you Monsieur Macron you idioty, or you Mr. Treudeau, you plonker.) There are currently an estimated 1.4 billion cars and light goods vehicles on the road, and there is not enough lithium in reserve stocks to make battery packs for a tenth of that number. And then there is cobalt, needed in far smaller quantities but a far less plentiful resource and most of the known reserves are controlled by China. And if they dominate the maket in a resource the west needs they ain't going to be giving the stuff away.
Naturally I was mocked and ridiculed for going against the offiocial narrative that electric will smoothly replace gasoline over the next couple of decades. Fortunately I don't take any more notice of the voices that bounce around the liberal echo chamber of the internet than I do of politicians who are trying to buy your vote so they can use it in the cause of enriching their paymasters, or of mainstream media, where the propaganda of the establishment is endlessly parrotted.
It was of course gratifying to learn that people who matter agree with me. Today the Financial Times welcomed the New Year with a report that Erik Prince, the founder of Blackwater, the private security giant intends to launch a $500m investment fund to capitalize on the rush to secure investments in the metals required for batteries that power electric cars.
Prince, an adviser to president Trump and brother of White House officia Betsy DeVos told the FT, "For all the talk of our virtual world, the innovation, you can't build those vehicles without minerals that come from generally weird, hard-to-access places."
He's correct of course, and the more the world comes to rely on electronic technology, particularly mobile technologies, the more competition there will be for these finite resources. As I wrote back in 2010, for years due to pressure from the greey - weeny, weirdie - beardie faction, because the mining and refining of these rare earth metals is a filthy and energy intensive process, the developed nations have been handing control of such vital resources to nations with are not exactly friendly to our governments or way of life.
Mining companies in China, Russia, India, Brazil and Australia have been investing billions into these essential metals as the electric vehicle industry expands, which include cobalt, neodymium, gold, tellurium and terbium as well as copper and lithium.
One of the largest investors has been China, with Chinese companies buying stakes in deposits in the Democratic Republic of Congo and in Chile this year. Mr Prince also runs a Hong Kong-listed security and logistics company that is backed by China's state-owned Citic Group. -Financial Times
Prince's new fund will operate in exploration and securing rights to as yet unknown deposits before selling them on to larger mining companies, and, Prince told the FT, will be looking to cash in its investments and devote the revenue to new projects within four or five years. his experience in providing private armies to secure assets in well known trouble spots should prove invaluable.
It is well known that Chinese companies have little interest in speculative exploration, which leads Prince believe creates a gap in the supply chain he hopes to fill."
More than 60 percent for the world's cobalt supply originates from the Democratic Republic of Congo, a nation plagues by tribal and political conflicts which has scared off western investment and has opened the door for Chinese companies including Jinchuan Group and China Molybdenum to pour billions into developing the sites. Apart from high altitude salt lakes in Chile, the onlt other known area from which lithium is easily extractable is Afghanistan, not the easiest place for foreign interests to operate.
Prince gained notoriety as the founder of Blackwater - the world's most famous private military contractor which has been targeted with lawsuits alleging civilian deaths in Iraq, including a 2007 incident in Nisour Square, Baghdad, where 17 civilians were killed and 20 injured after Blackwater guards claim their convoy was ambushed. And FBI investigation concluded that at least 14 of the 17 Iraqis were shot without cause.
Since selling Backwater in 2010, Prince has been at the helm of Frontier Services Group, which provides logistics support and security services to companies operating in politically unstable countries. They have provided anti-piracy operations to Somalia and security for oil companies operating in strife - torn South Sudan. Prince himself is a former US Navy SEAL, now resident in Abu Dhabi, his long established business links with China will certainly give him a head start in this new venture. A bauxite (aluminium ore,) mine in Guinea this year secured a contract to supply Chinese state - owned aluminium smelter with ore.
MORE ON RARE EARTH METALS AND ELECTRIC CARS
Rare-earth metals in magnets for electric-car motors
A Scarcity of Rare Metals Is Hindering Green Technologies
Rare Earth Elements: A Beginners Guide
Information on the chemical nature, physical properties and uses of rare earth metals.
Rare Earth Elements And Their Uses
Information on mining, extraction and refining processes.
House battery to store energy will 'change entire infrastructure of the world' - or maybe not
Another costly new product hailed as a breakthough in technology, this time a clutching-at-straws exercise from the failing electric car company Tesla, completely fails to live up to the hype under scrutiny. Hailed as a super battery, a mjor advance in battery technology that will change the world to store power for a household, it turns out to be nothing more than a streamined car battery. It will run the average home for about 2 hours.
Flight From Freedom

Fleeing from freedom seems like a contradiction, after all we usually asdsiciate flight with escaping from captivity. In this first part of Existentialism for Beginners however the author identifies a human instinct that predisposes us to seek illusory safety by conforming and being part of the crowd rather than embarking on the lonely life of the free thinker, the person who truly makes their own decisions and follows their own path.
Electronic Tattoos To Replace Passwords and Pin Numbers?
Science was ever fascism's whore. A warning about the latest wheeze the science tits have developed for their Fascist bosses, RFID tattoos. The plan is these things will keep tabs on everything you do all the time and you will not be able to access the internet, your mobile phone or your bank and credit card accounts without one.
Drivers Cool About Electric Cars
Have you purchased your new, clean, green, politically correct, all electric car yet? No? I thought not. Neither have I. It is not so much that I hate the enviroment or that I do not want to support the fabulous clean, green, sustainable job creating indistries fabulous, clean, green Dave has promised us will lead …
GM Food Needed To Avert World Food Crisis
The GM Foods Nazis are revving up for a good whine again. Professor Sir John Beddington said there was no scientific qick fix to the ''enormously serious'' problem of producing enough fod to feed the world's rapidly growing population in the future as we face problems such as climate change, population growth and energy shortages. He told BBC Breakfast News: ''If there are genetically modified (GM) organisms that actually ...
Iceberg Alley BluesWe must stop using oil say the politicians and scientists as it becomes more imperative that exploration begins in Iceberg Alley off the Canadian Coast, elsewhere in the Arctic and in other sensitive locations. They are just trying to soften us up for carbon taxes of course. Nobody knows better than politicians that the world runs on oil and that alternative non polluting sources are a long way short of being able to supply energy needs .... Coal Fired Power Stations Win ReprieveIn what looks like a u-turn on green energy policy the coalition government have abandoned plans to support and subsidiese operators of sustainable energy generating plants. While environment activists and green campaigners are calling this a betrayal the case may well be that in the harsh reality of governing claims made by green energy firms look totally unrealistic ...

Tesla Driverless Cars World Domination Plan Hit By Another Crash
Electric carmaker Tesla, whose founder Elon Musk recently showed the kind of ignorance of human nature that typifies Silicon Valley billionaires when he smugly predicted the whole world would be letting driverless cars ferry them around by 2030, is preparing an updated "secret masterplan" as the company looks to rebound from concerns over the safety …
BHP Drops Bid For Potash of Canada
Mining giant BHP Billiton has abandoned its takeover bid for fertiliser group Potash Corporation after it was blocked by the Canadian government. We should start to appreciate Canadians more perhaps. A few months ago The Daily Stirrer was praising two Canadian sceptics for exposing ...
The Growing Problem Of Rising Food Prices

While the warmists rant about carbon and the Church of Scienceology Cult rave about climate science. there are threee real and immediate problems facing us that nobody is talking about. These are overpopulation, water shortage and food price inflation. This article deals with food prices, links at the bottom lead to our posts on population and water scarcity.
How Our Creature Comforts Are Baking The World

As the arguments rage on between the Climate Science Wankers lobby and the sceptis, realists and out and out deniers we observe that still nobody who gets media coverage, nobody who is talking sense about climate chaos, carbon based fuels, deforestation or over population is really being heard. Quite simply there are too many of us and we want too much. Who needs science or politics to understand that?
Next Boss Warns On Cotton Price Increases

As the boss of a major UK clothing and fashion retailer warns of the likely impact of rising cotton prices on the cost of clothing John De Roe revisits on of The Daily Stirrer's recurring themes throughout the economict crisis, overpopulation.
Food Will Cost The Earth

A bid by Australian mining giant BHP Billiton to buy Potash Corp of Canada draws attention to food price inflation, rising commodity prices in world markets and an impending global food supply crisis. It is not just potash, essential in food production, but other finite resources like oil that corporate giants are bidding to gain control of that should concern us.
Vertical Farming: The Looniest Idea Yet For Saving The Planet

Climate Science is a strange discipline. Part trainspotting, part trekkie convention going, it combines an almost autistic obession with collcting details, a very autistic obsession with focusing on a single theme and a fantasist's capacity for self deception and a taste for mutual masturbation. The latest loonytoons idea for saving the planet involves turning skyscraper buildings into farms growing food for urban populations. Apart from increasing the cost of food by 1000% and increasing rather than reducing the carbon footprint of food production the idea is so insane noboy could ever take it seriously. Nobody that is except scientists, politicians, academics and the media.
The Futility Of Wind Farms.In some ways the Conservative / Liberal Democrat coalition has made quite a good start in government. One area they are set to fail badly however is energy. Driven by politically correct thinking the coalition are set to follow Labour down the road that goes through wind power and eventually leads nowhere. Wind turbines look fine on paper. If they generate at their optimum output for 365 days a year the contribution to energy needs looks like a viable business proposition. The problem is due to the limitations of the technology and the vagaries of the weather wind farms are doing well if they operate at a quarter of their potential output.
Climate Change Crooks And LiarsThough climate change alarmists claim that that "the science is settled" no longerr holds water the arguments rage on. If anything they are getting more heated as the climate science lobby, knocked from the moral high grounds show their true colours. But more and more evidence is showing the climate change science was never settyled and the global warming Armageddonists had built their whole case on very flimsy evidence.

---
31 December, 2018
No-deal Brexit ferry company owns no ships and has never run Channel service
Concerns raised over Seaborne Freight, which won a £13.8m contract to operate a Ramsgate to Ostend route
It seem from a report in today's Guardian that Project Fear, the effort by pro-EU politicians, media pundits and business people to derail Brexit is collaborating with Project Profiteer to make sure whether we go for 'no deal,' Theresa May's deal or no Brexit, british taxpayers get shafted by the money grabbing global corporations.
Ramsgate Ferry Port - not many ships or lorries around, maybe its only used by ghost companies ( Picture: http://s0.geograph.org.uk/geophotos/ )
One of the companies contracted by the government's Ministry of Brexit Panic to run ferries in the event of a no-deal Brexit does not currently own any ships, has never operated a ferry service or shipping line and is not planning to do so until close to the UK's scheduled departure date from the
European Union
, it has emerged. Concerns have been raised about Seaborne Freight, which despite it's not being in a position to provide any service was awarded a £13.8m contract to operate freight ferries from Ramsgate to the Belgian port of Ostend if the UK leaves the EU without a deal, after a councillor for the Kent town queried whether it would be possible to set up the new service by the scheduled
Brexit
date. There are grounds for looking closely into this company and who benefits from its profits. It would not surprise us if Prime Minister Theresa May and Chancellor Phil (spreadsheet) Hammond are among the main shareholders. Amid all the Project Fear panic about 'no deal' nobody is asking why we will need more ships. There will not be any significant increase in cross channel trade after Brexit, in fact the Remainers would like us to believe trade will cease completely. The seaborne contract is
one of three agreements
worth a total of £107.7m signed by the government
without a tendering process
(how dodgy is that?) to help
ease "severe congestion" at Dover
by securing extra lorry capacity.

Ramsgate Ferry Port - not many ships or lorries around, maybe its only used by ghost companies ( Picture: http://s0.geograph.org.uk/geophotos/ )
One of the companies contracted by the government's Ministry of Brexit Panic to run ferries in the event of a no-deal Brexit does not currently own any ships, has never operated a ferry service or shipping line and is not planning to do so until close to the UK's scheduled departure date from the European Union, it has emerged.
Concerns have been raised about Seaborne Freight, which despite it's not being in a position to provide any service was awarded a £13.8m contract to operate freight ferries from Ramsgate to the Belgian port of Ostend if the UK leaves the EU without a deal, after a councillor for the Kent town queried whether it would be possible to set up the new service by the scheduled Brexit date.
There are grounds for looking closely into this company and who benefits from its profits. It would not surprise us if Prime Minister Theresa May and Chancellor Phil (spreadsheet) Hammond are among the main shareholders. Amid all the Project Fear panic about 'no deal' nobody is asking why we will need more ships. There will not be any significant increase in cross channel trade after Brexit, in fact the Remainers would like us to believe trade will cease completely.
The seaborne contract is one of three agreements worth a total of £107.7m signed by the government without a tendering process (how dodgy is that?) to help ease "severe congestion" at Dover by securing extra lorry capacity.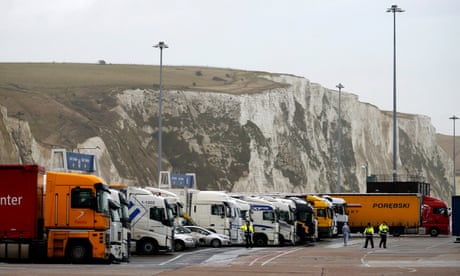 Seaborne has published plans to operate freight ferries from Ramsgate from late March, beginning with two ships and increasing to four by the end of the summer. Without any ships this is oing to be quite difficult as some people have noted.
Paul Messenger, a Conservative county councillor for Ramsgate, questioned whether the government had run proper checks on the firm's financial stability, management experience, and fitness to fulfill the contract, telling the BBC: "It has no ships and no trading history so how can due diligence be done? Why choose a company that never moved a single truck in their entire history and give them £14m? I don't understand the logic of that."
Seaborne was established two years ago and has been in negotiations about running freight ferries between Ramsgate and Ostend, but no services are currently running. Narrow berths in the port mean there are few suitable commercial vessels available.
There are two options here. Either the whole thing is a typical civil service fuck up or somebody has trousered £13.8 million of taxpayers money without ever intending to do anything to earn it.
MORE BREXIT:
---
Leaked Documents Reveal Facebook's Biased, Convoluted Censorship Policies
Since the 2016 US Presidential election, when the phrase 'fake news' entered the vernacular, Facebook has employed thousands of human moderators tasked with identifying what is and is not acceptable content to be posted on the censorious social media website. These humans were not employed to replace the 'Artificial Intelligence' automated moderation system the nerdocracy that runs Facebook had previously relied on, but to make the judgements 'Artificial Intelligence' cannot (because far from being intelligent, it is as abjectly effing stupid as the nerds that probram the algorithms. It has come to light in leaked documents obtained by The New York Times that Facebook's human moderators are doing a lousy job, promoting fake news while censoring truthful reports, because they have been relying on outdated, inaccurate and biased "maze of PowerPoint slides" to police global political speech, according to the trove of 1,400 internal documents inspected and reported on by The New York Times.
Moderators who have worked for Facebook admit they often rely on Google Translate to read posts, and are put under pressure to achieve targets by making decisions on the acceptability of content within a matter of seconds, just as call centre customer service agents are required to clear down calls quickly, according to the report.
The guidelines for moderators, reviewed every other Tuesday morning by "several dozen Facebook employees who gather over breakfast," according to Facebook public relations propaganda, areare filled with "numerous gaps, baises and outright errors," according to the Times.
Moderators were once told, for example, to remove fund-raising appeals for volcano victims in Indonesia because a co-sponsor of the drive was on Facebook's internal list of banned groups. In Myanmar, a paperwork error allowed a prominent extremist group, accused of fomenting genocide, to stay on the platform for months. In India, moderators were mistakenly told to flag for possible removal comments critical of religion. -NYT
The guidelines, set by "mostly young engineers and lawyers," must be interpreted by Facebook's fleet of mostly outsourced moderators
which employ largely unskilled workers, "many hired out of call centers."

(Illegal migrants working on zero hours contracts perhaps? - editor)
Moderators have expressed frustration at rules they say don't always make sense and sometimes require them to leave up posts they fear could lead to violence. "You feel like you killed someone by not acting," one said, speaking on the condition of anonymity because he had signed a nondisclosure agreement. -NYT
According to Facebook executives, they are working diligently to rid the platform of "dangerous" content.

"It's not our place to correct people's speech, but we do want to enforce our community standards on our platform," said Facebook senior News Feed engineer. "When you're in our community, we want to make sure that we're balancing freedom of expression and safety."

The company's head of global policy management, Monika Bickert, meanwhile, said that the company's primary goal was to prevent harm - though perfection "is not possible."

"We have billions of posts every day, we're identifying more and more potential violations using our technical systems," said Bickert. "At that scale, even if you're 99 percent accurate, you're going

to have a lot of mistakes."

Indeed it is not, but can an organisations whose senior management have been only too willing to use the company's position to promote the left wing, globalist causes they support, ever be trusted toensure balanced treatment for political and social commentary which challenges the idea and values their corporate leaders want to impose on the world?

And since Facebook's set of rules are more or less a patchwork of Excel spreadsheets and unorganized PowerPoint presentations, there is no single master file or reference guide. ing to the Times, "Moderators must sort a post into one of three "tiers" of severity. They must bear in mind lists like the six "designated dehumanizing comparisons," among them comparing Jews to rats." Facebook insists the files are only for training, but moderators say they are used as day-to-day reference materials.

One document sets out several rules just to determine when a word like "martyr" or "jihad" indicates pro-terrorism speech. Another describes when discussion of a barred group should be forbidden. Words like "brother" or "comrade" probably cross the line. So do any of a dozen emojis. -NYT

"There's a real tension here between wanting to have nuances to account for every situation, and wanting to have a set of policies we can enforce accurately and we can explain cleanly," said Bickert, who added "We're not drawing these lines in a vacuum."

The Times concludes that entrusing to Facebook the task of policing of what they consider extremism or disinformation intrudes into sensitive political matters worldwide - "sometimes clumsily."

"Facebook's role has become so hegemonic, so monopolistic, that it has become a force unto itself," said Balkans expert Jasmin Mujanovic. "No one entity, especially not a for-profit venture like Facebook, should have that kind of power to influence public debate and policy."

The full New York Times report can be read here.

SCROLLING DIVISION FOR LINKS

German politician calls on facebook to abolish free speech

A German politician has given the clearest indication yet that the political elites of the free world are ideologically much closer to Adolf Hitler's National Socialists than the social liberalism they claim to support. Free speech is the basis of all liberal democracy. Heiko Maas, the German justice minister has has written to the Facebook it removes "xenophobic and racist" anti-migrant posts from its website and apps., has written to the company to demand an urgent review of its policy over hate messages.

Free Speech Is Being Murdered By The Media And Left Wing Authoritarianism
Without free speech there is no democracy. Without democracy there is no freedom. But all over the developed world free speech is under attack from politically correct politics. It is time to start resisting, do not believe the propaganda published by mainstream media, question everything and make up your own mind. as The Buddha said, "Believe nothing you read or are told unless it agrees with your own experience and common sense."

Farage Reckless Facing Rabid Left Wing Fanatics
Following the defection to UKIP of Conservative MP Mark Reckless, who yesterday shocked the media and political establishment (everyone else knew it was on the cards.) by announcing his switch from con to Kipper from the podium at the closing session of UKIP's conference, the Kippers latest recruit and his new leader yesterday faced angry but ineffectual protests

Farage Reckless Facing Rabid Left Wing Fanatics
Following the defection to UKIP of Conservative MP Mark Reckless, who yesterday shocked the media and political establishment (everyone else knew it was on the cards.) by announcing his switch from con to Kipper from the podium at the closing session of UKIP's conference, the Kippers latest recruit and his new leader yesterday faced angry but ineffectual protests

Obama administration 'blocking' information from the press
Uncovering information that should be available to the public has become increasingly difficult under the presidency of Barack Obama, an Associated Press bureau chief says. In some cases, it surpasses the secrecy of the George W. Bush administration. The White House's penchant for secrecy does not just apply to the federal government, according to AP's Washington bureau chief, Sally Buzbee.

Western Hypocrisy In Reporting News about Ukraine And Russia
The opening paragraph of a CNN report on the latest developments in the crisis in Ukraine illusrate perfectly the hypocrisy of Western media in the way they cast Russia as the danger to world peace and America as bringer of freedom and democracy. In fact in the crisis over the US attempt to draw Ukraine into NATO the positions taken by the USA abd Russias are the opposite of the 1962 Cuban Missile Crisis.

Scandal hit Rotherham 'deleted abuse files'
In a move that puts them among the contenders for lying, self serving shits of the decade, but still in a league of their own un terms of complete and utter shittiness, it has emerged that the scum sucking scab lice of Rotherham Council's controlling Labour group and the public servants they employed had deleted files in order to cover up their complicity in the blatant and systematic child abuse perpetrated under the noses of council officials.

Centralized power - the worst of all possible worlds
The centralization of power over the past few decades in nations of the developed world has led to the evolution of a sociopathic managerial class formed mainly from the old petite bourgoisie who have now gravitted to public sector careers where their delusions of social status and the unaccountability of office lead them to abuse such power as they have.

Kick Political Correctness Out Of Football
As another football versus politiocally correct authoritarianist brings 'the beautiful game' even further into disrepute, we wonder is it time to kick politically correct authoritarianism out of sport.

Intrusive Surveillance Technology, Internet control freaks and The Orwell-Huxley-Dick Dystiopianometer
Are privacy campaigners right to be worried about intrustive internet technology and the massive databases that log our behaviour and parse the data for patters that enable us to be targeted for advertising? Should we bee worried by surveillance or are those that raise doubts just scaremongering? The Orwell-huxley-Dick dystopianometer is rising.

So Who Is Anti - science? Those Who Question Climate Change Or Those Who Would Abolish Free Speech
It was looking as if the global warming scare was dead, then that Nazi shit Barack Obama, seeing his dream of being President Of The World slipping away, gave his science whores enough money to enable them to kick some life back into it. Now the "science" lobby, unable to put together an convinging argument against their challengers are demanding the abolition of free speech.

New World Order War On free Speech Comes To Britain - Guardian editor accused of treason
The right to free speech is under threat from intolerant, authoritarian elitists, call them The Illuminati, New World Order, Scientific Dictatorshgip, Global Elite, whatever. Their goal is absolute power and they know that while the right of free speech, the free press and free access to information exist they cannot succeed.

How academic debate is suppressed on science topics like Climate Change, GMOs, Pesticides and Toxicity of medicines
Intellectual intolerance and the supposed superiority of the scientific education have led not just to the politiciisation of science but to it's being seduced by corporate money and political power. Science was ever fascism's whore of course and the egos of scientists are easily bought. This has led to a very unhealthy emergence of dogmas and orthodoxies and an intolerance of the dissent that is essential if scientific research is to have any credibility.

Phobophobia - Fear Of Being called Phobic?
Homophobia is not fear of homosexuals but fear of thec same thing which does not make sense. Just as politically correct thinking uses the word bigot nonsensically so it's accusations of phobia are irrational - as irrational as the groundless fear familiar to those who suffer the recognized medical conditions called phobias.

The Importance Of Free Speech And A Free Press
Politicians around the developed world including leaders of the two most powerful democracies, Barack Obama and David Cameron have been falling over themselves to join the attack on free speech. On subjects as diverse as climate…
---
30 December, 2018
Counter-Terrorism Police Brought in to Protect Butchers from Militant Vegans
by Arthur Kinnell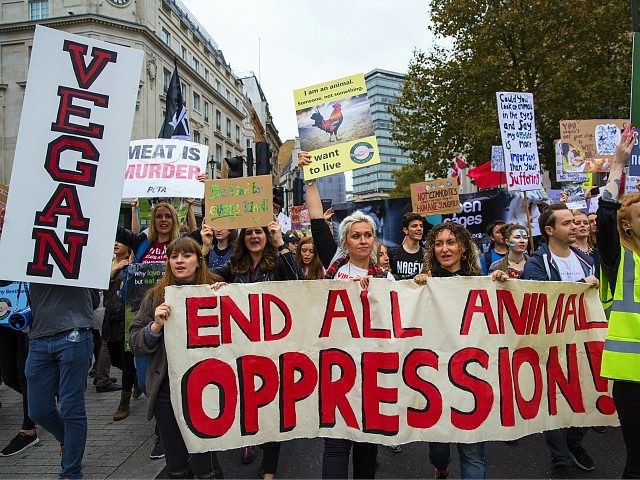 Vegan activists - protesting is OK, when they start threatening people we should throw burgers at them
British counter-terror police have been deployed to protecting meat industry workers as vegan activists have become move violent in their protests. It is surprising (not!) that the predominantly left wing vegan activists, while having threatened Europeans who work in the meat industry have as yet had nothing to say about the barbaric methods of slaughter used in halal abbatoirs by Muslim meat businesses.
Workers at abattoirs, farms, and meat-packing factories have been under increasing threat by far-left animal rights campaigners, with the British Poultry Council and the National Pig Association being just two of the bodies seeking protection through the counter-terrorism force, reports the Mail on Sunday.
In one historic case reported by Channel 4 Dispatches, racist, jew - hating, militant vegan group SAVE attacked a Jewish kosher abattoir in east London two years ago, breaking into the building and daubing anti-Semitic slogans on the wall, with one protester yelling, "It's a holocaust. You Nazis!"
The report of meat producers engaging counter-terror police comes after Waitrose Food magazine editor William Sitwell was forced to resign over a joke about vegans, and found himself subjected to vitriol and threats of violence against him and his family.
Mr Sitwell told the Mail on Sunday, "There were threats to rape my wife, tie her up, and cut off her genitals."
Organised vegan activists have been calling for their lifestyle to be given the same "protected characteristic" status as race, religion, sexuality, gender, and disability, under discrimination laws, which would make it a criminal offence to mock or discriminate against vegans. Well, at least it's honest of them to identify themselves as similar to all the nutters, perverts, retards and weirdos who demand special treatment.
The calls followed the case of Jordi Casamitjana in early December, who took his discrimination claim to the High Court after alleging that his firing from the League Against Cruel Sports was due to discrimination against his lifestyle. We don't suppose it occurred to him that he may have been fired for being a boring, self righteous cunt.
Unfortunately for vegan political activists this kind of attempt to bully people into accepting the crakpot demands of a bunch of humanity hating psychopaths only reinforces the feeling among sane people that vegans are nutters who are best ignored until we have a government with the testicular fortitude to lock the buggers up.
Dishonesty Of Mainstream Media Revealed
Since Donald Trump, frontrunner in the race to be nominated Rebpublican candidate in the 2016 US Presidental election made some unpolitically-correct comments about stropping followers of Islam entering the USA until a way can be found of identifying the ones who have been radicalised and trained to perpetrate acts of terrorism in the USA, they media have been getting their knickers in a right old twist.
Heather McCartney Vegan – She?s pulling your leg.
For a long time criticism of the McCartneys was a media taboo, Paul is such an all round good guy and ayway we are running out of Beatles much too quickly. And to attack Heather, suggesting she might be a publicity hungry gold – digger was to attack Paul. Since the marriage break – up
White Privilege Now Inculdes The Privilege Of Being Fired For being White
Its should be obvious by now that the politically correct left, insaniac sociopaths that they are, have only one emotion at their disposal; hate. Bizarrely the hatered of these predominantly white, middle class people, while of themselves, is mostly racist in nature but directed at members of their own race.
Ugly Marxist Lesbians Demand Right To Menstruate In Public
The story of the militant femists munter who ran a marathon on the first day of her 'monthlies' without using a tampon or sanitary towel (they're a sexist symbol or the oppressive patriarchy donchakow) is not new. The London Marathon was run back in April and the story of Kiran Gandhi's brave stance against male oppression (along with pitures of the dark stain speading across the croth of her leggings) was ignored by mainsteam and alternative media alike.
Vegetarian Corbyn And Lardarse Abbott Were Lovers
As lefties carry on grizzling about Labour leader Jeremy Corbyn not singing the Royal Anthem (they don't even know that God Save The Queen is not actually the national anthem) was yesterday a bigger story than The Conservatives voting to cut tax credits which, the loonies claim will 'plunge thousands of families into poverty
Social Science Degrees Make Great Leaders? More Junk Science.
We've had junk science on climate change, genetically modified seeds, many types of medicines and social engineering. The junkiest of junk science however is always commissioned by public service organisations and is aimed at convincing the public that our public servants are doing a good job. Fortunately the public are not as gullible as our leaders suppose.
Adolescent Girl Raped By 60 Men In Asian Grooming Gang
A trial jury atThe Old Bailey, London, heard yesterday the harrowing ddetails of how two schoolgirls were groomed and raped by an paedophile gang based in Aylesbury, Bucks, while aged just 12 and 13. Eleven gang members, accused of carrying out the crimes between 2006 and 2012 face 49 criminal charges between them including statutory rape, child prostitution and creating child pornography, The Daily Mirror reports.
Poldark female star: Obsession with topless Aidan Turner is 'sexist and undermines the show'
The latest outburst has come in response to a few tabloid stories of actor Aidan Turner's 'topless' appearances in the BBC television series Poldark. The screeching sisters can't really complain about male chauvinism as it is women who are lusting for Ross Poldark. So the ladies (?) are upset because they can't go topless too.
More Swedish PC Madness. Art treasures declared pornographic and offensive to women and Muslims
Crazy California has for many years held the title of global capital of politically correct isanity, but recently Sweden, always a contender, has shown signs of taking the title. The latest example of PC fuckwittery from Sweden's politically correct in their efforts to sacrifice western civilisation to feminist self righteousness and Muslim extremism left suggests they might be ready to assume the title, craziest place on earth.
Nineteen Eighty-Four: Sweden's Ministry of Truth to 'Gender-Adjust' History Books
Food Fascists Demand Tobacco-Style Sin Taxes to Slash Meat Consumption
Sky-high sin taxes on meat have been branded "inevitable" in Britain after a study asserted that the move could "save hundreds of thousands of lives" as well as helping stop climate change. Researchers at Oxford University urged ministers to consider the move, claiming that hiking the cost of red meat by 14 per cent
Multi-Cultural England: Are You Feeling The Progressive Diversity.
As racial and sectarian tension increase on the streets of britain while politicians gear up for the election campaign, we take a look at the state of Britain today, Imigrant child abuse gangs, Clerics of alient faiths dictating moral strictures, and everywhere we look, foreigners being given provieged status. Is it any wonder the voters are angry?
">Mothers banned from breastfeeding at breastfeeding conference
'Mothers invited to a Scottish Government-backed breastfeeding conference were left angry and bemused after being told that they would not be allowed to breastfeed their babies.
29 December, 2018
Brexiteer DESTROYS BBC panel of Remainers as they try to mock 'Brexit disaster'
A newspaper columnist who backs Brexit excoriated a BBC panel of the usual hand - picked, "right - on" cultural Marxist, Remainer correspondents in an astonishing outburst after row the ignorant, ill informed leftie bullies mocked for defending the referendum decision.
An on-air row erupted when Brexit-backing Telegraph columnist Janet Daly defended the decision to leave the EU to the fury and disbelief of Remain-supporting journalists who immediately resorted to the usual debating tactic of the left, that of trying to shout down anyone who disagrees with them. Daley furiously defended Brexit - claiming, quite justifiably acording to official fogures, that "Britain was booming" while "the EU is in decline". The row became so intense that BBC anchor Shaun Ley had to intervene.
Daley told BBC Dateline: "We are definitely going to leave. There is no question about that.
"But, there is no majority in Parliament for a no deal Brexit so there will be some words agreed, at the very last moment, the last second possible.
"We will eventually arrive at what can be called an exit from the EU."
Daley was met with huge roars of ridiculing laughter when she claimed that the EU was trying to ruin the UK economically.
Fellow correspondent Abdel Barry Atwan, misogyinistic on religious grounds as well as being an ignorant, ill - mannered leftie twat, interrupted Daley to mock her defence of Brexit.
Atwan said: "I believe the saga in the UK: the constitutional crisis, the bad economy, the collapse of the stock market - thousand points down in the last six months. (This is one of those misleading truths, until a recent world wide correction stocks had become overvalued globallly due to algorithm driven trading.)
"I believe all of that will make Europe strong. The alternative is to stick together." With these words the man proved his is an idiot. How will it make Europe strong? he didn't say.
Daley hit back: "Growth in the EU is declining, they have serious economic problems, and Italy is threatening to pull the plug on the whole eurozone. The economy in Britain is booming. We have the biggest high-tech industry. We have the lowest level of unemployment in history." Well somrething of an exaggeration to say 'booming' perhaps, but it's doing better than any EU member including Germany.
Atwan became increasingly frustrated with Daley, telling her that Brexit was "a disaster" though he seemed unable to explain why. The Brexiteer pointed out that the devalued pound helped Britain's export market this year, before adding: "You have to understand economic truths!"
Daley also dismissed the potential for second referendum, claiming it was a "non-starter".
---
Whistleblower: UK Prepared for 'No Deal' Brexit, Scare Stories 'Absolutely Untrue'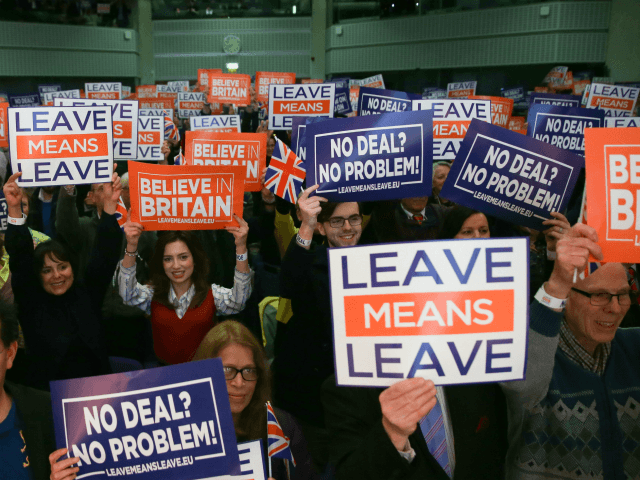 No deal? Leave means leave (Picture: Breitbart )
We did tell you the Remainers and EU fanboys were scaremongering. Now it's official - well sort of ...
A senior civil servant has lifted the lid on a Remainer conspiracy behind Project Fear , revealing that the country is actually well-prepared for a "No Deal" Brexit and scare stories about Britain "crashing out" into "chaos and doom" are "absolutely untrue". So it's time we were rid of that weird looking gobshite Hammond and the little Canuk cunt and the Bank Of England, Carney.
The anonymous official, who has been involved in Britain's preparations for a Brexit on World Trade Organization (WTO) terms — the so-called "No Deal" scenario — revealed in a Telegraph article that there are "hundreds" of plans in place to ensure that outlandish threats of food, water, and medicine shortages will not be realised, and that "it is purely a political decision not to make this clear to the public and nervous backbench MPs".
"Project Fear Mark (I think) III… claims that we will all 'crash out' over the white cliffs of Dover into the Channel at 11 p.m. on 29 March 2019 and wake up to certain chaos and doom… [I]t is absolutely untrue, as anyone who, like me, has been involved in Brexit work for the past two-and-a-half years in Whitehall will tell you," he scoffed.
Well this blog has been telling you since 2016 that Remainers were a bunch of neo-con globalist authoritarians who would have trashed our country completely rather than give up the dream of a totalitarian world government - towards which a federal Europe was a vital step.
EU Refuses to Block Eurozone Integration to Reach Agreement With UK Austrian Chancellor Werner Faymann said at the E?U summit on British membership terms that the European Union wants to reach an agreement with the United Kingdom, but it is not prepared to compromise the banking union (financial integration) or the further integration of monetary union (UK being forced to abandon the pound join the Euro?) to achieve this goal.
Cameron's EU Deal Worthless. It Can Be Vetoed In European Parliament? Opinion polls show Britain is evenly divided on the question of whether to leave or remain in the EU, though it has been suggested up to 10 million other voters, many of them women, have yet to make a decision. How they cast their vote will shape the future of the world's fifth largest economy and the EU itself. But what is really at stake is more important than economics ...
Obama's intervention in UK politics triggers angry backlash Angry Britons have launched a petition calling for U.S. President Barack Obama to be prevented from speaking in the UK parliament on Britain's forthcoming referendum on European Union (EU) membership.
NATO Rhetoric About Russian Threat is 'Absurd' The reasons being given for the latest NATO military buildup in Eastern Europe, the idea that the Russian 'Russian threat' to Eastern Europe grows every day is "simply absurd," according to former US diplomat and Senate policy advisor Jim Jatras. Effectively, Jatras says, the buildup is an attempt by the US to keep Germany and France on board with Washington's world domination agenda and ...
E U To Push TTIP Trade Deal Before Obama Leaves Office TTIP, the Trans Atlantic Trade And Investment Partnership is being promoted bt the US government and the EU Commission as a free trade deal that will create thousands of jobs and bring economic benefits to partners. It's critics however claim it is a blatant attempt to shift power from national governments to corporate business.
EU Officials Say Europe Is "Going Down The Drain Common sense could not slow the charge of politically correct globalist politiciand towards merging the 28 member states of the European Union into a single federal entity, but their attempt to destroy democracy by flooding the continent with illiterate third world peasants has finally awoken the spirits of Europe's ancient nations.
EU Report Reveals Continent Being Changed By Migration While political leaders and the mass media constantly preach of the economic benefits and cultural enrichment that sping from mass immigration,EU Report Reveals Continent Being Changed By Migration just a few days ago we reported a study that found the economic benefits are a myth and today a report published by the EUs in house statistical bureau reveals immigrants have an adverse effect socially and culturally.
Major blow for Brexit campaign as US rules out UK-only trade deal? Michael Froman, the US Trade Representative, said America is "not in the market" for trade deals with individual states and would only consider free trade agreements with blocs of nations. "I think it's absolutely clear that Britain has a greater voice at the trade table being part of the EU, being part of a larger economic entity," Mr Froman told Reuters.
---
28 December, 2018
Security Expert: Sweden is "On the Way to Civil War"
International security consultant Olle Fjordgren has issued a stark warning that his native Sweden is "on the way to civil war" as a result of the problems caused by mass immigration, a soft justice system that often seems to blame victims of crime as much as the prepetrators, and inability to tackle lawlessness among immigrants in the country's expanding "no go zones" where crime is rampant.
In an interview with the Ingrid & Maria news blog, Fjordgren, who has acted as a security advisor to the governments of Pakistan, Ethiopia and Mongolia, said, "We have basically given up and the criminals have seized power. Right now we have nothing to oppose and I can't see that we could reverse the development."
Describing Sweden as a "freight train heading for a rock wall," Fjordgren added that the unwillingness in the political establishment to admit how bad things have become in Sweden's towns and cities where the predominantly Muslim migrant ghettos have been allowed to form, in addition to the way people who try to highlight that the problems related to migrants who refuse to integrate or respect Swedish law and values rountinely being labeled "racist," means that Sweden is now close to becoming a "failed state".
Citing Lebanon as an example of what happens to a society when integration fails and different ethnic and criminal gangs engage in turf wars, Fjordgren sees "only one possible development" in Sweden's future – a "civil war". This is in part because while police are still operating by old, outdated rules, criminals have become more ruthless and play by completely different rules.
Fjordgren says the only way to turn things round now would be for Sweden to adopt a New York City-style zero tolerance policy on crime, although given the country's obsessibe political correctness and progressive approach to justice which often results in migrants found guilty of rape or murder being allowed to walk free because, "We must accept there are different standards in their culture;" this seems highly unlikely.
"The judiciary must ensure that these dangerous people are incapacitated and removed from the streets," he argues.
Sweden's growing crime problem has been exacerbated by the country opening its borders to millions of migrants and allowing people from the third worlds most lawless shitholes to flood into their country without even the most basic identity checks being applied in recent years.
As a Spectator study reported, "Murder is up 40 per cent since 2012; the number of gun homicides has more than doubled in ten years. Compared with Britain, it is five times more common for young men in Sweden to be shot and killed."
Grenade attacks, mass torching of vehicles and other crimes are also on the rise.
Figures released in August found that 58 per cent of convicted rapists and 85 per cent of all convicted assault rapists in Sweden were born outside of Europe.
In cases where the victim did not know the attacker, the proportion of foreign offenders was more than 80 per cent. Nearly 40 per cent of the convicted rapists are from the Middle East or from Africa.
MORE
Sweden Dystopia Omnibus
Immigration omnibus
Sweden: Authorities cancel traditional Christmas concerts, promote Islamic events
Chancellor Merkel Comes Out Of The Bunker At Last
Leaked Document: United Nations Says Immigration Is Always Good
Armageddon (poem)
---
Security Expert: Sweden is "On the Way to Civil War"
International security consultant Olle Fjordgren has issued a stark warning that his native Sweden is "on the way to civil war" as a result of the problems caused by mass immigration, a soft justice system that often seems to blame victims of crime as much as the prepetrators, and inability to tackle lawlessness among immigrants in the country's expanding "no go zones" where crime is rampant.
In an interview with the Ingrid & Maria news blog, Fjordgren, who has acted as a security advisor to the governments of Pakistan, Ethiopia and Mongolia, said, "We have basically given up and the criminals have seized power. Right now we have nothing to oppose and I can't see that we could reverse the development."
Describing Sweden as a "freight train heading for a rock wall," Fjordgren added that the unwillingness in the political establishment to admit how bad things have become in Sweden's towns and cities where the predominantly Muslim migrant ghettos have been allowed to form, in addition to the way people who try to highlight that the problems related to migrants who refuse to integrate or respect Swedish law and values rountinely being labeled "racist," means that Sweden is now close to becoming a "failed state".
Citing Lebanon as an example of what happens to a society when integration fails and different ethnic and criminal gangs engage in turf wars, Fjordgren sees "only one possible development" in Sweden's future – a "civil war". This is in part because while police are still operating by old, outdated rules, criminals have become more ruthless and play by completely different rules.
Fjordgren says the only way to turn things round now would be for Sweden to adopt a New York City-style zero tolerance policy on crime, although given the country's obsessibe political correctness and progressive approach to justice which often results in migrants found guilty of rape or murder being allowed to walk free because, "We must accept there are different standards in their culture;" this seems highly unlikely.
"The judiciary must ensure that these dangerous people are incapacitated and removed from the streets," he argues.
Sweden's growing crime problem has been exacerbated by the country opening its borders to millions of migrants and allowing people from the third worlds most lawless shitholes to flood into their country without even the most basic identity checks being applied in recent years.
As a Spectator study reported, "Murder is up 40 per cent since 2012; the number of gun homicides has more than doubled in ten years. Compared with Britain, it is five times more common for young men in Sweden to be shot and killed."
Grenade attacks, mass torching of vehicles and other crimes are also on the rise.
Figures released in August found that 58 per cent of convicted rapists and 85 per cent of all convicted assault rapists in Sweden were born outside of Europe.
In cases where the victim did not know the attacker, the proportion of foreign offenders was more than 80 per cent. Nearly 40 per cent of the convicted rapists are from the Middle East or from Africa.
---
27 December, 2018
As Government Prepares For No Deal Brexit Project Fear Scaremongers Go Into Overdrive
With less than 100 days to go to Brexit day, and no 'deal' in in sight betwen thye United Kingdom and the EU, both the British government and the European Union commission are preparing for a hard Brexit. Meanwhile the ardent Remainers in government, business and the media are ramping up the scaremongering in a last ditch effort to stop Brexit happening.
No-deal would leave 'Britain like MOROCCO' warns EU budget chief
EUROPEAN Commissioner Günther Oettinger incredibly believes Parliament could still back Prime Minister Theresa May's much-criticised Brexit divorce deal next month – but has also said the chances of Britain remaining the bloc has increased slightly over the course of the last few months The DEaily Express reports.
He also admitted the possibility of a second referendum as unlikely – while taking the opportunity to issue a stark warning over the dangers of a no-deal Brexit, warning Mrs May Britain risked becoming a "like Morocco" if it crashed out without an agreement in place on March 29, 2019. And he fears a no deal Brexit would also hit Germany hard financially. German national Mr Oettinger, the EU's budget specialist, said there was still a chance MPs would vote in favour of Mr May's withdrawal agreement agreement in January and that there was no public support for a disorderly Brexit or another referendum.
The EU has a long track record for overturning the results of referenda in member states. Previous votes in Ireland, Portugal and Greece have simply been overruled while the rejection of the European Constitution (which paved the way to a federal superstate,)rejected by voters in France and Netherlands, was withdrawn and replaced by the Lisbon Treaty which contained the same clauses but presented as a treaty change rather than a new pan - EU constitution could be ratified by national assemblies without need for a plebicite.
Mrs May's withdrawal agreement, which her critics say gives the EU everything they wanted while guaranteeing none of the conditions the British parliamented insisted on, was understandably ratified by Brussels on November 25, but a vote in the UK parliament had to be posponed earlier this month after May's advisers convinced her the package would be voted down by a large majority of MPs.
The deal is unacceptable toConservative Eurosceptic MPs and Democratic Unionist Party MPs, who are deeply unhappy with a commitment to a "backstop" for Northern Ireland which would tie it to EU rules and regulations during the course of a possibly indefinite transition phase which will follow Britain leaving the EU. Critics say this is unacceptable because it would see Northern Ireland treated differently from the rest of the UK. Meanwhile the Labour Party is committed to remaining in a customs union with the EU, so are highly unlikely to back Mrs May's proposals in their current form. Some opponents of the deal see the backstop as a bid by Dublin to reunify Ireland by stealth.
---
No-deal Brexit could increase risk to public safety, Metropolitan Police Commissioner Cressida Dick warns
The Daily Telegraph leads with a report of Cressida Dick, the Metropolitan Police Commissioner whining that a no-deal Brexit could put the public's safety at risk, Britain's top police officer warned on Thursday.
Ms. Dick warned that the loss of access to European intelligence agencies' databases and agreements on arrest and extradition threatened the police's crime-fighting capability. This is in spite of the fact that UK security agencies have been far more successful than their European counterparts at containing the threat of Islamic extremism, in fact britain's GCHQ, a creepy agency deeply involved in microsurveillance of citizens on a par with that caried out by the American CIA and NSA, is indispensible to European security services which have nothing comparable.
In the event of a no deal which would be "very hard in the short term", Dick said said: "We will have to replace some of the things we currently use in terms of access to databases, the way in which we can quickly extradite and arrest people.
"We will have to replace [them] as effectively as we can. That will be more costly undoubtedly, slower undoubtedly and potentially put the public at risk. No doubt about that.
"But I understand this is just one of many things that politicians who are deciding what to do are thinking about."
Answering a journalist's question on whether there would be time to put bilateral arrangements in place before Brexit day, she said: "We can talk about how that might happen but whilst so much is unknown nothing can be put in place and it would be improper to do so."
Ms. Dick is hardly in a position to be taken seriously when commenting about public safety. There is little risk to individuals from terorist activity although incodents always grab headlines. A far higher level of risk to individuals in Greater London, the jurisdiction of the Metropolitan Police, comes from kinfe crimes, acid attacks and general volience and criminal damage perpetrated mainly by members of immigrant communities as a result of Dick, in collaboration with London's Mayor Sadiq "Unhappy Richard" Khan, deciding to prioritise the prosecution of those suspected of 'hate crime' over the pursuit and arrest of real criminals.
26 December, 2018
Brexit 'tragedy' to RAMP UP pressure on European Union, former German minister warns
THE "great tragedy" of Brexit will put "additional pressure" on European Union member states to promote the bloc's Euro agenda to international trade partners, former German Foreign Minister Joschka Fischer warned.
Mr Fischer admitted Brexit will not affect the "geopolitical situation" in Europe, but said Britain's decision to quit the European Union will put "additional pressure" on member states. The former German minister claimed his home nation and France, in particular, will have to ramp up efforts to promote Europe's international role as the economic focus strays away to the West into fast-developing Asian countries. He also appeared to suggest Berlin will continue to maintain ties with London as "there is life after divorce."
Speaking to Euronews, Mr Fischer said: "The geopolitical situation is not going to change, neither for the English nor for us.I think Brexit is a great tragedy – unnecessary, just like a hole in your head. You really don't need it but it's reality and it will put additional pressure on the continental Europeans."
The former Foreign Minister claimed a key factor in protecting the international role of the European Union was to increase efforts to integrate member states more – and strengthen ties with France.
More on Germany
---
---
25 December, 2018
MERRY CHRISTMAS
---
24 December, 2018
Sweden: Authorities cancel traditional Christmas concerts, promote Islamic events
Sweden's, and perhaps the world's largest outdoor Christmas concert "Oh Holy Night", which traditionally airs on Swedish national TV on Christmas Eve each year, has been cancelled, SVT news reports.
This is most likely yet another example of the Swedish governmenmt's policy of suppressing ancient European traditions in order not to offend migrants who don't hold Christian beliefs (a.k.a. Muslim extremists who hate everything Christian and European, who steal, rape and murder in the knowledge that even if the police bother to investigate their crimes - asking immigrant to obey Swedish law is racist according to left wing politicians in Sweden - can rely on the courts acting with extreme leniency in response to even the most serious of crimes.
Earlier incidents of this state sponsored de-Swedenication of Sweden include: replacing the image of Santa Lucia (December 21st), who according to the ancient Swedish Pagan Yule tradition always has been a long haired, blonde, beautiful woman, with a black boy.
Putting a woman in a hijab on the annual Advent/Christmas calendar.
Cancelling the traditional student choirs' appearance on TV at Valborg (Swedish Pagan spring celebration).
Principals forbidding students to wave the Swedish flag on graduation day.
Insisting on prayer for diversity at National Day celebration events.
Left-wing Swedes promoting the idea that Sweden's National Day should not be celebrated, on TV and in national papers.
At the same time Muslim culture and traditions are being intensely promoted:
On Midsummer's Day (Sweden's celebration of the sun at its height, the most culturally significant traditional holiday in the Swedish calendar) TV4 decided to let a woman in a hijab teach the Swedes how to cook kebab properly in preparation for Ramadan, the holy month of the Islamic calendar. It was a political gesture of course, cooking a kebab is not difficult. Ramadan is also celebrated with state funded public events in all Swedish cities with large migrant communities as well as on TV. In spite of protests from Christian and secular Swedes, authorities are allowing the Islamic call to prayer to be played through loudspeakers (at 110 dB), while at the same time banning bell rining in Christian churches (presulmably bells are an abomination to Allah.)
Sadly, this is not confined to Sweden. Similar things are occurring throughout the liberal democracies of Western Europe, and will continue to occur as long as the ruling elites pursue immigrant friendly policies aimed at replacing the educated, well informed working classes of Europe with ignorant, illiterate (and therefore not capable of dissent) third world peasants.
In order to save ourselves we need to stand up for national cultures and traditions, and to stop accepting government's efforts to force us to accept Islamic values and morals, ignore pro - Islamic laws such as the recent judgement in the European Court which makes ALL criticism of Islam subject to charges of blasphemy (meanwhile Muslims can say what they like about Christianity, Atheism, Paganism, humanism, Hinduism and buddhism,) In counties all over the European continent, along with the United States, Canada, Australia and South East Asia resistance to the ruling elite's efforts to inject Islam into our way of life is growing. Join the resistance NOW. Islam is a burtal, primitive religion that treats women as property, executes people for having sex outside marriage and imposes the death penalty for homosexuality. We must act, in a few more years it will be too late.
---
More on Islam's eradication of Swedish culture via
Swedish school bans centuries-old Christian tradition but celebrates Muhammad's journey to heaven
Prohibition of the Swedish Christmas tradition
Lucia
has sparked debate in Sweden. In Motala, the Lucia celebration
has been cancelled
at Kärrbacken School. According to preschool manager Anna Karmskog, they want to avoid discrimination, offensive treatment and do not want to "exclude" anyone. It is also seen from an "equality perspective". Many people buy Lucia costumes for one occasion. It does not feel right to force the parents to buy these, she says, untruthfully. I have worked in Sweden and been involved in a Lucia celebration (festival of light celebrating the day on which the sun passes its lowest point on the noon horizon and days start to lengthen. Special costumes are optional, all that is needed is a candle and something to catch wax, which can be fashioned out of tinfoil. Left wing activist teachers, honouring the killjoy spirit we traditionally associate with the virtue signalling, politically correct left, say many children are rendered anxious and sad in a large crowd, and the "gender perspective" as the children "walk in a row" is questioned. In other words boys walk in one line, girls in another. The school did not discussed the cancellation with the parents, the leftist techers simply imposed theor prejudices. In Mellerud, Åsen's school decided to boycott the Lucia celebrations altogether, at both primary and middle school. A parent at the school, Ingrid Stewart, believes the ban has to do with religion and the hated of left wing staff towards Christianity and Swedish culture. "I suspect it. Everyone does not feel comfortable with Lucia celebrations according to the school. But last week, the school celebrated Muhammad's journey to heaven without even informing us.", she says. Some now say that the cancelled Lucia celebration is a prelude to cancel Christmas and force Swedes to adapt to Islam. Recently, to prevent terror attacks, barriers have also been set up at Christmas Markets in Malmö.Organi. Fortunately all this is strengtening the Sweden Democrats, the nationalist political party.
RELATED POSTS:
Sweden In Shock After Latest Imigrant Rape Outrage
Disabled Woman Gang Raped By Immigrants In Sweden. Socialist Utopia My Arse
Swedish Press Conceals Migrant Crimes Due to Loyalty to Government
Sweden 'Facing Collapse' Thanks To Migrant Influx, Foreign Minister Warns
"Never Seen Anything Like This Before" – Sweden Stunned At "Unreal" Surge In Refugee Sex Attacks
Sweden's Migrant Crackdown Could Spell The End Of Open Borders Across Europe
WTF Is Going On In Sweden
Immigrant criminals and Swedish criminals are viewed differently in the eyes of Swedish law.
Fears Over Threat To Sovereignty Could Wreck EU European Army Plan
No they're not Star Wars Imperial Stormtroopers, they are German soldiers assigned to an international peacekeeping force, showing how like Imperial Stormtroopers a pan European army might look (Image source)
The Real Refugee Crisis Is In The Future Perhaps Angela Merkel thought we didn't yet know how full of it she is. Perhaps that's why she said yesterday with regards to Europe's refugee crisis that "Everything must move quickly," only to call an EU meeting a full two weeks later. That announcement show one thing: Merkel doesn't see this as a crisis. If she did, she would have called for such a meeting a long time ago, and not some point far into the future.
"Never Seen Anything Like This Before" – Sweden Stunned At "Unreal" Surge In Refugee Sex Attacks
As a direct result of Europe's refugee crisis, new and very unpleasant social fractures have started to emerge. One particularly troubling issue is the extent to which officials have tended to "blame the victim" in the ever more frequent sex attacks resulting from Europe's refugee surge, something we first touched upon earlier this week. For …
How the fall of France could accelerate the rise of UKIP Don't hold French stocks says former broker Farage as our Gallic neighbour sinks deeper into the Euroshite
The faltering French economy continues to stall under President Francois Hollande, which is boosting anti-EU sentiment across Europe particularly in Germany, where the efficiency worshipping taxpayers increasingly resent having to bail out their impecunious Eurozone partners.
Europe
Most recent posts - all topics

The Day The EU Died - Destruction Of Greece Shows True Fascist Nature Of The European Project Some inside information on the political stitch up that has turned GreeThe Day The EU Died - Destruction Of Greece Shows True Fascist Nature Of The European Projectce into a vassal state and humiliated the Greek people for the purpose of furthering the neo-Fascist 'ever closer union' agenda of the bureaucratic dictators in Brussels.
Immigrant Violence Changes Mood In Germany
Swedish TV Anchorman Refers To Immigrants As 'Kebab Technicians'
Brexit - The End Of The European Superstate Dream?
David Cameron, having won the election with a wafer thin majority is now under the cosh from eurosceptics in his own party as well as party managers panicked by the rise of UKIP. He has promised an early in-out referendum on Britain's future membership of the EU but can he win the concessions he needs to secure a yes vote from the punters
Self-Loathing Sweden Should Only Welcome Persecuted Immigrants, Instead They Invite The Persecutors Too.
We have covered immigration problems in Europe extensively, but the European country that demonstrates how wide the gap between ordinary people and the ruling eilte has become is Sweden where the politically correct governing coalition's immigration and social policies seem to indicate the elite are engaged in a genocide campaign against ethnic Swedes
German Ubermacht Gives Greek Upstats The Finger In European Union Confrontation. The confrontation between Germany, which some say sees itself as the increasingly dominant nation in the EU as 'ever closer integration' progresses, and Greece, the Euro zone economic basket case but a proud and independent nation all the same, had to come. Germany was more austerity from Greece to protect the value of the Greek debt it hold. Greece want money from Germany to settle old grievances.
23 December, 2018
Yellow Vest Protesters Across France Exceed 38,000 - Reports
Police and Yellow Vest protestors clash in Montmartre. Source: AFP Getty
In spite of the efforts by government influenced mainsteam meadia to claim the sixt week of Yellow vest protests in France only attracted a few thousand participants, The number of demonstrators who are taking part in "yellow vest" rallies across France on Saturday has exceeded 38,000, local media reported, citing the Interior Ministry. It was obvious from media coverage of protests in Paris alone that the momement is not diminishing in strength. Whatever 'fake news' government propagandists try to spread, alt_media are ahead of them, getting the real news out.
The France Info radio station reported that the police had detained 220 protesters across the country, with 81 of them taken into custody. A Sputnik correspondent earlier reported that police had used water cannons and tear gas to disperse the protesters on the Champs Elysee in Paris, where TV news reports showe that the protests were much larger than the government of city authorities were willing to admit.
The wave of 'Gilets Jaunes' (yellow vest) protests — named after the manadatory high visibility sleeveless jacket all French drivers carry — started in mid-November over plans to impoose a large tax increase on fuel for automobiles and commercial vehicles as part of President Macron's highly unpopular green agenda.
While the French government has for the current tax year scrapped its planned hike fuel taxes, which is what initially sparked the protests, the "yellow vests" have evolved into a broader movement against government policies and rising living costs. The rallies have been marked by violent clashes between protesters and the police.
---
Macron Calls for Order, Calm in Country Amid 'Yellow Vests' Protests
French President Emmanuel Macron called on Sunday for establishing order and accord in the country amid another wave of "yellow vests" rallies.
"The time has come for order, calm and harmony to prevail in the country. Our country needs it, it needs accord, unity and sincere commitment to important common goals. It is necessary to eliminate the existing differences", Macron told the BFMTV broadcaster.
---
Allegations of Russian Link to 'Yellow Vests' a Real Flop - French Journo
A yellow vests protestor in Paris (source: Sputnik)
The attempts by government officials in France, Britain, the USA and the European Union executive to claim the government of Russia has been deeply involved in the rise of the Gilets Janunes (Yellow Vests) protest that has spead from France across Europe have nothing to do with reality and are being used to promote the application of the controversial "fake news" law, Patrick Kamenka, a member of the French National Union of Journalists (SNJ-CGT), said on Wednesday.
French Foreign Minister Jean-Yves Le Drian started this particular 'fake news' campaign in early December, presumably to divert attention from the profound ineptitude of the Macron administration. Le Drian claimed that French authorities were investigating media reports about Russian involvement in the protests. Moscow laughed off the accusation, saying that the yellow vest protests were France's internal affair, calling the claims slander.
The yellow vest movement began on social media early this year as various groups formed to protest Macron's policies, which his critics claim favour the wealthy elite and disregard the concerns of ordinary people, the current wave of street protests were sparked last month by anger over fuel tax increases in France and have ever since expanded into wider grievances.
"I think it [ the Russia story ] is a real flop… I believe these accusations are completely out of touch with reality in France. This situation is social, people are asking for a better life because of the social difficulties they have… The real problem is what would be the answer of the government and President Emmanuel Macron to the demands of the people… I think that if you go and ask people who are demonstrating or fighting for their rights, they will be surprised to hear these rumors," Kamenka said.
In late November, the French National Assembly passed a law enacting measures to suppress "the manipulation of information," and empowering French judges to order the removal of "fake news" from websites during election campaigns. Before being adopted by the lower house of the French parliament, the law was rejected twice by the Senate. In the eyes of President Macron's administration, 'fake news' is anything which challenges or criticises the narratives being promoted by the French government and the European Union.
Kamenka believes the bill's authors are gambling that allegations of Russia's involvement in the "yellow vest" protests could help the supporters of the law to push it forward.
"We as a union declared recently that this law is very much against the freedom of expression and can be used against any media or any journalist… In this case, they are playing games accusing either Russia or the US of trying to push this social [yellow vest] movement forward… I think it will help those who introduced that law to the French parliament," Kamenka underlined.
Go to Contents
---
22 December, 2018
Extremist Muslim Group Influence Government Report On Islamophobia
Controversial Muslim activist group MEND, which has ben involved in promoting extremism as well as lobbying the government in support of further Islamification of british institutions, has "exerted decisive intellectual influence" in the government's first report from a think tank looking at Islamophobia in Britain, according to a research note.
Sir John Jenkins, former British Ambassador to Saudi Arabia, drew the conclusion that the extremist group has influenced the content of the report in a research paper for Policy Exchange after analysing the All-Party Parliamentary Group's (APPG) investigation, Islamophobia Defined: The Inquiry into a Working Definition of Islamophobia, which calls for the Government to establish a working definition of Islamophobia as "rooted in racism" and "a type of racism that targets expressions of Muslimness or perceived Muslimness."
Sir John reported that "although MEND is mentioned only once in the main body of the report… "It is clear that MEND [Muslim Engagement and Development], an organisation with a tarnished reputation in Government circles, has exerted an important intellectual influence on the APPG."
Sir John, co-authored of the British Government's 2015 review of the Muslim Brotherhood which found that the Egypt-founded Islamic supremacist group maintained links with the influential Muslim Council of Britain (MCB), and states that "MEND has long been surrounded by controversy.
"Earlier this year, a senior MEND representative asserted that Muslims in the UK face a situation analogous to that of Jews in Nazi Germany before the Holocaust.
"Its former director of engagement, Azad Ali, is reported to have said in March 2017 that that month's attack on Parliament, which killed five people, was 'not terrorism'."
Last year a report by The Henry Jackson Society, a think tank which promotes liberal democracy and highlights the dangers of extremism, stated that the Muslim group, which has ben consulted by politicians, promoted extremism, sharia law, Islamic supremacy and Muslim grievance narratives.
Noting that MEND has been working for the same expansion of the definition of Islamophobia as the APPG, i.e. that it be made a hate crime and that anything deemed by Muslim groups to be criticism of Islam shall be considered an expresion of Islamophobia, Sir John closed with the warning: "The connection between the APPG report and the MEND agenda is not simply intellectual," and outlined the deep connections between the group and those who prepared the report.
It is a sad comment on our ruling elite that they are actively assisting Muslim extremist groups to undermine british democracy and cultural values, and spread the doctrine of this vile, brutal, homophobic, misogyinistic, medieval religion in a civilised society like our. We spent 300 years pising the grip of pernicious christianity from the levers of power in Britain. Are we now expected to stand aside like a bunch of wimps while the elite hand the same kind of influence to an even more corrosive religion. To oppose islam is not Islamophobia, it's common sense.
Go to Contents
21 December, 2018
---
20 December, 2018

---

19 December, 2018

---

18 December, 2018

---

---

17 December, 2018

---

---

16 December, 2018

---

---

15 December, 2018

---

14 December, 2018

---

12 December, 2018 10 December, 2018

---

---

---

8 December, 2018

---

7 December, 2018 6 December, 2018

---

5 December, 2018

---

4 December, 2018

---

3 December, 2018

---

2 December, 2018

---

1 December, 2018

---

Daily Stirrer Archive Explore social history in our extensive archives. Month by month record of events in Europe and around the world. Search tool make it easy to find topics you are interested in

Archive Listings for The Daily Stirrer for you to explore although we recommend the topic catalogues listed in a scroll box on the left if you are looking for back stories on a particular subject.