Organized Child Abuse and Politically Correct Blindness - Birmingham and Elsewhere
---
Labour Party Muslims 'Cover' For Sex Grooming Gangs, Use Death Threats And 'Clan' Politics
Are you one of the pathetic sheeple who, rather than thinking for themselves will rely on the latest batch of Facebook memes to for their opinions for them? Or mabye you are one of the emotionally retarded losers who actually votes Labour. If you are either, then you are a despicable and worthless person (OK, I know that is not the way to win you over to my side; fact is I don't want you on my side) who is so thick you probably have not yet realised your behaviour identifies you as someone who approves of rape, paedophilia and even worse crimes that those.
Dozens of Muslim women have spoken out against the use by Muslim men within Britain's Labour Party and with the knowledge and apparently tacit approval of senior party members, of death threats and sexual violence to intimidate the women into quitting politics. They accuse the party of doing nothing to address the problem. One woman alleged that Labour councillors covered for a businessman caught sexually abusing "white girls" on camera. Others, she continued, forced Muslim women who had been victims of domestic abuse to return to violent husbands. Many others said intimidation was used to block Muslim women from joining local politics. The anonymous, female Muslim, who was blocked for becoming a councillor by Muslim men in the local party, said local Labour politicians overlooked "inappropriate behaviours going on of a sexual nature between young white girls and Asian males" because the perpetrator was a supportive "Asian" businessman. She said it was a "regular occurrence". Sexual slurs, intimidation and even death threats were used by Muslim men to stop females entering local government. Many of the women also spoke of the clan politics employed by patriarchal, male dominated communities, the so-called "biraderi", imported from the South Asian subcontinent whereby votes are delivered in blocks. This is a practice white British observers have reported in recent elections and by elections yet no action has been taken by the authorities, just as nothing was done abour the abuse of young white girls by Muslim men in areas with large migrant populations for decades. Reports of the practice prompted this site to comment, "Democracy used to mean one man one vote, now it means one Imam one thousand votes". One female Muslim ex-councillor explained how she was ousted: "I've no doubt I was deselected by Pakistani clan politics. There were around 100 people in the room. One of the local councillors had been recruiting family and friends to deselect me." Is this the way we do politics in Britain. If you think it is or if you want to turn the country into a medieval third world shit hole vote Labour. The Muslim Women's Network UK (MWNUK)
has written again to Labour leader Jeremy Corbyn
, saying it is "disappointed and unsatisfied" with Labour's response to the charity's calls for an inquiry. Needless to say the Muslim women in this BBC clip wanted to remain anonymous and keep their faces obscured for reasons of personal safety. Five weeks ago, MWNUK wrote to the Labour leader Jeremy Corbyn, protesting the "open secret" that male Muslim Labour councillors blocking Muslim women from entering politics. Since then the Party has put individual areas into "special measures", effectively meaning the selection process is taken out of local hands. Only a few councillors have been reprimanded. In the video embedded below Muslim women speak out against the misogyny and clan politics practiced by male Muslim Labour members with the full knowledge of Labour party officials. So much for all the busshit about fairness and equality. The Labout party is for lawyers, schoolteachers, hypocrites and other useless, lying shits. Wtach video on YouTube.
RELATED POSTS:
Elsewhere: [
The Original Boggart Blog
] ...
Daily Stirrer
...[
Little Nicky Machiavelli
]... [
Ian's Authorsden Pages
]... [
Scribd
]...[
Wikinut
] ... [
Boggart Abroad
] ... [
Grenteeth Bites
] ...
Ian Thorpe at Flickr
] ... [
Tumblr
] ... [
Ian at Minds
] ... [
Authorsden blog
] ... [
Daily Stirrer News Aggregator
]
W. Midlands Police covered up child sex abuse report ahead of 2010 UK election
West Midlands police, Britain's second largest police force, blocked publication of a 2010 report detailing how criminal gangs consisting of mainly Muslim men from Pakistan were sexually grooming vulnerable young girls in Birmingham and other large towns in the midlands industrial area. The decision to cover up the scandal was made because of fears its findings would spark racial tensions and influence the outcome of Britain's 2010 general election.

West Midlands Police were informed in the report that 139 girls – some of whom were only 13 years of age – were at serious risk of exploitation from groups of men. However, the force failed to issue any precis or summary of the report or any statement appealing for information that might help in bringing the perpetrators to justice. (NB: It is an underlying principle of justice in any democratic state that the law must apply equally to all citizens, nobody is above the law, not even by virtue of their skin colour.)

This sobering revelation was first uncovered by the Birmingham Mail under Freedom of Information (FoI). The paper had submitted its request as part of a broader investigation into sexual exploitation of children.

A document dating back to March 2010, sent to the Birmingham Mail, suggests Asian gangs were targeting children's care home and schools in the West Midlands area. Titled 'Problem Profile, Operation Protection,' the files also indicate young Caucasian girls were coerced into recruiting their peers into the gang's web of exploitation.

Allegedly produced by senior intelligence officers, the report's findings caused concern ahead of May 2010's General Election. Fears it could drum up racial tensions and cause commotion ahead of polling day allegedly led to its suppression.

The documents, released under FoI, have been heavily redacted.

One passage reads: "In [redacted] a teacher at a [redacted] that a group of Asian males were approaching pupils at the school gate and grooming them. Strong anecdotal evidence shows this MO [modus operandi] is being used across the force.

"Operations in other forces have identified an MO where offenders use a young girl in a children's home to target and groom other residents on their behalf."

The file further suggests recruiting other youngsters was a means for victims to "escape the cycle of abuse" they were forced to deal with. It says this pattern had surfaced in other English regions. The internal report, seen by the Birmingham Mail, said police had identified as many as 139 victims. Some 78 percent were white,while over 50 percent were aged 13 to 15. Half of these victims, who hailed from Birmingham, Dudley and Walsall, lived with their parents. Meanwhile, 41 percent were in residential care.

At the time of the investigation, police located 75 grooming suspects, most of whom had a history of sexual offences. Thereport says most of these criminal suspects had an Islamic background and lived in Birmingham.

The report uncovered evidence of what it described as "a high level of organized criminality" in the West Midlands, with numerous offenders working in unison to target, groom and exploit victims. It said young girls were forced into prostitution by these sex abuse networks, and severe intimidation was used to keep them silent.

Main Source:
Birmingham Mail - Child Sexual Exploitation: We force West Midlands Police to release secret report
Also: Police withheld bombshell report
RELATED POSTS:
Back to Contents table

London gangs 'pressuring 9yo girls into group sex' – UK Home Office report
A new report from the UK Home Office, the government department that deals with law and order reveals that the street gang culture imported along with these illegal immigrants has led to girls as young as nine unlucky enough to live in areas 'controlled' by these gangs are being sexually exploited and forced to service multiple men, after being groomed to think such behaviour is 'normal'.
Rotherham Witness Says Police Covered Up Child Abuse By Muslim Men
A witness in the Rotherham sex-grooming trial told the court yesterday that she wanted to reveal details of her childhood abuse at the hands of organised Muslim gangs so that people working for the authorities could never again hide such crimes from the public.
Merkel's Beloved Muslim Migrants Trigger Rape Epidemic In Munich
A story picked up by Pam Geller (always a reliable fact checker although some dislike her sensationist style of reporting) of Muslim migrats raping German women while migrant women are being forced into prostitution is not playing well with the femiists and left wing extremists who want us to believe the lie that these barbarians actually enrich our culture.
Latest Posts
Elsewhere: [Boggart Blog]...[Little Nicky Machiavelli]...[Scribd]...[Wikinut] ... [ Boggart Abroad] ... [ Grenteeth Bites ] ... Ian Thorpe at Flickr ] ... [ Tumblr ] ... [ Ian at Minds ]
---
Five Asian Men Charged over Oxford Child Sex Exploitation
Another five men of Pakistani backgrounds, all living in Oxford have been charged with sexual offences by police investigating organised child sexual exploitation over a period of 16 years. Over 100 officers were involved in dawn raids in the city on Tuesday morning,with nine men of Asian origin being arrested on suspicion of offences including rape, sexual grooming and indecent assault following 60 complaints from schoolgirls.
The men who were charged have been named as:
Assad Hussain, 34, charged with six counts of indecent assault and six counts of rape.
Qasim Hussain, 29, charged with one count of rape.
Naim Khan, 36, charged with two counts of indecent assault, one count of rape, one count of supplying cocaine, one of supplying heroin, one of sexual touching and one of making an indecent film of a child.
Allah Ditta Yousaf, 45, charged with four counts of indecent assault.
Owais Khan, 31, charged with one count of indecent assault and five counts of rape.
All of the men apart from Assad Hussain are due to appear in Oxford Magistrates Court today.
Three other men who were arrested have been released on police bail until 8 July, while a fourth man is on bail until 15 July.
Detective Superintendent Joe Kidman confirmed after the operation, "This morning more than 100 officers executed search warrants at eight properties across Oxford at 6am as part of Operation Sabaton. A number of people have been arrested in connection with the offences, which relate to female victims in Oxford between 1999 and 2007." Hannah Farncombe, the officer responsible for safeguarding children at Oxfordshire County Council said: "In recent years we've trained more than 8,000 professionals across all agencies who have contact with children in Oxfordshire. They now know how to spot the signs of CSE and can report these to our multi-agency Kingfisher team."
RELATED POSTS:
Back to Contents table
Grooming and abuse scandal in Rotherham
Rochdale grooming scandal
Child abuse: Even the elite were at it
The truth about racism
Home Secretary says Britain Will Outlaw Hate And Extremism
Oxford Sex Abusers? Bronn In Game Of Thrones Summed Them Up
Labour's Multicultural, Utopian Paradise?
Latest Posts

Elsewhere: [Boggart Blog]...[Little Nicky Machiavelli]...[Scribd]...[Wikinut] ... [ Boggart Abroad] ... [ Grenteeth Bites ] ... Ian Thorpe at Flickr ] ... [ Tumblr ]
---
---
Adolescent Girl Raped By 60 Men In Asian Grooming Gang
A trial jury atThe Old Bailey, London, heard yesterday the harrowing ddetails of how two schoolgirls were groomed and raped by an paedophile gang based in Aylesbury, Bucks, while aged just 12 and 13. Eleven gang members, accused of carrying out the crimes between 2006 and 2012 face 49 criminal charges between them including statutory rape, child prostitution and creating child pornography,
The Daily Mirror reports
. The court heard how the two girls came from broken homes and were easily manipulated because the men gave them excitement, bought them gifts such as, jewellery, make up and DVDs, plied them with alcohol, and made them feel adult. Girl 'A' said in a police statement: "You get passed round. It wasn't particularly me looking for them. It was them looking for me. It's just that they pass your number around. Or you're with one of them and they invited three or four of their friends round and then you have to sleep with them. "Because you're in their place and they're making your life a bit more exciting, you do what they want. I just knew Asian men wanted to sleep with me. I didn't think they found me attractive. I was happy that I was wanted. I felt popular. Like they wanted me and I got a load of attention, that was it.' Girl 'B' said: "From aged 13 to 15 I was reckless. I was very vulnerable. I was easily led. I was out seeing men, getting drunk, running away, getting arrested. I wanted attention and I was looking in the wrong place". The girls were encouraged to think of the gang members as boyfriends, but the fact that the men passing the girls around their extended friendship circles and pimped them to outsiders suggests the men though of the girls as whores. Girl 'A', who was approached while out in town with friends aged 12 then went on to be raped by 60 men, "almost all Asian", over the course of just two years. Her situation only became apparent to authorities after she had given birth twice – but she was being raped by different men so frequently she does not know who the fathers are. Prosecuting, Oliver Saxby QC said: "This case concerns child sexual exploitation on a massive scale. It features two young girls who were… sexually abused from the age of 12 or 13. Both girls were from unstable backgrounds, making perfect targets.
RELATED POSTS:
Back to Contents table

White Girl Is Burned Alive, 17 Black Gang Members Arrested. Mainstream Media Blanks The Story Remember how the Social Justice Warriors of the politically correct 'left' screamed when a young black man named Trayvon Martin was shot by Hispanic George Zimmerman, because it was assumed someone named Zimmerman would be white? Remember how they wailed and stirred up civil unrest when a black man was shot by white cops in Ferguson, Missouri, automatically assuming the the killing was racially motivated. more >>>
Child Protection Chief Who Failed To Act Against Pakistani Rape Gangs Rehired on £1k a Day
A senior child protection officer, who quit her post with a six-figure payoff, after being censured for failing to speak out about widespread sexual abuse by Pakistani gangs involved in grooming and sexual abuse of vulnersble under age girls has immediately been re-engaged as a consultant and is being paid almost £1,000 a day.
Child abuse scandal in Rotherham
Rochdale child abuse cases
Even the elite are into abusing children
Politically correct index
We can't prove sex with children does them harm' says Labour-linked NCCL
Oxford Sex Abusers? Bronn In Game Of Thrones Summed Them Up
Latest Posts
Elsewhere: [Boggart Blog]...[Little Nicky Machiavelli]...[Scribd]...[Wikinut] ... [ Boggart Abroad] ... [ Grenteeth Bites ] ... Ian Thorpe at Flickr ] ... [ Tumblr ]
---
Sex abuse gangs in Black Country: 'Significant similarities' to Rotherham scandal, say police
Children in the Black Country are being sexually exploited, with gangs similar to those in Rotherham operating in the West Midlands, says a police report. The heavily-redacted findings reveal there are 'significant similarities' between child sex abuse here and the scandal in Yorkshire.
The findings of a West Midlands Police report entitled Child Sexual Exploitation, which was produced in October last year but has only now been made public have been leaked to The Wolverhampton Express and Star.
It is marked as 'restricted' and large sections of information have been blacked out which suggests another similarity with cases in Rotherham, Rochdale, Oxford, Reading and Bradford, a massive cover up by the authorities desperate to avoid taking responsibility for their criminal negligence in failing to act on evidence built up over many years.
In Wolverhampton, the city council's processes are criticised and the report states: "Inference: There are significant numbers of child sex exploitation victims that are not identified by the Wolverhampton local authority." A map showing two 'clusters' where there have been 'high concentrations' of 'referrals' in the city is among the items to have been covered up. Certain postcodes and a list of areas in Wolverhampton have also been redacted.
None of the councils in Wolverhampton, Walsall, Sandwell and Dudley have escaped criticism in the report, which was compiled in October last year but has only now been made available to the public.
Other hotspots in the region are Lye, Brierley Hill, Tipton, Smethwick and Rowley Regis in Sandwell, Willenhall and Walsall town centre. But council bosses don't know how many children are being abused and some of the information needed to identify abuse is 'non-existent'.
Peterborough Child Sex Trafficking Ring Members Sentenced
The Daily Stirrer team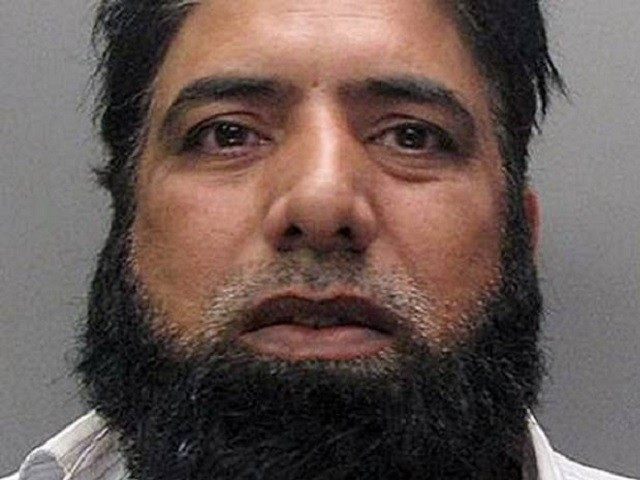 Mohammed Khuabib - does he look a suitable boyfriends for a 14 year old.
A court in Cambridgeshire has started to announce sentences for the predominantly Pakistani and Slovakian members of a gang which groomed, raped, and trafficked a number of girls as young as 12 who were being looked after in local council run care homes in Peterborough.
Eleven members of the gang, which operated from a fast food shop, have so far been found guilty of the crimed which included the abuse of 30 women, 15 of whom were below the age of 16. Nine men have so far been given prison sentences. The last trial to be completed was of 43-year-old Pakistani, Mohammed Khubaib, who was described in court transcripts as having "a persistent and almost predatory interest in young teenage girls".
Khubaib was arrested after having been observed on three separate occasions in one week with young, drunken girls in Peterborough. When police raided an address in the city to arrest Khubaib last year, they found him with two 14-year-old girls he had plied with gifts and alcohol. A witness said he had given the girls vodka, and was showing them videos on a laptop which had "porn-style scenes".
Details of the gang's depraved activities have been slowly emerging over the course of the cases against the men. There are disturbing similarities with abuse cases involving foreign men and girls from care homes in Rotherham, Rochdale, Birmingham, Oxford, Bradford and many other towns and cities around the country.
The Peterborough gang seems to have been involved in levels of extreme abuse on a part with the worst instances elsewhere. On one occasion a child with learning difficulties was taken to a children's play ground, tied to a play-house and then gang-raped by several men in turn. One 12-year-old girl would be taken away from home for days at a time to visit several homes in the Peterborough area for sex.
Of the nine men already sentenced, four were Pakistani, three were Slovaks, one was an Iraqi, and another remains unidentified because of his age. They have been sentenced to a total of 101 years and nine months between them. One of the men, 23-year-old Muhammed Waqas, will be deported once he has served his jail sentence.
Sentencing for the remaining perpetrators, which includes Khubaib, will be complete by mid-May.
RELATED POSTS:
Back to Contents table
Latest Posts

Tony Blair under pressure to come clean over Labour minister child sex abuse cover-up
Pressure mounted on Tony Blair tonight to answer questions over the Mirror's revelations that a child sex abuse probe was axed after a minister in his government was named as a suspect. MPs joined forces with a victim of abuse to call on the former Prime Minister to reveal if he knew about the alleged cover up or of any allegations against the politician.
The Public Interest to Protect Powerful Paedophiles
The Director of Public Prosecutions has decided that it would not be in the public interest to prosecute serial paedophile Greville Janner, for many years the leader of the Zionist lobby in the UK. I presume that his convenient senility is the reason for non-prosecution ...
Elsewhere: [Boggart Blog]...[Little Nicky Machiavelli]...[Scribd]...[Wikinut] ... [ Boggart Abroad] ... [ Grenteeth Bites ] ... Ian Thorpe at Flickr ]
---
Chicago's Untold Story of Widespread Child Abuse in State Facilities
http://www.activistpost.com/2015/03/chicagos-untold-story-of-widespread.html 'Illinois seems to be a hotbed for a lack of accountability and transparency on the part of government agencies. Most recently we have learned that police in Chicago were using a domestic "black site" in the Homan Square area to illegally detain, question, and torture Americans suspected of crimes. However, before that story broke, Illinois was already in the midst of another controversy. One that has received very little attention outside of local and state media. State treatment and residential centers for youth in Illinois are rampant with abuse – physical, mental, and sexual. The Chicago Tribune has done a great job exposing the story though their "Harsh Treatment" investigation. The investigation found that hundreds of youth are assaulted and raped by fellow youth at Illinois residential centers. When these rapes and assaults are reported the authorities rarely ever act. In many cases veteran residents introduce new residents into the world of prostitution. Thousands of residents of state homes and centers have ran away and according to the Chicago Tribune, dozens have never been found.' Another issue the Tribune found was that children of special needs are not being placed in treatment centers that target the appropriate care. This means most children are placed in the same facilities regardless of specific needs. The Tribune's investigation lead to special legislative session in Chicago, where 22 lawmakers were informed on the failures of the Illinois Department of Children and Family Services and associated residential centers for troubled youth and state wards. At that session, state child welfare chief Bobbie Gregg called the reports "both appalling and unacceptable," before announcing she would resign from the agency on January 19. Gregg was the seventh director in just three years. She has since been replaced by George Sheldon, former head of Florida's Department of Children and Families.
---
Authorities Have Been Blind to Sex Abuse, There Are More Grooming And Abuses Cases To Be Exposed
OFSTED, the quango responsible for overseeing England's schools and child services and ensuring standards are maintained on behalf of the government has for years been soobsessed with form filling, box ticking and making sure targets were schieved so that the government statistics would look good, it became blind to the enormous scale of systemastic grooming and abuse of young girls living in council care homes by gangs of adult males from migrant communities.
Because local child services departments succeeded in ticking all the boxes and achieving meaningless and arbitrary targets, while hundreds of girls were being groomed and raped by Pakistani gangs living in towns such as Rotherham, Rochdale, Sheffiel, Nottingham and elsewhere (see the other posts in this page), the bureaucrats were happy to praise the good work of local education and social services departments for their good work.
A committee of members of parliament investigating the abuse have now warned that if Ofsted were unable to detect the systematic rape of children where it was so blatant in Rotherham, they will have almost certainly missed it elsewhere.The phrase 'Unable to detect' is a masterpiece of understatement, pressure from politically correct activist groups and senior politicians afraid of being called racist easily persuaded the spineless pen pushers of OFSTED to simply close their eyes and ears to the glaring, blaring evidence that was staring them in the effing face and blasting into their ears.
A report published by the committee highlights the comments of Ofsted in the same year the first of the grooming gangs were sentenced to prison, when the Quango praised Rotherham child services for "effective and creative work". The report asks why: "We are left with two still partially unanswered questions: first, given the inability of Ofsted to recognise organised child sexual exploitation until 2012-13, is it possible there are more Rotherhams waiting to be found?".
Consequently, all local children's services in the country are now being reviewed, however the committee questioned whether that would be enough, given Ofsted's failures in the past, remarking "Ofsted's credibility is now on the line". The chair of the committee, Labour member of parliament Clive Betts has suggested the 'hands off' approach of the government to Ofsted meant the body was left to "mark its own exams", potentially leading to complacency.
Once again the the report (phrase quoted above) we see typical bureucratic understatement, OFSTED cridibility is not 'on the line,' the sumgness and dismissive attitude of these tax eaters has flushed any credibility they may once have had right down the toilet.
The Daily Telegraph reports the blithe response of Ofsted to the criticisms: "We welcome the report and the committee's recognition that the changes we have made since 2012 strengthen our ability to uncover where children are at risk.
"We know we didn't get it right historically in Rotherham and have apologised for those mistakes." No mention of Rochdale, Reading, Bradford, Oxford, Nottingham, Birmingham and Sheffield then, or any of the numerous other towns where investigations are still in progress? But when members of the political and public sector elite are at it themselves what else can we expect?
This is not the first heavy criticism taken on by Ofsted as of late, as it has been repeatedly attacked for perceived bungling in its handling of the so-called 'Trojan Horse' schools scandal. Given new powers to tackle covert Islamic radicalisation in state schools, OFSTEAD, its management structure dominated by the politically correct left, instead used them to undermine Christian faith schools. Breitbart London last week reported on the comments of Conservative MP Sir Edward Leigh, who said the body should be put into "special measures".
Addressing parliament, Sir Edward singled out for criticism the tick-box culture at Ofsted and recent examples of highly rated schools being threatened with closure because they failed to meet new guidelines on multiculturalism and diversity, saying: "They appear to be guilty of trying to enforce a kind of state-imposed orthodoxy on certain moral and religious questions.
"You have to wonder how far Christian schools have to go to satisfy the new standards. In September Bolton Parish Church C of E Primary School was told that, although "events such as Eid and Diwali are celebrated" pupils' understanding of life in modern Britain is underdeveloped".
"How many non-Christian festivals does a Christian school have to celebrate before Ofsted will be happy?"
His comments will resonate with many parents unhappy at the bias towards Islam that has inflitrated state education, and the emphasis placed on the role of ethnic and sexual minorities in society.
RELATED POSTS:
Back to Contents table

Rotherham Child Sex Abuse Probe Puts 42 Police Officers Under Invesitigation
allegations against police officers include neglect of duty by failing to adequately investigate on the basis of evidence or to deal with incidents appropriately, inappropriate comments and evidence of corrupt relationships between police officers and offenders.
Latest Posts
Elsewhere: [Boggart Blog]...[Little Nicky Machiavelli]...[Scribd]...[Wikinut] ... [Boggart Abroad
---
Minister Who Blew Whistle On Child Abuse Claims Police Threatened Him
Daily Stirrer, 16 March, 2013
Conservative minister Rob Wilson MP has claimed he was threatened after exposing the failings of Thames Valley Police in they way they handled complained about organised grooming gangs of Pakistani - Kashmiri men sexually expoiting and abusing young girls who had been in residential care in homes run by local authorities. Watson says the "darkly veiled" threats came from police officers who wanted him to keep quietabout the widespread abuse and also drop allegations that the police failed to protect a young boy whose mother unwillingly worked with a dangerous paedophile.
The boy's mother was carer to the two disabled sons of David Cullen, a convicted paedphile who was on the Sex Offender's register. She accused Thames Valley Police of failing to warn her Cullen posed a risk to her son. In the end he was convicted of abusing the boy 25 times in six months.
Amongst the officer accused of threatening Wilson is the Chief Constable of Thames Valley Police Sara Thornton. She has denied ever making any sort of threat – veiled or otherwise and is now threatening legal action against the Mr. Wilson.
The MP is standing by the claim, he told the Mail on Sunday newspaper he was first approached in 2008 by the woman and offered to raise her complaint in Parliament. She contacted him because he is her local MP in Reading East.
He said: "There were all sorts of darkly veiled threats if I went ahead and tried to expose Thames Valley Police… I had phone calls from at least two members of the force who tried to stop me raising it in Parliament, even though it was quite clearly the right thing to do.
They said things like 'Really, Mr Wilson? So early on in your Parliamentary career? Do you want to get involved in raising this issue? There may be more to this than meets the eye. You could be getting into a very difficult situation.'"
There certainly was more to it than met the eye, as oour rports on the Oxford abuse scandal elsewhere in this document reveal. Thames Valley was the police authority involved in that one as well, and the aforeentioned Sara Thornton can hardly be said to have govered herself in glory by the way he allowed her officers to marginalise the poor girls from dysfunctional homes who were being subjected to the most appalling sexual abuses.
Sara Thornton said Wilson's allegations are unfounded and libellous. "I will be writing to Mr Wilson directly to seek clarification on exactly what he has alleged. I am extremely concerned that such serious allegations, relating to alleged events over six years ago, now appear to have been made via the media and not with the force directly via any formal complaint, either at the time of the case in 2006 or at any point since," she commented in reponse to The Mail On Sunday story.
Thames Valley Police has already been censured for failing to act over abuse of children by Pakistani grooming gangs in Oxford. A recent report suggested they had let the gang abuse 300 children over years, this prompted the force to identify a further 700 children they believed might be at risk of abuse.
They are now monitoring the children in the hope of offering them better protection than was provided in the past.
RELATED POSTS:
Back to Contents table
Latest Posts

Elsewhere: [Boggart Blog]...[Little Nicky Machiavelli]...[Scribd]...[Wikinut] ... [Boggart Abroad]
---
Child Abuse Cover Up In Sheffield Biggest So Far?
Sheffield and Rotherham sit next to each other in the old steel making area of South Yorkshire. Rotherham has already given us a major scandal when the cover up by police and local council officials of massive organised abuse of young girls in the local authority care system, and the pressures that were put of people who tried to demand a proper investigation of these crimes by politically correct Labour politicians and party managers was revealed.
The abuse, involving mostly men of Pakistani or Kashmiri origin, had gone on for years and in spite of many attempts to force action by the authorities, concerns had always been swept aside because to prosecute and bring the cases into the open would have been 'racially sensitive'. The message the Labour Party, for all its posturing as the party of the working class, was that if you are white and working class, you count for nothing in twenty first century Britain.
Similar cases to the Rotherham scandal and another in Rochdale were unfolding in many large towns around the country, most of those that have so far been properly investigated are reported below. But as we wait for the Birmingham report, the biggest to come to light so far, the one in Rotherham, has been surpassed by Sheffield which is a much larger city than its neighbour.
South Yorkshire Police covered up abuse on a "massive" scale in the former industrial city turned multicultural melting-pot, a retired veteran police officer has claimed, remarking in an interview the scale of"abuse was "bigger than Rotherham".
The revelation by the former officer, who served for thirty years, lifts the lid on yet another in a long line of child sex scandals in English cities with sizeable Pakistani populations. It is certainly bad news for South Yorkshire after official reports from Prof. Alexis Jay and Dr. Louise Casey on the Rotherham case revealed 1,400 known girls were trafficked and raped by a network of criminals using take-away shops and minicab firms to enable their activities. Most appalling paragraphs in the reports related to the physical tortures inflicted on the girls who did not please their 'boyfriends' or who tried to break away from the control of the gangs.
A Sheffield city council employee tasked with tracking child sex abuse has claimed almost 700 children were referred to the police in just two years, but not a single prosecution was made on the back of the information passed to the police.
Following on from that, retired constable Tony Brooks made his allegations, and said South Yorkshire Police have long known that girls as young as twelve – putting them into the most serious category of sex abuse – were being raped (often gang raped), but chose not to act on the information they had, effectively creating a cover-up. Claiming 200 girls were reported to have been abused in just a three year period in the city, he told a BBC reporter "The size of the exploitation was massive in Sheffield.
He told BBC News "We offered to form a unit to continue the work – we offered to advertise our work so girls would come forward. We were told, 'it's not going to happen, return to your districts."
"He [a senior officer] said to me, 'go and spend an hour or two with each girl and find out what's happened to them and tell them there's not enough evidence to go on". The officer refused to follow the order.
Police analyst Gary Birchall, who also spoke to the BBC, expressed his disbelief after he learnt of the extent of the cover-up. He was asked as part of his work to look into a special operation run by the South Yorkshire Police, and paid for by Sheffield city council which was tasked with looking into child sex abuse. He found that despite it having been specifically requested and funded to the tune of £50,000, the operation had been shelved almost immediately with officers reassigned to other work.
He requested a "full investigation" into the failure, but his call went unheeded. Speaking on the matter, he said: "I got a call telling me the operations been shelved. I said it can't be shelved, there's evidence here that children are being trafficked, being sexually abused. There isn't a superlative that describes how I felt then or how I feel now. Utter, utter, disbelief."
Although it is too little, too late, a full investigation of the failures of South Yorkshire police has now been ordered. What's the betting it will find that the police were not at fault and no senior officer either in the police force or the local government social services department will lose their jobs or pension rights.
Surprised? Can't think why ... that's how things have been done for decades in areas dominated by the corrupt and self interested 'socialist' scum of the Labour Party.
RELATED POSTS:
Back to Contents table
Even the elite are into child abuse
Multicultualism has no place in education
Modern Education is old fashioned indoctrination
The culture war between the elite and the masses
The left's war on family
Science seeking ways to control our minds
The shadow government
The elite's global agenda, one government, one culture, one race
Secret People
Latest Posts

Elsewhere: [Boggart Blog]...[Little Nicky Machiavelli]...[Scribd]...[Wikinut] ... [Boggart Abroad]
Oxfordshire grooming victims may have totalled 373 children
Daily Stirrer team, 3 March, 2015
An investigation intogrooming and abuse of underage girls and boys in the Oxford area, prompted by the long overdue conviction of a sadistic sex gang of seven men who were jailed in 2013 for abusing six girls in Oxford, between 2004 and 2012, has reported that as many as 373 children may have been targeted for sex by gangs of men in Oxfordshire in the last 16 years.
Speaking at a press conference, Maggie Blythe who is chair of Oxfordshire Safeguarding Children Board (OSCB) said: "What happened to the victims is deeply disturbing. Thames Valley Police and Oxfordshire County Council made "many errors" in that case and could have acted sooner.
A victim of the gang said the issue had been "swept under the carpet". Of the 373 cases, the council said about 50 victims were boys.
Ms Blyth said 60 "learning points" had been highlighhted in the review and 13 recommendations put forward. The report also, and somewhat spuriously, called for research into why a significant proportion of people convicted in these kind of cases are of "Pakistani and/or Muslim heritage".
The Daily Stirrer say that when a politically correct 'open doors' immigration policy as operated by the Labour government from 1997 to 2010 and continued by the coalition since then, allows migrants into the country without vetting their backgrounds and they are from a primitive culture that teaches a woman is fair game if she is out in public without a husband or male relative to protect her, then widespread sex abuse is inevitable in a liberal, secular society where women are free and independent.
The problem, in Oxford as in Rotherham, Rochdale and elsewhere, has been exacerbated by politically correct pressure on police and social workers to ignore complaints as the issue of organised abuse was was 'racially sensitive'.
In the Oxford case, known as Operation Bullfinch, several of the men convicted so far are of east African (Somali) origin with the rest being of Pakistani origin. In a statement, religious groups in Oxford said: "We want to make it absolutely clear that child sexual exploitation is an abhorrent and wicked crime. It is contrary to the faith and teachings of all our religions."
This seems rather hypocritical coming from people whose cultures practice femal genital muliation, and commonly have arranged marriages in which the bride is slod for money by her father, often to a complete stranger. Multiculturalism might be a left wing sacred cow, but as a social policy it is a stillborn calf.
The Oxford report, compiled by the OSCB, found authorities made mistakes and could have acted sooner but it found no evidence of wilful neglect or that the signs of exploitation were ignored. It blamed a lack of action on three key attitudes of those in power:
Girls were disbelieved due to the interpretation of their "precocious and difficult" behaviour
There was a failure to recognise their ability to resist abuse had been eroded by grooming escalating to violent control
There was also pessimism about the prospect of successful convictions as most of the evidence gained was either withdrawn or later denied
A victim of the Oxford gang, who was 13 when the abuse started, told BBC News: "Looking back as an adult now, it's disgusting the way we were treated. My mother would [tell authorities] "she's been with older males... she's been beaten up, she's been injected with heroin.
"That was not enough for them to do anything about it, we were just troublesome girls, probably a bit gobby, a bit aggressive and they just didn't want to know. "They [the men] used to pick girls up outside social services offices on the Cowley Road, if that doesn't say something then I don't know what does."
The girls, aged between 11 and 15, were plied with alcohol and drugs and led to believe their abusers were their boyfriends and they way they were treated, including the gang rapes, was normal behaviour between men and women. They were either abused by the men themselves, given to the men's friends. After the police finally took action, the girls were offered at a price to others who had not at that time been arrested.
One victim was forced to have an illegal back-room abortion when she was 12 after falling pregnant at the hands of one of her abusers.
At the press conference Chief Constable Sara Thornton, from Thames Valley Police, repeated an apology to victims and their families.
She said: "We are ashamed of the shortcomings identified in this report and we are determined to do all we can to ensure that nothing like this ever happens again."
The force confirmed no individuals had so far faced disciplinary action over Operation Bullfinch
It is all so reminiscent of the grooming scandal in Rotherham, South Yorkshire (linked above), a town to corrupted by the politically correct posturing of its Labour run council that the enire authority was suspended and civil servants placed in charge by the government's communities secretary Eric Pickles.
RELATED POSTS:
Back to Contents table

Judge Cuts 20 Year Old's Rape Sentence By 15 Years Because 'He Did Not Mean To Hurt 3-Year-Old Victim
It could only happen in the land of politically correct twattery of course, while here in the UK Labour Party supporters and the Islington Screechers corps wail and gnash their teeth over the fact that pedophiles are denied fulfillment and must be given the right to fuck four year olds, in California the judiciary are acting to rectify the situation ...
Education system teaching homosexuality
The Immigration Problem
Why do the left love paedophiles
The left's anti - white position makes them racist
Populist authoritarianism
Latest Posts
Elsewhere: [Boggart Blog]...[Little Nicky Machiavelli]...[Scribd]...[Wikinut] ... [Boggart Abroad]
£600k Payoff For Council Boss Who Refused To Resign Over Child Grooming
by Arthur Foxake
Oxford, another council that ran brothels pimping out under age girls to immigrant males
Oxford County Council chief executive Joanna Simons, who refused to resign after the failure of her children's services department to act on well supported allegations that grooming gangs throught the county were preying on young girls who had been taken into council care, is likely to get a £600,000 pay-off. The disgraced official will get the package for leaving her post early, in a move the council insist is unrelated to the scandal. (Are they having a laugh?)
Political party activists, particularly those representing UKIP are questioning the true nature of Ms Simons' departure. As her departure and the massive sweetener have been announced shortly before publication of a report into how the council failed to protect young people in its care is due, obviously questions need to be asked, this is not another simple case of a public sector employer rewarding failure, to The Daily Stirrer it looks like rewarding someone for perverting the course of justice.
In one example of how totally effing useless the Oxforshire council was in managing child care, in one case a child absconded from the care of Oxfordshire County Council on a hundred separate occasions. Despite this, no action was taken against her abusers.
In other cases children were given contraceptives to protect them from pregnancy without questions being asked about the nature of their relationships (if you can call being gang raped a relationship). Neither Oxfordshire County Council social workers nor schoolteachers investigated what happened to vulnerable young victims after they had been excluded from school.
Political correctness? When inter - racial problems crop up, what the public services show is socioopathy.
When the child sex ring was eventually smashed and perpetrators arrested, seven men were eventually convicted of arranging child prostitution, sex trafficking and child rape. They were imprisoned for a total of 95 years, but investigations continue and three more men have been convicted since the original 2013 trial.
The failings exposed at Oxfordshire County Council were so serious that Ms Simons herself appeared in a video to apologise for council's failings, but her video did not include the resignation many of the victims her 'multiculturalism' exposed to rape and brutal abuse had demanded. At the time the Chief Constable of Thames Valley Police, Sara Thornton, also refused to resign but in another apparently unrelated decision she has also now decided to go. We do not yet know how much it cost us taxpayers to get rid of that incompetent, bigoted cow.
A witness in the trial of the abusers who grew up with many of the victims in care told the
Daily Mail
: "The officers and care workers did not protect us and now those who were in charge of them have walked away with a pile of money. They know that by walking out they haven't got to answer any questions. How are they able to take responsibility if they no longer work for them?"
Simons will leave her £186,000-a-year job in June with a £151,000 severance payment and a pension package worth £423,000.
The BBC has described the grooming gangs as being "of Asian origin", however this has caused outrage amongst Indian and Chinese immigrant communities. The vast majority of offenders are Muslims of Pakistani origin. Council officials in places like Rotherham have suggested they felt unable to report abuse for fear of being branded "racist".A council boss who refused to resign after it was revealed her children's services department had failed to protect young people from grooming gangs is likely to get a £600,000 pay-off. Oxfordshire County Council Chief Executive, Joanna Simons, will get the package for leaving her post early, in a move the council insist is unrelated to the scandal.
The BBC has described the grooming gangs as being "of Asian origin", however this has caused outrage amongst Indian and Chinese immigrant communities. The vast majority of offenders are Muslims of Pakistani origin. Council officials in places like Rotherham have suggested they felt unable to report abuse for fear of being branded "racist". Apparently the sensibilities of Hindus and Buddhists are not as precious to the politically correct left as those of people who follow the religion of child - molesters peace.
RELATED POSTS:
Back to Contents table
Latest Posts

Elsewhere: [Boggart Blog]...[Little Nicky Machiavelli]...[Scribd]...[Wikinut] ... [Boggart Abroad]
Child abuse victim' disrupts Nottinghamshire County Council meeting by shouting from public gallery
Alleged child sex abuse victim Mickey Summers has disrupted the first Nottinghamshire County Council meeting following the Christmas break.
Mr Summers, who has called for a full public inquiry into child abuse in Nottinghamshire care homes, interrupted the meeting on Thursday January 15, by shouting from the public gallery.
He said: "Silence is not justice. You should hang your heads in shame."
Mr Summers spoke for around ten minutes, during which time many Gaybour Labour councillors walked out and the meeting was adjourned.
See video recording of Mr. Summers disrupting Nottinghamshire County Council meeting.
Read more: http://www.nottinghampost.com/Child-abuse-victim-disrupts-Nottinghamshire/story-25862273-detail/story.html#ixzz3P6NL1SpS Follow us: @Nottingham_Post on Twitter | NottinghamPostOnline on Facebook
---
Birmingham Child Abuse Scandal Set To Break - Will Dwarf Rotherham, Rochdale
Many of the children groomed by gangs were prostituted after being used by gang members (Source:

Barnardos

)

As we predicted, well it was hardly a prediction, those of us with eyes to see and ears to hear have known what was going on in our country and how the politicised police forces, judicial system and politicians of all three main parties, Conservative, Labour and Liberal Democrats were covering it up, a major new child sex scandal involving gangs of mainly Asian men is about to break.

Rather than admit their smug, elitist, politically correct social engineering policies that sought to destroy British values and traditions and replace them with a multicultural social order synthesised by disfunctional fuckwits who spend all their lives lurking around universities have failed, this new elite have betrayed the most vulnerable and powerless in society.

Yes, the shits of the LabLibCon have shat on the working class for decades and are now so arrogant they think their anointed minorities can be given free passes to rape, abuse, exploit and even murder and to enforce the alien, medievalist and to western minds, totally repugnant Sharia Law on the strees of British cities.

In the wake of child sex rings consisting mainly of Pakistani men in Rotherham and Rochdale, evidence of another child sex exploitation cover - up scandal has emerged in Birmingham, Britain's second largest city.

It is reported that dozens of girls, some as young as 11, have fallen victim to predatory gangs that targeted the social childcare system where the most vulnerable children, taken into state care from broken homes or dysfunctional families are to be found.

As in Rotherham and Rochdale, three out of four of the men who groom youngsters for sex in Birmingham are Asian.

Yet their victims are 82 per cent white, say confidential police statistics leaked to media and largely reported by local press and the blogosphere this week.

A Birmingham Safeguarding Children Board study in September 2013, never released to the media, found 111 youngsters were at risk of sexual exploitation in the city, with some as young as 11 and a majority under 15. The failure to prosecute known offenders was "startling" and "unacceptable" it added.

West Midlands Police said last month that it was currently dealing with 57 live child sexual exploitation cases and 130 suspected cases.Assistant Chief Constable Carl Foulkes said yesterday: "Child sexual exploitation remains at the top of our agenda. This issue is very much a hidden crime." His boss, Chief constable Chris Sims told a meeting he was "aware of at least one example" in the region and added: "We know of this as an issue here in the West Midlands".

Police in the West Midlands are currently investigating several child abuse cases. As in Rotherham and Rochdale the investigation is likely to lead to officers being implicated in an effort to cover up known crimes because the outcome of following proper proceduce would have raised "racially sensitive" issues.

The disclosure came after new crime commissioner David Jamieson revealed he had asked "searching questions" of officers in the wake of the child abuse scandal in South Yorkshire and Greater Manchester. A bombshell report, written by Prof Alexis Jay, found councillors, police and social services turned a blind eye to the abuse of 1,400 young people in Rotherham.

Mr Jamieson told the West Midlands Police and Crime Panel that to pretend there were no abuse problems in the region would not be truthful. He has asked for reports about the scale of the child sexual exploitation cases in the West Midlands. Mr Jamieson told the panel: "Over Rotherham I have been asking some searching questions of the police.

"If we pretended there are no problems in the West Midlands we would not be telling the truth. I have asked for a number of reports on this and I will share them with the panel when I get the contents of those reports. I want to be as open as possible because one of the major issues in Rotherham was that things were not open. People were not discussing publicly things that they should have done, so I will be doing just that," he said.

A separate but related investigation in Rotherham is now looking at why case files relating to the abuse scandal were destroyed when the sex abuse allaegations against Disc Jockey and TV Presenter Jimmy savile emerged.

Mr Sims added: "We will meet the Commissioner very soon to discuss three areas in relation to this. We firstly want to explain and, I hope, reassure him about current practices for the handling of historic allegations. Secondly, we want to brief the commissioner about cases of a similar type to Rotherham that we know of in the West Midlands. Coventry has at least one example. To be really clear, we do know of this as an issue here in the West Midlands.

"Thirdly, it will be about preparing ourselves and myself to work with local authorities in the region. Ultimately this has to be a debate that's not just about policing, but also about all of the relevant bodies across the whole of the West Midlands."

The West Midlands area covers the Birmingham conurbation and the large cities of Coventry and Wolverhampton as well as many smalled towns such as Warwick and Stratford-upon-Avon.

RELATED POSTS:
Back to Contents table


Were Rotherham Abuse Victimes sacrificed To Save The Labour Party
One of the victimes of Rotherham's grooming and child abuse gangs has put a political perspective on the scandal by claiming she and other victims were ignored, effectively sacrificed to the tender mercies of the gangs to ensure Labour did not lose votes in the town. The young girls were abused by Muslim men for years on end, but council did nothing to stop the crime.

Labour politicians wilfully ignored sex abuse, former MP reveals
Young girls who were being sexually abused by Asian men were ignored by officials because of Left-wing political correctness, Labour figures say. The culture of politically correct thinking which has spead like a cancer throughout the establishment led politicians, public officials, news reporters and media commentators to wilfully ignore the plight of young girls who were being sexually abused by Asian men, Labour figures have warned.

Elite abuse scandal: Former MI6 agent admits giving big names to sex dossier MP

Tony Holland, a former British secret service agent has admitted passing names of 'sexual deviants' to Geoffrey Dickens, the Conservative MP who compiled dossiers on the paedophile activities in Westminster, which were inexplicably lost after being passed to Leon Brittan, who was Home Secretary in the Thatcher's government.

And now they're covering up the cover up of the coverup.
The latest development in the blocking of an inquiry into the cover up of the fudged cover up of the original scandal is run by The Mail On Sunday today.

So Who's Making Up Innuendos About Leon Brittan

Child sex abuse inquiry in crisis as victims walk away
Alleged victims of abuse involved in the historic abuse case currently being investigated by MPs and police have advised Home Secretary Theresa May, that they are ready to withdraw support from the Government's child sex inquiry.

Westminster Paedophile Cover Up: This Is Hot Stuff
I'm on my teeny weeny notebook today because I'm out of the house all day, so this will be brief but cannot go without being recorded on Boggart Blog.
As you know we've been following the paedophile scandals from when the first stories about the depravity of a certain DJ / TV Presenter who 'did a lot for charidee though he didn't talk about it' (but made sure everyone else did. We were one of the first blogs to name ...

14 Somali Men Convicted of Raping and Pimping Underage Girls In Bristol
In the latest outrage involving the systematic abuse of underage girls by immigrant males, a court in Bristol has delivered verdicts on the sickening activities of a gang of Somali men in the city who groomed underage girls, repeatedly raped them and forced them into a life of sex slavery and prostitution. Thirteen Somali men men abused girls as young as 13 and tricked these vulnerable children into thinking they were the girlfriends of their abusers.

Westminster child abuse and murder claims 'tip of the iceberg' in scandal, Home Secretary May warns

Home Secretary Theresa May suggested during Andrew Marr Show appearance this morning more allegations and revelations are likely. She also admitted the Government is 'unlikely' to hit its net immigration target. Allegation that politicians raped and murdered young boys at paedophile orgies held at the Elm Guest House in south London are "only the tip of the iceberg" in the Westminster historic child abuse scandal, Mrs. May said.

Covering Up The Cover UP

So the

cover up

inquiry into the lost dossier on paedophiles in parliament allegedly handed to former Home Secretary Leon Brittan by the late Geoffrey Dickens MP and subsequently lost by Home Office staff (Brittan's name figured in the list of kiddie fiddlers named by the dossier allegedly) has concluded that there is no proof the file was deliberately destroyed and therefore we must accept there was no cover up,

It's Labour's Failure To Act On Child Abuse, Not UKIP's Poster That Is Despicable
UKIP leader Nigel Farage cause the politically correct left to throw a collective hissy fit last week when fter UKIP lanuched a new billboard poster poinying to the failures of Labour councils all arounf the nation to act against Pakistani gangs weh were systematically grooming and sexually exploiting girls unfortunate enough to find themselves in the council care system.

Taxi Customers In Heywood / Rochdale Ask For 'Local' Drivers

A taxi company in the child-sex scandal hit town Heywood, is now offering customers option of requesting white-only cab drivers, after two former 'Asian' drivers were imprisoned for their roles in the sexual exploitation gang.

Now Sheffied Paedophile Grooming Scandal Explodes In Establishment's Face


Vulnerable children in Sheffield were let down by police and social workers, it was claimed today as the the latest of a stream of sex scandals involving the grooming and exploitation of vulnerable children was revealed. Previously similar scadals were caused by officers seeking to aviod racially sensitive issues, ignoring the duty of politicians care workers and law enforcement officers to protect all members of society regardless of age, ethnic background or religion. What is it with the political left? They love paedophiles More Child Abuse Cases Like Rotherham, Rochdale To Be Revealed Says Top Police Officer
Sex Gangs Operating In The Child Care System - Why Didn't People Come Forward.


The Hate And Prejudice The Bourgois Left Find Acceptable
As Alec Baldwin Was Slammed For Saying Cocksucker A Left Wing Cocksucker Was Praised For His Hate Speech
Why The Intellectual Elitie Truly Despise The Lower Classes


Bassetlaw MP John Mann's campaign to expose Westminster child abuse
Bassetlaw MP John Mann is spearheading a campaign to investigate rumours of child abuse involving Westminster politicians. Mr Mann and two other Labour MPs, Rochdale's Simon Danczuk and Rotherham's Sarah Champion, say they will pressure home secretary Theresa May to act on evidence they have passed on to her. Mr Mann alleges that there has been systematic abuse of under-16s by MPs dating back decades which he believes has been covered up by successive governments.

CREATIVE COMMONS: attrib, no comm, no dervs.
KEYWORDS: news, opinion, dailystirrer,
---
Court Names Six Asian Men Given 'Anti-Grooming' Orders in Birmingham
The extent of inappropriate relationships between Asian men and young girls in Britain's second city, Birmingham, has been highlighted again as the High Court decides to reveal the names of six men given anti-grooming orders after they were found in the company of a teenage girl.
The men, Omar Ahmed, 27, Mohammed Anjam, 31, Sajid Hussain, 40, Nasim Khan, 19, Shah Alam, 37 and Mohammed Javid, 34 are six of ten men given the new anti-grooming orders, believed to be the first time the new instrument has been used. Of the remaining unnamed men, two are in prison and one threatened to hurt himself if he was revealed to the public.
The West Midlands police had argued against the men being named publicly, fearing they would become the target for vigilante attacks by members of the public shocked by the extent of recent revelations of sex abuse. Rejecting their concern, Mr. Justice Keehan said: "The West Midlands police have undertaken a risk assessment in which they deem the 10 respondents to be at a high risk of harm, but it's conceded that there's no evidential basis at all for this."
The case against the group came about after three of the men were discovered in a hotel room with a girl, who is now in "secure accommodation", reports The Guardian. Although they protest their innocence and assert that chance brought them together in the room at that moment, the 'anti-grooming' injunction placed on the men prevents them from having any contact with the girl, and from approaching any girl under the age of 18 they are not already acquainted with in a public place.
Explaining their resistance to naming the men as being in the public interest, a spokesman for the West Midlands police cited the attempted vigilante attacks on identified suspects in the aftermath of the Rotherham abuse scandal. "The men are considered to be at a high risk of retribution or targeting of their families due to the matter of the injunctions if they were to be identified.
"[The police] concern is that if the details of their identity were to be released there's a risk for vigilantism. There may well be a risk of vigilantism from the EDL [English Defence League]."
Although the focus of recent revelations of child abuse and grooming by Asian men as social taboos about attributing certain crimes to particular nationalities evaporates has largely revolved around a belt of Northern cities, Midlands hub Birmingham appears to be deeply implicated. Breitbart London reported yesterday on the concerning accusation that Birmingham City Council withheld a 1991 report on the abuse of young white girls by Asian taxi drivers, ordering all copies of the government funded study to be destroyed.
In just six months of 1990, the author of the report found twenty girls who were in the care of the City and were being regularly driven to locations to be shared by groups of Asian men, a fact which the authorities were aware of. Dr. Jesson said: "The girls were all aged between 13 and 17 and were all under the care of Birmingham City Council social services.
"I found 20 girls' names, next to which either the word 'prostitution' or some concern about their sexual behaviour had been written... The girls would go somewhere with a man in a car and there would be several men there, men who wanted to have sex."
Dr. Jesson said the opinion of the authorities, including the police of the time was that trying to stop the girls was pointless, and they were seen as willing sex workers rather than abuse victims even at the age of 13.
RELATED POSTS:
Back to Contents table
Labour's Multicultural, Utopian Paradise?
Boggart Bloggers had a good idea what the Rotherham sex abuse report, published yesterday, was going to contain for quite a while. Rotherham had long been one of the Labour flagship councils that the party's propaganda machine liked to portray as a multicultural utopian farmyard in which all the cultures were equal.
Rotherham Scandal Spreads as Police and Local Councillors Accused of Child Abuse
As we predicted when this composite page was opened last August, after the publication of a damning report authored by Dr. Alexis Jay, on how police and municipal officials turned a blind eye to organised sex abuse in the town of Rotherham, South Yorkshire, the story of sexual perversion and corruption of local officials had a lot more secrets to yield. In the latest development ...
The westminster elite historic child abuse and cover up scandal
Child abuse in Rochdale - the one that kicked it off
Child abuse cases brewing in Birmingham and elsewhere
Latest Posts
Elsewhere: [Boggart Blog]...[Little Nicky Machiavelli]...[Scribd]...[Wikinut] ... [Boggart Abroad]
If you liked this, please give it a boost
| | | |
| --- | --- | --- |
| | | |
---
Wednesday 11 February, 2015
Essex police apology over child abuse investigations
In the last 12 months a "shocking" level of child sexual exploitation (CSE) has been reported to police and cases of abuse had been hidden for too long, a senior officer has acknowledged.
Detective Superintendent Paul Sanford said CSE was taking place in "all communities" across the country.
His comments were echoed by Fleur Strong, director of Parents Against Child Sexual Exploitation (Pace), who said acts of child abuse were taking place "in every town".
Police have seen a rise in reports of CSE and other forms of abuse following the revelations about sex gangs in Rotherham and Rochdale and historical cases involving celebrities such as Jimmy Savile. This flurry of breast beating in Essex came as failings by Essex police to properly investigate child sex exploitation and abuse caes in the county were exposed.
Essex police force has apologised to alleged child abuse victims after it found problems with 30 investigations involving 59 children.
One police officer has been suspended and 11 others have been put on restrictive duties. The Independent Police Complaints Commission (IPCC) is currently reviewing 28 of the cases. Deputy Chief Constable Derek Benson told the BBC there had been issues around "supervision" and the "quality of the investigations".
Mr Benson said he had written to the alleged victims and had "apologised for any distress or hurt". Mr Benson said: "We have contacted the families of those involved in these investigations to let them know what is happening and apologise for the undoubted distress. An experienced retired detective had been brought in to review the "live" investigations being conducted in the north of the force area.
He said the alleged victims included some very young children.
The force apologised last year over its handling of a case involving a five-year-old girl who was raped by a boy, aged 12. The juvenile was given the equivalent of a caution.
Nick Alston, Police and Crime Commissioner for Essex, said Chief Constable Stephen Kavanagh had ordered an "urgent review" late last year after concerns were raised about the quality of investigations.
"This work led Essex Police to refer a number of cases to the IPCC, to suspend one officer and place another 11 officers on restricted duties," he said.
The IPCC has announced that it is conducting two independent investigations and a managed investigation of referrals relating to the handling of 28 child abuse investigations which were reported to Essex Police between April 2011 and November 2014. These cases involve 59 victims. Some of those investigations involve allegations of a lack of honesty or integrity by officers.
RELATED POSTS:
CSE scandals, Birmingham and elsewhere
Elite child sex abuse - cover up gets more desperate
Rochdale Grooming and abuse case, cover up, Labour Liberal conspiracy
Child Abuse: Rotherham Scandal could sink Labour and Tories
DSK Trial: Former IMF Boss And Pimp Provides Fun
Former future French President and IMF boss Dominique Strauss-Kahn faced some tough judicial questioning at his trial for aggravated pimping, The elitist sex addict was ordered to explicitly detail his history of "libertine" sexual practices ...
RELATED POSTS:
Back to Contents table
Latest Posts

Elsewhere: [Boggart Blog]...[Little Nicky Machiavelli]...[Scribd]...[Wikinut] ... [Boggart Abroad]
---
Social workers allowed convicted paedophile unrestricted access to five-year-old girl
failed to tell mother about his past
posted by Arthur Foxake, 12 February, 2015
This report concerns a case that so far as we know does not involve grooming and organised abuse by members of ethnic minority communities but is included in this page because it shows yet again that an overriding cluture of political correctness has rendered social services departments, particularly those responsible for the care and protection of vulnerable children, are not fit for purpose.
Social services department at Norfolk County Council has been accused of placing the child at risk as they allegedly knew the man was allowed to care for the girl alone but did not warn her mother about his history. The case came to light after MPs Norman Lamb and Henry Bellingham supported foster carers calls for an investigation into claims the department has wrongly removed dozens of children from their carers.
The troubled social services department at Norfolk County Council has been accused of placing a child at risk by failing to prevent the convicted paedophile from having access to the girl. The girl's mother, who lived in Great Yarmouth at the time, said: 'They failed me, they put my daughter at risk and I want some kind of justice.'
The child abuser, whose crimes were described as 'lamentable' by the judge presiding at his trial, was placed on the sex offenders register for life in 2008 for attacks on girls as young as seven over a period of two decades. On his release he re-established contact with the girl's mother to whom he was related but had not been in touch with for many years, in February last year.
She insists she had no knowledge of his sex abuse past and says that he initially seemed to be playing a positive role in the family's life. But the woman alleges the man sexually assaulted her on April 25 before taking her daughter on a shopping trip alone. She phoned social services and was told to call the police immediately.
Officers tracked him down after about an hour and established the girl had not been harmed.
Two days after this incident social workers revealed his record of child abuse to the girl's mother, she claims they told her she must have been aware. A council spokesman said that the girl was not subject to a child protection plan at the time, although documents show she was classed as a less serious 'child in need'.
He added: "It is disappointing that when he was present during a meeting at the mother's home, we didn't put two and two together and realise that he was a convicted paedophile. 'No concerns were raised about him by the mother or anyone else at that meeting, and it was not thought necessary to check the background of a visitor.
"Once the level of risk became clear we acted quickly to ensure the child's safety. Fortunately, we have no reason to believe that the girl was harmed during the time he was with the family. It is disappointing that when he was present during a meeting at the mother's home, we didn't put two and two together and realise that he was a convicted paedophile," a Norfolk County Council spokesman said.
The social worker involved has since resigned and left the profession.
RELATED POST:
Child sex abuse inquiry in crisis as victims walk away
Somali Rape Gang Jailed for Raping and Trafficking Teenage Girls
Three Somali Muslims who were in a rape gang in Bristol similar to many such criminal enterprises that proliferated around Britain as a result of the open doors immigration policy operated by Tony Blair's Labour government (1997 to 2010) have been jailed by Bristol Crown Court for the "chilling", "degrading", and sometimes "violent" sexual abuse, in the words of the judge, of teenage girls in Bristol.
One was sentenced to 16 years and two to eight years, after the court had head how girls as young as 14 were groomed, trafficked, and sometimes raped by multiple men of African and Middle Eastern Muslim origin.
The case is the latest in a series of prosecutions brought against Muslim men for the sexual exploitation of young and usually vulnerable European girls. Other cases have been heard in Rotherham, Rochdale, Oxford, Nottingham, Birmingham, Essex and Norfolk. There are a number of cases yet to be heard in other locations. In two earlier trials, in 2014, 14 men were jailed for more than 100 years between them.
In a statement issued through police, the Bristol Somali community said: "Our community, a Muslim and black minority ethnic community, in Bristol would like to underline that we sincerely condemn the nature of these crimes."
In a description familiar to other Muslim rape gang trials in Rotherham, Oxford, 15 More Men of South Asian Descent Charged With Child Sex Offences">Bradford and elsewhere, Bristol Crown Court heard how the abuse became "routine" and the men regarded their victims as "cheap and easy", The Guardian reports.
In all, seven men of Somali origin went on trial, accused of 46 charges. The jury convicted three of the men of 14 charges, including trafficking, sexual assault, and rape, after 11 days of deliberations.
Judge Peter Blair, QC, jailed Sakariya Sheikh, 23, for 16 years, and Mohammed Dahir, 24, and Abdirashid Abdulahi, 23, both for eight years. The rest of the alleged gang, Abdirahman Galal, 26, Mohammed Osman, 29, Nuridin Mohamoud, 22, and Nasir Mahamoud, 23, were acquitted of charges against them or else the jury could not reach a verdict.
Passing sentence, the judge told the men: "You are not worthy of very much further attention in this courtroom. My attention is focused upon the victims of your crimes."
RELATED POSTS:
Sex Crime Soars At Munich Oktoberfest - Who Could Have Predicted That?
Mass Migration And Terrorism Go Hand In Hand Says Senior Hungarian Official
Pegida Organizes Anti-Islamization Protests Throughout Europe
Are The Ruling Elites waking Up At Last To The Problems Cause By Mass Muslim Immigration?
"Our Europe Is Dying": Young Germans Video Blasts Merkel's "Multicultural Utopia"
Anti Muslim Feeling Spreads Through All Levels Of German Society
Women Fear To Go Out Alone In Danish Town Due to Migrant Assaults
Thousands Flood The Streets In Germany As Fury Over Refugee Sex Assaults Reaches Boiling Point
New Year's Eve, Germany: 1,000+ Migrants Brawl, Rape, Sexually Assault, And Steal At Cologne New Year Celebration
Former Head Of UK Equalities Commission Admits He Was Wrong To Believe Muslims Would Integrate
Cruise For 1,700 School Kids Ends In Tragedy As Migrant Passengers Gang-Rape Swedish Girl
Elsewhere:
The Original Boggart Blog
] ... [
Daily Stirrer.shtml
]...[
Little Nicky Machiavelli
]... [
Ian's Authorsden Pages
]... [
It's Bollocks My Dears, All Bollocks
] [
Scribd
]...[
Wikinut
] ... [
Boggart Abroad
] ... [
Grenteeth Bites
] ... [
Latest Posts
] [
Ian Thorpe at Flickr
] ... [
Latest Posts
] ... [
Tumblr
] ... [
Ian at Minds
] ... [
Authorsden blog
] ... [
Daily Stirrer News Aggregator
]
[
Ian at Facebook ]
CREATIVE COMMONS: attrib, no comm, no dervs.
KEYWORDS: news, opinion, dailystirrer,
If you liked this, please give it a boost
Close Window and return to previous URL

Main Menus
Index pages for our cetagories
navigate

CATEGORIES

Fiction
Animal related
Art Menu
America:
Belief, Faith and Religion
Celebrity mocking and knocking
Climate and Environment
Comedy, Satire, Humour
Debt Crisis and Money Matters
Driven To Drink
Europe index of posts
The trade and commerce catalogue page
EU Immigration crisis
Education Menu
Fear and Panic
Globalisation - the enemy of freedom
Geoengineering: Science versus Humanity
Health Menu
History - new perspectives
Immigration crisis
Humanitas
ISIS and the Middle East War
Jobs Crisis
Living Within The conspiracy
Middle East
Nanny State and The Thought Police
Past Perspectives
Philo & Sophia
Politically Correct Stupidity
Fools & Dreamers
Politics and Economy
Recommended Reading
Science and Technology
Sex and sexuality
Sport
UK politics
Weird and Supernatural
World Politics
SNACKS (sub topics)
The Ageing population
age
Religion and spirituality
Climate Change
Comedy and Humour
Education is overrated
The environment
Europe
Health
Internet Technology
Jobs and employment
Money and finance
Myths and traditions
Nanny Orwell
People and Places
Science, technology
Society
UK politics
War
World Politics


Our Internet Places

Scribd
Blogster
Ed Butt at Bubblews
Wikinuts
Boggart Blog
Little Nicky Machiavelli
Boggart Network News
Greenteeth Bites
Greenboggart
Boggart Blog Central
Daily Stirrer briefing
Boggart Network News
BOGGART BLOG ARCHIVES


BBselect001
BBselect002
BBselect003
BBselect004
BBselect005
BBselect006


MULTI MEDIA
Spoken Word
Video
Music
Graphic Art
Latest News
Other items you might be interested in
September 2015
Perpetual War: US Considers Keeping Troops In Afghanistan After 2016
As The Daily Stirrer has predicted since we started in 2009 that Washington's goal was perpetual war, of the kind George Orwell described in his novel 1984. Not only does war make fear - mongering acceptable as a way of controlling the population and restricting personal liberties and civil rights, it is great for business too. It should be no surprise then to learn ...
Stephen Nolan's Pro-Migrant Stance - Boggart Blog Pays Tribute With Fat Bastard by The Macc Lads
The BBC will not accept any criticism when it comes to anything of a political nature. They would never back down.There is, it seems, no one in the entire institution who is not radically left wing and they are waging ideological war against the general population and against British culture and values.
Retired Swedish Police Chief Says Malmo Crime Skyrocketing Due To Immigration
Chief Superintendent Torsten Elofsson retired from police work in 2014 after 42 years on the Malmo police force, but he retains a key interest in the security of the city. Recalling his early days on the force, Elofsson said the nature and volume of crime in Malmo had changed significantly, going from the organised crime perpetrated by biker gangs decades ago to the migrant crime boom of modern Sweden.

Jeremy Corbyn, the Fabian Society left wing elitist posing as man of the people
Labour activists are hailing the Corbyn era as a return to traditional labour politics. But not only is Corbyn a posh boy from a wealthy family, he is a member of the elitist Fabian Society, the left wing intellectual think tank founded in the 19th century, which in the 1930s supported Hitler and fascism.

Merkel's Beloved Muslim Migrants Trigger Rape Epidemic In Munich
A story picked up by Pam Geller (always a reliable fact checker although some dislike her sensationist style of reporting) of Muslim migrats raping German women while migrant women are being forced into prostitution is not playing well with the femiists and left wing extremists who want us to believe the lie that these barbarians actually enrich our culture.

Muslim Only No Go Areas For Police And Emergency Services In Our Cities? - It Already Happened In Sweden.
Sweden continues to lead the way in surrendering its nation, culture and self respect to exremist Muslim dickheads, reasoning that the violent rapists and murderers of the relion of peace will thank them rather than kill them all. but the people all over Europe are waking to the betrayal of their elites.

Assad Says Europe Is Responsible For Refugee Crisis: "If You're Worried About Them, Stop Supporting Terrorists"
As the tide of refugees fleeing Syria's bloody civil war, swelled by African economic migrants masquerading as Syrians continues to tear the European Union (EU) apart, and as Brussels struggles to formulate a coherent policy for handling the crisis as member states go their own way with measures to close border crossing points, divert migrants to other member nations, or ...

Swedish Immigrant Street Wars Spread: Stockholm Grenade Attack Follows Kurd-Turk Migrant Clashes
Violence between migrant gangs of different ethnicities vying for territorial rights to run organised crime has become the norm in Malmo, southern Sweden. Now it appears that as a consequence of the Swedish loony left government's insane policy of flooding the country with third world migrants without

"West's War In Syria Is Part Of A Global war Waged By The USA And Its Dupes Allies Against Russia"
Arthur Foxake brings us a brilliant analysis of the geopolitical picture from the black Sea and Middle East, but ahead of the embed window we get a few of Arthur's own thoughts on the situation

German Authorities Claim Economic Migrants Are Saying They Are Syrian Refugees To Get Into The Country
The shock renewal by Germany of border controls was, it turns out, a consequence of Hausfrau Merkel's ill - advised decision to announce that all Syrians arriving in Germany would be welcomed, a stupid move, probably aimed at sucking up to the terrorist - loving Obama administration in the USA, that was doomed to end in disaster from the outset.

Why It Really All Comes Down To The Death Of The Petrodollar
Last week, in the global currency war's latest escalation, Kazakhstan instituted a free float for local currency the Tenge. The currency immediately plunged by some 25%. The thinking behind the move was straighhtforward enough. Collapsing crude oil prices along with the relative weakness of the Russian rouble ...

Migrants Defiant as Hungary Blocks Train Links for 2nd Day
Hundreds of migrants gathered at the main railway station in Budapest chanted defiant slogans as the Hungarian authorities blocked entrances to boarding stages for a second day, preventing people who had entered hungary and the EU illegally from seeking asylum in Germany and other ...

Putin Targets US Monetary System: "Aims To Eliminate US Dollar From Trade"
De-dollarization is escalating all around the world. With Yuan/Rouble trading volumes up a stunning 400% year-over-year to record highs, and hot on the heels of China's and much of Asia in dumping dollar assets, Russian President Vladimir Putin has just unleashed a new bill aiming to completely eliminate the US dollar from the trade of goods

Independent Newspaper Attacks Daily Express Over Migrants
As The Independent attacks The Daily Express over insensitive handling of the immigration crisis, we wonder what gave the Indy the bizarrre idea that is't cherry picking of causes worthy of support is any less hypocritical than that traditionally employed by the Express, i.e. how many papers will it sell.
August 2015
The Real Refugee Crisis Is In The Future
Perhaps Angela Merkel thought we didn't yet know how full of it she is. Perhaps that's why she said yesterday with regards to Europe's refugee crisis that "Everything must move quickly," only to call an EU meeting a full two weeks later. That announcement show one thing: Merkel doesn't see this as a crisis. If she did, she would have called for such a meeting a long time ago, and not some point far into the future.
Why It Really All Comes Down To The Death Of The Petrodollar
Last week, in the global currency war's latest escalation, Kazakhstan instituted a free float for the tenge. The currency immediately plunged by some 25%.The rationale behind the move was clear enough. The plunge in crude prices along with the relative weakness of the Russian ruble had severely strained Kazakhstan, which is central Asia's largest crude exporter.
Lenny Henry says diversity isn't 'another black person in Coronation Street'. We Say One Lenny Henry On Television Is One Too Many
The 53-year-old black supremacist, race hustler and comedian (allegely) is a leading figure in the BAME (Boring Ancient Mediocre Eejit) campaign calling for more Black, Asian, Minority Ethnic people to be involved in the media sector. In a recent interview the actor said diversity was not as simple as "another black or Asian person in Coronation Street or EastEnders, it's about hearing different perspectives on life"
One in four Jeremy Corbyn supporters believe world is run by 'secretive elite'
YouGov analysis of Labour supporters also finds most Mr Corbyn's backers see America as the 'greatest single threat to world peace' in revealing research. And they call us conspiracy theorists ...
New EU Tax Laws Force Thousands of Businesses to Close in Just Six Months
Our editorial policy has for years been to expose the EU for the anti - business, anti - democracy European wing of the Global Government cartel. And let's be honest, a quick browse through our Europe index will provide plenty of evidence to suppport our view. Given the and their collectivist dupes' talent for ignoring evidence however, every hammer blow we can strike that exposes their global, totalitarian, bureauceatic dictatorship will help get the message across.
The Financial Times Calls for Ending Cash, Calls it a "Barbarous Relic"
Earlier this week, as the financial world was in turmoil following a rapid crash and recovery in financial markets. While we the punters shook our heads and wondered how the banksters get away with this kind of shit, The Financial Times published a dastardly little piece of fascist New World Order propaganda.
3,000 Migrants Rescued off Italy in Single Day, Tensions Rise
Italy's coastguard on Saturday led an operation to rescue around 3000 migrants from the waters of the Mediterranean after distress calls were picked up from more than 20 overcrowded vessels drifting in waters off Libya. In the biggest single-day rescue operation to date there were no reports of casualties. Reports have been coming in however of hundreds of life jackets and other items being washed up along a stretch of coastline, which suggests the naval rescue flotilla may not have reached al the stricken boats in time.
Trump catches attention of CFR, Bilderberg, Trilateral

Donald Trump is portrayed as a clown by mainstream media and his combover is the silliest I have ever seen. Still, he's a billionaie so I don't suppose he gives a flying fuck what The Daily Stirrer thinks of him. Not that we think he is all bad, anyone who attacks Obama's global naziism trade deals, TTIP and TPP mush have some good points.
It Looks As If Carbon Credits Scam Has INCREASED CO2 Emissions
As the climate change scare becomes more and more exposed for the money making fraud it always was, they green weirdie beardie, rope sandal wearing tree huggers get more hysterical and stupid in their arguments that we must all return to medieval lifestyles, the billionaires like Al Gore who hope to profit from it keep flogging the dead horse and the angrier and more vicious the left wing hate mobs become in their witch hunts.
German Government Admits it Got Refugee Figures Wrong… Revises Upwards to 750,000 Migrants Expected This Year
The number of migrants crossing the Mediterranean and making their way (illegally) through the Balkans to Germany has passed the government's worst casse estimates. The unprecedented influx has now forced Berlin to hastily revise the figure upwards. Although the German government had already acknowledged the need to revise estimates, the latest number is beyond all expectations ...
One drink a day increases the risk of breast cancer by 15 per cent, scientists claim
Another example of pseudo scientific scaremongering from Harvard University's Department Of Cutural Marxist Propaganda, using spurious statistics (when they cite risk they do not mean 15% but 15% of 13%) in supprt of liberal / left wing politicians anti alcohol campaign, which is not about health but an excuse to raise taxes. The whole house of cards is demolished here by a writer who really understands statistics and is not ingornant of human nature.
Climate Change: Have We Reached the Point of No Return?
Dahr Jamail and Guy McPherson: Many new studies and modeling say reversing climate change is a pipe dream - brace yourself for human extinction. This interview with two Warmageddonists os not of itself inteesting, typical alamist stuff that proves people who believe computer models over real world evidence are idiots. but the comment threat is really worth reading as commin sense tramples the whiners.
Boko Haram attack kills seven in NE Nigeria village: locals
African Free Press (AFP) reports from Kano (Nigeria) that Boko Haram extremists (had you forgotten about that nasty little civil war?) raided a village in restive northeast Nigeria's Borno state near the border with Niger on Monday (17 August), killing seven people, community leaders told reporters.
Labour Leadeship Contest, Corbyn Comedy Caper
When Labour elected Ed Miliband as their leader in 2010 it was clear the party had a death wish. The 'broad church' Prime Minister Harold Wilson spoke of in the 1960s, the alliance of intellectuals and socially conservative industrial workers who made up the party's core vote managed to coexist. Then came feminism, politically correct thinking, New Labour factions as the party started to tear itself apart. It looks as if we are in the endgame.
Food health fascism: Salt, Sugar, Saturated Fat, Alcohol, Cheese, Fizzy Drinks, Chocloate, ... if you enjoy it, it will kill you - maybe.
We are all familiar with those health scare stories that seem to pop up in mainstream media at least once a week claiming this that or the other will kill us. Few people spot the irony in that a few days earlier the same sensationalist rag will have carried a story under a similar screaming headline, claiming that scientists have found the stuff being demonised is in fact good for us ...
Massive Explosion in China: Do We Know the Full Story?
The massive explosion at a chemical plant in the city of Tianjin in northern China was a shocking eveny by any standard. But as usual in recent years, once the initial horror recedes the unfortunate accident narrative starts to unravel. The first thing we notice is that the disaster is very convenient for certain parties, the second is that official news reports just don't make sense, and the third is that eye witness reports contradict the edited news stories. Now read on ...
Ugly Marxist Lesbians Demand Right To Menstruate In Public
The story of the militant femists munter who ran a marathon on the first day of her 'monthlies' without using a tampon or sanitary towel (they're a sexist symbol or the oppressive patriarchy donchakow) is not new. The London Marathon was run back in April and the story of Kiran Gandhi's brave stance against male oppression (along with pitures of the dark stain speading across the croth of her leggings) was ignored by mainsteam and alternative media alike.
Ugly Marxist Lesbians Demand Right To Menstruate In Public
The story of the militant femists munter who ran a marathon on the first day of her 'monthlies' without using a tampon or sanitary towel (they're a sexist symbol or the oppressive patriarchy donchakow) is not new. The London Marathon was run back in April and the story of Kiran Gandhi's brave stance against male oppression (along with pitures of the dark stain speading across the croth of her leggings) was ignored by mainsteam and alternative media alike.
While we watch Unkraine and Turkey The War Goes On In Syria
With mainstream media focused on ISIS and Ukraine amid, fears of an excalation of local problems into a war between East, West and Islam, we are in danger of forgetting nasty little civil conflicts like the one between forces loyal to the secular dictator Assad and the Al Nusra rebels who want to replace a secular dictatorship with an even more ruthless theocracy.
Latest Posts - July 2015
"Big Brother State": FBI Says Citizens Should Have No Secrets That The Government Can't Access
The surveillance state predicted in George Orwell's novel "1984" has gradually crept up on us. With no sense of irony, the government of the nation that calls itself "The land of the free" has led the way in trying to persuade citizents that the only way they can be sasfe from vague and largely fictitious "existential threats to democracy" is to surrender civil rights and freedom to determine our own destiny ...

Pointless
A young couple who climbed up a suspension bridge near Frankfurt to watch the sun rise prompted a major rescue operation when passers by reported

The Name Is Pronounced Nivea
The latest fashion in America is girls called Nevaeh. Virtually unheard of five years ago, the name – "heaven" spelt backwards – has become the 70th most popular name for baby girls in the country last year.

Financial Fraud: Market Rigging By Any Other Name
Over the past twenty years we have hasd many financial scandals, the dotcom bubble, misselling of investments, toxic debt, derivatives trading, maket rigging and interest rate rigging. A lot of the software used by these trading systems was developed with the intent of facilitating fraud.

Warring Migrant Tribes, Street Shootouts, Grenade Attacks, Government Says Its Multiculturalism? WTF Is Going On In Sweden?
"Sweden, that's where they commit suicide and the king rides a bicycle," a character in an Alan Bennet play famously said back in the 1980s, a reference to Sweden's reputation as the most boring country in the world. That reputation has long gone, the elegant streets of Sweden's gothic styled cities are now more like Chicago in the Al Capone era. Scandinavia's biggest nation state is in the grip of a terrifying crime wave instead ...

Banks want us all to have 'tap and pay' cards... even though they're a criminals wet dream
Unfortunately while the banks and tachology giants have been ironing out problems with contactless payment technology (like its habit of doing your good deed for the day by paying for other people's stuff), the crooks have been forging ahead with non-accidental ways to rip off your card. Thieves can easily steal key data from contactless credit and debit cards using equipment bought "easily and cheaply" online, consumers magazine Which? has warned UK consumers.

Gay Rights Lobby Calls for Ban on LGBT Therapy After Finding Hundreds of Health Workers Believe in a Cure The Daily Stirrer has noted many times that sheeple on the left of the political spectrum get very confused on finding not everybody agrees with their world view. but rather than accept they are bigots they turn on those who dissent. No surprise then that gay activist working in the NHS are turning on African, middle eastern and east Europan colleagues who believe homosexuality is a sin.

Has Nasa found another 'Earth' in corner of Milky Way?
The science clowns are going off their heads again, getting over-excited about the 'discovery' by the Kepler project of Earth 2, an earth like planet that it would only take twenty million ryears to reach in our fastest spacecraft id. What planet do these do these idiots live on?

So Who Are The real Racist Bigots - Those Who Have Opinions or those who would abolish free speech?
Since we began publishing in 2009 we have warned that the real enemies of freedom, the ones who would turn certain sectors of the community are not the conservatives and libertarians, but those who try to mask their fascistic politics by calling themselves left, liberal or socialist. If you want to know what socialism is really all about read up on Stalinist Russia or Maoist China and if you want a comparison for the 'liberal values of Labour and Social democrat voters in Europe or American democrats, look no further than the medieval Inquistion and their brutal purges of 'heresy'.

Pissed Off Locals In Europe Torch Refugee Centres To Resist Enforced Placement Of Immigrants

Citizens in Germany and Italy have taken to burning the resettlement centres in their communities designated to provide accommodation for people who have crossed the Mediterranean to enter Europe illegally.

Riots In Athens As Betrayed Greeks Take Back

Democracy


A converted country inn, forced to close due to punitive EU taxes and restrictive laws, then renovated at taxpayers expense for use by illegal migrants has been burned down in Reichertshofen, Germany after locals discovered it was being prepared to become refugee accommodation.

The Day The EU Died - Destruction Of Greece Shows True Fascist Nature Of The European Project Some inside information on the political stitch up that has turned GreeThe Day The EU Died - Destruction Of Greece Shows True Fascist Nature Of The European Projectce into a vassal state and humiliated the Greek people for the purpose of furthering the neo-Fascist 'ever closer union' agenda of the bureaucratic dictators in Brussels.

The Bansturbator Diaries - Ban Everything And Tax It Too
Red Meat, fast food,, Pies, Pizzas, Cigarettes, Alcohol, and now sugar. The fun fascists are on the rampage everywere. Is there anything we can do to stop them? Yes. all we have to do is ignore them, especially the ones who try to claim some kind of authority by using the word 'science' far more than is necessary.

Spain Goes Full Police State; Government Enacts Law Forbidding Dissent, 'Unauthorized' Photography Of Law Enforcement
Spain is now a police state again. On July 1st, its much-protested "gag" law went into effect, instantly making criminals of those protesting the new law. Not since the death of General Franco has free speech been a crime in the country.

TTIP in the EU: Rejecting Democracy
Trade deals have traditionally been about lowering particular tariffs for imports and exports of goods from one country to another. Trade is not as simple as that any more and for TTIP tariffs are a tiny part of the negotiations because tariffs between the EU and US are virtually non-existent these days. Trade in TTIP is about issues that are relevant and important to us all: from which services are publicly provided, to the safety of the food on our plates

Greece, Monetary Union and Europe - Omnibus
The Greek financial meltdown and inevitable exit from the European Monetary System (Euro) and possibly the EU may be staved off a little longer but will happen. If the burden of Euro membership can wreck strong economies like France, Austria and The Netherlands, how can a basket case like Greece ever cope.

Hackers Hacked - Government Ties Exposed
An Italian company develops hacking tools for government security agencies itself became the target of a hacker attack, resulting in its internal documents being leaked online and its deals with numerous governments being exposed.

Four Converging Crises Could Destroy Europe
Four great crises around Europe's fringes threaten to engulf the European Union, potentially setting the ambitious post-war unification project back by decades. The EU's unity, solidarity and international standing are at risk from Greece's debt, Russia's role in Ukraine, Britain's attempt to change its relationship with the bloc, and Mediterranean migration.

Oregon bakery that refused same-sex couple owes $135,000 in damages
This page started by looking as a case of personal liberty versus gay fascism in Belfast, Northern Ireland but looks set to spread in all directions. While the Belfast Gay Cake case was, to the best of our knowledge, the first of its kind in Britain, there have already been a number of high profile cases in which the authorities have deemed that gay bitchiness trumps the civil rights of straight people,

Troika Is Manoeuvering To Rig The Greek Referendum
According to Greece's finance minister Yanis Varoufakis, the troika, the IMF, European Central Bank and EU Commission is planning to rig the outcome of the Greek referendum on whether to accept further austerity measures in return for bail out cash

Ending the Ownership of Money
It must be common knowledge by now that some of the world's most economically powerful nations are insolvent due to the burden of sovereign debt. These economies are held together through by the faith of citizens and businesses in the currency. If that faith evaporates, the leading economies will crash as voters realise the only thing underwriting the economy is debt.

Climate Change: Physicist Asks Is a Deadly Ice Age on the Horizon?
The last ice age ended approximately 12,000 years ago, and since then we've been enjoying a pleasantly warm "interglacial period." But given that an interglacial may last only 12,000 years, we're confronted with a scary prospect: Another ice age may be nigh.

Government Paid Trolls Are Using 'Psychology-Based Influence Techniques' in Social Media
Have you ever come across someone on the Internet that you suspected was a paid government troll? Well, there is a very good chance that you were not imagining things. Thanks to Edward Snowden, we now have solid proof that paid government trolls are using "psychology-based influence techniques" on social media websites such as YouTube, Facebook and Twitter.

Zuckerberg reveals Facebook Working On Apps 'Smarter Than Humans'
In an online Question and Answer session this week Facebook supremo and founding megalomaniacal sociopath Mark Zuckerberg announced that his company is engaged in building AI systems "that are better than humans at our primary senses."
Boko Haram attack on Nigerian village leaves nearly 100 people dead

According to eye witnesses nearly 100 people have been killed in an attack on mosques and houses in a village in north-eastern Nigerian by suspected Boko Haram militants, news feeds reported today (2 July 2015).
Sleepwalking Into Another Middle East War To Make Obama Look Good
Watching the news feeeds, we see The United States has blocked attempts by its alleged Middle East allies to fly heavy weapons directly to the Kurds fighting the Islamic State jihad in Iraq.
War, Famine, Plague and all that
It is no secret that "news" media in the developed world is owned by a few corporate empires whose ultimate owners' are financial operators whose reach extends into manufacturing, extraction industries, big agriculture and food,
The Day the Earth Died - And Why The Green Lobby Did Not Raise A Whimper In Protest
By selling their votes in return for pledges of government spending in their states the current crop of US Senators have effectively transformed their nation from a representative democracy to a dictatorship in which the President can make law on a whim.
Artificial Intelligence: Will It Kill Human Society?
The media, the so called 'experts' and politicians hail every technological advance as if it will btransport us from reality to a utopian paradise. but does Artificial Intelligence and related internet and computer technology pose theats to human society that far outweigh any possible advantages? Whateve, Google plan to put machines in our place on top of the food chain.
City of Berkeley to require cellphone sellers to warn of possible radiation risks
One of the fist themes of this blog was that mobile phones (and wi-fi etc.) do pose a risk to health. Here's the latest admission that the sceptics voices were right, from The Guardian
Have US tactics only helped to make ISIS more powerful?/b>
We have questioned the US led efforts to defeat ISIS in the middle east many times, pointing out that every time the western alliance steps up opposition to the establishment of a news Islamic Caliphate, Islamic State seem to get stronger. 'Conspiracy Theorists', our critics yell. So let's look at opinion from around the world that concurs with ours.
Refugee host school in Germany bans revealing clothes
We have asked before and no doubt will again, when the citizens of a nation are constantly asked to give up their freedoms and change their behaviour in order to avoid offending new arrivals from medievalist cultures, whose effing country is it anyway.
More Violence In Malmo As Community Centre Burned
27 'youths' arrested after shootout in Rosengård
More trouble in Sweden as the ruling elite's determination to had the country over to lawless gangsters and tribalists from barbaric third world cess pits sees violence and inter - tribal conflict continue to increase in the once peaceful suburbs of Swedish cities.
Refugeee Host School In Germany Bans Short Skirts As They Wind Up Muslim Boys
We have asked before and no doubt will again, when the citizens of a nation are constantly asked to give up their freedoms and change their behaviour in order to avoid offending new arrivals from medievalist cultures, whose effing country is it anyway.
How Ironic That Humourless Warmageddonists Will Not See The Irony
I've lost count of how many times this blog has highlighted the extraordinary consistency with which politicians and scientists working in concert manage to achieve the exact opposite of what they are aiming for. One might be tempted to think that the first step in proposing a scientific solution to any problem is to first understand what harm the unintended consequences of your solution might cause.
Saying The Unsayable
Watching BBC Question Time last Thursday, I was struck once again by the way it was left to one of the stock hate figures of the left, Melanie Phillips, to actually pronounce the great, clunking truth that the online activities of left wing hate mobs have rendered unsayable.
Mediterranean Boat People Crisis Threatens European Identity
As European leaders gathere for a summit meeting on the Mediterranean Immigrant crisis, Italy's Matteo Renzi has warned that Europe must find a solution to the ever increasing flow of migrants from third world locations or risk losing its identity.
Saying The Unsayable: Today, Melanie Phillips
Watching BBC Question Time last Thursday, I was struck once again by the way it was left to one of the stock hate figures of the left, Melanie Phillips, to actually pronounce the great, clunking truth that left wing hate mobs have made unsayable.
Russia Outmanoeuvres the west again
While mainstream media (and even some of the more rabidly fascistic left wing bloggers) have been trying to demonize Russia as a way of drumming up public sympathy for Barack Obama's efforts to start a shooting war with Moscow, we Boggart Bloggers and ...
America and UK Lead the World in Climate Scepticism Several times now it has looked as if the climate chance scare was over as the enthusiasm of climate scitentists for changing real world data to fit in with the predictions of their mathematical models has been exposed. But as the scare was never about the environment, but was a scam to redistribute wealth from rich to poor countries, the politicians are throwing their propaganda budgets behind it again.
Sham Marriages To Beat Immigration Laws Are Out Of Control
With main immigration news on being dominated by the Mediterranean boat people crisis and the masses at Calais hoping to stow away in a freight container, we forget that another way of getting somebody into the country is the sham marriage. Numbers involved may be small, but it is another indication of our governments' failure to address the immigration problem.
Mediterranean Immigrant Composite
The flow of undocumented migrants from Africa trying to cross the Mediterranean from the coast of Libya to Italian, Greek and Maltese territory seems unstoppable. Two factors in the problem however have been western (particlarly American meddling in the internal affairs of African states, and wester aid leading to a population explosion national infrastructures are unable to cope with. And of course European leaders haven't a clue how to deal with the problem.
De-Dollarization Du Jour: Russia's Largest Bank Issues Yuan-Denominated Guarantees
Leading the charge to multipolarity and de-dollarization are Russia, resugent despite economic sanctions and the rising superpower in waiting, China. The downgrading of the dollar is clearly demonstrated in the launch of the BRICS bank and the establishment of the AIIB.
28 May
Human Rights: UK Not subject To EHRC says Judge

The oath that every British judge takes requires that they try every case according to the laws and usage of the realm, which means we have to comply with the law as set out by the british parliament and interpreted by higher courts. Parliament requires judges to take account of European decisions.
Secret Meeting in London to "End Cash"
Economist Martin Armstrong claims there is a "secret meeting to end cash" set to take place in London before the end of the month involving representatives from the ECB and the Federal Reserve. Armstrong, who is known for successfully predicting the 1987 Black Monday crash as well as the 1998 Russian financial collapse, expressed his shock that no news outlet has reported on this upcoming conference.
Home Secretary says Britain Will Outlaw Hate And Extremism
In yet another example of how out of touch with reality our leaders are, Theresa May announced on BBC Radio 4's Today programme that the "British" government's determination to make "hate," "extremism" and "Neo-Nazism" illegal.
21 May
Brexit - The End Of The European Superstate Dream?
David Cameron, having won the election with a wafer thin majority is now under the cosh from eurosceptics in his own party as well as party managers panicked by the rise of UKIP. He has promised an early in-out referendum on Britain's future membership of the EU but can he win the concessions he needs to secure a yes vote from the punters

Racist Student Union Officer says 'I Can't be Racist'
We have often made points about the hypocroisy of the left, but a Student Union diversity officer from London beats all comers. Having tweeted 'kill all white men' she justifies herself by saying that as an ethnic minority woman she cannot be racist or bigoted.

p>Global Warming Is Not Causing Any Polar Ice Cap Meltdown Says NASA
Updated data from NASA satellite instruments reveal the Earth's polar ice caps have not receded at all since the satellite instruments began measuring the ice caps in 1979. Since the end of 2012, moreover, total polar ice extent has largely remained above the post-1979 average. The updated data contradict one of the most frequently asserted global warming claims – that global warming is causing the polar ice caps to recede.
20 May
How Congressional Republicans Lie to Approve Obama Trade Deals
With opposition to Obama's 'anything-but-free' trade treaties Trans Pacific Partnership and Trans-Atlantic Trade And Investment Partnership strengthening both in the USA and Europe, it is interesting to observe how support for Obama's neo - con inititiative which would grant corporate lawyers the power to overturn national law, is not falling according to the usual political party lines. Billionaires and those on the payroll of global corporations are broadly in support, others are recognising the threat to democracy and personal liberty.

Political, academic and business elite push for introduction of Cashless Society
The ' cashless society' has been a pipedream of technology nerds, control freak politicians and academics who favour global fascism for some years. The technology now exists, the political consensus appears to exist (because the elites have underestimated the strength of feeling against globalism around the world, and the voices raised in support of this latest attack by the technology tyrants on individual liberty and privacy are geting louder.

IMF Attempts to Hide True Cost of Renewables
A new report ffrom the International Monetary Fund (IMF) claims Fossil fuel companies are benefiting from a global subsidy of £3.4 trillion a year. The figure dwarfs that of government handouts aimed at encouraging investors to put money into unprofitable renewable energy sources such as wind turbines. Total subsidies for renewables are stated to amount to £77 billion a year.
19 May
Adolescent Girl Raped By 60 Men In Asian Grooming Gang
A trial jury atThe Old Bailey, London, heard yesterday the harrowing ddetails of how two schoolgirls were groomed and raped by an paedophile gang based in Aylesbury, Bucks, while aged just 12 and 13. Eleven gang members, accused of carrying out the crimes between 2006 and 2012 face 49 criminal charges between them including statutory rape, child prostitution and creating child pornography, The Daily Mirror reports.
John Kerry Calls For The Internet To Be Placed Under The Authority Of The United Nations
US Secretary of State John Kerry, speaking earlier this week in South Korea, said that the Internet "needs rules to be able to flourish and work properly." This, according to Kerry, is necessary even for "a technology founded on freedom." Kerry made his remarks in the context of talking about how international law is applicable to the Internet.
The New World Order?
It is hard to think of another phrase that gets authority worshippers quite so wound up as New World Order. The worlds always prompt a sneerfest among those who are quick to shout 'Conspiracy Theory' and slow to think. The phrase was not coined by a conspiracy theorist, nor was is some secret masonic code used on United States dollar bills to signify the intention to create a global empire (Novus Ordo Seclorum does not even mean 'New World Order' - more below).
The Free Trade Deception Almost No One Understands
More on those evil twins of global trade, the Trans Pacific Partnership (TPP) and Trans Atlantic Trade and Investment Partnership (TTIP) which are not about freeing business from bureaucracy but freeing corporations from the tiresome obligation to obey national laws covering trading standards, food quality, workers' rights, consumer protection and the environment. We've written about both treaties many times before.
18 May
The New World Order?
It is hard to think of another phrase that gets authority worshippers quite so wound up as New World Order. The worlds always prompt a sneerfest among those who are quick to shout 'Conspiracy Theory' and slow to think. The phrase was not coined by a conspiracy theorist, nor was is some secret masonic code used on United States dollar bills to signify the intention to create a global empire (Novus Ordo Seclorum does not even mean 'New World Order' - more below).
28 April
The Immigration Problem (part 1)
As Britain, its voters divided between pragmatism and politically correct thinking, heads for political chaos in an election likely to produce and inconclusive result, the big issue that none of the established parties want to talk about looks set to dominate the political debate through the next government's term in office.
The Baltimore Riots: The Verdict Of Baseball Team The Orioles Owner's Son
In the wake of violent protests that left eastern USA port city Baltimore in flames and were triggered by the funeral of Freddie Gray who died after sustaining a spinal injury while being taken into policy custody, American politicians and media commentators are struggling to explain to the public how the events of Monday evening could happen in twenty - first century America.
25 April
PayPal Asserts Copyright Ownership Over All Intellectual Property of its Users
The update comes in the aftermath of the announcement that eBay and PayPalwill split apartinto two separate companies. Under the heading "Intellectual Property," PayPal announcesthat it is introducing a new paragraph to its agreement, effective July 1, 2015, that will allow the company to "use content that you post for publication using the Services".
How To Help The Poor - A look at how mainstream politics talks of fairness but penalises poverty
All three mainstream parties in the May 2015 General Election are focusing, as they did last time, on fairness, equality and helping 'the poor'. As their senior spokesmen piously pontificate there will be no trace of irony from either Conservative, Labour or Liberal Democrat while the spout such bollocks, even though they know their economic policies will penalise the poor.
25 April
24 April