Bill Gates Developing Virus and Vaccine For Next Pandemic, Wants Global Surveillance Pact with W.H.O. to Track Vaccine Refusniks
Even though the efforts of politicians, the health industries and media doom mongers to keep up the fear factor over COVID looking increasingly desperate in the face of public scepticism, billionaire psychopath and wannabe vaccine messiah Bill Gates, whose 'charitable' foundation owns several for-profit biotech companies and who made $£€billions out of COVID, is already planning his next pandemic scam ...
---
We, The Resistance, need to start preparing our campaign tactics now for the appearance of "even more fatal" variants of coronavirus in the future. The warning can be taken as implicit in the latest megalomaniacal babblings from billionaire psychopath and wannabe Emperor of The Universe Bill Gates, who revealed in a talk on Sunday 1 May, that international health surveillance through technology and massive, propaganda led vaccination campaigns to be developed by increased funding for the World Health Organization (W.H.O.) is one way to forestall pandemic outbreaks.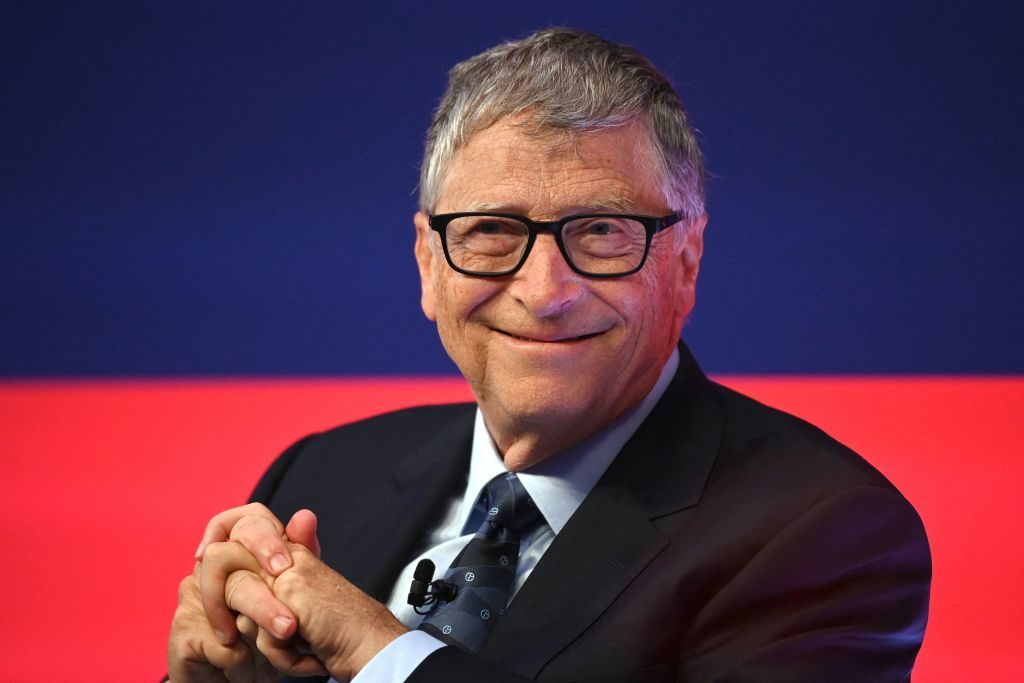 The Microsoft founder said, somewhat ridiculously, he did not want to sound "doom and gloom" but did exactly that in warning there was a risk an "even more transmissive and even more fatal" variant could be generated. This could safely be taken as an admission that biotech firms owned by The Gates Foundation are already simultaneously developing the virus that will drive this pandemic and the vaccines that will serve to make people with functioning immune systems vulnerable to the genetically engineered virus.

Gates told the Financial Times (FT) in an interview the risk of that happening is "way above five per cent" and would mean the world has yet to see the worst of the pandemic, if his predictions are correct (or even coherent would be a good start.).
He also cautioned that while the war in Ukraine dominates the international agenda, global leaders should not to lose sight of the health crisis, even as he flies around the world relentlessly lecturing about climate issues. Again this sounds like an announcement that his teams of mad scientists are already working on plans for the new pandemic.

Calling for greater investment to prevent future pandemics, Gates told the FT "It seems wild to me that we could fail to look at this tragedy and not, on behalf of the citizens of the world, make these investments."
He acknowledged there were questions over whether an international consensus could be reached to increase funding for W.H.O. at its base in Geneva, Switzerland. However, The most pertinent question, how can Gates be so certain another, even more deadly pandemic caused by a news COVID variant is on the way if he is not involved in planning it, was not raised.
RELATED:

MENUS:
[ Covid Vaccine Fascism ] ... [ Covid Vaccine deaths & Injuries ] ... [ Health Tyranny ] ... [ Death Of Democracy ]
POSTS:
How many more young lives will be sacrificed on Gates's vaccine altar?
It's remarkable that the man who has become the unelected global health czar and population control advocate is not being questioned on his past more closely. Though we are living through a crisis predicted by Gates and a response triggered and bankrolled by the Bill and Melinda Gates Foundation, which are driving us towards a vaccination and biometric ID solution which Gates has been working on for years, he's still regarded as a benign philanthropist.
Critics Batter The Fake Science Used To Justify The Lockdown As Boris Waffles
Regular readers may recall this blog was among the first to expose the fact that the pandemic model predicting 500,000 COVID – 19 deaths if the entire nation was not placed under indefinite house arrest was based on a deeply flawed mathematical model of the pandemic built by a "scientist" at Imperial College, London, a college heavily reliant on funding from the Bill and Melinda Gates foundation. You may also recall we have reported on the determination of psychopathic megalomaniac Gates to insert himself into this phoney crisis
Bill 'Psycho' Gates Wants To Release Genetically Modified Mosquitoes To Inject Us With Vaccines The latest luncacy to flow from the megalomaniacal mind of the world's richest madman and wannabe Galactic Emperor Palpatine, Bill Gates is the latest iteration of a plan this vaccine – obsessed world domination freak has nurtured for a long time. He wants to release genetically midified mosquitos to inject us with vaccine.Apart from the … Continue reading
How Social Engineers Use Weaponized Psychology to Push Unproven Vaccines
December 30, 2020 Another "we told you so," moment for us Boggart Bloggers. We told you back in the spring that project fear was being ramped up to make people accept social engineering projects and mandatory mass medication schemes, which we assume will eventually include Bill (Wannabe Emperor Palpatine,) Gates' cherished dream of reducing global population by 50% …
Continue reading
Boston Herald Calls For Government Execution Squads To Murder Experts Who Oppose Mercury In Vaccines
Algorithms Are No Better At Telling The Future Than Tarot Cards Or A Crystal Ball
According to a new report "An increasing number of businesses are investing in advanced technologies that can help them forecast the future of their workforce and gain a competitive advantage". Almost every day we see more bollocks being written by supposedly intelligent people who believe that by using things called 'Data Science', 'Artificial Intelligence,' and 'Big Data', machines can already be relied on to make better decisions than humans, and that soon computers will equal or even surpass us in actual intelligence. ... Continue reading >>>
Proof That The Alarmist Claptrap You Are Hearing And Seeing At COP26 Climate Conference Is A Load Of Bollocks
The Arctic ocean is warming up, icebergs are growing scarcer and in some places, the seals are finding the water too hot, according to a report to the Commerce Department yesterday from Consul Ifft, at Bergen, Norway. Reports from fishermen, seal hunters and explorers all point to a radical change in climate conditions in the Arctic zone. Expeditions report that scarcely any ice has been met with as far north as 81 degrees 29 minutes. Soundings to a depth of 3,100 meters showed the gulf stream still very warm ... Continue reading >>>
Green dreams of Heat Pumps Continue reading >>>
When Boris Johnson revealed the UK Government plans for achieving 'net zero' carbon emissions by 2050 it emerged the much teased clean, green replacement for gas boilers as our main source of domestic heating is to be heat pumps. The Daily Stirrer counters the pseudo-scientific bollocks and reveals this 'new technology has been around for a hundred years.
Sweden Cancels Bill Gates Geoengineering Plan To Block Sun & Stop Global Warming from Great Game India Bill Gates has proposed and funded a geoengineering experiment to determine whether blotting out the Sun with aerosols could reverse global warming. This experiment was undertaken by Sweden's space agency. But now they have called off this project as they are facing a great opposition from the environmental activists. The experiment … Continue reading

Bill Gates Flounders When Asked Direct Questions About His Vaccine Agenda

Bill Gates, the world's greatest vaccine fan and long term purveyor of software that is not fit for purpose, has been one of the main drivers of the wholly manufactured COVID – 19 global crisis that has seen our political leaders unquestioningly follow the instructions of corporate lobbyists and representatives of the Big Pharma cartel, … Continue reading>>>
Bill Gates running deadly global "vaccine empire" that can only exist through extreme censorship Bill Gates – wannabe Dr. Death? (picture: NewsTarget.com) The reason why Microsoft co-founder and billionaire eugenicist Bill Gates is being given so much airtime amid the Wuhan coronavirus (COVID-19) crisis is because Gates is currently the world's largest manufacturer of vaccines, as well as the money … Continue reading
Continue reading
In another example of the insane and fantaical religious fervour of those who support the vaccine industry by hating anyone who questions anything about vaccines, the corporate media prostitutes of the Boston Herald's editorial staffny have used their print editions to call for what the murder of anyone who questions the safety or efficiency of vaccines or opposes plans to legally mandate vaccinating entire populations (such as those proposed by Bill Gates through his Gates Foundation.)The killings would be carried out by government sanctioned execution squads to eliminate scientists, naturopaths, chiropractors and any journalists fool enough to question the safety of injecting children with mercury, a brain-damaging toxin still found in flu shot vaccines administered to children and expectant mothers, and other neurotoxins.
The Absurdity Of Vaccine Passports, Lockdowns and Segregating The UnvaxxedAfter reintroducing lockdowns from the beginning of this week in its two regions with the highest rates of COVID cases, Austria today became the first country in western Europe to reimpose a full, national lockdown which will start on Monday, November 22. The Austrial government is likely to be quickly joined by neighboring Germany, a statement from Berlin warned [...] Some commentators in Austrian capital Vienna were cynical enough to ask if the whole point of this latest escalation is justify more restrictions
Continue reading >>>
Boris' Government Trying To Bypass Parliament, Introduce Vaccine Passports By Back Door
We warned you this authoritarian government would not let the idea of vaccine passports go and here they are, reported by Summit News (well you didn't expect to see it in mainstream media did you?} tyring to bring in their wretched "Papers Please" legislation by the back door.
Italy Mandates COVID-19 Vaccine Passports For All Private Sector Workers
17 September: Italys undemocratically appointed left wing government yesterday (16 September) approved new and restrictive rules using the COVID-19 pandemic as an excise for this lurch towards fascism. The new rules which are aning the strictest in the world, in the world mandate that all private and public sector employees get the vaccine and show proof of vaccination, a negative test, or a recent recovery from infection, officials said.
Turning the Tide? No Vaccine Passporrts for England; US States rebel against Biden Vaccine Mandates;
September 12: The British government will not mandate vaccine passports for nightclubs, cinemas, and other large public venues in England after all, Health Secretary Sajid Javid announced on Sunday. Prime Minister Boris Johnson's government has backtracked on controversial plans to introduce vaccine passports domestically and is set to end draconian emergency powers given to the state under the Coronavirus Act, in a major concession to anti-lockdown factions within the Conservative Party.