Artificial Intelligence: Can It Destroy Human Society?
Already Underway: Smart A.I. Running Our Police and Cities
http://21stcenturywire.com/2015/03/13/already-underway-smart-a-i-running-our-police-and-cities/
Increasingly our streets and cities are using Artificial Intelligence (AI) to point police to crime hotspots through CCTV networks.
However CCTV, closed circuit television, is not quite what is operating on our streets today. What we have now is IPTV, an internet protocol television network that can relay images to analytical software that uses algorithms to determine pre-crime area in real time.
Currently this AI looks at areas that may be targeted for crimes such as burglaries or joyriding, with the predicted hotspot information being sent direct to law enforcement smart phones in the field. This analytical software is being used in Glasgow, hailed as Britain's first 'smart city', where the Israeli security firm NICE Systems are running the CCTV/IPTV network, analysing data from the 442 fixed HD surveillance cameras and 30 mobile units under a project called Community Safety Glasgow, whose primary objectives are described as, 'delivering Glasgow a more efficient traffic management system, identifying crime in the city and tracking individuals.'
Whilst Glasgow City Council claim they are not currently utilising NICE System's facial recognition capabilities, the new HD CCTV system being installed for the Future Cities Demonstrator initiative, funded by the Department of Business, Innovation and Skills via its quango the Technology Strategy Board, is still capable of tracking individuals within the city. A spokesperson from Glasgow City Council stated:
"A trial of NICE's video analytics is planned for later in the year [2015]. This involves 'Suspect Search' which can be used to find missing children or vulnerable adults quickly, such as those with dementia, as well as tackling crime. Again it does not involve facial recognition or emotional intelligence."
As well as missing children and vulnerable adults presumably Suspect Search can also track suspects – the clue is in the name. No facial recognition. No surreptitiously taking and covertly using our biometrics, that's okay then? So how does this tracking work? The software still has the same outcome as using facial biometrics – individuals can be identified, traced and tracked. According to NICE;
"Working with information about the entire body, from head to foot (clothes, accessories, skin, hair) enables faster and more accurate matches."
Of course, because CCTV cameras are not at head height and persons of interest do not always have their face aimed at the camera, it could be the back or top of the head or the particular person could be wearing a cap, therefore analysing the whole body makes sense. It's still the same outcome as using our biometrics, agencies being able to track us individually, covertly.
RELATED POSTS:
Back to Contents table
Latest Posts

Elsewhere: [Boggart Blog]...[Little Nicky Machiavelli]...[Scribd]...[Wikinut] ... [ Boggart Abroad] ... [ Grenteeth Bites ] ... Ian Thorpe at Flickr ] ... [ Tumblr ] ... [ Ian at Minds ] ... [ The Origninal Boggart Blog] ... [ TSU ]
---
Threat from Artificial Intelligence not just Hollywood fantasy
by Xavier Connolly
Oxford academic Dr Stuart Armstrong warns humanity runs the risk of creating super intelligent computers that eventually destroy us all
Oxford academic Dr Stuart Armstrong has warned that humanity is at risk of creating super-intelligent computers that will eventually destroy us all, even when specifically instructed not to harm people (oh no, another acedemic who believes Azimov was a non - fiction writer.).
Armstrong, of the Future of Humanity Institute at Oxford University, predicted a future in which humans become so dependent on machines run by Artificial Intelligence our creations eventually render us redundant and take over.
He stated this alarming vision could become reality within the next few decades.
Dr Armstrong said: "Humans steer the future not because we're the strongest or the fastest, but because we're the smartest. When machines become smarter than humans, we'll be handing them the steering wheel."
He was speaking as films such as The Terminator and TV dramas including Channel 4's Humans and Ex-Machina, - which according to their publicity explore the blurred lines between man and robot (guys, guys, the robots are played by human actors) have tapped into humanity's fear (?) of creating machines that will eventually be able to dominate us.
Dr Armstrong foresees machines able to harness such large amounts of computing power, and at speeds inconceivable to the human brain, that they will eventually create global networks with each other - communicating without human interference. Here's where the good doctors reiterates my assertion that I have never met an academic who could be described as intelligent. Clever yes, cleverness can be learned by rote, but intelligent no. Read on I will demonstrate.
It is at the point that what is called Artificial General Intelligence (AGI) - as opposed to computers that carry out specific, limited, tasks, such as driverless cars - will be able to take over entire transport systems, national economies, financial markets, healthcare systems and product distribution.
AI as Hollywood (and Dr. Armstrong, by his own admission, above) thinks of it is science fiction. People who fear the "machines taking over" are people who do not understand anything about electrical or software engineering.
We are not able to create artificial intelligence, and we are nowhere near being able to do it. Our current computers can do binary arithmetic very quickly and with lots of data. That is very useful, but it isn't intelligence. We don't know how intelligence works at the moment. Discovering how it works would be a development similar to the discovery of DNA, and it is impossible to predict when that might happen.
It is not really possible to have true digital AI, the best we could achieve would be be programming leading to the illusion intelligence. There are already countless digital eyes and ears, sensors and processors, fully interconnected with access to most of the worlds knowledge and no AI has manifested. This makes me think it, the sentience needed to create AI, really would be an illusion related exclusively to programming capable of mimicking the thought processes of its programmer and not due to conciousness, which is dependent on awareness. The internet, were it a being capable of awareness, already has access to most of the information on the planet and yet no consciousness has arisen.
Suppose for a moment it is possible to create logical awareness, we might be able to create a very limited pastiche of a scientist's mind and call it artificial intelligence but the question is; would we ever be able to create emotional intelligence? Can we create soul? Personally I don't do religion but I believe there is more to humanity that the biological machines some scientists would reduce us to. (Maverick biologist Rupert Sheldrake appears to be on to something with his research in this field.)
The real threats to humanity's future are the 'scientists' who decide that we all need this automation in our lives. They produce this stuff to make money without thinking, or caring, long term. Natural human languages are not precise enough to run computers however sophisticated they become, and for a good reason. Intelligence is not the main reason mankind has succeeded, but imagination, and that depends on the fluidity of language. AI may be much better than us at many things, but unless it can use its imagination we will still have the upper hand.
RELATED POSTS:
Back to Contents table
Latest Posts

Elsewhere: [Boggart Blog]...[Little Nicky Machiavelli]...[Scribd]...[Wikinut] ... [ Boggart Abroad] ... [ Grenteeth Bites ] ... Ian Thorpe at Flickr ] ... [ Tumblr ] ... [ Ian at Minds ]
---
Automation Doesn't Just Destroy Jobs - It Destroys Profits, Too
A new political idea that the burden on welfare budgets caused by paying unemployment benefits can be relieved by taxing the owners of robots and software that automated industrial processes and puts humans out of work and thus funding guaranteed incomes for all is not anchored in reality.
Automation is upending the social order by eliminating human labor on an unprecedented scale, combined with policies that make it easy for large corporations to outsource work to low labour cost nations. Developed nations have no reality-based solution to this wholesale loss of jobs and the need to fund mass unemployment, which is one of the inintended consequences of uncontrolled technological advance.
Two recent articles have highlighted the catastrophic efects of advances in robotics and AI (artificial intelligence) on employment: Four fundamentals of workplace automation and Robots may shatter the global economic order within a decade as the pace of automation innovation have gone from linear to parabolic in new media.
Status quo pundits offer two magical-thinking solutions to the sweeping destruction of jobs across the entire spectrum of paid work:
1. Tax the robots (or owners of robots) and use the revenues to pay a guaranteed income to everyone who is unemployed or underemployed.
2. Let the price of labor fall to the point that everyone has a job of some sort, even if the pay is minimal.
Neither one is remotely practical for several reasons.
Let's first look at the misguided fantasy that automation/robotics will generate enormous profits for the owners of robots. Here's the problem in a nutshell:
As automation eats jobs, it also eats profits, since automation turns labor, goods and services into commodities. When something is commoditized, the price drops because the goods and services are interchangeable and can be produced almost anywhere. At the same time taxes must rise to meet the social costs of higher unemployment. Owners must then move commoditized production to low-tax regions if they want to retain any profit at all, thus creating more unemployment.
The law of supply and demand dictates that big profits flow from scarcity, i.e. when demand exceeds supply. If supply exceeds demand, prices fall and profits vanish. Also we have to consider that in an era of cultural Marxism and the theraputic society, the government is businesses major customer. Benefit claimants do not pay much tax, so government revenure falls. Additionally, unemployed people have less to spend so revenue from consumption also falls. So government has less to spend on infrastructure and public services. So projects are cancelled and more jobs are lost.
The other problem the "tax the robots and everything will be funded" crowd overlooks is the falling cost of software and robots lowers the barriers to competition: nothing destroys profits like wave after wave of hungry competitors entering a field.
The cost of automation and robotics is falling dramatically as the cost of computers did throughout the 1990s and 2000s. This again lowers the cost of entry for smaller, hungrier, more nimble competitors, and lowers the cost of increasing production. When virtually any small manufacturer can buy robots (3D printers) for less than the wages of a human laborer, where's the scarcity necessary to maintain prices and generate profits?
The parts needed to assemble a $45 tablet computer are still dropping in price, and the profit margins on those parts is razor-thin because they're commodities. Software such as the Android operating system is free, and many of the software libraries needed to assemble new software are also free.
Automation increases supply and lowers costs. Both are deadly to profits.
These are not fantastical predictions based on mathematical models of reality, there are many real-world examples of digital technologies widely available free or at minimal costs destroying sales and profits of small to medium sized businesses on a massive scale. Bookshops is one example. And look at the numbers of empty shops in your local high street and then find out how many people an Amazon warehouse and distribution centre employs (Amazon is coy about the actual figure, but I once researched it for an article, Amazon Humandroids, and calculated around a hundred jobs are lost for each one created. And the online retailer plans to intoduce more automation, even going as far as unmanned delivery drones to automate the van drivers jobs away.
Some observers have suggested taxing wealth rather than profits to fund the super welfare state of guaranteed income for all. But the value of assets ultimately rests on their relative worth. At current interest rates, an investment of £1million would produce just £35,000 annual interest in the UK. That's less than the average houseold income. As profits fall, wealth may be more chimerical than these observers are prepared to believe.
RELATED POSTS:
Back to Contents table
Latest Posts

Elsewhere: [Boggart Blog]...[Little Nicky Machiavelli]...[Scribd]...[Wikinut] ... [ Boggart Abroad] ... [ Grenteeth Bites ] ... Ian Thorpe at Flickr ] ... [ Tumblr ] ... [ Ian at Minds ] ... [ The Origninal Boggart Blog] ... [ TSU ]
---
Artificial Intelligence: Will It Kill Human Society?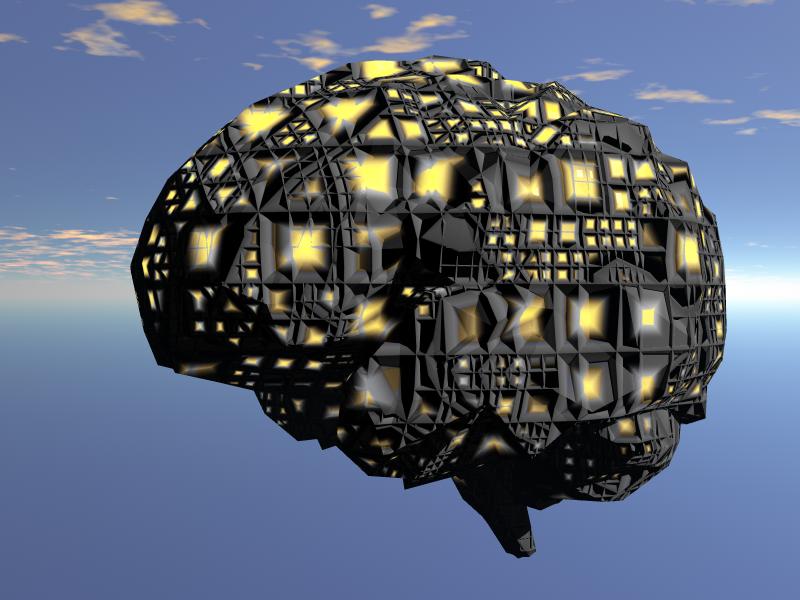 Artificial Intelligence - picture credit: ibiblio.com
Artificial intelligence, far from being a boon to humanity might easily lead to mass unemployment and social breakdown if computers continue in extending their capacity to replace humans in jobs, experts warned days after it emerged that Google had beaten competitors to buy a firm specialising in this kind of technology. Dr Stuart Armstrong, from the Future of Humanity Institute at the University of Oxford, issued his warning after news that Google had paid £400m for the British artificial intelligence firm DeepMind was revealed.
While Dr. Armstrong welcomed the internet search and advertizing giant's decision to set up an ethics board to supervise the development and application of artificial intelligence, saying that such advances in technology carried a number of risks. Mr Armstrong said computers had the potential to take over people's jobs at a faster rate than new roles could be created. He cited logistics and administration as professions that were particularly vulnerable to the development of artificial intelligence. Machines have already largely replced humans in manufacturing while more and more sales functions are being carried out online. Only a few years after community High Streets filled with empty shops, now office developments are full of empty call centres.
Dr. Armstrong also warned about the implications for uncontrolled mass surveillance if computers were taught to recognise human faces. "There's a variety of short term risks for artificial intelligence, everyone knows about the autonomous drones", he added.
Such concerns are often swept aside by "computer scientists" and media "experts" who are really just nerds so besotted with technology they hail every advance as a major step forward for humanity and never pause to consider that there might be a downside. Some studies carried out by social scientists however have been looking into which jobs are the most vulnerable and there's quite a lot of them in logistics, administration, insurance underwriting but ultimately a huge swathe of jobs are potentially vulnerable to improved artificial intelligence." The Daily Stirrer has previously reported in this in 'Will Humans become Redundant In Your Lifetime'.
These concerns have been reiterated by Murray Shanahan, professor of cognitive robotics at Imperial College London, who commented: "I think it is a very good thing that Google has set up this ethics board and I think there certainly are some short term issues that we all need to be talking about.
"It's very difficult to predict and that is of course a concern but in the past when we've developed new kinds of technologies then often they have created jobs at the same time as taking them over but it certainly is something we ought to be discussing."
But will the nerds and the media wannabes allow discussion of what ought to be discussed? There's an old adage that goes, "If you don't use it you'll lose it." With a constant stream of propaganda ffrom technology companies, academics and politicians brainwashing impressionable pople into believing computers should be left to do the thinking because they are better at it than us, what will happen to our intelligence if we let computers do everything for us? As computers become more intelligent while humans dumb down, they'll stop being our slaves and become our competitors or worse. The race will be on to stay more intelligent than the machines and parents will have to select the right genes for their kids so that they stay ahead. Slaves to the machines, what a dystopian future we will be handing to future generations. We're innovating ourselves into oblivion.
The DeepMind company was set up in 2011 by neuroscientist and former chess prodigy Demis Hassabis, along with partners Shane Legg and Mustafa Suleyman. The company specialises in intellectual property, namely algorithms and machine learning techniques for simulation, e-commerce and games. Phew, that's a relief, I was beginning to think these people were a serious business. Like Google's other recent acquisition Nest, a major player in developing The Internet Of Things we are told although while they talk about developing intelligent fridges, microwave ovens and flat screen teclevision their product portfolio to date is a thermostat which does exactly what alalogue thermostats have done for over a century. Still while the nerds dream of the day when algorithms rule the world, they are not doing any real damage like developing new weapons of mass destruction for tyrants and war criminals to play with.
Deep Mind is also working in an area called Deep Learning which involves machines being 'taught' (nerds love to humanize machines, they mean programmed) to recognise patterns in massive aglommerations of data so computers will begin to learn how to recognise mundane objects such as cars, food items and possibly human faces.
Google anticipate using DeepMind's expertise to improve the functions of its current products such as the Google Glass, the project that will stick Googles ads and 'suggestions' in your face and generally distract you while you are driving a car, rock climbing, skiing, making love to your Google robot fuck buddy having a dump. The company also pland to extend its current artificial intelligence work such as the development of self-driving cars (so yo can get jiggy with your robot friend and simultaneously respond to Google's ads and 'suggestions', while being driven to work, to distraction or to insanity.
Mao Tse-tung once said it is better to employ 1000 men to dig a ditch than to use one JCB and one man to dig the ditch, because if you employ 1000 men you put 1000 chickens on the dinner table for 1000 families instead of 1 chicken on the JCB driver's table, and a pile of money in the JCB owner's bank - or something like that.
RELATED POSTS:
Could 'DNA editing' lead to designer babies? Designer babies, human / animal hybrids, these things have been in wet dream territory for scientists for a long time. But now due to techniques such as DNA editing, they are getting worryingly close to reality. And as has been demonstrated many times, scientists have zero uderstanding of where the ethical boundaries lie.
IBM Lays Billion Dollar Bet On Artificial Intelligence System Called Watson: They'll Lose
This publication has always been sceptical of the claims made by computer scientists that'the thinking computer is just around the corner'. The fact is pointy heads have been saying arificual intelligence would be with us in two or three years for the past forty years. And the old computer professional who owns the site says we are no nearer than when he wrote his fisrt program.
Nothing Good Has Come Of The Internet

When a technophobe denounces the internet as anti - social, anti jobs, a force for dumbing down or a waste of time it can easily be dismissed but when the CEO of a major technology company like Sony saays nothing good has ever come of the internet we should perhaps listen.
.
The Robotification Of Human Society Is being Implemented
Are you ready to surrender your humanity to science, accept having computer chips implanted in your skull that will link your brain to the internet (via a Google server) and let your life be controlled by machines? That's what The Controllers are planning for you ...
Internet Access As A Human Right?

A survey carried out by the BBC found a majority of people around the world believe internet access should be a basic human right. We suspect a bit of statistical rigging because the majority of people in the world live below the poverty line and probably have more urgent priorities than surfing the net.
Is The Internet Making Us All Stupid.The more gullible and wide eyed among academics like to burble ecstatically about how the internet has ushered in a new age of creativity. We have to wonder just how much time these self styled experts have spent surfing scial networking sites
Web Induced DementiaIn most civilised societies there are laws governing what outrageous claims advertisers can make for their products. This does not apply on the web it seems, where 'revolutionary new world changing technology' means 'not fit for purpose'

Computer Cops Will Arrest You Before You Commit A Crime
Innocent until proved guilty has always been a basic principle of British and before the Union, English and Scottish justice. Since late in the ninth century when King Alfred signed into law the Liber Judicialis, the presumption of innocence has stood.Thinking of committing a crime was not punishable, only in George Orwell's dystopian novel "1984" has Thought Crime ever been a punishable offence. Until now ...
Is Technology Creating Physical and Psychological Hazards In The Digital Age?
Scientific research used to be the area of work that trailblazers, those with an unquenchable desire for new experience and a hyperactive sense of adventure wanted to be involved in. Now those who label themselves 'scientists' seem to have become the high priests of an ultra - conservative religion, determined at all costs to block progess that may lead to understanding that the dogmas of the past are just wrong
The Mummers: The Controlling system And The Illusion Of Freedom
We live in a world of deception, where truth is an ephemeral thing, slippery as an eel and shadowy as a spectre. What we are expercted to perceive as reality is just spin and misinformation designed to ensure the elite maintain their control. There's eff all you can do just get on with your life, say the shills for big government and authoritarianism. But are we really nothing more than slaves of the system?
Google's Brave New World Of Artificial Intelligence - And The Destruction Humanity
Almost every day we hear scientists burbling about artificial intelligence and how very soon machines will be smarter than humans. As scientists are nowhere near as smart as humans its hard to see how science can build something smarter. The problem is of course we don't understand what contsitutes intelligence - those who think academic qualifications are the only indicator are retards. So where will this madness to replace us with machines end?
Transhumanism - What The Elite And Their Science Whores Have Planned For You
Transhumanism, the creation of - or turning us into - part human, part machine cyborgs is generating a lot of discussion and a lot of spontaneous ejaculations in the scientific community as they contemplate having their brains replaced by a computer. There are no limits on the ambitions of scientists fantasies, they even envisage creating robots that can interbreed with us, but how much is realistic?
Don't be Evil, Google Will Do It For You
Google have abandoned their "Don't Be Evil motto. Good thing really, they are becoming more evil every day. The latest plans to integrate our brains with their servers may seem like a science fiction freaks wet dream, but these creepy nerds are serious ...
Google wants to change the way you see the world
News Used To Be Important - Now It's Just Entertainment

People talk about technology, mainly television, cellulat telephones and the internet having given us an unprecedented ability to communicate. But have they? OK, we can trade meaningless messages with strangers on the other side of the world, we can join the cacophony of social netwoks where everybody yells at once and nobody listens, or we can sit in isolation, shouting inmto the void. But none of those are communicating. Technology has actually inhibited communication. ...
Google Evil Empire In New Privacy Violation

Once again the neo-Nazi nerds at Google are in trouble for playing fast and loose with our privacy. Google have bypassed browser privacy setting to track our movements on the web, the bettrer to target us with ads for poxy shite no sane person would buy. What is it these arseholes find difficult to understand about the idea that in the real world or cyberspace same rules apply ...
Google Has Comptely Forgotten 'Don't Be Evil' As The World Domination Agend Gathers Pace

At last Google has been caught stealing information from a business rival rather than private induviduals. Will people now wise up to these scumsucking pirates of the internet search engine world.
Science Brings Doomsday Closer - scientists announced we are nearer to a global catastrophe than we were a year ago
A Chronicle Of Decay
Slaves Of The Machine
Don't Google It - our dependence on the internet is killing our ability to learn
Has Google algorithm tweaking hit your traffic?
Facebook Scuicide
You Get What You Deserve.
Anti - Social Networking
Internet technology
New World Order menu
Living Within The Conspiracy
Humanitas
Health Menu
New World Order menu
Living Within The Conspiracy
Humanitas
Greenteeth Elsewhere: [ The Original Boggart Blog] ... [ Writerbeat ] ... [ Daily Stirrer.shtml ]...[Little Nicky Machiavelli]... [ Ian's Authorsden Pages ]... [ It's Bollocks My Dears, All Bollocks ] ... [ Minds ] ... [ ] ... [Scribd]...[Wikinut] ... [ Boggart Abroad] ... [ Grenteeth Bites ] ... [ Latest Posts ] [Ian Thorpe at Flickr ] ... [Latest Posts] ... [ Tumblr ] ... [ Authorsden blog ] ... [Daily Stirrer Headlines]
[ Ian at Facebook ]
CREATIVE COMMONS: attrib, no comm, no dervs.
KEYWORDS: news, opinion, dailystirrer,
If you liked this, please give it a boost
Close Window and return to previous URL

Skip RSS Feeds and go to Greenteeth Menu Panel
News Feeds (Go back to top)