Adolf Hitler: His Part In Our Downfall
---
1.2 The Ideology of The Nazi Founders Of The European Project Is Still Influential Today
The idea of a politically integrated Europe came originally from Adolf Hitler himself. Addressing his followers in 1936 Hitler called for Europe to adopt a single legal system, and ever the consummate creator of memorable sound bites, he called for a United states Of Europe to describe his plan for a German Empire stretching from the Atlantic to the Caspian Sea (you can find this online but it is hard, a pint history of the Nazi's rise to power is you best bet), a single political unit with a single language and a single legal codex, moving towards the goal of a single culture based on unquestioning loyalty to the central authority. The name European Economic Community was coined by Reichsfuhrer Hermann Goering (all Nazis of any rank were fuhrers, from the lowly Gruppenfuhrer, to Hiltler's closest and most senior aides such as Goering, and the man himself, The Fuher, the leader, in Mafia language the Capppo di Tutti Cappi, the leader of all leaders. The Nazis were no slouches at public relations and understood that a name suggesting a positive, inclusive community was less likely to arouse opposition that something like The German National Socialist Empire.
In 1940 Walther Funk, head of the Bank Of International Settlements and the Nazi's economics adviser put a written proposal to Hitler and other leading Nazis titled "The Eonomic reorganisation Of Europe." In it the idea of a single European currency was first raised. It 1942, when the Nazi advance of all fronts was faltering and the first signs that the war in Europe, the middle east and Africa initiative was swinging away from Germany, the Nazi party published a document titled "Basic Elements Of A Plan For The New Europe" which proposed harmonisation of labour and social welfare conditions among European countries.
Also in 1942 Richard Heidrich, high ranking Nazi official and one of the architects of The Holocaust presented 'The Reich Plan For Domination Of Europe' which historians note bears a remarkable similarity to the 1957 Treaty of Rome.
A year later, with the USA having entered the war and the tide of events definitely running against the Rome Berlin Tokyo axis, Hitler and his colleagues were starting to consider how Germany might still dominate Europe if the war against The British Empire, the USA and the Soviet Union was lost. Thirteeen countries, including France and Italy, that were Nazi allies or under Nazis control were invited to joina European Federation under German military authority. I mention The British Empire in this paragraph because the role of Australia, Canada, the African colonies, India and Pakistan, and the Caribbean Islands in securing victory is too often forgotten.
In 1944, with the allies advancing on all fronts, arrogance was the only thing the Nazis had left. A conference in Berlin, 'How Will Germany Dominate The Peace When It Loses The War' was called. Vast amounts of money were moved via the Swiss based Bank Of International Settlements to the USA.
Developments halted after the surrender in 1945. Funk and other senior Nazis were convicted of war crimes and spent their days dancing the Spandau ballet, but collaborators in some of the nations the Nazis had conquered managed to evade justice and worm their way into the bureaucracies of governments whose priorities were to rebuild societies and economies. In May 1950 French foreign minister Robert Schuman proposed the establishment of a common market for coal and steel for those countries willing to delegate control of these sectors of their economies to an independent authority. In drawing up what was called the Schuman Plan though it had actually been authored by Jean Monnet, then head of the French planning agency—French policy makers were motivated by the belief that a new economic and political framework was needed to avoid future Franco-German conflicts. In 1952 the European Coal and Steel Community was formed by the Paris Treaty. Schuman had been a member of the French government from 1919 and was held by the germans and forced to work with the Nazi authorities in france until he escaped in 1942 and his brainchild was the first step was towards a politically and financially unified Europe, from day one however the ultimate objective was Hitler's vision, the creation of a "United States of Europe." West Germany, Italy, and the three Benelux countries subsequently agreed to negotiate on the basis of this plan.
By 1954 Schuman and Monnet's bureaucratic baby had removed nearly all barriers to trade between its members in coal, coke, steel, pig iron, and scrap iron. As a consequence, trade in these commodities rose dramatically in the 1950s. A set of common rules was established to control cartels and to regulate mergers but in effect the bureaucracy had overal control. The central institution, the High Authority, fixed prices and set production limits or quotas and was authorized to impose fines on business firms that infringed treaty rules.
The next move was the formation of the European Economic Community (EEC, popularly known as The Common Market, by the Treaty Of Rome in 1957. The original members, Germany, France, Italy, The Netherlands, Belgium and Luxembourg agreed to cooperate economically as a way to avoiding future wars in the continent of Europe. In 1958 the EEC created the European Commission, an unelected, unaccountable executive branch to 'run' the EEC administrative branch. Over the decades, in an extreme case of 'mission creep' the powers of the Commissioners has grown and now the unelected commissioners have the power to dictate policy to sovereign nations, create and impose laws without their being voted on by national parliaments and decide how the EU should operate.
One of the tasks of the EU Commission is to increase the power of the European Union and enlarge its sphere of influence. To this end there is now an 'enlargement commissioner.' Would it surprise you to know this place holder is tasked with overseeing a policy that will see Europe stretched beyond any logical geographic borders to incorporate not just Turkey (which at least has a toehold on the European continent), but states such as Georgia, Armenia and Azerbaijan in the Caucasus, Syria, Jordan, Lebanon and even north African nations including Egypt, Libya and Algeria.
Thus we see that what has now become the European Union was always intended to be a bureaucratic dictatorship as one would expect from a body founded on the ideas of Adolf Hitler and his Nazi colleagues and was and led by 'former' Nazis Fascists, sympathisers. The Charlemagne Prize awarded to Tony Blair, Edward Heath, Roy Jenkins and others who served the National socialist idea of removing democratic sovereignty from the nation states of Europe was also a Nazi brainchild, named after the Frankish King who is credited with first proposing a political union of nations and whose ideas led to the formation of The Holy Roman Empire." No wonder the EU has embraced many of the policies and of National Socialism and Fascism and now displays the characteristics of a totalitarian, corporatist Empire. That is what its fascist founders intended.
Let's look briefly at the backgrounds of Nazis and Fascists who were prominent in founding and supporting that "European Union" which now, indirectly, governs Britain (because the Labour Government of 1997 to 2010 and the Conservatives from 2010 did not dare sell out completely, there are still enogh of us who believe in our nation and its individual culture to resist out total incorporation into a Federal EUSSR.
Walter Hallstein, first president of the EU; economist, diplomat and lawyer or prominent Nazi lawyer depending on which biography you believe, a Hitler Youth "Nazi Leadership Officer" who promoted Nazism in Universities and the Legal profession and went on to become the First President of the European Commission in 1958. A quick comparison of the fiull biography and the santiized official version published by the E U reveals that the brussels bureaucracy does not care much for truth and in the manner of George Orwell's Big Brother regime has no qualms about erasing inconvenient details from history.
Paul Henri Spaak, another early EU official whose online biographies are disinfected, he was a Belgian politician and government minister and a self confessed National socialist who collaborated with Germany throughout the war years, openly rejected the democracies in favour of the fascist powers and warned the Allies not to attack Germany through Belgium. He became a Founding Father of the European Union.
Walther Funk, the senior Nazi economist, as already mentioned was a Minister under Goebbels at the Nazi Propaganda Ministry and as [the] Reich's Economics Minister and his role in dispossessing Jews of their property earned him the nickname 'The Banker Of Gold Teeth'. He wrote the economic blueprint for a united Europe adopted by the European Union. He was employed in the Lower Saxony Education Ministry from 1957 to 1960 after his release from Spandau Prison and served as an ex - officio economic adviser to the EU.
Hans Josef Globke drafted the Nuremburg Race Laws and then became Director of the German Chancellor's Office from 1953 to 1963 when the European Economic Community was created.
Lady Diana Mosley, the Hitler-admiring wife of [Oswald] Mosley (a supporter of the European Union and leader of the British Union of Fascists) expressed her admiration for the European Union in a BBC interview shortly before her death.
***,/p>
---
1.3 The Idea Of A Unified Europe Under German Control Was Bound To Appeal To Nazi Leaders
It will surely be no surprise to anybody who is aware of the political nature of the Nazi Regime that Hitler and the rest of the Nazi leadership welcomed Funk's plans for unifying Europe under a single government, thus in 1942 the German government wasplanning a European confederation to be dominated by Germany. In the same year a group of German businessmen held a conference in Berlin entitled `European Economic Community'(a phrase `European Economic Community first used by Hermann Goering in 1940.) By 1942, Reinhard Heydrich, head of the Reich Security Central Office and renowned for his ruthlessness against enemies of the State, published `The Reich Plan for the Domination of Europe,' a document which as has previously been remarked bears a remarkable similarity to the Treaty of Rome which founded The European Economic Community, now evolved into The European Union.
In March 1943, 13 countries (including France and Italy) were invited to join a new European federation which would be under German military control. When the Nazis realised that they were losing the war they knew that they had to make a deal in order to preserve German domination in Europe. Thomas McKittrick, the president of the bank Of International Settlements ( BIS) an American who was headquartered in Basel, Switzerland from 1940 to 1946,, acted as go between for the Nazis arrangement to transfer cash, gold, precious stones and art treasures to the USA where it was covertly stored in secure vaults. McKittrick also helped set up the negotiations to implement this plan without Franklyn D. Roosvelt or any of the people of integrity in Washington or the US business community learning of it. If Germany was to dominate post-war Europe, Funk and his colleagues judged it expedient to talk about European spirit, liberty, equality, fraternity and worldwide cooperation as the basis for their planned European Union. They decided to agree to share power, and even to allow other countries to take charge for a while. The Nazis knew that all they needed to do was maintain people sympathetic to their aims (such as McKittrick) in influential posts.
After McKittrick died in New Jersey in 1970, at age 81, the New York Times described him as a world financier. His obituary described him as a man sufficiently daring to attend a bank meeting in Switzerland in 1940 "within earshot of a French-German artillery duel," while his peers voted by proxy instead. But as with many obituaries, McKittrick's death notice omitted far more of historical signigicance than it contained.
McKittrick played a crucial role in abetting Hitler's war and in revealing details about his Nazi colleagues to his friends in Washington, D.C. During McKittrick's presidency, the BIS unquestioningly accepted looted Nazi gold, brokered money laundering deals for the Nazis, and recognized the Nazi invasion and annexation of conquered countries, doing business with German puppet regimes in occupied nations. By doing so, it legitimized the sequestration of Jewish-owned a funds and property by Nazi controlled authorities in occupied countries. The BIS, which still flourishes today and does business with governments easily as unpleasant and tyrannical as the Nazis, and with terorist organisations allegedly, was so indispensable to the overall Nazi project that the vice-president of the Reichsbank, Emil Puhl once referred to the it as the Reichsbank's only "foreign branch." In the closing months of the war, as American GIs gave their lives alongside troops from Britain and the colonies, French, Polish and Czech armies in exile and Russians, in the advance on Germany, the American banker McKittrick was arranging deals with Nazi officials and industrialists to protect their wealth and preserve their business empires after the inevitable Allied victory.
But McKittrick was also a key contact between the Allies and the Nazis, passing information back and forth from Washington to Berlin. His dealings with the Third Reich were encouraged both by the US State Department and by the Office for Strategic Services, the predecessor of the Central Intelligence Agency. He also served as a conduit for the exchange of information between anti-Nazi German business interests and the United States and ultimately served to help preserve the power of German industry after the war, in the face of opposition of the Treasury Secretary of the period, Henry Morgenthau.
One of the many things the modern EU has in common with The Nazis is the desire to micromanage every detail of the lives of people it rules.
***
---
1.4 The Bank Of International Settlements - A Bridge From Hitler To The European Commission
Founded in Basel in 1930, where it is still headquartered today, the Bank of International Settlements is work a closer look because of its links with the Nazis (the timeline is significant - Hitler had become leader of the "National Socialist German Workers' Party, nicknamed the Nazis, in 1921 and became known when his 'beer hall putsch', an attempt to take over the state government of Bravaria in 1923 failed and landed him in jail. During the year of his five year sentence that he actually served, he honed his political philosophy, incorporate populist ideas sure to appeal to the working classes and wrote the first draft of his book Mein Kampf (My Stuggle) . The failed coup consigned the Nazi's to the political wilderness until 1929 when Germany, still recovering from World War One and the massive reparations it was forced to pay, was hit by the world recession and high unemployment. Many peoples' savings had been wiped out by hyperinflation earlier in the decade and many millions of Germans were suffering finacial hardship. Hitler's populist message began to resonate and the Nazi's started to win elections, eventually gaining a majority in The Reichstag and taking power in 1933.
The Bank Of International Settlements was ostensibly set up as part of the Young Plan to administer German reparations payments for WWI, but its real purpose set out in its statutes was (and is) 'to promote the cooperation of central banks and to provide additional facilities for international financial operations.' The establishment of the BIS was the culmination of the bankers' decades-old dream to have their own bank; independent, free from pestilences like democratically elected politicians, meddling bureaucrats and inquisitive investigative journalists. Setting up shop in neutral Switzerland was a politically driven move rather than being linked to the reputation of that nation as a financial centre. Under the terms of its founding treaty, BIS assets could never be seized, even in times of war. Tyrants and world domination fantasists are not likely to respect French, German, Italian or Indian banks, but Switzerland is different. When all ones cronies have their loot stashed in that nation, a wise tyrant would avoid it. Most felicitous of all, the BIS was self-financing and would be in perpetuity. Its clients were its own founders and shareholders, the central banks a. The BIS, boasted Gates McGarrah, an American banker who served as its first president, was "completely removed from any government or political control."
Based in the northern Swiss city of Basel the BIS was founded to be the bankers banker. The Institution swiftly made itself into the principal pillar of the new international global financial system at a time of worldwide financial crisis. It organized bailouts for debt - ridden Austria, Spain, and Hungary. It provided banking services for central banks and global commercial banks,. Its annual reports on the state of the global economy became required reading in the world's treasuries. Every month, the BIS brought together some of the most powerful central bankers in the world, in conditions of extreme secrecy, to discuss the world economy. Reporters were forbidden from even looking into the room where the directors met, even after they had left.
The cabal of central bankers, aided by their numerous friends on Wall Street, including John Foster Dulles, the future American secretary of state, and his brother Allen Dulles, had been instrumental in rebuilding Germany after WWI, a project that continued after Hitler took power in 1933. And BIS was the vehicle politicians used to keep their hands clean when doing business with the Nazis when the unsavoury nature of the regime's politics started to become public knowledge.
These little excursions into history may seem to be digressions but are very relevant. Just as the Nazis in the nineteen thirties and forties aimed to unify Europe under a single, centralized authority, and eventually to spead their control further afield, so the E U has been working towards a similar goal.
Oh, I know, I can hear the lovers of big authority and the sheeple screaming conspiracy theorist alread and I'm not halfway though editing the book yet. But there is no conspiracy here, E U leaders ans supporters of the European project have been quite open about this goal, people who are not aware of it must spend a loty of their time with fingers stuck in ears, singing Laa Laa Laa Laa Laa. They just don't want to hear the truth about the global dystopia we are being led towards.
In April 2010 the European Central Bank chief, Jean-Claude Trichet's announced that the Bank for International Settlements has been selected to become the primary engine for global governance in a shocking admission that one of the great 'conspiracy theories' beloved of all us right ing and left wing extremist nut jobs is in fact true, the financial and political elites are trying to move the world towards a single system of governance. Given the fact that BIS is an ultra-secretive menagerie of international bankers, once controlled by people with close links to the Nazis and even some who had been Nazis, who in collusion with global central banks, funnelled money through the institution to finance Hitler's war machine and to export the wealth of leading Nazis and German elitists who had collaborated with the regime to non - hostile jurisdictions.
In a speech to the US Council On Foreign relations (CFR), ECB head Trichet said that the Global Economy Meeting (GEM), which regularly meets at the BIS headquarters in Basel, "Has become the prime group for global governance among central banks".
The GEM is basically a policy steering committee under the umbrella of the Bank for International Settlements. In its current form, the BIS, which itself is not accountable to any national government, is comprised of banking chiefs from global and central banks, most of which are private and also have no responsibility to their nation states or their citizens.
The
Charles Higham's widely acclaimed book Trading With The Enemy, How the Allied multinationals supplied Nazi Germany throughout World War Two points out, several parties at the Bretton Woods Conference in July 1944 wanted to see the Bank for International Settlements liquidated, because its role in aiding Nazi Germany loot occupied European countries during the war. Norway called for the bank to be shut down, a view supported by Harry Dexter White, U.S. Secretary of the Treasury and Henry Morgenthau, but the BIS survived despite its highly contentious Nazi influence. Higham also links BIS to the notorious Bilderberg Group.
Higham writes that the Bank of International Settlements had become, "A money funnel for American and British funds to flow into Nazi coffers and help Hitler build his war machine." Nazi finance minister and one of the BIS founders, Hjalmar Schacht commented that the "Institution that would retain channels of communication and collusion between the world's financial leaders even in the event of an international conflict. It was written into the Bank's charter, concurred in by the respective governments, that the BIS should be immune from seizure, closure or censure, whether or not its owners were at war."
The book continues, "The BIS was completely under Hitler's control by the outbreak of World War II, Among the directors under Thomas H. McKittrick were Hermann Shmitz, head of the colossal Nazi industrial trust I.G. Farben, Baron Kurt von Schroder, head of the J.H. Stein Bank of Cologne and a leading officer and financier of the Gestapo; Dr. Walther Funk of the Reichsbank, and, of course, Emil Puhl. These last two figures were Hitler's personal appointees to the board."
Some American's may be uncomfortable that a countryman of theirs is now linked with such a repugnant political movement, but it was not only American officials and political figures who seduced by the Nazi ideology. Many of the British Labour Party's intellectual think tank, The Fabian Society, many members of which were drawn from the aristocracy, the senior professions and academia, thought Hitler had a lot of good ideas too, in fact in the years immediately following the Nazi accession to power the Labour Party believed it could work with Hitler on being returned to power. And they were not alone. It was the Conservative Party, while in government that pursued the policy of appesement.
Higham details how the gold looted from countries invaded by the Nazis was packed into vaults controlled by the Bank for International Settlements, and how Nazis who controlled the bank then forbade any discussion of the theft.
"The BIS was an instrument of Hitler, but its continuing existence was approved by Great Britain even after that country went to war with Germany, and the British director Sir Otto Niemeyer, and chairman Montagu Norman, remained in office throughout the war," writes Higham, commenting on Washington State Congressman John M. Coffee's objections to American money being invested with the bank in 1944.
"The Nazi government has 85 million Swiss gold francs on deposit in the BIS. The majority of the board is made up of Nazi officials. Yet American money is being deposited in the Bank," Mr. Coffee complained to the US Treasury Secretary.
In 1948, the BIS was compelled to hand over £4 million in looted Nazi gold to the allies, a tiny fraction of what had been seized illegally, and thanks to people like President Harry S. Truman the Rockefeller family, and other members of the financial and political elites, the bank was not dissolved. One of its most influential directors, Nazi banker Emil Puhl was actually invited to the United States as a guest of honor in 1950, though it was known he was a prominent Nazi.
Despite its inglorious past, the Bank For International Settlements continues to play a major role in the global elite's management of world affairs. The bank exercises power through its control of vast amounts of reserve currencies (sorry again, American Patriots, the US dollar is the main reserve currency but not the only one. The Euro, UK pound and Japanese Yen enjoy reserve currency status and they are expected to be joined by the Chinese Yuan in the near future. The UK pound is prinicpally used in trades between member nations of the British Commonwealth and one reason the E U and the U S administration are so keen to keep Britain in the E U is that it prevents our country from developing trade ties with some potentially mighty emerging nation, principally India with its one billion plus population but also Pakistan with one hundred and eighty million people, Bangla Desh with one hundred and sixty five million and Nigeria with a rapidly growing population og one hundred and fifty million. As the hub of a trading community of such size, Britain would dwarf Brussels.
In view of that, the 7% of the world's available foreign exchange funds controlled by BIS, as well as the 712 tons of gold bullion it owns, presumably a sizeable portion of which is the bullion which was stolen from occupied countries by the Nazis who controlled the bank during the war, make it hugely important to those who do not wish to see their ability to rig markets, manipulate prices and maintain control of essential commodities eroded by a 'comeback kid' of world powers, especially a country that has the powerful City Of London financial centre within its borders. It couls also explain why the E U and its supporters in Washington and Basel are so keen to drive a political wedge between England and Scotland. Without Scotland, England is a minor league power, without England, Scotland is nothing.
"By controlling foreign exchange currency, plus gold, the BIS can go a long way toward determining the economic conditions in any given country," writes Doug Casey of Investor Insight, "Remember that the next time The Federal Reserve, Bank of England or European Central Bank announces an interest rate hike. You can bet it didn't happen without the concurrence of the BIS Board."
The BIS is really nothing but a huge slush fund for global governance through which secret transfers of wealth from citizens are surreptitiously handed to the IMF. It's always worth remembering that when politicians like Barack Obama, Francois Hollande, David Cameron, Angela Merkel and Hillary Clinton amongst others talk of redistributing wealth from the wealthy world to the poor nations, the actual direction of the transfer is from hard up and modestly affluent taxpayers into the pockets of the corporate business and the obscenely rich, with some small change directed to high visibility projects such as digging wells in Africa. And the transactions are laundered through BIS of course. The modern Nazis are looting the world just as their predecessors did,they are just being more subtle about it.
For example, U.S. taxpayer monies can be passed through BIS to the IMF and from there anywhere. In essence, the BIS launders the money, since there is no transparency and no published accounts to indicate where particular deposits came from and where they went. Switzerland is a highly secretive financial centre of course, another reason perhaps why it was chosen as the base for BIS.
The fact that top Nazis were intimately involved in the activity of a global central bank that is now being put forward as one of the key elements of the drive towards world government is frightening. Every time we delve into the origins of the march towards world government, we find that top Nazis were instrumental in setting up and managing the many of the institutions that today seek impose a form of government that could never by any stretch of logic be described as democratic.
Just as with the institutions that comprised the embryonic stages of the European Union, Nazi fingerprints (and communist, but then the Nazis were national SOCIALISTS) are all over the origins of the move towards a technocratic global authority ruling the planet with nation states relegated to a level not far above the role of a church council. This fact demolishes any notion that global government is benevolent, humanitarian or progressive.
Centralization of power into the hands of the few is inherently undemocratic, elitist, and to the detriment of the people. But then it is astounding to observe the many people who style themselves 'left wing' liberal, socialist or progressive embracing the authoritarianism of Karl Marx's communist manifesto because they think it is egalitarian, inclusive and a compassionate, caring approach to political management, apparently oblivious to the track record of socialist regimes around the world. I'll just mention a few names of communist and socialist leaders best remembered for the numbers of entirely innocent people their regimes murdered; Hitler (of course), Stalin (Soviet Russia), Mao Tse Tung (Communist China), Erich Honecker (East Germany), Pol Pot (Cambodia), Ho Chi Mihn (North Vietnam), Kim Il Sung (North Korea), Nikolai Cesescu (Romania), Mengistu Haile Mariam (Ethiopia), Fidel Castro (Cuba), and many others of course whose csreers were cut short by popular uprisings or assassins sent, probably by shareholders in the BIS. There is nothing cuddly, caring or compassionate about socialism. To question authority quickly brings one to a bad end and even those who offer total obedience are not safe, the most innocuous utterance or gesture can be interpreted as dissidence by the paranoiac authorities.
The Nazis who breathed life into the framework of global authoritarianism being used to set up world government today may have been usurped by an elite altogether more patient and subtle in their bid to impose a dictatorship run by banking dynasties, but the ultimate agenda remains the same, world government by an unelected elite or their appointees.
***
---
2.1 The Fourth Reich is here - without a shot being fired
The arsenal of fear must almost be nearly exhausted. Those daring to vote to leave the EU will inflict on Britain collapsing house prices (according to George Osborne and Christine Lagarde of the IMF, who should worry about the EU's unemployment-soaked economies); a "technical" recession (Mark Carney, a "technical" Irish-Canadian with a long record of error, who for this disgraceful political interference should be kicked back to Ottawa); and, of course, the Third World War (Mr Cameron). It's clearly a Corporal Jones moment for the Remainers, though any cries of "don't panic" come far too late: they are manifestly drowning in it.
Anyway, two can play at this game. What must we fear if we stay? Not merely relentless uncontrolled immigration (and the lies told about it), putting such burdens on our schools, hospitals and infrastructure that UK citizens suffer, but the inevitability of our nation's destiny being increasingly subject to the wishes of foreigners whom we don't elect. I am not talking about the amorphous idea of "Brussels": I'm talking about Germany.
Five years ago I wrote a piece referring to the control Angela Merkel exerted over Europe as "the Fourth Reich". I was accused of a horrible breach of taste. However, when one looks at German power today one realises that, when I wrote, she had hardly even started. The key to German success is this: it participates in a weak currency (whose value would collapse without it) enabling its exports to sell far more cheaply than had it retained the Deutschmark. Therefore, it continues to grow in economic strength relative to its partners – including us – but especially those in the eurozone, notably France and Italy, who would benefit greatly from restoring the Franc and the Lira.
Any net exporter in the EU – which we are most certainly not, given our £24bn trade gap with our partners in the first three months of 2016 – also benefits hugely from the vast and incomprehensible welter of EU regulations on products and employment law, which keep external competitors at arm's length and pile costs on them if they wish access to the single market. Germany is so rich, and getting richer at the expense not least of its partners, that it can afford to pretend globalisation isn't happening. We are not so fortunate, and leaving the EU to avoid all these regulations and take proper advantage of the wider world is not the least reason why we must vote to get out.
If we stay in we are going to suffer immense collateral damage from two crises that the Germans will precipitate. First, there will be one in the eurozone. My friend Dr Savvas Savouri, chief economist at the leading investment business Toscafund, predicts a "detonation of devaluations around the periphery of the eurozone" in his latest briefing to clients. So incapable are non-eurozone countries such as Hungary, Romania or Poland of competing with the German-dictated economic model that devaluation and the instability that will bring are their only options. So anyone who thinks our staying in the EU is like buying a ticket to a place of permanent prosperity wants his or her head examined.
Worse for Britain, Dr Savouri predicts Germany's economy "will not come off lightly", not least because its clients and customers will find its goods suddenly more expensive. And when Germany starts to struggle, God help the rest of the EU: because when the German chequebook closes, economies it is shoring up – such as Greece's – will be on their own. And Greece's economy is one-eleventh the size of France's, which is a basket-case, and cannot go on as it is.
Dr Savouri also points out that if we stay in the EU there will be huge costs for us from all this chaos, despite being out of the eurozone. "Having renewed our vows to remain in the EU 'through sickness and in health' we will be required to contribute to funding the fiscal efforts being applied to our ever more sickly EU partners," he writes. The costs will be huge, and once we have committed ourselves to remain we will be forced to join the communal effort to save ailing partners. He calls it "the EU's version of a Rooseveltian New Deal."
He also argues that such a wave of economic hardship will propel more impoverished Europeans across open borders into the UK: and don't forget what Iain Duncan Smith disclosed last week, that Mr Cameron deleted a passage about controlling immigration from a speech he made because he was told it would upset the Germans. That is the reality of our relationship with the EU: if we choose to stay in, the Germans will ensure that we become ever more obedient to their policies – so stand by for their next project, Turkey's admission to the EU, and all that would entail.
It was not just deeply offensive, but ironic, that Mr Cameron should last week have evoked the idea of another world war in his latest intelligence-insulting act of hysteria aimed at making us vote to stay in the EU. It is not just that our fathers and grandfathers fought in two world wars to allow Britain the right to continue to rule itself, rather than to be ruled by Germans: Mr Cameron plainly won't admit that German domination of the EU means it has conquered without war, and signing up to the EU is signing up to the Fourth Reich.
Ask the Greeks if you think I exaggerate: Germany runs Europe without firing a shot. It forces far weaker partners to stay in a currency zone that is crippling them, and uses its economic muscle to dictate immigration and other key policies. And if you believe the Germans won't take a UK vote to stay in as a signal to continue and intensify their control over the EU, and to make us help pay for its baleful effects, then you aren't paying attention. It's not war we should fear, but what the Germans do in peace.
There is no evidence that any of the 'Remain' campaign's scaremongering stories will actually happen of course, not is there any reason to believe that the benefits the 'Leave' campain tells us will fall into our laps should we decide in the referendum that Britain's future looks brighter outside the EU. Nobody can know what will happen in the future, politicians and economists my talk of where economic trends will take us in thirty or fifty years, but I'll throw in a scare story of my own to counter all of those.
In Yellowstone Park, Wyoming, USA there is a huge volcanic caldera, people who study earthquakes and volcanoes and such estimate it is several thousand years overdue for a massive eruption. For the past few years there has been a lot of seismic activity in the area, and video clips are available online of the ground visibly rising and falling as if it is a rubber mat floating on the sea. Scientific observations say the caldera is read to blow, and if it does the devastation will be greater than Karakatoa or Tambora in the nineteenth century, The volcanic winter that follows could wipe out most life on earth. Predicting eruptions is an ever more uncertain science than gambling on horse races, the case is that Yellowstone could go tomorrow and if it does some experts say that with other concurrent intense volcanic activity on the so called Pacific ring Of Fire, a major eruption could tear the world in half or nor for another ten thousand years. So all we can do is get on with our lives. Such disasters are possible, but in fact a very unlikely. And as the great French philosopher Eric Cantona (LOL) says, "He who forecasts all perils will never sail the seas."
In other words if we let fear of what just might happen limit our lives, those lives are never going to amount to much. Even the life of a bean counter includes risks.
The referendum on whether Britain should remain in the EU or leave is then not about economics, it is about whether you are happy to live for the rest of your life and to ensure your children and grandchildren and their offspring for the foreseeable future live in an increasingly oppressive dictatorship run by an unelected, technocratic regime appointed by the financial and academic elites.
Forget all those seductive blandishments from the left about equality, fairness and inclusiveness and remember that the Russian anarchist Mikhail Bakunin in 1870 warned Karl Marx that a socialist government based on the socio - economic theories of Marx would quickly become more repressive and authoritarian than the despotic rule of the Russian Czars.
And forget all those promises from capitalists that 'trade brings prosperity and enriches us all. Trade enriches business owners and investors, and the EU's open doors immigration policy, by flooding developed societies with cheap, unskilled labour is driving down the wages of society's lowest paid. This was always the intention of course, nineteenth century liberalism and social democracy created and educated, informed and organised working class capable of challenging the elite.
***
2.2 European Genocide Through Mass Migration - A Long Term Agenda
The founders of the European Union, French and Beligan bureaucrats for the main part, were from the 1950's were about mongrelising the people of Europe, in order to create the perfect "citizen", from a socialist angle of removing the individual cultural bonds that hold together nation states. Although you will not find the text on the internet anywhere, in the Headquarters of the European commission in Luxembourg, The Baittment Jean Monnet, is a huge stone plaque on which the underlying principle of ending war by destroying the concept of the nation.
Jean Monnet building, Luxembourg: You can't really see the office I had on the picture, look to the right of frame, where the flowering cherry tree is; I was on the fourth level along that side. (Picture - flickr)
This mongrelisation of races is an ideology that goes back to the nineteenth century when followers of Karl Marx created the globalist movement with the instance aim of merging all the world's peoples into a single nation under one unelected, meritocratic governments. how it found its way into EU covert policy is revealed a little later in this book
We have seen a massive acceleration in the push towards this aim since 1997, but clearly the rate is not fast enough for members of the political, business and academic elites who believe they will form the upper layers of the meritocracy, so as we learned when the activities of Tony Blair's 'New Labour' government in actively recruiting migrants using agents in sub Saharan Africa and are boating them in thousands at a time.
At the time either Blair or his number two Gordon Brown referring to the British people (both deny it was themselves) promised to 'rub their noses in diversity'. I can't find text of the speech in which the phrase was used but you can read of the circumstances surrounding it in this Op-Ed piece by political commentator Ed West.
The sheer contempt shown for British citizens and their culture and values is disgusting and should be enough to ensure no Labour government ever holds power again.
In view of numerous examples of Conservative, Labour and Liberal Democrat commitment to this ideological goal of moulting the world into a single political unit under the totalitarian government of an elitist meritocract, people who have nasty suspicious minds and received the kind of education that taught us to question everything (particularly the motives of government, big business and the media, began to speculate about the true purpose of Obama and Blair's ecouraging the "Arab Spring", when it was clear that removing the strong if tyrannical regimes of the region would cause a power vacuum that was very unlikely to resolve into western-style democracies.
It looks even more dodgy when you understand that the EU has well documented plans to extend its definition of Europe to include middle eastern and north African nations. Turkey, a geographically large nation with a mostly Muslim population has desired EU membership for many years and recently EU bureaucrats and leaders of the biggest member states have been eager to fast track Turkish membership even though the country's record on equality and human rights are appalling and despite its being a NATO member, the regime of President Recep Tayyip Erdogan has been illegally trading oil for arms with the terrorist movement ISIS. Another blatant breach of international law and EU membership criteria has been Erdogan's attacks on Kurdish communities within Turkish territory and also in Iraq and Syria. The vast bulk of Turkish territory is in Asia , however the Turkish enclave around Istanbul gives it a toehold on the European continent, which because the EU's ruling bureaucracy prioritizes the globalist agenda over humanitarian and legal concerns, qualifies Turkey for membership of the supranational unit George Orwel, in his novel 1984, called Eurasia.
People of a sceptical mindset might also speculate that the English Channel is an inconvenient barrier to globalist objectives such as a 'borderless' world, as it presents a pinch point in the flow of unskiled, illiterate, undomesticated migrants from third world cultures in which rape is acceptable, beause the woman is at fault for 'allowing herself to be raped'. While it is impossible to close off cross channel routes completely, the Channel, a narrow,cold water strait between the north sea and the Atlantic Ocean presents a more formidable obstacle than the stretches of the Aegean Sea between Turkey and the Greek Islands or Libya and the Italian island of Lampedeusa. And because Britain has never been a member of the 'borderless travel' Schengen Zone our government is better prepared to deal with attempts at illegal entry given funding and the will.
How interesting it is to observe the determination of the EU to find ways of circumventing Britain's border control arrangements just as the New Labour government under Blair and Gordon Brown ordered the UK's border control agencies to simply 'wave through' undocumented travellers without even counting them. This was a deliberate attempt to destabilise UK society so that we the people would be ready to accept we could only be secure as part of a Federal European State. Open borders has failed, the lawlessness of immigrants, the demands that they be accountable under Sharia Law rather than European Law, and the refusal to tolerate European customs and values as well as the EU bureaucraies failure to control the inflow of undocumented migrants, some genuine refugees from Barack Obama's wars, most just economic migrants, have led many EU nations to close their borders and reintroduce imigration controls.
Voters in Britain's referendum, and win or lose, in future European, government and regional elections need to understand that the European Union was about building a federal superstate from day one Even if we vote 'OUT' the Labour and Conservative parties (and the neo - fascist Scottish National Party) will do all they can to obstruct the disengagement process.
As anti EU feeling continues to grow all around Europe, and the disintegration of the current ferderal superstate project progresses, it would be wise perhaps to remember how Britain was led into membership in the first place. It seems to me that most people have little idea why one of main players in the victorious alliance of the Second World War should have become so desperate to join a club of losers so soon after that victory. The answer to that question is key to understanding why the EU has gone so wrong.
The official narrative of twentieth century history misinforms economics students that Britain was in dire economic straits, and that the European Economic Community as it was then known, provided an economic engine which could revitalise our economy. Political history students learn that after the Second World War Britain needed to recast her geopolitical position away from empire, and towards a more realistic one at the heart of Europe. Neither of these arguments, however, makes any sense at all.
The EEC in the1960s and 1970s was in no position to regenerate anyone's economy. It spent most of its meagre resources on two hugely expensive and inefficient policies, the Common Agricultural Policy and The Common Fisheries Policy, and had no means or policies to generate economic growth among its original six members, Germany, France, Italy, The Netherlands, Belgium and Luxembourg, which beautiful though it is, can hadly be described as a major econmic player.
When economic growth did start to happen, it did not come from the EU but from national economies, Germany's recovery from the defeat of the Nazis in World War Two, which was driven by Ludwig Erhard's supply-side reforms in West Germany in 1948 through to Thatcher's privatisation of nationalised industry in the Eighties, European growth came from reforms introduced by individual countries which were were copied elsewhere. EU policy has always been either irrelevant or positively detrimental (as was the case with the euro).
Another untruth incorporated into European history is that British growth lagged behind Europe's. Sometimes it ran more or less parallel, at others it surged ahead. In the 1950s Western Europe had a growth rate of 3.5 per cent; in the 1960s, it was 4.5 per cent. But in 1959, when Harold Macmillan took office, the real annual growth rate of British GDP, according to the Office of National Statistics, was almost 6 per cent. It was again almost 6 per cent when de Gaulle vetoed our first application to join the EEC in 1963.
In 1973, when we entered the EEC, our annual national growth rate in real terms was a record 7.4 per cent. The present Chancellor would die for such figures. So the economic basket-case argument doesn't work.
What about geopolitics? What argument in the cold light of hindsight could have been so compelling as to make us kick our Second-World-War Commonwealth allies in the teeth to join a combination of Belgium, the Netherlands, Luxembourg, France, Germany and Italy.
Four of these countries held no international weight whatsoever. Germany was occupied and divided. France, meanwhile, had lost one colonial war in Vietnam and another in Algeria. De Gaulle had come to power to save the country from civil war. Most realists must surely have regarded these states as a bunch of losers. De Gaulle, himself a supreme realist, pointed out that Britain had democratic political institutions, world trade links, cheap food from the Commonwealth, and was a global power. Why would it want to enter the EEC?
The answer is that Harold Macmillan and his closest advisers were part of an intellectual tradition that saw the salvation of the world in some form of world government based on regional federations. He was also a close acquaintance of Jean Monnet, who believed the same. It was therefore Macmillan who became the representative of the European federalist movement in the British cabinet.
In a speech in the House of Commons he even advocated a European Coal and Steel Community (ECSC) before the real thing had been announced. He later arranged for a Treaty of Association to be signed between the UK and the ECSC, and it was he who ensured that a British representative was sent to the Brussels negotiations following the Messina Conference, which gave birth to the EEC.
In the late 1950s he pushed negotiations concerning a European Free Trade Association towards membership of the EEC. Then, when General de Gaulle began to turn the EEC into a less federalist body, he took the risk of submitting a full British membership application in the hope of frustrating Gaullist ambitions.
His aim, in alliance with US and European proponents of a federalist world order, was to frustrate the emerging Franco-German alliance which was seen as one of French and German nationalism.
Monnet met secretly with Heath and Macmillan on innumerable occasions to facilitate British entry. Indeed, he was informed before the British Parliament of the terms in which the British approach to Europe would be framed.
Despite advice from the Lord Chancellor, Lord Kilmuir, that membership would mean the end of British parliamentary sovereignty, Macmillan deliberately misled the House of Commons — and practically everyone else, from Commonwealth statesmen to cabinet colleagues and the public — that merely minor commercial negotiations were involved. He even tried to deceive de Gaulle that he was an anti-federalist and a close friend who would arrange for France, like Britain, to receive Polaris missiles from the Americans. De Gaulle saw completely through him and vetoed the British bid to enter.
Macmillan left Edward Heath to take matters forward, and Heath, along with Douglas Hurd, arranged — according to the Monnet papers — for the Tory Party to become a (secret) corporate member of Monnet's Action Committee for a United States of Europe.
According to Monnet's chief aide and biographer, Francois Duchene, both the Labour and Liberal Parties later did the same. Meanwhile the Earl of Gosford, one of Macmillan's foreign policy ministers in the House of Lords, actually informed the House that the aim of the government's foreign policy was world government.
Monnet's Action Committee was also given financial backing by the CIA and the US State Department. The Anglo-American establishment was now committed to the creation of a federal United States of Europe.
Today, this is still the case. Powerful international lobbies are already at work attempting to prove that any return to democratic self-government on the part of Britain will spell doom. American officials have already been primed to state that such a Britain would be excluded from any free trade deal with the USA and that the world needs the TTIP trade treaty which is predicated on the survival of the EU.
Fortunately, Republican candidates in the USA are becoming Eurosceptics and magazines there like The National Interest are publishing the case for Brexit. The international coalition behind Macmillan and Heath will find things a lot more difficult this time round — especially given the obvious difficulties of the Eurozone, the failure of EU migration policy and the lack of any coherent EU security policy.
Most importantly, having been fooled once, the British public will be much more difficult to fool again.
***
---
2.4 Europe To Be Extended Beyond Its Geographical Borders
How far do you think Europe Stretches? From the British Isles to the Bosphorus? From Knivskjelodden (Norway) to Cadiz? Not according to the Globalist bureaucrats who run the EU. Under the cover of the Euro zone debt crisis they are advancing their plan to extend Europe beyond its geographical and cultural boundaries to take in Turkey and the Caucasus, middle eastern nations, and the nations of North Africa from Egypt to Morocco as one federal nation under a single government. Do you still think the EU is a good idea?
The Extended European Union - with Africa and Arabia
A post in our New World Order Series
by Ed. Butt
In this longish post on the European Commission's plan to extent their empire into eastern Europe, Asia, Africa and Arabia you will see The New World Order and their dreams of a global, totalitarian government, hoist by their own global facsism petard.
Some time ago, December 2010 to be exact I spotted a report that the Portuguese Marxist, committed globalist and Bilderberger Barroso had been spotted at a conference in Lebanon for European, middle eastern and North African nations and organisations. The only item on the agenda was the expansion of the European Union, already a corrupt, bloated and terminally sick organisation to include Turkey, Ukraine and nations around the eastern Mediterranean coast and in North Africa. I saw the news on a middle eastern English language news site while looking for something else.
As Britain is part of a European Union currently made up of 27 nation States on the continent of Europe, I expected the newspapers and broadcast news stations would be on this like a ferret up a drainpipe. Surely there would be great excitement about the creation of a Union of the Mediterranean Countries, a heated debate between us Little Englanders (or True Brits as we like to think of ourselves) and the one worlders of the "progressive left" who year for the progress to begin that will take us back to 1937 when Adolf Hitler embarked on his project to unite Europe, North America and North Africa under a single government, but surprisingly there was not a whisper about this momentous story. In spite of the fact that various titles have been given to the project information about it is not easy to find. So I had to content myself with a little grizzle in my news blog, The Daily Stirrer and then sit back to see if anything further developed. First, a few weeks after that conference in Lebanon, there was a little local difficulty in Tunisia on which nobody took much notice. And then, suddenly, then, KAPOW! we have a full blown international crisis, an Arab Spring filling every news bulletin and every front page?
Amazingly there has been no comment from our government or mainstream media on this plan to extended the boundaries of Greater Germany Europe into Asia, the Arab Peninsula and North Africa in spite of David Cameron's often repeated promise first made in the 2010 election campaign that any major revision of the treaties that govern the role of the EU central authority and its relations with the sovereign states that are its members would be subject to a referendum. There has been nothing of any significance in the media either although as far as the people of Europe's member states are concerned further expansion or transference of national sovereignty to a single government is an abhorrent idea.
Does this Mediterranean Union exist then or is it just a pipe dream of a political and academic elite that is increasingly detached from reality? There may be no project yet in p-lace to create the Mediterranean Union as a political entity but it has already acquired many titles.. Apparently, and I have gone to Wikipedia for this, the "Union" is a multilateral partnership that encompasses 43 countries from Europe and the Mediterranean Basin: the 27 member states of the European Union and 16 Mediterranean partner countries from North Africa, the Middle East and the Balkans. It was created in July 2008 as a relaunched Euro-Mediterranean Partnership (the Barcelona Process) in 2008, when a plan to create an autonomous Mediterranean Union was dropped". The Barcelona Process? Who has heard of that?
Throughout this year (2011) however the phrase "The Arab SPRING" has never been out of print and broadcast news for more than a few days (note the capitalisation). Here is where my story gets interesting for readers in the USA who might well have been thinking what has this to do with us? The Arab SPRING, we have been told, was triggered by a speech Barack Obama made in Cairo So, the first programme on this matter as you can see is known as the Arab Spring, "SPRING", ("Support for Partnership, Reform, and Inclusive Growth.") Although there are further titles to this project, it seems to depend on which article your web search happens to throw up .
The scenario for how the international elite intend the uprisings around the eastern Mediterranean to play out was described in a speech by made in Cairo 14th July 2011, in which he made clear, and just so you know, that the "European Union has no wish to interfere in Egypt's internal decisions."
"We recognise there are many risks still to be faced. We recognise that the revolution is not finished. The expectations are high and the potential for frustration is considerable. Deep change takes time. The road to democracy is not a peaceful stream of water but rather an unpredictable river very much like the Nile used to be before the Aswan Dam. But we fundamentally affirm the spirit that has ignited the revolution thus far. And throughout we remain acutely aware that democracy must come from within. While external assistance may help the flowers of democracy bloom, it is only you who have planted the seeds that can ensure democracy takes root."
"Our financial commitments will rise to €7 billion in the coming three years for our neighbourhood, with another €6 billion in loans available. Much of this will come from the European Investment Bank, whose President Philippe Maystadt is joining me on this trip. The bank is the biggest development lender in North Africa. Already there are nine Egyptian projects in the pipeline for the coming 12 month, worth well over €1 billion".
"This sits within the overall package of €20bn agreed at the G8 in May. Egypt is in a good position to access these amounts, as it is a leading country in the path to democracy". A little intervention here because when the EU pays out money to some-one some-where some of that money comes from YOUR pocket too. Money that could have been spent on the Defence of our Country, or provided jobs for some-one, and our Government-yet as I write this- not one MP has breathed one word about this project to any of us here in the UK.
President Barroso said in the same speech "As the turmoil continues, the European Union flag flies proudly in Freedom Square, Benghazi. This flag and the office beneath it is a tangible and symbolic sign that the European Union is ready to support the people of this region." And so the plan starts to take shape.
The Barcelona Process (a.k.a.. the Euro-Med Process) was launched during the 1995 Spanish Presidency between the EU and its Mediterranean Partners-Algeria, Egypt, Israel, Jordan, Lebanon, Morocco, Palestinian Authority, Syria, Tunisia and Turkey (Libya has observer status since 1999)- with the aim of building "a space of dialogue, peace, security and shared prosperity". It was President Sarkozy's idea of a "Union of the Mediterranean" and what became "The UMed Process was eventually launched in November 2008. Now, a couple of years later the second Umed Summit which was due to take place 21 November 2010 was postponed because of the lack of progress on a resumption of Direct talks in the Middle East Peace process, no new date set.
You might well be thinking all this sounds quite innocent, nations of different cultures, religions and economic development all joining hands and singing Kumbaya. Well remember, the European Union started as a cosy club for free trade and easier travel back in the 1950s and now the ruling bureaucracy is charging full tilt towards a single European nation.
The European Neighbourhood Policy was first proposed by the Commission in 2003-2004 as a framework policy through which an enlarged EU could strengthen and deepen relations with its 16 closest neighbours. (Algeria, Armenia, Azerbaijan, Belarus, Egypt, Georgia, Israel, Jordan, Lebanon, Libya, Moldova, Morocco, Occupied Palestinian Territory, Syria, Tunisia and Ukraine) with a view to counteracting risks of marginalisation for the neighbouring countries which had not participated in the historic 2004 enlargement and therefore ensuring the strengthening of a shared area of prosperity, stability and security. (From Commission Communication: A new response to a changing Neighbourhood . Foreign and Commonwealth Office 20, June 2011 European Council).
It is not just European bureaucrats that are mad for the integration of diverse economies and cultures into a single nation ruled by an unelected oligarchy of bureaucrats and academics. A certain Sidi Barack Hussein Obama gets very excited when he talks about expanding Europe into Africa and the Middle East, primarily about bringing Turkey, a bankrupt nation of bandits and people traffickers into western Europe. It is an idea welcomed by the ruling bureaucracy but opposed by the people everywhere in Europe as this article from Germany's Der Spiegel shows.
Since the start of his Presidency Obama (the New World Order's houseboy) has become a major player in the push for global government, probably imagining himself the natural choice to be the first world President. His speech in Cairo in 2009 is widely regarded as being the trigger for the Arab SPRING although it's doubtful he understood what message his words would send to dissidents in Egypt and elsewhere. This analysis by Melanie Phillips highlights where Obama went wrong if he was in fact trying to bring peace and harmony to a troubled region. And has Obama's meddling done any good? It depends on what outcome he was hoping for but this report from Peter Hitchens suggests Egypt is a far more unstable and dangerous place that it was under Mubarak with Islamic fanatics persecuting Christians and secularists. Meanwhile latest reports from Lybia tell us the "interim government" imposed by the west is falling apart and Gaddafi supporters are regrouping and hitting back at their oppressors.
Back to the EU now, although it is useful to know what kind of neighbours our countries will be cosying up to if the Eurocrats and the Obamessiah have their way. What has our Government in the UK got to say about the New Treaty/Agreement we are all being dragged into by stealth and upon which neither we nor the voters of any sovereign nation have been given chance to vote on? Haven't our MP's any knowledge of this great extension which includes all these Countries? Are they all comatose or on industrial strength sedatives? Not so, they have simply been having their discussions on this issues which affects each of us, behind closed doors .
Dig a little and you will learn The European Union concluded seven Euro-Mediterranean Association Agreements between 1998 and 2005 with the Arab Republic of Egypt, the State of Israel, the Hashemite Kingdom of Jordan, the Republic of Lebanon, the Kingdom of Morocco, the Republic of Tunisia and the People's Democratic Republic of Algeria. These agreements provide a suitable framework for North-South political dialogue. They also serve as a basis for the gradual liberalisation of trade in the Mediterranean area, and set out the conditions for economic, social and cultural cooperation between the EU and each partner country".
"The Euro-Mediterranean partnership between the European Union and the countries of the Southern Mediterranean began in 1995 (The Barcelona Process) The partnership, which implies reciprocity, solidarity and co development, is intended to establish political, economic and social cooperation."
Quoting from a Debate in the UK Parliament: "on 14 March 2001, the European council held an extraordinary session to discuss developments in Libya and the Southern neighbourhood region and set the political direction and priorities for future EU policy and action. The council noted that progress and democracy go hand in hand, and all countries in the region needed to undertake or accelerate political and economic reforms, and said the EU would support all steps towards democratic transformation, political systems that allow peaceful change, growth and prosperity, and a more proportionate distribution of the benefits of economic performance".
At point 9.25, In particular, the Council was asked:
• To agree urgently pending proposals on pan-Euro-Mediterranean rules of origin (and the Commission was invited to present proposals on further means to enhance trade and foreign direct investment in the region in the short, medium and long term);
• To consider rapidly the Commission's proposals on European Investment bank reflows and look at further possibilities to increase the EIB's overall financial support capacity;
• To review the missions of the Union for the Mediterranean, with the objective of promoting democracy and fostering stability in the region and giving "a new push" to concrete measures and projects so as to strengthen democratic institutions, freedom of expression, including unhindered access to internet, reinforce civil societies, support the economy, reduce poverty and address social injustice.
On 8th June 2011 The UK Parliament debated EU Document, number 2 Partnership with the EU's Neighbourhood, which read, "On 4 February 2011, the European Council met to discuss developments in Tunisia and Egypt. In its subsequent declaration, the EU said that it was determined to lend its full support to the transition processes towards democratic governance, pluralism, improved opportunities for economic prosperity and social inclusion, and strengthened regional stability; and committed to a new partnership involving more effective support in the future to those countries pursuing political and economic reforms including through the European Neighbourhood Policy and the Union for the Mediterranean. The Commission set out three elements on which the Partnership would be based.
— democratic transformation and institution-building, with a particular focus on fundamental freedoms, constitutional reforms, reform of the judiciary and the fight against corruption;
— a strong partnership with the people, with specific emphasis on support to civil society and on enhanced opportunities for exchanges and people-to-people contacts with a particular focus on the young;
— sustainable and inclusive growth and economic development, especially support to Small and Medium Enterprises (SMEs), vocational and educational training, improving health and education systems and development of the poorer regions.
On 6th July 2011 it was noted in Document 4 that at 4.3 The Commission notes that the conflict in Libya has so far displaced around 800,000 individuals, mainly to neighbouring countries. Since January, some 35,000 migrants have sought shelter on the Italian island of Lampedusa and in Malta. The Commission says that the EU's response has been swift, comprehensive and effective and includes:
• the allocation of €40 million (€102 million if Member State contributions are included) for emergency humanitarian assistance;
• the launch of a FRONTEX operation (Joint Operation Hermes Extension 2011) to help Italy control sea vessels carrying migrants and refugees;
• the deployment of Europol experts to Italy to help identify possible criminals;
• the allocation of an additional €25 million from the External Borders and European Refugee Funds to assist Member States most exposed to the influx of migrants and refugees;
• concrete proposals to develop a dialogue on migration, mobility and security with southern Mediterranean countries.
The Governments response-although I do suggest you read it is one paragraph at 4.17 The Minister says that the UK is willing to assist the European Asylum Support Office through the deployment of asylum experts and case workers (and has already done so in Greece) but adds:
"We are opposed to the transfer of migrants to the EU from North Africa and to the relocation to other Member States of those migrants who reach the EU. We believe that building capacity in the region, and in adversely affected EU countries, to deal more effectively with migrants will create a more sustainable solution to this problem. We support the establishment of a Regional Protection Programme to create sustainable solutions for those in genuine need, as close to their region of origin as possible. In the long term, resettlement may form part of the strategic element of such a programme, but should not be used as a reflex reaction to an unfolding situation".
On 12, December 2010 at 16.3 "During that particular debate, there was some limited, discussion of President Sarkozy's idea of a "Union of the Mediterranean", which would have been restricted to Mediterranean EU Member States and the Mediterranean partners. Chancellor Merkel opposed the notion that EU funds should be used in this way for the benefit of only some Member States, hence the compromise embodied in the European Council Conclusions, which includes all 27 Member States and all 700 million people on both sides of the Mediterranean (now including Croatia, Bosnia and Herzegovina, Montenegro and Monaco)".
Several points on funding were raised, all basically asking asking "how more money is likely to be the answer, when €6 billion has been spent or committed thus far on the existing Process; where it would come from; and what would ensure that it is spent effectively". UMed is made up of several different elements: the Secretariat which will oversee a variety of projects (yet to be implemented) and sectoral processes continuing from the Barcelona Process, e.g. on migration and water, including at Ministerial level. This means that funding for the whole process comes from a variety of sources.
"So far, UMed's costs have been limited as there is no Secretariat and few activities: only the circulation of documents and support to some countries to attend meetings. Once a permanent Secretariat is established, most of its core activities, such as local staff and administration, will be funded from the European Neighbourhood & Partnership Instrument's (ENPI) regional funding streams administered by the European Commission (EC). EC funding should be kept within existing resources, respecting the Financial Framework, consistent with what the UK secured in the Paris and Marseille declarations. The actual building will be provided free of charge by the Spanish authorities. The core budget and local staffing costs will be supplemented by those Member States who wish to provide additional voluntary contributions. At this stage we do not envisage additional UK funding.
"The Barcelona Process (EuroMed) has been funded by the Commission since it was founded in 1995. This funding, which has gone on largely successful programmes such as migration, should not be confused with UMed funding. The ENPI budget for the Southern Partners is about 1 billion Euros per year and is kept under constant review. Only a very small percentage of this goes to UMed. EC funding will be monitored and agreed in the same way as all ENPI funding and the normal rules will apply. The draft Statutes of the Secretariat require the Secretary General to submit annual accounts and work plans to the Senior Officials to ensure oversight of spending and impact." I can give a good guess that funds will go up!
I do point you in the direction of COM (2011) 200 final below which makes fairly clear where this Mediterranean project is heading, although in March when this was printed matters were obviously not as far ahead as they are at present (23.8.2011) although the beginning makes clear that it is all, "A PARTNERSHIP FOR DEMOCRACY AND SHARED PROSPERITY WITH THE SOUTHERN MEDITERRANEAN". When reading Numbers 5 and 9 Chapters, it should also be remembered that any money written about here WE have also contributed to, and then ask, when did anyone here vote for this Mediterranean extension?
On May 25th 2011 the EU outlined a new Policy in response to Arab Spring, This is what it said. "The European Union launched today a new policy proposal for its relations with neighboring countries in Eastern Europe and the countries of the southern Mediterranean. The new policy, known as the European Neighborhood Policy, is a concrete response to the Arab Spring and the aspirations of the countries to the east of the European Union.
It increases funding by 1.24 billion Euros over the next two years, on top of the 5.7 billion euros already allocated for the period.
The proposal, presented recently by Catherine Ashton, EU High Representative for Foreign Affairs and Security Policy hand European Commission Vice-President, and Stefan Fule, EU Commissioner for Enlargement and Neighborhood Policy, sets out the main priorities and directions of a revitalized ENP strategy which seeks to strengthen individual and regional relationships between the EU and countries in its neighborhood through a 'more funds for more reform' approach -- making more additional funds available, but with more mutual accountability.
Below is a paper title, Barcelona Process: Union for the Mediterranean" Readjusting the Euro-Mediterranean Partnership which puts the French-German paper and Council together again. Also noted, if German Chancellor Angela Merkel and French President Nicolas Sarkozy get their way, the 17 nations that use the euro will more closely coordinate their economic policies, and in particular their budgets. Why incidentally were the rest of the euro-zone members not at that recent meeting?
I have placed quite a number of e-mail addresses below and that quite long list below is not complete it does make sense of exactly WHY the EU has gone down this road-with our money- and without asking and perhaps more to the point why did we not have a referendum on this extension especially as it is our money (£40 million a day) our Government is paying the EU with. Perhaps now we know or realize why the EU wants to increase our EU contributions. But WHY have our Government or anybody in the three major political Parties that are all fervent supporters of embedding our sovereign nation ever more deeply in and expanded and politically integrated EU, not found the balls to tell the people about this extension of the EU that will stretch it way beyond the geographical or cultural boundaries of Europe? When it comes to the next election remember only vote for any one of the three major political Parties IF YOU WANT TO BRITAIN TO BE A PROVINCE OF FEDERAL EUROPE.
Not content with this first extension of the EU our own nation is to be split up into EU Regions. The Country and Nation of ENGLAND will being divided by our very own Government because it has to put the self interest of the unelected bureaucrats in Brussels ahead of the wishes of British voters. This is being done now through the EU's Localism Bill and our taxes are paying for it. Just how much longer do you think the people will continue to pay their own Government to destroy their own Country? How much longer can the poodles of politics and the media lap dogs pull the wool over so many people's eyes. There has not been a Government in this country since 1975 that has had the guts to give the people a say, not even Iron Lady Thatcher herself, in fact she did more than any other Prime Minister to sell us down the river. Would we be able to trust any British Government to hold a true and fair referendum on this particular issue or would politicians be seduced by the prospect of becoming part of a global elite, the Inner Party of an Orwellian Oligarchic Collectivist dictatorship.
We built an Empire and survived two World Wars without these extra layers of Governance that Brussels seeks to impose; neither of which are compatible with our own Constitution. Firstly the most expensive extra layer of Governance is the European Union itself. The second completely extra layer of false Governance are the EU Regions. As far as the EU is concerned, Scotland is already an EU Region, as is London with its elected Mayor and as are Wales and Northern Ireland.
What will be the next step towards the single global nation dreamed of by leaders like Hitler, Stalin a nd Mao Tse Tung?
Sources: LINKS or email addresses:
Sarkozy's Mediterranean Union
Sarkozy's Mediterranean Union
José Manuel Durão Barroso Speech 14/07/2011
Barcelona Process: Union for the Mediterranean 8th May 2009
Partnership with the EU's Neighbourhood 8th June 2011
Migration from the Southern Mediterranean 6th July 2011.
Partnership with the Southern Mediterranean 5 April 2011
Barcelona Process: Union for the Mediterranean 2.12 2010
.
UN Resolution 1973
"REINVIGORATING THE BARCELONA PROCESS"
Statement by High Representative Catherine Ashton on developments in Libya 22.8.2011.
Euro-Mediterranean Parliamentary Assembly
ANNEX 11: MEDITERRANEAN BARCELONA DECLARATION ADOPTED AT THE EURO-MEDITERRANEAN CONFERENCE
(27 and 28 November 1995)
EU Commission launches ambitious Partnership for Democracy and Shared Prosperity with the Southern Mediterranean
A PARTNERSHIP FOR DEMOCRACY AND SHARED PROSPERITY WITH THE SOUTHERN MEDITERRANEAN
( An informative article well worth reading. )
EU Outlines New Policy in Response to Arab Spring
"Barcelona Process: Union for the Mediterranean" Readjusting the Euro-Mediterranean Partnership
Preparation of the 2012 EU Budget for those that did not see this.
Italy Rebels Against Bureaucratic Dictatorship
---
3.1 On Fascism And Socialism
"There is a lot of muddled thinking on what constitutes fascism. The definition cited by Benito Mussolini, the founder of modern fascism, is given in the first chapter of this book. The idea of fascism, however, is much older than that, the word derives from a symbol used by The Roman Empire to represent the unbreakable power of a centralised authority. 'The Fasces' depicts an axe with sticks bound around its shaft.
(illustration - flickr: The Roman symbol of the fasces, symbolising the strength of authority (image source - copyright free clipart))
Ironically supporters of an ever bigger, ever more closely integrated, ever more centralised and ideologically driven European Union are quick to brand opponents and critics of the EU, the realisation of Hitler's dream of a Europe unified economically and politically under a single authority, as a fascist. This is nothing but the usual untruth and deflection we have come to expect from authoritarian extremist control freaks who have hi - jacked the political label left wing in order to cast themselves as cuddly, caring, inclusive, minority loving liberals.
The case is of course that true liberals (and we're an endangered species these days,) do not accept there is a duty to love certain minorities or points-of-view and hate others. A liberal will respond to people as individuals; it is not incumbent on anyone to like gays and lesbians because of their sexual preferences, or to give special treatment to members of a particular ethnic group or religious faith on the basis of their skin colour or what god they worship. We are entitled to choose whether we like of dislike a person on the basis of their qualities as an individual. Inertia and propaganda designed to convince people that the supporters of corporatism ans statism know best has led to many people accepting the false morality of the false left. "What good fortune for governments," said Hitler, "that the people do not think.")
The important thing to remember is that modern fascism was invented by Mussolini in 1919 and his definition is quite simple: `Liberalism denied the state in the name of the individual,' he said, `fascism reasserts the rights of the state as expressing the real essence of the individual.'
Thus we see, that while liberalism or even anarchism do not deny individuals the right to think for themselves or act collectively where group action best serves individual interests, the statism or corporatism of those who style themselves 'progressives' or 'left - wing' are in fact the most extreme right wing group, they would deny individual rights and marginalise those who declined to conform.
Mussolini went on to argue: `the more complicated the forms of civilisation, the more restricted the freedom of the individual must become.' It is clear from these comments that the European Union fulfils the criteria for a truly fascist organisation. The EU reduces our freedom and our privacy because only the state (The Union, the superstate) really matters; the rights and needs of the corporate state (the European Union) takes precedence over the rights and needs of the citizens.
And where did the Nazi founders of the E U, Mussolini and the leaders of the various brutal dictatorships that have arisen from communism and socialism get their ideas about the downgrading of the individual (and the family unit) and the elevation of 'the big state' over 'small community'?
Society does not consist of individuals but expresses the sum of interrelations, the relations within which these individuals stand.
Karl Marx - Communist Manifesto
"In a higher phase of communist society, after the enslaving subordination of the individual to the division of labour, and therewith also the antithesis between mental and physical labour, has vanished; after labour has become not only a means of life but life's prime want; after the productive forces have also increased with the all-around development of the individual, and all the springs of co-operative wealth flow more abundantly—only then can the narrow horizon of bourgeois right be crossed in its entirety and society inscribe on its banners: From each according to his ability, to each according to his needs!"
Karl Marx, Critique of the Gotha Program
Most of us who have contributed to this book have been told, in response to our articles, blogs and comments around the internet that we cannot seriously compare soialism and communism (good guys - white hats) to Naziism and Fascism (bad guys - black hats). Cant's we? Hitler persecuted Jews, homosexuals, gypsies, ethnic and religious minorities and political opponents; Mussolini persecuted Jews, homosexuals, ethnic and religious minorities, and political opponents (gypsies were never popular in Italy but the fascisti did them no favours), Stalin perscuted Jews and Armenians, homosexuals, gypsies, folower of all religions, political opponents and other ethnic minorities, Mao Tse Tung persecuted all of the above and anyone else he did not like. Do you notice a pattern?
The success of socialism depends on the imposition of an ideology on society and that in turn depends on the use of propaganda in education and mass media to shape peoples' minds. The idea is visible in Marx's writing when he confers a collective identity, 'the proleteriat' or more colloquially 'the proles' on the working classes. The idea that working class people are stupid and easily manipulated, while totally wrong, is attractive to elitist intellectuals who will have rarely met working class people in situations where both could feel at ease. This is demonstrated by the British socialist philosopher and mathematician in his essay 'The Impact Of Science On Society'. Russell, or The Earl Of Russell to give his formal title, a member of the elite socialist group The Fabian Society believed the path to a socialist utopia lay through the wilderness of tyranny. Like many of his socialist and communist fellow travellers as well as authoritarians such as Mussolini who are more frequently described as 'the right', Russell believe democracy was an obstacle to scientific and social progress and that a better society could only be achieved by the creation of a global, totalitarian, technocratic government.
Though published after world War Two it contained ideas Russell and his Fabian socialist colleagues had been promoting since the late nineteenth century. As is typical of Russell, the writing style is excruciatingly dull (a trait shared by many socialist non fiction authors - they take themselves far too seriously). The beginning of the book seems reasonable and humanitarian, and is intended to soften the reader up for the disgusting conclusions which are presented as desirable or inevitable, conclusion which were, as stated above, adopted by Adolf Hitler and other authoritarian socialists.
You may also notice in the second paragraph, Russell employs a phrase I and other critics of global government thinking have been ridiculed for using, 'scientific dictatorship'. We new media writers and 'conspiracy theorists' did not invent such phrases, they were coined by people who worship science and constantly campaign for a 'new world order' under a global totalitarian government.
Read through the following quotes from the book (they're not that long, though they might seem to be) and decide for yourself how much of the conspiracy is already in place, and how desirable any form of socialist government is to people who value their freedom. (The Impact Of Science On Society is available as a free download - Kindle, Epub, .pdf formats)
Read some relevant excerpts it in Russells own words:
from The Impact Of Science On Society by Bertrand Russell (published 1952)
Note: I have taken page numbers from a copy of the Routeledge edition bought by my Dad in the 1950s. The book is still in print from the same publisher but several free downloads are available although page number may differ. Use your computer's search tools ;-)
Pages 40-41
I think the subject which will be of most importance politically is mass psychology ... Its importance has been enormously increased by the growth of modern methods of propaganda. Of these the most influential is what is called 'education.' Religion plays a part, though a diminishing one; the press, the cinema, and the radio play an increasing part ... It may be hoped that in time anybody will be able to persuade anybody of anything if he can catch the patient young and is provided by the State with money and equipment.
The subject will make great strides when it is taken up by scientists under a scientific dictatorship ... The social psychologists of the future will have a number of classes of school children on whom they will try different methods of producing an unshakable conviction that snow is black. Various results will soon be arrived at. First, that the influence of home is obstructive. Second, that not much can be done unless indoctrination begins before the age of ten. Third, that verses set to music and repeatedly intoned are very effective. Fourth, that the opinion that snow is white must be held to show a morbid taste for eccentricity. But I anticipate. It is for future scientists to make these maxims precise and discover exactly how much it costs per head to make children believe that snow is black, and how much less it would cost to make them believe it is dark grey.
Although this science will be diligently studied, it will be rigidly confined to the governing class. The populace will not be allowed to know how its convictions were generated. When the technique has been perfected, every government that has been in charge of education for a generation will be able to control its subjects securely without the need of armies or policemen.
Pages 49-50
Scientific societies are as yet in their infancy ... It is to be expected that advances in physiology and psychology will give governments much more control over individual mentality than they now have even in totalitarian countries. Fitche laid it down that education should aim at destroying free will, so that, after pupils have left school, they shall be incapable, throughout the rest of their lives, of thinking or acting otherwise than as their schoolmasters would have wished ... Diet, injections, and injunctions will combine, from a very early age, to produce the sort of character and the sort of beliefs that the authorities consider desirable, and any serious criticism of the powers that be will become psychologically impossible ...
The Nazis were more scientific than the present rulers of Russia ... If they had survived, they would probably have soon taken to scientific breeding. Any nation which adopts this practice will, within a generation, secure great military advantages. The system, one may surmise, will be something like this: except possibly in the governing aristocracy, all but 5 per cent of males and 30 per cent of females will be sterilised. The 30 per cent of females will be expected to spend the years from eighteen to forty in reproduction, in order to secure adequate cannon fodder. As a rule, artificial insemination will be preferred to the natural method ...
Gradually, by selective breeding, the congenital differences between rulers and ruled will increase until they become almost different species. A revolt of the plebs would become as unthinkable as an organised insurrection of sheep against the practice of eating mutton.
Page 54
After all, most civilised and semi-civilised countries known to history and had a large class of slaves or serfs completely subordinate to their owners. There is nothing in human nature that makes the persistence of such a system impossible. And the whole development of scientific technique has made it easier than it used to be to maintain a despotic rule of a minority. When the government controls the distribution of food, its power is absolute so long as they can count on the police and the armed forces. And their loyalty can be secured by giving them some of the privileges of the governing class. I do not see how any internal movement of revolt can ever bring freedom to the oppressed in a modern scientific dictatorship.
Pages 103-104
I do not pretend that birth control is the only way in which population can be kept from increasing. There are others, which, one must suppose, opponents of birth control would prefer. War, as I remarked a moment ago, has hitherto been disappointing in this respect, but perhaps bacteriological war may prove more effective. If a Black Death could be spread throughout the world once in every generation survivors could procreate freely without making the world too full. There would be nothing in this to offend the consciences of the devout or to restrain the ambitions of nationalists. The state of affairs might be somewhat unpleasant, but what of that? Really high-minded people are indifferent to happiness, especially other people's. However, I am wandering from the question of stability, to which I must return.
There are three ways of securing a society that shall be stable as regards population. The first is that of birth control, the second that of infanticide or really destructive wars, and the third that of general misery except for a powerful minority. All these methods have been practiced: the first, for example, by the Australian aborigines; the second by the Aztecs, the Spartans, and the rulers of Plato's Republic; the third in the world as some Western internationalists hope to make it and in Soviet Russia ... Of these three, only birth control avoids extreme cruelty and unhappiness for the majority of human beings. Meanwhile, so long as there is not a single world government there will be competition for power among the different nations. And as increase of population brings the threat of famine, national power will become more and more obviously the only way of avoiding starvation. There will therefore be blocs in which the hungry nations band together against those that are well fed. That is the explanation of the victory of communism in China.
Page 105
The need for a world government, if the population problem is to be solved in any humane manner, is completely evident on Darwinian principles.
Page 110
A society is not stable unless it is on the whole satisfactory to the holders of power and the holders of power are not exposed to the risk of successful revolution.
Pages 110-111
First, as regards physical conditions. Soil and raw materials must not be used up so fast that scientific progress cannot continually make good the loss by means of new inventions and discoveries ... If raw materials are not to be used up too fast, there must not be free competition for their acquisition and use but an international authority to ration them in – such quantities as may from time to time seem compatible with continued industrial prosperity. And similar considerations apply to soil conservation.
Second, as regards population ... To deal with this problem it will be necessary to find ways of preventing an increase in world population. If this is to be done otherwise than by wars, pestilences, and famines, it will demand a powerful international authority. This authority should deal out the world's food to the various nations in proportion to their population at the time of the establishment of the authority. If any nation subsequently increased its population it should not on that account receive any more food. The motive for not increasing population would therefore be very compelling.
So Russell comprehensively damns himself as an authoritarian, a racist (in the sense of races being tribes, clans or castes) and a believer in eugenics and social engineering. The system he describes and that his successors in the socialist elite are now trying to build on a global scale might pay lip service to such high minded principles as egalitarianism, and redistribution of wealth, but when discissed behind closed doors sees no need to hide the fact that it's earliest model was 'The Fasces' the symbol of unbreakable power adopted by the Patrician class of The Roman Empire.
And that is what socialism, communism, fascism, statism, corporatism, whatever you call it is all about.
***
3.2 German Dominance Of Europe Through A European Bureaucracy
These people are a warning on what happens to any state which as a permanent staff of officials. They begin as our servants and end up imagining themselves our masters. Marcus Tullius Cicero
"The new European economy will result from close economic collaboration between German and European countries,' the Nazi economist Walther Funk wrote in the 1930s. It is important to note that decades before the EU officially came into being, the idea of a politically and economically unified Europe was seen by its originators not as a union of equals, but the establishment of German dominance by Germany of the rest of Europe. There was never any doubt which nation would be in dominate federal republic called the United States of Europe. (The phrase United States of Europe was devised by Adolf Hitler himself you may remember from an earlier chapter).
It is beyond comprehension that politicians and economists express surprise when Germany's political domination of of today's EU is raised in discussions, and who struggle to explain why Germany is booming and has by far the strongest economy in the EU. No one should be surprised by any of this because things have gone exactly to plan. The EU was intended to provide Naziism with an alternative to armed combat as a way of dominating Europe.
Since the financial crisis of 2008, in fact since it was floated in 1999, the Euro, the common currency of the European monetary system, has been in trouble one way or another. but while other nations that joined the system, particularly the weaker economic units of southern Europe, for example Greece and Portugal, and even some much larger economies, including Italy and Spain stuggle, Germany has benefitted enormously from the Euro crisis and continues to benefit. Walther Funk knew that would be the case back in 1940, when he floated the idea of a single currency. He even predicted that a European Economic Union would not work for weaker economies when he warned that even after monetary union it would be impossible to have one standard of living throughout Europe. Obviously he knew that the Euro would be flawed. Nazi Germany would not be in the least surprised by modern Germany's economic supremacy in Europe.
In reality, the euro was bound to cause chaos and massive unemployment throughout many parts of the European Union because of policies pursued by German politicians after the reunification of West and East Germany and before the foundation of the Euro. Partition after World War Two has thrust a spoke in the economic wheel of Funk's plan and delayed the Nazification by stealth of Europe for four decades. Ideologues are nothing if not patient and whereas you or I would probably want to see results from our life's work within our lifetime, these people are so convinced their ideas will lead to a perfect world, they are quite happy to think and plan generations ahead.
The policies which were designed to enable a unified Germany to control the EU involved Germany entering the Euro at an advantageously low exchange rate, thereby giving it a huge competitive advantage over other euro countries. In fact the Euro is really the Deutschmark by another name. This guaranteed Germany would get richer while other countries got poorer and that is exactly what is happening. (The French chose to join the Euro with a strong franc because it meant that they could enjoy cheap holidays in the rest of Europe.) The result is that because the Euro is undervalued relative to the German economy, and just as the USA exploits the fact that it is issuer of the main global reserve currency to gain competitive advantage in international trade, Germany exploits the fact that it dictates interest rates and other trade conditions to ensure it export far more than it imports and grows ever richer and stronger at the expense of its `partners' in the single currency system.
"The 'European project' began on 9 May 1950 with the announcement by Germany and France of the European coal and steel community, with Italy, Belgium, the Netherlands and Luxembourg taking up the offer to join with the. This led to the Treaty of Rome that established the European Economic Community (EEC).
The prime mover behind all this was actually Jean Monnet, a hugely influential French bureaucrat and businessman who somehow persuaded leaders of the smaller EEC members to ignore certain conflicts of interest . The power base Monnet had built up before and during the war gave him immense political influence while keeping out of the public eye (a pattern followed by many businessman - bureaucrats since, most notably the former United Nations Assistant General Secretary Maurice Strong, one of the biggest players in the move to global government). It was Monnet who secured the Allies' backing for General de Gaulle against Roosevelt's opposition, and in return, de Gaulle gave him responsibility for rebuilding the French economy and industry.
The 'Schuman Declaration' that launched the coal and steel community and laid the foundations for the european Union was the result of intrigue, and subterfuge by Monnet, who with great audacity persuaded the French and West German governments to set up a supranational organisation to co-ordinate their industries without their fully understanding what they had signed up to. This radical idea of an autonomous, bureaucratic organisation outside the legal system of any national government but with control over individual nations' industries laid the foundation for all that came after. Predictably, Monnet became president of the new body, called, with a disturbingly Orwellian sounding title, the High Authority. Shuman became the first president of the European Parliament in 1958.
What was really going on? There is a clue in the fact that Monnet was another pre-war protégé of the Synarchist Empire Movement. In 1936, Vivien Postel du Mas told Maurice Girodias that, alongside Coudenhove-Kalergi (see previous section), Monnet was an influential promoter of the synarchist agenda and publicly supported Canudo's pro-Europe groups. One collegue informants went so far as to describe Monnet as a "true synarch… whose membership of the movement was never in doubt for the true initiates."
Schuman, too, had formed synarchist connections in his youth, although not as directly involved with the movement as Monnet: he had worked closely on political reform in France and European integration with the professor of law Louis Le Fur, a synarchy activist."
Sources: http://www.newdawnmagazine.com/articles/synarchy-the-hidden-hand-behind-the-european-union
https://www2.warwick.ac.uk/fac/soc/pais/people/aldrich/publications/oss_cia_united_europe_eec_eu.pdf
Most British, and other Europeans whose dissastisfaction with the EU is growing, remain unaware of quite recently declassified documents from the US State Department archives "showing that US intelligence funded the European movement secretly for decades, and worked aggressively behind the scenes to push Britain into the project."
When you understand this it explains a lot about Barack Obama's efforts to threaten and bully British voters into voting to surrender national sovereignty to the European bureaucratic dictatorship
One memorandum dated July 26, 1950, reveals a campaign to promote a full-fledged European parliament. It was signed by Gen William J Donovan, head of the American wartime Office of Strategic Services, the forerunner of the Central Intelligence Agency." In fact, "the key CIA front was the American Committee for a United Europe (ACUE), chaired by Donovan.
Another document shows that it provided 53.5 percent of the European movement's funds in 1958. The board [of the ACUE] included Walter Bedell Smith and Allen Dulles, CIA directors in the fifties, and a caste of ex-OSS officials who moved in and out of the CIA."
The archives show that the CIA essentially "treated some of the EU's 'founding fathers' as hired hands," and even "actively prevented them [from] finding alternative funding that would have broken reliance on Washington."
***
---
3.3 The Coudenhove-Kalergi plan – The genocide of the Peoples of Europe
This article is a translation of an Italian article, originally posted on Identità, and is republished in this free ebook in the public interest.
Mass immigration is a phenomenon, the causes of which are still cleverly concealed by the system, and the multicultural propaganda is trying to falsely portray it as inevitable. With this article we intend to prove once and for all, that this is not a spontaneous phenomenon. What they want to present as an inevitable outcome of modern life, is actually a plan conceived around a table and prepared for decades, to completely destroy the face of the continent.
The Pan-Europe
Few people know that one of the main initiators of the process of European integration, was also the man who designed the genocide plan of the Peoples of Europe. It is a dark person, whose existence is unknown to the masses, but the elite considers him as one of the founders of the European Union. His name is Richard Coudenhove Kalergi. His father was an Austrian diplomat named Heinrich von Coudenhove-Kalergi (with connections to the Byzantine family of the Kallergis) and his mother the Japanese Mitsu Aoyama. Kalergi, thanks to his close contacts with all European aristocrats and politicians, due to the relationships of his nobleman-diplomat father, and by moving behind the scenes, away from the glare of publicity, he managed to attract the most important heads of state to his plan , making them supporters and collaborators for the "project of European integration".
In 1922 he founded the "Pan-European" movement in Vienna, which aimed to create a New World Order, based on a federation of nations led by the United States. European integration would be the first step in creating a world government. Among the first supporters, including Czech politicians Tomáš Masaryk and Edvard Beneš and the banker Max Warburg, who invested the first 60,000 marks. The Austrian Chancellor Ignaz Seipel and the next president of Austria, Karl Renner, took the responsibility for leading the "Pan-European" movement. Later, French politicians, such as Léon Bloum, Aristide Briand, Alcide De Gasperi, etc will offer their help.
With the rise of Fascism in Europe, the project was abandoned and the "Pan-European" movement was forced to dissolve, but after the Second World War, Kalergi, thanks to frantic and tireless activity and the support of Winston Churchill, the Jewish Masonic Lodge B'nai B'rith and major newspapers like the New York Times, the plan manages to be accepted by the United States Government. The CIA later undertakes the completion of the project.
The essence of the Kalergi plan
In his book «Praktischer Idealismus», Kalergi indicates that the residents of the future "United States of Europe" will not be the People of the Old Continent, but a kind of sub-humans, products of miscegenation. He clearly states that the peoples of Europe should interbreed with Asians and colored races, thus creating a multinational flock with no quality and easily controlled by the ruling elite.
Kalergi proclaims the abolition of the right of self-determination and then the elimination of nations with the use of ethnic separatist movements and mass migration. In order for Europe to be controlled by an elite, he wants to turn people into one homogeneous mixed breed of Blacks, Whites and Asians. Who is is this elite however? Kalergi is particularly illuminating on this:
"The man of the future will be of mixed race. The races and classes of today will gradually disappear due to the elimination of space, time, and prejudice. The Eurasian-negroid race of the future, similar in appearance to the Ancient Egyptians, will replace the diversity of peoples and the diversity of individuals. Instead of destroying European Judaism, Europe, against her will, refined and educated this people, driving them to their future status as a leading nation through this artificial evolutionary process. It's not surprising that the people that escaped from the Ghetto-Prison, became the spiritual nobility of Europe. Thus, the compassionate care given by Europe created a new breed of aristocrats. This happened when the European feudal aristocracy crashed because of the emancipation of the Jews [due to the actions taken by the French Revolution]"
Although no textbook mentions Kalergi, his ideas are the guiding principles of the European Union. The belief that the peoples of Europe should be mixed with Africans and Asians, to destroy our identity and create a single mestizo race, is the basis of all community policies that aim to protect minorities. Not for humanitarian reasons, but because of the directives issued by the ruthless Regime that machinates the greatest genocide in history. The Coudenhove-Kalergi European Prize is awarded every two years to Europeans who have excelled in promoting this criminal plan. Among those awarded with such a prize are Angela Merkel who engineered the mass immigration crisis through her 'open doors' immigration policy and former president of the E U Commission Herman Van Rompuy.
The incitement to genocide, is also the basis of the constant appeals of the United Nations, that demands we accept millions of immigrants to help with the low birth rates of the EU. According to a report published on January 2000 in «Population division» Review of the United Nations in New York, under the title "Immigration replacement: A solution to declining and aging population," Europe will need by 2025 159,000,000 migrants.
One could wonder how there can be such accuracy on the estimates of immigration, although it was not a premeditated plan. It is certain that the low birth rate could easily be reversed with appropriate measures to support families. It is just as clear that it is the contribution of foreign genes do not protect our genetic heritage, but that it enables their disappearance. The sole purpose of these measures is to completely distort our people, to turn them into a group of people without national, historical and cultural cohesion. In short, the policies of the Kalergi plan was and still is, the basis of official government policies aimed at genocide of the Peoples of Europe, through mass immigration. G. Brock Chisholm, former director of the World Health Organization (OMS), proves that he has learned the lesson of Kalergi well when he says: "What people in all places have to do is to limit of birthrates and promote mixed marriages (between different races), this aims to create a single race in a world which will be directed by a central authority."
Conclusions
If we look around us, the Kalergi plan seems to be fully realized. We face Europe's fusion with the Third World. The plague of interracial marriage produces each year thousands of young people of mixed race: "The children of Kalergi". Under the dual pressures of misinformation and humanitarian stupefaction, promoted by the MSM, the Europeans are being taught to renounce their origin, to renounce their national identity.
The servants of globalization are trying to convince us that to deny our identity, is a progressive and humanitarian act, that "racism" is wrong, because they want us all to be blind consumers. It is necessary, now more than ever, to counter the lies of the System, to awaken the revolutionary spirit of the Europeans. Every one must see this truth, that European Integration amounts to genocide. We have no other option, the alternative is national suicide.
Translator's note: Although the reasons due to which Kalergi made the choices he made are of no particular interest to us, we will try to answer a question that will surely our readers have already asked: Why a European aristocrat with Flemish, Polish, Greek-Byzantine roots and even with some samurai blood in his veins (from his mother) was such body plans and organ in the hands of dark forces? The reasons, in our opinion, are multiple, idiosyncratic, psychological and … women.
We therefore observe a personality with strong snobbish attitudes, arrogance, and, allow me the term, "degenerate elitism." Also, the fact that his mother was Asian, perhaps created internal conflicts and frustrations, something that can happen to people with such temperament. But the most decisive factor must have been the "proper teenager", which incidentally of course, was beside him, and became his first woman (at age 13): The Jewess Ida Roland, who would later become a famous actress.
EUROPEAN COUNCIL
The Coudenhove-Kalergi Prize goes to President Van Rompuy
On November 16th 2012, the President of the European Council, Herman Van Rompuy, was awarded the Coudenhove-Kalergi Prize, during a special conference in Vienna, to celebrate the 90 years of the pan-European movement. The prize is awarded every two years to leading personalities for their outstanding contribution to the process of European integration.
A decisive factor that helped him win the prize was the balanced way in which President Van Rompuy executed his duties in the new position of President of the European Council, which was established by the Treaty of Lisbon. He handled this particularly sensitive leading and coordinating role with a spirit of determination and reconciliation, while emphasis was also given to his skilful arbitration on European affairs and unfailing commitment to European moral values.
During his speech, Mr Van Rompuy described the unification of Europe as a peace project. This idea, which was also the objective of the work of Coudenhove-Kalergi, after 90 years is still important. The award bears the name of Count Richard Nicolaus von Coudenhove-Kalergi (1894-1972), philosopher, diplomat, publisher and founder of the Pan-European Movement (1923). Coudenhove-Kalergi was the pioneer of European integration and popularized the idea of ??a federal Europe with his work.
***
---
3.4 How European Union Bureaucracy Kills Small Business
When the United Kingdom joined the European Economic Community on 1 January 1973 under the Conservative government of Edward Heath, and again when a referendum was ordered by Labour Prime Minister Harold Wilson, who was against the EU along with most of his party, because even then they feared what effect such an organisation might have on democracy, it was portrayed as a European Free Trade organisation colloquially know as the 'Common Market'. After Britain and two more nations were added to the original six the organisation was began to be referred to as The European Community. Almost immediately the UK sampled examples of incredible bureaucracy such as the Common Agricultural Policy which appeared to reward inefficiency and a glut of overproduction which lead to the infamous 'butter mountains' and 'wine lakes' while the Common Fisheries Policy led to the deatruction of fish stocks in British waters and eventually to the near destruction of the entire British fishing industry because while more fish were actually caught, fewer were landed. More on those two bureaucratic insanities in a later chapter.
The European Project was pitched to the general UK public as a free trade organisation rather than a political union, but already some maverick voices in the UK were warning of an ulterior motive of creating a United States of Europe. Indeed, over the subsequent years the EC has obsessively pursued the goal of ever closer political and economic union between member nations (and increasing bureaucratic interference into everyday and business life in the those nations, it is not just in the UK that European bureaucracy is hated.) The Common Market or European Community was re-named European Union (EU) in 1993 following the Maastricht Treaty signed in 1992; this in effect took more rights from member nations over matters relating to foreign policy, military, criminal justice, and judicial cooperation to the central bureaucracy of the EU. The treaty revealed the true nature of European 'democracy', citizens of Denmark voted down the treaty and were asked to vote again as the people had not provided the correct affirmative result in their referendum at the first attempt. The UK's acceptance of this treaty was controversial, to say the least, and in true EU fashion Bititish aceptance was stitched up by politicians and bureaucrats, the public were not given a chance to make their views known.
The Maastricht Treaty led to the creation of the Euro common currency in 1999. The Single Currency System (The Euro - bureaucrats are not known for imagination) was adopted by many, but not all member states. Significantly the UK with a British public opinion largely against joining the Euro negotiated an opt-out from this part of the treaty. It is also to former Financial Chancellor and Prime Minister Gordon Brown's credit that he resisted attempts for the UK to adopt the Euro currency. It is generally accepted that the UK would now be in a worse position economically had it joined, the single currency given the current economic state of Euro-zone nations whose leaders and economic advisers were foolish enough to tie their economies to the German economy at a time, and under conditions most favourable to Germany.
The plan to push Europe's sovereign nations towards 'ever closer union' has continued in spite of the economic problems of the Eurozone and the social problems caused by the immigration crisis. The attitude in the corridors of power, not just in Brussels, Luxembourg and Strasbourg, but also in the government offices of member nations where a cosy duopoly of centre left and centre right parties that are no longer politically distinguishable from each other except by the campaign colours they use, are far too cosy with the smooth face bureaucrats and back room deal makers who really formulate government policy. These people do not often say it publicly but they are nontheless sure Europe will become a single political unit whether the people like it or not. The European Union behaves like any other government or corporate bureaucracy, with its prime function to grow and become more powerful, which is not the same as being more efficient or delivering better results.
When John Steinbeck wrote of 'The Monster' in his novel "The Grapes Of Wrath", (Chapter 5, that if the monster does not grow it dies, and to grow the monster must be fed, he was referring to0 banks. but banks are bureaucracies, and all bureaucracies, if fed, eventually grow into monsters. Here's how Steinbeck describes the process:
"The bank is something else than men. It happens that every man in a bank hates what the bank does, and yet the bank does it. The bank is something more than men, I tell you. It's the monster. Men made it, but they can't control it. The bank - the monster has to have profits all the time. It can't wait. It'll die. When the monster stops growing, it dies. It can't stay one size."
Because as it grows The Monster consumes more and more food people who feed the monster first become its slaves, as the monster consumes more of what they produce with more food and eventually it will grow so great it will consume everything. Thus the people who feed it will starve and there will be nobody to feed the monster. Then it too will die.
The orthodox interpretation among academics, teachers and critics of this bit of twentieth century myth making by Steinbeck it that the capitalist system will destroy itself. But Steinbeck was not a communist, not was he a partisan. Like the warning of the Austrian economist Josef Schumpeter, who said that "Capitalism contains the seeds of its own destruction, socialism always leads to fascism," Elsewherein The Grapes Of Wrath and in other novels and non fiction works, John Steinbeck recognised that the monster could just as easily be the state as the banks, the political oligarchs of Soviet Russia or Red China or the financal oligarchs of western Europe or the USA.
This compulsion to grow was classically shown by the disgraceful Lisbon Treaty. This started life as the 'EU Constitution Treaty' which in short grabbed significantly more rights from member nations, giving the unelected bureaucrats supremacy over the elected governments of sovereign nations. This was put to a referendum in France and Holland, and was decisively rejected by the people of these countries. The EU simply rebranded the rejected Treaty as the 'Lisbon Treaty' and bullied nations into not having a referendum on it - Republic of Ireland was an exception due to its inherent constitution. The Irish people rejected the treaty by referendum - not the right answer for the EU so just as they had done when the people of Denmark failed in a referendum to give the answer the Bureaucrats had wanted, they Irish were bullied and bribed to vote again. All these shenanigans' by the EU demonstrates it is not a political democracy in any shape or form, but more akin to a bureaucratic dictatorship - hence the nickname EUSSR given by some to the EU!
Without going into minute economic detail the Euro, as predicted by former UK Chancellors of the Exchequer Dennis Healey & Nigel Lawson together with many others across the political spectrum, is doomed and will more than likely fail in the near future. Greece, bankrupt for five years now but prevented by the EU from leaving the Euro, and unable, because it uses the Euro, to take the steps needed to repair its always fragile economy and with a full scale humanitarian crisis on its hands due to economic policies imposed by the EU that are well suited to Germany but completely wrong for an agrarian economy based on small farm units, and very possibly others leaving the Euro. In the absence of complete political, taxation, banking unity the single currency is destined to fail. Very simply the European Union has been driven by political ideology rather than sound financial management. The EU has collectively spent/wasted far too much money and markets have cottoned on that some countries have borrowed more than they can afford to pay back. The inefficient countries in the Euro zone cannot independently devalue their currency or change interest rates, so are snookered whilst they stay in. The Greek economy does not generate enough tax revenue for the government to service the interest payments on its vast debts, let alone pay them off.
The UK Prime Minister David Cameron in a recent European summit in December 2011 to try and save the Euro (again), resisted the bullying tactics designed to extract more rights and money from the UK by unilaterally exercising a veto to their latest treaty amendment, effectively taking yet more powers away from member countries. This was certainly a popular stance with the people of the UK, and may well catalyse a detachment of the UK away from the ideological facet of the European Union, to concentrate purely on business trading links. Albeit much of this strong stance; appears to have been subsequently watered down, in the light of the usual Euro pressure.
Some of the rubbish that comes out of the mouths of various European Leaders and bureaucrats and the academics who advise them concerning trade is simply astounding in its stupidity. It is clear that most of these people do not have that slightest idea of what business is about or indeed of working in a business environment. What is often cited is that the UK needs the European Union to promote trade, and hence jobs. Utter bollocks, the EU in common with other bureaucracies actually hinders business efficiency - often to the total destruction of companies. This article will cite a number of examples from the personal author's business of how the EU actively hinders enterprise, but first an analogy.
Imagine a school playground where the boys (and to be a bit PC a few girls as well) are trading Football Cards. This is all quite simple, any duplicates are swapped for the players they are seeking. In other words trading is going on, no rules - no bureaucracy - all very simple. Until the staff of the school get involved to regulate the trade. It is decided that cards should only be traded at certain times, and that there should be an equal gender and ethnic mix of pupils trading, the cards are vetted and any the teachers don't like are banned. This is all getting a bit complicated, so they introduced forms to be signed by everyone, and an inventory of everyone's cards need to be kept.
The governing body decides that each pupil now needs to submit a monthly return of the cards traded. In the end the pupils find all this too much, and just give up trading cards. These is an extreme example, but replace pupils with traders and the school staff with the European Union - and this is effectively the scenario imposed on businesses located within the Europe Union. In the same way the bureaucracy, time wasted, and cost of the EU actively hinders trade not encourages it.
The EU Working Time Directive was introduced in 1993. A little later than planned - this appeared to have been deliberately delayed to be pushed through when majority voting was allowed rather than the former unanimous voting. This became law in the United Kingdom 2009, the maximum 16 years transition time was utilised, which gives a fair idea of how popular this diktat was. In short the EU laid down a maximum of 48 hours in a working week, and a raft of other definitions. This has a profound adverse effect on working practices, and it is worth reiterating at this point that such 'rights' actually takes away rights for both employers and employees.
In the National Health Service (NHS) in the UK the Working Time Directive has effected the time doctors can be on call - as even sleeping time at employer's premises counts within the 48 hours. It is ironic that the self employed, particularly when starting up can have work directly imposed by EU/government at no pay which can push them in to working well beyond 48 hours a week! However, the employer has to provide a plethora of rights to employees, which the EU/government does not accommodate to the provider!
The EU is in essence a bureaucracy, and its behaviour is akin to a living organism to basically grow and survive. To grow, the organisation needs lots of money, and where else to turn but to the virtually religious ideology of 'Climate Change' (formerly 'Global Warming', terminology apparently dismissed due to 15 years of continual cooling if anything). The author has consistently argued that pollution in a general sense is not good, and much of this is driven by over population. However the thing with carbon emissions (specifically CO2 - Carbon Dioxide) it can be measured - and hence taxed! These extra costs are passed on to businesses, and hence customers; but the EU is operating in a global economy and hence time after time companies in EU member countries are consistently handicapped in competitiveness.
The ideology of Climate Change has proved a goldmine for the European Union. The popular incandescent light bulbs have effectively been banned, notwithstanding that the 'low energy bulbs' are not really that efficient when considering that heat emitted by incandescent lighting (and hence heating savings) were not taken into comparison account, produce a poor and harsh light.
Furthermore energy saving dimmer switches are unusable at a sensible price, and the low energy light bulbs invariably use the poison Mercury which requires evacuation should a breakage occur. From a business perspective, the market would really go for a true low energy light bulb that quickly produces a pleasant light - the current low energy replacement does not offer this. Therefore Supply and Demand has to be manipulated by EU law to force consumers to use an inferior product.
The EU's Landfill Directive is a classic example of demonic bureaucracy in action. Rubbish EU LandfillThis directive came into force in 1999, with an implementation of 2001. Basically the result for the United Kingdom is that the EU dictates how much land fill of biodegradable waste goes into landfill, with virtually impossible to meet reduction targets, with of course large fines for the UK amounting to billions of pounds for failing to meet these ridiculous targets. The author does not remember anyone voting for this, and it begs the question of why politicians signed over sovereign powers to the EU to do this, when a reverse Winston Churchill two finger salute would have been a more appropriate response.
The Net result of the landfill tax, as in many EU directives is that the over burgeoning EU Super state gains more money to waste. This has adversely affected businesses and the general population alike. The old chestnut of reducing CO2 'climate change' has been cited as a reason, and to encourage recycling. On examining the USA's experience of such matters, it appears that all the extra lorries and extra resources utilised for recycling circumvents any supposed savings. Basic rubbish collections in most of the UK is now fortnightly, but with additional collections for such items as food waste and recyclables - with twice the lorries used for effectively half the service. All for recycling materials that often are at maximum required supply capacity anyway. To use the newspaper columnist Richard Littlejohn's words 'You couldn't make it up'. Incidentally the author's company Datalite UK Ltd does recycle card and paper as packing materials - but this is purely for business efficiency reasons, not the result of some European diktat.
Another area, well beyond the scope of the original 'Common Market' concept is how the EU infringes into matters of 'Equality'. It is a truism that inequality exists from the moment of birth, and ultimately equality can only be achieved by treating everyone equally bad! The nearest to an 'equality' environment is a prison! Equality of opportunity is in the author's view a desirable concept, but equality of outcome can never be achieved. This makes 'Equality' a bureaucratic organisation's dream - there will always be conflict and an excuse for the organisation such as the European Union to increase their influence, size, and ultimately income in dealing with matters of 'Equality'. The mass of EU inspired legislation adversely affects business, and lets face it businesses are largely driven by profit - they would employ green with pink polka dot Martians if this resulted in a 5% increase in the bottom line! Also the ideology tends to treat people as groups rather than individuals, and can end up with reducing individual choice. The valid option of stay at home mums for example, is not really supported in politically correct circles.
The EU has also played havoc with any sensible control of immigration. With open borders, an illegal immigrant only has to sneak into any part of Europe (a favourite spot being via Greece) to be allowed unfettered access to every member state, with the exception of the United Kingdom which still has border controls, albeit not as strong as they might be. Nevertheless the UK has seen a huge influx of immigration since the late 1990s and continuing, whether illegal or legal. Supply and Demand and infrastructure pressures, circumvents the supposed benefits of uncontrolled immigration to a country with scarce resources. Inevitably wages are driven down, with an ever burgeoning welfare bill.
The bureaucracy emanating from the EU is immense. By way of example a business can sell VAT free to a VAT registered business in another EU country. Sounds fine on the face of it, but the onus is on the supplying company to check the full validity of details supplied - in the absence of a central point to do so. In other words if a company outside the UK but within the EU supplies duff details, you can end up being responsible for their VAT bill! It gets worse HM Revenue and Customs require a separate VAT EC Sales Return - in addition to the full VAT return due at the end of the period. However the EC Sales Return needs to be submitted by the 21st of the month following the end of the period. This gives just two weeks (most company's need to wait around a week before commencing a VAT return, as some transactions are still going through the bank system) to complete what can be a time consuming task - all under threats of penalties from HMRC. To be frank it is in practice far easier to supply VAT free outside Europe, all this needs is a simple custom declaration. Also the reduction in bureaucracy and of course the lack of VAT requirement, explains why many items are despatched to the UK from the non EU Channel Island countries of Jersey and Guernsey!
Companies in the UK are required by law to produce accounts, and generally if a company gets their sums wrong, the company goes bust. However, the European Union appears to disregard every sound business practice, its own accounts have consistently failed audit, and in common with most large bureaucracies wastes money. The EU is in absolutely no position to dictate on how companies should run their businesses. The difference between the EU and a good business is that the later invests in success, and rapidly eliminates areas that fail. This is the opposite of the EU which invests in failure (such as Greece) at the expense of areas that succeed, such as Germany.
And of course the myriad of rules emanating from the EU appears at even a cursory business glance, designed to make European commerce as inefficient as possible, compared to the rest of the world. Such an example is the EU Cookie diktat. This was effective from 26th May 2012, and meant that around 90% of EU websites needed to have an opt in for collecting information or the web owner will face a fine of up to £500,000. A great detraction for the user's experience, and directly affects an organisation's ability to monitor performance of commerce websites. If fully complied with, web users will avoid EU websites like the plague - who wants to be bothered with continual nag boxes as they surf. Like so much nonsense that comes from the EU, this has not been thought through, ironically the majority of government websites are currently non compliant. I expect the EU wishes to take pot-shots at Google who provide Analytics will technically be illegal or useless if the diktat is followed. This seems similar to the European Union attack on Microsoft - the EU (unelected) leaders seem to be adverse to efficient companies.
Top of the list of 'bonkers' concepts is the European currency. It is difficult to know where to start with this. The Euro has been instigated purely for political ideology, pure financial considerations appeared to have been totally disregarded. The idea that such diverse countries as Germany and Greece could share the same exchange rate and interest rate is deluded beyond belief. A staggering amount of countless billions of Euros has been wasted on trying to keep the Euro together, but to be frank the game is up. Nobody in their right mind would invest in a currency, where the European (unelected) leaders have already reneged on their commitments (Greece bond 'haircuts', in non 'Orwellian Double-speak' is a pure and simple default). Greece will be out of the Euro soon, and no doubt the rest of the PIIGS (Portugal, Italy, Ireland, Greece, & Spain) will follow suit - this needs to happen so that some sort of sanity and sensible economics resumes within the Euro zone. The United Kingdom the author predicts will actually be in quite a powerful position when this happens, once the initial shockwave subsides.
Much of what the European Union has undertaken appears crazy, but the EU behaves as any large bureaucracy behaves. The organisation has a vested interest in becoming ever larger and more encompassing, whether efficient or not. This provides greater employment and promotion prospects for those within the bureaucracy - because the organisation is funded by taxpayers, money is seen as virtually unlimited. Certainly financial effects of bad decisions are not as rapidly apparent, but eventually economical reality can catch up. This has happened in spectacular fashion within the European Union - which is on the point of financial meltdown - and unfortunately will take down many businesses with it. The adage goes that 'Turkeys Do Not Vote Christmas'; this does not mean that Christmas won't come anyway for the EU Turkeys!
EU Laws Make Life Impossible for Employers
EU Laws Make Life Impossible for Employers During recent years the EU has introduced a vast amount of legislation controlling the way in which employers can run their businesses. A tiny proportion of this legislation may help to protect employees against unscrupulous employers. Most of it, however, puts unbearable burdens on small employers. Legislation which forces employers to allow female members of staff to take a year off work after childbirth (and to have their job kept open for them) may work"
During recent years the EU has introduced a vast amount of legislation controlling the way in which employers can run their businesses. A tiny proportion of this legislation may help to protect employees against unscrupulous employers. Most of it, however, puts unbearable burdens on small employers. Legislation which forces employers to allow female members of staff to take a year off work after childbirth (and to have their job kept open for them) may work.
Such arrangements may work well enough at the EU's headquarters but prove impossibly difficult for employers running small businesses with a handful of employees. The new laws arrive thick and fast. New fathers are entitled to take time off work. The EU has ruled that staff who fall ill while they are on holiday must be given extra holiday time to make up for the holiday they have lost through illness. Employees with disabled relatives or friends are entitled to take off as much time as they think they need. An employee with a disabled neighbour must be allowed to take the time off work if the neighbour needs taking to the dentist – however inconvenient this may be for the employer. According to the law there are already six million officially designated `carers' in Britain. It is illegal to make employees redundant if they become blind or deaf (even if this means that they cannot do the work they are paid to do). And if an employee wants to write a book there is a law which says he or she should be allowed to take all the time they need to satisfy their creative urges
---
4.1 EU? Attack Of The bureaucratic Clones
How many people in Britain and other European nation, I wonder, understand the full implications of implied condition of EU membership that states EU law supersedes national law. In fact it means that The Magna Carta, of which we British are rightly proud no longer means anything, the rights is confers on British citizens can be swept aside by bureaucratic edicts from the European Union. Likewise an even older legal codex which gave us certain rights. In 2012 when Mitt Romney ran for the US Presidency against the incumbent Barack Obama, Romeney was viciously attacked by the Obama campaign for making a perfectly innocuous reference to Anglo - Saxon law.
Obama supporters accused Romney of suggesting that British law was superior to U.S. law. The candidate had meant nothing of the kind, he was referring to the Liber Judicialis, a bill of rights signed by King Alfred The Great who reigned from 870 to 898. In Liber Judicialis, King Alfred established The Common Law. It is not known exactly when Alfred passed this law, for centuries its existence was disputed by despots and their cronies, who sought to strip Englishmen of their common law rights. by deed of the act, the the laws and customs of the nation were merged with laws based on the Ten Commandments and the Golden Rule.
Alfred's son, Edward, declared
To all who are charged with the administration of public affairs I give the express command that they show themselves in all things to be just judges precisely as in the Liber Judicialis it is written; nor shall any of them fear to declare the common law freely and courageously.
Prior to the Common Law, the Civil Law of Rome prevailed in England (Scotalnd and Wales were separate nations then) as it did throughout continental Europe. This was unpopular because, Rome having been ruled by the Catholic Church for several hundred years, contemporary Roman law gave the church privileges and immunities that seemed unfair to the many pagans in Britain. King Alfred's Common Law was widely adopted through out northern Europe and became the basis for many national legal systems, including, understandably, that of the USA.
That is the Anglo Saxon law to which Mitt Romney referred, not modern British law, which though a good set of laws has been shaped to meet the needs of our nation. The influence of Liber Judicialis is visible in the Constitution and Bill Of Rights of the USA, but almost a thousand years on years on from King Alfred, the wide differences are necessary to serve the needs of a vastly different society.
When William the Conqueror invaded in 1066, he brought with him jurists and clerics who tried to reimpose the principles of Roman civil law. Our ancient laws and customs resisted the assault and further attempts to create a system in which all were not equal before the law, but certain vested interests were treated preferentially. Thus The Common Law has remained without any serious amendment to its most important points; equality before the law, the right to trial by jury, innocence presumed until guilt is proved and certain freedoms. What we would now call the right of free speech was in Alfred's reign referred to as 'freedom of the road' the right to move around freely (free speech was hardly relevant, most people did not have access to information because they couldn't read.) Common Law includes another imporant clause which is very relevant to the European Union, the Charter of Liberties, which makes the Monarch subject to the law. The 1102 Synod of Westminster, which abolished slavery in England, the 1627 Petition of Right, which granted the right to criticise the government without fear of arrest, as well as Magna Carta and the Declaration of Right. Common Law defends property rights and rights to self defence all have their basis in The Common Law.
Many of our greatest constitutional documents are Common Law documents. These are not Acts of Parliament. Their principles cannot be repealed by Parliament, and when our Monarchs swear to uphold the "laws and customs" of the people of the United Kingdom as part of the Coronation ceremony, those "laws and customs" include Common Law.
Should we accept subjection to EU law, The Common Law and twelve hundred years of history will be thrown away.
Under E U law British citizens are now no longer legally able to do anything not specifically forbidden by law but are now forbidden from doing anything not specifically permitted by law, as was the case in Nazi Germany
EU's legal system will mean the end of all our traditional legal rights. According to our traditions, we are entitled to do those things which are not forbidden, but according to the EU, we are entitled to do those things which are allowed – everything else is forbidden. And what is allowed can be changed on a whim by individual European Commissioners.
The European Union and its supporters claim many laws that are really nothing more than pointless rules and regulations are necessary to improve the energy efficiency, environmental friendliness and health standards throughout the 28-member bloc. And in the run up to the referendum that will decide our future, those campaigning to keep us in the EU and subject to its ever growing bureaucratic dictatorship have denied that the meddling bureaucrats have made laws governing the amount that bananas and cucumbers are permitted to bend by. This is a lie, as one would expect from a campaign that can only succeed by concealing the truth:
European Commission Regulation No. 1677/88, "Class I" and "Extra class" cucumbers are allowed a bend of 10mm per 10cm of length. "Class II" cucumbers can bend twice as much. Any cucumbers that are curvier may not be bought or sold."
and ...
European Union Directive 2257/94:
" ... it is a criminal offence to sell bananas of abnormal curvature. [...] Peaches picked between July and October must not be less than 5.6 cms in diameter [...] class 1 Victoria Plums must measure 3.5 centimeters across [ ... ] carrots which are less than 1.9 centimeters wide at the thick end cannot be sold unless they are marked as baby carrots.
The European Union has approved bans on large vacuum cleaners in an effort to "re-educate" spendthrift citizens who consume too much energy, another pointless rule which supporters of the EUhave denied the existence of even though all such laws and rules are a matter of public record.
EU bureaucrats have surrounded thousands of other consumer products, including clothes dryers, cosmetics, fruit jam, laptop computers, laundry detergents, light bulbs, olive oil, plastic bags, refrigerators, showerheads, television sets, tobacco, toilets, toys, urinals and wine cooling cabinets, with pointless and unenforcable laws.
A recent ban approved by the European Parliament on October 8, 2015 involves chocolate candy cigarettes because they "appeal to minors and consequently form a potential gateway to using tobacco products."
Critics of the growing bureaucratic dictatorship of Brussels say the seemingly endless number of bans, prohibitions, restrictions, regulations and edicts being enacted by unelected bureaucrats, many of which are being justified by environmental concerns which are based on the flimsiest of evidence, smacks of paternalistic liberalism. They claim it is over-regulation, and an unacceptable intrusion into the private lives of 500 million EU citizens, who should be allowed to make their own decisions over whether they want to eat straight cucumbers or semi - circular bananas, and whether they want a high power kettle which uses exactly as much energy to boil a litre of water, as a kettle that take a little longer to bring its contents to the boil.
The vacuum cleaner ban was sneakily passsed during the summer holidays in August and went largely unnoticed by the general public until after the German newspaper Frankfurter Allgemeine Zeitung (FAZ) published a story about the new law on October 24.
"As of September 2014, only vacuum cleaners that consume less than 1600 watts may be sold in the EU," according to FAZ. "From 2017 only a maximum of 900 watts will be allowed. At the same time, the vacuum cleaner must be fitted with a label that grades energy consumption on a scale of seven letters and colors: The letter 'A' on a green background means very low energy consumption and the letter 'G' on a red background means very high energy consumption."
Critics say the EU's move to restrict the power of domestic vacuum cleaners—current vacuum cleaners boast an average of 1,800 watts—will reduce their effectiveness in sucking up dust and dirt; and, because households will have to use the new machines longer, they may end up actually increasing energy consumption. Others have said the change will reduce the ability of vacuum cleaners to remove fine particles from the air, and instead pump them back into the atmosphere, potentially leading to side-effects for allergy and asthma sufferers.
But then as satirist P J O'Rourke observed in his book 'All The Trouble In The World' bureaucracts often achieve the opposite of the result they are aiming for.
In an interview with UK newspaper The Daily Telegraph, Giles Chichester, European Parliament Member for South West England and Gibraltar, said: "Banning powerful cleaners in households could have a severe impact on allergy and asthma sufferers. This is another example of how EU legislation has good intentions but sometimes there are detrimental side-effects. I hope that both the EU and the UK government can find a way around this so that we improve energy efficiency without forcing people back to their broomsticks."
The vacuum cleaner ban is part of the European Ecodesign Directive, a wide-ranging legal framework approved in 2005 that establishes mandatory ecological requirements for energy-using and energy-related products and appliances in all 28 EU member states. The directive currently covers more than 40 product groups, which are said to be responsible for around 40% of all EU greenhouse gas emissions.
European bureaucrats have used Ecodesign regulations to ban dozens of products, including the incandescent light bulb, which has been outlawed in all EU countries. As of September 1, 2012, hundreds of millions of EU citizens have been forced to buy 'energy-efficient' fluorescent lamps, which contain toxic materials such as mercury, give off harmful levels of electromagnetic radiation, provide such a poor quality of light people have to switch on extra lights to read or work at crafts, and because the fluorescent techology only pulls down energy at the top of the wave, actually use twice as much energy as it says on the box.
Another lie is that the low energy bulbs last much longer. In fact, while ten times as much energy is used in manufacture, if the bulbs are used in a normal domestic situation, (i.e. are switched on and off as light is required, they last little longer than incandescent bulbs.
Because the EU does not require retailers to take back the new bulbs, 80% end up in household garbage, leaving the mercury to ultimately seep into the soil or groundwater, according to an Austrian documentary film called "Bulb Fiction."
The makers of the film claim that the European light-bulb lobby, including global corporate businesses such as Philips and Osram, are behind the demise of the cheaper incandescent light bulb because of the larger profit margins associated with more expensive energy-saving light bulbs. So once again we see the E U putting corporate profits before the interests of the consumer.
According to the German newsmagazine Der Spiegel, the EU ban on light bulbs was motivated less about genuine environmental concerns than it was about scoring political points on the international stage.
"A ban on incandescent light bulbs, which would be relatively easy to implement, would enable the EU to score some quick victories on the climate front. After all, the EU's pledge to reduce carbon dioxide emissions by 20% by 2020 was highly ambitious from the start," according to the magazine.
Light bulbs and vacuum cleaners are not the only products the E U has demanded higher energy efficiency from. As of November 1, "the weighted condensation efficiency of condensation tumbler dryers must not be less than 60%," according to European Commission Regulation No. 932/2012 dated October 3, 2012 which implements "Directive 2009/125/EC of the European Parliament and of the Council with regard to ecodesign requirements for household tumble driers."
On November 4,2015 the European Commission, the executive arm of the European Union adopted a proposal that requires member states to implement measures which will reduce the use of plastic bags. That same week, Brussels announced draft regulations to standardize the flushing of all toilets and urinals in the EU. The decision followed years of efforts by experts working for the European Commission's environment directorate, as well as "stakeholders" (water companies) studying "user behavior" and "best practices."
According to the 60-page technical report on European toilets and urinals which took two years and an unspecified amount of taxpayer money to complete, EU experts have agreed that two "key elements" appear to affect the water consumption of flushing toilets and urinals: their design and user behavior. Regarding user behavior and "based on the discussions with stakeholders," the experts have decided to set the average flush volume as "the arithmetic average of one full flush volume and three reduced flush volumes." Well at least they have not (yet) produced proposals to regulate the number of times a day we can have a waz, or the amount of water we are allowed to pass.
In May 2013, the European Commission announced the so-called Plant Reproductive Material Law, an Orwellian directive that would make it illegal to "grow, reproduce or trade" any vegetable seeds that have not been "tested, approved and accepted" by a new EU bureaucracy named the EU Plant Variety Agency. Given that the E U Commission, led by its 'scientific advisers' (aka corporate lobbyists) is absolutely mad for Genetically Modifies food crops, which some independent scientists say pose health risks to humans and animals, this looks like another back door effort to hand control of a mssive and vital industry, food production, to corporate business. The new law would give Brussels authority over all plants and seeds bought and sold in all 28 EU member states, and would prohibit home gardeners from growing their own plants from non-regulated seeds. Critics say the new law is an effort by the EU to gain "total domination of the food supply."
"This is an instance of bureaucracy out of control," according to Ben Gabel, director of the UK-based Real Seed Catalogue. "All this new law does is create a whole new raft of EU civil servants being paid to move mountains of papers round all day, while interfering with the right of people to grow what they want, and charging fees for the use of plants that were domesticated and bred by the public over thousands of years of small-scale agriculture," says Gabel.
Arguably the most famous examples of EU over-regulation involve the previously mntioned rules on the size and appearance of fruit and vegetables. As well as the famous bendy banana and curved cucumber laws,
Brussels eventually reversed its curvy cucumber law after a public outcry, but EU regulations still apply to imperfectly shaped Brussels sprouts, carrots, cherries, apples and garlic. These regulations are needed as part of the EU's effort to cut "unnecessary" red tape we are told.
"We simply don't need to regulate this sort of thing at EU level," EU Agriculture Commissioner Mariann Fischer Boel said, adding that in the context of skyrocketing food prices and general economic difficulties, it made "no sense" to throw away perfectly good products due to their non regulation shape or size.
The "Eurocrats" in Brussels have suffered a number other symbolic defeats by European citizens fed up with runaway regulations. In March 2013, for example, the British government relaxed EU rules defining fruit jam.
According to EU rules, jam can only be labelled as such if it has more than 60% sugar in it. However, under new rules proposed by London, that figure will fall to 50%. The difference had created what has been called a "no-jams land," meaning that jams with a sugar content between 50% and 60% had no legal name; anything containing less than 60% had to be called a "fruit spread," while jams with less than 50% sugar were to be called a "conserve."
"This is exactly the sort of ridiculous red tape that we want to do away with," according to Vince Cable, the British Business Secretary, said in an interview with the Daily Telegraph. "This stuff looks like jam, smells like jam and tastes like a jam—the only thing stopping it being called jam is some some bureaucratic rule. We want to sweep away unnecessary bureaucracy like this which is costing business time and money and stopping them doing what they should be doing: creating jobs, boosting the economy and in some cases, making jam."
In May 2013, the European Commission announced plans to ban the use of refillable bottles and dipping bowls of olive oil at restaurant tables. The refillable bottles are a staple on restaurant tables across Europe for diners who want to douse bread or salads.
The EU said that as of January 1, 2014, restaurants may only serve olive oil in tamper-proof packaging, labelled to EU standards. It said the move would protect consumers and improve hygiene.
But after critics accused Brussels of unwarranted meddling at a time of economic crisis, the European Union quickly backed down. According to Dacian Ciolos, the European Commissioner for Agriculture, speakig bureaucratic gobbledegook, the ban was "not formulated in such a way as to assemble widespread support."
The EU's reversal was possibly influenced by the release on May 13 of a Pew Research Center poll showing that positive views of the European Union are at historical lows in most of the eight countries surveyed, even among the young. According to the poll, entitled "The New Sick Man of Europe: The European Union," the favorability of the EU has fallen from a median of 60% in 2012 to 45% in 2013.
In Germany, meanwhile, opposition is mounting to an EU directive on water-saving showerheads and taps. According to the German business newspaper Handelsblatt, German appliances are already using 20% less water than in 1990, leading to a situation where the country's sewage pipes are in danger of drying up and cracking because not enough water is being flushed through the system. It is not as though saving water in Germany (where there is plenty) or Britain (where there is perhaps too much) helps those parts of the world affected by acute water shortage. Transporting water by tanker or pipeline would be so ridiculously expensive it would put the cost of buying drinking water beyond the means of the people who do not have access to pure water for domestic use.
In any event, German politicians appear increasingly fatalistic about the future of the EU's Soviet-style "central planning" apparatus. According to Sven Giegold, a Member of the European Parliament with Germany's Green Party, Europe's economic system "has now become too complex for a democracy."
Holger Krahmer, a Member of the European Parliament for Germany's business-friendly Free Democratic Party (FDP), puts it this way: "We are heading for a dictatorship of bureaucrats."
Which is what the contributors to this book have been saying for the past three decades.
---
4.2 Europol - The Superstate Police With Moire Powers Than The Gestapo
No dictatorship is complete without its state police, The Gestapo, The KGB, Statsi, TonTon Macoute and so on. And the EU is no exception development, taking the usual 'do it by stealth' route, the European Commission quietly set up Europol, the European Police Office. The original report by Statewatch.org by which we know of how the powers of the seemingly unthreatening body outlined the powers of this Superstate police force, considered the expansion of Europol's mandate and powers, questioned its effectiveness and examined judicial and democratic controls and the decision-making process within the EU. Statewatch's concerns were reflected in the report's subtitle: "towards an unaccountable "FBI" in Europe". During 2006 the EU has been holding an internal "debate" on the "future of Europol". Let's have a closer look at those concerns.
Europol was one of the most ambitious aspects of the EU's "Third Pillar" (on justice and home affairs cooperation) agreed in the 1991 Maastricht Treaty, and among the most controversial. The Europol Convention was not until agreed in 1997 and Europol did not officially become operational until 1999, following ratification by national parliaments. But in reality, Europol was up-and-running much earlier, successive EU decisions (formal and informal) leading to the establishment of the Europol Drugs Unit (EDU) in The Hague in 1994.
Europol is now a well-resourced organisation with a staff of 530 (including 93 "liaison officers" on secondment from the member states) and an operating budget of just under 68 million euros for 2007.
It was set-up as a central hub to collect intelligence from regional/national police forces in order to make links between crimes, suspects and investigations. Crucially, Europol's operational powers were limited to the collection and analysis of information and its mandate was limited to serious international crime. Europol is nevertheless able to retain a potentially endless cycle of data on criminals, suspects, victims and their associates, subject to the detailed data protection provisions in the Convention. This information is held in Europol's computer systems which finally went online in October 2005, more than four years later than planned (the initial contractor was sacked after failing to deliver the system) and at a cost of at least 65 million euros.
Since the entry into force of the Europol Convention in 1999, Europol and its advocates have argued successfully that the agency required more powers and a wider remit to fulfill its mandate.
Europol's remit was expanded from five to 27 specific forms of crime and now potentially extends to (facilitating investigations into) any criminal conspiracy that could be seen to affect two or more member states. Europol has also steadily become more "operational" and is now authorised to participate in "joint investigative teams" in the member states and empowered to request individual states to "initiate, conduct or coordinate investigations in specific cases".
National parliaments have been presented with three protocols to the Europol Convention to implement these changes and the EU Council (member states) have agreed somewhere in the region of 40 implementing measures, along with 18 cooperation agreements with non-EU states and agencies.
In 2002, Statewatch suggested that Europol was being transformed from the "reactive", analytical agency envisaged by the Convention into a "proactive", investigative agency.
At the same time, there are serious concerns about Europol's effectiveness. Some member states' police forces are clearly reluctant to cooperate with Europol in the way that the Conventionenvisaged, preferring to cooperate through traditional bilateral channels. Europol is certainly providing logistical support to cross-border investigations and operations such as "controlled deliveries" (the surveillance of cross-border shipments of drugs, people or illegal goods) but is clearly hampered by a lack of quality intelligence from the member states. This in turn affects the quality of its analysis work on organised crime and terrorism and the extent to which its reports provide "added value" to policing in the member states.
Europol's annual reports naturally focus on "crime-busting" success stories but reports from the Dutch Central Investigative Agency (CRI) in 2001 and the United States FBI in 2006 have been a lot less complementary. The CRI described Europol as mostly "an upgraded serving-hatch for vehicle registration plates and telephone numbers"while the FBI cited "uncertainty and even distrust concerning the information/law enforcement intelligence process applied by Europol among the law enforcement community in the US".
The EU has conducted occasional evaluations of Europol in order to improve member states' compliance with the legislation (the results of which will have not been made public) but more searching questions are left unanswered. Was and is Europol a solution ahead of its time? What sort of EU police office does Europe need and want? Is Europol a good use of public money? Is it adequately regulated?
The current EU debate on the future of Europol addresses these questions selectively. While the lack of confidence in Europol among the member states is acknowledged, there has been no in-depth review of Europol's activities to date, nor any objective assessment of its shortcomings and weaknesses. Instead, the "debate" about the future of Europol is a blueprint for more powers and a wider remit based on two assumptions. First, Europol's "cumbersome" legal framework is preventing it fulfilling its potential (a lack of "awareness" of Europol on the part of the member states is also cited).
Second, that Europol needs yet more powers and a wider mandate to fulfill its potential.
The circular nature of this argument is, of course, a recipe for Europol's continuous expansion.
The trajectory of this debate is hardly surprising given its orientation. A discussion at the informal EU Council of Justice and Home Affairs ministers in January 2006 was followed by a high-level, "stakeholders" conference on the "future of Europol" in February, where "A discussion emerged on whether Europol required enlargement or deepening. It was argued that this was not a contradiction, since these processes can be carried out simultaneously"
The Conclusions of the review called upon member states to speed-up ratification of the protocols to the Europol Convention and invited the Commission to prepare proposals for Europol on the basis of the FOP report and principles for a "new legal framework" (discussed further below). There were no actual references to "accountability" within the text, the title apparently referring to the single suggestion that the "Council should encourage the European Parliament to set-up a joint EP-national parliament mechanism to follow Europol's activities" (emphasis added), a proposal that did not appear in the draft Council Conclusions on the "future of Europol" that followed in May. Europol's mandate: from "reactive" to "proactive" to "investigative." The first option for phrasing Europol's mandate is "combating serious crime affecting two or more Member States, terrorism and forms of crime which affect a common interest covered by a Union policy". This would extend the current Europol mandate from 27 specific crimes to somewhere in the region of 40 (almost all criminality) and give Europol a role in national as well as cross-border investigations where "federal" or "EU crimes" are concerned. The second option, "serious international crime and terrorist offences affecting two [MS]", would maintain the status quo. However, in "exceptional cases", suggest the FOP group, "Europol should not be prohibited from assisting [in cases] which are only related to one Member State", again suggesting that Europol should have a hand in national investigations (a proposition that is repeated later in the FOP report).
In its commentary the FOP group proposes seven particularly controversial extensions to Europol's remit. First, it suggests the addition of "major events with a public order policing impact" to the Europol mandate, a clear departure from "serious organised crime". Second, it proposes that Europol should "act as service provider for EU information systems in the area of internal security".
Specifically, it is proposed that Europol could host "a general EU-wide DNA database that is not limited to the forms of crime under Europol's mandate" (a "PNR" data base of information on air travelers is also suggested). Third, it proposes the "integration of [national] police databases to enable/simplify the flow of information to Europol". Fourth, it proposes wider access to its own information system, suggesting that "Europol should be able to act as a black-box facilitator for all data exchange via and processed by Europol". Fifth, citing the "principle of availability", under which it is proposed by the EU that agencies in one member state should be able to access all law enforcement data in all the others, the FOP suggests that "Europol should get access to the IT systems of the Member States on the same footing... (e.g. regarding DNA, fingerprints, etc.).
Sixth, "Europol should be in a position to coordinate (not lead) a JIT" (joint investigation team), suggesting it should run cross-border investigations rather than simply assisting them as agreed in the protocol to the Convention.
Seventh, "as a long-term option, the role of Europol in the fight against the Euro counterfeiting and possibly EU crimes (to be defined) should be reinforced by granting Europol investigative (but not coercive) competences (following the model of OLAF [the European Commission's anti-fraud office] with regard to the fight against defrauding the Communities' financial interests". This is the first significant demand for formal investigative powers which certainly are coercive as far as they would allow Europol to conduct independent investigations in the member states.
These proposals will probably run into fierce opposition from member states. However, future opposition may be weaker when long standing demands to replace the "cumbersome" and "inflexible" Europol Convention with an EU Council decision are implemented (demands now endorsed by the Council). This presents an opportunity to introduce new powers for Europol and will in any case mean that subsequent amendments to its mandate and powers will not require ratification by national parliaments, so controversial proposals will be subject to less scrutiny and debate. The FOP group also proposes that implementing legislation should be "simplified" by "creating one single procedure for preparing and deciding secondary legislation".
"The [Europol] Management Board could be designated as the legislative authority for staff and financial regulations, rules governing the relations with third parties, and analysis as well as confidentiality rules". So much for the separation of legislative and executive powers.
***
---
4.3 Expansion Of Powers Makes Europol An Orwellian - style Thought Police
The People Of the United Kingdom of Great Britain and Northern Ireland, remember them, the island nation that built a global empire which at the beginning of the twentieth century dominated the world economically and militarily? Well due to fifty years of relentless politically correct propaganda, tyranny of weakness, the undermining of male virtues by Marxist feminists whose hatred of men allows for no concessions to fairness, reason or common sense, and spineless, testicularly deficient leaders (excep for Margaret Thatcher, she had very big, hairy balls, are now to be subjected to The Panopticon treatment, constantly on view to the prying eyes and ears of a foreign police force with powers that far exceed those of the British police. Europol, a European crimefighting and intelligence agency with powers that surpass even Hitler's infamous Gestapo, or the Cold War-era Soviet KGB.
Europol (a contraction of the European Police Office) was created in 1993 by a provision of the Maastricht Treaty but only became fully functional as of July 1, 1999. Originally pitched to the ususpecting citizens of european Union member states as agency that would enable national police forces to share intelligence thus improving their abilities to fight crimes such as terrorism, money laundering and people trafficking (ironically all have increased exponentially since Europl was formed) Europol has expanded in size and scope and now conducts its own investigations across the 27 member states of the European Union.
Until quite recently Europol had operated as an extension of the various national intelligence and law enforcement communities already handling police and intelligence duties throughout the EU. Furthermore, Europol's constitutional status made it more or less answerable (and practically subordinate) to the pre-existing national crime fighting and intelligence gathering organizations. Given the world domination ambitions of the European Unions ruling bureaucracy that was never going to last. As of this year, the Hague has endowed Europol with the plenary powers of a full EU agency, with all the attendant rights and privileges. In other words Europl supersdes the national law enforcement of member states.
A few of those privileges are particularly distressing to Britons and, were they widely known among voters, would swing a lot of votes toward the Brexit campaign in the referendum on whether we should leave the undemocratic, increasingly authoritaria, warmongering and most of all bankrupt EU. According to the terms of its new status as the "official" criminal intelligence-gathering branch of the EU government, "Europol now benefits from increased powers to collect criminal information and a wider field of competence in supporting investigations." Among these increased powers is the power to access the voluminous personal data stored on the computers of British and other national police forces if agents suspect a person may be participating in a "preparatory" act that may lead to 'criminal behavior'.
As has been reported in The New American, the database of information compiled and stored by the government of Prime Minister Gordon Brown is the most extensive in any developed nation, even exceeding that of the United States National security Agency (NSA). The database was established in 1995 and is the world's largest. It contains the DNA material of over five million Britons, a figure that represents 8 percent of the population of England and Wales. The recording system was initially developed, according to official information, to aid the police in the investigation of crime scenes and function as a "vital crime-fighting tool" in tracking down elusive offenders.
Now, every byte of that very personal information is available to Europol, without regard for the national laws of the United Kingdom. The relevant data to which Europol now has unfettered access includes political affiliation, routine, places frequented, DNA, tax obligations, voiceprints, and sexual preference. In fine, everything stored on those massive mainframes is now firmly within the province of distant Europol investigators.
The legislation for granting Europol access to the personal data of Britons is much different from that governing their own national law enforcement. According to Title VI of the Maastricht Treaty, the Europol Convention, and the new directives, a mere suspicion of likely criminal behavior in the following vague areas will trigger Europol investigation: racism, environmental crime, xenophobia, computer fraud, and crimes against the environment.Not only are these crimes against political correctness (Thought Crime dare I say) rather than real crimes that cause physical harm or material loss, they are also virtually impossible to prove to the standards set down in The Common Law (yes, good old King Alfred again.)
You read that correctly, Europol can now extract "behavioral data" on any citizen of any member state that it suspects, rightly or wrongly, of the Orwellian offence of Thought Crime, or is believed to be likely to participate in any of the above listed "serious crimes."
Fears of the abolition of the right to freedom speech are rife among people who love and respect liberty and democracy in the UK. The vagueness of the provisions governing the scope of Europol's mandate is particularly threatening, as the power to monitor and investigate crimes against the environment includes the right to arrest and pronounce guilty (without charges having to be laid or a trial held) of someone brave enough to question climate change, or the doubtful benefits of mass immigration for example.
"I am horrified," Paul Nuttall, chairman of the UK Independence Party, said on TV. "We thought [Prime Minister] Gordon Brown's big brother state was bad enough but at least we are could kick him out. These guys [Europol] we cannot sack until we leave the EU."
Nuttall's fears are echoed by James Welch, the legal affairs director of Liberty, a UK-based (and left leaning, the opposite end of the political spectrum to UKIP) civil liberties watch dog . "We have huge concerns that Europol appears to have been given powers to hold very sensitive information and to investigate and prosecute people for matters that aren't even crimes in this country. Any extension of police powers at any level needs to be properly debated and scrutinised," he stated.
Welch and his crew are a day late and a pound short for expecting the oversight of the EU superstate police force according to the laws and customs of the people of the United Kingdom or their elected representatives in Parliament. Those days are over and will never return unless the UK leaves the EU. Despite the zeal for devolution that has recently flourished in the UK, the sort of devolution that would see the United Kingdom parting company with its continental cousins is pipe dream while Bspectritain is a member of the EU.
Another frightening as of Europol's recent upgrade to full Gestapo-like status is the removal of oversight exercised by member nations over its funding and staffing. As of now, Europol will enjoy absolute independence from all national governments and will receive financial support solely from the 'inner party' (another reference to George Orwell's 1984 for those who have not read it recently), the EU Commissioners in Brussels. The strength and survival of Europol will depend not on how well they are protecting the people of member states from 'acts likely to lead to criminal behaviour' but how well it is protecting its EU masters from criticism, dissent and the detrimental effects people exercising their right to free speech can have on unpopular, authoritarian regimes. Europol and will not be subject to any checks or balances and will not be required to respond to complaints from offended member states.
There is legitimate concern in the Britain that the ill-defined boundaries of Europol powers will permit further expansion of the agency's powers. There is still a streak of bloody mindedness a thousand miles mile wide in the people of the United Kingdom, who live outside greater Londonistan. People in the west country, the midlands, Lancashire and Yorkshire and the north east are inordinately proud of their regional identity and culture. The is a profound mistrust and dislike of all things European, Europhiles will dismiss this as Xenophobia but for all their mickey Mouse degrees, lefties are not very literate. They do not understand it is perfectly pos sible to be proud of one's country, its culture and heritag while at the same time loving the nations and people of France, Spain, Italy, Sweden, Portugal, The Netherlands, Luxembourg and Denmark. And when the lefties talk of 'diversity they again demonstrate their ignorance. I have spent time in all the aforementioned nations and eenjoyed the company of their people while being enriched by their culture. And I still love my country and do not want it to change any more than I want any of those other countries to change. You see I like diversity, diversity makes the world wonderful and interesting. Trying to impose cultural and political uniformity on all those nations and their people is the opposite of diversity. So when you hear the politically correct, Europhiliac left bleating and tweeting about diversity, remember they're emotionally needy losers and are just being shallow, insincere hypocrites as usual, in the hope of attracting some internet likes. They hate diversity, thats why they try to reduce it to variation in skin colour while trying to impose conformity of mind.
Many sensible people are vocal critics of the European Union and the UK's membership therein are fearful of the Gestapo-like might of Europol.
"There is a real danger, that opposition to EU policies could make an individual liable to arrest. We now live in a pan-European state so it was to be expected that it would have a federal police force with power over us [Britons]."
The creation and expansion of the powers granted to a transnational police force with powers beyond those granted by the laws and constitutions of constituent countries, especially as it was done in almost total secrecy, ought to be enough to warn us of the true nature of the EU. While it is certain that proponents of these trade associations and economic zones will emphasise notional benefits in very narrow areas of national life, it is equally certain that if you give a globalocrat an inch he will take a mile and what is presented as economic reform for the sake of efficiency today, will become authoritarian tyranny if not tomorrow then very soon. The behaviour goes with the bureaucratic mindset. These people fear Darwinian evolution almost as much as they fear having to make decisions. They are not the fittest, not the ones best equipped to survive and so they take refuge in rules and regulations, and then neutralise their more powerful rivals by paralyzing the ability to act independently.
---
4.4 Minority Report EUro Naziism And Plans For 'Orwellian' Society Outed
A five-year research programme in Artificial Intelligence backed by the European Commission and titled Project Indect, is working on developing computer programmes which act as "agents" to monitor and process information obtained from websites, social media and private computers through the use of 'digital surveillance techniques' (cybersnooping, which is illegal according to international law) .
The main goal of Project Indect is to facilitate the "automatic detection of threats and abnormal behaviour or violence". In other words, the Eurocrats are planning to realise the dystopian society of Ray Bradbury's novel 'Minority Report'. Project Indect, which received nearly £10 million in funding from the European Union, involves the Police Service of Northern Ireland (PSNI) and computer scientists at York University, in addition to colleagues in nine other European countries. I tried to find more links for Project Indect, particularly to the Open Europe site which broke the story. Amazinfgly they are all blocked by search engines (which should tell you all you need to know anout where the EU is heading.
Shami Chakrabarti, the director of human rights group Liberty, an organisation which does much good work and is not noted for right wing leanings, described the introduction of such mass surveillance techniques as a "sinister step" for any country, adding that it was "positively chilling" on a European scale. She's right, as anybody who worked in Information Technology through the 1970s, 80s and 90s will tell you, internet technology as a tool to monitor individuals' activities and control what information they have access to is a fascist dictator's wet dream.
The Indect project, which began in 2014, comes as the EU is pressing ahead with an expansion of its role in fighting crime, terrorism and managing migration, increasing its budget in these areas by 13.5% to nearly £900 million. Ironically in 2015 migration increased exponentially while there were more terrorist attacks in Europe for many years, and wars on terrorist groups such as ISIS and Al Qaeda in the middle east escalated. The project has hardly got started and alread it is achieving the opposite of what was intended, that's quite an achievement even by the standards of E.U. bureaucrats.
The European Commission is calling for a "common culture" of law enforcement to be developed across the EU and for a third of police officers – more than 50,000 in the UK alone – to be given training in European affairs within the next five years. More centralisation, more power transferred from voters to bureaucrats.
According to the Open Europe think tank, increased emphasis on co-operation and intelligence sharing means that European police forces will gain access to sensitive information held by UK police, including the British DNA database. It also expects the number of UK citizens extradited under the controversial European Arrest Warrant to triple.
Stephen Booth, an analyst for Open Europe who has been involved in preparing a dossier on the European policing agenda, fears these developments and projects like Indect seem "Orwellian" and raised serious questions about individual liberty.
"This is all pretty scary stuff in my book. These projects would involve a huge invasion of privacy and citizens need to ask themselves whether the EU should be spending their taxes on them," he said.
"The EU lacks sufficient checks and balances and there is no evidence that anyone has ever asked 'is this actually in the best interests of our citizens?'"
Shami Chakrabarti added : "Profiling whole populations instead of monitoring individual suspects is a sinister step in any society. It's disturbing enough at national level, but on a Europe-wide scale the idea becomes positively chilling."
According to the official website for Project Indect its main objectives include "to develop a platform for the registration and exchange of operational data, acquisition of multimedia content, intelligent processing of all information and automatic detection of threats and recognition of abnormal behaviour or violence". All pretty innocuous sounding officialese of course, but the threat is hidden in the vagueness of the language. How, for example, can technology for 'automatic detection of threats' distinguish between dangerous subversives planning to blow up an office block or bring down a jet from a couple of spotty teenage nerds playing some computer game?
The website also comments on the "construction of agents assigned to continuous and automatic monitoring of public resources such as: web sites, discussion forums, usenet groups, file servers, p2p [peer-to-peer] networks as well as individual computer systems, building an internet-based intelligence gathering system, both active and passive".
York University's computer science department website details how its task is to develop "computational linguistic techniques for information gathering and learning from the web".
"Our focus is on novel techniques for word sense induction, entity resolution, relationship mining, social network analysis [and] sentiment analysis," it says. Don't let your children go to York, they obviously offer degrees in Advanced Fascism Studies.
A separate EU research project, Adabts – the Automatic Detection of Abnormal Behaviour and Threats in crowded Spaces – has received nearly £3 million. Based in Sweden its supporters the UK Home Office and British Aerospace Systems (BAe).
The objective of Adabts is "to develop models of suspicious behaviour" so these can be automatically detected using CCTV and other surveillance methods. The system would analyse the pitch of people's voices, the way their bodies move and track individuals within crowds. Again how does technology distinguish 'suspicious behaviour' and simply eccentric behaviour when neither term can be adequately defined.
Project coordinator Dr Jorgen Ahlberg, of the Swedish Defence Research Agency, said this would simply help CCTV operators notice when trouble was starting.
"People usually don't start to fight from one second to another," he said. "They start by arguing and pushing each other. It's not that 'oh you are pushing each other, you should be arrested', it's to alert an operator that something is going on.
"If it's a shopping mall, you could send a security guard into the vicinity and things [a fight] maybe wouldn't happen."
Obviously Ahlberg earned his doctorate in talking bollocks.
Open Europe believes intelligence gathered by Indect and other such systems could be used by another semi - secret E U agency, the EU Joint Intelligence Situation Centre (SitCen - the Orwellian Newspeak is a giveaway really, this is a Nazi style operation), which it claims is "effectively the beginning of an EU secret service". Critics have said it could develop into "Europe's CIA".
The dossier tells us: "The EU's Joint Situation Centre (SitCen) was originally established in order to monitor and assess worldwide events and situations on a 24-hour basis with a focus on potential crisis regions, terrorism and WMD-proliferation.
"However, since 2005, SitCen has been used to share counter-terrorism information.
"An increased role for SitCen should be of concern since the body is shrouded in so much secrecy.
"The expansion of what is effectively the beginning of an EU 'secret service' raises fundamental questions of political oversight in the member states."
Superintendent Gerry Murray, of the Northern Ireland Police Force, said the force's main role would be to ascertain if the system, which he said could be operated on a countrywide or European level, was a feasible tool for the police.
"A lot of it is very academic and very science-driven [at the moment]. Our budgets are shrinking, our human resources are shrinking and we are looking for IT technology that will help us five years down the line in reducing crime and combating criminal gangs," he said. "Within this Project Indect there is an ethical board which will be looked at: is it permissible within the legislation of the country who may use it, who oversees it and is it human rights compliant."
---
5.1 Who is killing the NHS
It is not fair to say the EU alone is killing the NHS, Margaret Thatcher's Conservative government did a lot of hasrm by introducing an 'internal market' concept to the National Health Service which resultted in an explosion in the administrative workload as, for example, radiology department would have to invoice the surgical department for the cost (plus a small mark up) of the x-ray images needed in order to perform, a life saving operation. Each department had to employ bean counters to process the invoices and the movement of funds between budgets. And what bean counter are good at is expanding their role, elevating the role of bean counting above that of functions that actually get things done, and creating work for more bean counters.
Tony Blair's New Labour project also did irrepairable harm with their Private Finance Initiatives. Though this mechanism for funding projects had been introduced by the Conservatives, Blair's Labour government that was famously "very relaxed about people getting stinking rich" actively helped corporations owned by Blair and Mandelson's merchant banker (in all senses of the term) cronies get rich by giving them a licence to print money. Here's an article from our Daily Stirrer news site, posted in 2010:
Labour's Loony Spending Schemes Crippling the NHS by Phil T. Looker, finance expert, 2010-08-23
The NHS in England faces a total bill of £65bn for new hospitals built under the private finance initiative (PFI), according to figures quoted by BBC news. That is not £65 billion for building new hospitals but £65 billion a year for renting fully serviced hospitals from private contractors.
This annual bill, the "NHS mortgage" as some people call it means that for some local healthcare trusts annual repayments take up more than 10% of their turnover. Public Accountants have said the fees, which rise each year, would make it harder to achieve necessary savings while senior medical said the situation would result in less money being available for patient care. But government sources insist the 103 schemes were providing value for money.
It may be that health and finance ministers in the coalition are reluctant to appear to be blaming the previous government for all the nations difficulties rather than trying to solve the problems or the case may be that the coalition were saddled with binding contracts by the irresponsibility and lack of business acumen that afflicted Labour in all spheres of government. Either way it is simply unbelievable that any finance expert would judge these Private Public Partnership Private Finance Initiatives are providing value for money services to the taxpayer. More likely they would be seen as a licence to print money for the private finance investors willing to underwrite Labour's spending plans in deals that would guarantee returns of many times the original investment.
Private Finance Initiatives (PFIs) were devised by the Conservatives but never really took off until 'New Labour' won power. In the days in which public policy was dominated by concerns about the size of the public sector or the public sector borrowing requirement, the PFI was seen as a means of funding public sector capital needs, but defining this as private rather than public debt. Both Conservative and Labour governments used PFI to mask the expansion of public debt and the true extent of the state's indebtedness to financial institutions.
The people who devised PFI were among those deluded academics and politicians who believed economies could keep growing forever driven by constantly increasing consumer spending. Constant growth in the economy would lead to constantly increasing affluence in the population and constantly increasing tax revenues for government. This constant growth would enable society to cover the ever mounting costs of this political subterfuge. The obvious analogy for PFI is a mortgage where you initially think it is affordable on the optimistic basis of short-term growth in personal income, but then disaster strikes, income growth collapses and repayment becomes an insurmountable challenge.
PFI contracts are very detailed, providing not only for the construction of new hospitals and schools but also for their maintenance, cleaning and other services. Some of these contracts cost several million pounds to draw up and, once agreed, tie contractors to often onerous payments for 30 years and more. Furthermore, they include clauses facilitating the passing on of costs to the NHS when, for instance, national standards of cleaning or safety change. A parallel in business is a company that rents serviced offices in which not only the floor space but the utilities, janitorial services, office furniture, security and administrative functions are provided by the building's operator. If the company then outsources other functions such as IT, accounting, distribution, manufacturing and sales it can become a virtual company, a management team running a business in which everything else is done by third parties.
That is fine so long as the company keeps growing. The problems set in when adverse trading conditions are encountered and revenue is squeezed. All the services still have to be paid for and suppliers have to cope with cost inflation. The virtual company finds reducing overheads difficult because it is tied in to long term contracts.
Now the National Health Service faces declining real income. The government may give assurances that the health budget is ringfenced but in the face of falling tax revenues and rising benefits how solid is the fence? The NHS will have to pay increased VAT and national insurance rates just as any other business would. That the budget is ringfenced does not mean it has to be increased. Inflation will erode the value of money granted by the ministry to each health trust. Cuts in local authority spending may mean social care funding will have to be augmented by transfers from the NHS to council budgets. If this does not happen, "bed blocking" will reduce hospitals' capacity to manage increasing patient demand. Last week it was announced that £500m will have to be transferred from NHS to social care funding in the current year.
The consequences of these cost pressures for hospitals built on PFI contracts are that those hospitals now face significant financial pressures. In principle this should not be a problem as PFI was promoted as a mechanism to increase NHS efficiency or value for money. This was despite it obviously being cheaper for government to borrow on capital markets compared to contracting private organisations to build, own and operate hospitals and other services.
How the "efficiency" gains of PFI are achieved remains unclear, partly because the contracts are "confidential" thus it is impossible to offer a critique of how they work and how money is distributed and accounted for. In the absence of an auditors quantification of the alleged gains, probably as illusory as the toxic assets banks traded in before the financial crash. Which leave us with little choice but to assume PFI schemes were really never anything more than a licence for the private sector to pocket taxpayers money.
While we cannot associate the EU with previous levels of privatisation, the Trans - Atlantic Trade And Investment Policy (TTIP) an alleged 'free trade' treaty being negotiated in secret between European Union Bureaucrats and Corporate and Government lawyers for the United States government will open a very wide door for further privatisation. If your family doctor or dentist has recently joined one of the new superpractices you may not be aware these are set up, usually by Private Finance Initiative contracts agreed with American owned for - profit healthcare providers. Now under this pernicious free trade deal, should a future British government decide to renationalise healthcare by taking these back into public ownership, the investors would be able to sue the British government of the day for loss of profits. Negotiations of the terms for TTIP have been negotiated in conditions of such secrecy (far greater security was in force than existed around Hillary Clinton's email server when she was Secretary Of State in the Obama Administration for instance) that the little we know of its immensely far reaching terms and conditions has come from public spirited whistleblowers vias websites like Wikileaks and The Intercept. Even our elected representative have not been allowed to scrutinise the drafts, which should tell you it is not in the interests of us ordinary punters, but shifts power away from democratic assemblies to bureaucrats and corporate bosses.
In addition to these threats to our National Heath Service, the EU has also done enormous damage to the quality of medical care in Britain. It is because of the EU working hours directive that general practitioners no longer provide 24 hour cover for their patients and it is because of the EU that hundreds of thousands of hospital patients go for several days at a time without seeing a doctor at all. There is no doubt that laws which came from the EU are responsible for thousands of deaths and much misery. The EU law which has done the most damage has, of course, been the `working time directive' which has put strict, legal limits on the number of hours doctors and nurses are allowed to work. It is because of this legislation that the modern doctor works the sort of hours traditionally associated with librarian and local council employees. If hospital doctors work more hours than the EU permits then the hospital must pay a huge fine. The result of this legal nonsense is that doctors have to abandon patients in the middle of treating them and at weekends there are often no doctors available at all.
The EU has made things even worse by ruling that if doctors are asleep but on call then they are `working' even if they are not woken up. To make sure that doctors obey the EU legislation, hospitals employ Working Time Directive Project Managers (on salaries in excess of £50,000) whose sole job is to make sure that doctors clock off on time and don't spend a moment more than the EU allows on looking after patients. The NHS spends an estimated £250,000,000 a year policing the Working Time Directive to satisfy the demands of EU eurocrats. The EU law limiting the number of hours doctors work has had many consequences. For instance, whereas, just a few years ago, doctors who became consultants usually had 30,000 hours of experience and training, today's young doctors can become consultants after just 6,000 hours of experience and training. So, today's consultants have one fifth the experience of their predecessors. It is largely because of the EU's law that inadequately trained nurses have been given the authority to prescribe drugs, provide anaesthesia and perform operations.
The Common Agricultural Policy Rises Food Prices
The European Union's common agricultural policy (CAP) is dangerously expensive and wasteful, it was designed to provide generous subsidies for French peasant farmers when General Charles De Gaulle, a great war leader but a deeply conservative politician was trying to hold back the tide of progress and preserve a way of life that was no longer viable. For all its inefficiencies and contradictions the CAP carries on in the twenty first century, beloved of bureaucrats because it provides endless opportunities for meddling in what they do not understand, creating myriad pointless and unenforcable rules and regulations and expanding bureaucratic empires within the EU administrative universe.
It is estimated that the CAP costs families throughout Europe on average £2,000 a year each. Many people find it difficult to understand why Britain's first application to join the Common Market was vetoed by General de Gaulle in 1967 when he claimed that Britain was an island and not suited to be a member of a European `superstate'. The French President had, of course, been saved by the British during the Second World War and had led the French resistance and the French Army in exile from London. So had he turned against his old ally? The game de Gaulle was playing was a tactical one, he wanted to delay Britain's entry until the Common Agricultural Policy had been set up and was working. Once the CAP was alive and well de Gaulle changed his mind, decided that we were suitable members of a European charity organisation and encouraged Britain to reapply. Though he was too astute a politician,now the system that would protect French farmers from the competition of more mechanised and efficient British farmers he wanted Britain in the Common Market so that we could help pay the massive costs of the CAP and help keep him and his party in power by funding gener ous subsidies for inefficient French farming.
It is through the CAP that the EU buys up all the excess milk, butter, cereals and so on grown within the EU. The excesses are gathered together as milk lakes and butter mountains and then dumped in other parts of the world. This dumping of cheap food (also done by the USA where subsidies are used as sweetners by politicians eager to attract the support of farmers and their workers). Such subsidies wreck the farming economies of developing African and Asian countries, subsistence farmers simply cannot compete with subsidies produce and so are shut out of the food trade in the large population centres of their own countries. There can be no doubt that the CAP is one of the main causes of malnutrition and starvation in Africa. And so, to sum up, the EU's Common Agricultural Policy has resulted in impoverishment and starvation in the Third World and dramatically increased the price of food in Europe, while simultaneously made life much making life more difficult for farmers in Britain who have responded amazingly well by achieving further efficiencies without resorting to feeding livestock with growth hormones or using pesticides and herbicides granted food safety approval on the strength of dubious scientific testing, and in other EU nations that have encouraged their agricultural community to become more efficient.
The Common Agricultural Policy (CAP) of the European Union (EU) is in many respects a highly dysfunctional policy which fails to achieve its objectives or only does so at considerable cost. Nevertheless, it remains a cornerstone of the EU, accounting for around 40 per cent of the EU budget, and many UK and European farmers are dependent on it for their continued survival. How so you might well ask, having just read that farmers in forward looking nations responded to the challenge by improving their productivity. The previously quoted observation of American satirist P. J. O'Rourke come to mind again, that whatever bureaucrats set out to do they usually end up achieving the opposite. P. J. could have been talking about the EU because in their zeal to be fair to less competitive nations they have imposed production quotas which have resulted in vast amounts of land designated for dairy farming, growing grain or potatoes or pig farming being 'set aside'. The farmer is paid for not grazing dairy cattle or growing crops so long as he does not use the land for anything else. He cannot even allow members of the local pony club to let their horses graze in his pastures or mountain bike enthusiasts ride round one of his fields because even if he is making no money from allowing the activities, because if you are using the land for grazing horses or letting mountain bikers loose then you are not 'not producing milk' of 'not growing potatoes'. In the great tradition of Nazi nd Fascist officials and petit fonctionairres the organisation thrives in ridiculously precise interpretations of rules and regulations. And as Aristotle said over two thousand yea rs ago, "The greatest inequalities arise from trying to make unequal things equal."
When the Treaty of Rome established the Common European Market in 1958, state intervention was a major feature of agriculture in the six member states. If the principle of free movement of goods was to apply to agricultural produce, national support policies which were incompatible with the Common Market's principle of 'free trade' had to be transferred to the European level.
It was also believed that agriculture because of it's unique characteristics compared to other industries had to be dealt with differently. Farm production is affected by the weather and this leads to either over production or under production. Prices can also be highly volatile, especially for commodities traded globally.
The basic objectives of the CAP; to increase agricultural productivity by promoting technical progress and ensuring the optimum use of the factors of production, in particular labour, ensure an acceptable standard of living for farmers, stabilise markets, to ensure the availability and ensure reasonable prices for consumers, have not changed since the Treaty of Rome. You may have noticed some of these objectives conflic. For example, protecting farmers' incomes by erecting high tariff barriers against goods imported from outside the EU raises prices for consumers. The advancement of agricultural productivity depends not so much on actions by the EU as technological advances and improvements in the knowledge base of farmers. So from the start the EU was more superstate than common market.
The way in which the CAP operated has changed over time. Originally, farmers were supported through a system of intervention purchasing. This meant that a floor price would be fixed for a particular product and farmers could sell any surplus into an intervention store where they could be held until they were sold at that price provided that it met basic quality standards. This encouraged farmers to overproduce, particularly products for which there was not increasing demand, because they were certain of bing able to sell their products at a profit. Intervention stocks held in intervention stores referred to as butter or gain mountains and milk or wine lakes then built up.
The EU faced the problem of disposing of these stocks. One way of doing this was, as mentioned above, to provide subsidies to exporters to sell the surpluses in countries outside the EU. However, this led to trade wars with countries like the United States which also started to subsidise its exports. .
Export subsidies are now being phased out, but the EU retains very high tariff barriers against imports, particularly in sectors such as meat and dairy products.
Financial support is now provided for farmers in 'Pillar 1' which covers general subsidies through a basic payment. Although member states and their regions have some flexibility in how they scale this payment, usually based on the size of the farm and the payments it has received in the past. This has meant that very large payments of over a million euros have gone to some farms such as arable farmers in Britains wheat growing area, East Anglia, although some limited 'capping' of these payments has now been introduced.
Critics of CAP say it can be seen as a welfare policy to help farmers in remote areas with higher payments for farms in areas of great disadvantage. Such farms may also benefit from 'Pillar 2' payments which are targeted subsidies such as agri-environmental schemes and rural development. In the UK, Pillar 1 payments outweigh Pillar 2 payments by a ratio of approximately.
Most of the subsidies paid are, therefore, not targeted to particular policy objectives. Environmentalists object that the CAP has encouraged more intensive forms of farming in the EU with a greater reliance on fertilisers and agrochemicals. Soils may be damaged and serious water pollution may occur.
The subsidies paid under the CAP have also had the effect of forcing up land prices, making it difficult for new entrants to come into the industry other than through inheritance. The workforce is ageing and this does not help innovation.
While we remain members of the European Union, our waters belong to them, our fish belong to them.
EU Has Destroyed Britain's Fishing Industry.Europhiles will dispute this and try to claim the Common fisheries policy has saved fish stocks in British waters, this claim was made by an academic, a fisheries expert who studies the theory of fish in a university faculty miles from the sea, but who has probably never been on a trawler. It is bollcks, as most claims of those who support the EU will be. Just before Britain joined the EU, the existing members suddenly agreed to a new principle: equal access to `community' fishing waters. Since Britain is an island which has traditionally supported a prosperous fishing industry this sudden change in the laws should have sent our politicians back to the negotiating table. Changing an important section of a contract at the last moment is a long-established negotiating tactic commonly used by crooks such as the corporate crook George Soros. It is also par for the course for EU bureaucrats. But Edward Heath was desperate to sign up and receive the £35,000 pay off his European cronies had promised him for getting Britain into the EU (worth about £600,000 today - that's largely due to the effect globalisation has had on money) and so he said nothing, treating our fishing industry as expendable. Today, it is widely agreed that the EU's common fisheries policy is a shambles. It has ruined the British fishing industry and created a social, economic and environmental disaster. As a result of the EU's laws, most of the important fishing areas around Britain have been dangerously over-fished. Fifty years ago Britain's fishing industry employed around 50,000 fishermen. Today there are around 17,000. Thousands of jobs have been lost on the boats, and further down the supply chain - the fish processors, the net makers, the equipment suppliers, the market sellers and the transport companies whose livelihoods also depend on the industry. But have the EU quotas saved fishing stocks of simply masked even more disastrous overfishing that they were intended to control. When fishermen reach their quota limits for a fish species for a year, they cannot land any more of that type of fish, the archives of the Grimsby fish merchants' association, which represents the industry in Britain's largest fishing port, will tell you. And that represents the saving of fish stocks to a mindset that is obsessed with rules and regulations. Reality pays little attention to rules however and beyond chosing to cast their nets in areas where certain species are known to be abundant, fishing crews have little control over what they pull up out of the water. Fishes for which the quota has been reached have to be thrown back into the sea. Traumatised and often injured, few survive. "And for every fisherman's job that goes, eight more shore jobs will follow," a trawler owner commented to the Grimsby fish merchants web site. The fishermen argue they are struggling to survive in an industry hit hard by quotas, restrictions and declining fish stocks. But the bureaucrats, oblivious to practical considrations as ever, point to the reduced numbers of fish being landed and produced statistics derived by academics from mathematical models of fish shoals to prove the policy has worked. Fish stocks have in fact improved recently having declined so far due to the EU's insane policy that it was simply not worth the trawlers putting to sea. The big factory trawlers that did so much damage to fishing grounds in British territorial waters moved to arctic waters or even the south Atlantic, these boats are equipped to process and freeeze their catch on board, distance is no object. The UK has the largest fleet of boats under 10 metres in Europe. Yet the subsidy policy is geared to help the larger boats, the fleets of France and Spain. They're subsidised at every turn. They're subsidised when they're built, when they go to sea, when they don't go to sea and when they're scrapped. All that can be concluded from learning how the Common fisheris Policy has destroyed British Fishing as a viable industry is that we the taxpayers are paying the EU to subsidise our fishing fleets rivals to plunder our fish. What the EU's Fisheries policy also does is to plunder not only our seas but oceans across the world. Fish is as tasty and popular as ever, but nobody anywhere who is involved in commercial fishing for their livelihood seems to like the policies that regulate the industry in the EU. For decades, European management of fisheries has been lambasted by fishers, conservationists and scientists, and people including us who like to eat good quality fish but balk at paying the exhorbitant prices bureaucratic and authoritarian policies have caused, The centrepiece of this system, the EU's Common Fisheries Policy, is particularly unpopular. Some scientists even argue it is designed to fail. And how familiar that must sound to people who have read this book. Opponents blame it for not only mismanaging Europe's highly productive seas, but also for giving away "our fish", with the subject recently taking centre stage in an unlikely viral Brexit campaign video. But as so often when looking at aspects of the European Union, people gave the impression that the Common Fisheries Policy has not worked because they take it at face value. All E U policies, whatever issues they are reputed to address, are really about only one thing. Increasing the level of power and control exercised by the bureaucracy. Ownership of UK fishing quotas is controversial and often misunderstood. After total EU fishing limits are decided by the Council of Fisheries ministers, it is up to each member state to distribute its share among its own fleet. This is not an EU decision. The fact that a single giant Dutch-owned vessel nets a quarter of the English quota (6% of the UK total) might be shocking, especially considering the UK's quota is in theory shared between more than 6,000 vessels. Academics say the UK government could easily change how it allocates fish but what is possible within EU rules would not represent a real improvement. Pro EU voices say alternative allocation systems suggested by some pro-Brexit groups are already in place elsewhere in Europe. What they don't say is that these nations are non EU nations.
5.4 Minority Report EUro Naziism And Plans For 'Orwellian' Society Outed
IMMIGRATION
With an official net immigration figure of 350,000, and probably as many more entering the country illegally, Britain cannot possibly control immigration until it leaves the European Union and takes control of the borders. This is because freedom of movement rules gives other EU citizens an automatic right to live here. And once people from outside the EU are accepted and granted residency by another EU nation they can move freely within the union'
The Remain campaign say leaving will not solve the migration crisis but bring it to Britain's
doorstep because border controls from the Continent will move from Calais in France to Dover in UK. Maybe so (although it is unlikely because The Channel is a rather more formidable border fence than a bureaucrat with a clipboard, and least our border police will be able to turn people away.
Shortly after the European Elections of 2014, the media were still digesting Ed Miliband's apology for his party's woeful underestimate of both the scale of immigration and public concern about it. Mr Miliband said that Labour had let too many immigrants from Eastern Europe into the country too quickly by lifting controls on admissions from new EU member states before others did. There was no mention of immigrants from the middle east, in spite of the recent scandals in Rotherham, Oxford and other towns with a lage contingent of Sunni Muslim immigrants where, local officials and police forces in collusion with the Labour run town councils have turned a blind eye to widdespread sexual abuse of under age white girls by Pakistani men?
Apparently not because the medieval social ideas imported from Pakistan and Bangladesh, where the local culture and prevailing religion permits wife - beating, rape of 'immodest women', forced marriages and honour killings of disobedient daughters, throw up problems that no one wants to address.
But Labour wasn't just "insufficiently alive to the burdens" of ordinary people, as Miliband, a decent man but totally out of touch with the working class voters his party claims to represent, had claimed. Labour party activits deliberately and dishonestly smeared many who voiced concerns. James Cameron, the envoy to Romania, and Steve Moxon, the civil servant who revealed that the Home Office was rubber-stamping bogus visa applications in 2004, were branded as racists. When Labour MP Frank Field set up the Cross-Party Group on Balanced Migration in 2008, his colleagues in 'The People's Party' openly called him a racist. Volumes could have been filled with the names of people who tried to express reasonable concerns, including social workers and policemen at the sharp end — and were silenced by a political establishment determined to suppress free speech.
Such censorship was supported by the abuse of statistics. Westminster City Council and others requested extra funding to run services because so many new immigrants, unskilled and only able to speak a few words of English, were registering for housing benefit, health services and schools, the Government flatly denied the claims and produced bogus figures to support the decision. When campaign group Migration Watch predicted in 2002 that net immigration would reach two million over the coming decade (which has turned out to be an underestimate), it was attacked as "muddled", "duplicitous" and racist.
The Home Office stuck to its notorious estimate that only 13,000 Eastern Europeans would move to Britain after EU enlargement, though more than a million had arrived by the end of 2009. And of course the idiotic screechers of the politically correct left were happy to parrot these bogus figures in comment threads on blogs and news articles.
In recent years, with the authoritarian EU having forced an even more lax immigration policy on member states, the government has continued to base its estimates of movements on the ONS Passenger Survey, a survey at ports and airports that is entirely voluntary. A government that wanted the truth would have done what the Conservative / Liberal democrat coalition was criticized by EU officials for doing; gathering data from councils and GPs. The coalition government had planned to restore border controls but pressure from the EU blocked their efforts. Another few million reasons for leaving the EU, vote UKIP.
SOVEREIGNTY
Parliamentary sovereignty is the most important principle of the UK constitution. It makes Parliament the supreme legal authority in the UK, which can create or end any law. Generally, the courts cannot overrule its legislation and no Parliament can pass laws that future Parliaments cannot change. Parliamentary sovereignty is the most important part of the UK constitution. People often refer to the UK having an 'unwritten constitution' but that's not strictly true. It may not exist in a single text, like in the USA or Germany, but large parts of it are written down, much of it in the laws passed in Parliament - known as statute law.
Therefore, the UK constitution is often described as 'partly written and wholly uncodified'. (Uncodified means that the UK does not have a single, written constitution.)
Europe's Bureaucratic Elite Plan More Stitch Ups To Steal Sovereign Powers
by Arthur Foxake (one of our contributors), July 4, 2014
How many articles have we posted here anout the moves being made by political, financial and academic elites to render democracy obsolete and create a global totalitarian meritocratic (aka fascist) governmente. Only yesterday we put online a long compilation of opinions and factual studies outlining how 'free trade agrements' now being negotiated in secret (mustn't let the punters know thaty are about to be shafted) by governments in North America, The European Union and Asia will surrender the sovereign powers of elected lawmaking bodies to bureaucrats and corporate bosses.
This is nothing to do with free trade, all the TTIP (Trans Atlantic Trade and Investment Partnership), TPP (Trans Pacific Partnership), NAFTA (North American Free Trade Association) and further integration of the economies of EU member states will achieve is to free corporate businesses to do WTF they like without interference from regulators or sovereiogn governments.
The treaties are not signed yet but already some of their potentially dangerous provisions are being implemented. For example in recent weeks two international court decisions have ruled that American food companies can sell in Europe products containing substances banned by the EU on safety grounds. Lawyers for the American based companies contended the EU rules operated against their 'rights' and therefore contravened the principles of free trade.
Can you see where this globalist Naziism is going now?
---
5.4 EU Wastes Vast Quantities of Taxpayers' Money
Corruption and Fraud are endemic within the EU. Back in 1999 the entire EU Commission was forced to resign because of massive and barely concealed fraud, theft and incompetence within the EU. (The disgraced commissioners hung on for six months until they had negotiated a severance deal and when they did quit they kept their pensions.) The EU's official Court of Auditors estimated that £1.1 billion had been misspent. No accurate figure could be assessed because auditors found, the commissioners had ordered the destruction of documents relating to the relevant years.
`Opportunities for fraud are open and they are taken advantage of,'Marta Andreasen, the EU's former Chief Accountant said. She was sacked for being too honest and not playing the game after complaining of fraud within the EU's accounting systems.
On larger scale fraud and embezzlement throughout the EU, it is estimated that fraud and theft by officials costs the EU (which means European taxpayers) a large part of its annual £100 billion a year budget and year on year is rising far more rapidly than the EU economy is growing.
VAT fraud within the EU (the notorious carousel fraud) costs European taxpayers another £100 billion a year. Every year billions of euros leak through holes in the EU's accounting procedures and vanish. In 2013 alone the European Union wasted £6 billion on fraudulent, illegal or ineligible spending projects.
That year, for the 19th year in a row, official auditors refused to approve the EU's accounts or to guarantee their accuracy. Auditors routinely complain that the EU's budget is full of errors and that the failure to follow the correct procedures makes the accounting chaos impossible to untangle.
Fraud, corruption and theft are endemic, the various European Mafia's are well connected to the EU's agencies and it is probable that EU taxpayers money its way into the pockets and campaign funds of politicians, even some US politicians who, on being elected to high office suddenly become very enthusiastic about enlarging the European Union and speeding up the process of ever closer union.
Money that the EU has given as `grants' to member countries often disappears. Funds that were paid for bridge building and job creation are quite possibly spent on fast cars, expensive wine and luxury holidays. It does not seem at all unfair to conclude that a third of EU employees are corrupt, a third are incompetent and a third are both corrupt and incompetent. In Steig Larssons novel The Girl With A Dragon Tattoo, in the early chapters in which the author is telling the story of journalist Mikail Blomqvist's fall from grace when he tries to exposed the crooked financier Wennerstrom, a fraud involving a bogus industrial operation is described. The large modern factory which records show was 'funded by the EU is in reality a derelict and abandoned corrugated iron shed. However somebody is filling out and submitting all the necessary forms, and for reasons of their own nobody checks that the forms reflect real production and revenue.
As someone who, when I worked for the EU, was involved as a technical expert on a project to 'standardise trade data collection systems throughout member states, I can tell you unequivocally that Larsson drew on real frauds to construct that fiction.
If the EU were a company, its directors would by now be serving long prison terms.
In spite of all this, no one employed by the EU has ever been prosecuted for fraud or embezzlement, nor have any ever feared hearing those dreaded words, "You're fired" due to their laziness, incompetence or abuse of their position. Everybody who works for the EU (not contractors as I was but permanent staff, I finished up editing e-books for my sins - IanR Thorpe, editor) has lifetime immunity from prosecution on ALL crimes, not just those relating to the work they were involved in. They are also exempt from tax and when travelling abroad have diplomatic immunity. EU staff members are as untouchable as Europol licenced-to-kill secret agents officers , neither can be investigated, charged or arrested whatever they have done. This immunity continues after their employment has ceased. Buildings occupied by EU officials are also immune – they are `out of bounds' and cannot be searched by the police. The lifetime immunity enjoyed by EU employees means that they cannot be prosecuted whatever they have done – even if they have clearly broken the law.
Obviously the bureaucracy does not believe in Cicero's, King Alfred's or the US Constitution's principle of all being equal before the law. In the finest traditions of tyranny, the European Union elite, in common with the Soviet, red Chinese and of course the Nazi elite, have placed themselves above the law. Is it any wonder that as I write, one major European nation is in a state of civil unrests and several others are close. Throughout the European Union people are waking up to what this organisation is all about.
The extent of corruption in Europe is "breathtaking" and it costs the EU economy at least 120bn euros (£99bn) annually, the European Commission says.
EU Trade Commissioner Cecilia Malmstrom has presented a full report on the problem.
She said the true cost of corruption was "probably much higher" than 120bn.
Three-quarters of Europeans surveyed for the Commission study said that corruption was widespread, and more than half said the level had increased.
"The extent of the problem in Europe is breathtaking, although Sweden is among the countries with the least problems," Ms Malmstroem wrote in Sweden's Goeteborgs-Posten daily.
The cost to the EU economy is equivalent to the bloc's annual budget.
For the report the Commission engaged independent consultants who studied corruption in all 28 EU member states. The Commission says it is the first time it has done such a survey.
National governments, rather than EU agencies are responsible for fighting corruption in the EU. Ms Malmstroem reported that national governments and the European Parliament had required the Commission to carry out the EU-wide study. The task of The Commission, she complained, is to draft EU laws and enforces compliance with EU treaties.
Though Britain had the lowest reported rate of corruption, with less than one per cent of businesses and organisations that had dealings with the EU complaining of requests for bribes, kickbacks and 'hospitality' in some countries there was a relatively high number reporting personal experience of bribery in return for business.
In Croatia, the Czech Republic, Lithuania, Bulgaria, Romania and Greece, between 6% and 29% of respondents said they had been asked for a bribe, or had been expected to pay one, in the past 12 months. There were also high levels of corruption in Poland (15%), Slovakia (14%) and Hungary (13%), where the most prevalent instances were in healthcare. Malmstrom said corruption was eroding trust in democracy and draining resources from the legal economy.
"The political commitment to tackle corruption and fraud seems to be missing," she complained.
The EU has an anti-fraud agency, OLAF (O, laugh?), which is focused on dealing with fraud and corruption affecting the EU budget. Unlike Europol, OLAF has limited resources. In 2011 its budget was just 23.5m euros.
The Commission highlighted that the areas of Public procurement (public bodies buying goods and services)hich w forms about one-fifth of the EU's total output (GDP) and is vulnerable to corruption. Better controls and integrity standards are needed but as the EU Commissioners, in their eagerness to build a pan - European bureaucratic empire, have enrolled into the club several nations notorious for their gangster culture, one would expect little improvement in the foreseeable future.
The EU study includes two major opinion polls conducted by Eurobarometer, the Commission's in - house polling service. Four in ten of the businesses surveyed described corruption as an obstacle to doing business in Europe. Sweden "is undoubtedly one of the countries with the least problems with corruption, and other EU countries should learn from Sweden's solutions for dealing with the problem", Ms Malmstrom said, pointing to laws on transparency and openness. In itself that is an illustration of the naivete and unworldliness of the people who run the EU. Since when did passing new laws stop criminals doing as they wished.
Organised crime groups have sophisticated networks across Europe and the EU police agency Europol says there are at least 3,000 of them.
Bulgaria, Romania and Italy are particular hotspots for organised crime gangs in the EU, but white-collar crimes like bribery and VAT (sales tax) fraud plague many EU countries. Last year Europol director Rob Wainwright said VAT fraud in the carbon credits market had cost the EU about 5bn euros.
Malmstrom's report has generated its own controversy. Pulication was delayed for months, and some member states were critical of the European Commission for interfering in areas which they believed were none of its business. Originally, the report was also supposed to have included a chapter assessing corruption within EU institutions as well as within member states. But it will surprise few people to learn that idea was dropped.
Nevertheless the figures revealed will certainly raise some eyebrows.
The commission's estimate that corruption is costing the EU economy about 120bn euros - the size of the EU's annual budget - could well be a conservative one. Other experts believe the real figure is probably higher. Cecilia Malmstrom described the scale of the problem as breath-taking. One thing is clear though, a continent that has been mired in economic crisis for years needs to do a better job in combating corruption. The European Union is failing to take steps to tackle the "corruption" and "systemic fraud" that is rife in the bloc, Britain's pro-Brexit justice minister Dominic Raab says.
The European anti-fraud office identified £685 million to be recovered in 2014, the most recent figures available, compared with £147 in 2011.
In 2015, there were a record 1,417 fraud allegations across the European Union, according to Raab, which he labeled "systemic fraud."
A spokesperson for Transparency International tried to downplay the matter, saying the EU failing to implement the first step of the UN convention, an assessment of its anti-corruption rules and capacities was an "embarrassment rather than an issue of overwhelming significance."
The spokesperson said the NGO is not keen to be drawn into the debate over Britain's membership in the EU, insisting it is a non-political organization.
Raab accused Transparency International of being "scared of a backlash from the establishment.
"With reports of fraud at the EU soaring to record levels, British taxpayers will view this as more than just presentational embarrassment," he said.
***
Holocaust Comments Made by Her Deputy Dent Marine Le Pen's French Election Campaign Progress
Marine Le Pen's bid to emulate the Brexit and Trump shocks and in the face of adverse polling figures win election a risked a setbacks President of France received a potentially damaging blow on Friday (April 28) when her deputy, who is currently leading the Front National (FN) party leaving Le Pen to focus on her campaign was forced to step down in order to defend himself against charges that he shares the views of Holocaust deniers.
LABOUR'S SHAME: Brown's Government 'Urged' Police Not To Investigate Muslim Grooming Gangs
The Former North West Chief Prosecutor alleged that the Home Office, under Gordon Brown's Labour Government, ordered police to ignore grooming gang claims in 2008. Nazir Afzal, told the BBC that in 2008 the Home Office sent a circular email to all police forces calling on them to not investigate the sexual exploitation of young girls in towns and cities across the UK ...
Iran refuses to release black box data from crashed aircraft fuelling suspicion As we reported late last nigh (Ian has become a nocturnal creature,), the Boeing 737, a different model the 737 MAX which has been involved in two recent air disasters, a variation of the plane which has an excellent safety record, crashed over Tehran just minutes after takeoff, killing all 176 people onboard...
Is Hatred Of Greta Thunberg Justified?
As the backlash against the Greta Thunberg cult gathers momentum a lot of lefties are asking why the little Climate Warriorette is so hated by so many people. As usual with the left, they are asking the wrong question. Just as they asked, "Why can't you believe the scientists, when in fact not only is it always legitimate (and scientific,) to question and challenge scientific theory, so it is perfectly rational and logical to challenge the Cult of Saint Greta ....
Iran refuses to release black box data from crashed aircraft fuelling suspicion
As we reported late last nigh (Ian has become a nocturnal creature,), the Boeing 737, a different model the 737 MAX which has been involved in two recent air disasters, a variation of the plane which has an excellent safety record, crashed over Tehran just minutes after takeoff, killing all 176 people onboard.
US Bombers Ordered To Indian Ocean Base As Pentagon Denies Iraq Withdrawal As more than 3,000 US troops are readying to deploy to the Middle East this week following the killing of the IRGC's Quds Force General Qasem Soleimani, the Pentagon will additionally send major military hardware in the form of an additional B-52 strike force.
After U.S. Strike On Iraqi Forces Will Its Troops Have To Leave
On Friday 27 December a volley of 30 107mm Katyusha rockets hit the K1 base near Kirkuk, Iraq where Iraqi and U.S. troops are stationed. One U.S. mercenary/contractor died, two Iraqi and four U.S. soldiers were wounded. Instead of hunting down the real perpetrators, and there are plenty of suspects, - ISIS remnants, disgruntled locals, Kurds who want to regain control over Kirkuk - The Powers That Be in Washington decided that the Kata'ib Hizbullah militia group was responsible for attack.
Are Humans Causing Global Warming
When questions like this are posted on question - and - answer site Quora.com they are usually an invitation for Warmageddonists who spend a lot of time tyring to shout down any dissent from the creed of their pseudo - scientific 'faith'. This looed as if it was going to be no exception, but a look down the thread shows that the deification of Greta Thunberg has galvanised climate change sceptics to oppose the narrative.
December
After U.S. Strike On Iraqi Forces Will Its Troops Have To Leave
On Friday 27 December a volley of 30 107mm Katyusha rockets hit the K1 base near Kirkuk, Iraq where Iraqi and U.S. troops are stationed. One U.S. mercenary/contractor died, two Iraqi and four U.S. soldiers were wounded. Instead of hunting down the real perpetrators, and there are plenty of suspects, - ISIS remnants, disgruntled locals, Kurds who want to regain control over Kirkuk - The Powers That Be in Washington decided that the Kata'ib Hizbullah militia group was responsible for attack.
EU Unravels: Spain follows Poland's threat to quit EU 'No more humiliation!'
Spain has become the second country this week to claim it could ditch the EU, following a similar threat from Poland amid growing fury at the power that Brussels now holds over the governments of member-states. Right wing party Vox, is under huge pressure from rank and file supporters to back the Spanish version of the Brexit referendum, after an an ECJ (European Court of Justice) ruling last week.
191221-german-green">
German Green Party Urges Allowing 140 Million "Climate Refugees" To Migrate To West
The Green Party in Germany is currently putting forward as a policy that up to 140 million "climate refugees" should be allowed to migrate to the west and given citizenship. The question of where we would put 140 million people and what we would do with them is of course deflected. And the case that the 50 million climate refugees that were predicted tTo descend on the west, having been displaced by rising sea levels are apparently all hiding under Harry Potter's Cloak of Invisibility is ignored.
Labour Leadership Contest: Bring On The Clowns
After their crushing defeat by Boris Johnson's Conservative Party, instead of taking time to regroup and, as has been advised by serveral major figures on the centre left who stood down at the election because of the policies of far left leader Jeremy Corbyn, that they must reconnect with working class voters,the party factions are at each other's throats already while the clowns bid for the leadership.
Election 2019: Stupid Labour Leaders And Supporters Just Don't Get It
Today, as we, Labour haers all, wallow in schadenfreude after the crushing defeat that elitist party suffered in the election, we'll have to rely on outside help in the form of a brilliant article from Shirelle Jacobs in the Telegraph and an equally brillian comment from Katherine Viners - Payczech (that sounds like a made up name, but whoever she is, congratualtions to the lady for her insight and pespicacity.
But the best summing up of the reasons for Labour's failure are summed up in a comment made by a working class, former Labour voter in one of the old steel towns in the west midlands.
Climate change hoax COLLAPSES as new science finds human activity has virtually zero impact on global temperatures
We have previously highlighted this report from Finland which exposes the great flaw in "the science" of global warming. The link at the end of this extract takes you to a much more complete account of the research project which, not for the first time debunks the fake science on which the politically - motivate climate change scare.
Elderly Swedish citizens kicked out of their apartments to make room for Muslim invaders
Dozens of elderly native Swedish tenants were forced to leave their apartment homes in an area of Stockholm after the block was closed, only to be re-opened immediately and occupied by Muslim migrants to replace the former tenants. Residents at Dianagården were told they would have to leave because the toilets in the facility were 5cm too small to comply with regulations. However, soon after the 48 apartments were emptied, they were filled with newly arrived migrants.
Corbynistas resort to fascist tactics to shut down opposition
We are just learning that /Nasty, neo – Nazi supporters of the far – left, Jew hating Labour party, it's Trotskyite leader Jeremy Corbyn and his propaganda chief, the Stalinist John McDonnell, have mobbed the market hall in the small Lancashire town of Westhoughton, where Boris Johnson was due to meet voters and traders today.
Labour planned to privatise 40% of NHS as hypocrite Corbyn takes aim at Johnson
One quickly tires of Labour Party candidates and their supporters claiming the "The Wicked Conservatiovs plan to sell the NHS to private enterprise. They've been at it again throughout the current election cycle, and of course there is no more truth in the claims than there ever was before. But the lefties forget, as they glefully point at any conservatives whose heads appears over the parapet, yelling "Witches, burn them," that the Labour government, between 1997 and 2010 under the traitor and war criminal Tony Blair privatised much of the NHS.
General Strike brings France To Standstill As Nation Protests Macron Policies
Today, in response to calls by unions and activist groups for a nationwide strike, public workers across the country stayed home on Thursday, immobilizing public transit across the country as the first general strike in more than 20 years began.
The main reason for the walkout was President Emmanuel Macron's pension reforms (not unlike how a planned – then scrapped – gas tax hike sparked the giles jaunes)...
Germany sliding into 'dangerous' anti-Europe hysteria warns top economist
As Germany's economy continues to stutter one of the country's top economists has warned the country is desending into "anti-Europe hysteria" amid growing criticism in the country of the European Central Bank (ECB) and surging support for the Eurosceptic, anti - immigration AfD Party.
Salvini Accuses Leftist Govt of Giving Away Italian Sovereignty to EUMatteo Salvini leader of the hugely popular Populist League (Lega) party, which, despite having a democratic mandate, was excluded from the government of Italy by a stitch up enigineered by the Euronazi EU Commission in Brussels, has accused Giuseppe Conte the Italian prime minister apponted by the EU, of handing over Italian sovereignty to the European Union bureaucrats
November 2019
India plans to buy Russian coal, reducing dependence on US, Canada & AustraliaAs this blog reported last week, it is only the nations of the developed world that ultra – left Meanwhile the "developing economies" of the third world continue to develop their economies with energy derived from coal, oil, gas and other fossil fuels, and correspondingly increase their carbon dioxide emissions year on year, with China having already surpassed The USA and India behind those two in third place (Source: Investopedia)...
Merkel to German Parliament: We Have to Take Away your Freedom of Speech or We Won't Be Free
German Chancellor Angela Merkel delivered an emotional speech to the German Budestag this week on a subject obviously close to her heart, the need for limiting freedom of speech to suppress criticism of policies implemented by her government and the EU commission. Since the departure of Barack Obama, Merkel has set herself up as leader of the globalist and Cultural Marxist movements on the international stage.
Corbyn blames Boris and Tories for 'rise of NAZIS' in UK
Speaking during Labour's Faith and Race manifesto launch, Jezza The Jew Hater said: "What we're faced within this country, and across Europe and in the United States is a rise of the intolerant far right, the far right that can only ever seek to give out a message of division and hatred. They walk in the footsteps of the Nazis ...
Facebook Bans All Content On Vaccine Awareness
Authored by Mike Adams via NaturalNews.com,
Just as we warned would happen, the tech giants are now moving aggressively to ban all speech that contradicts whatever "official" position is decided to be "the truth" by the corrupt establishment. This week, Facebook announced it would block all content on Facebook that questions the official dogma on vaccines,
Illiberal Undemocrats Now Hate Catholics As Well As White People, Britain & Heterosexuals
authored by Paul Embery for Unherd
A political scandal broke earlier this week — though if you blinked you'd have missed it. Not so long ago, the story would have commanded column inches across the national press and extensive comment over the airwaves. Instead, however, there was next to nothing. Quite simply, the reason the story passed by virtually unnoticed is that our society has changed so fundamentally, and so quickly, that scandals of this type are just not considered major news anymore.
Clean Green Power Sucks - China Goes All Out For Coal
The lying leftie paskudnyaks clean, green, save the planet machine and the worshippers of Greta Thunberg are always eager to tell us that China is the world's biggest investor in sustainable energy and has more wind turnbines installed than any other nation on earth. It is the worst kind of lie because it is true, but only tells half the story. And sometimes being told half the story creates completely the wrong impression in the mind of the audience.
How Can People Take Climate Change Scaremongering Seriously When It has So Obvoisly Become A Political Football
Questioning Climate Change has become one of the heresies The Science Inquisition are trying to eradicate. The Inquisitors accuse conservatives, liberatarians and free thinkers of spreading righ wing propaganda in support of the global capitalist agenda. The quasi - religious aspect of The Science Inquisition does not toterate questioning of its dogma or creed, and unfortunately these people have the ear of governments ...
Left-Wing Journalist on Sweden's Migrant Suburbs: "Everyone Knew it Would End in Disaster" ...A well known left-wing journalist in Sweden who has been one of the biggest advocates of uncontrolled mas immigration appears to have performed a U turn on the issue, or is at least endeacouring to achieve the impossible feat of riding two horses with one arse. Aftonbladet's Lena Mellin is now admitting that when it came to Sweden's crime-ridden no-go areas, "everyone knew it [the open doors immigrstion policy] would end in disaster."
Research Shows Google's Search Manipulations Tried To Rig Election For Hillary
American Stupid: Hillary Clinton Says Male Leaders Scared of Greta Thunberg
It's coming up to election time again in the USA and sure enought some idiot over the pond has allowed a drop of blood to fall on the desiccated lips of Hillary Clinton and the leader of the Democratic Party undead faction has reanimated to ensure the debate, on the Democrat side at least, never risis above the level of stupid set in 2016 when Hillary famously lost to Donad Trump.
Undercover With The Clerics - Iran's Secret Sex Trade
I caught a few minutes of a BBC2 documentary last night while looking for the news headlines before going to bed. It was about Iraq's secret sex trade and what I was watching was Iraqi clerics talking about how Sharia Law justifies sex with children. One guy told how for the equivalent of £200 he arranged a "pleasure marriage" (a temporary marriage,) between a thirtyish man and a 9 year old girl.
In October 2019 Greenteeth and The Daily Stirrer scaled back operations due to the death of Teresa, wife of our owner, editor and chief contributor
September 2019
Migrant who made 11-year-old pregnant twice sentenced to only three years

>An adult migrant has been sentenced by a Swedish court to a mere three years prison time for repeatedly raping an 11-year-old girl and twice making her pregnant. In addition to the three-year prison sentence, the Swedish court also ruled that the migrant would be deported but would be able to return to Sweden after 10 years.
Hate is 80% of Left Wing Politics
Since my days as a candidate for the old Liberal Party in local and county council elections I have been struck by the hatred and loathing shown by candidates of left wing parties for anyone who opposes them. This 'politics of hate' trend started in the USA, now considered a county so politically polarised civil war is inevitable, but has become an integrat part of UK and European politics
Sane Democrats See Little To Gain From Impeaching Trump, Fear It Will Backfire
In an opinion poll commissioned by Reuters a majority of US Democrat voters say they fear that the latest m,ove to impeach President Trump over the Biden-Ukraine scandal will backfire, giving him a boost into the 2020 US election. One has to wonder about an epidemic of dementia among leading Democrats who have forgotten that only a few weeks ago
Parliament's Problem With Brexit
The verdict of the Supreme Court, that Boris Johnson's suspension of parliament, NOT for the purpose of stopping pro EU factions from preventing the UK having a no strings break from the EU as a (long overdue) result of the 2016 referendum, and it's result which surprised the elites and the citizens of our recently renamed capital city Wankeristan, has divided the country even more deeply than the brexit vote itself.
Breaking News From Planet Snowflake – Kitchen Knives To Be Banned
Church of England bishops (who else could be so far out of touch with reality?) are leading a campaign calling on the government to take a toughen up its position on on knife crime, in the wake of a massive upsurge in knife attacks and violent crime since the police were ordered to prioritise the investigation of 'hate crime' over pursuing real criminals. One of their suggestions is banning pointed kitchen knives. The suggestion has been met on social media with some confusion, and a lot of jokes.
Russia Warns Attack On Saudi Oil Plant Will Hit Fuel Prices
Following the drone attack by Yemeni rebels on a major Saudi Arabian oil processing plant, The Kremlin's warned that the loss of production from the stricken plant will destabilise oil prices worldwide. This follows statements by the European Union and the UK condemning the Houthi drone attacks on Saudi Arabia's oil facilities carried out on Saturday (14 September, 2019).
The Scottish Silliness (Brexit)
The Scottish court judgement is nothing but a cheap political stunt by a bunch of biased, SNP supporting bent lawyers aimed at giving The Mad Wee Hag Sturgeon ammunition for her next bid to make Scotland independent from the UK and thus the biggest economic basket case in Europe (if Scotland was an independent nation now they would be further up shit creek and even more bereft of paddles than Greece. .
Negative Interest Rates - Final Nail In The Coffin Of Neoliberalism? Negative interest rates, in plain terms a situation in which we pay bankers for holding our money, are the latest ruse of politicians and economists to make uis start spending our investments and savings, thus kickstarting the global economy thy have screwed up.
Pupils Shut Out Of School Because They Refuse To Wear Gender Neutral Uniforms
Overshadowed somewhat by the idiocies in Parliament this week as Remain supporting, democratically elected MPs try to overturn the democratically expressed wish of the people and keep the UK in The Fourth Reich politely known as the European Union, the idiocy of politically correct, far left authoritarianism in education goes on...
August 2019
Pepper Spray Sales In Sweden Have "Exploded" After Spate Of Rape Attacks
Following the summer's attention-grabbing spate of rapes and sexual assaults, the sales of pepper spray for self defence have increased dramatically. The Kjell & Company retail chain believes that it will sell 90 percent more sprays in August than in June. One of the manufacturers, Plegium, has announced that sales this summer have "exploded". Sweden has been shaken this summer by a series of violent rapes. The most notable of these have taken place in the University city of Uppsala ...
Transgender bullying is scaring respectable old organisations into silence
For years Katie Alcock had helped The Guide movemeny run Brownie and Girl Guide groups in her hometown, Lancaster. Then suddenly she was fired. The reason given in a statement by Girlguiding was that Dr. Alcock, had violated its policies on equality and diversity. Her offence was to suggest that science is correct and fashionable virtue signalling wrong, that people born male must be welcomed by a female-only organisation and, for instance, share tents or bathrooms with adolescent girls.
July 2019
Far Left Fascist Students Force US College To Ban Free Speech


Many people might think so, but fascism is not a political philosphy in the way that communism, socialism, liberalism or conservatism are, it is about centralised power, in fact the word derives from a latin word, Fasces, which is a symbol of unbreakable authority. Fascism is authoritarianism, and politics of right or left can be authoritarian. In this article, from National Interest blog an example of the fascism of left wind students is presented:

Court Overturns Fine Imposed By Biased Electoral Commission On Brexit Supporter.
A large fine imposed by a kangaroo court under the auspices of the UK's democracy watchdog (allegedly,) The Electoral Commission, on a young, working-class Brexit campaign organiser, Darren Grimes, has been overturned in the law courts. The case, which many Remain campaigners have used in their efforts to discredit and overturn the result of the 2016 referendum on EU membership.

To Boldly Go – The Infinte Insanity Of The 'Progressive Left'
As the world celebrates fifty years since the moon landings, and the conspiracy theorists celebrate the biggest hoax ever (before climate change,) the progressive left in the USA have found cause to take offence at one of humanity's greatest achievements / one of the deep state's biggest psyops (delete as appropriate) …Left attacks sexist, racist moon landings.

Brexit Party MEP blasts 'Pointless' European Parliament As A Charade
U.K. businessman and newly elected Member of the European Parliament (MEP) blasted the whole setup as an undemocratic charade only days after being sworn in. The Brexit Party MEP attacked the European Parliament and asked whether it was fair to say the EU is a democratic institution. Speaking to The Daily Express, the First Property Group CEO claimed the EU Parliament served no purpose

French police drag Yellow Vest "protesters" away from Bastille Day parade as they jeer Macron
As Mr Macron was riding by at the start of the parade, he was greeted by people in the crowds who turned their backs, booed and whistled. Before the parade, he delivered a message to the French people and said he wanted to highlight France's "irrevocable commitment to consolidate French and European security".

Volvo To Move HQ From Sweden? It's Not Because Of Brexit
Volvo CEO Hakan Samuelsson shocked his country and the EU today when he said the Swedish car company company may consider moving its headquarters elsewhere. Volvo, he said, struggles to attract foreign specialists due to the lack of public security caused by the country's soaring crime rate which is linked to mass immigration and the government's refusal to deal with so called 'no – go areas' in Swedish towns and cities.

British MEP Reveals Undemocratic EU Stitch Up Of Top Jobs
Brexit Party MEP Alexandra Phillips angrily blew the whistle on the undemocratic election process for choosing the European Parliament's highly influential Committee chairs. The Newly elected MEP claimed the Federalist bloc had organised a "stitch-up behind closed doors". Phillips said she was "astonished" by the method the European Parliament uses to elect chairs of its committees.

Zuckerberg Admits Facebook Interfered In Irish Abortion Vote
After three years of Facebook being among the most vociferous campaigners for the impeachment and removal from office of President Trump because of his camaigns alleged cooperation with the government of Russia in rigging the 2016 US election, the Social Media giant's CEO Mark Zuckerberg has at last admitted what many of us 'conspiracy theorists' suspected all along ...

List Of Alternatives To Google Products
This blog is no fan of Google as our readers know.Not only do we believe Google's origins as the brainchild of a couple of dysfunctional nerds is a myth and that the company was spawned by the US government' s DARPA (Defense Advanced Research Projects Agency) for military and civil surveillance projects, we are also sure it has fallen under the control of a bunch of Silicon Valley weirdos, who want to covertly control the world

London's Muslim Mayor Sadiq Khan Attacks Trump for LGBTQ Policies
The hypocritical little shit has obviously conveniently forgotten what his Muslim Brotherhood buddies to to homosexuals in Islamic countries, where there are no leabians of course because a woman is legally her husbands property and can only have sex when he wants it ...
June 2019
Italy Arrests Captain Of Migrant NGO Ship After Illegal Docking
Italian leader Matteo Salvini continued to se the standard for leadersd of Eurosceptic EU member states when he ordered the arrest of the captain, crew members and passengers of a ship that crashed the Italian border control agency blockade to land its cargo of illegal immigrants on the Iitalian island of Lampeduesa. The captain of the migrant transport ship Sea Watch 3 had docked at Europe's most southern port on the Italian island was arrested on Saturday following a protracted standoff ...

Macron Threatens G20 On Climate Then Backs Off
France's boy president and current climate scaremonger in chief and leading European federalist Emmanuel Macron arrived in Japan for the G-20 summit full of sound and fury, which like the stuff of Macbeth's soliloquy in Shakespeare's play turned out to signify nothing.France's boy president and current climate scaremonger in chief and leading European federalist Emmanuel Macron arrived in Japan for the G-20 summit full of sound and fury, which like the stuff of Macbeth's soliloquy in Shakespeare's play turned out to signify nothing.

Europe Prepares To Join The Currency War


Things seemed to be going to plan for the European Unon's single currecncy, The Euro, which was the biggest single step in the plan to merge member states into a single political entity. Tied to the German economic powerhouse the poorer nations could not manage their finances efficiently and soon became dependent on bailouts from the European Central Bank which were made with attached conditions suggested by Germany.


United Nations set to impose global ban on criticism of Islam
We have reported before on The United Nations (UN), a supra - national organisation made up of elitists appointed by other elitists, overreaching its mandate and trying to act as a global government, imposing policies that nobody voted for, formulated by bureaucrats that nobody voted for, for on the sovereign nations of the world.

Here's the latest example of this globalist authoritaianism and it is probably the most worrying yet for citizens of the democratic nations. The UN is planning to impose a global ban on telling the truth about Islam, because hearing the brutality of Islamic dogma described in detail upsets Muslims apparently:

The Inconvenient Truth About Driving Electric
Like most things linked to the globalist agenda, the campaign to persuade us to switch to electric cars is based on a false narrative. Electric cars are not really environment friendly (the processes involved in mining the lithium, cobalt and other rare elements required, the filthy and energy intensive processes for extracting these substances from the bedrock, and the amount of really nasty toxic shite dumped into the environment in the refining process... And in the end of all that, what you have is a car that costs twice the price, and goes half as far on a full charge as the conventional car goes on a tankful of fuel.

Another Rotherham? Forty-Four Arrests As Law Catches Up With Alleged Bradford Grooming Gang

Bradford Grooming Gang - Picture via

Politicalite

The Rotherham grooming scandal story broke in 2012 when aknown problem in the ton, that of the grooming and sexual exploitation of under - age and vulnerable girls often living in local authority care homes were targeted by organised gangs of predominantly Muslim men. These men, whose ahes ranged from early twenties to over sixty, would ply the girls with giflts and alcohol and eventually corece them into sexual activity.

Soon after being 'initiated' the girls would find themselves having to service numerous men, often having several sex partners in a single day. For many years local authority social services departments, police and local politicians turned a blind eye having been told by central government to take a soft approach to immigrant crime in order to avoid inflaming racial tensions.

Seven years later the Rotherham story is ongoing with new suspects being indentifed and charged, and similar cases though not usually on such a grand scale have emerged in most large British cities.

The latest of these is Bradford, Yorkshire, where detectives investigating the alleged grooming activity of a predominantly Muslim gang operating in West Yorkshire have arrested 44 people as part of a probe. 36 men and three women have been arrested from homes in Bradford, Leeds and across the satellite towns surrounding those two cities (collectively known as Kirklees, and other parts of West Yorkshire this month.

Minority Report on Douma attack exposes 'compromised reporting & analysis' by OPCW – MIT professor
The OPCW failed to include evidence on the Douma in its final report, so the resulting document is inherently compromised, an MIT professor said. The Organisation for the Prohibition of Chemical Weapons (OPCW) claimed that gas was dropped from the sky on the Damascus suburb. It did not directly blame on the Syrian government, however.

And They Call Brexit A Farce? EU Chaos As Leaders Fail To Agree Choices For Top Jobs …
The Council Of Europe, the political leaders of all EU member states gathered on Thursday to decide which candidates should fill several top jobs when European Commission president Jean – Claude Juncker and other senior figures step down later this yeae. They were locked in debate for the whole day but were unable to reach agreement on who will fill even one of the top positions within the EU.


... In spite of the news media's selective reporting however, another crisis is developing that could destroy the single currency and break up the 'Eurozone', the member states that adopted the Euro. Unsurprisingly it has not been reported in mainstream media, and so is not on the radar for most people. At the centre of this budding crisis is not the UK and Brexit, but Italy and its plan for a parallel currency.

Will Italy's Mini – Bot Break The Eurozone?
In spite of the news media's selective reporting however, another crisis is developing that could destroy the single currency and break up the 'Eurozone', the member states that adopted the Euro. Unsurprisingly it has not been reported in mainstream media, and so is not on the radar for most people. At the centre of this budding crisis is not the UK and Brexit, but Italy and its plan for a parallel currency.

Oxford Academics Turn On Gay BLT Propagandists For Pushing Unscientific Claims
'More than 30 Oxford academics have blasted Stonewall for pushing 'tendentious and antiscientific claims' in the trans awareness training it gives to universities according to a report in The Sunday Times (a more sensationalized version of the same story appears in The Daily Mail if you are blocked by The Times paywall). Oberlin University Fined $33 Million For Supporting Students Accusations Of Racism Against Bakery


On Thursday, Oberlin College was hit with $33 million in damages when to Ohio jurors found the school participated in protests defaming a local bakery as racist. Oberlin's vice president, Donica Thomas Varner claimed the jurors ignored "clear evidence" that Oberlin was not at fault and insisting the school was being "held liable for the independent actions of their students."

Electoral Fraud Scandal In Peterborough By – election Being Covered Up?
Thanks to Politicalite's groundbreaking exclusive coverage of the crooked Peterborough By-Election so far, the Daily Mail have picked up on our story and have revealed a fresh incident of alleged electoral fraud being investigated by the Police ...

Why Would Iran Attack Tankers In The Gulf - They Have Nothing To Gain?
I asked myself "who benefits?" on hearing that two oil tankers had been attacked and damaged, and by the time Washington, with is usual incredible alacrity had accused Iran of being responsible for the attacks I was aware of certain significant factors not mentioned in mainstream media reports. U.S. Secretary of State Mike Pompeo was quick to pin the blame for the incident on Iran, claiming that the Islamic Republic was "lashing out" in frustration over Washington's draconian sanctions regime.

Google Spends Just $20 Million A Year To Control The U.S. Government
It's unlikely that regular readers of this blog or The Daily Stirrer will have failed to notice one of our favourite games is revealing the true nature of the fascistic corporate entities that have been handed control of the internet by inept, virtue signalling, rent seeking politicians whose corruptibility is on a par with their technological illiteracy.

Why would Iran Attack Tankers In The Gulf?—?They Have nothing To Gain
... by the time Washington had accused Iran of being responsible for the attacks I was aware of certain significant factors not mentioned in mainstream media reports.Despite the lurid accusations from Washington accusing Iran of attacking the two ships and linking the latest incident to two other recent tanker attacks, drones hitting Saudi oil pumps, and a missile hitting a Saudi airport earlier this week.

Google Spends Just $20 Million A Year To Control The U.S. Government

those who hoped things might change under Donald Trump will be disappointed to learn that while the US president is making noises about curbing the power wielded in Washington DC by representatives of Silicon Valley high tech corporations, those companies are so deeply embedded in government departments that little has changed in terms of the influence the tech corporations have on government policy ...

Germany Heading For Political Instability After EU Elections? it may be premature to write off the AfD because it is entirely possible their supporters suffered a bout of apathy with regard to the European Parliament, being aware the European Commission will not allow any nationalist grouping to gain influence in the parliament, the Left made some astonishing gains at the expense of Merkel's CDU and its coalition partners the CSU and SDP. The always fragile coalition is now in even more trouble ...

Speaking Truth To Power (When power does not want to listen)
In almost every democratic nation our right of free speech is under attack. In Britain, Australia, Canada and all the main European Union member states we see harsh punishments imposed on those found guilty of 'hate speech,' laws, which protect certain minorities from any criticism, no matter how reasonable, made by people from the mainstream of society ...

Parents Banned from Protesting LGBT Lessons Outside School


It was inevitable given the lefts love of Muslims and the LGBT community that the interests of these two conflicting cultures would cause problems in left wing politics. The problem began a few months ago when a gay teacher at a mildlands junior school persuaded the mostly white, socialist governors of the school in which Muslim pupils are the majority, to let him introduce into the curriculum gay and lesbian lessons for children as young as six and seven.
May 2019
EU's Top Eurofederalist admits EU wants an empire
The leader of the Alliance of Liberals and Democrats in Europe (ALDE) told CNN that plans to reform the EU and devolve power from Brussels back to the nation-state proposed by the populist paries that have spring up in member states, and led by Matteo Salvin's Lega (League) in Italy, Marine le Pen and her Rassemblement National in France and Hungary's Victor Orban, leader of the Fidesz party would mean that the bloc "will die inside."
Little Donny Tusk The Polish Has-Been Tells Britain How To Vote.
Donald Tusk, who is the President of the European Council and was the centre-right Europhile Prime Minister of Poland from 2007 to 2014 made the remarks in support of his former Deputy Prime Minister, Anglo-Pole Jan-Vincent Rostowski who is standing as a Change UK candidate in London for Thursday's election.
The top Eurocrat released a statement Tuesday in which he told pro-remain Brits to vote for the recently founded Change UK party, which supports a second referendum as a means to keep the United Kingdom inside the European Union. POLITICO
'Black Vests' African Protestors Take Over Paris Airport
Hundreds of illegal migrants, mostly from sub - Saharan Africa occupied the Paris Charles de Gaulle airport, the main air terminal in France yesterday, preventing people from boarding their flights and demanding that President Emmanuel Macron's prime minister, Edouard Philippe met them to hear their demands. Predicably the cheese - earting - surrender - monkey government gave in to the demands of these criminal scumbags and granted them all immediate citizenship.




Billionaire Investor Erik Prince Launches Fund For Electric Car Metals
While the author of the piece I had commented on recommended his readers to get their savings invested in electric car makers (and Tesla in particular,) at a time most wise traders were short?—?selling Tesla stock. Now I'm not against electric cars in principle but I thought that was bad advice so I told readers to get into funds specialising in lithium, cobalt and rare earth metals. Then once a few fundamental problems (like the tendency of Tesla cars to spontaneously combust more frequently than Spinal Tap drummers)

Farage Shredded By Welsh Ministry Of Truth Newsman?
An obscure far – left website https://inktank.fi reported that while campaigning for the European Parliament elections in Wales, Nigel Farage was confronted by a BBC Wales reporter, Arwyn Jones, who asked him a question about Brexit, which you'd expect would be easy to answer: Farage didn't answer, how could anyone answer such a stupid question posed by an idiotic reporter working for an ogranisation tasked by The Fourth Reich's ruling bureaucracy in Brussels and their puppets in Westminster with presenting pro – EU propaganda as news ...

Election fraud allowed to take place in Muslim communities because of 'political correctness', report warns
lection fraud has been allowed to take place in Muslim communities because of "political correctness", a major report finds as it calls for unprecedented reforms to the British voting system. In a report commissioned by the Government, Sir Eric Pickles, the former Conservative Cabinet minister, today warns that the authorities are in a "state of denial" and are "turning a blind eye" to election fraud.

The Elite's Scheme to Eliminate Cash And Impose Negative Interest Rates
Politicians love inflation, it provides an easy way out of the financial mess they create, Bankers too love inflation because while they lend fiat money, the loans they issue are secured against real assets such as people's homes and valuables. However both need "the punters they fleece to have faith in the value of the currency they hold or the numbers stored in computers that increasingly represent our wealth ...

Smoke, Drink And Eat Whatever You Want: Norway's Public Health Minister


For years we have been lectured and by bansturbators, fingers wagging furiously in our faces as they tell us smoking will kill us, even looking at an alcoholic drink will destroy our livrers, a pinch of salt will cause heart attacks, strokes etc. a cream cake will make us obese, a steak or a burger will give us cancer, and driving our cars will destroy the planet. So it was a pleasure to come across a politician who believes adults can be trusted to behave sensibly and left make their own choices in life.

Fascism Spreads From Tech Corporations To Finance Sector As Mastercard Blocks Conservative Clients
Blocking payments to individuals or groups by financial service firms because of their political views impedes freedom of speech in a free society, journalist Ben Swann has told RT, following reports that MasterCard is allegedly on course to censor the far-right by blocking payments from supporters. READ MORE >>>

Facebook Steps Up Censorship in Britain, Bans Populist News Site

Facebook continues on its course to become the UK's Ministry of Truth, (the government department tasked with ensuring government propaganda can never be questioned in George Orwell's novel '1984'.) by expanding its censorship of websites US Liberals like the social media site's Mark Zuckerberg do not approve, or that question the globalist policies of Theresa May's authoritarian regime, by removing from its platform content posted by anti - EU populists and critics of Islam in Britain ...
April 2019
bYellow Vest Violence Erupts Again, 23rd Straight week Of Protests
Clashes between Gilets Jaunes (Yellow Vest) protesters and French riot police on Sturday (20 April,)during the 23rd straight week of protests across France. Police arrested 137 protesters Euro News reports.
bLiberal Democrats suspend candidate for failing to support homophobia, rape, wife beating and FGM
The Liberal Democrats, if they were honest, ought to rebrand themselves The Liberal Hypocrites. After 30 years screeching in sheer horror about the way civilised societies treat women, homosexuals, criminals, and the absolute refusal of some immigrant groups to even tolerate let alone integrate with the laws and customs of liberal democracies. In short The Liberal Hypocrites have joied those political factions that, in an orgy of virtue signalling, have placed Islam beyond honest criticism.
Extinction Rebellion - their demands are the stuuf of fairy tales
Forced off the front pages and out of broadcast news schedules by the Notre Dame fire, the Extintion Rebellion protests which brought parts of London to a standstill are nonetheless newsworthy. For one thing they show the left wing bias in British policing and the legal system. Does anyone think UKIP or For Britain could block major routes into the centre of London and only have a few of their members arrested?
PM cancels Easter break for team negotiating with Labour in a bid to STOP Farage
Former UKIP leader Nigel Farage, who s>uccessfully lobbied for a referendum on Britain's future in the EU and then led the Leave campaign to a surprising (but only to the political establishment and mainstream media,) victory launched his new Brexit Party this week to get MEPs elected in May now it appears certain that Mrs May's desperate efforts to overturn the result of the democratic vote have partially succeeded by gaining a delay in the date we actually leave.
Spain's Election Problem: Muslim population in Catalonia grew by 20% in 4 years As Spanish Nationals Are Marginalised
Catalonia has the fastest growing Muslim population in Spain – and more Islamic centres than any other region in the country. In spite of a strong separatist movement, the left has total hegemony in regional politics and the patriotic forces are being marginalised by the socialists, their elected politicians are excluded from key positions and known supporters are being fired from jobs and having trouble getting hired elsewhere, Defend Europa reports.
Farage Says New Brexit Party Will Spark "A Political Revolution" And Terrify The Tories
Nigel Farage, who led the successful Brexit campaign, warned backsliding elitist politicians on Tuesday that his brexit Party would spark a political "revolution" - a cliched line but appropriate given the mood of the country - and strike fear into the hearts of ineffectual Tories who have so far failed to deliver on the promise of the Brexit referendum if the UK is forced to contest EU Parliament elections as part of Prime Minister Theresa May's, the Sun newspaper reports ... MORE>>> .
Fury as May set to accept a one - year Brexit delay and give Corbyn more influence in exchange for his support
Prime Minister Theresa May is planning to face down Conservative Party members by staying in Downing Street as long as it takes to deliver Brexit via her dodgy deal that has been rejected three times by parliament.
Amid angry clashes at an emergency summit of EU summit in Brussels tonight, the Prime Minister looks set to agree a delay of up to a year in the UK's departure from the bloc.
Slash taxes now, French tells Macron after three-month 'great debate'
France must slash taxes now, or face ongoing civil unrest. According to the French prime minister, this is the main message from an unprecedented three-month "great debate" in the wake of anti-government "yellow vest" protests. Announcing publication of the findings from two million online contributions and 10,000 hours of town hall debates around the country, Edouard Philippe said on Monday there was "huge discontent" in the country. Astronomical levels of taxation was one of the prime concerns, alongside unemployment, immigration, and surrender of national sovereignty to the European Union.
Europe's Nationalists Unite Behind Salvini Ahead Of EU Elections
With the EU elections due in May this year expected to deliver another body blow to the dream of a Federal European superstate, Europe's more conservative nationalist parties have today announced an alliance that is aiming to become the strongest group in the European Parliament, with a view to forcing to radical reform on the EU bureaucracy in Brussels, which dictates policy on security, migration, family and the environment, according to Euro News.
Currency Wars: Former UN Under-Secretary-General Calls For One World Currency
In this page, we have covered US attempts to expolit its position as issurer of the global reserve currency, and the moves by China and Russia to resist that. Moves to establish the US$ as a true global currency began a long time ago with the creation of the International Monetary Fund at the Bretton Woods conference in the final months of World War 2, with Germany defeated and the world ready to split into capitalist and communist factions...
Harold MacMillan's EU warning revealed
Harold MacMillan, British Prime Minister from 1957 to 1963 gave us a chilling warning about the EEC – (European Economic Community) – before Britain joined the bloc, claiming that Germany had planned on using the trading bloc, as an instrument to assert its supremacy across the continent once more. On Wednesday, 3 April, 2019 The House of Commons voted in favour of legislation which forces the Government to request another extension for 'Brexit', giving our current Prime Minister Theresa May more time to show us the comtempt the ruling elite have for the principles of democracy.
Hijab wearing, Jihad supporting U.S. Congresswoman refuses to condemn stoning of gays.
Ilhan Omar (with Bernie Sanders behind thinking "I wouldn't mind giving her a taste of my pork sausage) - picture credit www.thenation.com
It had to happen, and it was always going to be great comedy value when it did. U.S Liberals were always going to face the moment when their love of Gays, Lesbians and Trannies clashed head to head with their love of terrorists and the Islamic Jihad.
When hijab wearing, Jihad supporting Muslim woman Ilhan Omar was elected to the US Congress in spite of her strongly anti - American opinions, Liberals were creaming their pants and hailing a great victory in the struggle for equality, diversity and multicultruralism. Poor fools are terminally hypocritical in their virtue signalling,
March 2019
Leaked Document Reveals Unacceptable Demands Made By EU Ahead Of Final Talks Before Brexit Deadline
A Secret document has revealed concession the EU is demanding before beginning fresh talks on Brexit ahead of the 12 april dealine. According to a memo seen by the Sunday Times, Brussels is demanding the UK must continue to pay its share of the EU budget, must implement new measures on citizens' rights, and sign a legally binding agreement to arrangements to avoid a hard border between Northern Ireland and The Republic.

Macron Isolated After More High Profile Resignations. Pressure Mounts On French President
On top of the Yellow Vests debacle, which is now destabilising France as the anti - government protests continue, a string of resignations from the tottering government of President Emmanuel Macron has prompted Gérard Larcher, leader of the French Senate to warn Macron that his authoritarian tendencies were partly to blame for the civil unrest crisis and political instability that have weakened his presidency.
EU Fines Google $1.7 Billion Over 'Abusive' Online Ad Strategies

The European Commission has imposed another huge fine of €1.49 billion, ($1.7 billion) for "abusive practices" in online advertising, accusing the search and advertising giant of breaking the EU's antitrust rules and that Google abused dominance position in Internet xsearch by preventing users from seeing search results for Google rivals ...

Bradford Abuser Gang Victim Claims Bradford, Rotherham, Rochdale Gangs 'Linked'


One of the victims of a Bradford grooming gang has told the media that most of the girls at the children's home where she was placed by local authority social workers were being sexually exploited by gangs of immigrant males. She called for a nationwide inquiry, alleging that numerous grooming and abuse gangs across the country — including the most notorious cases in Rochdale and Rotherham — are linked... They Challenge The Narrative, Shoot To Kill Men

Macron Throws Fully Armede Troops Into Action Against Yellow Vfest Protestors French soldiers will be sent into action against Yellow Vest protestors for the first time this weekend as the protests against the Macron government reach their ninetenth week. Some reports out of France suggest the military are being told to avoid protesters, while others indicate they have been given permission to open fire if the protestors threaten the lives of soldiers or police.

Thousands March to Save the Internet from EU Censorship Regulations
Tens of thousands of people have marched in cities across Germany to protest planned European Union copyright reforms that they fear will lead to online censorship. In Munich, it's claimed 40,000 people marched under the motto "save your internet." Thousands of others took part in smaller demonstrations in the German cities of Cologne, Hamburg, Hannover, Berlin and other cities against the bill that is being voted on this week.

German Alarm Grows Over EU Determination To Punish Britain For Leaving
The business community and conservative politicians in Germany are becoming more annd more hostile towards the way Brussels is trying to force the UK Parliament to accept the Brexit Withdrawal Agreement as a fundamental failure of European statecraft that can lead only to a diplomatic catastrophe and long term animosity between the EU and one of Germany's largest expot customers.

If Genetically-edited Cooking Oil Is A Scientific Breakthrough Why The Secrecy About Selling It To Us?
Manufacturers of the latest generation of genetically-altered foods, which are gene - edited rather than genetically modifies, are determined their latest attempt to sell us Frankenstein foods will not be sacrificed on the altar of public opinion as were their predecessors with introduced cuillinary delights like glysophate and neonicotinoids into our daily diet if we weren't careful abourt reading labels.

The EU Moves Closer To Creation Of Orwellian Ministry Of Truth


The European Parliament this week rubber stamped a recommendation naming Russia "the main source of disinformation in Europe" and appealed for increased funding for the EU's East StratCom Task Force, which already received 1.1 million euros in 2018. The East StratCom Task Force is an EU body focused on so-called proactive communication of EU policies and activities in the Eastern neighborhood ...

Search Engine CEO Testifies Before Senate: 'Privacy Legislation' Good for Market and Consumers
Gabriel Weinberg, founder and CEO of newish-kid-on-the-block search engine DuckDuckGo, testified in support of privacy legislation in the United States before a Senate hearing on Masrch 12 to explain how curtailing the surveilance and data mining activities of Gogle and Facebook, Amazon, Apple and Twitter would create more competition and innovation in the creation of online content.
There are sheeple who want to remain in the EU at any price, and then there are people who understand the EU

I am not sure people really are up for reading EU related documents or a whole load more people would be less excited about the EU. If people read the chequers plan and the political declaration they would know the only people who leave the EU are the financial sector. Everyone else stays in without a vote or veto for two years whilst we negotiate the long term deal...
EU Very Good for Germany, Not So Much for Everybody Else

Former Ambassador to Germany Sir Paul Lever said in an interview today that Brexit will have little real impact on the European Union (EU), which is overwhelmingly controlled by Germany. Short term he may be right, but with the German economy stalling what will prop up the Brussels cash burning machine one britain is gone?
Sheffield: 11 Men Charged in Historic Child Sexual Abuse Inquiry
Ten men from Sheffield, the UK's fourth largest city, have been charged with historic child sex offences including but not limired to rape and trafficking girls for the purpose of sexual exploitation. Another has been charged with conspiracy to pervert the course of justice.

Germany: Economy crisis a growth stalls - car production crashes
Germany's federal Government today reduced its growth forecast for the second time in two months as plunging car production figures sent shockwaves through the Eurozone. The German economy, has been propping up the economically stagnant EU for years...

'Aggressive promotion of homosexuality': School stops LGBT lessons after backlash from angry parents
It had to happen of course, the left's love of minorities inevitably led to a clash of interests when politically correct, cultural Marxist education policy led teachers in a birmingham school with a large proportion of Muslim pupils, responded 'in the interests of diversity and inclusiveness' to guidelines suggesting compulsory lessons in homosexuality and lesbianism should be taught to all pupils.

Dutch professor: "Western countries have never managed to integrate Muslims"
Dutch professor of sociology Ruud Koopmans has carried out a 20-year research project embracing several large scale studies on integration and assimilation, and at the end of it all he concludes that Muslims are more difficult to integrate than other migrant groups.

Koopmans notes that no Western country having received a significant number of Muslim immigrants has successfully managed to persuade them to integrate with local laws and culture.

Finnish "Soldiers Of Odin" Announce Hunt For Rapists & Pedos In Controversial Video
The video, subtitled in English and Arabic, has since been deleted from both Facebook and Vimeo, shows a group of masked men dressed in dark

, armed with bats and chains march towards to the camera amid winter darkness, accompanied by heavy metal music. The man at their head acts as a spokesperson and announces that "The pedophile hunting season has been opened!"
Emmanuel Macron's desperate push for further integration reminds Brexit supporters why we voted to Leave
Anyone who though in 2016 that staying in the European Union wass the status quo option will have been disabused by the intervention of Emmanuel Macron and his blueprint for the future of the \europe. The French president is increasingly derided in his homeland for his folie de grandeur; but even his compatriots must be taken aback by his Napoleonic pretensions to create a pan-European state.
Macron admits Yellow Vest chaos COULD be his fault - 'I made MISTAKES'
President Emmanuel Macron of France is trying to appear as if, after sixteen weeks of protests, he is finally acknowledging his initial handling of the yellow vest protest movement was flawed and high handed, admitting it exacerbated the unrest. The europhile president also warned against giving in to the wave of nationalism sweeping across the bloc, as he called for a "strong, united and sovereign" Europe.
Gang of Migrants Allegedly Raped Underage Italian Girls
Over the past few years we have focused on reporting the numerous incidences of immigrant sex crimes against white British girls and women, most of which, due to the warped morality of politically correct thinking that permeates all levels of government and the public sector, went largely unpunished for many years until public pressure forced the authorities to act. Migrant sex crimes, and government cover - ups of them are not exclusive to Britain of course, we have occasionally looked at similar problems in Sweden, Germany and France. And now it seems, Italian women are to be sacrificed to the gods of multiculturalism.
UPS Halts Deliveries To Swedish No Go Zone:- "Our Drivers Have Been Attacked": Though European leaders and the more sychphantic mainstream media journalists throughout Europe ans in the USA and Canada have always denied the existence, of no - go zones for Europeans, police and emergency services in migrant-dominated areas of European cities, "no go" zones remain a persistent public safety threat to white, Christian and Jewish residents and to the public in general. It has been widely reported in alternative media (but harly mentioned in mainstream print and broadcast news, that liberal Sweden has been the country worst hit by immigrant violence and lawlessness.
Merkel: EU Members Must Cede control Of Their Border |To Brussels
German Chanellor Angela Merkel sparked outrage today and pushed the EU cloers to its final disintegration when she stated that EU Member states would be forced to surrender on of their most important sovereign powers, control of their borders, to Brussels in order that the unelected bureaucrats of the European commission could 'manage' immigration (i.e. open the border crossings and let any criminally inclined bunch of fanatics enter Europe.
February 2019
Bradford Gang Of Nine Who Abused Care Home Girls Jailed For 132 Years
A gang of nine Asian men who, in a case that follows the pattern set by similar cases in Rotherham, Rochdale, Birmingham, Newcastle, Oxford, Sheffield, Blackburn, Telford and many other towns which has large Muslim populations in Britain,groomed, raped and abused two teenage girls from a care home were jailed for a total of 132 years at Bradford Crown Court yesterday.

Facebook Insider Leaks Docs; Explains "Deboosting" "Troll Report" & Political Targeting in Interview


Project Veritas is one of the last defenders of free speech and publishers of the work of unbiased undercover investigative journalism on the internet. Judicial watch working through the courts and people like myself working to bring it all to the forefront. Veritas investigators have obtained Veritas and published documents and presentation materials from a former Facebook insider.

Hungary claims, "Brussels makes confession about aim of mass migration policy"
Brussels has effective confessed that its policy of encouraging mass migration which the Hungarian government claims will increase the inflow of illegal immigratnts to the European Union do exist, Zoltan Kovacs, Hungary's state secretary for international communications and relations, said ...

UK Far Left Labour Party Splits Over Anti-Semitism and Brexit
As has been predicted for a while now, by both mainstream media and alt_news commentators, the UK's far left Labour Party which has been torn by internecine conflict since current leader Jeremy Corbyn, the long serving Trotskyite Member of Parliament. Labour, which once styled itself The People's Party now finds its core support among immigrant communities and university brainwashed media professionals, it has little need to concern itself with the white working class ...

Student Suspended from University for Calling Halal Slaughter 'Inhumane'
In an assault on our right to free speech a British student has been suspended from university for voicing the opinion that halal slaughter, prescribed by Shariah Law, is "inhumane" and also saying illegal immigrants should not be allowed to use the National Health Service (NHS) for free. The student says he cannot return unless he signs a conduct agreement and undertakes diversity training.

UK Taxman is 'ruthlessly' pursuing its own contract staff for potential six-figure bills in unpaid tax
The tax service had decided we were using the self employed status to avoid National Insurance Employers Contributions (a sanitized name for a British payroll tax,) as the self employed were not liable for this levy. By reinterpreting a law in such an extreme way it stretched words beyond any literal meaning, the taxman decided we should all set up limited companies, with ourselves as the only employee, thus making our employers, the quasi - companies, liable as our employers for the payroll tax.

Student Suspended from University for Calling Halal Slaughter 'Inhumane'
In an outrageous assasult on our right to free speech a British student has claimed he has been suspended from university for voicing the opinion that halal slaughter, prescribed by Shariah Law, is "inhumane" and also saying illegal immigrants should not be allowed to use the National Health Service (NHS) for free. The student says he has been told he cannot return unless he signs a conduct agreement and undertakes diversity training.

Right wing in Spain is booming – Expect A Shock Result In Elections


The election, which will be spain's third in under four years, is a further sign of an increasingly fragmented political scene in one of the EU's larger states, with the strength of Catalonia's independence movement, and the revival of the Basque separatist movement having been given impetus by Calalonia's progress having dominated recent debate.

Top CBS Reporter Admits "Mostly Liberal" Journalists Are Now "Political Activists"
This news story is not going to come as a surprise to our readers, but although its a US newsman blowing the whistle on mainstream media bias, things are just the same over the British side of the pond.
CBS News chief foreign affairs correspondent Lara Logan has broken ranks and admitted that journalists have lost their objectivity and become "political activists."

UK Far Left Labour Party Splits Over Anti-Semitism and Brexit
As has been predicted for a while now, the UK's far left Labour Party which has been tprn by internicine conflict since current leader Jeremy Corbyn, the long serving Trotskyite Member of Parliament for one of London's most fashionable inner city communities, became its leader. Labour, which once styled itself The People's Party is now the rich, trendy, virtue signalling party.

Facebook Negotiating Multibillion-Dollar US Fine As UK Labels "Digital Gangsters"
Facebook and its executives were labeled "digital gangsters" by a UKParliamentary inquiry into the social media giant's abuse of users privacy. The company should immediately be subject to statutory regulation the report published at the conclusion of the 18-month investigation by the Digital, Culture, Media and Sport parliamentary committee recommended ...
Navratilova reignites criticism over transgender women in sports
Tennis legend Martina Navratilova has again come under fire for comments about transgender women in sport, reiterating her belief that some of the rules currently in place are "insane and cheating," and unfair to other women.
Navratilova predictably attracted a lot of hate attacks from left wing idiots and transgender fascists back in December 2018 when she tweeted: "You can't just proclaim yourself a female and be able to compete against women.
Doctors admit vaccines are harmful and turn our immune systems against us
The World Health Organization (WHO) recently included vaccine skeptics – people who are hesitant to vaccinate themselves or their children because they are concerned about the potential health risks – on their annual along with serious dangers like superbugs, climate change, the Ebola virus, HIV and air pollution. The WHO claims that "vaccine hesitancy" increases the risk of a resurgence in diseases they claim are fully preventable through vaccination.
Spanish Socialist Budget Fails As Budget Rejected; New Elections Expected

We predicted lasat year when the socialist leader Pedto Sancjez usurped the Spanish government after the collapse of the minority government led by Mariano Rajoy collapsed, could not last. In a widely expected but destabilizing development, Spanish conservatives and pro-independence Catalonians voted to back a slate of amendments to a government budget on Wednesday by a wide margin of 191 votes out of 350,
Project Fear: NHS Stockpiling Body Bags As No Deal Brexit Looms
Those who hold democracy in contempt and will do anything they possible can, legal or otherwise, to overturn the Referendim result and keep us in the EU have just come over all Spinal Tap and turned the Project Fear fake news generator up to eleven. Ever since the reult of the 2016 Brexit referendum was anounced, the scare stories about the dire consequences of leaving the EU have broken in mainsytream news seemingly at a rathe onf one a minute.

Big Data is here, How do we protect our privacy?"

If you haven't heard of Big Data you either haven't been living on this planet or you're an ostrich and bury your head in the sand. Bid data when coupled with Artificial Intelligence can, we are told, tell us how busy the shops are long before the accountants had added up the months takings, how much metal the big warehouses are hoarding or whether office space is in high demand in a particular area.
BBC Journalist Allegedly Likens Working Class Men to 'Amazonian Cannibals'
It's always entertaining when lefties forget they are supposed to believe in equality, tolerance and diversity and show what nasty little snobs they really are. BBC political magazine show Panorama's John Sweeney is reported to have been caught referring to working-class men as being like "cannibals from Amazonia" in an undercover video released by leftie hate figure, former EDL leader Tommy Robinson.
Mother Arrested in Front of Children for Calling Trans Activist a Man
In the UK's latest and probably looniest example of politically correct fascism, police arrested a mother in the presence of her children. Her Crime? She called a male to female transexual a man on Twitter. 38-year-old Kate Scottow, told reporters she was "arrested in my home by three officers, with my ten-year-old daughter and 20-month-old son present" in comments posted to the Mumsnet online forum,
European Union Goes The Full Nine Orwells
Some years ago a bloogger we know created an award for government and corporate schemes involving misinformation, censorship or fake narratives. The Golden Orwells were given to any story revealing suppression or distortion of truth that registered on our Orwell-Huxley-Dick dystopianometer (OHD) scale, named in honour of the three twentieth century prophets of social decay ...
Germany Rejects Yazidi Asylum Seekers Fleeing Persecution By Islamic Extremists
The EU's largest nation and most powerful economy, which righteously lecturs other EU member states on the need to take refugees and asylum seekers, is taking in fewer Yazidi refugees, according to a German newspaper report. The religious minority was terrorized by the "Islamic State" during the militant group's campaign in Iraq and Syria and hundreds, possibly thousands of Yazidi women were raped and used as sex slaves by IsIS terrorists.
Germany Rejects Yazidi Asylum Seekers Fleeing Presecution By Islamic Extremists Germany, with its ruling elite of hand wringing, breast beating, teeth - gnashing, politically correct virtue signallers is showing its true colours as, in common with neighbour Sweden, a hypocritical regime that will give Muslims a free pass to rapoe and kill (because they've been persectued,) but will not act to protect minorities persecuted by extremist governments in counties run by Islamic fundamentalists. The EU's largest nation and most powerful economy, which righteously lecturing other EU member states on the need to take refugees and asylum seekers, is taking in fewer and fewer Yazidi refugees, according to a German newspaper report.
Fiat News Threat To Truth
Exposing The False Virtue Of Fact-Check Journalism
Hot on the tail of Fake News, we now have fiat news, which is nothing to do with an Italian car maker whose name is an acronym for Fix It Again Tony. This new type of unrelibable news is news which broadly cheapens the credibility of media by presenting opinion as fact. It debases information in the same way that a capricious tyrant might debase a currency. It tells you how to think.
'Special place in hell' for Brexiteers, says Donald Tusk
Though he is despised in his own country for the way he sold out to the EU, former Polish leader Donald Tusk released an astounding attack on Theresa May as she toured Northern Ireland. Tusk held nothing back on Wednesday when commenting on Brexit. Tusk tweeted: "I've been wondering what that special place in hell looks like, for those who promoted #Brexit, without even a plan how to carry it out safely."
Google Paid More In EU Fines Than Taxes Last Year; Whines About New Privacy Laws One of today's more amusing news items revealed Google paid more in European fines than in taxes on their corporate profits, according to the firm's fourth-quarter earnings report. Google parent Alphabet reported Q4 revenues for the search engine operator of $39.28 billion, up 22%, while revenues for the year were up 23% to $136.8 billion. Taxes in Q4 were $4.2 billion.
The Full Nine Orwells
How The EU Abandoned The Concept Of Truth
Though we were forwarned of what was to come, the EU has now launched its Action Plan against Disinformation. Based on the ideas of French boy president Emmanuel Macron, the plan's purpose, is apparently to "protect its democratic systems and public debates from disinformation ahead of the 2019 European elections. And M. Macron, with the backing of the EU, intends to spread the authoritarian EU's propaganda the incontrovertible truths that there is no dissatisfaction with EU policy except in Britain and Italy ... and Hungary ...... and Poland and ...,
Fiat News Threat To Truth
Exposing The False Virtue Of Fact-Check Journalism Hot on the tail of Fake News, we now have fiat news, which is nothing to do with an Italian car maker whose name is an acronym for Fix It Again Tony. This new type of unrelibable news broadly cheapens the credibility of media by presenting opinion as fact. There is a certain type of fiat news, however, which should be denounced where it rears its head ...
Google Paid More In EU Fines Than Taxes Last Year; Whines About New Privacy Laws
One of today's more amusing news items revealed Google paid more in European fines than in taxes on their corporate profits, according to the firm's fourth-quarter earnings report. Holding company Alphabet of which Google is a subsidiary, reported Q4 revenues for the search engine operator of 39.28 billion, up 22%, while revenues for the year were up 23% to $136.8 billion. Taxes in Q4 were $4.2 billion.
'Special place in hell' for Brexiteers, says Donald Tusk

Though he is despised in his own country for the way he sold out to the EU, former Polish leader Donald Tusk, now EU Council President, released an astounding attack on Theresa May as she toured Northern Ireland. His comments were condemned by the unionist DUP party, which wants to nix the only thing the EU and UK agree on.
January 2019
US Democrats Supernut Proposes Green - Politically Correct New Deal
Alexandria Ocasdio - Cortez is a truly wonderous human being. The newly inaugurated congress woman for a New York district manages to simultaneously sit on every green or politically correct bandwagon currently rolling even though, like the rest of us, she only has one arse. In her latest delusional outburst this darling of brain - fried millennials claims to have formulated a way to fix environmental problems and abolish racism. And it only involves spending $$$ a few trillion.
Latests EU Attack On Italy's Salvini Shows The Elite Are Scared
A court in Sicily has allowed proceedings against Italian Eurosceptic leader of The League and all-around pain-in-the-arse for The Davos Crowd, Matteo Salvini. In what must be one of the most ludicrous EU efforts to silence nationalist leaders ahead of elections to the European Parliament, judges ruled Salvini should stand trial for the charge of kidnapping migrants held on boats off Italy's shores.
The Finns fight back – after multiple cases of child rape Soldiers of Odin patrol the streets of Oulu
In response to government failure to deal with rising numbers of rapes and assaults on Finnish children by immigrant men, a vigilante group Soldiers of Odin has started patrolling streets the streets and public places in Oulu, the most northerly city in the world outside Russia, in response to multiple cases of rape and sexual assault committed against Finnish children by immigrant men
Week 11 Of Yellow Vests unrest keeps pressure on Macron
France's yellow vest protesters hit the streets again last weekend. It's reported that numbers were up, not only in Paris but also in many provcincial centres where protests took place. This keeps pressure on President Macron, who can only rant about divisions in the movement as if they are an organised political force rather than a spontaneous expression of outrage by random groups of citizens.
a href="http://www.greenteethmm.com/climate-lies-composite.shtml#190828-davos">Davos Doomsday Despair

Speaking at the World Economic Forum last week, UN chief Antonio Guterres warned that the world is "losing the race" on climate change as he demanded that governments make bolder commitments beyond the Paris accord. "Climate change is the defining issue of our time", he told an audience at the annual WEF jolly for the super rich in Davos, Switzerland ...
Most Absurd Brexit Claim Ever: "30-Year Recession, Worse Than 1930s
Writing in that repository of all left wing and globalist idiocies The Guardian, writer Amelia Hill makes the nonsensical assertion UK cannot simply trade on WTO terms after no-deal Brexit, offering only the opinions of left wing and globalist 'experts' in support of her case. Here's a sample ...
Friendly fraud: Facebook Encouraged Kids To Spend Fortunes On Online Games
May Nearing A Brexit Deal Breakthrough? The UK Parliament is rumoured in some quarters to be nearing a breakthrough in negotiations that will enable an altered version of Prime Minister Theresa May's sellout deal with the European Union to be accepted by elected representatives. It is thought a proposal by Graham Brady, leader of the Conservative rank and file (back benchers) which would throw out the hated 'Irish backstop'
Mad Mac Macron attacks Brexit, Threatens Yellow Vests
The UK's Leave vote in the Brexit refererndum was caused by misplaced "anger" and foreign disinformation, a raving mad Emmanuel Macron told French audiences, warning critics of his globalist, authoritarian regime in France to beware "people who manipulate you with miracle ideas". Hang on! Wasn't Mad Mac elected on the strength of 'miralcle ideas' less than two years ago?

Sweden Appoints Anti-Semitic Hippie Lunatic as Cultural Minister in New Government
After months of negotiations, the Socialist Democrats have formed a coalition government together with the Green party. And the catastropic result of that for the people of Sweden is the appointment of Amanda Lind as Culture Secretary. Only hours after being appointed she plunged into controversy, praising amongst others Mehmet Kaplan, calling him a "pioneer" and "hero". Kaplan is an Islamic extremist with known links to The Muslim Brotherhood ...

College Teaches Ed. Students How To "Combat Toxic Masculinity"


Students at Lewis and Clark College's Graduate School of Education (a teacher training college,) will be able from spring 2019 to enrol on a course that will teach them to recognise and deal with toxic masculinity in the classroom. Participants who complete the course will have "a lesson plan based on an idea or strategy presented during sessions, and will return to their classrooms with strategies to combat toxic masculinity."

Facebook Slides After Report Claims 50% Of Its Users Are Fake
As it is Burns day we think the words of Scotland's national poet serve pereftly as a warning to Silicon Valley nerds with world domination ambitions: "The best lain schemes o' mice and men gang aft agley."
One such world domination wannabe for whom things have gang agely in the past year is Facebook supremo Mark Zuckerberg. But as badly as things have gone for Facebook since the Cambridge Analytica data privacy scandal broke one year ago, in conformation of Murphy's law ("No matter how bad things are thery can always get worse," a new report froma team of researchers, led by a former coleague of Mark Zuckerberg at Harvard who helped Zuck create one of the original Facebook prototypes, suggests the reality of the company's circumstances is even more dire than investors realize.

No Deal, No Problem: World Runs On WTO Rules These Days - OECD Chief
As the deadlock in the UK Paliament over Brexit continues and the political establishment mainstream media panic over the prospect of the UK leaving the EU with no trade deal, José Ángel Gurría Treviño, Secretary-General of the Organisation for Economic Co-operation and Development (OECD), has confirmed that the world's advanced economies are "absolutely" able to cope with a No Deal Brexit, and that the OECD would help the United Kingdom to make it happen in "the most seamless possible way".

Davos 2019: As 1500 Private Jests Descend On The Small Swiss Resort, Climate Change Is High On The World Economic Forum Agenda
Every year leading figures from business, politics and entertainment gather at the World Economic Forum to discuss the world's most pressing problems. This year's theme is "Globalization 4.0: Shaping a Global Architecture in the the Fourth Industrial Revolution". The summit is a meeting of the global influencers from politics to business, culture and the media. During the week these elite will meet and discuss a range of topics, including the economy, climate change and international relations. Teenage Girl Felt Like 'Just A Toy To Mess About With', Court Told


A teenager who was groomed to have sex with a group of Muslim men told a jury in Bradgord Crown Court the abuse made her feel was "just a toy to mess with." Now in her mid-twenties, the woman told the Court she turned to alcohol and cocaine and started self - harming as coping mechanisms. She was coerced into having sex with the men in turn after they began arriving at her house when she was 16, she alleged.

Yellow Vests Protest Merkel-Macron Plan To Integrate Defence, Foreign Policy


The left wing wankerati will not doubt be screaming about racism and xenophobia when they learn of the latest exploits of the German Yellow Vest movement who were out protesting against the latest step Hausfrau - Volksfuhrer Merkel and The Boy Macron have taken towards politically integrating Germany and France, on which Original Boggart Blog and The Daily Stirrer have been following developments ...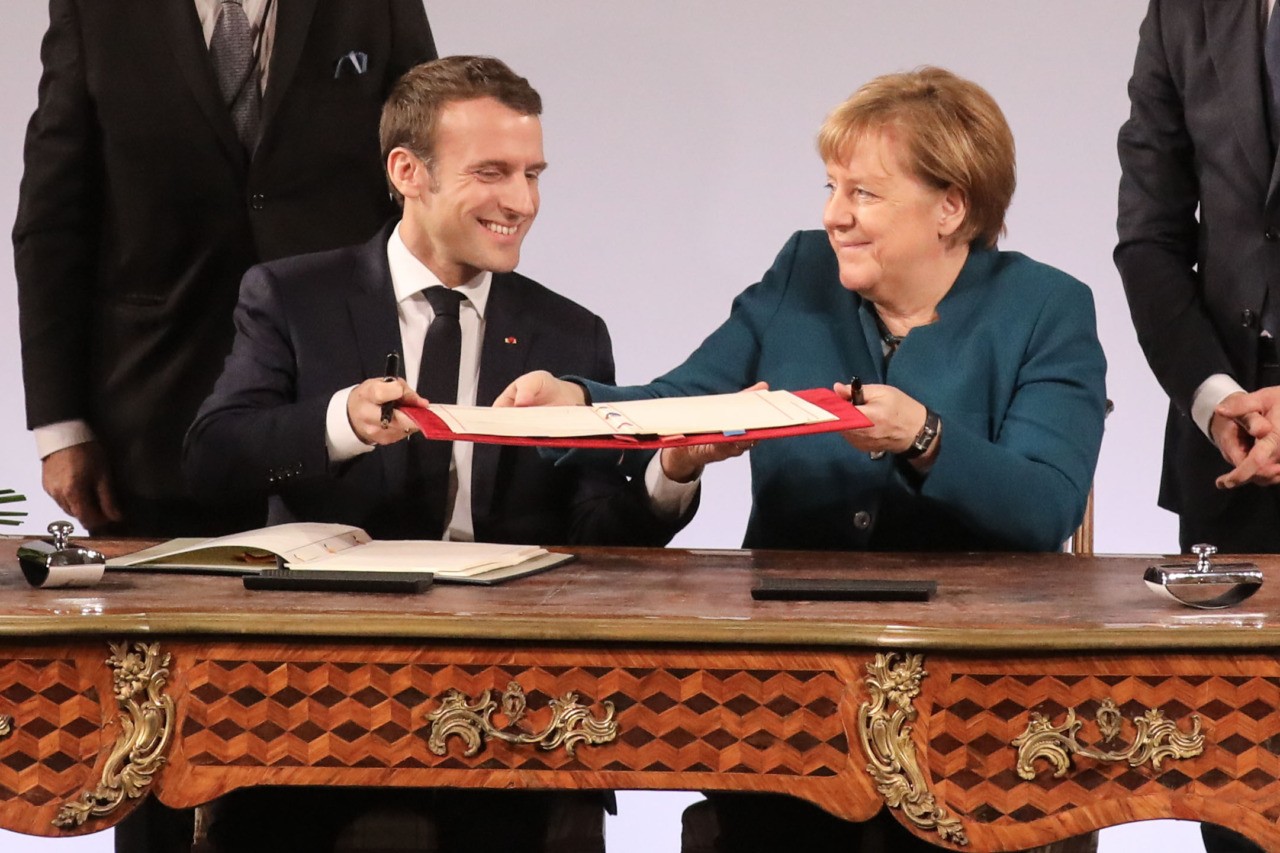 French President Emmanuel Macron and German Chancellor Angela Merkel exchange the French-German friendship treaty during the signing ceremony, on January 22, 2019 in the town hall of Aachen, western Germany. (Photo by LUDOVIC MARIN/AFP/Getty Images)

The left wing wankerati will not doubt be screaming about racism and xenophobia when they learn of the latest exploits of the Yellow vest movement. This time it is the German branch of the movement who were out in the streets protesting against the latest step Hausfrau - Volksfuhrer Merkel and The Boy Macron have taken towards politically integrating Germany and France, a plot not mentioned by mainstream media but on which Original Boggart Blog and The Daily Stirrer have been following developments

The Yellow Vests, Deplorables and Gammons Are Here To Stay


The Gilets Jaunes (yellow vest)movement, which began as a Facebook group for dissatisfied French drivers almost a year ago and since the Macron government proposed a hike in fuel taxes for petrol and diesel cars spakred the first street protests, has mushroomed into a people's rebellion against globalism and corporatism. It has worried the French establishment and succeeded in forcing the usually arrogant and imperious President Macron into offering what globalist fellow travellers in mainstream media call major concessions from the government,

The Davosocracy Gang Gather As Globalism Goes Into Retreat Worldwide

As is usual at this point in January the world's financial and political elite are assembling in the Davos - Kloisters ski resort in the Swiss Alps for the World Economic Forum. These people, who have travelled by private jet, often half way round the wold to get to the jolly, their vision of ever-closer commercial and political ties, i.e. a totalitarian world government made up of appointees from the political, business and academic elite...
'Yellow Vests' Protests Becoming A Revolution - 10th Weekend of Civil Unrest in France
Yellow vest demonstrators gathered in the French capital on Saturday for the 10th consecutive weekend of anti-government protests titled "Act 10". Protesters filled the streets of Paris and other cities in France, with thousands of police standing guard. Earlier, President Emmanuel Macron launched his "national debates" on the crisis.
Liberal News SiteBuzzFeed Pillorioed On Social Media After Fake News 'bombshell' on Mueller & Trump
Since Trump's vicory in the 2016 election wild accusations that he collaborated with the Russian government have been flung about none of which have been supported by a shred of credible evidence. This week the strongly liberal buzzfeed online news site ran a story that Trump ordered his lawyer to lie to Congress, left leaning media went into meltdown ...
Google Staff Outrage When Boss Uses The Word Family - It's sexist, HomophobiC and Offensive
A Google executive has 'trigggered' many of the fragile snowflakes employed by the wannabe World Domination Corp. by using the word "family" in a weekly, corporate presentation, according to internal documents leaked to The Daily Caller News Foundation (DCNF).Many employees became angry when the word was used while discussing a product marketed to children, because it implied that families have children, the documents reveal.
Furious Yellow Vest protestors Clash with police ahead of Macron's summit with Mayors
France's crisis surrounding the presidency of Emmanuel Macron's and his elitist style of governing continued to escalate today as poll showed Marcon's approval ratings plummeting to new lows and protestors staging angry demonstrations across the country. The so called Gilets Jaunes (yellow vests) protests which started in November have previously been confined to weekends but are now starting to take place throughout the week.
Brexit Is Now About More Than Leaving The EU
Until now we have not posted anything in the past few days on Brexit. Our position is well know to our readers, let's face it, the saturation coverage left nothing new to be said. The whole thing is a craptangle, but it was obvious from when the Conservative Party engineered a situation in which Theresa May was left as the only candidate for the leadership that there could be no other outcome.

Asia Bibi Case Shows UK Government Loves Extremists, Bans Those Persecuted By Extremism
In November 2018 it was reported by mainstream media that the Pakistani Christian mother of five, Asia Bibi (aslo called Ayissa Noreen), imprisoned and sentenced to death by a Muslim court in Pakistan for drinking from a cup used by Muslim women, after having her sentence commuted, was released to live in a fundamentalist Muslim community. Though fearing for her own life and the lives of her children Asia was not offered political asylum by the British government

Sweden to end months without a government
Since the inconclusive election in September 2018, in an example of the pro EU, globalist political establishment showing contempt for the democratically expressed wishes of the people, Sweden has been without an effective government as establishment parties, supported by mainstream media and the EU conspired to deny the Eurosceptic Sweden Democrats the share of power they had earned at the election...

55 Men Arrested over Alleged Child Sex Abuse in Bradford Area, England


West Yorkshire Police have arrested 55 men in connection with alleged historic child sexual abuse. Detectives investigating allegations grooming and sexual abuse of under age girls and vulnerable young women in the Kirklees region of Yorkshire have arrested 55 men as part of an ongoing investigation. Arrests in the case began back in November 2018, but details have only just ben released. The individuals were arrested from addresses in West Yorkshire Police revealed today.

First Swedish Yellow Vest Protest -Female speaker: "Put feminism on hold for 10-20 years"
A Demonstration held in central Stockholm last weekrnd was the first major event in Sweden to feature Yellow Vests. There have been previous small protests by groups of people wearing the symbolic yellow vests but the weekend's even represents an escalation in support of the movement. This time, people gathered at Norrmalmstorg to show their dissatisfaction with how Sweden is governed.

LITTLE ISTANBUL: Turkish Muslims have made Germans feel like foreigners in their own country When Turks buy a building, they don't allow any German people to move in. The next thing you know, there is a mosque and soon the whole neighborhood has become a 'NO GO Zone' for non-Muslims.

Globalisation, The Davosocracy and the Pushback
French writer and political philosopher Renaud Camus, who found fame (or notoriety perhaps,) as the first academic to propose the theory of the "Great Replacement (link goes to French language video)," aired his thoughts to news reporters about the wave of riots and civil unrest that has rocked France over the past two months, giving his opinion that the recent "Yellow Vest" protests are a grassroots reaction against the Davos elite who view working people as worthless "human Nutella."

Globalisation, The Davocracy and the Pushback
French writer and political philosopher Renaud Camus, who was the first academic to propose the theory of the ">Great Replacement " aired his thoughts about the wave of riots and civil unrest that has rocked France over the past two months, saying the recent "Yellow Vest" protests are a grassroots reaction against the Davos elite who view working people as worthless "human Nutella."

UK academic says Integrity Initiative fatally hurt by leaks
The Integrity Initiative, a UK based NGO set up to combat fake news by spreading the fake news governments want us to see is in trouble, in fact some of its critics say it is so damaged by leaks revealing the organisation dismissed true reports as misinformation and promoted goverment favourable narratives which were fabricated to divert and distract attention from those organisations trying to report events with integrity ...

Macron May Trigger EU Wide Crisis With Yellow Vest Crackdown
With no sign of an end to their protests, the Yellow Vest movement looks to have created the perfect storm of economic, political and social problems for political novice turned national leader, President Emmanuel Macron [ ... ] Ignoring the problem made him look weak. All he can do to get himself out of the situation is forget his globalist handlers, put France first, resign and step aside for new elections,

'Hate Speech' Convictions In Sweden Soar Tenfold As Government Cracks Down On Critics Of It's Loonytoons Migration Policy
Swede Tomas Åberg, who leads online hate speech monitoring vigilante monitoring "Näthatsgranskaren" w tax funds hich is funded by taxpayers money to carry out the task it's self - righteous supporters appointed themselves for, that of mass reporting European Swedes who write critical coments about mass immigration and its damaging effects on society on Facebook and other social media sites.

Google is the enemy and must be destroyed, or freedom dies forever
"Don't be evil," the corporate motto read in the early days, although that has now been dropped because it became something of an embarrassment when people worked out it was incomplete, the full version read, "Don't be evil, that's our job."The Google empire is anything but a force for good ...

Organizer Of Macron's 'Grand Debate' With Yellow Vests Is One Of His Elitist cronies
Macron's plan for a nationwide public debate, seeking on the Gilets Jaunes protests, got off to a start typical of the Marcon administration's bumbling incompetence. As arrangements were made for launching the campaign, which promised to give the people a voice, the spotlight immediately fell on to the extravagant salary being paid to the government official responsible for organizing it.

Prominent Hedge Fund Manager Sees Dollar Losing Reserve Currency Status
While the liberal democracies, having allowed Cultural Marxists to infiltrate government at every level and implement socially and economically disruptive policies Ray Dalio, founder of Bridgewater, the world's biggest Hedge Fund believes now is a good time to reflect on China's progress towards its goal of replacing the USA as the world's most powerful nation.

UK Government Loves Extremists, bans Opponents Of Extremism
If it sometimes seems possible to the causual obsrver that the UK government has greater committment to Islam than to serving the interests of Christian and secular people who make up the vast majority of the population, it will seem blatantly obvious after you have read this article.

After Triggering Mass Migration Crisis, Germany Bribing Foreigners To Leave
Though Angela Merkel clings to power the effects of her 'open doors' immigration policy damage Germany. It may amuse nationalists to observe as, with one face the pledges support for a United Nations initiative to open all national borders, while with the other she tries to persuade German voters she has listened to public opinion and understands her mass immigration policy is abhorred by a majority of voters ...

De — Dollarisation: More Nations backing Away From The US$
In a year which saw the global geopolitical spiralling back towards cold war polarisation, with the weaponisation of currencies, the global community is dividing into two camps, those nations that still support using the US$, and those that favour the new methods of settling accounts through technological payment systems that need no reserve curencies, only a few trusted currencies.

Japanese researchers develop a prototype humandroid to replace human labourers
There's no doubt about it, scientidts are a creepy - weird, dangerously obsessive bunch of wankers. They would rather be machines than people. But to stop them feeling like emotionally crippled losers because of their machine - like behaviour, they want to replace all the rest of us with machines. Now I can understand why scientists want to develop sex robots ...

Is The UK Foolish To Leave The EU

This question, worded slightly differently, comes up innumerable times in comment or Q & A threads on websites. Here's a near pefect answer from a fellow warrior for liberty and opponent of Euronaziism, Barney Lane: Is Brexit a foolish idea? Brexit means Britain is in the EU but is now leaving it. Which part is foolish, the being in part or the leaving part?

Leaked Documents Reveal Facebook's Biased, Convoluted Censorship Policies
Since the phrase 'fake news' entered the vernacular, Facebook has employed thousands of human moderators to identify what is and is not acceptable content to be posted on the censorious social media website, not to replace the 'Artificial Intelligence' automated moderation system but to make the judgements 'Artificial Intelligence' cannot

The Importance Of Freedom Of Speech and Information
Politically Correct attitudes try to dictate to us how we should behave towards each other with the emphasis on not saying anything likely to cause offence (sic),which seriously inhibits our right to express opinions. Well let's be straight, what doesn't kill us makes us stronger and hurt feelings never killed anybody.

Yellow Vests Don't Take Christmas Vacations
For the seventh weekend in succession protestors in Yellow Vests (the Gilets Jaunes) have been out in the streets of Paris, making a public spectacle of their disillusionment with the elists government of President Emmanuel Macron. In spite of Chrstmas celebreations the yellow vests continued their bid to forece the resignation of Macron.
Security Expert: Sweden is "On the Way to Civil War"

International security consultant Olle Fjordgren has issued a stark warning that his native Sweden is "on the way to civil war" as a result of the problems caused by mass immigration, a soft justice system that often seems to blame victims of crime as much as the prepetrators, and inability to tackle lawlessness among immigrants in the country's expanding "no go zones" where crime is rampant.
Sweden: Authorities cancel traditional Christmas concerts, promote Islamic events
Sweden's, and perhaps the world's largest outdoor Christmas concert "Oh Holy Night", which traditionally airs on Christmas Eve each year, has been cancelled, SVT news reports. This is most likely part the Swedish governmenmt's policy of suppressing European traditions in order not to offend migrants, Muslim extremists, who steal, rape and murder in the knowledge that courts will be lenient because "asking immigrant to obey Swedish law is racist ...
Extremist Muslim Group Influence Government Report On IslamophobiaControversial Muslim activist group MEND, which has ben involved in promoting extremism as well as lobbying the government in support of further Islamification of british institutions, has "exerted decisive intellectual influence" in the government's first report from a think tank looking at Islamophobia in Britain, according to a research note.
Media's hyping of Russia threat a 'grotesque absurdity' says veteran investigative reporter John Pilger
Investigative journalist John Pilger has called out the "grotesque absurdity" of those in the Western media who hype the so-called threats from Russia and China to Cold War levels, in an interview with RT's Going Underground.
Rape Gang Found Guilty of Sexually Abusing Oxford School Girl
Following on from a previous report on this page, about an Oxford grooming gang that lured young girls to their "shag wagon", three men have been now been found guilty of historic sexual offences against an Oxford school girl who was groomed and raped from the age of 14.
UN Migration Pact: Which Governments Are Prepared To Sell Out Their People?
The United Nation's Global Compact for migration since being discussed and adopted by leaders and opinion makers from around the world at the Marrakech conference in Morocco this month, it has had a very divisive effect around the world from both the public and their respective governments as wannabe global government The United Nations Organisation seeks to make migration a human right
"Britain's political class could see a revolution like they've never seen before," yellow vests UK warn
Yellow Vest movement hits UKThe Yellow Vest movement, which started in france and has spread to The Netherlands, Belgium, Austria and Spain is not on course to end anytime soon, with British activists taking to the streets of London last Friday. They donned the appropriate hi vis waistcoats and blocked traffic on Westminster Bridge, one of the main rover crossings in London, chanting pro-Brexit slogans.
Yellow Vests Week 5 And Bare Breasted Mariannes
After France's Yellow Vests rebellion turned violent last week during the fourth week of protest against the government of Emmanuel Macron, this weekend's protests (week 5) saw a further escalation in the protesters anger against the government, which they claim is for the rich and foreign nations rather than the people of France. Well as this news site has always said, that is what globalism is all about.
Bare-Breasted 'Mariannes' Confront Macron's Riot Police Thugs As Yellow Vests Second French Revolution Gathers Momentum
After France's rebellion of the Yellow Vests protest against the globalist, elitist government of Emmanuel Macronturned violent last week this weekend's protests (week 5) saw a further escalation in the anger against the government, which they claim is for the rich and foreign nations rather than the people of France. Again vast number of police, around 70,000 according to unofficial reports, have been mobilized across France in an effort to suppress the protesters,
Bare-Breasted 'Mariannes' Confront Macron's Riot Police Thugs As Yellow Vests Second French Revolution Gathers Momentum
After France's rebellion of the Yellow Vests turned violent last week during the fourth wek of protest against the globalist, elitist govertnment of Emmanuel Macron, this weekend's protests (week 5) saw a futher escalation in the protesters anger against the government, which they claim is a government for the rich and for foreign nations rather than the people of France. Well as this news site has always said, that is what globalism is all about.
The Truth About Climate Change Is Not On The Cover Of The Rolling Stone
Rolling Stone was once a decent music magazine, in fact my title references a Dr. Hook song lyric which made the claim that you have 'arrived' when you get your picture on the cover of the Rolling Stone. Alas, like so much connected with music, entertainment and Hollywood, The Rolling Stone has disappeared up its own arse. Now, instead of sticking with what it is good at, Rolling Stone fancies itself as a left wing opinion maker ...
EU To Reduce Dependence On US Dollar As Sanctions Hit Trade With Iran
Plans to reduce European Union dependence on the US dollar have been rumoured for a while now, as China's alternative to the Petrodollar continues to gain strength. The EU is not signing up to the move by Russia, China and the other BRICS bloc nations to replace the dollar but are thinking involvement with the emerging economies bid to break US economic hegemony will improve the 27 member Union's ability to run an independent foreign policy ...
G20 Elitists Club Teetering On The Edge Of The Abyss
Ten years after The G20 first convened to bring together the leaders of world's main powers and controllers of natural resources. The Group of 20 was doomed from the start. Russia and China were never going to agree to US economic hegemony, the European Union nations were never going to accept Saudi Arabian human rights abuses and some of the third world nations were never going to be happy with the liberal west's LGBT rights.
Mass Arrests In Paris As "Gilets Jaunes" Protests Go Into Third Week, Spread To Belgium
As the violent protests of the so?—?called Gilets Jaunes (Yellow vests,) which have spread to most major cities in France, with protestors angry at the policies of elitist president Emmanuel Macron, which they claim ignore the interests of the working and middle classes and favour the elites and the globalist corporations who support the move towards a federasl European superstate.
November 2018
UK Parliament Seizes Internal Facebook Documents
After Mark Zuckerberg has twice failed to respond to a summons to answer questions in front of a UK Parliamentary investigation into Facebook's failure to protect users privacy, and hold accountable for the Cambridge Analytica data breach outrage, the U.K. Parliament has seized a cache of Facebook's confidential documents

SJWs Infiltrate Google?—?Organise Rebellion Of The Humandroids
Thousands of Google employees staged walkouts in offices around the world earlier this month in protest at the company's bias toward white males in its hiring policy and the alleged protection of senior employees accused of sexual harassment and assault.

Have Mainstream Media Seen Through Facebook And Google At Last Mainstream media has seen through Google and Facebook at last, it seems. For years print and broadcast news have heaped praise on digital media while tech corporations like Google and Facebook censored content and filtered their rivals pages out of search results.

The Full Orwell - UK Government Comes Over All Big Brother
In a stealthy, or to be more accurate, creepy move that bypasses the democratic process the British government, without debate in our elected assembly, without media coverage and without the authority of law, the UK Government has usurped to itself the power to take biometric data from all of us and store it in ...


At around that time, a coalition of western powers, France, The UK and The USA (the FUKUS axis,) had deposed the Libyan dictator Muammar Gadaffi and turned Libya from the most prosperous and socially advanced nation on the African continent to a chaotic failed state with three rival factions, the Islamists, tribal warlords and gangsters all claiming to be the legitimate government.

Nations Rebel Against The UN Migration Pact The UN's Global Compact for Migration sets out nonbinding guidelines for an integrated approach to international migration. DW looks at the agreement and at why some nations are vehemently against it. The compact is based on belief that the world needs to cooperate if massive migration flows are to be managed in a humane manner, while still taking account of the values of state sovereignty ...

Russian Gold Reserves Hit Putin-Era High, Buying Frenzy Accelerates


The move to dump the US dollar as the main reserve currency for international trade seems to be gatherinmg momenum in spite of US sanctions mania when smaller countries will not obey wasdhington's diktat.

Bloomberg's Yuliya Fedorinova and Olga Tanas report today that the Bank of Russia has more than doubled its monthly gold purchases, bringing the share of bullion in its international reserves to the highest of Putin's 17 years in power, according to World Gold Council data.

Genetically Engineering The Apocalypse


Scientists tend to get carried away with enthusiasm fort theor latest idea, which they invariably claim will bring great benefits to humankind. The problem with such enthusiasm is, with their minds focused on prestigious awards, research grants and lucrative publishing deals, these rather immature people do not often think of the undesirable consequences of their creations.



October 2018
Top Cop Slams Politicised 'Hate Crime' Obsession, Demands Focus on Real Crime
One of the UK's highest ranking police officers has attacked the government's policy of prioritising "hate crimes," over serious crimes such as theft, vandalism, violence and fraud, calling for officers to be reassigned to investigate more burglaries and violent attacks by focusing on "core policing."
Most British people agree police have lost control of the streets because of politically correct government policies
One of the UK's highest ranking police officers has attacked the government's policy of prioritising "hate crimes," over serious crimes such as theft, vandalism, violence and fraud, calling for officers to be reassigned to investigate more burglaries and violent attacks by focusing on "core policing."
National Police Chiefs' Council (NPCC) Chair Sara Thornton CBE also said she did not want to see "misogyny" and offensive comments about women specified in law as hate crimes. One can only hope she feels the same about truthful criticisms of Islam, which glorifies misogyny, violence and rape.
Grooming Gangs: Police Ignored Mother's Pleas to Find Charlene Because She Was Working Class
Elites Losing The War On Cash? Sweden U-Turns On 'Cashless Society' Agenda
Sweden was leading the the War On Cash, the ruling elite had pushed the idea that a cashless society would protect citizens from crime and be more convenient. There was no mention that in a cashless society we would completely surrender control of our money to banks, and our privacy in financial matters to government security agencies...
Presentiment?—?Can Your Body Sense Future Events Without Any External Clue?

Recent work at the limits of scientific enquiry is looking at the phenomenon of presentiment (knowing stuff is going to happen before it happens) Research in this area is discovering our bodies may anticipate events below our level of normal consciousness. This is entirely consistent with the work already done in the physics associated field, Quantum Entanglements.
Lancashire Bans 'Cruel' Halal Meat From Schools, But Some Councils 'Kow-tow to Islam' and Serve Halal
In a rare example of politicians putting British values first, Lancashire council voted to cease serving meat from animals that are not stunned before slaughter in schools. Although it signals a step in the right direction after a decade of leftists pushing officials towards favouring Islamic communities over Secular and Christian citizens, around one in 10 UK councils are still supplying sharia compliant halal meat to schools .
Scaremongering IPCC Pushes Climate Hysteria With Latest Doomsday Report
Those discredited jokers, gropers and fake scientists of the Intergovernmental Panel on Climate Change (IPCC) have surpassed themselves in the idiocy stakes in their latest report (Summary for Policy Makers linked below). It is just a rephrased version of the farrago of adjusted data, dubious science, wailing and gnashing of teeth and eco-fascistic edicts on how we shall all live our lives in the future.
Universal Basic Income Is Silicon Valley's Latest Scam…The plan is no gift to the masses, but a tool for our further enslavement
A daft idea from socialist intellectual idiots that has quickly acquired sacred cow status among the mindless mobs that make up 'the left' is Universal Basic Income. Among the most prominent champions of UBI are a clutch of Silicon Valley billionaires, whose complete lack of ethical awareness and track record for exploiting low paid workers should make us wonder why we continue to support their shoddy products.
Censorship Comes To The Internet - Goodbye Free Speech
Censorship has always been a sore point in democratic societies, without the right to free speech democracy does not exist. So why have we for years now been willing to tolerate the efforts of Silicon Valley high tech corporations and their left - leaning (that's left as in Chairman Mao or Pol Pot,) been willing to tolerate this.
How Many Times Can Dr. Merkel-Who Regenerate Her Government
>This week the new series of Doctor Who launched amid much ballyhoo about The Doctor being played for the first time by a woman. While many pedantic Whooverans are appalled and complain that the lead role belongs to a man, in my opinion Jodie Whittaker (best known to date for Broadchurch,) the thirteenth Doctor Who, looks as if she may be the best Doctor since David Tennant.

Algorithms Are No Better At Telling The Future Than Tarot Cards Or A Crystal BallAccording to a new report "An increasing number of businesses are investing in advanced technologies that can help them forecast the future". It's true , almost every day we see supposedly intelligent people who believe that with things called 'Data Science', 'Artificial Intelligence,' and 'Big Data', machines can already be relied on to make better decisions than humans, and that soon computers will surpass us in actual intelligence.
E.U. Parliament Members Call for Facebook Audit, Competition Law Overhaul
Though not widely reported (well the proceedings were boring,) a number of parliamentary hearings in the European Parliament and the elected assemblies of member nations, have investigated Facebook's user data breach scandal involving the data thieves Cambridge Analytica. European Union MEPs, including those from Britain have called for a full audit of the social media company and an overhaul of E.U. competition law.
Vaccine Damaged Child Compensated By US Special Vaccine Court. As they started their family, Mooresville residents Theresa and Lucas Black dutifully got their children immunized, never doubting their doctor's word that vaccines are safe and necessary. But their faith in those promises was shaken in 2001, when their 3-month-old daughter, Angelica, developed life-threatening seizures and brain damage just three days after getting several vaccinations.
How Many More Lives Does Angela Merkel Have Left?
Germany was the most prosperous and stable democracy in Europe under Hausfrau - Volksfuhrer Merkel until she won her third term as Chanellor. That victory had the same effect as being declared divine once had on Roman Emperors. Merkel began to believe she could change the world by supporting schemes to unite Europe under a single government and flood the continent with third world migrants. And she believed she could succeed because Germans, the ignorant masses, would march in lockstep behind her.
---
Supreme Court Fiasco Shows The US Democratic Party Is No Friend Of Democracy
A look at the way efforts by the US Democratic Party to shaft Trump have backfired on them. Trump is no politician for sure, he's undiplomatic, confrontational, crude, economical with the truth when it suits him, and very direct in expressing his views (a change from the mealy mouthed equivocation favoured by most politicians, but whatever his failings, he's a smart operator and he's outwitting the Democrats every time.

How Can The 'Left' Talk Of Equality When They Don't Tolerate Diversity Of Opinion
One of the first things I learned at my Grandfather's knee was the importance of free speech and of exposure to different ides and shades of opinion. Grandad had been a member of the Labour party before World War One and had lived through the class wars early in the twentieth century. My Dad was a Labour man too, until as a newspaper reporter, he learned things about socialism that shocked him.

Brexit has terrified 'Brussels bubble' - German insider The EU elite "lost faith in their own appeal and abilities" following the Brexit referendum vote and the surge in support for nationalist parties. The knee jerk response of the Brussels bubble was to try (and fail) to punish Britain for defing Brussels in the same way as they had punished small nations like Greece, Portugal and Ireland, which in their perception was the only way to prevent the EU breaking apart.

How Russia plans to disentangle its economy from US dollar
The Russian Finance Ministry this week officially revealed a plan to end the country's dependence on the US dollar for foreign trade. Economic analysts are warning it will be a long process, but Russia and China, with support from Iran and a number of other oil rich countriies whose oil trade is restricted by US use of the petrodollar to manipulate makets, are several years along the road to economic independence alredy ... MORE in Currency Wars
Main Menus
Index pages for our cetagories
navigate

CATEGORIES

Fiction
Animal related
Art Menu
America:
Belief, Faith and Religion
Big Data And The Surveillance State
Catalogue of the Bizarre
Our posts on the Brexit saga
Celebrity mocking and knocking
Climate and Environment
Comedy, Satire, Humour
Debt Crisis and Money Matters
Driven To Drink
Europe index of posts
Posts on far east
The trade and commerce catalogue page
Germany - index of posts
EU Immigration crisis
Cultiral Clash - Islam Versus Multiculturalism
Education Menu
Fear and Panic
Globalisation - the enemy of freedom
Geoengineering: Science versus Humanity
Health Menu
History - new perspectives
Immigration crisis
Humanitas
ISIS and the Middle East War
Jobs Crisis
Living Within The conspiracy
Middle East
Nanny State and The Thought Police
Past Perspectives
Philo & Sophia
Politically Correct Stupidity
Fools & Dreamers
Politics and Economy
Recommended Reading
Science and Technology
Sex and sexuality
Sport
Syria -learn what really happened (catalogue) UK politics
Weird and Supernatural
World Politics
SNACKS (sub topics)
The Ageing population
age
Religion and spirituality
Climate Change
Comedy and Humour
Education is overrated
The environment
Europe
Health
Internet Technology
Jobs and employment
Money and finance
Myths and traditions
Nanny Orwell
People and Places
Science, technology
Society
UK politics
War
World Politics


Our Internet Places

Scribd
Blogster
Ed Butt at Bubblews
Wikinuts
Boggart Blog
Little Nicky Machiavelli
Boggart Network News
Greenteeth Bites
Greenboggart
Boggart Blog Central
Daily Stirrer briefing
Boggart Network News
BOGGART BLOG ARCHIVES


BBselect001
BBselect002
BBselect003
BBselect004
BBselect005
BBselect006


MULTI MEDIA
Spoken Word
Video
Music
Graphic Art
Latest News
Other items you might be interested in
September 2015
Perpetual War: US Considers Keeping Troops In Afghanistan After 2016
As The Daily Stirrer has predicted since we started in 2009 that Washington's goal was perpetual war, of the kind George Orwell described in his novel 1984. Not only does war make fear - mongering acceptable as a way of controlling the population and restricting personal liberties and civil rights, it is great for business too. It should be no surprise then to learn ...
Stephen Nolan's Pro-Migrant Stance - Boggart Blog Pays Tribute With Fat Bastard by The Macc Lads
The BBC will not accept any criticism when it comes to anything of a political nature. They would never back down.There is, it seems, no one in the entire institution who is not radically left wing and they are waging ideological war against the general population and against British culture and values.
Retired Swedish Police Chief Says Malmo Crime Skyrocketing Due To Immigration
Chief Superintendent Torsten Elofsson retired from police work in 2014 after 42 years on the Malmo police force, but he retains a key interest in the security of the city. Recalling his early days on the force, Elofsson said the nature and volume of crime in Malmo had changed significantly, going from the organised crime perpetrated by biker gangs decades ago to the migrant crime boom of modern Sweden.

Jeremy Corbyn, the Fabian Society left wing elitist posing as man of the people
Labour activists are hailing the Corbyn era as a return to traditional labour politics. But not only is Corbyn a posh boy from a wealthy family, he is a member of the elitist Fabian Society, the left wing intellectual think tank founded in the 19th century, which in the 1930s supported Hitler and fascism.

Merkel's Beloved Muslim Migrants Trigger Rape Epidemic In Munich
A story picked up by Pam Geller (always a reliable fact checker although some dislike her sensationist style of reporting) of Muslim migrats raping German women while migrant women are being forced into prostitution is not playing well with the femiists and left wing extremists who want us to believe the lie that these barbarians actually enrich our culture.

Muslim Only No Go Areas For Police And Emergency Services In Our Cities? - It Already Happened In Sweden.
Sweden continues to lead the way in surrendering its nation, culture and self respect to exremist Muslim dickheads, reasoning that the violent rapists and murderers of the relion of peace will thank them rather than kill them all. but the people all over Europe are waking to the betrayal of their elites.

Assad Says Europe Is Responsible For Refugee Crisis: "If You're Worried About Them, Stop Supporting Terrorists"
As the tide of refugees fleeing Syria's bloody civil war, swelled by African economic migrants masquerading as Syrians continues to tear the European Union (EU) apart, and as Brussels struggles to formulate a coherent policy for handling the crisis as member states go their own way with measures to close border crossing points, divert migrants to other member nations, or ...

Swedish Immigrant Street Wars Spread: Stockholm Grenade Attack Follows Kurd-Turk Migrant Clashes
Violence between migrant gangs of different ethnicities vying for territorial rights to run organised crime has become the norm in Malmo, southern Sweden. Now it appears that as a consequence of the Swedish loony left government's insane policy of flooding the country with third world migrants without

"West's War In Syria Is Part Of A Global war Waged By The USA And Its Dupes Allies Against Russia"
Arthur Foxake brings us a brilliant analysis of the geopolitical picture from the black Sea and Middle East, but ahead of the embed window we get a few of Arthur's own thoughts on the situation

German Authorities Claim Economic Migrants Are Saying They Are Syrian Refugees To Get Into The Country
The shock renewal by Germany of border controls was, it turns out, a consequence of Hausfrau Merkel's ill - advised decision to announce that all Syrians arriving in Germany would be welcomed, a stupid move, probably aimed at sucking up to the terrorist - loving Obama administration in the USA, that was doomed to end in disaster from the outset.

Why It Really All Comes Down To The Death Of The Petrodollar
Last week, in the global currency war's latest escalation, Kazakhstan instituted a free float for local currency the Tenge. The currency immediately plunged by some 25%. The thinking behind the move was straighhtforward enough. Collapsing crude oil prices along with the relative weakness of the Russian rouble ...

Migrants Defiant as Hungary Blocks Train Links for 2nd Day
Hundreds of migrants gathered at the main railway station in Budapest chanted defiant slogans as the Hungarian authorities blocked entrances to boarding stages for a second day, preventing people who had entered hungary and the EU illegally from seeking asylum in Germany and other ...

Putin Targets US Monetary System: "Aims To Eliminate US Dollar From Trade"
De-dollarization is escalating all around the world. With Yuan/Rouble trading volumes up a stunning 400% year-over-year to record highs, and hot on the heels of China's and much of Asia in dumping dollar assets, Russian President Vladimir Putin has just unleashed a new bill aiming to completely eliminate the US dollar from the trade of goods

Independent Newspaper Attacks Daily Express Over Migrants
As The Independent attacks The Daily Express over insensitive handling of the immigration crisis, we wonder what gave the Indy the bizarrre idea that is't cherry picking of causes worthy of support is any less hypocritical than that traditionally employed by the Express, i.e. how many papers will it sell.
August 2015
The Real Refugee Crisis Is In The Future
Perhaps Angela Merkel thought we didn't yet know how full of it she is. Perhaps that's why she said yesterday with regards to Europe's refugee crisis that "Everything must move quickly," only to call an EU meeting a full two weeks later. That announcement show one thing: Merkel doesn't see this as a crisis. If she did, she would have called for such a meeting a long time ago, and not some point far into the future.
Why It Really All Comes Down To The Death Of The Petrodollar
Last week, in the global currency war's latest escalation, Kazakhstan instituted a free float for the tenge. The currency immediately plunged by some 25%.The rationale behind the move was clear enough. The plunge in crude prices along with the relative weakness of the Russian ruble had severely strained Kazakhstan, which is central Asia's largest crude exporter.
Lenny Henry says diversity isn't 'another black person in Coronation Street'. We Say One Lenny Henry On Television Is One Too Many
The 53-year-old black supremacist, race hustler and comedian (allegely) is a leading figure in the BAME (Boring Ancient Mediocre Eejit) campaign calling for more Black, Asian, Minority Ethnic people to be involved in the media sector. In a recent interview the actor said diversity was not as simple as "another black or Asian person in Coronation Street or EastEnders, it's about hearing different perspectives on life"
One in four Jeremy Corbyn supporters believe world is run by 'secretive elite'
YouGov analysis of Labour supporters also finds most Mr Corbyn's backers see America as the 'greatest single threat to world peace' in revealing research. And they call us conspiracy theorists ...
New EU Tax Laws Force Thousands of Businesses to Close in Just Six Months
Our editorial policy has for years been to expose the EU for the anti - business, anti - democracy European wing of the Global Government cartel. And let's be honest, a quick browse through our Europe index will provide plenty of evidence to suppport our view. Given the and their collectivist dupes' talent for ignoring evidence however, every hammer blow we can strike that exposes their global, totalitarian, bureauceatic dictatorship will help get the message across.
The Financial Times Calls for Ending Cash, Calls it a "Barbarous Relic"
Earlier this week, as the financial world was in turmoil following a rapid crash and recovery in financial markets. While we the punters shook our heads and wondered how the banksters get away with this kind of shit, The Financial Times published a dastardly little piece of fascist New World Order propaganda.
3,000 Migrants Rescued off Italy in Single Day, Tensions Rise
Italy's coastguard on Saturday led an operation to rescue around 3000 migrants from the waters of the Mediterranean after distress calls were picked up from more than 20 overcrowded vessels drifting in waters off Libya. In the biggest single-day rescue operation to date there were no reports of casualties. Reports have been coming in however of hundreds of life jackets and other items being washed up along a stretch of coastline, which suggests the naval rescue flotilla may not have reached al the stricken boats in time.
Trump catches attention of CFR, Bilderberg, Trilateral

Donald Trump is portrayed as a clown by mainstream media and his combover is the silliest I have ever seen. Still, he's a billionaie so I don't suppose he gives a flying fuck what The Daily Stirrer thinks of him. Not that we think he is all bad, anyone who attacks Obama's global naziism trade deals, TTIP and TPP mush have some good points.
It Looks As If Carbon Credits Scam Has INCREASED CO2 Emissions
As the climate change scare becomes more and more exposed for the money making fraud it always was, they green weirdie beardie, rope sandal wearing tree huggers get more hysterical and stupid in their arguments that we must all return to medieval lifestyles, the billionaires like Al Gore who hope to profit from it keep flogging the dead horse and the angrier and more vicious the left wing hate mobs become in their witch hunts.
German Government Admits it Got Refugee Figures Wrong… Revises Upwards to 750,000 Migrants Expected This Year
The number of migrants crossing the Mediterranean and making their way (illegally) through the Balkans to Germany has passed the government's worst casse estimates. The unprecedented influx has now forced Berlin to hastily revise the figure upwards. Although the German government had already acknowledged the need to revise estimates, the latest number is beyond all expectations ...
One drink a day increases the risk of breast cancer by 15 per cent, scientists claim
Another example of pseudo scientific scaremongering from Harvard University's Department Of Cutural Marxist Propaganda, using spurious statistics (when they cite risk they do not mean 15% but 15% of 13%) in supprt of liberal / left wing politicians anti alcohol campaign, which is not about health but an excuse to raise taxes. The whole house of cards is demolished here by a writer who really understands statistics and is not ingornant of human nature.
Climate Change: Have We Reached the Point of No Return?
Dahr Jamail and Guy McPherson: Many new studies and modeling say reversing climate change is a pipe dream - brace yourself for human extinction. This interview with two Warmageddonists os not of itself inteesting, typical alamist stuff that proves people who believe computer models over real world evidence are idiots. but the comment threat is really worth reading as commin sense tramples the whiners.
Boko Haram attack kills seven in NE Nigeria village: locals
African Free Press (AFP) reports from Kano (Nigeria) that Boko Haram extremists (had you forgotten about that nasty little civil war?) raided a village in restive northeast Nigeria's Borno state near the border with Niger on Monday (17 August), killing seven people, community leaders told reporters.
Labour Leadeship Contest, Corbyn Comedy Caper
When Labour elected Ed Miliband as their leader in 2010 it was clear the party had a death wish. The 'broad church' Prime Minister Harold Wilson spoke of in the 1960s, the alliance of intellectuals and socially conservative industrial workers who made up the party's core vote managed to coexist. Then came feminism, politically correct thinking, New Labour factions as the party started to tear itself apart. It looks as if we are in the endgame.
Food health fascism: Salt, Sugar, Saturated Fat, Alcohol, Cheese, Fizzy Drinks, Chocloate, ... if you enjoy it, it will kill you - maybe.
We are all familiar with those health scare stories that seem to pop up in mainstream media at least once a week claiming this that or the other will kill us. Few people spot the irony in that a few days earlier the same sensationalist rag will have carried a story under a similar screaming headline, claiming that scientists have found the stuff being demonised is in fact good for us ...
Massive Explosion in China: Do We Know the Full Story?
The massive explosion at a chemical plant in the city of Tianjin in northern China was a shocking eveny by any standard. But as usual in recent years, once the initial horror recedes the unfortunate accident narrative starts to unravel. The first thing we notice is that the disaster is very convenient for certain parties, the second is that official news reports just don't make sense, and the third is that eye witness reports contradict the edited news stories. Now read on ...
Ugly Marxist Lesbians Demand Right To Menstruate In Public
The story of the militant femists munter who ran a marathon on the first day of her 'monthlies' without using a tampon or sanitary towel (they're a sexist symbol or the oppressive patriarchy donchakow) is not new. The London Marathon was run back in April and the story of Kiran Gandhi's brave stance against male oppression (along with pitures of the dark stain speading across the croth of her leggings) was ignored by mainsteam and alternative media alike.
Ugly Marxist Lesbians Demand Right To Menstruate In Public
The story of the militant femists munter who ran a marathon on the first day of her 'monthlies' without using a tampon or sanitary towel (they're a sexist symbol or the oppressive patriarchy donchakow) is not new. The London Marathon was run back in April and the story of Kiran Gandhi's brave stance against male oppression (along with pitures of the dark stain speading across the croth of her leggings) was ignored by mainsteam and alternative media alike.
While we watch Unkraine and Turkey The War Goes On In Syria
With mainstream media focused on ISIS and Ukraine amid, fears of an excalation of local problems into a war between East, West and Islam, we are in danger of forgetting nasty little civil conflicts like the one between forces loyal to the secular dictator Assad and the Al Nusra rebels who want to replace a secular dictatorship with an even more ruthless theocracy.
Latest Posts - July 2015
"Big Brother State": FBI Says Citizens Should Have No Secrets That The Government Can't Access
The surveillance state predicted in George Orwell's novel "1984" has gradually crept up on us. With no sense of irony, the government of the nation that calls itself "The land of the free" has led the way in trying to persuade citizents that the only way they can be sasfe from vague and largely fictitious "existential threats to democracy" is to surrender civil rights and freedom to determine our own destiny ...

Pointless
A young couple who climbed up a suspension bridge near Frankfurt to watch the sun rise prompted a major rescue operation when passers by reported

The Name Is Pronounced Nivea
The latest fashion in America is girls called Nevaeh. Virtually unheard of five years ago, the name – "heaven" spelt backwards – has become the 70th most popular name for baby girls in the country last year.

Financial Fraud: Market Rigging By Any Other Name
Over the past twenty years we have hasd many financial scandals, the dotcom bubble, misselling of investments, toxic debt, derivatives trading, maket rigging and interest rate rigging. A lot of the software used by these trading systems was developed with the intent of facilitating fraud.

Warring Migrant Tribes, Street Shootouts, Grenade Attacks, Government Says Its Multiculturalism? WTF Is Going On In Sweden?
"Sweden, that's where they commit suicide and the king rides a bicycle," a character in an Alan Bennet play famously said back in the 1980s, a reference to Sweden's reputation as the most boring country in the world. That reputation has long gone, the elegant streets of Sweden's gothic styled cities are now more like Chicago in the Al Capone era. Scandinavia's biggest nation state is in the grip of a terrifying crime wave instead ...

Banks want us all to have 'tap and pay' cards... even though they're a criminals wet dream
Unfortunately while the banks and tachology giants have been ironing out problems with contactless payment technology (like its habit of doing your good deed for the day by paying for other people's stuff), the crooks have been forging ahead with non-accidental ways to rip off your card. Thieves can easily steal key data from contactless credit and debit cards using equipment bought "easily and cheaply" online, consumers magazine Which? has warned UK consumers.

Gay Rights Lobby Calls for Ban on LGBT Therapy After Finding Hundreds of Health Workers Believe in a Cure The Daily Stirrer has noted many times that sheeple on the left of the political spectrum get very confused on finding not everybody agrees with their world view. but rather than accept they are bigots they turn on those who dissent. No surprise then that gay activist working in the NHS are turning on African, middle eastern and east Europan colleagues who believe homosexuality is a sin.

Has Nasa found another 'Earth' in corner of Milky Way?
The science clowns are going off their heads again, getting over-excited about the 'discovery' by the Kepler project of Earth 2, an earth like planet that it would only take twenty million ryears to reach in our fastest spacecraft id. What planet do these do these idiots live on?

So Who Are The real Racist Bigots - Those Who Have Opinions or those who would abolish free speech?
Since we began publishing in 2009 we have warned that the real enemies of freedom, the ones who would turn certain sectors of the community are not the conservatives and libertarians, but those who try to mask their fascistic politics by calling themselves left, liberal or socialist. If you want to know what socialism is really all about read up on Stalinist Russia or Maoist China and if you want a comparison for the 'liberal values of Labour and Social democrat voters in Europe or American democrats, look no further than the medieval Inquistion and their brutal purges of 'heresy'.

Pissed Off Locals In Europe Torch Refugee Centres To Resist Enforced Placement Of Immigrants

Citizens in Germany and Italy have taken to burning the resettlement centres in their communities designated to provide accommodation for people who have crossed the Mediterranean to enter Europe illegally.

Riots In Athens As Betrayed Greeks Take Back

Democracy


A converted country inn, forced to close due to punitive EU taxes and restrictive laws, then renovated at taxpayers expense for use by illegal migrants has been burned down in Reichertshofen, Germany after locals discovered it was being prepared to become refugee accommodation.

The Day The EU Died - Destruction Of Greece Shows True Fascist Nature Of The European Project Some inside information on the political stitch up that has turned GreeThe Day The EU Died - Destruction Of Greece Shows True Fascist Nature Of The European Projectce into a vassal state and humiliated the Greek people for the purpose of furthering the neo-Fascist 'ever closer union' agenda of the bureaucratic dictators in Brussels.

The Bansturbator Diaries - Ban Everything And Tax It Too
Red Meat, fast food,, Pies, Pizzas, Cigarettes, Alcohol, and now sugar. The fun fascists are on the rampage everywere. Is there anything we can do to stop them? Yes. all we have to do is ignore them, especially the ones who try to claim some kind of authority by using the word 'science' far more than is necessary.

Spain Goes Full Police State; Government Enacts Law Forbidding Dissent, 'Unauthorized' Photography Of Law Enforcement
Spain is now a police state again. On July 1st, its much-protested "gag" law went into effect, instantly making criminals of those protesting the new law. Not since the death of General Franco has free speech been a crime in the country.

TTIP in the EU: Rejecting Democracy
Trade deals have traditionally been about lowering particular tariffs for imports and exports of goods from one country to another. Trade is not as simple as that any more and for TTIP tariffs are a tiny part of the negotiations because tariffs between the EU and US are virtually non-existent these days. Trade in TTIP is about issues that are relevant and important to us all: from which services are publicly provided, to the safety of the food on our plates

Greece, Monetary Union and Europe - Omnibus
The Greek financial meltdown and inevitable exit from the European Monetary System (Euro) and possibly the EU may be staved off a little longer but will happen. If the burden of Euro membership can wreck strong economies like France, Austria and The Netherlands, how can a basket case like Greece ever cope.

Hackers Hacked - Government Ties Exposed
An Italian company develops hacking tools for government security agencies itself became the target of a hacker attack, resulting in its internal documents being leaked online and its deals with numerous governments being exposed.

Four Converging Crises Could Destroy Europe
Four great crises around Europe's fringes threaten to engulf the European Union, potentially setting the ambitious post-war unification project back by decades. The EU's unity, solidarity and international standing are at risk from Greece's debt, Russia's role in Ukraine, Britain's attempt to change its relationship with the bloc, and Mediterranean migration.

Oregon bakery that refused same-sex couple owes $135,000 in damages
This page started by looking as a case of personal liberty versus gay fascism in Belfast, Northern Ireland but looks set to spread in all directions. While the Belfast Gay Cake case was, to the best of our knowledge, the first of its kind in Britain, there have already been a number of high profile cases in which the authorities have deemed that gay bitchiness trumps the civil rights of straight people,

Troika Is Manoeuvering To Rig The Greek Referendum
According to Greece's finance minister Yanis Varoufakis, the troika, the IMF, European Central Bank and EU Commission is planning to rig the outcome of the Greek referendum on whether to accept further austerity measures in return for bail out cash

Ending the Ownership of Money
It must be common knowledge by now that some of the world's most economically powerful nations are insolvent due to the burden of sovereign debt. These economies are held together through by the faith of citizens and businesses in the currency. If that faith evaporates, the leading economies will crash as voters realise the only thing underwriting the economy is debt.

Climate Change: Physicist Asks Is a Deadly Ice Age on the Horizon?
The last ice age ended approximately 12,000 years ago, and since then we've been enjoying a pleasantly warm "interglacial period." But given that an interglacial may last only 12,000 years, we're confronted with a scary prospect: Another ice age may be nigh.

Government Paid Trolls Are Using 'Psychology-Based Influence Techniques' in Social Media
Have you ever come across someone on the Internet that you suspected was a paid government troll? Well, there is a very good chance that you were not imagining things. Thanks to Edward Snowden, we now have solid proof that paid government trolls are using "psychology-based influence techniques" on social media websites such as YouTube, Facebook and Twitter.

Zuckerberg reveals Facebook Working On Apps 'Smarter Than Humans'
In an online Question and Answer session this week Facebook supremo and founding megalomaniacal sociopath Mark Zuckerberg announced that his company is engaged in building AI systems "that are better than humans at our primary senses."
Boko Haram attack on Nigerian village leaves nearly 100 people dead

According to eye witnesses nearly 100 people have been killed in an attack on mosques and houses in a village in north-eastern Nigerian by suspected Boko Haram militants, news feeds reported today (2 July 2015).
Sleepwalking Into Another Middle East War To Make Obama Look Good
Watching the news feeeds, we see The United States has blocked attempts by its alleged Middle East allies to fly heavy weapons directly to the Kurds fighting the Islamic State jihad in Iraq.
War, Famine, Plague and all that
It is no secret that "news" media in the developed world is owned by a few corporate empires whose ultimate owners' are financial operators whose reach extends into manufacturing, extraction industries, big agriculture and food,
The Day the Earth Died - And Why The Green Lobby Did Not Raise A Whimper In Protest
By selling their votes in return for pledges of government spending in their states the current crop of US Senators have effectively transformed their nation from a representative democracy to a dictatorship in which the President can make law on a whim.
Artificial Intelligence: Will It Kill Human Society?
The media, the so called 'experts' and politicians hail every technological advance as if it will btransport us from reality to a utopian paradise. but does Artificial Intelligence and related internet and computer technology pose theats to human society that far outweigh any possible advantages? Whateve, Google plan to put machines in our place on top of the food chain.
City of Berkeley to require cellphone sellers to warn of possible radiation risks
One of the fist themes of this blog was that mobile phones (and wi-fi etc.) do pose a risk to health. Here's the latest admission that the sceptics voices were right, from The Guardian
Have US tactics only helped to make ISIS more powerful?/b>
We have questioned the US led efforts to defeat ISIS in the middle east many times, pointing out that every time the western alliance steps up opposition to the establishment of a news Islamic Caliphate, Islamic State seem to get stronger. 'Conspiracy Theorists', our critics yell. So let's look at opinion from around the world that concurs with ours.
Refugee host school in Germany bans revealing clothes
We have asked before and no doubt will again, when the citizens of a nation are constantly asked to give up their freedoms and change their behaviour in order to avoid offending new arrivals from medievalist cultures, whose effing country is it anyway.
More Violence In Malmo As Community Centre Burned
27 'youths' arrested after shootout in Rosengård
More trouble in Sweden as the ruling elite's determination to had the country over to lawless gangsters and tribalists from barbaric third world cess pits sees violence and inter - tribal conflict continue to increase in the once peaceful suburbs of Swedish cities.
Refugeee Host School In Germany Bans Short Skirts As They Wind Up Muslim Boys
We have asked before and no doubt will again, when the citizens of a nation are constantly asked to give up their freedoms and change their behaviour in order to avoid offending new arrivals from medievalist cultures, whose effing country is it anyway.
How Ironic That Humourless Warmageddonists Will Not See The Irony
I've lost count of how many times this blog has highlighted the extraordinary consistency with which politicians and scientists working in concert manage to achieve the exact opposite of what they are aiming for. One might be tempted to think that the first step in proposing a scientific solution to any problem is to first understand what harm the unintended consequences of your solution might cause.
Saying The Unsayable
Watching BBC Question Time last Thursday, I was struck once again by the way it was left to one of the stock hate figures of the left, Melanie Phillips, to actually pronounce the great, clunking truth that the online activities of left wing hate mobs have rendered unsayable.
Mediterranean Boat People Crisis Threatens European Identity
As European leaders gathere for a summit meeting on the Mediterranean Immigrant crisis, Italy's Matteo Renzi has warned that Europe must find a solution to the ever increasing flow of migrants from third world locations or risk losing its identity.
Saying The Unsayable: Today, Melanie Phillips
Watching BBC Question Time last Thursday, I was struck once again by the way it was left to one of the stock hate figures of the left, Melanie Phillips, to actually pronounce the great, clunking truth that left wing hate mobs have made unsayable.
Russia Outmanoeuvres the west again
While mainstream media (and even some of the more rabidly fascistic left wing bloggers) have been trying to demonize Russia as a way of drumming up public sympathy for Barack Obama's efforts to start a shooting war with Moscow, we Boggart Bloggers and ...
America and UK Lead the World in Climate Scepticism Several times now it has looked as if the climate chance scare was over as the enthusiasm of climate scitentists for changing real world data to fit in with the predictions of their mathematical models has been exposed. But as the scare was never about the environment, but was a scam to redistribute wealth from rich to poor countries, the politicians are throwing their propaganda budgets behind it again.
Sham Marriages To Beat Immigration Laws Are Out Of Control
With main immigration news on being dominated by the Mediterranean boat people crisis and the masses at Calais hoping to stow away in a freight container, we forget that another way of getting somebody into the country is the sham marriage. Numbers involved may be small, but it is another indication of our governments' failure to address the immigration problem.
Mediterranean Immigrant Composite
The flow of undocumented migrants from Africa trying to cross the Mediterranean from the coast of Libya to Italian, Greek and Maltese territory seems unstoppable. Two factors in the problem however have been western (particlarly American meddling in the internal affairs of African states, and wester aid leading to a population explosion national infrastructures are unable to cope with. And of course European leaders haven't a clue how to deal with the problem.
De-Dollarization Du Jour: Russia's Largest Bank Issues Yuan-Denominated Guarantees
Leading the charge to multipolarity and de-dollarization are Russia, resugent despite economic sanctions and the rising superpower in waiting, China. The downgrading of the dollar is clearly demonstrated in the launch of the BRICS bank and the establishment of the AIIB.
28 May
Human Rights: UK Not subject To EHRC says Judge

The oath that every British judge takes requires that they try every case according to the laws and usage of the realm, which means we have to comply with the law as set out by the british parliament and interpreted by higher courts. Parliament requires judges to take account of European decisions.
Secret Meeting in London to "End Cash"
Economist Martin Armstrong claims there is a "secret meeting to end cash" set to take place in London before the end of the month involving representatives from the ECB and the Federal Reserve. Armstrong, who is known for successfully predicting the 1987 Black Monday crash as well as the 1998 Russian financial collapse, expressed his shock that no news outlet has reported on this upcoming conference.
Home Secretary says Britain Will Outlaw Hate And Extremism
In yet another example of how out of touch with reality our leaders are, Theresa May announced on BBC Radio 4's Today programme that the "British" government's determination to make "hate," "extremism" and "Neo-Nazism" illegal.
21 May
Brexit - The End Of The European Superstate Dream?
David Cameron, having won the election with a wafer thin majority is now under the cosh from eurosceptics in his own party as well as party managers panicked by the rise of UKIP. He has promised an early in-out referendum on Britain's future membership of the EU but can he win the concessions he needs to secure a yes vote from the punters

Racist Student Union Officer says 'I Can't be Racist'
We have often made points about the hypocroisy of the left, but a Student Union diversity officer from London beats all comers. Having tweeted 'kill all white men' she justifies herself by saying that as an ethnic minority woman she cannot be racist or bigoted.

p>Global Warming Is Not Causing Any Polar Ice Cap Meltdown Says NASA
Updated data from NASA satellite instruments reveal the Earth's polar ice caps have not receded at all since the satellite instruments began measuring the ice caps in 1979. Since the end of 2012, moreover, total polar ice extent has largely remained above the post-1979 average. The updated data contradict one of the most frequently asserted global warming claims – that global warming is causing the polar ice caps to recede.
20 May
How Congressional Republicans Lie to Approve Obama Trade Deals
With opposition to Obama's 'anything-but-free' trade treaties Trans Pacific Partnership and Trans-Atlantic Trade And Investment Partnership strengthening both in the USA and Europe, it is interesting to observe how support for Obama's neo - con inititiative which would grant corporate lawyers the power to overturn national law, is not falling according to the usual political party lines. Billionaires and those on the payroll of global corporations are broadly in support, others are recognising the threat to democracy and personal liberty.

Political, academic and business elite push for introduction of Cashless Society
The ' cashless society' has been a pipedream of technology nerds, control freak politicians and academics who favour global fascism for some years. The technology now exists, the political consensus appears to exist (because the elites have underestimated the strength of feeling against globalism around the world, and the voices raised in support of this latest attack by the technology tyrants on individual liberty and privacy are geting louder.

IMF Attempts to Hide True Cost of Renewables
A new report ffrom the International Monetary Fund (IMF) claims Fossil fuel companies are benefiting from a global subsidy of £3.4 trillion a year. The figure dwarfs that of government handouts aimed at encouraging investors to put money into unprofitable renewable energy sources such as wind turbines. Total subsidies for renewables are stated to amount to £77 billion a year.
19 May
Adolescent Girl Raped By 60 Men In Asian Grooming Gang
A trial jury atThe Old Bailey, London, heard yesterday the harrowing ddetails of how two schoolgirls were groomed and raped by an paedophile gang based in Aylesbury, Bucks, while aged just 12 and 13. Eleven gang members, accused of carrying out the crimes between 2006 and 2012 face 49 criminal charges between them including statutory rape, child prostitution and creating child pornography, The Daily Mirror reports.
John Kerry Calls For The Internet To Be Placed Under The Authority Of The United Nations
US Secretary of State John Kerry, speaking earlier this week in South Korea, said that the Internet "needs rules to be able to flourish and work properly." This, according to Kerry, is necessary even for "a technology founded on freedom." Kerry made his remarks in the context of talking about how international law is applicable to the Internet.
The New World Order?
It is hard to think of another phrase that gets authority worshippers quite so wound up as New World Order. The worlds always prompt a sneerfest among those who are quick to shout 'Conspiracy Theory' and slow to think. The phrase was not coined by a conspiracy theorist, nor was is some secret masonic code used on United States dollar bills to signify the intention to create a global empire (Novus Ordo Seclorum does not even mean 'New World Order' - more below).
The Free Trade Deception Almost No One Understands
More on those evil twins of global trade, the Trans Pacific Partnership (TPP) and Trans Atlantic Trade and Investment Partnership (TTIP) which are not about freeing business from bureaucracy but freeing corporations from the tiresome obligation to obey national laws covering trading standards, food quality, workers' rights, consumer protection and the environment. We've written about both treaties many times before.
18 May
The New World Order?
It is hard to think of another phrase that gets authority worshippers quite so wound up as New World Order. The worlds always prompt a sneerfest among those who are quick to shout 'Conspiracy Theory' and slow to think. The phrase was not coined by a conspiracy theorist, nor was is some secret masonic code used on United States dollar bills to signify the intention to create a global empire (Novus Ordo Seclorum does not even mean 'New World Order' - more below).
28 April
The Immigration Problem (part 1)
As Britain, its voters divided between pragmatism and politically correct thinking, heads for political chaos in an election likely to produce and inconclusive result, the big issue that none of the established parties want to talk about looks set to dominate the political debate through the next government's term in office.
The Baltimore Riots: The Verdict Of Baseball Team The Orioles Owner's Son
In the wake of violent protests that left eastern USA port city Baltimore in flames and were triggered by the funeral of Freddie Gray who died after sustaining a spinal injury while being taken into policy custody, American politicians and media commentators are struggling to explain to the public how the events of Monday evening could happen in twenty - first century America.
25 April
PayPal Asserts Copyright Ownership Over All Intellectual Property of its Users
The update comes in the aftermath of the announcement that eBay and PayPalwill split apartinto two separate companies. Under the heading "Intellectual Property," PayPal announcesthat it is introducing a new paragraph to its agreement, effective July 1, 2015, that will allow the company to "use content that you post for publication using the Services".
How To Help The Poor - A look at how mainstream politics talks of fairness but penalises poverty
All three mainstream parties in the May 2015 General Election are focusing, as they did last time, on fairness, equality and helping 'the poor'. As their senior spokesmen piously pontificate there will be no trace of irony from either Conservative, Labour or Liberal Democrat while the spout such bollocks, even though they know their economic policies will penalise the poor.
25 April
24 April