Europe's Depleted Gas Storage Might Not Get Refilled Ahead Of Next Winter
While mainstream news reporting of the conflict in Ukraine continues to pump out a torrent of anri - Russia, pro - war propaganda the catastropic effects of this war that could so easily have been avoided are not mentioned. Well why would warmongering governments admit they have inflicted an energy crisis, food shortages and soaring living costs on their people for no good reason ...
---
3 March 2022

BREAKING:Russian Long Range Missile Test Fuels Nuclear War Fears As NATO Pushed Ukraine To Escalate Conflict
Zero Hedge
Russian tanks in Ukraine (Picture: https://conservativeinstitute.org/
Rumours circulating in the business community suggest Europe may have trouble replenishing its natural gas reserves kept in storage facilities around the continent by next winter as storage levels are at their lowest levels for over a decade. Although sanctions have not yet been applied to prevent EU nations buying oil and gas from Russia, which supplies one-third of Europe's natgas needs, pressure from politicians and media is forcing oil companies and energy generators to shun Russian sources.
On top of this, with Germany having blocked the certification of Nord stream2 pipeline with runs from the Gulf of St. Petersburg, through the Baltic to Germany, much of Europes essemtial suply of natural gas is delivered by pipelines that run through Ukraine. Should the conflict escalate to the point at which Putin decides to up the pressure on EU member states by cutting off the gas, these pipelines will be a natural target.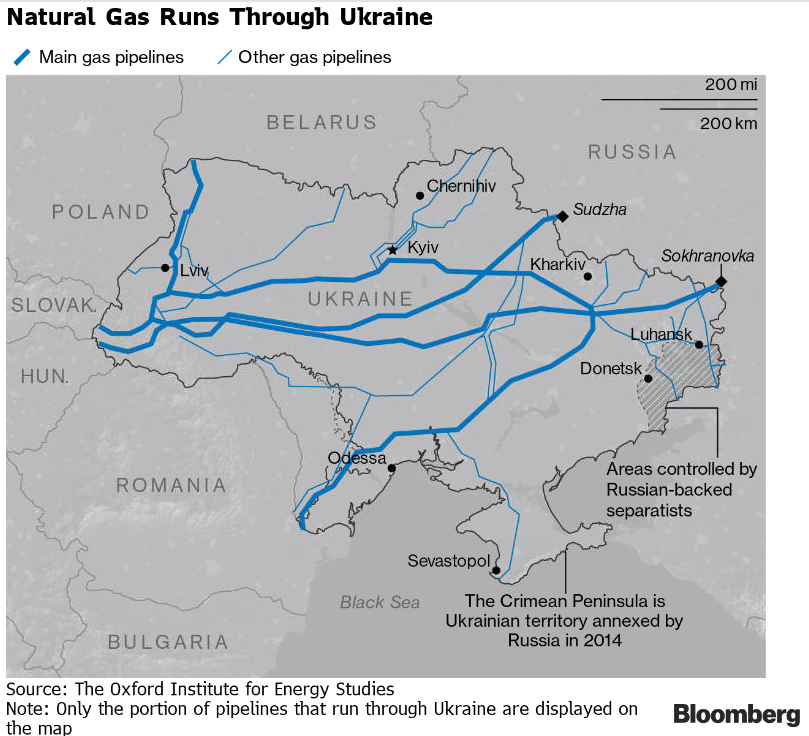 On Monday (28 February), Russia's biggest energy company Gazprom issued a warning that there will be "serious challenges" in restocking European gas storage facilities before next winter considering "such significant gas volumes" are needed. This happened ahead of the summer months before.
Gazprom said there could be daily restrictions on volumes because of the technological capacities of the pipeline infrastructure. There's also a risk of damage to pipelines from Russia through Ukraine. On top of this, Gazprom added, European markets will be competing with increasing demand from Asian markets.
Bloomberg published data last month showing that underground storage tanks in Germany "are depleted" by 70.6%, while French ones are 77.1%. Gas withdrawal from European storage lasts until late March and, in some cases, early April. Gas injections begin shortly after to resupply the continent for the summer months and ahead of next winter. However, since storage levels are so low lev els, and the extraordinary circumstance of a regional war in the area between Russia's oil and gas fields and Europe's industrial areas means restocking in preparation for next winter's peak demand could be a problem.
Then there's the risk of Russia cutting off or rationing supplies to Europe in retaliation for the economic sanctions imposed as a punitive measure after the incursion into Ukranian territory and the freezing of Russian central bank assets. The way Russian banks were removed from the SWIFT financial messaging system, which has caused utter chaos in Russian markets on Monday, especially in FX markets has not helped either. Western political leaderrs should have taken stock of how vulnerable their economies have become to hostile Russian actions before they started throwing their weight about

Commodity markets analyst Kateryna Filippenko told Reuters, "Europe might have to pull every lever to keep the lights on – reducing gas burn and cranking up mothballed nuclear and coal plants; maximizing indigenous gas production and pipeline imports."
All in all it looks like Joe the demented paedo, BoJo the Clown, Little Emmanuel, Justin Turdeau and the rest of the gang have hamstrung their own nations while failing to perturb Russian leaders. Quel surprise, who would have expected such complete incompetence from our ruling elites.

MENUS:
[ Russia catalog ] ... [ Currency Wars ] ... [ The Russians Are Coming ] ... [ New World Order ] ... [ Globalisation ] ... [ Energy - Green Dreams ]

News roundp updated 25 June 2022: links to posts on Covid vaccine fascism, Lockdown catastrophe, US abortion controversy, Currency wars: Russia and China versus the west, Race issues, Transgender lobby bullying - see panels in right hand column.

RELATED POSTS:


Another Setback For UK's Net Zero Green Dreams As Cost Rise Faster Than China's CO2 Emissions
The UK ruling elite's dreams suffered another setback today when Swedish energy company Vattenfall announced work on the Norfolk Boreas offshore wind farm is to be suspended. The reasons given are spiralling costs, uncertainty in supply lines and the economic reality that offshore wind farms are hideously expensive to operate as well as being enormously damaging to the marine environment.

There Is Only One Way Ukraine Can End The War
As Ukraine's much hyped counterattack has failed to achieved the and momentum that hoped for by American and NATO leaders including President Volodymyr Zelensky who admitted it was "slower than desired", and a range of soldiers interviewed by BBC and Sky News television reporters t on different parts of the long (probably too long given the depletion of Ukrainian military manpower,) frontline have blamed minefields laid by Russian troops for that delay. Well as is often said, in any wartruth is the first casualty.

Status Report On That War Thing In Ukraine: Nordstream to Bakhmut, electricity and water

In the wake of attacks on the on the Stream pipelines, that effectively halted the flow of natural gas which German industry, commerce, agriculture and society relies on, and the terrorist attack on the Kerch Bridge, US Secretary of State Antony Blinken gloated that the attacks were a "tremendous opportunity" to weaken Moscow [...] And shortly after news of the Nord Stream sabotage broke on mainstream media, gas supply companies in the USA were offering to supply Europe with shipments of Liquid Natural Gas carried by supertanker to be sold to European nations at vastly inflated prices.

Putin About To Be Overthrown - Sorry False Alarms, The Second Russian Revolution Has Been Cancelled
The story was all over mainstream media here in UK this morning; the Wagner group mercenaries, the private army that defeated the forces of His Excellency, Genealissimo Vobblyvoddymyr Bellendskyyy, President for life of The Whole World at the siege of Bakhmut had rebelled against the Putin regime in Russia and was leading his troops at they marched towards Moscow. Fully paid up members of the Bellendskyyyyy fan club were creaming themselves in comment threads under the articles ...

Russia Ukraine Dirty Bomb Claim - Some Reality
As the situation in Ukraine gets more desperate with casualty numberrs mounting, half the national infrastructure in ruins and Russia upping its game in response to US / NATO military assistance privided to the neo nazi nutters in Kiev, a false flag event seems the only way to provide an excuse for direct US intervention. And the USA has a track record for fgalse flag events ...

Lockdowns, The Great Reset and the Unfolding Disaster That Is Globalism


In late 2019 and early 2020 and during the COVID era of lockdowns, mask mandates, etc., trillions of dollars were handed over, (via COVID-relief packages,) to elite interests while lockdowns and restrictions were imposed on ordinary people and small businesses.The winners were the global corporations like Amazon, Big Pharma and the tech giants. The losers were small enterprises, communities and the bulk of the population, deprived of their right to work and the entire panoply of civil rights their ancestors struggled for.

EU Vows To Retaliate if Nord Stream Gas Pipeline Blasts Were Sabotage - But against whom, the USA?
Yesterday's shocking news that the Nord Stream 1 & 2 gas poipelines between Russia and Germany immediately triggered speculation about who is responsible, but as the facts emerge the knee jerk blaming of Russia has failed to convince because the attack bears all the halllmarks of a false flag event engineered by the usual suspects ...

Do We Have A Winter Of Civil Disobedience Ahead?
As many people in Britain slap on the apres sun gloop in the wake of what passes for a heatwave in these cool cloudy climes, our inept politicians caught with their pants down by unusual weather as usual have heard that that winter is coming and are making plans for a coldwave. We are in the grip of an energy crisis at the height of summer. Last week, it was reported that the UK government is laying down plans for a "reasonable worst-case scenario" including blackouts for industry and even households. And this is as energy prices spiral out of control to new records every day.

Russian Long Range Missile Test Fuels Nuclear War Fears As NATO Pushed Ukraine To Escalate Conflict
Russia tested its latest intercontinental ballistic missile yeserday, the Satan II has a range of 10,000 miles and can devastate an area of 250,000 square kilometers according to military experts. Bizarrely commentators in mainsteam and online news services portrayed this as a sign of weakness by Russia, though the same people cheered when Joe (Dementiaman) Biden threratened a nuclear response if Russia crossed his 'red lines' in Ukraine ...

We The Good Guys Versus They The Bad Guys Reporting Does Not Make Sense For The Ukraine Crisis
Mainstream media reporting of the conflict in Ukraine has disappointed. Perhaps I was naive to suppose that lessons might have been learned from the hits their print sales and online traffic rates took as a result of their handling the COVID pandemic But instead of focusing on the most obviously newsworthy aspect of the build up to and escalation of the war, Russia's view of NATO expansion into Ukraine and even further to Georgia and Kazakhstan, news reports have simply demonised Russia and portrayed Ukraine as the good guys.

Putin, Macron To Hold Urgent Talks To Halt Military Escalation In Ukraine
Even though the leaders of Ukraine itself are talking down the threat of war with Russia over the breakaway region of Donbas, America and Britain are still beating the war drums and demonising Russian leader Vladimir Putin. Russia insists they have no plans to invade Ukraine and one western leader at least, France's Emmanuel Macron, seems to be listening to messages coming out of the East European trouble spot...

Germany News Mag. Spiegel Asks "Is Vladimir Putin Right?" About NATO Expansion
As the confrontation along the border between Ukraine and Russia has escalated to actual shooting with ethnic Russian rebel separatists in Donbas reporting intensified shelling and initiating a "general mobilization" of military-age males, with Moscow denying they plan to invade and Ukraine's leaders accusing US, UK and French leaders of hysteria for talking up the threat of war, Germany's leading newspaper Spiegel asks the question fundamental to the entire conflict...

While Crazy Joe Biden Claims Victory Over Russia, NATO's Expansin Plans Have Been Derailed By PutinJoe Biden (or his handlers because we all know Joe's mind is gone,) have been trying to spin reports of Russian troops withdrawing from positions close to the Ukraine border as a diplomatic victory for the USA over Putin but in the geopolitical game things are seldom what they seem to be ...

As The COVID Narratyive Crumbles War Takes Over As The Scary Monster That Keeps People In Fear
As the COVID narrative crumbles under the weight of evidence that the vaccines do not work, masks are useless and lockdowns kill more than they save a new scaremongering narrative - or a revamped old one - is emerging as the threat of war with Russia is the latest fear and panic vehicle to scare the people into compliance with tyranny. Continue reading >>>

Currency Wars - Now The Euro Challenges The Mighty Dollar
Our http://www,greenteethmm.com/currency-wars.shtmlcurrency wars feature has taken a back seat these past two years as the COVID pandemic (or propaganda pandemic as some people might say,) has pushed all other stories aside. In our opinion however, the pandemic has served as a convenient smokescreen behind which all sorts of elitist skulduggery has been going on, hidden from the view of the general population. ... Continue reading >>>

Russia - Ukraine crisis: Western foreign policy failures
Mainstream media's hyping of the threat to Ukrained posed by Russian aggression is the latest in a long line of attempts to lay blame for western foreign policy disasters at the fet of Russia. In fact had Joe Biden not started to babble about Russian aggression, talking up the threat of conflict, there would be no crisis ...

Is The Russian Threat To Invade Ukraine Real Or A Globalist Conspiracy Theory?
Continue reading >>>While Joe Biden's handlers in Washington and Boris Johnson In London talk up the threat of war should Russia invade Ukraine as they claim Moscow is preparing to do,Ukrainian leaders are dismissive, accusing the west of ramping up hysteria in a bid to divert attention from oither problems.

British Government Laundered Fake U.S. 'Intelligence' On Ukraine
The British government on Saturday accused Russia of organizing a plot to install a pro-Moscow government in Ukraine, as the Kremlin masses troops near the Ukrainian border. The U.K. Foreign, Commonwealth and Development Office gave relatively little information about the intelligence unveiled Saturday other than to say that the Russian government was considering trying to make a Russia-leaning former member of Ukraine's parliament, Yevhen Murayev, the country's new leader. Continue reading >>>

British Government Laundered Fake U.S. 'Intelligence' On Ukraine
The British government on Saturday accused Russia of organizing a plot to install a pro-Moscow government in Ukraine, as the Kremlin masses troops near the Ukrainian border. The U.K. Foreign, Commonwealth and Development Office gave relatively little information about the intelligence unveiled Saturday other than to say that the Russian government was considering trying to make a Russia-leaning former member of Ukraine's parliament, Yevhen Murayev, the country's new leader. Continue reading >>>

One Of The Weaker NATO Members Goes Off Message To Prevent War With Russia
Mainstream media has been singing in unison on the Ukraine crisis, just as it has been over the vastly exaggerated risks posed by the manufactured pandemic crisis. Russia bad, war good has ben the mantra throughout the last couple of weeks as the ruling elites tried to turn up the the fear-and-panic generator to eleven [...]The whole Ukraine scare is as false as the pandemic ...

Putin has got Biden over a barrel with Ukraine – and markets know it
We've had a number of armed kerfuffles in Europe fairly recently but these were mostly centred on The Balkans and were local affairs [...] The threatened bust up between Russia and the west over Ukraine is much more serious – potentially the worst inter-regional conflict since the cold war, with far reaching consequences for both geopolitical and economic stability if mainstream mediaeports are to believed.

Storm Clouds Gathering Over Ukraine - Or Just The Usual Geopolitical Games
25 January 2022: As the COVID-19 Killer Virus Pandemic narrative crumbles under the weight of evidence that the vaccines don't work and therefore vaccine passports are irrelevant, masks are useless, and lockdowns only trash national economies and destroy businesses, the elites are desperately looking for another scare story to distract public attention from the godawful mess they have made with their globalisation plans, green energy follies and open borders insanity.

Russia Responds To UK's "Very Dangerous" Coup Allegations
23 January 2022: Russia has blasted this weekend's allegations by the UK government that it's planning to install a pro-Kremlin puppet leader in Ukraine. "We have information that indicates the Russian Government is looking to install a pro-Russian leader in Kyiv as it considers whether to invade and occupy Ukraine," the UK statement published Saturday began ...

Europe's Energy Crisis Exposes Green Fraud
Vladimir Putin has been celebrating the recent and much reported European energy crisis, knowing that withouout his doing anything, thanks to the obsessive pandrering to Greta Thunberg and the green lobby political leaders ion the UK and EU member states Russia has been handed control of European markets, with the option of manipulating supply chains and prices at the same time. In the meantime the European nations have failed to sufficiently diversify supply.

Recommded real news: Back to business as usual on COVID - 19 (8 April 2020)
Today: COVID-19 Computer Models Continue To Deteriorate; Covid-19 drags French economy into deep recession the likes of which it has not seen since 1945; Oil Prices Tumble As Russia Balks At Proposed US Production Cut; Kissinger says 'even US' can't defeat Covid-19 alone. His solution? Global NWO government,