Is Free Speech Being Murdered By The Media And Politically correct Left Wing Activism
---
---
---
BBC Journalist Allegedly Likens Working Class Men to 'Amazonian Cannibals'
It's always entertaining when lefties forget they are supposed to believe in equality, tolerance and diversity and show what nasty little snobs they really are. BBC political magazine show Panorama's John Sweeney, who likes to parade his 'right on' socialism in public, is reported to have been caught referring to working-class men as being like "cannibals from Amazonia" in an undercover video released by one of the left's favourite hate figures, former EDL leader Tommy Robinson. What makes Robinson a prime target for left wing bigots is of course that he was born into their caste.
Robinson, real name julian Yaxley - Lennon come from a middle clas family but when the father abandoned them, Robinson's mother fell into poverty and ended up living in social housing in a town with one of the biggest Muslim ghettos in Britain, Luton.
The video in which Sweeny is said to have launched into the appallingly prejudiced attack on the working class was posted to Robinson's social media accounts on both Facebook and Instagram over the weekend and shows the former English Defence League leader confronting Sweeney over his comments. Sweeney seems to describe meeting a working-class white man named Danny in a BBC green room saying, "it was unusual to meet a white working class male in the Newsnight green room."
Well at least that is probably true, working class voices don't get much airtime from the BBC, instead of giving them a voice the "Ministry Of Truth" hires 'experts' who have never done an honest day's work in their lives to pontificate about the ignorance, racism, homophobia etc. etc. that are qualities of all white, working class British males.
Robinson has also published live streams on Facebook claiming he has more undercover footage of both Sweeney and of people involved with far-left activist organisation HOPE not Hate who are claimed to have sat in on interviews filmed for the Panorama documentary on Robinson apparently labelled with the working title "Tommy Takedown."
The free speech activist says the full footage will be compiled into a documentary and shown in Manchester on February 23rd outside of the BBC's offices in the city. He has also promised (threatened?) that he will post further footage from the documentary every 72 hours, starting on Tuesday evening.
So far, neither Sweeney, the BBC, nor HOPE Not Hate have commented on Robinson's released footage or claims of further revelations, although HOPE not HATE senior researcher Joe Mulhall briefly locked his Twitter account following the release of the footage.
MORE ON FREE SPEECH
---
"Who Will Dare Tell The Truth About Government?"
Authored by Robert Gore via Straight Line Logic,
If the US government prosecutes Julian Assange and WikiLeaks, it will mark a point of no return.
We'll never know what "average" Germans thought on November 11, 1938, the day after Kristallnacht. Perhaps a few recognized it for what it was: a turning point, an acceleration of Germany's descent into hell. America's Crystal Night looms, and if it occurs, only a few will recognize it for what it is.
The fate of Julian Assange is the fate of one man, but it is also the fate of one of our most important freedoms. There won't be shattered plate glass from vandalized businesses littering the streets, synagogues smashed, graves unearthed, or people herded onto trains. But his prosecution by the US government would destroy an inestimable value, one enshrined in the First Amendment, for which generations of Americans have fought and died: the right of the people and its press to inform the people and to hold their government to account.
Aside from armed resistance and revolution, the one defense individuals have against governments is intellectual: the concept of individual rights. There is an argument as to whether those rights come from our Creator (Thomas Jefferson) or from our basic nature as humans and the requirements of our survival (Ayn Rand). Despite starting from different premises, both arguments lead to the same conclusion: individuals have inherent, inalienable, inviolable rights, and the only legitimate function of government is to protect those rights.
The Declaration of Independence and the Constitution were explicit attempts to delineate a set of principles that recognized individual rights and tried to restrain government power. Though real-world implementation has fallen short, often far short, they were towering conceptual achievements.
In 1933, the year Hitler assumed power, the government began enacting laws that restricted Jews' rights to earn a living, gain an education, or work in the civil service. In 1935, the Nuremberg Laws stripped German Jews of their citizenship and forbade them from marrying non-Jewish Germans.
Kristallnacht's hooliganism was encouraged by the German authorities, and none of the perpetrators bore any legal consequences. More than 30,000 Jewish men were arrested and deported to concentration camps. The government would not protect Jews from the depredations of thugs and the government itself was a thug. Kristallnacht was a point of no return: Jews no longer had any legally enforceable rights. Soon enough no German would.
In America, there is no one villain or group that one can point to as responsible for the erosion of rights. Begun the day the Constitution was ratified, it's been a gradual process. We've reached the point where only a few of the rights guaranteed in the Constitution and Bill of Rights still receive any measure of government solicitude.
Property and contract rights are out the window; the government routinely abridges them. You have no right to your own income, or to conduct your legitimate business or trade free from government regulation and interference. Much of the Bill of Rights is either irrelevant now or has been rendered a dead letter. In terms of individual rights, only the Second Amendment's much infringed right to bear arms, and the First Amendment—the prohibition against the government establishing a religion, free speech, press, and assembly, and the right to petition the government—are still hanging by a thread.
Which is why the fate of Julian Assange takes on such significance. While the government has prosecuted those like Chelsea (formerly Brad) Manning who have stolen government secrets and classified information, it has not prosecuted the press individuals and organizations who have published them. That is WikiLeaks' business model: it receives, vets, and publishes stolen information, often from governments.
The government has not gone after publishers because it would be a frontal assault on the First Amendment that it would probably lose. Any exception would swallow the general rule of press freedom. Say the Supreme Court recognized an exception: classified information whose publication would constitute an imminent and grave threat to the security of the United States. Who decides what's an imminent and grave threat? The government would have the power to classify whatever information it pleases under that exception and put those who publish it at risk of prosecution, their only recourse years of costly litigation spent arguing that the information didn't fit the exception.
Many Trump admirers resist the notion that their man is interested in the acquisition and use of power, but his and members of his administration's hostility to individual civil liberties belies that resistance. Attorney General Jeff Sessions is a gung-ho supporter of the civil-liberties-eviscerating-government-power-expanding War on Drugs and civil asset forfeiture.
In the latter, a government seizes assets it claims were involved with crimes and makes their owners jump through myriad legal hoops—including proving the negative that their assets weren't involved in a crime—even if the owners themselves were never convicted, or even charged, with a crime. Assets that are not "acquitted"—cars, cash, boats, houses, etc.—are kept and used by the government. President Trump has endorsed civil asset forfeiture, and has extended it outside America's borders via an executive order (see "By Imperial Decree," SLL, 1/2/18).
Trump's Secretary of State and former director of the CIA, Mike Pompeo has fashioned a legal approach the administration might use, in a case against WikiLeaks and Assange, to slither around the First Amendment. In April, still director of the CIA, he delivered a speech in which several passages demanded, but never received, careful parsing from the mainstream media. They are still obsessing over a February Trump tweet in which he declared the US media an "enemy of the people." This is considered a threat to the First Amendment, but Pompeo's speech was mostly ignored.
Pompeo called WikiLeaks "a non-state hostile intelligence service often abetted by state actors like Russia." Most press organizations, and almost all that consistently challenge the state, are non-state. WikiLeaks has published state secrets, undoubtedly considered hostile acts by those states, but how is it an intelligence service? Pompeo is arguing that WikiLeaks cannot be considered part of the press, consequently it's not protected by the First Amendment.
As for the "abetted by state actors like Russia," WikiLeaks has consistently denied it received the DNC emails from Russia, and nobody has proven otherwise. The best technical evidence indicates those DNC emails were directly downloaded to a portable storage device, indicating an inside job, and not remotely hacked, by Russians or anyone else.
Pompeo argued that "we have to recognize that we can no longer allow Assange and his colleagues the latitude to use free speech values against us." This is straight from Orwell: you are free to say what you want, as long as you don't say anything against the government. He claimed that WikiLeaks "pretended that America's First Amendment freedoms shield them from justice," and, "they may have believed that, but they are wrong." Now where would WikiLeaks get such a crazy idea? How about the plain language of the First Amendment?
Return To Top
or scroll down to continue browsing
---
Facebook Engineer's Stunning Admission: "We Tear Down Posters Welcoming Trump Supporters"
Earlier we reported President Trump's attack on Google, with his remarks later broadening to include Twitter and Facebook, accusing the Silicon Valley digital media giants of leftist bias and Google particularly of "rigging" search results by presenting only results, in his words, "from National Left-Wing Media." He claimed "Google & others are suppressing voices of Conservatives and hiding information and news that is good."
"Those companies "better be careful because you can't do that to people," Trump said later in the Oval Office. "I think that Google, and Twitter and Facebook, they are really treading on very, very troubled territory and they have to be careful. It is not fair to large portions of the population."
Google immediately responded, condemning Trump's charge, and claiming that "Search is not used to set a political agenda and we don't bias our results toward any political ideology." (They would say that, wouldn't they?)
As has often happened with Trump's twitter storms, the politically incorrect truth was later found in the borderline crazy outbursts.
According to a leaked memo posted on Facebook's internal message board titled "We Have a Problem With Political Diversity", which was published by the New York Times, a Facebook senior engineer, Brian Amerige, supported Trump's allegation, writing "we are a political monoculture that's intolerant of different views" and shockingly admitted that "we claim to welcome all perspectives, but are quick to attack — often in mobs — anyone who presents a view that appears to be in opposition to left-leaning ideology. We throw labels that end in *obe and *ist at each other, attacking each other's character rather than their ideas."
Anyone who has been shadow - banned by Facebook, as have the owner of this blog and many of his friends (not extreme right nuts jobs as 'liberals' often describe them, but classical liberals, who love free speech and diversity of ideas. Shadow banning is a particularly nasty trick used to rob people whose posts do not break any laws or community guideslines but oppose the corporate political position; usrs are not prevented from posting, but the algorithms ensure few people, (usually those who log into the users' page or follow direct links,) will ever see the posts. People who are shadow banned do not feature in their friends newsfeds for example.
Amerige's indictment of Facebook's authoritarian - liberal "mono-culture" continues:
We do this so consistently that employees are afraid to say anything when they disagree with what's around them politically.? HR has told me that this is not a rare concern, and I've personally gotten over a hundred messages to that effect. Your colleagues are afraid because they know that they — not their ideas — will be attacked. They know that all the talk of "openness to different perspectives" does not apply to causes of "social justice," immigration, "diversity", and "equality." On this issues, you can either keep quiet or sacrifice your reputation and career.
"These are not fears without cause" Amerige continues, adding another stunning revelation about the social media giant's biased culture, "Because we tear down posters welcoming Trump supporters. We regularly propose removing Thiel from our board because he supported Trump. We're quick to suggest firing people who turn out to be misunderstood, and even quicker to conclude our colleagues are bigots. We have made "All Lives Matter" a fireable offense. We put Palmer Luckey through a witch hunt because he paid for anti-Hillary ads. We write each other ad-hoc feedback in the PSC tool for having "offensive" ideas. We ask HR to investigate those who dare to criticize Islam's human rights record for creating a "non inclusive environment." And they called me a transphobe when I called out our corporate art for being politically radical.
In other words, the official policy run by Facebook's management of not toleratiing and where possible suppressing opposition to the company's Cultural Marxist ideology is not tolerated. In other words Facebook uses fascist tactics to enforce its progressive public stance.
Amerige wasn't alone in attacking Silicon Valley's liberal bias, and as the NYT reports, since the post went up, "more than 100 Facebook employees have joined Mr. Amerige to form an online group called FB'ers for Political Diversity." The aim of the initiative, according to Mr. Amerige's memo, is to create a space for ideological diversity within the company.
The group's formation has upset other Facebook employees (those who identify as Zuckerber's arse kissers maybe,) who said its online posts were offensive to minorities (although none of the posts referred specifically to any minorities,). One engineer, who claimed anonymity for fear of retaliation, said several people had lodged complaints with their managers about FB'ers for Political Diversity and were told that it had not broken any company rules. It is of course hypocritical of Facebook to claim the moral high ground as the upholder of liberal values when Zuckerberg, personally, and his top management team operate a culture of fear to deny employees right to express their own opinions in private.
According to numerous reports the activity is a rare sign of organized dissent within Facebook "over the company's largely liberal workplace culture." While the new group is just a sliver of Facebook's work force of more than 25,000, the company's workers have in the past appeared less inclined than their peers at other tech companies to challenge leadership, and most have been loyalists to its chief executive, Mark Zuckerberg.
Within Facebook, we hear, employees have argued over the decisions to ban certain accounts while allowing others. At staff meetings some workers have repeatedly asked for more guidance on what content the company disallows, and why.
The dispute over employees' political ideology arose a week before Sheryl Sandberg, Facebook's chief operating officer, is scheduled to testify at a Senate hearing about social media manipulation in elections. A team helping Ms. Sandberg get ready for the hearing next Wednesday has warned her that some Republican lawmakers may raise questions about Facebook and biases.
In May, Facebook announced that former Senator Jon Kyl, an Arizona Republican, would lead an inquiry into allegations of anticonservative bias on the social network, where new employees supposedly go through training that describes how to have respectful conversations about politics and diversity while complying with company policy.
Return To Top
or scroll down to continue browsing
RELATED POSTS:
In Private Meeting, Top Facebook Exec Threatened News Outlets That Do Not Coperate With Censorship Policy
During a meeting held behind closed doors last week, top Facebook executive Campbell Brown, acording to several people who were present, warned news publishers that refusal to cooperate with the tech behemoth's efforts to "revitalize journalism" (i.e. ensure nothing …
Facebook Hamstrung In France; India Outlaws Its Free-Net Service
France's privacy authority has ordered that internet social media monster Facebook must stop collecting French users' information without their consent, and transferring data to the US. A decision published by the French commission for information protection underlined how Facebook's practice of tracking non-users' Internet activities failed to comply with EU privacy regulation.
Commerzbank, Mozilla, Suspend Facebook Ad Campaigns As Advertisers Start Pulling Out
As we reported yeserday, the backlash against Facebook over the Cambridge Analytics data harvesting story continues to grow. At first it seemed fairly innocuous, some crazy scientist had developed an app that tricked people into granting access to their personal details and activity records. Then it emerged that even though the guy had been naughty, …
Google, Facebook and Twitter Yield to German Govt Demand to Censor Anti-Migrant 'Hate Speech' (aka Free Speech)
Over the past couple of days we, and many other New Media outlets reported the horrific incident in Cologne, Germany at New Year, in which a crowd on male, recently arrived immigrants, all of Arab or North African appearance according to witnesses carried out a mass attack on German women who were simply trying to use the railway station.
Facebook Is Falling Apart so Fast We Can't Keep Up
Facebook Is Falling Apart so Fast We Can't Keep Up Anyone who reads The Daily Stirrer regularly will know we have never been fans of Facebook, Google or any of the other multi – billion dollar internet corporations which operate business models based on abusing users privacy. We have always predicted retribution would one day …
How Internet Companies Like Google and Facebook Have Helped The spread of extremism
Although the Westminster terror attack is still filling the print and broadcast news and the usual conspiracy theories about it's being a false flag incident start to circulate, attention is turning to the role of technology companies such as Google, Facebook and Twitter in the process of radicalisation. Google stands accused of providing easy access …
Philanthropic" Mark Zuckerberg Will Place Facebook Shares In A For-Profit LLC
Sorry to seem the
The Grinch Who Stole Christmas
, but somebody has to blow the whistle on the latest self serving stunt of the self server in chief, Mark Zuckerbugger but the great act of philanthropy with which the Inyaface Datatheft Book chief celebrated the birth of his child is, like everything else billionaire philanthropists do, not quite as straightforward as it has been presented in mainstream media.
Who Runs America? US Federal Trade Commission Takes Orders From Google
Barak Obama runs America surely, you might well be thinking. We would argue that no US President since Eisenhower has truly run the USA. But the latest revelation of how cosy the Obama Administration has become with corporate business, to the extent that government departments are taking instruction from Google will shock even the most cynical Americans
Fuck Facebook, It has been taken over by prudes OK, we'll be honest, the only thing anyone at this site thought Facebook was ever any use for is getting new content picked up by search engines. With the new content being added to the site hundreds of times every second, Search Engine spirder swarm all over it. But like all tech firm bosses, Zuckerbugger and his merry little band of fascists are incapable of critical thinking and so prefer to leave decision making to algorithms.
Facebook boss Zukerberg Wants To Own The Internet
Facebook's latest acquisition Whatsapp cost $19bn, that's $40 per user. Whatsapp charge their users $1 per year. That means it will take Facebook 40 years to recover their outlay. And people are buying shares in this company? Insane.
The Threat To Our Brains Posed By The Internet by Ian R Thorpe
.
The Daily Stirrer along with many other commentators who are not easily brainwashed by corportate and government propaganda has reported many times on the dangers posed by the internet and yet people become more obsesed with the wor;ld wide web, social networking and online gaming. Now neurologists are starting to express concern.
The WiFi revolution that could take traffic off our roads and control of our lives away from us
The science and technology worshippers are getting crazier the nearer they feel they are to being able to turn us into humandroids, unthinking automatons controlled by central computers. Here's a report on their latest Dr. Evil style insanity; Using the internet to control our lives. You are a human being, you don't need an iPhone or an X Box to think for you.
The WiFi revolution that could take traffic off our roads and control of our lives away from us
The science and technology worshippers are getting crazier the nearer they feel they are to being able to turn us into humandroids, unthinking automatons controlled by central computers. Here's a report on their latest Dr. Evil style insanity; Using the internet to control our lives. You are a human being, you don't need an iPhone or an X Box to think for you.
So Tim Berners Lee Is Upset About How The Internet Turned Out FFS what did he expect?
We hear the man (falsely) credited with inventing the World Wide Web is disappointed at the way his brainchild has turned out. having been so naive and ignoirant of human nature as to believe that a free and unregulated internet would encouage everybody to join hands and sing Kumbaya, the man who made internet technology the friend of freaks, fascists and fraudsters really has no right to complain
Facebook's Privacy Piracy
Once again Facebook are in trouble over their contempt for users privacy. It is quite astounding that this upstart corporation that is quite open about its ambition to control the internet does not seem to understand there are lines that cannot be crossed when it comes to broadcasting or "sharing" details of users private lives.
Internet Evil Empire Games - The Facebook Fourth Reich
Microsoft might be "the sick man of technology" a spent power desperately trying to cling to its former glories as The Ottoman Empire was in 1914, Google are The Evil Empire, consistently evading regulators attempts to curb their ambition to control all the information in the world and quite prepared to trample on our individualism, privacy and civil rights in order to do so. Where does that put Facebook then?
---
In Private Meeting, Top Facebook Exec Threatened News Outlets That Do Not Coperate With Censorship Policy
During a meeting held behind closed doors last week, top Facebook executive Campbell Brown, acording to several people who were present, warned news publishers that refusal to cooperate with the tech behemoth's efforts to "revitalize journalism" (i.e. ensure nothing that does not concur with the leftist politics of CEO Mark Zuckerberg,) will leave media outlets dying "like in a hospice."
Initially reported by The Australian under a headline which read "Work With Facebook or Die: Zuckerberg," the story prompted outraged responses which saw vthe social media giant insisting the comments were taken out of context, even though five individuals who attended the four-hour meeting agreed on what Brown had said. And to be honest, the words 'dying like in a hospice' leave little room for misinterpretation.
"Mark doesn't care about publishers but is giving me a lot of leeway and concessions to make these changes," Brown reportedly said, referring to Facebook CEO Mark Zuckerberg. "We will help you revitalize journalism... in a few years the reverse looks like I'll be holding hands with your dying business like in a hospice."
As The Guardian reported on Monday, Facebook, a company with a long track record for being economical with the truth, is "vehemently" denying the veracity of the comments as reported by The Australian, referring to its own transcript of the meeting. Facebook, however, has so far refused to release its transcript and tape record of the gathering. Enough said.
Brown's warning about the dire prospects for news outlets that don't get on board with a future in which corporate giants like Facebook are the arbiters of what is and isn't trustworthy news comes as progressives are finally understanding that for all his left wing posturing Zuckerberg is far from liberal and are raising alarms that Facebook's entrance into the world of journalism poses a major threat to non-corporate and non - conformist news publishers.
As Common Dreams confirmed in July, independents' fears were somewhat justified when Facebook revealed its first slate of 'government propaganda approved' news segments as part of its Facebook Watch initiative.
While Facebook claims its initiative is part of an effort to combat "misinformation," its first series of segments were dominated by such corporate outlets as Fox News and CNN.
In response to Brown's reporting that Zuckerberg "doesn't care about publishers," Judd Legum, who writes the Popular Information newsletter, argued, "Anyone who does care about news needs to understand Facebook as a fundamental threat."
"In addition to disputed quote, there are also Facebook's actions, which are fully consistent with the quote," Legum added.

"We desperately need to develop alternative delivery mechanisms to Facebook."
As with certain corporations involved in internet search and advertising, computer operating systems and online retailing, all run as Facebook is, by members of the Silicon Valley Cunt's Club, Facebook and Zuckerberg want it all and see no ethical reason why they shouldn't use any means availabe to get it all.
Return To Top
or scroll down to continue browsing
RELATED POSTS:

Facebook admits to nearly as many fake or clone accounts as the U.S. population
Facebook founder Mark Zuckerberg likes to brag about the number of people who use his social media site. In fact it is clear as he talks big numbers about how many users the site boasts, that he thinks the world loves him for creating this technological wonder. He's wrong of course.
Lay Off Cambridge Analytica, Facebook Are The Evil Doers

Information Technology firm Cambridge Analytica are being attacked by the hysterical mainstream media mob for their alleged role in the alleged collusion between The Kremlin and Donald Trump to steal the US Presidency in 2016, and similar abuse of private date to influence the result of the Brexit vote. It should be Facebook under attack, Cambridge Analytica only took advantage of a deal Facebook offers on the open market ...
Trump blocks Sale Of US Tech Company To China
President Trump has reportedly blocked the attempted acquisitions of a US technology company by a Chinese firm. while his opponents accuse him of breaking election promises and betraying votes, although they offer little evidence to support their claims, the increasingly tough policy against China's acquisition of US companies continues, despite the firing of White House chief strategist Steve Bannon, who supported Trmp's "economic nationalism."
Trump blocks Sale Of US Tech Company To China
Fan Bois Mad For Apple's New "FaceID" But Is It A Powerful New Mass Surveillance Tool
On Tuesday, Apple revealed their newest phone. The new line was anticipated by Apple users and is another cult favorite. But many are rightly skeptical of the "FaceID" feature.
FaceID, is a tool that would use facial recognition to identify individuals and unlock their phones for use. Unsurprisingly, this has generated some major anxiety about mass spying and privacy concerns. Retailers already have a desire for facial recognition technology.
Welcome to the Era of Artificial Intelligence and Technological Deceit

Pretty soon, computer wizardry and artificial intelligence will allow video footage to be created that is practically indiscernible from the real deal. Add holographic technology, and soon a person apparently be speaking live on screen and you'd never know it was fake. The ethical ramifications of AI and technology are simply mind-boggling. WikiLeaks have today released documents from the Vault 7 cache, a group of leaked information which contains details on the CIA Angelfire spyware tool which was developed to facilitate loading and execution of implants targeting computers using Microsoft Windows operating systems.

Electrosensitivity - the Wi - Fi disease.
So you thought people who wear tinfoil hats are crazy conspiracy theorists? Not so fast there, some of them might actually be onto something.While these people are not tinfoil hat wearers either literally or in a metaphorical sense, the measures they take to avoid exposure to electromagnetic radiation (radio - activity) can seem rather paranoid until you know more about them.

Google: Benefactor Of Mankind Or Evil Empire (or buch of idiotic nerds who got lucky?)
They way Google has come to dominate the internet just as the internet has come to dominate our lives can't all be down to good luck and careful planning can it? As this page develops you will see how sinister forces guided Google to their current position.

Shock, Horror! Millennials Safe Space Violated As Facebook Algo Accident Exposes Them To Diverse Ideas Late last month (August 2016,) the Zuckerbugger's zoons put an algorithm in charge of the Facebook "trending" feature, to select the most popular topics, articles and keywords on the web in a narrow timeframe and with due respect for the 'safe space' of millenials who can be traumatised if they encounter microaggrrrrressions in the form of controversial ideas or unorthodox opinions ...

Government Paid Trolls Are Using 'Psychology-Based Influence Techniques' in Social Media
Have you ever come across someone on the Internet that you suspected was a paid government troll? Well, there is a very good chance that you were not imagining things. Thanks to Edward Snowden, we now have solid proof that paid government trolls are using "psychology-based influence techniques" on social media websites such as YouTube, Facebook and Twitter.

Zuckerberg reveals Facebook Working On Apps 'Smarter Than Humans'
In an online Question and Answer session this week Facebook supremo and founding megalomaniacal sociopath Mark Zuckerberg announced that his company is engaged in building AI systems "that are better than humans at our primary senses."

Facebook begins Europe-wide censorship campaign against free speech.
Facebook Inc (FB.O) has commenced the Europe-wide censoring of posts and comments the ruling elite do not like, thus making good the promise given to Hausfrau – Volksfuhrer Merkel by the social media and data theft site's founder Mark Zuckerberg.
Philanthropic" Mark Zuckerberg Will Place Facebook Shares In A For-Profit LLC
Sorry to seem the
The Grinch Who Stole Christmas
, but somebody has to blow the whistle on the latest self serving stunt of the self server in chief, Mark Zuckerbugger but the great act of philanthropy with which the Inyaface Datatheft Book chief celebrated the birth of his child is, like everything else billionaire philanthropists do, not quite as straightforward as it has been presented in mainstream media.
How Google Destroyed the Internet
The idea of the internet was that it would be a communications tool that freed information by making all public domain documents, libraries and archives accessible for everyone. Unfortunately the corporate monopoly men of Google, Microsoft, Apple, Amazon and Facebook and political control freaks had other ideas. They also understood the technolgy while the hippies and liberals ignored professionals warnings that internet systems would become a perfect toool of censorship.
Corporate plundering of the UK purse has to stop – Facebook pays zero tax again
Our finance expert looks at the latest tax avoidance scandal and wonders why the governments financial agencies are always to eager to go after small time tax and benefit fraud and yet year after year turn a blind eye to the blatant criminality of global corporations in their tax evasion techniques.
Has Zuckerbugger Been Messing With Your Mind?
It has been revealed that Facebook has been collaborating with the US government and creepier fringes of the academic community in carrying out experiments to manipulate users emotions. "Facebook users have reacted angrily to a "creepy" experiment carried out by the social network and two American universities to manipulate their emotions."
Facebook boss Zukerberg Wants To Own The Internet
Facebook's latest acquisition Whatsapp cost $19bn, that's $40 per user. Whatsapp charge their users $1 per year. That means it will take Facebook 40 years to recover their outlay. And people are buying shares in this company? Insane.
Facebook Are Nazis - We Told You So
All the Greenteeth Labyrinth pages have consistently warned that the most successful internet companies, Google, Microsoft, Amazon, Twitter etc. are led by people with authoritarian, even fascistic tendencies and a world domination complex which manifests itself as a desire to establish a monopoly position in their field. Facebbk are at the forfront of this fascist cartel.
Facebook's Stockmarket Launch Fizzles Out
Facebook's much hyped stock market launch fell flat. We examine the folly of trying to pass off a social networking fad as a real, monrey making business.
Google's New Privacy Policy: 'All Your Base Belong Us'.Google has defended its decision to change the way it handles users' personal data as its new policy comes into force today. The internet search giant will now be able to use information about what people are entering into its search engine to target adverts according to users' interests under the changes. Google Evil Empire In New Privacy ViolationOnce again the neo-Nazi nerds at Google are in trouble for playing fast and loose with our privacy. Google have bypassed browser privacy setting to track our movements on the web, the bettrer to target us with ads for poxy shite no sane person would buy. What is it these arseholes find difficult to understand about the idea that in the real world or cyberspace same rules apply ...
Facebooks Latest Violation Of Users PrivacyThe Daily Stirrer looks at Facebooks latest embarrassing climbdown after initially denying a new data mining scheme covertly violates users privacy ...
Google's Schmidt Tells US Senators "We're Not MocrosoftGoogle executive chairman Eric Schmidt, giving his testimony to the Senate Judiciary subcommittee that focuses on antitrust began by recalling a ghost of the committee's past: Microsoft. Schmidt never actually mentioned its arch enemy but it is clear ...
Facebook Privacy Piracy
Is Facebook's Crisis A Tipping Point For Privacy?
The Facebook Of Dead Names
The Internet Of Things
---
Members Of European Parliament Resist Brussels Plan To Censor Web Content
It was the ultimate plan nurtured by opponents of free speech, in particular the governments of France and Germany, and the bureaucrats who effectively run the EU, to control the content we could see on the web. Collaboration with Facebook failed because Facebook users are more interested in dying donkeys and piano playing cats than news, collaboration with Google failed because all we had to do to see the'verboten' content was use another search engine.
But controlling what is uploaded to the web seemed like the perfect way to stop members of the public seeing content that questions the official narrative.
The EU has beeen considering a copyright proposal that would require code-sharing platforms to monitor all content that users upload for potential copyright infringement (see the EU Commission's proposed Article 13 of the Copyright Directive). The proposal was originally aimed at music and videos on streaming platforms, based on a theory of a "value gap" between the profits those platforms make from uploaded works and what copyright holders of some uploaded works receive. as such it was well intentioned. However, the way the proposed rules were written would enable it to capture many other types of content including news and opinion.
Upload filters ("censorship machines") are one of the most controversial elements of the copyright proposal, raising a number of concerns, including:
Privacy: Upload filters are a form of surveillance, effectively a "general monitoring obligation" prohibited by EU law
Free speech: Requiring platforms to monitor content contradicts intermediary liability protections in EU law and creates incentives to remove content
Ineffectiveness: Content detection tools are flawed (generate false positives, don't fit all kinds of content) and overly burdensome, especially for small and medium-sized businesses that might not be able to afford them or the resulting litigation
The EU Parliament continues to introduce new proposals for Article 13 but these issues remain. In the embedded video Members of The European Parliament explain why they plan to reject the proposal.
Return To Top
or scroll down to continue browsing
RELATED POSTS:
The Right To Tell Politicians To Eff Off In An Age Of Self Appointed Censors, and Compliant Media Our right of free speech is increasingly under attack from control freak politicians, politically correct left wing activists and the dark forces of corporatism.
Facebook begins Europe-wide censorship campaign against free speech.
Facebook Inc (FB.O) has commenced the Europe-wide censoring of posts and comments the ruling elite do not like, thus making good the promise given to Hausfrau – Volksfuhrer Merkel by the social media and data theft site's founder Mark Zuckerberg.
Google, Facebook and Twitter Yield to German Govt Demand to Censor Anti-Migrant 'Hate Speech' (aka Free Speech)
Over the past couple of days we, and many other New Media outlets reported the horrific incident in Cologne, Germany at New Year, in which a crowd on male, recently arrived immigrants, all of Arab or North African appearance according to witnesses carried out a mass attack on German women who were simply trying to use the railway station.
Sharia Law in Germany: Christian activist Heidi Mund charged with "agitation against the people"
Germany is sliding towards fascism as Hausfrau - Volksfuhrer Merkel outlaws free speech for Christians. All criticism of Islam and discussion of Muslim crimes is hate speech it seems, but the ranting of Islamic hate preachers as they call on Muslims to kill all infidels is acceptable rhetoric.
Academics Warn Politically Correct Universities 'Are Killing Free Speech'
Free speech is under attack from politicians and minority rights activists, but when universities start censoring ideas, society is in trouble. So what is going on when speakers who have challenged the politically correct consensus are denied a platform to speak on unrelated topics.
Democracy Murdered In France
I'm hearing very disturbing news from the French regional elections, predicting that the Front National, comfortable winners in last week's first round of regional elections, hasve been routed in all regions. For that to happen, and to happen through a massive increase in turnout, suggests electoral fraud on a hughe scale. Or has France joined Britain in adopting the Islamic version of democracy, which is one man one vote, one Imam one thousand votes.
The Self Righteous Minority That Threaten Free Speech
In the past five decades the freedoms cherished in universities in democratic societies has increasingly come under attack from those who style themselves 'The Left'. This of itself is bizarre because left wing thinking ought to be about freedom of the individual, self determination and personal development. People died for the right to speak freely, just as they did for the right of every citizen to vote in democratic elections. So where did it all start to go wrong?
Internet being ghettoized by government an corporate media, Matt Druge warns
The very foundation of the free Internet is under severe threat from copyright laws that could ban independent media outlets, according to Matt Drudge. "I had a Supreme Court Justice tell me it's over for me," said [Matt] Drudge, warning web users that they were being pushed "pawn-like" into the cyber "ghettos" of Twitter, Facebook and Instagram.
Free Speech And The 'Black Lives Matter' Book Burners
The news that students and administrators at a Connecticut, USA, university are 'boycotting' the Wesleyan Argus student newspaper for publishing an op-ed that was mildly critical of some aspects of the anti-police-brutality group Black Lives Matter (BLM). Their petition reads: 'This boycott includes recycling the Argus and demanding [its] funds… be revoked.'
---
Tommy Robinson Arrested for Live Reporting Grooming Gang Trial
In a time of universal deceit, teling the truth becomes an act of rebellion - George Orwell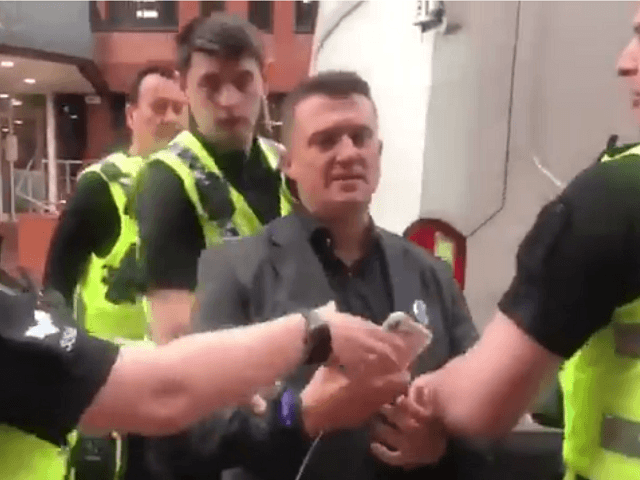 Despite public inquiries having shown that police, social services departments, local government officials and even the politicians in national government responsible for law and order and public safety lied and lied and lied and lied in their efforts to cover up the sexual abuse crimes perpetrated by Muslim men on vulnerable white girls in Rotherham, Yorkshire, thus making all levels of government and public service complicit in those crimes, the authorities are STILL trying to prevent concerned citizens telling the truth about what has happened and is still happening in Rotherham.
Law and Order activist and independent journalist Tommy Robinson was arrested this morning and taken to jail after an elite squad of South Yorkshire police mindless thugs detained him outside Leeds Crown Court, where he was reporting on yet another child grooming gang trial. Under Sharia law, which is now the paramount law in The Islamic Republic of South Yorkshire it seems, it is not illegal for Muslim men to have sex with very young children.
Robinson, former leader of the English Defence League protest movement but later joined the Quilliam counter-extremism organisation, was at the court to report on the trial of ten men accused of offences including child rape, trafficking, and supply of class A drugs to children, according to Caolan Robertson.
A video posted by Caolan shows Robinson being taken away by three police officers, apparently on suspicion of inciting a breach of the peace.
The recording of Robinson's arrest shows an officer apparently seize his mobile phone before he is bundled into the back of a van. The exact number of officers at the scene is unclear, but at least half a dozen appear to be involved to arrest a man for simply reporting events as they happen.
"This is free speech. This is where we're at," Robinson tells onlookers, before addressing the officers directly.
"You know when you do this, more people are going to watch this now than ever," Robinson tells them.
"This is ridiculous. Lads, do you feel right what you're doing, here? I haven't said a word — in fact, someone laid their hand and assaulted me outside court; other people swore at me and threatened me about my mother, and here I am being arrested for saying nothing. I've done nothing," he claims.
The 10 accused grooming gang members are now on trial at Leeds Crown Court. Charges include child rape, trafficking & supply of class A drugs to children. Welcome to Britain.
A video posted prior to the arrest does appear to show Robinson asking two men how they feel about the verdict, to which one responds: "Go and f**k your Mum's fanny, go and f**k it!"
"Is there any guilt?" responds Robinson.
"You f**k your Dad, you son of a bitch!"
Such charming people, these universdity brainwashed leftie scum. Needless to say these two were not arrested for their blatantly provocative and grossly offensive hate speech.
Robinson has now been released, although it is unclear whether police will pursue charges at this point.
Return To Top
or scroll down to continue browsing
---
UC Berkeley On Notice — Justice Is Not Playing Around On Free Speech
The US Department of Justice (DOJ)on Thursday issued a statement of interest in a campus free speech lawsuit against the University of California, Berkeley. "The Department of Justice will not stand by while universities which receive public funds violate students' constitutional rights," said Rachel Brand, the DOJ's Associate Attorney General, in the accompanying press release.
Young America Foundation and the Berkeley College Republicans claim that the university employs a double standard with regard to free speech and particularly high-profile college speakers, according to a press release obtained by The Daily Caller News Foundation.
The plaintiffs claim that Berkeley's "high-profile speaker policy" enabled the university's student bodies to arbitrarily prevent speakers whose views do not conform to the 'progressive' agenda from taking the platform, and cause the cancellation of conservative events by imposing restrictive security conditions, and only offering inconvenient venues.
While statement of interest does not suggest the Trump administration is taking an official stance on the merits of the case, it does mean that the department will monitor the situation to ensure left wing groups are not suppressing their opponents' right to free speech.
"The allegations made by the plaintiffs in this lawsuit are unfounded," Berkeley spokesman Dan Mogulof told online news ite The Daily Caller. "Berkeley does not discriminate against speakers invited by student organizations based upon viewpoint. The campus is committed to ensuring that student groups may hold events with speakers of their choosing, and it has expended significant resources to allow events to go forward without compromising the safety or security of the campus." Well he would say that, wouldbn't he?
Brand, in a in a Thursday Fox News op-ed. did not agree.
"A new policy at Berkeley, for example, imposes a curfew, security measures, and location restrictions for events that administrators decide are likely to 'interfere' with other campus functions or activities," Brand wrote. "It doesn't require much creativity to turn this policy into a heckler's veto. If you disagree with a speaker about to visit campus, simply declare his views offensive and threaten to riot, and the speaker will be sidelined."
Which is exactly how the left have been denying their opponents a platform in Britain, Europe, Australia and Canada as well as the USA for several years now.
Return To Top
or scroll down to continue browsing
---
Jordan Peterson and the Stupidity Of The Left
We have never been slow to lampoon the politically correct, universdity dumbed down 'special snowflakes', or the professors in politicising everything who spoon feed them a constant stream of idiotic lwft wing bullshit. but when we read a story about a professor who is challenging the bollocks and defending free speech and individiual freedom, we were delighted to have a chance to show the higher education system is not entirely in the hands of cultural Marxists.
University of Toronto psychology professor Jordan Peterson recently decided he had had enough of what he saw as a campus culture where "social justice warrior, left-wing radical political activists" ran rampant and nobody dared voice opinions that were not approved by the college's Politically Correct Thought Police.
In September 2016 he released a video lecture series taking aim at political correctness.He zeroed in on Canadian human rights legislation that prohibits discrimination based on gender identity or expression. Dr Peterson was especially frustrated with being asked to use alternative pronouns as requested by trans students or staff, like the singular 'they' or 'ze' and 'zir', used by some as alternatives to 'she' or 'he'.
In his opposition, he set off a political and cultural firestorm that shows no signs of abating.
At a free speech rally mid-October, he was drowned out by a white noise machine. Pushing and shoving broke out in the crowd. He says the lock on his office door has been glued shut on several occasions. At the same time, the University of Toronto said it had received complaints of threats against trans people on campus.
Peterson's employers have warned that, while they support his right to academic freedom and free speech, he could run afoul of the Ontario Human Rights code and his faculty responsibilities should he refuse to use alternative pronouns when requested.
They also said they have received complaints from students and faculty that his comments are "unacceptable, emotionally disturbing and painful" and have urged him to stop repeating them. The university is also trying to organise a "civil and respectful" debate, which would include Dr Peterson, to discuss gender provisions in federal and provincial human rights legislation.
Either way, Dr Peterson is not backing down. See a by conservative journalist Ben Shapiro defending his position below.
Return To Top
or scroll down to continue browsing
---
Forget everything you've ever been taught about free speech in America. It's all a lie. There can be no free speech for the citizenry when the government speaks in a language of force. What is this language of force?
Militarized police. Riot squads. Camouflage gear. Black uniforms. Armored vehicles. Mass arrests. Pepper spray. Tear gas. Batons. Strip searches. Surveillance cameras. Kevlar vests. Drones. Lethal weapons. Spy - in - the - Sky Drones. Less-than-lethal weapons used with deadly force. Rubber bullets. Water cannons. Stun grenades. Arrests of journalists. Crowd control tactics. Intimidation tactics. Brutality.
This is not the language of freedom. This is not even the language of law and order.
Unfortunately, this is how the government at all levels—federal, state and local—now responds to those who choose to exercise their First Amendment right to peacefully assemble in public and challenge the status quo.
Recently, this militarized exercise in intimidation reared its ugly head in the college town of Charlottesville, Va., where protesters who took to the streets to peacefully express their disapproval of a planned KKK rally were held at bay by implacable lines of gun-wielding riot police. Only after a motley crew of Klansmen had been safely escorted to and from the rally by black-garbed police did the assembled army of city, county and state police declare the public gathering unlawful and proceed to unleash canisters of tear gas on the few remaining protesters to force them to disperse.
To be clear, this is the treatment being meted out to protesters across the political spectrum.
The police state does not discriminate.
As a USA Today article notes, "People demanding justice, demanding accountability or demanding basic human rights without resorting to violence, should not be greeted with machine guns and tanks. Peaceful protest is democracy in action. It is a forum for those who feel disempowered or disenfranchised. Protesters should not have to face intimidation by weapons of war."
A militarized police response to protesters poses a danger to all those involved, protesters and police alike. In fact, militarization makes police more likely to turn to violence to solve problems.
You want to turn a peaceful protest into a riot?
Bring in the militarized police with their guns and black uniforms and warzone tactics and "comply or die" mindset. Ratchet up the tension across the board. Take what should be a healthy exercise in constitutional principles (free speech, assembly and protest) and turn it into a lesson in authoritarianism.
Frankly, any police officer who tells you that he needs tanks, SWAT teams, and pepper spray to do his job shouldn't be a police officer in a constitutional republic.
All that stuff in the First Amendment sounds great in theory. However, it amounts to little more than a hill of beans if you have to exercise those freedoms while facing down an army of police equipped with deadly weapons.
It doesn't have to be this way. There are other, far better models to follow.
For instance, back in 2011, the St. Louis police opted to employ a passive response to Occupy St. Louis activists. First, police gave the protesters nearly 36 hours' notice to clear the area, as opposed to the 20 to 60 minutes' notice other cities gave. Then, as journalist Brad Hicks reports, when the police finally showed up:
They didn't show up in riot gear and helmets, they showed up in shirt sleeves with their faces showing. They not only didn't show up with SWAT gear, they showed up with no unusual weapons at all, and what weapons they had all securely holstered. They politely woke everybody up. They politely helped everybody who was willing to remove their property from the park to do so. They then asked, out of the 75 to 100 people down there, how many people were volunteering for being-arrested duty? Given 33 hours to think about it, and 10 hours to sweat it over, only 27 volunteered … and were escorted away by a handful of cops. The rest were advised to please continue to protest, over there on the sidewalk … and what happened next was the most absolutely brilliant piece of crowd control policing I have heard of in my entire lifetime. All of the cops who weren't busy transporting and processing the voluntary arrestees lined up, blocking the stairs down into the plaza. They stood shoulder to shoulder. They kept calm and silent. They positioned the weapons on their belts out of sight. They crossed their hands low in front of them, in exactly the least provocative posture known to man. And they peacefully, silently, respectfully occupied the plaza, using exactly the same non-violent resistance techniques that the protesters themselves had been trained in.
As Forbes concluded, "This is a more humane, less costly, and ultimately more productive way to handle a protest. This is great proof that police can do it the old fashioned way – using their brains and common sense instead of tanks, SWAT teams, and pepper spray – and have better results."
It can be done.
Police will not voluntarily give up their gadgets and war toys and combat tactics, however. Their training and inclination towards authoritarianism has become too ingrained.
Return To Top
or scroll down to continue browsing
---
What has happened to the news. At one time the news press referred to itself as 'the fourth estate', a reference to the three estates of the nation, the government, The Monarchy and the church The news and commpent journals assigned to themselves the task of objectively and impartilly holding the others to account by investigating the background to events and reporting the facts. No more it seems.

There are no journalists now, neither the reporters in the feild, a job my Dad did for years, following tips from stringers and leads from rumour and gossip, digging into the background of stories, finding out the who, what, where, when, why and reporting it without embellishment, nor are there the independent commentators, the columnists and freelancers whose task was to analyse news stories in the wider context, join the dots and ensure an alternative to propaganda was presented to the government; today news organisations are simply broadcasting or pritning whatever they are given by the anonymous "sources" of government and corporate piblic relations departments. They show no curiosity, no suspicion,. simply swallowing everything they are spoon fed, too credulous to be real journalist they simply provide sensational titbits for a cusomer base with an ever shortening attention span. These are really end times for the MSM unless things change and soon.

True journalists about as relevant in this world of political and corporate control freakery as cordwainer (a worker in Cordovan leather), a higgler (a travelling buyer and seller of dairy products) a pargeter (an ornamental plasterer) or a fletcher (maker of arrows) These skills, trades, professions and hundreds more have been exterminated ... along with the need for truth in media. Since 9-11, all over the world there has been a concerted and determined effort to target and remove all those who would stay true to the principles of the reorter's craft. Just think for a moment of the enormous effort expended by governments and mainstream media to suppress discission of the all too obvious flaws in the official narrative surrounding that event. Or, over several decades, to silence those who dared to question the rispible official account of the assassination of president Kennedy. And, to raise up in its place, a raft of imitators who style themselves reporters, but need have no accountability, nor take the trouble to ever leave their computer screens to go and "follow" a story, their job being to simply rephrase official press releases, tailoring their hackneyed accounts to the prejudices of the intended audiences.

What most people are unaware of is that this faux-journalism is a direct consequence of the centralisation of power on the seat of government (Washington, London, Brussels, Paris etc.) and of wealth (control rather than ownership of) in the hands of global corporations and financial institutions. When leaders and academics start to talk of the need for a world government, they cannot be thinking of the interests of ordinary people who work hard for a living. At the time of writing The European Union is failing simply because it tried to merge the interests of Siciluan almond growers and Greek sheep farmers with those of Urianium miners in Kiruna, northern Sweden or the indusrtial workers of Germany. Realists would have seen the sheer impossibility of creating a one size fits all economy and culture to serve these vastly different groups.

The ideologically diven elitists arrogantly assumed that by controlling everything they could impose their cultural Marxist vision on the world, and have controlled mainstream media because news organisations were controlled by the corporate and financial elite. But the public saw through the managed news outpuut they werre being offered and turned elsewhere. Now it falls to new media, alt_media, to challenge the special interest groups controlling all communication channels and oppose the control freaks. It can be, and has been, argued however that alt_media represents just more special interests with even less accountability.

"There is no longer any attempt to maintain the illusion that makes events capable of adopting the force of news reporting that provides an accurate reflection of reality. Only the medium can make an event - whatever the contents, whether they are conformist or subversive. AND - There are no more media in the literal sense of the word - that is, of a mediating power between one reality and another, between one state of the real and another."

The role of news media then has changed from 'mediating' between events and the reader, to acting as a narcotic, medicating the reader against reality with trivia, celebrity gossip, and concocted storylines customised to appeal to the target audience in order that the central authority can control the narratives and thus shape opinion.

"The Deep State, The Shadow Government, call it what you will, has usurped the role of "the media" in informing the public and "speaking truth to power" to borrow a phrase from anorganisation that has abandoned the principle. Likewise the state has re-defined the terms "democracy" and "free speech" to serve it's own ends, and is now picking off the social media tools which had formerly belonged to the user community as a network of contributors, thus relegating "the media" to the role of a harem eunuch, a jongleur, an entertainer.

All of this has been meekly accepted by a web addicted audience which has forsaken critical thinking skills to a cabal of experts and gurus determined to put the lie to that old adage - 'you can't fool all of the people, all of the time. What a lot of people do not understand about web techology is its ability to make doing just that very easy.

Return To Top or scroll down to continue browsing

---
During a lively discussion with Joe Scarborough, centered on fears that President Trump is "trying to undermine the media," MSNBC's Mika Brzezinski let slip the unspoken truth that mainstream media sees its "job" as to "actually control exactly what people think."

SCARBOROUGH: "Exactly. That is exactly what I hear. What Yamiche said is what I hear from all the Trump supporters that I talk to who were Trump voters and are still Trump supporters. They go, 'Yeah you guys are going crazy. He's doing -- what are you so surprised about? He is doing exactly what he said he is going to do.'"

BRZEZINSKI: "Well, I think that the dangerous, you know, edges here are that he is trying to undermine the media and trying to make up his own facts. And it could be that while unemployment and the economy worsens, he could have undermined the messaging so much that he can actually control exactly what people think. And that, that is our job."

As another panellist points out, the comment failed to raise any eyebrows from her co-panelists. Instead, her co-host, Joe Scarborough, said that Trump's media antagonism puts him on par with Mussolini and Lenin...

Return To Top or scroll down to continue browsing


RELATED POSTS:
Back to Contents table
Michael Meacher, outspoken doubter of the 911 official story, dies suddenly in as yet unexplained circumstances


Kid's Company Financial Scandal Shows Politicians Are Too Naive For The Real World
The financial scandal that emerged after the collapse of Kid's Company, the 'charity' founded by Camila Batmanghelidjh and supported by in turn, Labour, Coalition and Conservative Governments is a perfect illustration of corruption in the public sector and the folly of outsourcing government responsibility to self - interested privateers.

Latest Posts


Elsewhere: [Little Nicky Machiavelli]...[Scribd]...[Wikinut] ... [ Boggart Abroad] ... [ Grenteeth Bites ] ... Ian Thorpe at Flickr ] ... [ Tumblr ] ... [ Ian at Minds ] ... [ The Origninal Boggart Blog]
---
Can Americans Overthrow The Evil That Rules Them?
After Brexit European Union Moves To Abolish Free Speech!
A report in New Europe reveals that in Leeuwarden, Netherlands "about twenty opponents of the plans [to establish asylum centers] in the region received police visits at home." In other words, the government of Netherlands, a nation that has paraded its liberalism, is engaging in state censorship, which raises the question: Is the Netherlands now a police state?
At the time of writing Geert Wilders, leader of the anti - EU, anti - immigration Freedom Party in The Netherlands Parliament is on trial for 'hate speech'because of some innocuous remarks he mad about the country not needing any more Moroccan immigrants.
In the town of Sliedrecht, the Thought Police arrived at Mark Jongeneel's office to tell him that he tweeted "too much" and that he should "watch his tone": his tweets "may seem seditious". His offense? One tweet said: "The College of #Sliedrecht comes up with a proposal to take 250 refugees over the next two years. What a bad idea!"
In September 2015, Die Welt reported that people who air "xenophobic" views on social media, risk losing the right to see their own children.
Some might say it is an over - reaction to dub the EU a putative fascist superstate, but while European citizens are increasingly at risk of arrest for "hate speech" and "xenophobic remarks" (both terms for which there is no legal definition, the law does not apply equally to all Europeans, the ruling elites it sems can say what they like about whom they dislike. German EU Commissioner Günther Oettinger recently called a visiting Chinese delegation of ministers "slant eyes" ("Schlitzaugen"). European Commission President Jean-Claude Juncker immediately promoted Oettinger to be in charge of the EU budget.
It is not an isolated case. While EU leaders routinely slag off in the most xenophobic terms anybody who opposes their cultural Marxist, globalist agenda, citizens, are arrested and prosecutedfor exercising their right to free speech. Anybody can be a target it seems, except for Muslims, blacks and gays.
We have said before that in Europe and throughout the developed world We The People are at war, and our common enemy is not Russia, China, Iran, Islamic fundamentalism or nationalistic extremism. It is our own governments, the ruling elites, politicians, academics, the professions, the super rich, media luvvies and that army of 'experts' that has spring up, ready to pontificate on anything everything. Evidence is mounting that expressing any opinion, no matter how reasonable, that runs counter to official government policy can land you in prison, or at least ensure a visit from your local Thought Police. Has the European Union effectively become a police state in a desperate but doomed bit to stop disintegration? It would seem so and our FREE ebook on the subject shows that turning the proud old nations of Europe into a bureaucratic dictatorship.
Several European governments including Germany and Sweden have made clear to their citizens that criticizing migrants or European Union 'open doors' immmigration policies will be treated as a criminal offence. People who go "too far," according to the authorities, are being arrested, prosecuted and at times convicted.
Return To Top
or scroll down to continue browsing
RELATED POSTS:
USA Trumps Brexit: Next Quitaly or Eirexit?
Polish Leader Kaczynski Says European Union Must Change Or Disband
Juncker Faces Court Challenge Over 'Illegal' Ban on Early Brexit Negotiations
EU Parliament and Commission in Standoff Over Fines, Sovereignty
European Union The Prison Of Peoples - France's Le Pen Calls For European 'Spring'
French Prime Minister says: "Europe Is Falling Apart"
Well We Have Been Warning You: European SUPERSTATE plan unveiled: EU nations 'to be merged into one' post-Brexit
Will TTIP Make Europe A Colony Of The USA?
Europe Will Be Diverse By Order Of The EUroNazis
"The European Project Was Always Bound To Fail" – Europe Abandons The Union
Elsewhere: [
The Original Boggart Blog
] ... [
Daily Stirrer.shtml
]...[
Little Nicky Machiavelli
]... [
Ian's Authorsden Pages
]... [
It's Bollocks My Dears, All Bollocks
] [
Scribd
]...[
Wikinut
] ... [
Boggart Abroad
] ... [
Grenteeth Bites
] ... [
Latest Posts
] [
Ian Thorpe at Flickr
] ... [
Latest Posts
] ... [
Tumblr
] ... [
Ian at Minds
] ... [
Authorsden blog
] ... [
Daily Stirrer News Aggregator
]
[
Ian at Facebook ]
---
Can Americans Overthrow The Evil That Rules Them?
The anti - establishment, anti - globalisation mood that manifested itself in the Brexit vote is sweeping across Europe, the cosy government - corporate cartel is desperately trying to control the narrative, but against the combined strength of millions of new media commentators all challenging the official; narrative, the dar forces of globalism are on the back foot. With the warnings of Presidents Eisenhower and Kennedy in mind, concerning the dark forces at work in American society, the 'shadow government', this post examines the threat to freedom posed by a hillary Clinton prediency.
Can Americans Overthrow The Evil That Rules Them?
Return To Top
or scroll down to continue browsing
Close Window and return to previous URL