---
Why have we doctors been silent? — Lucie Wilk
by Lucie Wilk, originally published in TCW Defending Freedom
AS an NHS hospital doctor, I have had a front-row seat as the drama of the coronavirus pandemic has unfolded. It has been a year and a half of confusion, frustration and anger for me as I've watched our profession drawn into complicity with what I anticipate will be regarded as one of the most egregious public health disasters in history.
I have watched as 'the science' has been presented on the national stage flanked by Union Jack flags as an unassailable truth. For something so apparently inviolable, it seems to shift and change disconcertingly from week to week, and for those of us looking beneath the pomp to the plain data, we see the rather unexciting (and unchanging) truth: the novel coronavirus SARS-CoV-2, as it turns out, has a much lower infection fatality rate than early predictions. It is less deadly than the seasonal flu in children. The Office for National Statistics has reported the mean age of a Covid-attributed death in the UK to be 80.3 years, slightly older than deaths from other causes (78.2 years over the comparable time period).
What has been most upsetting for me has been the unquestioning compliance from the medical community as increasingly draconian, non-evidence-based and destructive virus control measures have been implemented. Some of the overt corruption, financial conflict of interests and politicisation has been laid bare in editorials in prominent medical journals such as the BMJ. But the vast majority of doctors have had no interest in asking questions or looking further.
My concern over our professional passivity turned to alarm as our compliance required us to support the roll-out of an experimental vaccine to a trusting population.
Contrary to the basic tenets of evidence-based medicine, pronouncing an experimental medical intervention 'safe and effective' now does not seem to require any peer-reviewed evidence of safety or clinically meaningful efficacy. The vaccines have not been shown in clinical trials to reduce transmission, hospitalisation or death. The phase 3 trials are not over and the safety data is not complete; the earliest trials will run into 2023.
The consent form for the Covid-19 vaccine does not disclose its status as an unlicensed experimental product. The risks remain largely unknown, although it is becoming clear that the vaccine has resulted in death or injury in a rising number of healthy people. A growing number of vaccine-induced syndromes are being recognised, including immune thrombotic thrombocytopaenia, myocarditis and menstrual irregularities, among many others being published in the literature. At the time of writing, there have been more than 380,000 reports, 1.2million injuries and 1,700 fatalities submitted under the MHRA Yellow Card scheme.
The Prime Minister himself has communicated the latest evidence, that two doses of the vaccine do not stop one contracting the virus, nor do they stop person-to-person transmission, they merely reduce the severity of symptoms. Despite this, it is clear the public are being subjected to a relentless media campaign of shame and coercion, that they must take this experimental product 'for the greater good' lest they be viewed as selfish cowards. A vaccine passport is now likely to be rolled out under 'Plan B', which proposes to return unlawfully usurped fundamental human rights and freedoms to only the vaccinated. Workers in the care home sector have had their livelihoods tethered to their compliance with the vaccine mandates, and a recent announcement confirms that this will soon include NHS employees. Not only is there no scientific basis for these mandates, these coercive actions breach the Nuremberg Code, as does the unprecedented lack of animal safety data for a novel medical product. A betrayal of the Nuremberg Code constitutes a crime against humanity.
It does not end there. The campaign marches on, and now includes the vaccination of children against a disease that has a statistically negligible chance of harming them. In the world of evidence-based medicine we doctors must weigh risks and benefits, we must ensure the risk of harm is far exceeded by the potential for protection or cure. In this case, with no real risk to healthy children from the infection, any harm is utterly unjustifiable. And the risk of harm is very real and measurable. Vaccine-related myocarditis is now a recognised injury, the risk inversely proportionate to age. Although rare, myocarditis can be fatal, and fatality is more common in the younger population. For reasons that have nothing to do with health, and despite the JCVI advisory board concluding that the health benefits do not outweigh the risks to children, the government is advising that we administer a medicine that carries a risk of serious injury to children who are healthy and who have no significant risk from the disease it purports to protect them against.
Despite all this, and despite our training to look at scientific literature and data with a critical eye, the silence from the medical community in the UK has been deafening. Yet we are the ones who should be shouting all of this from the rooftops. This is a duty of care and an oath we have forgotten.
It is typically those of us most conditioned by the expectations of society, utterly obedient and deferent to authority, who gain entry to medicine. One can see the path: we were good, compliant children and then good, compliant students. Now we are good, compliant doctors. I'm beginning to understand that goodness is measured in a different way, and obedience is not a virtue.
Back to Contents
MENU:
Covid Vaccine Fascism
POSTS:
Cancer expert says U.K. seeing spike in "non-covid deaths," nobody willing to call out vaccine elephant in the room
Excess mortality in the United Kingdom is off the charts, and yet nobody is willing to call out Wuhan coronavirus (Covid-19) "vaccines" as the culprit. Cancer expert and Prof. Carl Heneghan describes the current situation in Great Britain as a "national scandal." A shocking 9,300 more people than usual have died in the U.K. over the past several months, and officials are blaming everything else except the injections. Continue reading >>>

After a weekend of increasingly violent protests around Europe, similar to the one pictured above in London, against elitist plans to introduce new limitations on freedom, lockdowns and further steps towards compulsory vaccination (with a vaccine that does not immunise against a virus that makes very few people ill,) it is disappointing to see that in the US and UK, mainstream media is still doing its best to ratchet up the fear and panic ... Continue reading >>>
The Betrayal Of Humanity By The Corrupt Medical Professions
From day one, back in March 2020 when the pandemic was declared, this blog has been questioning the fake statistics, highlighting the distortion of statistics to serve the scaremongering narratives of the elites and exposing the lies and dishonesty of politicians, sciencetitis (sic) and, surprisingly perhaps if you are of a credulous nature, doctors and the medical professions. ... Continue reading >>>
In A Fit Of Honesty Italian Institute Of Health Reduces Official COVID Death Toll By 97%
Italian newspaper Il Tempo has published a shock report, claiming that the country's Institute has reduced the official figure for the number of people who have died from COVID from 130,000 to under 4,000. This may surprise many people who bought into the "killer virus" narrative and unleashed torrents of pure hatred on those of us who declined vaccination, having studied the figure for reported "COVID related deaths," and the methodology used to arrive at that figure ... Continue reading >>>

A newly published study from researchers in Sweden reveals that the immunity to COVID gained from vaccination, is dissipated by natural biological processes within months. Immunity, although it would be more honestly called temporary respite, from Wuhan coronavirus (Covid-19) injections is short term at best, and completely gone within months, this confirming the doubts raised by vaccine sceptics (or Conspiracy Theorists as mainstream media likes to call us Continue reading >>>
Surge in Emergency Hospital Admissions from Vaccinated People Suffering Acute Organ FailureThe USA's taxpayer funded broadcaster National Public Radio (NPR) is claiming to be mystified by a siginficant increase in hospital emergency admissions across the United States but does not find the fact that these medical emergencies are all among people already vaccinated against COVID-19 and also all due to people experiencing symptoms consistent with the acknowledged side effects of the vaccines.
Continue reading >>>
Analyst Reports 'Hundreds of Thousands' of COVID Vaccine Injury Reports Backlogged in VAERSThe latest episode of "Doctors and Scientists" on CHD.TV, features regular host Brian Hooker, Ph.D., P.E., interviewing Jessica Rose, Ph.D., a Vaccine Adverse Event Reporting System (VAERS) analyst and computational biologist who specializes in biomathematics and molecular research. OK, I know this publication does not have much time for mathematical modelling, but that is because so much of it is obviously rigged to support propaganda narratives. We will always give an honest scientist a fair hearing even if we do not agree with their contribution to debate.
Continue reading >>>
Boris' Government Trying To Bypass Parliament, Introduce Vaccine Passports By Back Door
We warned you this authoritarian government would not let the idea of vaccine passports go and here they are, reported by Summit News (well you didn't expect to see it in mainstream media did you?} tyring to bring in their wretched "Papers Please" legislation by the back door.
UK School staff receive threats of violence amid anti-vaccination campaign

Government plans to push their dodgy vaccines onto schoolchildren are meeting opposition. On the back of scientific studies showing children are at zero risk from cOVID and do not spread the virus parents, and citizens concerned at this fascistic coercion of citizens to accept an experimental medication are reacting in the only way they can.
MENUS:
Health Tyranny ] ... [ Nanny State menu ] ...[ Food Health fascism ] ... [ Populist Authoritarianism ]
ALL OUR SITES:
[
Daily Stirrer
] ... [
Boggart Aboad
] ... [
Greenteeth Home
] ... [
Greenteeth on Minds.com
] ... [ a href="http://www.greenteeth..com/latest-posts.shtml">Latest Posts ]
---
Facebook censors conservatives and refuses to ban left-wing extremist groups from using their platform to destabilize the country
from Natural News
Facebook has vowed to crack down on any attempts by organizations to use their website to interfere with the presidential election. While this has resulted in them taking down the Facebook pages of several anarchist extremist news organizations such as It's Going Down and CrimethInc., it has so far refused to take action against many other controversial radical leftist pages, like Adbusters and Rose City Antifa.
Rose City Antifa, a Portland-based Antifa organization that was formed in 2007, claims that their goal is to defend Portland against fascism. However, they have a solid reputation for political violence even against regular conservatives. Several Rose City Antifa members have even been accused of beating up Andy Ngo, potentially giving the independent conservative journalist brain damage.
Adbusters a group based out of Canada, is responsible for helping to kick start the Occupy Wall Street riots in 2011. They are currently busy trying to meddle in the elections by organizing a "siege" of the White House, set to begin on Sep. 17 and end after election day.
Despite this, in an interview Zuckerberg said that the platform was actively trying to stamp out violent organizations from their website. "We're trying to make sure that we do our part to make sure that none of this is organized on Facebook," he said.
And yet, when presented with an extensive report on the violence perpetrated by Rose City Antifa and other left-wing extremist organizations like it, Facebook has still refused to take action.
MORE ON FACEBOOK'S HYPOCRISY AND BLTANT BIAS
Facebook Bans All Content On Vaccine Awareness
Authored by Mike Adams via NaturalNews.com,
Just as we warned would happen, the tech giants are now moving aggressively to ban all speech that contradicts whatever "official" position is decided to be "the truth" by the corrupt establishment. This week, Facebook announced it would block all content on Facebook that questions the official dogma on vaccines,
Facebook's Censorship Drive Backfires As Advertisrs Dump Platform
Mark Zuckerberg's bid to set up Facebook as official censor by appointment to The New World Order has backfired spectacularly as major brands are feeing the social media giant's advertising platform. CrossFit just announced they are shuttering their Facebook and instagram ad campaigns due to censorship, which filters out conservative and libertarian flavoured content and promotes only far left propaganda.
Facebook Negotiating Multibillion-Dollar US Fine As UK Labels "Digital Gangsters"
Facebook and its executives were labeled "digital gangsters" by a UKParliamentary inquiry into the social media giant's abuse of users privacy. The company should immediately be subject to statutory regulation the report published at the conclusion of the 18-month investigation by the Digital, Culture, Media and Sport parliamentary committee recommended ...
also read at Boggart Abroad

The Yellow Vests, Deplorables and Gammons Are Here To Stay

The Gilets Jaunes (yellow vest)movement, which began as a Facebook group for dissatisfied French drivers almost a year ago and since the Macron government proposed a hike in fuel taxes for petrol and diesel cars spakred the first street protests, has mushroomed into a people's rebellion against globalism and corporatism. It has worried the French establishment and succeeded in forcing the usually arrogant and imperious President Macron into offering what globalist fellow travellers in mainstream media call major concessions from the government,
Censorship Comes To The Internet - Goodbye Free Speech
Censorship has always been a sore point in democratic societies, without the right to free speech democracy does not exist. So why have we for years now been willing to tolerate the efforts of Silicon Valley high tech corporations and their left - leaning (that's left as in Chairman Mao or Pol Pot,) been willing to tolerate this.
December 31, 2018
Since the 2016 US Presidential election, when the phrase 'fake news' entered the vernacular, Facebook has employed thousands of human moderators tasked with identifying what is and is not acceptable content to be posted on the censorious social media website. These humans were not employed to replace the 'Artificial Intelligence' automated moderation system the nerdocracy …
Continue reading
---
While we are tearing Facebook apart, don't forget to look at our Google being evil catalogue
---
E.U. Parliament Members Call for Facebook Audit, Competition Law Overhaul
Though not widely reported (well the proceedings were boring,) a number of parliamentary hearings in the European Parliament and the elected assemblies of member nations, have investigated Facebook's user data breach scandal involving the data thieves Cambridge Analytica. European Union MEPs, including those from Britain have called for a full audit of the social media company and an overhaul of E.U. competition law.
In Private Meeting, Top Facebook Exec Threatened News Outlets That Do Not Coperate With Censorship Policy
During a meeting held behind closed doors last week, Facebook's Campbell Brown, according to several people present, warned news publishers that refusal to cooperate with the tech behemoth's efforts to "revitalize journalism" (i.e. ensure nothing is published Zuckerberg does not like,) will leave media outlets dying "like in a hospice." Initially reported by The Australianunder a headline which read Work With Facebook or Die: Zuckerberg"
Facebook Bans All Content On Vaccine Awareness
Authored by Mike Adams via NaturalNews.com,
Just as we warned would happen, the tech giants are now moving aggressively to ban all speech that contradicts whatever "official" position is decided to be "the truth" by the corrupt establishment. This week, Facebook announced it would block all content on Facebook that questions the official dogma on vaccines,
Facebook's Censorship Drive Backfires As Advertisrs Dump Platform
Mark Zuckerberg's bid to set up Facebook as official censor by appointment to The New World Order has backfired spectacularly as major brands are feeing the social media giant's advertising platform. CrossFit just announced they are shuttering their Facebook and instagram ad campaigns due to censorship, which filters out conservative and libertarian flavoured content and promotes only far left propaganda.
Facebook Negotiating Multibillion-Dollar US Fine As UK Labels "Digital Gangsters"
Facebook and its executives were labeled "digital gangsters" by a UKParliamentary inquiry into the social media giant's abuse of users privacy. The company should immediately be subject to statutory regulation the report published at the conclusion of the 18-month investigation by the Digital, Culture, Media and Sport parliamentary committee recommended ...
also read at Boggart Abroad

[
Daily Stirrer
] ... [
Boggart Aboad
] ... [
Greenteeth Home
] ... [
Medium.com
]
---
Big Tech tyranny is the biggest threat to democracy in our era
This week's main story, pushing Coronavirus aside at last, has been the attempt by Twitter to censor U.S. President, classifying his somewhat rabid tweets as misinformation. Whether you love or hate Trump or any other occupant of The White House, their utterings can never be dismissed as 'misinformation' because they represent what one of the most powerful people in the world is thinking. Read full article >>>
Graham Linehan: 'I was happier before I was cancelled, but I'll be proven right'
Graham Linehan at home in Norwich this week Credit: Andrew Crowley/The Telegraph
by Guy Kelly in The Daily Telegraph
So, I say to Graham Linehan, I hear you've been cancelled. "Oh, I was cancelled long ago," he says, shrugging. "As soon as I started talking about this."
By "this", the 52-year-old comedy writer – once best, and only, known as the co-creator of Father Ted, Black Books, The IT Crowd, Motherland and other venerable sitcoms – means the often toxic transgender debate. By "talking", he's mainly referring to the "billions" of tweets he has sent over the last few years on the topic, leading to him becoming "the most hated man on the internet".
And by "cancelled", well, nobody is quite sure how to define the term du jour, but he could mean his recent permanent suspension from Twitter for what the company called "repeated violations of our rules […] against hateful conduct and platform manipulation"; losing various Left-wing friends over his views; the fact he hasn't written much comedy lately; or, more broadly, that he simply doesn't feel anybody will engage with him on trans matters.
We speak at a distance in the living room of his home in Norwich. On shelves to one side are a smattering of Baftas, a British Comedy Award and an Emmy – reminders of the old Linehan's unquestionable talent. Family photos, including of his writer and producer wife, Helen, and their two children, line another. And on the sofa, backed into a corner and surrounded by cushions, is the new Linehan: mild-mannered but prone to irascible rants, entirely single-issue, not always totally coherent, and apparently "fighting for his life".
His glasses, occasionally askew, are half-black and half-white. The hair is greying slightly, and bluntly trimmed in lockdown. He is, he says, "fitter than ever", regularly cycling rather than relying on the treadmill desk he used for years, but he's also on anti-anxiety medication.
"I recently kicked [it] but had to go back on, because when you get into the news, it is very stressful…"
It has been another week in which "cancel culture" has been under scrutiny, notably in the form of an open letter, published in American literary magazine Harper's, signed by dozens of public figures – among them JK Rowling, Margaret Atwood and Sir Salman Rushdie – warning that the spread of "censoriousness" is leading to "an intolerance of opposing views".
Rowling, who said she was defending "open debate and freedom of thought and speech", has found herself vehemently criticised for her views on transgender rights, and has a firm supporter in Linehan.
He was not asked to be a signatory, but says the fight against cancel culture is "a war of attrition: you move forward, then back a bit, then forward again". It is questionable just how helpful he has been to in that particular war effort, but he is certainly devoted – almost unnervingly so.
Linehan's involvement in the debate began in 2008, when an episode of The IT Crowd featured jokes at the expense of a character who is trans. "I'm very proud of that episode – it's a joke. The problem is that these people are easily sent into a kind of beehive of anger," he says.
He looked into trans issues for years before becoming vocal about them on Twitter in 2017. At the time, he says, he was recovering from an operation to treat testicular cancer, dosed on morphine, and began 'liking' tweets that questioned trans rights.
"They call it 'like-policing', I was liking tweets that said trans people have the same rights as everyone else, but that there are a few conflicts that need to be addressed – [but] immediately a composite picture of me was drawn."
All our publications
[
Daily Stirrer
] ... [
Boggart Aboad
] ... [
Greenteeth Home
] ... [
Medium.com
]
---
University free speech society told free sceeph a 'red risk', external speakers must be vetted
Sheffield University Students receive their daily indoctribnation
Picture: Daily Telegraph
Sheffield University's recently formed Free Speech Society has been warned that free speech is a "red risk" and all external speakers at events it organises will have to be vetted by the University Thought Police squad and the topics they intend to talk about shown to be in line with ideas and opinions the titty - sucking babies who run the Student Union are not frightened by.
The Free Speech Society was informed by the Student Union bosses that it must submit an application to the at least three weeks in advance each time it invites a speaker, and that "full and final approval" would of the Union's executive committe would have to be sure nobody would be upset of offended by the speaker's views before the talk could go ahead.
Sheffield's Free Speech Society founder Ewan Somerville, a third year politics and international relations student at Sheffield said he decided to set up a free speech society as a reaction to "creeping censorship" by far left groups that dominate the campus. Last year, Sheffield students were urged not to wear sombreros because to do so is "cultural appropriation," and also told to ensure Hallowe'en costumes were not "sexist, racist, ableist or transphobic".
In January 2020, the extent of the decay into politically correct lunacy of a once - respectable university was revealed when it emerged that Sheffield university was to become the first to introduce mandatory training for students on "micro-aggressions" such as asking Japanese students about sushi and confusing a banana with a plantain.
Mr Somerville said: "We have these student union officers and even the university lecturers and managers who are trying to impose their own narrow and extremist world view on to all students and declaring all differing views unacceptable. Most who oppose such moves are too afraid to speak out because the bullying tactics of the far left are well known."
He added that he is hoping to attract speakers who are "perfectly legitimate tut are currently deemed too offensive and anti 'woke'" such as conhotroversial feminist Julie Bindle whose opposition to the far left orthodoxy in transgenderism is well known, and the journalist Toby Young whose conservative views are perfectly reasonable but not acceptable to the precious petals of Sheffield University Student Union. Thomas Woollard, a third-year history student and vice-President of the Free Speech Society, said he believed the university is becoming a "hostile environment".
"The only line that you can say is whatever the student union believe is correct and anything else is considered wrong," he said, adding "We are taking them to task over the hostility that they are causing to students in Sheffield who feel they are being silenced by their attitudes towards freedom of speech".
Sheffield is the latest university to set up a free speech society in recent years, following Bristol, Sussex, Buckingham and Aberdeen. Ministers are now considering increasing the powers of the university regulator to ensure it has the authority to censor student bodies which fail to respect the right to free speech of all students and staff.
Jake Verity, president of Sheffield's student union, said that their 'risk' classification for student societies is based on how much staff resource will be required to support them.
"Sheffield Students' Union has a number of red risk student groups spanning media, sport, cooking, arts, and campaigning," he said.
"The Free Speech Society stated that their activity would involve regularly hosting events with high profile external speakers."
Since the students' union requires all events with an external speaker to be risk assessed, the society will require greater staff resource, he added. What Mr. Verity chose not to mention is that at universities throught Britain, Europe and North America, when far - left student bodies disapprove of a speaker it is they who organise disruptive and violent protests in efforts to shut down the event. More intelligent and mature students who hold more reasonable views tend to simply stay away from leftist events.
A college at Oxford University, one of the oldest highter education establishments in the world last week launched an investigation into how a female historian and another speaker were barred from a feminist event because of fears they might express views the titty sucking fascists of the Student Union did not like.
Back to
Contents
MORE ON FREEE SPEECH & HIGHER EDUCATION
We The Good Guys Versus They The Bad Guys Reporting Does Not Make Sense For The Ukraine Crisis
Mainstream media reporting of the conflict in Ukraine has disappointed. Perhaps I was naive to suppose that lessons might have been learned from the hits their print sales and online traffic rates took as a result of their handling the COVID pandemic But instead of focusing on the most obviously newsworthy aspect of the build up to and escalation of the war, Russia's view of NATO expansion into Ukraine and even further to Georgia and Kazakhstan, news reports have simply demonised Russia and portrayed Ukraine as the good guys.
French Intellectual Jailed for Calling Mass Immigration an "Invasion"
French intellectual Renaud Camus (above) has been conditionally sentenced to 2 months imprisonment for arguing that mass immigration in Europe represents an "invasion." Summit.news reports: The writer, who is the author of Le Grand Remplacement (The Great Replacement), was charged with "public incitement to hate or violence on the basis of origin, ethnicity, nationality, race or religion."
There Is No Freedom Without Transparency
The Democrat / Republican political puppets in the USA would be supported by European leaders including Prime Minister David Cameron in the UK, France's Francois Hollande and Germany's Angela Merkel who, even as I type, are preparing massive interventions in Libya and Iraq, both turned into chaotic and lawless failed states by previous US / European interventions
There Is No Freedom Without Transparency
Facebook has for some time had a policy of removing text that the majority of people would consider racist. Now the social media site is now deleting and blocking comments that only one person at Facebook decides is "racist." The sinister, Orwellian reality of a society in which the expression of majority opinion is being turned into a crime has already been witnessed across Europe. Even more disturbing, social media operators such as Facebook and Twitter appear to be collaborating with governments in the suppression of free speech.
Facebook Declares War On Free Speech
Threats to free speech and other civil rights us ordinary punters fought and shed blood for are under threat, not from the extreme right but from the liberal left. The intellectually bankrupt lefties have realised their hundred year old arguments are never going to win the battle for hearts and minds and so have moved to the position in the political spectrum once occupied by Hitler and Stalin. Many people would never dream of questioning authority; others see their interests as being served by supporting the abuse of authority, they are the ones who call the questioners 'conspiracy theorists'.
Threats to Free Speech
Is Free Speech Being Murdered By The Media And Politically correct Left Wing Activism
There can be no doubt, the right of citizens in the developed world to free speech, free access of information and freedom to express ideas is increasingly under threat as the power elites feel their grip being loosened by increasingly well informed and articulate working and midddle classes. Without any apparent sense of irony the advocates of big government and controlled media call themselves 'the left' as though their opponents are not bright enough to know that free speech is one of the foundations of classical liberalism and the suppression of free speech is a hallmark of tyrants.
Is Free Speech Being Murdered By The Media And Politically correct Left Wing Activism
The Self Righteous Minority That Threaten Free Speech
Until recently Universities were places where any ideas were welcome and any economic, social, or scientific theory, no matter how extreme would be given a fair hearing and debated openly. So where did it all start to go wrong? How did the idea that there is only one set of acceptable answers to society's problems (the 'pensée unique' to use a French phrase I am fond of, redolent of The Borg in Star Trek and much more demeaning than "Social Justice Warriors") and that those who challenge the orthodoxy should be silenced and prevented from broadcasting their ideas in print or verbally.
The Self Righteous Minority That Threaten Free Speech
The Imporantance Of Free Speech And The Right To Offend
Our right to free speech is under threat from intolerant, authoritarian left wingers or 'progressives liberals' as these illiberal reactonaries like to style themselves. The 'Politically Correct Thought Police' as I have somtimes called them in acknowledgement of Geoge Orwell's novel '1984', are determined that in they egalitarian dystopia they dream of (but that fortunately could never be) nobody will be able to say or do anything that may offend s member of any racial, sexual or social minority. This kind of fascistic tyranny is justified by invoking politically correct ideals, but it is having a deeply damaging effect on human society and could eventually result in civil conflict in the developed nations.
The Imporantance Of Free speech And The Right To Offend
Students Feel Pressured To Reflect Uinversities Anti-Brexit Bias In Essays

University students have claimed they are being pressured by political activist lecturers into writing essays which pander to the "anti-Brexit bias"in the higher education system, and fear they will be marked down if their work does not comply with the left wing agenda. Students have alleged that free debate on Brexit, and opinions opposed to those of the "Remain" camp is being shut down by lecturers supporting the movement to thwart the democratic will ...
Students censored – An Academic Community In A Crisis Of Collectivism.
Intellectual freedom in our universities is under threat from ... intellectuals. So overbearing have the left wing screechers of bourgeois politically correct leftism now become that even the universities have surrendered to the intellectual control freakery of cultural Marxism. But if universities are now dedicated to turning out dull minded conformists, what hope is there for western society?
Poor white pupils put off school by multicultural timetable
Education, should it be about learning to read, write, spell and calculate? Or should it be about feminism, gay rights, black history and 'gender awareness' whatever that is? For many years we have had multiculturalism and politically correct thinking rammed doiwn pupils throats but noe a study by a local education department suggests this obsession with politicallly corret diversity is responsible for the failure of white working class pupils.
Education, Education, Education And To Hell With The Kids
Teaching used to be a vocation and education a high minded calling for those who wished to prepare young minds for adult life by making the process of learning, in the classroom, by discovery and through osmosis, an exciting and fulfilling lifelong process
The Degree Factory: The Decline Of University Education
The decline of university education in parallel with dumbing down of the general population is contributing to the economic and social problems of the industriaised democracies. But why have standars been allowed to slip so far and can the trend in university education towards theraputic and politically correct courses be reversed?
Where Is Bicycle Repair Man When The World Needs Him
A superhero whose superpower is repairing bikes? It was a sketch in a Monty Python's Flying Circus show. But forty years on is it as crazy as it sounded then? We seem to have plenty of people with degrees in things that are not every practical and shortages of people who can do useful stuff. And when we have health and safety officers stopping people from climbing ladders unless they have been properly trained, people are discouraged from learning those everyday skills by themselves.
Comedy and humour
Modern Maths Teaching Is Making Children Mentally Ill
It is a well established fact that people who are good at mathematics are insane so why are we making such a big deal of abstract maths in proressive education when what most people will need to earn a living is a good command of basic arithmetic - which modern education is failing to give them.
The Science Fraud: Many Scientific Research Papers Are Pure Gobbledegook
The war between humanities and science goes on, both in academic faculties and internet comment threads. But in an environment that is increasingly politicised and influenced by corporate profit motives rather than the pure and unsullied pursuit of knowledge, can we trust either side? This article suggests not.
Its Nineteen Eighty Effing Four In The Education System
Progressive aproaches to education seem to be ideologically driven rather than focused on the needs of the individual pupil. so will the left's dreams of eqality be fulfilled when every child leaving the school system is equally dysfunctional.
The STEM Education and Scientism - the curse of modern education.
Education, education, education, said Tony Blair. He meant indoctrination, indoctrination, indoctrination of course. The thing the Politically Correct intellectual bullies of the new left fear most is an educated working class capable of questioning the dogmas of the scientific dictatorship ...
---
In A Corporatist System Of Government, Corporate Censorship Is State Censorship
Last year, representatives of Facebook, Twitter, and Google were instructed on the US Senate floor that it is their responsibility to "quell information rebellions" and adopt a "mission statement" expressing their commitment to "prevent the fomenting of discord."
"Civil wars don't start with gunshots, they start with words," the representatives were told. "America's war with itself has already begun ...
EU: Now Telling Europeans What To Think
The first European Media Literacy Week, an initiative of the European Union, will take place March 18-22 in various European cities. The week is a new initiative by the European Commission, putatively "to underline the societal importance of media literacy and promote media literacy initiatives and projects across the EU". The European Commission explains its policy of strengthening 'media literacy' within the EU -- which could have been a noble and useful initiative -- the following way:
"With the rapid rise of digital technology and its increasing use in business, education and culture, it is important to ensure everyone can understand and engage with digital media.
"Media literacy is vital for economic growth and job creation. Digital technologies are a key driver of competitiveness and innovation in the media, information, and communication technology sectors."
As part of its "Digital Single Market" strategy, the European Commission addsflimsily:
"Media literacy concerns different media (broadcasting, radio, press), different distribution channels (traditional, internet, social media) and addresses the needs of all ages... A high level of media literacy is a key factor to enable citizens to make informed decisions in the digital age. Media literacy is a pre-requisite for a vibrant, modern democracy."
One does not have to scratch the surface much, however, before it appears that at least certain aspects of the European Commission's Media Literacy policy are less about enlightening citizens, than about heavy-handedly guiding them on what to think.
READ MORE at Zero Hedge
Index of posts on Europe
Free Speech murdered
Latest Posts
---
Merkel to German Parliament: We Have to Take Away your Freedom of Speech or We Won't Be Free

Angela Merkel in front of the Bundestag (Picture: Deutsche Welle)
German Chancellor Angela Merkel delivered an emotional speech to the German Budestag this week on a subject obviously close to her heart, the need for limiting freedom of speech to suppress criticism of policies implemented by her government and the EU commission.
Since the departure of Barack Obama, Merkel has set herself up as leader of the globalist and Cultural Marxist movements on the international stage.
The Chancellor argued that the government must take away freedom of speech to save preserve the freedom of the free world, or something. Given that the topics she currently wants to slience dissent on are her catastrophic 'open doors' immigration policy and the EU's effort to force European nations and people to accept Islam and assimilate to Islamic values.
Merkel told German politicians: "For those who claim they can no longer express th"eir opinion, I say this to them: If you express and pronounced opinion, you must live with the fact that you will be contradicted. Expressing an opinion does not come at zero cost. But freedom of expression has its limits. Those limits begin where hatred is spread. They begin where the dignity of other people is violated. This house will and must oppose extreme speech. Otherwise our society will no longer be the free society that it was.
The problem Merkel, along with other left wing authoritarians have with their use of "hate speech" (apart from the usual lefties hypocrisy and double standards,) is that 'hate' is a very loose concept. Because the left see their route to establishing an authoritarian global government as being eased by importing millions of unskilled, uneducated, illiterate, fanatically religious Muslims from Africa, the middle east and South East Asia and using their clerics to manipulate opinion and also disrupt and divide national communities.
Thus people like Merkel, France's Macron, Jeremy Corbyn and The Labour Party in the UK and the Democratic Party in the USA are quick to define as "hate speech" anyone suggesting uncontrolled immigration is not a god idea but are happy to allow Islamic Preachers to call on Muslims to rise up and "kill all infidels," or encouraging Muslim men to rape European secular and Christian women.
Contents - Articles in This Page
RELATED TOPICS:
Media Silence Surrounds Muslim Massacre of Christians
Leaked Document: United Nations Says Immigration Is Always Good
Swedish Municipalities cut services to Swedes to cover cost of taking in migrants
Left-Wing Journalist on Sweden's Migrant Suburbs: "Everyone Knew it Would End in Disaster"
Germany
Immigration in Germany
Islam catalogue
---
Oxford Academics Turn On Gay BLT Propagandists For Pushing Unscientific Claims
Gay, Lesbian and Trans rights protestor holds a placard making a typically idiotic statement - human rights apply to all humans, trans-rights are the infantile demands of self pitying losers.
'More than 30 Oxford academics have blasted Stonewall for pushing 'tendentious and antiscientific claims' in the trans awareness training it gives to universities according to a report in The Sunday Times (a more sensationalized version of the same story appears in The Daily Mail if you are blocked by The Times paywall).
The professors and lecturers have taken issue with Oxford University's compulsory training programme on Gay, Lesbian and Transgener issues, that includes dogmatic statements about permissible attitudes "towards Gay, Lesbian and especiall Transgender rights, including such unmitigated wank as "gender is how people interpret and view themselves." The Oxford academics expressed their opposition to such unscientific nonsense beong forced on teaching staff, researh fellows and students in a letter passed to The Sunday Times.
They call for universities to sever links with Stonewall and other LGBT charities until and unless those organisations dump their fascistic attempts to restrict freedom of though and commit to 'fully supporting academic freedom of thought'.
Academics are also being bullied by student groups to withdraw invitations to "transphobic speakers," i.e. anyone who do not accept "that trans people are the gender they say they are" or maintain that gender is fetermined by our biological sex rather that "feelings".
They fear the new rules university managers have accepted after being bullied by Gay BLT lobying could see staff lose their jobs, and that they contravene the roght of free speech.
Modern history professor Selina Todd is quoted by the Sunday Times as saying: "[This] is really pushing an agenda which is dogmatic and completely overruling freedom of speech... I am very scared that academics will start to lose their jobs.
"I feel uncomfortable. I've told my employer that I feel vulnerable and I've had students say they feel intimidated by what's going on at this campus."
Oxford and Cambridge last year spent £55,000 between them on LGBT training so staff are better equipped to help students who may be struggling. According to a NUS LGBTQ+ report from 2014, just 20 per cent of trans students feel completely safe on campus, which begs questions just how many of these mental cases are there at Oxford. One in three trans students said they had experienced bullying or harassment - while 51 per cent have seriously considered dropping out of their course. The Daily Stirrer does not see that as any loss to either the university or society in general were that to happen.
And what are these trans students studying for anyway, degrees in self pity?
Contents - Articles in This Page
MORE ON HIGHER EDUCATION MADNESS
Oberlin University Fined $33 Million For Supporting Students Accusations Of Racism Against Bakery
On Thursday, Oberlin College was hit with $33 million in damages when to Ohio jurors found the school participated in protests defaming a local bakery as racist. Oberlin's vice president, Donica Thomas Varner claimed the jurors ignored "clear evidence" that Oberlin was not at fault and insisting the school was being "held liable for the independent actions of their students."
Student Suspended from University for Calling Halal Slaughter 'Inhumane'
In an outrageous assasult on our right to free speech a British student has claimed he has been suspended from university for voicing the opinion that halal slaughter, prescribed by Shariah Law, is "inhumane" and also saying illegal immigrants should not be allowed to use the National Health Service (NHS) for free. The student says he has been told he cannot return unless he signs a conduct agreement and undertakes diversity training.
Dare We Defy The Illiberal Code Of The Liberal Left?
The crescendo of intolerant screeching from the liberal-left about 'hate speech', micro aggressions, white privilege (ironic as most of the screechers are privileged and white,) and even the most reasonable criticism of their sacred cows is one of the more bizarre aspects of the culture war currently being fought on university campuses, internet opinion and comment sites and in mainstream media.
Canadian University Holds 'White Privilege' Conference
May 15, 2018
"Of all tyrannies, a tyranny sincerely exercised for the good of its victims may be the most oppressive. It would be better to live under robber barons than under omnipotent moral busybodies. The robber baron's cruelty may sometimes sleep, his cupidity may at some point be satiated; but those who torment us for our own good will never quench theur self - righteousness ...
Oxford University wants to turn English into a sterilized Orwellian language
Oxford University, one of the oldest universities in the world and, one might think, the 'home' of the English language is now, it seems, engaged in a New World Order campaign to destroy the English Language. It appears the finest young minds in society are so deeply offended by words that remind them men and women are biologically they, backed by their fuckwitted Marxist lecturers and professors, are demanding gender specific pronouns be abolished.
The University Formerly Known As Cardiff Polytechnic Published List Of Forbidden Words Cardiff Metropolitan University formerly known as Cardiff Polytechnic may not be a seat of learning on a par with Oxford, Cambridge, Heidelberg, The Sorbonne or Princeton but when it comes to politically correct idiocy it is at the right up there with Harvard, Uppsala, University of California or The London school of Economics
Neo – Fascist Left Driving University Students To Despair
May 13, 2018
via David Broome, Minds.com May 12, 2018 ARE LEFTIST PROFESSORS AND UNIVERSITIES DRIVING STUDENTS TO SUICIDE? Are the oppressive totalitarian politics of the left driving students to suicide in Britain's Universities? It seems plausible when we consider that most of academia is overrun by Marxist professors organising gangs of SJW's who subject white straight male …
Oxford University Introduces Mandatory 'Cultural Appropriation' Classes November 20, 2017
One of the oldest and most respected colleges, Magdalen, at Oxford, Britain's oldest university has become the first to introduce the currenly fashinable idiocy from Ameroca's west coast, compulsory racial awareness classes to ensure ethnic minorities are not offended by anything, ever. Magdalen College students have voted to require all first-years to attend sessions which …
Students Feel Pressured To Reflect Uinversities Anti-Brexit Bias In Essays

University students have claimed they are being pressured by political activist lecturers into writing essays which pander to the "anti-Brexit bias"in the higher education system, and fear they will be marked down if their work does not comply with the left wing agenda. Students have alleged that free debate on Brexit, and opinions opposed to those of the "Remain" camp is being shut down by lecturers supporting the movement to thwart the democratic will ...
Eight Subjects That Ought To Be Part Of The Manadtory Curriculum For Basic Education?
Should subjects like meditation and gardening be part of the school currriculum? Or as one high school in Massachusetts, USA, seems to believe, classes in analyzing conspiracy theories (if taught properly this could help students distinguish between a true conspiracy theory, a fantasy and what is legitimate questioning of official propaganda. The embedded article from Collective Evolution presents some interesting ideas.
Students censored – An Academic Community In A Crisis Of Collectivism.
Intellectual freedom in our universities is under threat from ... intellectuals. So overbearing have the left wing screechers of bourgeois politically correct leftism now become that even the universities have surrendered to the intellectual control freakery of cultural Marxism. But if universities are now dedicated to turning out dull minded conformists, what hope is there for western society?
---
Facebook's Censorship Drive Backfires As Advertisrs Dump Platform
Mark Zuckerberg's bid to set up Facebook as official censor by appointment to The New World Order has backfired spectacularly as major brands are feeing the social media giant's advertising platform. CrossFit just announced they are shuttering their Facebook and instagram ad campaigns due to censorship, which filters out conservative and libertarian flavoured content and promotes only far left propaganda.
Facebook recently banned one of their affiliate pages without reason or warning. Many other organisations have been purged, somtimes not for actually supporting right wing political views but for simply not being enthusiastic enough about the kind of far left sacred cows Zuckerberg likes to embrace for his virtue signalling exercises. Other unethical behavior Facebook has engaged in around data rights includes collecting private data from users' home systems without authority, selling said data to advertisers and public relations consultants, ignoring court orders to cease and desist, tax evasion and a host of other bltantly illegal or ethically dubious activities.
The issues raised by CrossFit's decision reflect conservative concerns over free speech and social media censorship given the political bias shown by the owners of these companies. It seems that in their quest to satiate the outrage mob they have banned too many accounts, often without any reason other than that those sites reflect views that do not coincide with those of some egomaniacal Silicon Valley bilionaire.
When you appease exrtremists by banning one group then those same people demand you ban another group and it never ends. It is a trait of the left wing mindset that it can only ever go further in the same direction. Thus Facebook caving to far left faux - outrage over non - issues like 'transgender rights' or banning support for Israel has resulted in their steady decline. Young people are are abandoning the platform as it is now longer seen as cool, but has become a byword for authoritarian and illiberal business practices and political views. And now even it's biggest backer, the U.S. government is targeting Zuckerberg's empire with anti-trust measures. As more people and groups get banned on facebook more people decide to leave.
Contents - Articles in This Page
RELATED POSTS:
---
Facebook Steps Up Censorship in Britain, Bans Populist News Site
Facebook continues on its course to become the UK's Ministry of Truth, (the government department tasked with ensuring government propaganda can never be questioned in George Orwell's novel '1984'.) by expanding its censorship of websites US Liberals like the social media site's Mark Zuckerberg do not approve, or that question the globalist policies of Theresa May's authoritarian regime, by removing from its platform content posted by anti - EU populists and critics of Islam in Britain. It's latest outrageously hubristic act is the "unpublishing" of a right-leaning news website Politicalite and suspending its editor-in-chief for a post supporting Tommy Robinson.
Other recent examples of censorship by the far - left social media site have the blocking and removal of other conservative sites in addition to Politicalite, and Facebook's suspension of other British right leaning sies allegedly in reponse to political pressure amid a government inspired crackdown on supporters of Tommy Robinson following the release of "Panodrama," Robinson's undercover exposure of bias at the BBC. PayPal also recently suspended service to the website.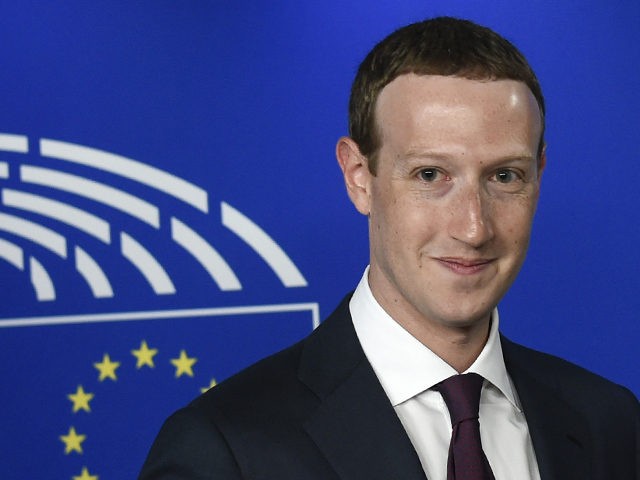 Facebook founder Mark Zuckerberg: Never trust a man happy to wear a haircut that would embarrass a fove year old (Picture: Getty )
Last week, Breitbart News covered the takedown of all posts linking to a Politicalite article contributed by British Yellow Vest activist James Goddard. Our contacts in France tell us Facebook's French operation is carrying on a similar censorship of Yellow Vest supporters criticising the inept, elitist government of Emmanuel Macron.
Now censorship against the Politcalite website on Facebook is continuing, with the goal of shutting down the website it seems. Politicalite site managers received a message that its Facebook page had been unpublished late last week.
Following the suspension, site editor-in-chief and former UKIP activist Jordan James reported that his own Facebook account had been suspended as well, for a years-old post offering support to Islam critic Tommy Robinson. Robinson has also been banned from the from Facebook and jailed by Theresa May's authoritarian government for reporting facts surounding the activities of one of the notorious grooming and sexual abuse gangs who have been systematically raping and sexually exploiting young girls in the UK.
Asked for an explanaition by one of the biggest organisations it has censored, Facebook declined to supply a justification for the blacklisting of the British news website, which now bills itself "Britain's most censored news outlet." Facebook have still not commented.
A recent investigation of Facebook's content management policy by undercover investigative journalists recently found that the social network is, which management approval at the highest level, running a program of deliberate, targeted, secret suppression of conservative and right-wing voices. A whistleblower at the tech company told reporters that a secret "deboosting" code, based on identifying keywords, was applied exclusively to right-of-center and populist individuals and organizations on the platform, limiting the reach and visibility of posts. The source said she never saw the code applied to far-left pages on Facebook.
Contents - Articles in This Page
---
Thousands March to Save the Internet from EU Censorship Regulations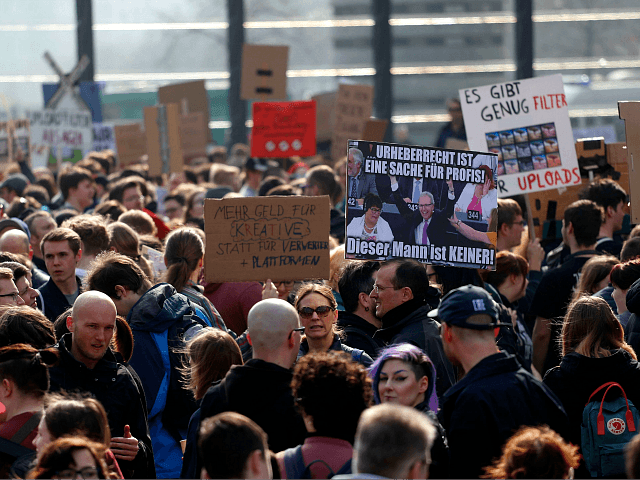 Tens of thousands of people have marched in cities across Germany to protest planned European Union copyright reforms that they fear will lead to online censorship.
The dpa news agency reports the biggest protest Saturday was in Munich, where 40,000 people marched under the motto "save your internet."
Thousands of others took part in smaller demonstrations in the German cities of Cologne, Hamburg, Hannover, Berlin and other cities against the bill that is being voted on this week.
The most controversial clause, Article 13, which applies to information whose main or one of the main purposes is to store and give the public access to a large amount of copyright protected work uploaded by its users which it organises and promotes for profit. Article 13 does not apply to non - profit encyclopedias, educational and scientific repositories and other non profit services.
Creative Commons the content licensing organisation that addresses internet sharing licences specifically posted this tweet: There's no doubt #Article13 will force most EU platforms to implement #uploadfilters. These technologies simply cannot distinguish between infringing and non-infringing uses of a work. Creativity and freedom of expression will suffer. https://www.communia-association.org/2019/03/05/final-x-ray-article-13-dangerous-legislative-wishful-thinking/ …
The most controversial section would compel sites such as YouTube and Facebook to take responsibility for copyrighted material that's uploaded to their platforms. Proponents say the new rules will help ensure authors, artists and journalists are paid. Opponents claim they could restrict freedom of speech, hamper online creativity and force websites to install filters.
Contents - Articles in This Page
Contents - Articles in This Page
or scroll down to continue browsing
---
---
Jordan Peterson and the Stupidity Of The Left
We have never been slow to lampoon the politically correct, universdity dumbed down 'special snowflakes', or the professors in politicising everything who spoon feed them a constant stream of idiotic lwft wing bullshit. but when we read a story about a professor who is challenging the bollocks and defending free speech and individiual freedom, we were delighted to have a chance to show the higher education system is not entirely in the hands of cultural Marxists.
University of Toronto psychology professor Jordan Peterson recently decided he had had enough of what he saw as a campus culture where "social justice warrior, left-wing radical political activists" ran rampant and nobody dared voice opinions that were not approved by the college's Politically Correct Thought Police.
In September 2016 he released a video lecture series taking aim at political correctness.He zeroed in on Canadian human rights legislation that prohibits discrimination based on gender identity or expression. Dr Peterson was especially frustrated with being asked to use alternative pronouns as requested by trans students or staff, like the singular 'they' or 'ze' and 'zir', used by some as alternatives to 'she' or 'he'.
In his opposition, he set off a political and cultural firestorm that shows no signs of abating.
At a free speech rally mid-October, he was drowned out by a white noise machine. Pushing and shoving broke out in the crowd. He says the lock on his office door has been glued shut on several occasions. At the same time, the University of Toronto said it had received complaints of threats against trans people on campus.
Peterson's employers have warned that, while they support his right to academic freedom and free speech, he could run afoul of the Ontario Human Rights code and his faculty responsibilities should he refuse to use alternative pronouns when requested.
They also said they have received complaints from students and faculty that his comments are "unacceptable, emotionally disturbing and painful" and have urged him to stop repeating them. The university is also trying to organise a "civil and respectful" debate, which would include Dr Peterson, to discuss gender provisions in federal and provincial human rights legislation.
Either way, Dr Peterson is not backing down. See a by conservative journalist Ben Shapiro defending his position below.
Return To Top
or scroll down to continue browsing
---
Forget everything you've ever been taught about free speech in America. It's all a lie. There can be no free speech for the citizenry when the government speaks in a language of force. What is this language of force?
Militarized police. Riot squads. Camouflage gear. Black uniforms. Armored vehicles. Mass arrests. Pepper spray. Tear gas. Batons. Strip searches. Surveillance cameras. Kevlar vests. Drones. Lethal weapons. Spy - in - the - Sky Drones. Less-than-lethal weapons used with deadly force. Rubber bullets. Water cannons. Stun grenades. Arrests of journalists. Crowd control tactics. Intimidation tactics. Brutality.
This is not the language of freedom. This is not even the language of law and order.
Unfortunately, this is how the government at all levels—federal, state and local—now responds to those who choose to exercise their First Amendment right to peacefully assemble in public and challenge the status quo.
Recently, this militarized exercise in intimidation reared its ugly head in the college town of Charlottesville, Va., where protesters who took to the streets to peacefully express their disapproval of a planned KKK rally were held at bay by implacable lines of gun-wielding riot police. Only after a motley crew of Klansmen had been safely escorted to and from the rally by black-garbed police did the assembled army of city, county and state police declare the public gathering unlawful and proceed to unleash canisters of tear gas on the few remaining protesters to force them to disperse.
To be clear, this is the treatment being meted out to protesters across the political spectrum.
The police state does not discriminate.
As a USA Today article notes, "People demanding justice, demanding accountability or demanding basic human rights without resorting to violence, should not be greeted with machine guns and tanks. Peaceful protest is democracy in action. It is a forum for those who feel disempowered or disenfranchised. Protesters should not have to face intimidation by weapons of war."
A militarized police response to protesters poses a danger to all those involved, protesters and police alike. In fact, militarization makes police more likely to turn to violence to solve problems.
You want to turn a peaceful protest into a riot?
Bring in the militarized police with their guns and black uniforms and warzone tactics and "comply or die" mindset. Ratchet up the tension across the board. Take what should be a healthy exercise in constitutional principles (free speech, assembly and protest) and turn it into a lesson in authoritarianism.
Frankly, any police officer who tells you that he needs tanks, SWAT teams, and pepper spray to do his job shouldn't be a police officer in a constitutional republic.
All that stuff in the First Amendment sounds great in theory. However, it amounts to little more than a hill of beans if you have to exercise those freedoms while facing down an army of police equipped with deadly weapons.
It doesn't have to be this way. There are other, far better models to follow.
For instance, back in 2011, the St. Louis police opted to employ a passive response to Occupy St. Louis activists. First, police gave the protesters nearly 36 hours' notice to clear the area, as opposed to the 20 to 60 minutes' notice other cities gave. Then, as journalist Brad Hicks reports, when the police finally showed up:
They didn't show up in riot gear and helmets, they showed up in shirt sleeves with their faces showing. They not only didn't show up with SWAT gear, they showed up with no unusual weapons at all, and what weapons they had all securely holstered. They politely woke everybody up. They politely helped everybody who was willing to remove their property from the park to do so. They then asked, out of the 75 to 100 people down there, how many people were volunteering for being-arrested duty? Given 33 hours to think about it, and 10 hours to sweat it over, only 27 volunteered … and were escorted away by a handful of cops. The rest were advised to please continue to protest, over there on the sidewalk … and what happened next was the most absolutely brilliant piece of crowd control policing I have heard of in my entire lifetime. All of the cops who weren't busy transporting and processing the voluntary arrestees lined up, blocking the stairs down into the plaza. They stood shoulder to shoulder. They kept calm and silent. They positioned the weapons on their belts out of sight. They crossed their hands low in front of them, in exactly the least provocative posture known to man. And they peacefully, silently, respectfully occupied the plaza, using exactly the same non-violent resistance techniques that the protesters themselves had been trained in.
As Forbes concluded, "This is a more humane, less costly, and ultimately more productive way to handle a protest. This is great proof that police can do it the old fashioned way – using their brains and common sense instead of tanks, SWAT teams, and pepper spray – and have better results."
It can be done.
Police will not voluntarily give up their gadgets and war toys and combat tactics, however. Their training and inclination towards authoritarianism has become too ingrained.
Return To Top
or scroll down to continue browsing
---
Politically Correct Thinking And The Threat To Free Speech
When I heard that the actor, writer, wit and raconteur Stephen Fry faces prosecution in Ireland for an alleged blasphemy contained in what seem to me fairly innocuous remarks, it reminded me that recently an anti blasphemy law was enacted in that so called liberal utopia, Canada. Blasphemy a crime in this secular century. What's going on?
Why Is Free Speech So Important?
British comedian and actor Stephen Fry, an intelligent and fair minded man, is in trouble for alleged blasphemy. Following complaints from some viewers about remarks made by Mr. Fry on the subject of religion, he is now the subject of a a criminal investigation by Irish police for alleged blasphemy.
During an edition of the talk show The Meaning of Life, hosted by veteran broadcaster Gay Byrne, in February 2015, the comedian was asked what he might say to God at the gates of heaven.
Fry, who is not a religious man, answered: "How dare you create a world in which there is such misery? It's not our fault? It's not right. It's utterly, utterly evil. Why should I respect a capricious, mean-minded, stupid god who creates a world which is so full of injustice and pain?"
He went on to say "the god who created this universe, if it was created by god, is quite clearly a maniac, an utter maniac, totally selfish".
He has explained that he was not directing his remarks at any particular religion and was simply stating his own opinion. The criminal status of blasphemy was revised in Ireland in 2009, presumably to accommodate the extreme views of Muslims on the subject of questioning faith.
Same Rules Must Apply
When the law forbids us to insult or offend somebody, to insult or offend a religion, race, skin colour or sexual preference, free speech and other important democratic rights are under threat.
When the law then goes on to say that anyone accused of these offences has no right to defend themselves and the word of the accuser is sufficient evidence on which to obtain a conviction, which was the norm in medieval Europe, and still is in many Islamic societies, then we have abandoned justice and returned to the law of the medieval witch hunts.
These stupid laws insult the public and threaten free speech
Beware the siren voices of the left who hide their abhorrence of freedom and individuality behind a mask of political correctness. "Oh but we must be sensitive to the feelings of Muslims," such people will claim. Why? And why do I never see or hear any of those politically correct whiners talking about "hate speech" when some fundamentalist Imam calls on followers of Islam to "rise up and destroy the infidel."
To be honest, such talk does not offend me, I regard it as ridiculous. But why can I, or another white male, say "Lets kick Muslims up the arse," by way of response. Why are we required to tolerate one but not the other? As Cicero said two thousand years ago, "Since our ancestors came out of the hills to live as civilised people, it has been understood that there can only be one law and it must apply equally to all."
Everything we say and do could be interpreted by somebody as aggressive or insulting. There have been cases of a look being deemed racially or sexually harassing.
It is time we stood up for the right to express our opinions, and urged others to deal with it by being grown up enough to ignore things overheard or seen in print that are not directed at a specific individual or group by are merely the opinion of some individual, stated in a way that suggests the comments were part of a private exchange, or were a general, abstract statement.
Nobody promised life was fair. And making life sterile by imposing conformity on everybody will not actually make life any fairer. All it will achieve is the suppression of a very important type of diversity, not the diversity of colour the politically correct lobby make so much noise about, but which is really only skin deep, but diversity of ideas.
So come on Ireland, get off Stephen Fry's case, he was only expressing his own doubts about God, not trying to tell everybody else they had to believe as he does.
RELATED POSTS:
Free Speech Is Under attack And Journalism Dead
A Song Of Servitude
The Importance Of Free Speech And A Free Press
Dr. Pangloss Said


---
What has happened to the news. At one time the news press referred to itself as 'the fourth estate', a reference to the three estates of the nation, the government, The Monarchy and the church The news and commpent journals assigned to themselves the task of objectively and impartilly holding the others to account by investigating the background to events and reporting the facts. No more it seems.
There are no journalists now, neither the reporters in the feild, a job my Dad did for years, following tips from stringers and leads from rumour and gossip, digging into the background of stories, finding out the who, what, where, when, why and reporting it without embellishment, nor are there the independent commentators, the columnists and freelancers whose task was to analyse news stories in the wider context, join the dots and ensure an alternative to propaganda was presented to the government; today news organisations are simply broadcasting or pritning whatever they are given by the anonymous "sources" of government and corporate piblic relations departments. They show no curiosity, no suspicion,. simply swallowing everything they are spoon fed, too credulous to be real journalist they simply provide sensational titbits for a cusomer base with an ever shortening attention span. These are really end times for the MSM unless things change and soon.
True journalists about as relevant in this world of political and corporate control freakery as cordwainer (a worker in Cordovan leather), a higgler (a travelling buyer and seller of dairy products) a pargeter (an ornamental plasterer) or a fletcher (maker of arrows) These skills, trades, professions and hundreds more have been exterminated ... along with the need for truth in media. Since 9-11, all over the world there has been a concerted and determined effort to target and remove all those who would stay true to the principles of the reorter's craft. Just think for a moment of the enormous effort expended by governments and mainstream media to suppress discission of the all too obvious flaws in the official narrative surrounding that event. Or, over several decades, to silence those who dared to question the rispible official account of the assassination of president Kennedy. And, to raise up in its place, a raft of imitators who style themselves reporters, but need have no accountability, nor take the trouble to ever leave their computer screens to go and "follow" a story, their job being to simply rephrase official press releases, tailoring their hackneyed accounts to the prejudices of the intended audiences.
What most people are unaware of is that this faux-journalism is a direct consequence of the centralisation of power on the seat of government (Washington, London, Brussels, Paris etc.) and of wealth (control rather than ownership of) in the hands of global corporations and financial institutions. When leaders and academics start to talk of the need for a world government, they cannot be thinking of the interests of ordinary people who work hard for a living. At the time of writing The European Union is failing simply because it tried to merge the interests of Siciluan almond growers and Greek sheep farmers with those of Urianium miners in Kiruna, northern Sweden or the indusrtial workers of Germany. Realists would have seen the sheer impossibility of creating a one size fits all economy and culture to serve these vastly different groups.
The ideologically diven elitists arrogantly assumed that by controlling everything they could impose their cultural Marxist vision on the world, and have controlled mainstream media because news organisations were controlled by the corporate and financial elite. But the public saw through the managed news outpuut they werre being offered and turned elsewhere. Now it falls to new media, alt_media, to challenge the special interest groups controlling all communication channels and oppose the control freaks. It can be, and has been, argued however that alt_media represents just more special interests with even less accountability.
"There is no longer any attempt to maintain the illusion that makes events capable of adopting the force of news reporting that provides an accurate reflection of reality. Only the medium can make an event - whatever the contents, whether they are conformist or subversive. AND - There are no more media in the literal sense of the word - that is, of a mediating power between one reality and another, between one state of the real and another."
The role of news media then has changed from 'mediating' between events and the reader, to acting as a narcotic, medicating the reader against reality with trivia, celebrity gossip, and concocted storylines customised to appeal to the target audience in order that the central authority can control the narratives and thus shape opinion.
"The Deep State, The Shadow Government, call it what you will, has usurped the role of "the media" in informing the public and "speaking truth to power" to borrow a phrase from anorganisation that has abandoned the principle. Likewise the state has re-defined the terms "democracy" and "free speech" to serve it's own ends, and is now picking off the social media tools which had formerly belonged to the user community as a network of contributors, thus relegating "the media" to the role of a harem eunuch, a jongleur, an entertainer.
All of this has been meekly accepted by a web addicted audience which has forsaken critical thinking skills to a cabal of experts and gurus determined to put the lie to that old adage - 'you can't fool all of the people, all of the time. What a lot of people do not understand about web techology is its ability to make doing just that very easy.
Return To Top
or scroll down to continue browsing
---
During a lively discussion with Joe Scarborough, centered on fears that President Trump is "trying to undermine the media," MSNBC's Mika Brzezinski let slip the unspoken truth that mainstream media sees its "job" as to "actually control exactly what people think."
SCARBOROUGH: "Exactly. That is exactly what I hear. What Yamiche said is what I hear from all the Trump supporters that I talk to who were Trump voters and are still Trump supporters. They go, 'Yeah you guys are going crazy. He's doing -- what are you so surprised about? He is doing exactly what he said he is going to do.'"
BRZEZINSKI: "Well, I think that the dangerous, you know, edges here are that he is trying to undermine the media and trying to make up his own facts. And it could be that while unemployment and the economy worsens, he could have undermined the messaging so much that he can actually control exactly what people think. And that, that is our job."
As another panellist points out, the comment failed to raise any eyebrows from her co-panelists. Instead, her co-host, Joe Scarborough, said that Trump's media antagonism puts him on par with Mussolini and Lenin...
Return To Top
or scroll down to continue browsing
RELATED POSTS:
Back to Contents table
Michael Meacher, outspoken doubter of the 911 official story, dies suddenly in as yet unexplained circumstances

Kid's Company Financial Scandal Shows Politicians Are Too Naive For The Real World
The financial scandal that emerged after the collapse of Kid's Company, the 'charity' founded by Camila Batmanghelidjh and supported by in turn, Labour, Coalition and Conservative Governments is a perfect illustration of corruption in the public sector and the folly of outsourcing government responsibility to self - interested privateers.
Latest Posts
Elsewhere: [Little Nicky Machiavelli]...[Scribd]...[Wikinut] ... [ Boggart Abroad] ... [ Grenteeth Bites ] ... Ian Thorpe at Flickr ] ... [ Tumblr ] ... [ Ian at Minds ] ... [ The Origninal Boggart Blog]
---
Can Americans Overthrow The Evil That Rules Them?
After Brexit European Union Moves To Abolish Free Speech!
A report in New Europe reveals that in Leeuwarden, Netherlands "about twenty opponents of the plans [to establish asylum centers] in the region received police visits at home." In other words, the government of Netherlands, a nation that has paraded its liberalism, is engaging in state censorship, which raises the question: Is the Netherlands now a police state?
At the time of writing Geert Wilders, leader of the anti - EU, anti - immigration Freedom Party in The Netherlands Parliament is on trial for 'hate speech'because of some innocuous remarks he mad about the country not needing any more Moroccan immigrants.
In the town of Sliedrecht, the Thought Police arrived at Mark Jongeneel's office to tell him that he tweeted "too much" and that he should "watch his tone": his tweets "may seem seditious". His offense? One tweet said: "The College of #Sliedrecht comes up with a proposal to take 250 refugees over the next two years. What a bad idea!"
In September 2015, Die Welt reported that people who air "xenophobic" views on social media, risk losing the right to see their own children.
Some might say it is an over - reaction to dub the EU a putative fascist superstate, but while European citizens are increasingly at risk of arrest for "hate speech" and "xenophobic remarks" (both terms for which there is no legal definition, the law does not apply equally to all Europeans, the ruling elites it sems can say what they like about whom they dislike. German EU Commissioner Günther Oettinger recently called a visiting Chinese delegation of ministers "slant eyes" ("Schlitzaugen"). European Commission President Jean-Claude Juncker immediately promoted Oettinger to be in charge of the EU budget.
It is not an isolated case. While EU leaders routinely slag off in the most xenophobic terms anybody who opposes their cultural Marxist, globalist agenda, citizens, are arrested and prosecutedfor exercising their right to free speech. Anybody can be a target it seems, except for Muslims, blacks and gays.
We have said before that in Europe and throughout the developed world We The People are at war, and our common enemy is not Russia, China, Iran, Islamic fundamentalism or nationalistic extremism. It is our own governments, the ruling elites, politicians, academics, the professions, the super rich, media luvvies and that army of 'experts' that has spring up, ready to pontificate on anything everything. Evidence is mounting that expressing any opinion, no matter how reasonable, that runs counter to official government policy can land you in prison, or at least ensure a visit from your local Thought Police. Has the European Union effectively become a police state in a desperate but doomed bit to stop disintegration? It would seem so and our FREE ebook on the subject shows that turning the proud old nations of Europe into a bureaucratic dictatorship.
Several European governments including Germany and Sweden have made clear to their citizens that criticizing migrants or European Union 'open doors' immmigration policies will be treated as a criminal offence. People who go "too far," according to the authorities, are being arrested, prosecuted and at times convicted.
Return To Top
or scroll down to continue browsing
RELATED POSTS:
USA Trumps Brexit: Next Quitaly or Eirexit?
Polish Leader Kaczynski Says European Union Must Change Or Disband
Juncker Faces Court Challenge Over 'Illegal' Ban on Early Brexit Negotiations
EU Parliament and Commission in Standoff Over Fines, Sovereignty
European Union The Prison Of Peoples - France's Le Pen Calls For European 'Spring'
French Prime Minister says: "Europe Is Falling Apart"
Well We Have Been Warning You: European SUPERSTATE plan unveiled: EU nations 'to be merged into one' post-Brexit
Will TTIP Make Europe A Colony Of The USA?
Europe Will Be Diverse By Order Of The EUroNazis
"The European Project Was Always Bound To Fail" – Europe Abandons The Union
Elsewhere: [
The Original Boggart Blog
] ... [
Daily Stirrer.shtml
]...[
Little Nicky Machiavelli
]... [
Ian's Authorsden Pages
]... [
It's Bollocks My Dears, All Bollocks
] [
Scribd
]...[
Wikinut
] ... [
Boggart Abroad
] ... [
Grenteeth Bites
] ... [
Latest Posts
] [
Ian Thorpe at Flickr
] ... [
Latest Posts
] ... [
Tumblr
] ... [
Ian at Minds
] ... [
Authorsden blog
] ... [
Daily Stirrer News Aggregator
]
[
Ian at Facebook ]
---
Can Americans Overthrow The Evil That Rules Them?
The anti - establishment, anti - globalisation mood that manifested itself in the Brexit vote is sweeping across Europe, the cosy government - corporate cartel is desperately trying to control the narrative, but against the combined strength of millions of new media commentators all challenging the official; narrative, the dar forces of globalism are on the back foot. With the warnings of Presidents Eisenhower and Kennedy in mind, concerning the dark forces at work in American society, the 'shadow government', this post examines the threat to freedom posed by a hillary Clinton prediency.
Can Americans Overthrow The Evil That Rules Them?
Return To Top
or scroll down to continue browsing
---
The Global Warming Scam Is A Weapon In The War On Free Speech
An article in The Washington Times looks at the latest move to silence those who question the motives of the climate change lobby and the pseudo science behind the scam. I, and many of my friends, all believers in freedom of speech and expression, have frequently been callede 'climate deniers' and worse for exposing the statistical frauds behind climate change scaremongering.
Nobody denies there is a climate of course, and nobody denies that it changes. Sometimes a sunny day changes to cold and cloudy, sometimes the sun hardly warms our lands for wekas as rain, snow and hail pummel us. The wind blows strongly on Tuesday, uprooting treees and overturning high sided goods vehicles but on Wednesday, hardly a cats paw ripples the surface of the lake. Mark Twain, who was very wise and did not need mathematical models to help him understand that some things lie beyond the meddling of man, observed that "everybody talks about the weather but nobody does anything about it."
The attorney general of the U.S. Virgin Islands thinks he has found the way to silence, once and for all, the debate over global warming, or climate change, or whatever the 'progressive liberals' and other authoritarian neo fascists are calling the scam this week. Claude Walker, the Obama of the Caribbean who leads the assault on not just free speech but freedom of thought in the idyllic Caribbean microstate presented a subpoena this week to compel the Competitive Enterprise Institute, a public policy think tank skeptical of the climate scam, to turn over all its documents relating to the Institute's research.
His 14-page subpoena demands the Institute's documents, communications, emails, op-eds, speeches, advertisements, letters to the editor, research, reports, studies and memoranda of any kind — including drafts — that refer to climate change, greenhouse gases, carbon tax, climate science and the like that in any way are related to Exxon Mobil or the "products sold by, activities carried out by ExxonMobil that directly or indirectly impact climate change."
Mr. Walker reveals the real intent of his lawsuit with a demand for a list of donors to the Institute, the better to pressure them with threats of legal harassment. "We've been targeted for our opinions," says Kent Lassman, the new president and CEO of the Institute. Mr. Walker, in fact, is merely acting as the front man for 20 states who have joined forces to prosecute organizations that have exposed the doomsday wailing and gnashing of teeth that is the stock in trade of the global-warming industry.
"Not everyone believes that the planet is warming," Glenn Harlan Reynolds, a law professor at the University of Tennessee, wrote recently in USA Today, "and not everyone who thinks [the planet] is warming agrees on how much; not everyone who thinks that it is warming even believes that laws or regulation can make a difference. Yet the goal of these state attorneys general seems to be to treat disagreement as something more or less criminal."
In fact the ultimate goal of the ruling elites has little to do with global warming or climate change. The goal is clearly to demonstrate that the government has the power to punish dissent, silence criticism, shut down objections and disagreement, and even prosecute those who have politically incorrect thoughts. You must let government make all your decisions for you, because we have PhD qualifications in Philosophy, Politics and Economics while you the masses are stupid and cannot understand complex issues. Government must be unimpeded in doing whatever it wants to do to youir life.
"[This subpoena] is designed not only to silence us," says Myron Ebell, an official of the Institute, "but it is also designed to defund us. These [are] efforts to defund us and other free-market groups that have politically incorrect views on climate and some other major issues. We've been dealing with this for a long time, but I think we have now reached another level. When you get an attorney general involved, it's no longer just a debate in the public base that tries to shut us up, but it's using the full force of the state to do so."
So there you have it, the climate change scare is really, as my friends and I have always said, about power and control and little to do with saving the planet. This last bit is probably fortunate as not of the predictions of catastrophe in recent years (ice cap melt, rishing sea levels, 50 million refugees, no more snow, mass extinction, the destruction of coral reefs and widespread famile because of crop failure have actually happened so it's a good thing world leaders only managed to agree that 'something must be done' without actually having a clue what. Because any money spent would have been wasted and any actions such as the proposed but in practical terms impossible geoengineering projects might well have resulted in far worse humancatatstrophes than the very worst predicitions of the climate scientists mathematical models of the climate could produce.
Return To Top
or scroll down to continue browsing
RELATED POSTS:
The Right To Tell Politicians To Eff Off In An Age Of Self Appointed Censors, and Compliant Media Our right of free speech is increasingly under attack from control freak politicians, politically correct left wing activists and the dark forces of corporatism.
Facebook begins Europe-wide censorship campaign against free speech.
Facebook Inc (FB.O) has commenced the Europe-wide censoring of posts and comments the ruling elite do not like, thus making good the promise given to Hausfrau – Volksfuhrer Merkel by the social media and data theft site's founder Mark Zuckerberg.
Google, Facebook and Twitter Yield to German Govt Demand to Censor Anti-Migrant 'Hate Speech' (aka Free Speech)
Over the past couple of days we, and many other New Media outlets reported the horrific incident in Cologne, Germany at New Year, in which a crowd on male, recently arrived immigrants, all of Arab or North African appearance according to witnesses carried out a mass attack on German women who were simply trying to use the railway station.
Sharia Law in Germany: Christian activist Heidi Mund charged with "agitation against the people"
Germany is sliding towards fascism as Hausfrau - Volksfuhrer Merkel outlaws free speech for Christians. All criticism of Islam and discussion of Muslim crimes is hate speech it seems, but the ranting of Islamic hate preachers as they call on Muslims to kill all infidels is acceptable rhetoric.
Academics Warn Politically Correct Universities 'Are Killing Free Speech'
Free speech is under attack from politicians and minority rights activists, but when universities start censoring ideas, society is in trouble. So what is going on when speakers who have challenged the politically correct consensus are denied a platform to speak on unrelated topics.
Democracy Murdered In France
I'm hearing very disturbing news from the French regional elections, predicting that the Front National, comfortable winners in last week's first round of regional elections, hasve been routed in all regions. For that to happen, and to happen through a massive increase in turnout, suggests electoral fraud on a hughe scale. Or has France joined Britain in adopting the Islamic version of democracy, which is one man one vote, one Imam one thousand votes.
The Self Righteous Minority That Threaten Free Speech
In the past five decades the freedoms cherished in universities in democratic societies has increasingly come under attack from those who style themselves 'The Left'. This of itself is bizarre because left wing thinking ought to be about freedom of the individual, self determination and personal development. People died for the right to speak freely, just as they did for the right of every citizen to vote in democratic elections. So where did it all start to go wrong?
Internet being ghettoized by government an corporate media, Matt Druge warns
The very foundation of the free Internet is under severe threat from copyright laws that could ban independent media outlets, according to Matt Drudge. "I had a Supreme Court Justice tell me it's over for me," said [Matt] Drudge, warning web users that they were being pushed "pawn-like" into the cyber "ghettos" of Twitter, Facebook and Instagram.
Free Speech And The 'Black Lives Matter' Book Burners
The news that students and administrators at a Connecticut, USA, university are 'boycotting' the Wesleyan Argus student newspaper for publishing an op-ed that was mildly critical of some aspects of the anti-police-brutality group Black Lives Matter (BLM). Their petition reads: 'This boycott includes recycling the Argus and demanding [its] funds… be revoked.'
Controlled Media Blacks out German Mass Opposition to Nonwhite Invasion
Elsewhere: [
The Original Boggart Blog
] ...
Daily Stirrer
...[
Little Nicky Machiavelli
]... [
Ian's Authorsden Pages
]... [
Scribd
]...[
Wikinut
] ... [
Boggart Abroad
] ... [
Grenteeth Bites
] ...
Ian Thorpe at Flickr
] ... [
Tumblr
] ... [
Ian at Minds
] ... [
Authorsden blog
] ... [
Daily Stirrer News Aggregator
]
---
---
---
---
---
---
---
---
---
---
---
---
---
---
---
CREATIVE COMMONS: attrib, no comm, no dervs.
KEYWORDS: news, opinion, dailystirrer,

If you liked this, please give it a boost
Close Window and return to previous URL