The True Cost Of The Green Energy Boom Is Now Being Realized
As Europe's Energy crisis wrecks national economies and drives millions of families into poverty, the powers that be are still refusing to acknowledge that their green energy policies and obsession are more to blame for the crisis than anything Vladimir Putin has done
For four decades we have been fed a constant stream of propaganda assuring us that green energy was the only way forward if we wanted to secure supplies of the energy essential to a modern society while preventing the environmental catastrophes that would be the inevitable consequence of climate change caused by the Carbon Dioxide (CO2) emitted by human industrial, commercial and social activity.
The usual suspects (politics, the media and academic communities,) played down the fact that evidence for their predicted climate change scenarios came entirely from mathematical models of climate activity rather than real world evidence and played up the fear factor, cherry picking evidence from their results to paint pictures of a barren, lifeless planet if we allowed the concentration of the trace atmospheric gas Carbon Dioxide (which is essential to the continued viability of all carbon - based lifeforms (i.e. every living thing on the planet.).
It is all bollocks of course but that did not stop governments, advised by academics and cheered on by the media, pursuing loonytoons energy policies based on wind and solar panels (not quite smoke and mirrors but close enough for jazz,) and shutting down reliable coal, gas and nuclear power plants in favour of getting our energy from unreliable, intermittent sources. Wind does not blow at a constant speed twenty four hours a day, seven days a week and in reality only blows at speeds within the optimum for wind turbines to generate power for around twenty - five percent of the time. And although the information seems to have escaped followers of the quasi - religious cult that worships a god named "The Science," the sun is only present in the skies above their solar panels for on average twelve hours a day.
It is due to ignoring basics like this we in the developed nations of Europe and North America find ourselves in the grip of an energy crisis. The energy crisis in Europe has highlighted the challenges the world is facing in the what progressives global energy transition and realists think of as the return to medievalism
Throughout the decades in which 'sustainainable energy has been touted as the saviour of civilisation it is becoming increasingly clear that green energy has failed, wind turbines and solar panels cannot reliably supply enough energy to power modern societies and fossil fuels will remain the key part of the energy generation for decades to come.
In spite of vast investment of money and resources in wind and solar, and the headlong rush by government policy makers to embrace the 'net zero' committment so fashionable among 'climate scientists' although real scientific studies show it is unachievable, and attempting to get there will habe a disastrous effect on national economies and plunge millions of families into poverty and render the poorest destitute, the politicians and academics who have promoted green power and their servants in the media who have loyally reported their lies, misrepresentations and fake statitics continue to push this idiocy.

In 2018, Aluminum '18 Dusseldorf the "premier aluminum conference in Europe", the weather alert app kept displaying daily ozone levels in the "high" or "extremely high" range and any delegates experienced a persistent cough. This, the organisers explained, was due to the dominant method of energy generation used in Germany, coal. A few years before that the German government had proudly proclaimed itself one of the leaders in the switch to green energy and the race to achieve the fabled 'net zero.'
Unfortunately as well as phasing out its coal fired power plants, after the Japanese Fukushima nuclear disaster, the German government implemented a plan to shut down its entire nuclear operations no later than 2022.
We can now see that decision by Germany was a real clunker, whether it was "led by The Science," (such decisions are always wrong,) or by a genuine but misplaced desire to save the planet (in which case it targeted the wrong demon,) it has resulted in Germany losing its leverage with Russia, because where Russia's need for foreign exchange balanced Germany's need for gas, now Germany, having shut down its alternative energy sources and abandoned coal, now relies on Russian gas, while Russia has alternative customers to sell to.
And ironically Germany already had "clean energy" from its well managed nuclear installations but now must revert to 'dirty' coal to avoid blackouts.
Meanwhile, as the world watches the Russian invasion and also prognosticates the impact of sanctions, (the Boggart Bloggers forecast sanctions will have minimal impact for reasons stated here many times,) other European nations are falling into similar energy holes they have dug for themselves will badly thought out green policies.
And with the hit to energy supplies that must come from any prolonged conflict in Ukraine, German industrial, commercial and domestic energy users can expect rough (and expensive) times ahead.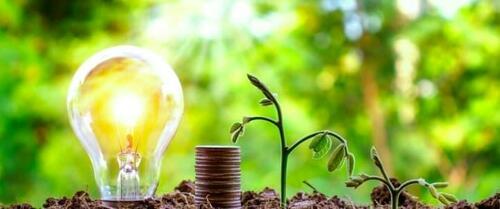 RELATED:
MENUS:
[ Europe ] ... [ Europe Unglues ] ... [ Energy ] ... [The Russians Are Coming ] ... [ Green Dreams ]
POSTS:
Millions Of Brits Told Not To Heat Homes At Night As Part Of 'Net Zero' Push
No, they aren't urging elites to ditch their private jets for commercial, or not to burn 1,000 of fuel taking the yacht out for a jaunt. Chris Stark, head of the UK's Climate Change Committee, wants ordinary citizens to turn off their electric heaters (heat pumps) at night as part of a wider drive to deliver "emissions savings," which includes a shift away from gas boilers - which Chris, a hypocrite, still has.
Germany Forcing Farmers To Use LESS Fertilizer To Satisfy EU's Green Agenda
The German government, already reeling from the public backlash against rising fuel prices, the shortage of gas since supplies from Russia were cut off, and the biggest economic crisis in the EU, has now jumped on another 'woke' bandwagon. The socialist led ruling coalition has banned farmers in one of its federal states from properly fertilizing land in compliance with the latest lunacy of the EU's green agenda ...
German NatGas Consumption Too High To Avoid Energy "Emergency", Regulator Warns As Norway Increases Gas Production
Germany tok great pride in leading the race among developed nations to achieve a net xero economy but now the folly of that policy is being exposed as gas supplies from Russia dry up and the inadequacies of wind and solar are exposed
The True Cost Of The Green Energy Boom Is Now Being Realized
For four decades we have been fed a constant stream of propaganda assuring us that green energy was the only way forward if we wanted to secure supplies of the energy essential to a modern society while preventing the environmental catastrophes that would be the inevitable consequence of climate change caused by the Carbon Dioxide (CO2) emitted by human industrial, commercial and social activity. ... Continue reading >>>
UK Households Are Paying Wind Turbine Owners To Not Generate Electricity
On another near windless day here in the United Kingdom, Boggart Blog came across a very interesting piece if news. According to figures published by the business and management consultancy LCP, british taxpayers have been paying operators of wind turbines farms for the time their windmills were NOT generating electricity increased to record levels last year ...
"Our Country Is Facing The Biggest Crisis The Crisis We Ever Had": German Employers' Association Warns Over Russian Gas Cut
With the Nord Stream 1 pipeline closed for maintenance, with the possibility that President Putin will not allow it to reopen at the end of the scheduled 10 days downtime in retaliation for the EU's continued support or Ukraine in their conflict with Russia, Germany is facing an unprecedented crisis that could erase the prosperity Germans have grown accustomed to, warned Rainer Dulger, head of the Confederation of German Employers' Associations.
European Union Is Again Close To A Meltdown As Eurozone Economy Collapses
Once more we return to the political instability and economic fragility of the European Union as the conflict in Ukraine combined with loonytoons Climate Change mitigation policies, the failure of 'sustainables' to meet ever increasing demand for electricity, fod shortages and rampant price inflation put economic and social pressure on governments of member states ...
Net Zero Is A Dangerous Fantasy, But Scientists Believe In Fairies It Seems
With oil and gas prices rocketing and the highly propted sustainable energy sources performing way befow expectations the energy crisis currently gripping Europe (with worse to come as food shortages start to bite, polticians still seem more intent on pandering to the green lobby and chasing the dream of a fossil fuel free world rather securing the energy and food supplies needed by the people they serve.
Hit Brake On Net Zero, Voters Tell Wannabe Prime Ministers
A majority of Conservative party members who will vote in the leadership contest want the next prime minister to pause and review the push for Net Zero, a new poll has revealed. These results increae pile pressure on leadership hopefuls Liz Truss and Rishi Sunak to strengthen their stanceon the cost likely of transitioning from coal and gas fuelled electricity generating plants to inefficient, unreliable, intermittent 'green power' sources.
Is Russia Selling Its Oil To The World Through An Obscure Egyptian Port?
As this blog predicted when NATO and EU member states shot themselves in the foot by reacting to Russia's invasion of Ukraine with sanctions that prevented Russia from selling oil, gas and vital raw materials to the countries that needed them most, the NATO and EU member states, the Russians have had no problems finding alternative customers for their gas and oil and no problem getting oil into the world's commodity markets through the back door.
1,200 Scientists and Professionals Go Public With: "There is No Climate Emergency"
As it happens the narrative promoting the risible idea that "The Science Is Settled," and a few other trains of misinformation to keep ramping up the fear level among the general public have been rocked by the publication of The World Climate Declaration (WCD) a study and report signed by over 1,100 scientists and professionals. The authors, meteorologists, physicists, biologists, naturalists and well qualified people drawn from a host of other professions and academic disciplines and from all around the world conclude there is no climate emergency.
Do We Have A Winter Of Civil Disobedience Ahead?
As many people in Britain slap on the apres sun gloop in the wake of what passes for a heatwave in these cool cloudy climes, our inept politicians caught with their pants down by unusual weather as usual have heard that that winter is coming and are making plans for a coldwave. We are in the grip of an energy crisis at the height of summer. Last week, it was reported that the UK government is laying down plans for a "reasonable worst-case scenario" including blackouts for industry and even households. And this is as energy prices spiral out of control to new records every day.
US Becoming Isolated As Key Ally Japan Considers Joining China-Led Investment Bank
Japan's foreign minister signaled cautious approval of the institution that the United States has warned against. The opposition to the AIIB began crumbling after Britain said earlier this month that it would join the institution, saying it was in its national interest. France, Germany and Italy swiftly followed suit.
Why Are The World Government Schemes, Agenda 21 and Agends 30 blanked by big media?
Since the early days on the old blog.co.uk platform we have from time to time raised the issues of Agenda 21 and Agenda 30, The New World Order, and the push for a global, authoritarian, socialist government. Any mention of these things in online forums is certain to get the author accused of being a conspiracy theorist, a right wing extremist, a nutcase, a young earth creationist and much worse
Greta Thunberg Slams Australia for Coal Industry, Expands List of Climate Demands
Little Greta Thunberg, who was elected by nobody apparently now speaks for us all on matters relating to climate change. The Swedish climate change hustler who is making a fortune for her handlers from donations to her campaign, again castigated Australia for continuing to mine and export coal despite her previous complaints, adding a call for an end worldwide to the activity to her list of climate demands to be delivered at the upcoming World Economic Forum in Davos ...
Britain can't cut off domestic gas without other reliable energy sources
An interesting selection of letters to the editor in the Daily Telegraph on an idiotic policy just adopted by parliament's climate change committee, who are more interested in sucking up to The Islington Screechers and competing with the idiot Macron on France, and the Soros lackey Merkel in Germany to go down in history as the leader who most effectively destroyed the country they led.
first-country-to-totally-dump-fossil-fuels/" rel="bookmark">
Uncategorized
Ireland Set To Become The First Country To Totally Abandon Fossil Fuels
The Irish have a reputation for stupidity. They are, taken as a whole, no more stupid than the English, French, Germans or any other nation, I've known many Irish people who are highly intelligent and very well educated. My wife is Anglo – Irish, born in England to Irish parents, so I sleep next to an intelligent Irish person. But collectively the Irish do have a penchant for making incredibly bad decisions ...
Continue reading