Putin, Macron To Hold Urgent Talks To Halt Military Escalation In Ukraine
Even though the leaders of Ukraine itself are talking down the threat of war with Russia over the breakaway region of Donbas, America and Britain are still beating the war drums and demonising Russian leader Vladimir Putin. Russia insists they have no plans to invade Ukraine and one western leader at least, France's Emmanuel Macron, seems to be listening to messages coming out of the East European trouble spot...
---
20 February 2022

While President Biden and UK Prime Minister Boris Johnson continue to talk up the idea that Russia is committed to an invasion of Ukraine that could happen "within the next few days, (even though that next few days has stretched from late January all the way through February without any have evidence that Russia had any plans to invade,) French President Emmanuel Macron and Russian President Vladimir Putin have agreed in a phone call on Saturday, to take urgent measures to deescalate the situation in eastern Ukraine, the Elysee Palace announced in a statement on Sunday.
The two leaders also discussed Putin's plan to withdraw Russian troops from Belarus now that President Likashenko is formly back in charge after a bid by 'unknown non - state actors' (i.e. the usual suspects',) failed bid to forment a colour revolution to overthrow the regime..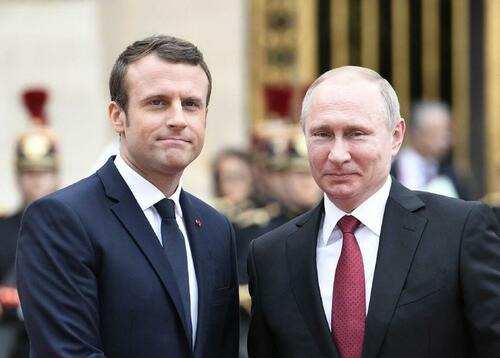 Putin and Macron agreed to work within the 'Normandy format' - which will also include German and Ukrainian leadership - and will begin discussions "in the next few hours" in order to negotiate terms for a ceasefire in the Donbas region. (Picture: Zero Hedge)

As a result of the telephone discussion a meeting between French and Russian ministers of foreign affairs, Jean-Yves Le Drian and Sergey Lavrov, will occur in the next few days. A statement issued by the French Ministry for Europe and Foreign Affairs set out the scope for these negotiations.

"This diplomatic work should make it possible to progress on the basis of the latest exchanges by involving all the stakeholders (Europeans, allies, Russians and Ukrainians) in order to achieve, if the conditions are met, a meeting at the highest level in to define a new order of peace and security in Europe."
The Kremlin confirmed the statement, saying "it was agreed to continue contacts at various levels. Serious concern has been expressed over the sharp deterioration of the situation on the line of contact in Donbass. The President of Russia noted that the escalation has been caused by the provocations of the Ukrainian security forces," the Kremlin statement reads in translation.
According to RT, the Russian online news service that has strong links with The Kremlin, Putin brought up "the ongoing pumping of Ukraine with modern weapons and ammunition" by NATO countries, which is pushing Kiev "toward a military solution to the so-called Donbass problem." Because of the "intensifying shelling," citizens in self-proclaimed breakaway republics in eastern Ukraine had to evacuate Russia.
The Ukranian government in Kiev continues to accused America and Britain of hysteerical rhetoric as they continue to claim Russia plans an imminent invasion, but offer no evidence to back uo these claims other than pictures showing large numbers of Russian troops stationed withing 50 miles of the Ukraine border, which is exactly where they have been since 2014 when the Obama regime in washington backed by David Cameron's coalition UK goverrnment, draged us through a very similar exercise in warmongering.

Separately from the Putin / Macron initiative,Russia and Belarus will extend their joint military exercises, according to Bloomberg report based on information from sources in the Belariusian Defense Ministry.
The training exercises were scheduled to finish on Sunday and Russia had said it would return its troops to their bases afterward. While those drills are in Belarus, which is north of Ukraine, the defense ministry statement cited the deteriorating situation in eastern Ukraine for the extension,, a likely reference to NATO's recent deployment of more troops eastward. -Bloomberg
In the past week, since the shelling of an infants' school which may have been accidental or a false flag event according to various reports, fighting between Russian-backed separatists and Ukrainian government forces in the breakaway Donbas region has escalated - with allegations of violations on both sides of a 2015 ceasefire, The Minsk agreement.
According to Ukraine, the separatist leaders are increasing the rate of attacks, including on civilian targets, to force a response and create a pretext for a Russian invasion. Donbas leaders say they're responding to Ukraine firing on them.
MORE POSTS on the Ukraine Crisis:




Status Report On That War Thing In Ukraine: Nordstream to Bakhmut, electricity and water


In the wake of attacks on the on the Stream pipelines, that effectively halted the flow of natural gas which German industry, commerce, agriculture and society relies on, and the terrorist attack on the Kerch Bridge, US Secretary of State Antony Blinken gloated that the attacks were a "tremendous opportunity" to weaken Moscow [...] And shortly after news of the Nord Stream sabotage broke on mainstream media, gas supply companies in the USA were offering to supply Europe with shipments of Liquid Natural Gas carried by supertanker to be sold to European nations at vastly inflated prices.

Russia Ukraine Dirty Bomb Claim - Some Reality
As the situation in Ukraine gets more desperate with casualty numberrs mounting, half the national infrastructure in ruins and Russia upping its game in response to US / NATO military assistance privided to the neo nazi nutters in Kiev, a false flag event seems the only way to provide an excuse for direct US intervention. And the USA has a track record for fgalse flag events ...

News roundp updated 25 June 2022: links to posts on Covid vaccine fascism, Lockdown catastrophe, US abortion controversy, Currency wars: Russia and China versus the west, Race issues, Transgender lobby bullying - see panels in right hand column.

RELATED:


We The Good Guys Versus They The Bad Guys Reporting Does Not Make Sense For The Ukraine Crisis
Mainstream media reporting of the conflict in Ukraine has disappointed. Perhaps I was naive to suppose that lessons might have been learned from the hits their print sales and online traffic rates took as a result of their handling the COVID pandemic But instead of focusing on the most obviously newsworthy aspect of the build up to and escalation of the war, Russia's view of NATO expansion into Ukraine and even further to Georgia and Kazakhstan, news reports have simply demonised Russia and portrayed Ukraine as the good guys.

Germany News Mag. Spiegel Asks "Is Vladimir Putin Right?" About NATO Expansion
As the confrontation along the border between Ukraine and Russia has escalated to actual shooting with ethnic Russian rebel separatists in Donbas reporting intensified shelling and initiating a "general mobilization" of military-age males, with Moscow denying they plan to invade and Ukraine's leaders accusing US, UK and French leaders of hysteria for talking up the threat of war, Germany's leading newspaper Spiegel asks the question fundamental to the entire conflict...

While Crazy Joe Biden Claims Victory Over Russia, NATO's Expansin Plans Have Been Derailed By PutinJoe Biden (or his handlers because we all know Joe's mind is gone,) have been trying to spin reports of Russian troops withdrawing from positions close to the Ukraine border as a diplomatic victory for the USA over Putin but in the geopolitical game things are seldom what they seem to be ...


As the COVID narrative crumbles under the weight of evidence that the vaccines do not work, masks are useless and lockdowns kill more than they save a new scaremongering narrative - or a revamped old one - is emerging as the threat of war with russia is the latest fear and panic vehicle to scare the people into compliance with tyranny. Continue reading >>>

Currency Wars - Now The Euro Challenges The Mighty Dollar
Our http://www,greenteethmm.com/currency-wars.shtmlcurrency wars feature has taken a back seat these past two years as the COVID pandemic (or propaganda pandemic as some people might say,) has pushed all other stories aside. In our opinion however, the pandemic has served as a convenient smokescreen behind which all sorts of elitist skulduggery has been going on, hidden from the view of the general population. ... Continue reading >>>

Russia - Ukraine crisis: Western foreign policy failures
Mainstream media's hyping of the threat to Ukrained posed by Russian aggression is the latest in a long line of attempts to lay blame for western foreign policy disasters at the fet of Russia. In fact had Joe Biden not started to babble about Russian aggression, talking up the threat of conflict, there would be no crisis ...

Is The Russian Threat To Invade Ukraine Real Or A Globalist Conspiracy Theory?
Continue reading >>>While Joe Biden's handlers in Washington and Boris Johnson In London talk up the threat of war should Russia invade Ukraine as they claim Moscow is preparing to do,Ukrainian leaders are dismissive, accusing the west of ramping up hysteria in a bid to divert attention from oither problems.

British Government Laundered Fake U.S. 'Intelligence' On Ukraine
The British government on Saturday accused Russia of organizing a plot to install a pro-Moscow government in Ukraine, as the Kremlin masses troops near the Ukrainian border. The U.K. Foreign, Commonwealth and Development Office gave relatively little information about the intelligence unveiled Saturday other than to say that the Russian government was considering trying to make a Russia-leaning former member of Ukraine's parliament, Yevhen Murayev, the country's new leader. Continue reading >>>

British Government Laundered Fake U.S. 'Intelligence' On Ukraine
The British government on Saturday accused Russia of organizing a plot to install a pro-Moscow government in Ukraine, as the Kremlin masses troops near the Ukrainian border. The U.K. Foreign, Commonwealth and Development Office gave relatively little information about the intelligence unveiled Saturday other than to say that the Russian government was considering trying to make a Russia-leaning former member of Ukraine's parliament, Yevhen Murayev, the country's new leader. Continue reading >>>

One Of The Weaker NATO Members Goes Off Message To Prevent War With Russia
Mainstream media has been singing in unison on the Ukraine crisis, just as it has been over the vastly exaggerated risks posed by the manufactured pandemic crisis. Russia bad, war good has ben the mantra throughout the last couple of weeks as the ruling elites tried to turn up the the fear-and-panic generator to eleven [...]The whole Ukraine scare is as false as the pandemic ...

Putin has got Biden over a barrel with Ukraine – and markets know it
We've had a number of armed kerfuffles in Europe fairly recently but these were mostly centred on The Balkans and were local affairs [...] The threatened bust up between Russia and the west over Ukraine is much more serious – potentially the worst inter-regional conflict since the cold war, with far reaching consequences for both geopolitical and economic stability if mainstream mediaeports are to believed.

Storm Clouds Gathering Over Ukraine - Or Just The Usual Geopolitical Games
25 January 2022: As the COVID-19 Killer Virus Pandemic narrative crumbles under the weight of evidence that the vaccines don't work and therefore vaccine passports are irrelevant, masks are useless, and lockdowns only trash national economies and destroy businesses, the elites are desperately looking for another scare story to distract public attention from the godawful mess they have made with their globalisation plans, green energy follies and open borders insanity.

Russia Responds To UK's "Very Dangerous" Coup Allegations
23 January 2022: Russia has blasted this weekend's allegations by the UK government that it's planning to install a pro-Kremlin puppet leader in Ukraine. "We have information that indicates the Russian Government is looking to install a pro-Russian leader in Kyiv as it considers whether to invade and occupy Ukraine," the UK statement published Saturday began ...

Europe's Energy Crisis Exposes Green Fraud
Vladimir Putin has been celebrating the recent and much reported European energy crisis, knowing that withouout his doing anything, thanks to the obsessive pandrering to Greta Thunberg and the green lobby political leaders ion the UK and EU member states Russia has been handed control of European markets, with the option of manipulating supply chains and prices at the same time. In the meantime the European nations have failed to sufficiently diversify supply.