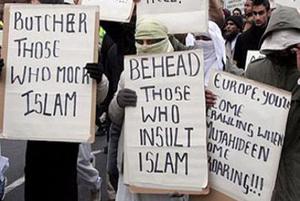 The Religion Of Peace? - Picture source: www.homelandsecuritynewswire.com
Although most working and middle class people in Britain who live outside London and are not employed in the public sector (especially education or the health servive,) is aware that the ruling elite is so determined to suck up to Islam it seems that like other EU governments they are determined to turn us into a Muslim nation, not many people are happy about it, particularly as the elite appear eager to spead extremism. The British government's idea of who is -- and who is not -- a legitimate asylum seeker becomes stranger by the month.
In November it was reported by all sectors of mainstream media that the Pakistani Christian mother of five, Asia Bibi (aslo called Ayissa Noreen), imprisoned and sentenced to death by a Muslim court in Pakistan for drinking from a cup that was used by Muslim women, after having her sentence commuted due to pressure from international human rights groups, and was released to live in a predominantly fundamentalist Muslim community, though fearing for her own life and the lives of her children, was unlikely to be offered political asylum by the British government due to concerns about "community" relations in the UK.
In plain English that means the UK government was worried that Muslims of Pakistani origin in Britain, who have no objection to members of their own community raping British, non Muslim women, might be so offended by the presence in the UK of a Christian woman who had committed the heinous crime of drinking from a cup that Muslim women had used, and by doing so making those women "unclean."
For that crime, Asia Bibi spent the best part of a decade on death row in Pakistan, before being officially declared innocent of a trumped-up charge of "blasphemy". Fuck me, we ought to be going out of our way to offend followers of such a vile, inhuman religion. We should be denying Muslims entry to our civilized nation, we should be withholding planning permission for the mosques that are springing up on every street corner, built with the aid of British taxpayers' money.We should be doing everything possible to resist the spread of Islam.
Yet, as Asia Bibi – whose story makes her one of the people most deserving of asylum in a safe country – continues to fear for her life in a cesspit of medieval savagery, Britain's idea of who should be allowed to travel to the country (and stay) looks ever more perverse.
For example someone who had no trouble being granted entry to Britain so that he could spread his message of hate for all who resist Islam in London is Dr Ataollah Mohajerani, Iran's former Minister of Culture and Islamic Guidance. Mohajerani is best known for his book-length defence of the Ayatollah Khomeini's fatwa against the British novelist Salman Rushdie in the 1980s.
After the Khomeini pronounced fatwa the world's Muslims to kill Rushdie for writing a novel, The Satanic Verses, which took a satirical view of certain passages in The Koran, saying Rushdie was guilty of blasphemy, Mohajerani wrote a 250-page book, A Critique of the Conspiracy of The Satanic Verses, which justified the death-sentence.
Having fallen out with the regime in Iran, Mohajerani is now living in the affluent London suburb of Harrow, where he continues his campaign against Rushdie without any restraints being placed on his freedom to incite violence against the author.
Time and again we have learned of extremist clerics such as the Pakistani clerics Muhammad Naqib ur Rehman and Hassan Haseen ur Rehman being allowed to enter the UK despite their preaching and writings regularly calling for the murder of people merely suspected of having blasphemed against, or apostasised from, Islam. (Asia bibi, you might recall, was sentenced to death for having a drink at a public drinking fountain. Nevertheless, while the UK government continues to allow clerics such as these to enter Britain, our Home Office government department which oversees policing and security maintains an ever-growing list of people who are not Muslim but who have been critical of aspects of Islam and who, without due process, in fact without any charges being laid against themare legally sanctioned by being deprived of their right to free speech for blasphemy against Islam . It should be noted that the last criminal prosecution for blasphemy against a Christian faith in Britain was in 1908 and though it remains technically a civil offence no successful prosecutions have been made for almost a hundred years.
It is almost as though the UK government has decided that while extremists can say what they like about Christians, secular humanists, atheists, Hindus, Buddhists and pagans, to the extent of inciting violence and will only rarely be banned or deported, critics of such clerics can be banned with ease and if an ordinary citizen says Islam is a cruel, primitive faith they can be prosecuted for "hate speech".
Apologists for Islam might say it is a long time since Mohajerani wrote his book justifying the murder of a British citizen and we should all let bygones be bygones -- as though advocating murder is the sort of thing anyone might do in a moment of weakness, there is a distinct trend among supporters of liberal and left wing politics towards taking a more relaxed view of the hatered expressed by Islamic extremists than of reasonable criticisms made by their critics. This keeps happening. Earlier this year Canadian blogger Lauren Southern has been refused entry into the UK because she her citicisms of Islam constitutes a threat to public order. (Since when was telling the truth a threat to public order?) This week we learned that the UK government has allowed in a man called Brahim Belkaid, a 41-year old of German origin, believed to have inspired up to 140 people to join al-Qaeda and ISIS. The British press this week discovered that he was able to settle in Leicester nearly five years ago after returning from Syria, where he is suspected of having supported terrorist groups. It does not appear that Belkaid has used his time in the UK to lie low or mull over his past mistakes. As his activities on the streets and on social media attest, he has in fact been openly continuing to preach hatred for western and Christian values and recruit for his radical version of Islam.
There are several possible explanations for the operation of such an insane policy, one that aide and gives comfort to people who want to harm Britain and it's people. One is that the British government is so afraid of kicking off a campaign of organised violence by Islamic extremists - possible but as there are sixty million of us and six million of them it suggests extreme cowardice among our leaders. Two is that nobody in Whitehall or the British security services know what they are doing, to the extent that they think pretty Canadian bloggers Canadian bloggers pose a threat to Her Majesty's Peace, bearded men clad in middle eastern garb who say things like "kill the infidel", "homosexuality is an abomination" and "western women are whores," are harmlessly exercising their right to free speech. Then there is that classic British excuse for everything known as "cock-up theory"or "Oscar Wilde theory", i.e. to have allowed in one hate preaching jihadist may look like an accident, to keep on letting them in and even letting them back in after they have been kicked out can only be sheer effing incompetence. Cock up theory is exemplified by the total inability of two departments to communicate with each other, even when those two departments are represented by people sitting at adjacent desks.
Along with that consider the extreme reaction of government to any public criticism of Islam, the enthusiasm of UK government departments including the police to "cracking down" on any criticism, no matter how justifiable and to preventing any critic of Islam, no matter how well documented the crimes they of which accuse "the religion of peace" may be (taking yazidi, Druze, Syriac Christian and Jewish girls as sex slaves in Syria for example, and the the UK government's sucking up to Islamic extremism begins to look like a policy.
RELATED POSTS:
RELATED POSTS:
Main Menus
Index pages for all our cetagories
Latest News
Other items you might be interested in
---
Supreme Court Fiasco Shows The US Democratic Party Is No Friend Of Democracy
A look at the way efforts by the US Democratic Party to shaft Trump have backfired on them. Trump is no politician for sure, he's undiplomatic, confrontational, crude, economical with the truth when it suits him, and very direct in expressing his views (a change from the mealy mouthed equivocation favoured by most politicians, but whatever his failings, he's a smart operator and he's outwitting the Democrats every time.

How Can The 'Left' Talk Of Equality When They Don't Tolerate Diversity Of Opinion
One of the first things I learned at my Grandfather's knee was the importance of free speech and of exposure to different ides and shades of opinion. Grandad had been a member of the Labour party before World War One and had lived through the class wars early in the twentieth century. My Dad was a Labour man too, until as a newspaper reporter, he learned things about socialism that shocked him.

Brexit has terrified 'Brussels bubble' - German insider The EU elite "lost faith in their own appeal and abilities" following the Brexit referendum vote and the surge in support for nationalist parties. The knee jerk response of the Brussels bubble was to try (and fail) to punish Britain for defing Brussels in the same way as they had punished small nations like Greece, Portugal and Ireland, which in their perception was the only way to prevent the EU breaking apart.

How Russia plans to disentangle its economy from US dollar
The Russian Finance Ministry this week officially revealed a plan to end the country's dependence on the US dollar for foreign trade. Economic analysts are warning it will be a long process, but Russia and China, with support from Iran and a number of other oil rich countriies whose oil trade is restricted by US use of the petrodollar to manipulate makets, are several years along the road to economic independence alredy ... MORE in Currency Wars
September 2018
New Report On Middle Aged Drinkers Shows Scaremongering Scientists Are Out Of Touch
A new study by 'scientists' in Australia claims that adults aged between 30 and 65 have only "minor" concerns about the health effects of alcohol. In spite of frequent scaremongering campaigns by governments and 'scientists' a huge number of people who drink more than the ridiculous recommended limits advised by governments are living happily and healthily to a ripe old age.
How Google Tried And Failed To Fix 2016 US Election For Hillary Clinton
Over the past two years, since Donald Trump unexpectedly defeated Hillary Clinton to become President Of The United States we have suffered an almost daily barrage of fake news from liberal and left leaning news sources about how the Russians, in collaboration with the Trump campaign, hacked servers, used bots to flood Facebook with pro Trump propaganda and swung the election for Trump.
Is US Department Of Defence Regime Change Agency Planning Color Revolution In Nicaragua
As civil unrest takes hold in the Central American republic, we are seeing reports that Nicaraguan student protest leaders have met with Washington DC, neocons, a publication funded by the US government's regime change arm, the ludicrously misnamed National Endowment for Democracy (NED), boasts of spending millions of dollars "laying the groundwork for insurrection" against Daniel Ortega
Britain Should Be Facing Global Outrage Over Skripal Saga, Not Russia
It may be pure coincidence that in the same week as Britain and France entered discussions with the US government about appropriate measure in retaliation for a chemical weapon attack in Syria that has not taken place yet, the increasingly ludicrous story of the assassination attempt on former Russian agent Sergei Skripal and his daughter Yulia has come to the top of the news again.
Russia Accuses US Of White Phosphorus Attack In Syria
Aallegations that President Assad of Syria has already authorised the use of illegal weapons (poison gas) in the coming assault on Idlib, continue to proliferate in western media. Idlib province in Syria is the last stronghold of the ISIS / Al Nusra rebels who, armed, trained and funded by Washington its NATO allies and The Kingdom Of Saudi Arabia, have been trying to ovrthrow the Assad regime for the past four years...
---
---
July 2018
Tory and Labour MPs Follow UKIP, Say 'Update Treason Law' to Punish Jihadists
Ancient treason laws should be updated so British terror recruits and jihadists returning from war zones can be prosecuted, a cross-party group of MPs, a former minister, and a former top judge have said
Terror index of posts
MP Who Highlighted Pakistani Rape Gangs Given Extra Security by Terror Police
A Labour MP who spoke out against the UK's "problem" with Pakistani grooming gangs has been given extra security by terror police after sustained attacks from "anti-racist" and Muslim interest groups. Sarah Champion is the representative for Rotherham, South Yorkshire, where around 1,500 "mostly" white girls were groomed, trafficked, drugged, and raped by gangs of predominantly Pakistani-heritage men, according to a government report.
Rotherham child abuse scadal - omnibus
June 2018
Irish PM Meets HRC, Insists Europe Needs More Migrants to 'Enrich Societies'
Europe needs more mass migration from the Global South because it "enriches our cultures and societies", according to Leo Varadkar, who announced he will import more asylum seekers to Ireland after meeting Hillary Clinton.
White working class children 'lack aspiration and drive' of migrant communities, says Ofsted chief
Children from white working class families can the "lack the aspiration and drive" of migrant communities, Amanda Spielman of Education overserr Ofstead cited analysis from the Department for Education (DfE) which showed that schools in these areas struggle to recruit teachers and have challenges with capacity.
Education index
March 2018
Police Forces Taking Days to Respond to 999 Calls … While Hate Crime Declared a Priority
Following the declaration earlier this year by the Mayor of London, Sadiq Khan, that in future London's Metropolitan Police Force would not investigate minor crime but would in future be proritizing the prosecution of those deemed to have committed 'hate crimes', other police forces in Britain are following suit and declaring that tackling so-called hate crime a "priority".
21 March
Liberal' witch-finders hunt for heretics in modern Britain
The activities of those we call the 'illiberal liberals' are well documented in Daily Stirrer and Greenteeth pages because it is quite shocking to observe how authoritarian liberalism and left wing ideologies have become, whereas we expect an authoritarian approach from the right ("Ve haff vays of making you konform"), but in fact the war on free speech is coming from both sides of the political spectrum.
20 March
Lay Off Cambridge Analytica, Facebook Are The Evil Doers
Information Technology firm Cambridge Analytica are being attacked by the hysterical mainstream media mob for their alleged role in the alleged collusion between The Kremlin and Donald Trump to steal the US Presidency in 2016, and similar abuse of private date to influence the result of the Brexit vote. It should be Facebook under attack, Cambridge Analytica only took advantage of a deal Facebook offers on the open market ...
19 March
Pentagon Struggles to Defend America's Secret War in Niger
The government and military authorities of the USA must be suckers for punishment, already struggling to manage international opposition to their ongoing efforts to effect regime change in Syria and with the bitter taste of failures in Iraq, Afghanistan and Libya still strong in their mouths, they are still escalating US involvement in foreign wars.
18 March
New From DARPA - If You've Never Heard Of DARPA You Need To Read This
DARPA - the United States Defense Advanced Research Projects Agency are the people who brough you the internet and biological warfare and some chemical weapons they'd rather not talk about (or maybe Washington does not want to talk about how these weapons ended up in the hands of terrorists and tyrants. DARPA are behind a lot of the technology governments are using to keep us all under digital surveillance.
India And Pakistan: Inching Toward Their Final War?
India and Pakistan are the nuclear powers mainstream media tends to forget as they focus on USA, Russia, China and North Korea, but both have between 120 and 140 nuclear warheads, probably not equipped with the latest guidance and stealth technology, but good enough to do a lot od damage according to the Arms Control Association ...
Pro-war trolls resort to smears as their 'rebels' lose miserably in Syria
Bureaucrats, Politicians and media talking heads who have consistently supported military intervention in Syria, and championed Obama's stated aim, that the priority was not to defeat ISIS terrorists but to remove the Assad rgime have gone apeshit following the collapse of the rebels final strongholds. The war loving 'liberals' are throwing everything they have at the level headed people who counselled against intervention ...
17 March
Reports Of USA Preparing Military Attack On Syria To Depose Assad.
Last April the US fired 59 Tomahawk missiles on Syria, in ostensibly in retaliation for an alleged chemical attack by the Assad regime on its own people. It was later confirmed by United Nations officials in Syria that there was no evidence to suggest the Assad regime was responsible, in fact such evidence as existed pointed to terrorist groups funded, armed and trained by the USA were responsible.
16 March
'Islam Doesn't Belong to Germany' - New Interior Minister
While mainstream media was hailing the political mastery of Hausfrau - Volksfuhrer Merkel in negotiationg a new coalition deal to keep her in power for another four years, The Daily Stirrer (and other alt_news sites to be fair) warned that the new government of Europe's most powerful economy was fragile and full of holes. Only days after Merkel was sworn in for a fourth term, the holes in her coalition started to appear ...
14 March
Outrage as Swedish TV Portrays Suspected Gang Rapists as 'Victims'
News coverage by mainstream media in Sweden of a gang rape case, in which a European woman was subjected to continual sexual assaults for 10 hours, has triggered a scandal as Swedish nationals finally show they are no longer willing to accept the ruling elite's constant pandering to violent, lawless immigrant groups, after the alleged perpetrators were portrayed as "victims" by national broadcaster SVT.
#MeToo movement silence in response to Telford sex abuse scandal shows they are hypocrites and virtue signallers

When a report in UK weekend newspaper The Sunday Mirror, on 11 March, revealed the shocking abuse experienced by hundreds of of young and often vulnerable women and girls in Telford, Shropshire, it was not unreasonable to expect the #MeToo feminists to express outrage at this case of the most serious sexual crimes committed on such a lage scale while the authorities looked the other way.
13 March
May 'under incredible pressure' from colleagues to blame Russia in ex-spy poisoning
In a scathing tirade, British Prime Minister Theresa May came as close as possible to blaming Russia for the murder of former double agent Sergei Skripal and the poisoning of the spy's daughter Yulia as possible without actually declaring war. The astounding attack is believed to have been a result of intense pressure put on her by members of her government and the political opposition eager to find a scapegoat and mainstream media hungry for sensation.
Scientific American Article Counsels People to 'Chill Out' over Global Warming
The usual hysteria which seems to inform any writings from the scientific community on climate change seems to have cooled significantly in recent months. Doomsday scenarios predicting the catastrophic effects of global warming are being dismissed as the work of research grant phishing frauds who cite output from mathematical models which use 'adjusted data' to perform their calculations.
Russia Threatens UK: "One Does Not Give 24Hrs Notice To A Nuclear Power"
Following on from the above story of Teresa May's pointing fingers at the Russian government for the poisoning of former double agent Sergei Skripal in Salisbury, UK, and a similar accusation accomanied by veiled threats from Germany, and Germany's pressure this morning, Russia has cranked up their response to '11' on the Spinal Tap amplifier of global armageddon.
February 2018
February 19
---
Don't Believe Mainstream Media: Russia Didn't Attack US Troops in Syria
On February 16 Bloomberg published an article headlined: "Don't Be Fooled: Russia Attacked U.S. Troops in Syria." It was the start of the latest Russophobic shitstorm unleashed by the 'liberals' of mainstrteam media and social media in the USA against Russia.
To give this story a little context, although under international law U.S. troops are in Syria illegally a U.S. led coalition purportedly supporting kurdish independence fighters (but really still poursuing barack Obama's aim of deposing the Assad regime,) conducted air and artillery strikes against what were reported to be pro-government forces in Syria on February 7, 2018, allegedly in response to an "unprovoked attack" launched by these pro-regime forces. Not long after, reports stories filtered out of The Pentagon via the usual suspects that significant numbers of Russian personnel were included in the over 100 dead and wounded, though Russia has since denied this at first. As the evidence began to mount, the accepted version of events on both sides was that those involved were Russian mercenaries and contractors, not official troops.
When asked about the incident initially, U.S. Secretary of Defense James Mattis said he had no idea why they [pro-government forces] would attack there, the forces were known to be there, obviously the Russians knew.
"We have always known that there are elements in this very complex battle space that the Russians did not have, I would call it, control of," he added.
Bloomberg added, "there is overwhelming evidence that those Russian contractors were working at the behest of the Kremlin. What's more, the Russians knew U.S. military personnel were in Deir Ezzor, which has been part of successive agreements to separate, or 'deconflict,' forces fighting in Syria."
The U.S. provided air cover for Syrian Democratic Forces (SDF) to retain a substantial portion of this area in 2017 and retains its military presence there in order to enable SDF's occupation to continue.
If Syrian forces, backed by Russian troops (whether they are official military personnel or iregular mercenaries, decide to launch an attack to retake a Syrian oil field from rebels, it is not the U.S. that is under the attack. The U.S. military presence, as this news blog has always maintained, is an illegal invading force that has been attacking Syria since 2014 without any legal basis for its operations, and continues as an illegal military presence in order to carry out its illegal dangerous foreign policy agenda of removing the legitimate governmet of Syria from power. It wouldn't matter if the U.S. had one soldier or a hundred thousand on the ground in Syria, Russia's presence has been sanctioned under international law and America's hasn't.
February 18
---
February 16
---
---
---
February 15
Dutch Foreign Minister Admits To Lying About Putin / Russia
Every tyranny needs a scary monster in the form of a singular menacing villain, a Dr. Evil, to keep the people from rebelling against the scary, oppressive regime that rules them. This manufactured enemy also serves to justify massive military expenditures, the usurpation of democracy and centralisation of authoritarian powers, and endless wars. For the west, following World War 2, Moscow filled this role, reds under the beds, the evil empire. But the fall of Soviet Union in 1991 meant the Kremlin could no longer sustain sufficient fear levels. For years in the 1970s and 80s the risible spectacle of a half dead Leonid Breznev, pumped full of booster drugs and propped up by two burly guards, waving mechanically to the May Day crowds in Red Square had been presented as an existential threat to the liberal democracies. Then suddenly they bogey bear was gone. For a decade things looked to be going well then 9/11 threw up a new monster, Islamic fundamentalists: Al Qaeda and Osama bin Laden, ISIS and Abu Bakr al-Baghdadi, and "jihadism" generally kept fear alive and with it many of the control mechanisms "the deep state" relied on to maintain control. After 9/11, a series of unsuccessful middle eastern engagements did nothing to enhance the myth of western military subremancy. The FUKUS axis (France, UK, USA, failed to bet a rag tag bunch of ragheads armed with WW2 rifles and improvised bombs in Afghanistan, blanket bombing drove the resistance underground in Iraq and all over the middle east the tarnished reputation of the USA was driving small nations into the arms of Russia and Iran. Barack Obama spent eight years (including up through his final year-end news conference) mocking the notion that Russia posed a serious threat to the U.S. given their size and capabilities, and meddling provocatively in the affairs of states which bordered on Russia. Obama's talk of American exceptionalism really meant Obama exceptionalism, he really did think he was President Of The Entire Universe and everything else besides, in fact he probably thought he was doing the people of Libya, Africa's most prosperous and socially advanced nation, a favour when he ordered the bombing campaign that ousted the dictator Mummar Gadaffi and subsequently turned the propsperous state into a failed state. Somehow Obama next managed to forment rebellion in the middle easts other secular Muslim nation, Syria, where a US inspired civil war was pinned by mainstream media on Russian intervention. ********************** Human nature craves a belief in an existential foreign threat because it confers a sense of purpose and cause, strengthens tribal unity and identity, permits scapegoating, shifts blame for maladies from internal to external causes, and (like religion) offers a simplifying theory for understanding a complex world. One of the prime accusations sustaining this script is that the Kremlin is drowning the West in "fake news" and other forms of propaganda. One can debate its impact and magnitude, but disinformation campaigns are something the U.S., Russia, and countless other nations have done to one another for centuries, and there is convincing evidence that Russia does this sort of thing now. But evidence of one threat does not mean that all claimed threats are real, nor does it mean that that tactic is exclusively wielded by one side. Over the past year, there have been numerous claims made by Western intelligence agencies, mindlessly accepted as true in the Western press, that have turned out to be baseless, if not deliberate scams. Just today, it was revealed that Dutch Foreign Minister Halbe Zijlstra lied when he claimed he was at a meeting with Putin, in which the Russian president "said he considered Belarus, Ukraine and the Baltic states as part of a 'Greater Russia.'"
February 14
February 13
---
Brexit: The Point Of No Return? It's Much Ado About Not Much Trade
Authored by Alasdair Macleod via The Mises Institute,
Negotiations could run right up to March 2019, when Britain must leave the EU. If no agreement on exit terms has been reached by that date, both sides might agree to extend negotiations, but that only seems likely if there is a good prospect of an agreement. Otherwise, Britain quits and falls back on WTO trading rules, or does away with tariffs altogether. This is seen by the EU negotiators as a threat to Britain, believing it is Britain which is running out of time. The EU of course cannot conveive of the possibility that britain would leave without a deal, which is why they have felt they could get away with being completely intransigent in negotiations so far, having responded to Britain's concessions by increasing their demands rather than yielding a concession in return. Clearly if Britain's government really wants a trade deal, it must make clear that a no-deal option is an attractive. And, it must make sure the EU, and voters in Britain understood the negotiations only cover a minor part of the UK's overall economy, post Brexit the EU will have no influence on our economy.
WTO terms and conditions apply only to physical goods, £143bn of exports from the UK's £2,000 billion trade with the EU, and we import from the EU of a larger £235.5bn. Excluding agricultural products of some £5bn (net of spirits), average trade-weighted tariffs on goods imported into the EU from non-member states without a trade agreement is only 2.3%.[i] Therefore, the EU's external tariffs which will be applied to UK non-agricultural goods exports to the EU involves only 7.5% of the UK's GDP, and is a tax on EU citizens amounting to roughly £2bn. Is this really worth arguing over, and paying massive divorce fees?
The main issue is services, those sold direct to consumers, such as retail banking services, and wholesale services, such as capital market operations, commercial lending, legal services, architectural services, etc. The retail services involved are not material, and in any event are easily distributed through locally-incorporated subsidiaries in Dublin and Luxembourg. Wholesale services are generally excluded from trade agreements for practical reasons.
Therefore, if a trade agreement is not forthcoming, the cost to British business as a whole is not as material as the EU negotiators, Conservative, Labour and SNP Europhiles, remaoaners in mainstream media (especially the economically illiterate wankers at The BBC and The Guardian and lobbyists working on behalf of global corporations businesses would have us believe, and certainly less than the implied cost of normal currency volatility on cross-border settlements. One should conclude that the absence of a trade agreement costs considerably less than the UK Government paying money to the EU for an implementation period.
So where does the Brexit Debate now stand?
Remainers are, and have ever been driven by little more than a quasi - religious belief in globalism and Cultural Marxism, they see Brexit as pro-capitalist and their hatred and distrust of free markets blinds them to the authoritarianism of the EU's central bureaucracy. Nick Clegg, Deputy Prime Minister in the Conservative/Liberal-Democrats coalition from 2010 to 2015, has recently published a book entitled How to stop Brexit (And make Britain great again). There are no substantive arguments in favour of Remain, not even a neo-Keynesian discourse, only an emotive appeal to do-gooderfuckers that we can solve Europes problems if the 27 EU member states plus Britain all join hands and sing Kumbaya. Make Britain great again? The book is a fraud. There is nothing in it about making Britain great again, only stuff about making Britain a province of a pan - European federal superstate.
Clegg works from the assumption, which he appears to share with other leading Remainers, that Brexit is just plain wrong, and no intelligent, well educated person could possibly disagree with that. He is of course an elitist, one of that class sometimes referred to as 'the one per cent', and so holds the working class in utter contempt He makes much of the Brexit campaign's supposed lies about the extent of the rebate when Britain leaves the EU. There was no lie and nobody ever said the money would go to the National Health Service ("some of the money which now goes to the EU will be available for the NHS," means something quite different): Brexit campaigners also merely failed to differentiate between the funds Britain would save, and the money that is spent by the EU in the UK funded by the UK taxpayer. The latter amount is decided by the EU, not the UK, so all the Brexiteers were quoting was a gross figure sent to Brussels, which on Brexit would become available to the Government to save or spend as it sees fit.
The main plank of the Remain campaign was "project fear", the Remainers concerted effort to frighten voters into voting Remain. But, as we saw only this week, the pro-Remainers in the establishment are at it again. They prepared and leaked another negative report based on the same economic modelling. A reasonable person would have been so embarrassed by the failure of the first attempt at economic propaganda, as to not repeat it. But we are dealing with a mindset that has more in common with The Spanish inquisition than with Cicero, Pitt the Elder, Benjamin Franklyn and David Lloyd George.
February 11
---
February 10
February 9
February 8
February 6
February 6
31 January, 2018
29 January, 2018
---
---
---
Even Orwell and Huxley Couldn't Imagine the Threat Posed by Facebook and Google
Soros defending democracy? This is beyond irony.
In addition to warning that U.S. President Donald Trump represents an immense "danger" to civilization, billionaire George Soros used the spotlight of the World Economic Forum in Davos, Switzerland on Thursday to urge the international community to take seriously the threats posed by Facebook and Google, which he said could ultimately spawn "a web of totalitarian control" if they are not reined in.
Particularly alarming, Soros said, is the prospect of Facebook and Google—which he scathingly deemed a "menace" to society—teaming up with "authoritarian states" to "bring together nascent systems of corporate surveillance with an already developed system of state-sponsored surveillance."
Such "unholy marriages" could result in a strain of authoritarianism "the likes of which not even Aldous Huxley or George Orwell could have imagined," the billionaire investor cautioned.Soros went on to compare the tech giants' impact on the internet—and social media in particular—to the effects of fossil fuel giants on the environment. READ MORE >>>
---
German Children's Television Channel Features Migrant Teens Learning How to Remove a Girl's Bra
German children's television channel Kika posted a short video on its website, using teens from migrant backgrounds, to show its underage viewers how to remove a woman's bra. The online post, entitled "Open Bra", has been taken down by the children's television channel after they received a backlash from many, including Germany's largest women's rights organisation Terre des Femmes, Berliner Zeitung reports.

Head of Terre des Femmes Inge Bell said she was horrified by the video which lasted just over one and a half minutes. "This is a completely wrong signal to the Kika target group of three- to 13-year-old children," she said, and added that it encouraged bad behaviour in boys. Bell also made note of the fact that the boys involved in the video all came from migrant backgrounds, saying: "This selection has a signal effect, according to the video: migrant boys need special tutoring lessons in bra opening. Especially in times of the #MeToo debate, such an instrumentalisation of migrant boys in the media should be a no-go." The video is just the latest scandal involving the children's television channel. Earlier this month, Kika faced another backlash after it aired a documentary about an underage German girl and her Syrian boyfriend, who claimed to be under 18. While many took exception to comments made by the Syrian about how his girlfriend should dress more modestly and how Islam greatly influenced his life, the backlash came after it was revealed he was actually an adult. The situation escalated even further when it was discovered that the Syrian, named Diaa, had liked the Facebook page of radical Islamic hate preacher Pierre Vogel on multiple occasions. Diaa even entered a raffle to win a trip to the Islamic holy city of Mecca with Vogel and another radical preacher.
READ MORE >>>
---
Italian Anti - EU leader Matteo Slavini Slams brussels
The E.U. can go fuck itself, says leader of popular Italian populist Matteo Salvini, frontrunner to win the nation's coming elections, has said, in an explosive interview.
With no chance of any party contesting the Italian election winning an overall majority, Salvini, a member of the European Parliament and leader of the Lega Nord party, on Thursday agreed on a joint manifesto with two other right-leaning leaders, and the coalition is now favourite to govern Italy after the vote on March 4th 2018.
During a heated interview with Italian TV Channel Rete 4 this week, Salvini played up the eurosceptic position of his party, accusing brussels of meddling in the Italian election process and blasting the bureaucrats: "Europe can go f*ck itself! The European Union has been shafting us for the last 15 years and we are worse off than 15 years ago," he added. "European measures are the last thing I am interested in."
Read more >>>
WHITES NEED NOT APPLY: Racist BBC Still Flouts Equality Law Again
The BBC is still advertising positions open to everyone except white people, despite figures showing Britain's white working class are now at the bottom of the social ladder. "Newsbeat is looking for a Trainee Multi-Media Journalist," announces a tweet from BBC Newsbeat, which produces news and entertainment content for BBC Radio 1 and BBC Radio 1Xtra.
"This is a @_CreativeAccess scheme for people from a black, Asian or non-white ethnic minority background. Know anyone who'd be suitable? Share this with them!" it concludes, with a link to the advertisement, which is accepting applications until February 4th, 2018.
The explicitly racial criteria for the position raises potentially uncomfortable questions around who does and does not qualify as "non-white".
READ MORE >>>
Project Veritas Exposes Twitter "Shadow Banning", Blocking Opposing Views
We have reported many times that under the Obama admistration in the USA, Internet techology companies, particularly those involved in search and social networking activities, had a too - cosy relationship with The White House and federal agencies, particularly those involved in security and surveillance. In Google's case, this eagerness to cooperate with Obama's authoritarian regime earned it a place at cabinet meetings in The White House. Out of these metings the belief that the government must censor internet content, a policy which has been carried on by Obama appointees under the Trump administration.
In the latest of a series of undercover operations targeting the mainstream media and now Social Media, James O'Keefe of Project Veritas has just dropped a new undercover video which reveals Twitter "shadow banning" and creating algorithms that censor certain ideas.
The video contains a how/why on Twitter "shadow bans" of certain users:
Former Twitter software engineer Abhinav Vadrevu: explains "One strategy is to shadow ban so you have ultimate control. The idea of a shadow ban is that you ban someone but they don't know they've been banned, because they keep posting but no one sees their content."
Education: The Betrayal Of The Young

One of the great failures of progressive politics of both right and left has been education. Trendy theories on how children learn and political point scoring by politicians who promose change but only deliver stasis and failure have conspires to betray generations of young people and leave them at the end of thirteeen years or more of full timed education with heads full of Cultural Marxist propaganda and hearts devoid of aspiration and self esteem.
Education: The Betrayal Of The Young
Daily Stirrer Archive
[an error occurred while processing this directive]

END