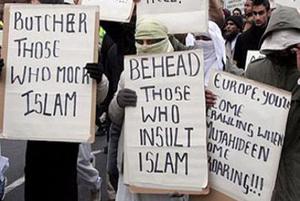 The Religion Of Peace? - Picture source: www.homelandsecuritynewswire.com
Although most working and middle class people in Britain who live outside London and are not employed in the public sector (especially education or the health servive,) are aware that the ruling elite is so determined to suck up to Islam it seems that like other EU governments they are determined to turn us into a Muslim nation, not many people are happy about it, particularly as the elite appear eager to spead extremism. The British government's idea of who is -- and who is not -- a legitimate asylum seeker becomes stranger by the month.
In November it was reported by all sectors of mainstream media that the Pakistani Christian mother of five, Asia Bibi (aslo called Ayissa Noreen), imprisoned and sentenced to death by a Muslim court in Pakistan for drinking from a cup that was used by Muslim women, after having her sentence commuted due to pressure from international human rights groups, and was released to live in a predominantly fundamentalist Muslim community, though fearing for her own life and the lives of her children, was unlikely to be offered political asylum by the British government due to concerns about "community" relations in the UK.
In plain English that means the UK government was worried that Muslims of Pakistani origin in Britain, who have no objection to members of their own community raping British, non Muslim women, might be so offended by the presence in the UK of a Christian woman who had committed the heinous crime of drinking from a cup that Muslim women had used, and by doing so making those women "unclean."
For that crime, Asia Bibi spent the best part of a decade on death row in Pakistan, before being officially declared innocent of a trumped-up charge of "blasphemy". Fuck me, we ought to be going out of our way to offend followers of such a vile, inhuman religion. We should be denying Muslims entry to our civilized nation, we should be withholding planning permission for the mosques that are springing up on every street corner, built with the aid of British taxpayers' money.We should be doing everything possible to resist the spread of Islam.
Yet, as Asia Bibi – whose story makes her one of the people most deserving of asylum in a safe country – continues to fear for her life in a cesspit of medieval savagery, Britain's idea of who should be allowed to travel to the country (and stay) looks ever more perverse.
For example someone who had no trouble being granted entry to Britain so that he could spread his message of hate for all who resist Islam in London is Dr Ataollah Mohajerani, Iran's former Minister of Culture and Islamic Guidance. Mohajerani is best known for his book-length defence of the Ayatollah Khomeini's fatwa against the British novelist Salman Rushdie in the 1980s.
After the Khomeini pronounced fatwa the world's Muslims to kill Rushdie for writing a novel, The Satanic Verses, which took a satirical view of certain passages in The Koran, saying Rushdie was guilty of blasphemy, Mohajerani wrote a 250-page book, A Critique of the Conspiracy of The Satanic Verses, which justified the death-sentence.
Having fallen out with the regime in Iran, Mohajerani is now living in the affluent London suburb of Harrow, where he continues his campaign against Rushdie without any restraints being placed on his freedom to incite violence against the author.
Time and again we have learned of extremist clerics such as the Pakistani clerics Muhammad Naqib ur Rehman and Hassan Haseen ur Rehman being allowed to enter the UK despite their preaching and writings regularly calling for the murder of people merely suspected of having blasphemed against, or apostasised from, Islam. (Asia bibi, you might recall, was sentenced to death for having a drink at a public drinking fountain. Nevertheless, while the UK government continues to allow clerics such as these to enter Britain, our Home Office government department which oversees policing and security maintains an ever-growing list of people who are not Muslim but who have been critical of aspects of Islam and who, without due process, in fact without any charges being laid against themare legally sanctioned by being deprived of their right to free speech for blasphemy against Islam . It should be noted that the last criminal prosecution for blasphemy against a Christian faith in Britain was in 1908 and though it remains technically a civil offence no successful prosecutions have been made for almost a hundred years.
It is almost as though the UK government has decided that while extremists can say what they like about Christians, secular humanists, atheists, Hindus, Buddhists and pagans, to the extent of inciting violence and will only rarely be banned or deported, critics of such clerics can be banned with ease and if an ordinary citizen says Islam is a cruel, primitive faith they can be prosecuted for "hate speech".
Apologists for Islam might say it is a long time since Mohajerani wrote his book justifying the murder of a British citizen and we should all let bygones be bygones -- as though advocating murder is the sort of thing anyone might do in a moment of weakness, there is a distinct trend among supporters of liberal and left wing politics towards taking a more relaxed view of the hatered expressed by Islamic extremists than of reasonable criticisms made by their critics. This keeps happening. Earlier this year Canadian blogger Lauren Southern has been refused entry into the UK because she her citicisms of Islam constitutes a threat to public order. (Since when was telling the truth a threat to public order?) This week we learned that the UK government has allowed in a man called Brahim Belkaid, a 41-year old of German origin, believed to have inspired up to 140 people to join al-Qaeda and ISIS. The British press this week discovered that he was able to settle in Leicester nearly five years ago after returning from Syria, where he is suspected of having supported terrorist groups. It does not appear that Belkaid has used his time in the UK to lie low or mull over his past mistakes. As his activities on the streets and on social media attest, he has in fact been openly continuing to preach hatred for western and Christian values and recruit for his radical version of Islam.
There are several possible explanations for the operation of such an insane policy, one that aide and gives comfort to people who want to harm Britain and it's people. One is that the British government is so afraid of kicking off a campaign of organised violence by Islamic extremists - possible but as there are sixty million of us and six million of them it suggests extreme cowardice among our leaders. Two is that nobody in Whitehall or the British security services know what they are doing, to the extent that they think pretty Canadian bloggers Canadian bloggers pose a threat to Her Majesty's Peace, bearded men clad in middle eastern garb who say things like "kill the infidel", "homosexuality is an abomination" and "western women are whores," are harmlessly exercising their right to free speech. Then there is that classic British excuse for everything known as "cock-up theory"or "Oscar Wilde theory", i.e. to have allowed in one hate preaching jihadist may look like an accident, to keep on letting them in and even letting them back in after they have been kicked out can only be sheer effing incompetence. Cock up theory is exemplified by the total inability of two departments to communicate with each other, even when those two departments are represented by people sitting at adjacent desks.
Along with that consider the extreme reaction of government to any public criticism of Islam, the enthusiasm of UK government departments including the police to "cracking down" on any criticism, no matter how justifiable and to preventing any critic of Islam, no matter how well documented the crimes they of which accuse "the religion of peace" may be (taking yazidi, Druze, Syriac Christian and Jewish girls as sex slaves in Syria for example, and the the UK government's sucking up to Islamic extremism begins to look like a policy.
More on Islam
RELATED POSTS:
Extremist Muslim Group Influence Government Report On IslamophobiaControversial Muslim activist group MEND, which has ben involved in promoting extremism as well as lobbying the government in support of further Islamification of british institutions, has "exerted decisive intellectual influence" in the government's first report from a think tank looking at Islamophobia in Britain, according to a research note.
Western Nations Are Not The Only Ones Having Problems With Islam
Late last month the European Court of Justice (ECJ), an offshoot of the Cultural Marxist empire known as the European Union ruled that a woman who had referred to Mohammed, the prophet of Islam as a paedophile was guilty of blasphemy under Sharia Law it was the most abject, snivelling surrender yet by any western … Continue reading
Leaked Document: United Nations Says Immigration Is Always Good And Should never Be Restricted
Only days after the European Court Of Human Rights (ECHR) ruled to reintroduce the notion of criminal blasphemy to Europe, but only for criticism of Islam, a news reporter for German independent TV station RTL reported on a leaked United Nations document which reveals that corrupt bunch of paskudniaks plan to use immigration from third world shithole countries to destroy western civilisation.
US Lobbying Group Accuses UK of 'Attempting to Silence Criticism of Islamism
Tommy Robinson – picture: Huffington Post Controversial British activist Tommy Robinson was arrested on contempt of court charges earlier this year for filming inside Canterbury Crown Court while four suspected rapists were being tried. Robinson, real name Stephen Yaxley-Lennon, has been invited to the USA to speak at a closed-door conservative event and publicly address Americans in Washington. The … Continue reading
'Islamic State' kidnaps dozens of women and children in Syria
Druze protest against persecution by Sunni Muslim extremists. (Picture: http://www.middleasteye.net ) The war in Syria is not quite over yet. While forces loyal to the secularist dictator Bashar al Assad are now in control of the more populous northern and coastal regions, the Sunni Muslim fanatics of ISIS fight on in more remote parts of … Continue reading
Islam Does Not Do Multiculturalism
Came across this intertesting article from American Thinker reposted on Minds.com. It is authored by Iranian – American pro – democracy activist Amil Imani and is a thorough analysis of the relationship between the Islamic world and the liberal democracies of the west. Imani is scathing about left wing ideologues and their dreams of a … Continue reading
Indonesia Tells Aussie Loudmouth Tony Abbott, STF UP Over 'Reform Islam' Call
The solidly Muslim government of Indonesia has attacked former Australian Prime Minister Tony Abbott after he said that Islam needs to be reformed. Sources in Indonesian capital Jakarta dismissed Abbott's comments as "unhelpful" and "divisive". Ambassador to Austrialia responded to Mr Abbott's critique by adding that violent extremism is "common in all faiths."
Top Academic: Muslims Would Not Tolerate Multiculturalism in Islamic Countries
Leading Iranian academic Afshin Ellian has warned that cultural Marxist delusions of "multiculturalism" are a one-way street as left wing activist in the secular Christian nations of the west clamour for appeasement of Islamic extremists. Muslims in Europe oppress historic minorities in their own lands and have no intention of showing "tolerance"
Progressive' Gay Mayor Of Seattle Craps On Christians And Atheists In Self Righteous Bid To Be Fair To Muslims
In an effort to appease followers of Islamic Sharia law, Seattle Mayor Ed Murray is searching for ways to help them buy houses. According to Sharia law, muslims are forbidden to pay interest on loans, thus making it impossible for most of them to buy a house. Mayor Murray wants to meet with lenders to solve this "problem", and possibly put the rest of the public on the hook for the debt.
Terrorist Friendly Obama Doctrine In Foreign Policy Has Made The World More Unstable A highly critical look at the ongoing disaster of American Foreign Policy, in particular relating to the middle east, during the Obama administration. Iraq, Afghanistan, Libya and Syria are the main catastrophes, there are plenty of others.
Humanitarian Crisis Unfolds in Yemen, As US-EU-NATO backed Saudi war destoys another nation.
Elsewhere:
Greenteeth Elsewhere:
[
The Original Boggart Blog
] ... [
Writerbeat
] ... [
Daily Stirrer.shtml
]...[
Little Nicky Machiavelli
]... [
Ian's Authorsden Pages
]... [
Greenteeth & Daily Stirrer on YouTube
] ... [
It's Bollocks My Dears, All Bollocks
] ... [
Minds
] ... [
] ... [
Scribd
]...[
Wikinut
] ... [
Boggart Abroad
] ... [
Grenteeth Bites
] ... [
Latest Posts
] ... [
Ian Thorpe at Flickr
] ... [
Latest Posts
] ... [
Tumblr
] ... [
Authorsden blog
] ... [
Daily Stirrer News Roundup
]
... [
Boggart Network News
] [
Ian at Facebook ]
---
---
Main Menus
Index pages for all our cetagories
Latest News
Other items you might be interested in
These are posts we read recently and fel might interest our readers.
June 2019
Turning away from the dollar: Russia & EU keen on switching to national currencies for mutual trade
Moscow and Brussels are keen on quickly extending the use of the ruble and the euro to bilateral payments, the Russian Finance Minister said, after a meeting with the European Commission for Energy Union's vice-president. During their talks in Moscow this week, Russia's Anton Siluanov and commissioner Maros Sefcovic, discussed switching to the national currencies for payments for energy resources. "We have agreed now to study this issue in more detail at the level of specialists and to set up working bodies for this decision," Siluanov said on Friday, as cited by TASS.
READ FULL ARTICLE >>>
MORE on De - dollarisation:
Fascism Spreads From Tech Corporations To Finance Sector As Mastercard Blocks Conservative Clients
Blocking payments to individuals or groups by financial service firms because of their political views impedes freedom of speech in a free society, journalist Ben Swann has told
RT
, following reports that MasterCard is allegedly on course to censor the far-right by blocking payments from supporters.
READ MORE >>>
Facebook Steps Up Censorship in Britain, Bans Populist News Site
Facebook continues on its course to become the UK's Ministry of Truth, (the government department tasked with ensuring government propaganda can never be questioned in George Orwell's novel '1984'.) by expanding its censorship of websites US Liberals like the social media site's Mark Zuckerberg do not approve, or that question the globalist policies of Theresa May's authoritarian regime, by removing from its platform content posted by anti - EU populists and critics of Islam in Britain ...
---
---
---
---
March 2019
---
---
---
---
---
---
---
---
Internal Facebook Leak Reveals Global Bribery Scheme To Soften Data Privacy Laws
---
---
---
---
---
---
04 / 02 / 2019
MORE ON CENSORSHIP AND FREE SPEECH
Free Speech murdered by Mainstream Media
Death of Democracy
---
---
Macron will 'HAVE TO GO' if he loses referendum - shock warning to president
from Daily Express
EMMANUEL MACRON is said to be considering a referendum to address key issues raised by yellow vest protesters, however, critics warn the embattled French President will "have to go" if he loses the vote. The 41-year-old leader is "considering this possibility as a way out of the yellow vest crisis," a high-ranking government source told Le Journal du Dimanche.
It is understood a referendum is being considered for May 26, the same day as the European parliament elections, and the Elections Office has already contacted printers and paper suppliers in the event of a snap vote.
The referendum would, among other things, ask voters whether they want to reduce the number of lawmakers and limit the number of terms they can serve to prevent career politicians from clinging on to power, both campaign pledges by M Macron.
While one of the main demands of the yellow vests is for popular votes to be held on key policy decisions, Mr Macron's political opponents have warned against rushing into a referendum, which they say will do little to dilute popular rage. READ ALL >>>
MORE ON FRANCE
France, index
Yellow Vests latest, week 12
---
Islamic school 'stopping girls from having lunch until boys have eaten theirs'
from RT
A Muslim school in Birmingham, England, is still enforcing gender segregation by ordering girls not to eat their lunch until the boys have finished theirs, UK government school inspectors have told MPs.
Al-Hijrah school was instructed to end the unlawful practice by the Court of Appeal in 2017. However, Luke Tryl, director of corporate strategy at Ofsted, the government body charged with carrying out school inspections, says the West Midlands school is still contravening gender segregation rules.
Tryl also told the Parliamentary Women and Equalities Committee that the school continues to teach from "very discriminatory texts... encouraging violence against women." READ ALL >>>
MORE ON ISLAM
---
03 / 02 / 2019
Corporations and the Speedway to Serfdom
via theunlikelyno.com
To further explain: on the one hand, the more one pushes towards equality, the more one has to control the huge variation in human traits and preferences [ ... ] On the other hand, the more one pushes towards freedom, the more one has to be content with the aforementioned variation in human traits and preferences leading to some people being extraordinarily successful while others having barely anything.
In theory, you can find reasonable justifications to both approaches; however, one of the above requires active intervention – while the other does not. If both systems lead to a certain form of injustice, I'll always take the one which isn't man made.
READ ALL >>>
More on Corporatism
---
---
---
---
January 2019
---
February 11
---
February 10
February 9
February 8
February 6
February 6
31 January, 2018
29 January, 2018
---
---
---
Even Orwell and Huxley Couldn't Imagine the Threat Posed by Facebook and Google
Soros defending democracy? This is beyond irony.
In addition to warning that U.S. President Donald Trump represents an immense "danger" to civilization, billionaire George Soros used the spotlight of the World Economic Forum in Davos, Switzerland on Thursday to urge the international community to take seriously the threats posed by Facebook and Google, which he said could ultimately spawn "a web of totalitarian control" if they are not reined in.
Particularly alarming, Soros said, is the prospect of Facebook and Google—which he scathingly deemed a "menace" to society—teaming up with "authoritarian states" to "bring together nascent systems of corporate surveillance with an already developed system of state-sponsored surveillance."
Such "unholy marriages" could result in a strain of authoritarianism "the likes of which not even Aldous Huxley or George Orwell could have imagined," the billionaire investor cautioned.Soros went on to compare the tech giants' impact on the internet—and social media in particular—to the effects of fossil fuel giants on the environment. READ MORE >>>
---
German Children's Television Channel Features Migrant Teens Learning How to Remove a Girl's Bra
German children's television channel Kika posted a short video on its website, using teens from migrant backgrounds, to show its underage viewers how to remove a woman's bra. The online post, entitled "Open Bra", has been taken down by the children's television channel after they received a backlash from many, including Germany's largest women's rights organisation Terre des Femmes, Berliner Zeitung reports.

Head of Terre des Femmes Inge Bell said she was horrified by the video which lasted just over one and a half minutes. "This is a completely wrong signal to the Kika target group of three- to 13-year-old children," she said, and added that it encouraged bad behaviour in boys. Bell also made note of the fact that the boys involved in the video all came from migrant backgrounds, saying: "This selection has a signal effect, according to the video: migrant boys need special tutoring lessons in bra opening. Especially in times of the #MeToo debate, such an instrumentalisation of migrant boys in the media should be a no-go." The video is just the latest scandal involving the children's television channel. Earlier this month, Kika faced another backlash after it aired a documentary about an underage German girl and her Syrian boyfriend, who claimed to be under 18. While many took exception to comments made by the Syrian about how his girlfriend should dress more modestly and how Islam greatly influenced his life, the backlash came after it was revealed he was actually an adult. The situation escalated even further when it was discovered that the Syrian, named Diaa, had liked the Facebook page of radical Islamic hate preacher Pierre Vogel on multiple occasions. Diaa even entered a raffle to win a trip to the Islamic holy city of Mecca with Vogel and another radical preacher.
READ MORE >>>
---
Italian Anti - EU leader Matteo Slavini Slams brussels
The E.U. can go fuck itself, says leader of popular Italian populist Matteo Salvini, frontrunner to win the nation's coming elections, has said, in an explosive interview.
With no chance of any party contesting the Italian election winning an overall majority, Salvini, a member of the European Parliament and leader of the Lega Nord party, on Thursday agreed on a joint manifesto with two other right-leaning leaders, and the coalition is now favourite to govern Italy after the vote on March 4th 2018.
During a heated interview with Italian TV Channel Rete 4 this week, Salvini played up the eurosceptic position of his party, accusing brussels of meddling in the Italian election process and blasting the bureaucrats: "Europe can go f*ck itself! The European Union has been shafting us for the last 15 years and we are worse off than 15 years ago," he added. "European measures are the last thing I am interested in."
Read more >>>
WHITES NEED NOT APPLY: Racist BBC Still Flouts Equality Law Again
The BBC is still advertising positions open to everyone except white people, despite figures showing Britain's white working class are now at the bottom of the social ladder. "Newsbeat is looking for a Trainee Multi-Media Journalist," announces a tweet from BBC Newsbeat, which produces news and entertainment content for BBC Radio 1 and BBC Radio 1Xtra.
"This is a @_CreativeAccess scheme for people from a black, Asian or non-white ethnic minority background. Know anyone who'd be suitable? Share this with them!" it concludes, with a link to the advertisement, which is accepting applications until February 4th, 2018.
The explicitly racial criteria for the position raises potentially uncomfortable questions around who does and does not qualify as "non-white".
READ MORE >>>
Project Veritas Exposes Twitter "Shadow Banning", Blocking Opposing Views
We have reported many times that under the Obama admistration in the USA, Internet techology companies, particularly those involved in search and social networking activities, had a too - cosy relationship with The White House and federal agencies, particularly those involved in security and surveillance. In Google's case, this eagerness to cooperate with Obama's authoritarian regime earned it a place at cabinet meetings in The White House. Out of these metings the belief that the government must censor internet content, a policy which has been carried on by Obama appointees under the Trump administration.
In the latest of a series of undercover operations targeting the mainstream media and now Social Media, James O'Keefe of Project Veritas has just dropped a new undercover video which reveals Twitter "shadow banning" and creating algorithms that censor certain ideas.
The video contains a how/why on Twitter "shadow bans" of certain users:
Former Twitter software engineer Abhinav Vadrevu: explains "One strategy is to shadow ban so you have ultimate control. The idea of a shadow ban is that you ban someone but they don't know they've been banned, because they keep posting but no one sees their content."
Education: The Betrayal Of The Young

One of the great failures of progressive politics of both right and left has been education. Trendy theories on how children learn and political point scoring by politicians who promose change but only deliver stasis and failure have conspires to betray generations of young people and leave them at the end of thirteeen years or more of full timed education with heads full of Cultural Marxist propaganda and hearts devoid of aspiration and self esteem.
Education: The Betrayal Of The Young
Daily Stirrer Archive
[an error occurred while processing this directive]

END