The Mediterranean Boat People Crisis - #1
Contents
How Does Europe Deal With The Mediterranean Migrant Crisis
3,000 Migrants Rescued off Italy in Single Day, Tensions Rise
Dozens of migrants die on boat in Mediterranean
---
How Does Europe Deal With The Mediterranean Migrant Crisis
by Phil T. Looker and Ian R Thorpe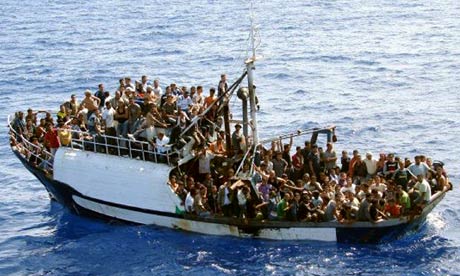 As the full extent of the humatitarian crisis in Libya, The Mediterranean and Southern Europe (particularly Italy) becomes the focus of news coverage (having been ignored for at least a dacade) as illegal immigrants flooded into Europe, the calls for an official channel for refugees fleeing Libya to be inducted into Europe, given automatic residency rights and transported at the expense of European taxpaters to an EU nation where they will be able to claim sociasl benefits, housing and health care are going down like the provervial lead balloon with EU voters.
Instead of giving in to the wailing and gnashing of teeth from the politically correct left, we must stop this tide of expoitation at its source. To do otherwise is simply helping the ruthless criminals who are making vast profits from this traffic in human desperation.
This week EU government leaders are holding a summit to discuss the plight of boat people trying to cross the Meditarranean fron north Africa to Europe. They need to adopt a hard-headed and pragmatic approach to a dreadful problem to which finger-pointing and hand-wringing are not the answers and cries of "its our duty to give these people asylum" are jut the pious voices of people who a hundred years ago would have been joining moral crusades.
The pressure to give in to demands from human rights groups for a legitimate route into Europe for multitudegathering on the North African shore needs to be resisted. Such a response may sound compassionate but it would simply encourage even more people to make the journey, and help the criminals who run the migration racket.
We have made the point before in The Daily Stirrer that the longer term solution to this disaster must include the restoration of a stable government to Libya, Africa's most prosperous nation under Gaddafi, now a lawless failed state following the ousting of the dictator's regime by a coup backed by French, UK and US (the FUKUS axis) money, weapons and bombing raids.
Gaddafi spent Libya's own (no IMF loan) money building a pipe line from the Sudan border to pipe fresh water from ancient aquifers that hold cubic kilometres of the stuff to his northern cities. Many of his people had interest free mortgages, and free education due to the oil revenue provided. His down fall was orchestrated because as Libya's oil reserves were some of the largest proven on the planet, he wanted to stop oil being traded in US dollars and, like Saddam Hussein in Iraq some years before, make bilateral currency agreements with nations buying Libya's oil, this would have involved trading in physical gold for the USA. Guess who didn't like that.
Interestingly, in the past three years a move led by Russia, China and Iran to dump the US dollar (Petrodollar) as the global currency and replace it with a currency based on the Youa and Rouble have been gathering momentum. This is one of the real causes of current tensions between Russia and the USA. But while having repeatedly tried to provoke the Russians, Obama does not seem quite so keen to bomb Moscow as he and hid brotish and French sidekicks were to bomb Tripoli.
The root cause of this is decades of meddling in the political affairs of African nations by western powers, particularly the USA, and United nations. Action to improve the economies of the African countries the migrants leave behind has also been a disaster, most of the funds pumped in by western aid agencies and charities having foubd its way into the Swiss bank accounts of tyrants, warlords, corrupt officials and their extended families. But even if beter outcomes from western interventions could be achieved, they will not deal with the immediate crisis which will inevitably worsen as better weather tempts hundreds of thousands more migrants on to the high seas.
The EU has faced demands to re-establish search and rescue operations that were withdrawn last year because most of the cost was falling on bankrupt Italy and because they were thought to be acting as an incentive to migration which, in view of the numbers that are trying this year, appears to have been the case
But if migrants need to be rescued then the search and recover policy of control has already failed. The immediate priority for EU leaders now is to work out a way to prevent people boarding the boats in the first place, both by destroying captured vessels and blockading the ports they are leaving. New resettlement schemes and migration quotas will not help matters.
We have a problem too with the cancer that is politically correct thinking which has metastised thought the body politic of the EU. Virtually no modern developed country can bring itself to enforce border controls for fear of being branded "racist" by screeching American 'liberals'.
The problem is that if you accept the premise that a border can only be defended with lethal force against another recognizable lethal force, you essentially have no border when it comes to those who are either unarmed or superficially unthreatening.
At what point does an influx of people hostile to the culture and values of the nation they are entering become an invasion?
75 years ago this country (my Dad and uncles included) managed to fight off an invasion of approx. 100,000 Germans who had guns, planes and tanks, because we didn't want them to come over here and change our way of life. Why did we resist? Partly because most people agreed Naziism was a repugnant political philosophy buy also because it is our collective right as a national community to decide for ourselves how we will live, whether out young men can drink alcohol and play music and whether our young women can wear shrt skirts and go out in public with their hair uncovered.
Compare our resistance to today, when our spinleless politicians are prepared to let foreigners who hate European culturem our values and way of life and ourselves just walk in and take our country from us. We have hundreds of thousand of migrants coming here every year, without the consent of the vast majority of the British public and their presence is slowly but surely changing our way of life and not for the better.
RELATED POSTS:
Back to Contents table

German Opposition Party Warns, Nation Is "At The Edge Of Anarchy, Civil War Is Coming"
As the stituation in German society deteriorates each day due to the vast swarm of lawless, uneducated, infidel hating illegal immigrants that Housfrau Volksfuhrer invited to travel to Germany and replace the established population, social commentators are predicting the country will slide into civil unrest and possibly full scale conflict between supporters of immigration and patriotic Germans
Migrants Defiant as Hungary Blocks Train Links for 2nd Day
Hundreds of migrants gathered at the main railway station in Budapest chanted defiant slogans as the Hungarian authorities blocked entrances to boarding stages for a second day, preventing people who had entered hungary and the EU illegally from seeking asylum in Germany and other ...
Latest Posts
Elsewhere: [Boggart Blog]...[Little Nicky Machiavelli]...[Scribd]...[Wikinut] ... [ Boggart Abroad] ... [ Grenteeth Bites ] ... Ian Thorpe at Flickr ] ... [ Tumblr ] ... [ Ian at Minds ] ... [ The Origninal Boggart Blog]
---
---
Dozens of migrants die on boat in Mediterranean
At least 40 migrants have died on a boat in the southern Mediterranean, Italian authorities have reported to ?News Agencies including Al Jazeera, Reuters and associate Press. The Italian navy also posted on its Twitter feed on Saturday that it was involved in a rescue operation to try and save the other migrants on board.

It was initially reported that the boat had sunk, but an Italian navy spokesman later told the Reuters news agency that the boat had not capsized. Those killed were believed to have been stuck in the hold of the boat, spokesman Costantino Fantasia said. The navy said 300 people have been rescued during the operation so far.

Italy's ANSA news agency reported that the boat was located about 33km off Libya's coast and was holding about 400 people on board. The naval vessel Cigala Fulgosi was leading the rescue mission.

The Mediterranean has become the world's most deadly crossing point for migrants.

Last Tuesday, up to 50 migrants went missing when a large rubber dinghy sank in the Mediterranean Sea and nearly 2,000 have been picked up this week. Around 200 migrants were presumed killed earlier this month off the coast of Libya when their boat capsized.

Italy has become one of the main entry points in Europe for immigrants seeking a better life, with more than 85,000 migrants - mostly from Africa and the Middle East - reaching the country so far this year via the Mediterranean.

However, many of the boats are not seaworthy and the United Nations estimates that some 1,900 would-be migrants have died since January trying to make the crossing.

Left wing activists in the west are making things worse by takinbg out ads in African and middle eastern print and online news publications telling wannabe migrants they are welcome in the west and will be given jobs and houses. Western left wing activists are of course the most stupid and selfish sub species of the human race, making the greedy bankers and ruthless capitalists they screech about look like The Salvation Army.

These thick shits arre so self obsessed and so determined to show their Facebook 'friends' what nice people they are, they can close their eyes to the fact that their actions are driving innocent, pooorly educated people into the hands of the ruthless criminals who operate these people trafficking rackets.

RELATED POSTS:


Warring Migrant Tribes, Street Shootouts, Grenade Attacks, Government Says Its Multiculturalism? WTF Is Going On In Sweden?
"Sweden, that's where they commit suicide and the king rides a bicycle," a character in an Alan Bennet play famously said back in the 1980s, a reference to Sweden's reputation as the most boring country in the world. That reputation has long gone, the elegant streets of Sweden's gothic styled cities are now more like Chicago in the Al Capone era. Scandinavia's biggest nation state is in the grip of a terrifying crime wave instead ...

Sham Marriages To Beat Immigration Laws Are Out Of Control
With main immigration news on being dominated by the Mediterranean boat people crisis and the masses at Calais hoping to stow away in a freight container, we forget that another way of getting somebody into the country is the sham marriage. Numbers involved may be small, but it is another indication of our governments' failure to address the immigration problem.

Mediterranean Immigrant Composite
The flow of undocumented migrants from Africa trying to cross the Mediterranean from the coast of Libya to Italian, Greek and Maltese territory seems unstoppable. Two factors in the problem however have been western (particlarly American meddling in the internal affairs of African states, and wester aid leading to a population explosion national infrastructures are unable to cope with. And of course European leaders haven't a clue how to deal with the problem.

A Swedish Voter Loses It With The Politically Correct Idiots Running His Country
The problems caused by government created immigrant ghettoes in Swedish cities have turned the once safe streets into war zones as rival gangs from various immigrant communities vie for control of the drugs, prostitution and illegal gambling trades.

The West Is Always To Blame For Africa's Troubles
It seems to us that according to the the political left of European and north American nation, we in the west are responsible for all of Africa's racial, economic and it was even the 'evil white man' who instigated tribal wars and genocides that took place before and parts of the continent was colonised. But excusing Africa's endemic problems is a parh to self destruction.

EU Refugee Quota Scheme Unravels

The European Union (EU) faces many battles, from the one to stop the sigle currency system falling apart as nations like Greece, Spain, Italy and Portugal find the costs ofr membership outweigh the benefits, to it's latest, the Mediterranean boat people crisis as more and more people try to cross from North African to Europe illegally, with the help of human tafficking racketeers.

The Immigration Problem (part 1)
As Britain, its voters divided between pragmatism and politically correct thinking, heads for political chaos in an election likely to produce and inconclusive result, the big issue that none of the established parties want to talk about looks set to dominate the political debate through the next government's term in office.

The Mediterranean Boat People Crisis Is Starting To Dominate Everything.
The world is dumping the American dollar
Fears for the future of the US dollar
Iran, oil and the US dollar
Lawless Libya
Collapse of the petrodollar imminent
India and Turkey latest sign - ups to dump the dollar club
The Mediterranean Boat People Crisis Is Starting To Dominate The UK Election
Immigration: A Promised Land?
Immigration is marginalising European nationals Immigration Composite
Latest Posts


Elsewhere: [Boggart Blog]...[Little Nicky Machiavelli]...[Scribd]...[Wikinut] ... [Boggart Abroad
Index For This Category




Another Oil Exporting State Surrenders: Last Nail In Petrodollar's Coffin
While record mainland deficits covered by the petroleum sector is nothing new in Norwegian budget history, the 2016 budget did raise some eyebrows. The net inflow to the Norwegian Treasury from North Sea oil will be lower than the required amount to cover the deficit. This has never happened before and is testimony of the sea change occurring in the world of petrodollar recycling.

Playing Poker With Obama: Putin's Calculated Risk In Syria
I've said before that the reason Vladimir Putin outmanoeuvres the US State Department in every diplomatic skirmish is that while American's play poker, which is all about bluff, Putin plays chess which is all about strategy. Russian President Vladimir Putin had decided to risk the possibility of military clashes with the United States and its European Allies, Saudi Arabia, other major Muslim nations and Israel by intervening in Syria ...

Why It Really All Comes Down To The Death Of The Petrodollar
Last week, in the global currency war's latest escalation, Kazakhstan instituted a free float for local currency the Tenge. The currency immediately plunged by some 25%. The thinking behind the move was straighhtforward enough. Collapsing crude oil prices along with the relative weakness of the Russian rouble ...

Playing Poker With Obama: Putin's Calculated Risk In Syria
I've said before that the reason Vladimir Putin outmanoeuvres the US State Department in every diplomatic skirmish is that while American's play poker, which is all about bluff, Putin plays chess which is all about strategy. Russian President Vladimir Putin had decided to risk the possibility of military clashes with the United States and its European Allies, Saudi Arabia, other major Muslim nations and Israel by intervening in Syria ...

Refugee Crisis Or Existential Battle With USA for Europe
It has been clear for some years now that the USA, backed by its main NATO and EU military allies the UK and France (the FUKUS axis has been trying to provoke Russian into firing the shot that will be heard around the world and recognised as the startiung signal for World War Three.
Nothing is ever as it seems to be however, and views from middle east and far eastern journals suggest the USA is also working at destabilizing EU nations in order to force their support in its wars.

World War Three? Kiev Reinvades Donbass, Deliberate Provocation Trashed Minsk Agreement
When America wants to provoke Russia it uses proxies, a rabble in Libya, Islamic fundamentalists in Syria and Iraq and neo - Nazi thugs in Ukraine. So far Russia has resisted the urge to kick Obama in the balls, but sooner or later the Russia - China - Iran alliance will respond.

US Becoming Isolated As Key Ally Japan Considers Joining China-Led Investment Bank
Japan's foreign minister signaled cautious approval of the institution that the United States has warned against. The opposition to the AIIB began crumbling after Britain said earlier this month that it would join the institution, saying it was in its national interest. France, Germany and Italy swiftly followed suit.

De-Dollarization Du Jour: Russia's Largest Bank Issues Yuan-Denominated Guarantees


Leading the charge to multipolarity and de-dollarization are Russia, resugent despite economic sanctions and the rising superpower in waiting, China. The downgrading of the dollar is clearly demonstrated in the launch of the BRICS bank and the establishment of the AIIB.

De-Dollarization Accelerates As More Washington "Allies" Follow Australia To China-Led Bank
For many years the dollar has been the currency in which the world's nations settled cross-border transactions and the so called petrodollar became the only currency in which oil could be traded. In recent years however, as other nations, particularly the BRICS group, Brazil, Russia, India, China and South Africa, the leading nations outside the dominant US / European group, have been making moves to end the domination of the US dollar.

Germany Alarmed by Aggressive NATO Stance On Ukraine
As the US pro war rhetoric pumps up the tensions between Russia, its allies and the west in Ukrain we revisit once more the truth about which world power has been relentlessly pushing for war since 2009. It isn't Russia or China, though they are not likely to back down.

De-Dollarization Accelerates: Russia Launches SWIFT-Alternative Linking 91 Entities


Among the information revealed in The Great Leaks of 2013 were the documents that exposed the extent to which NSA and GCHQ had been secretly 'monitoring' the SWIFT payments system and recording details of cash flowing between nations and organisations. It appears the revelation was the last straws for Russia, China, and other sovereign nations ...

Kiev Breaches Minsk Agreement Within Hours
We all knew the ceasefire agreed by Angela Merkel, Francoise Hollande, Vladimir Putin and Ukrainian Nazi leader Poroschenko would not hold. The people whose country stands to gain most from war, that is of course Barack Obama and John Kerry, President and secretary of State of the USA, the country that wants and needs perpetual war, were trying derail the fragile deal while the four leaders were still negotiating.

India's Ruling BJP Party Crushed In Regional Poll
India gets it own UKIP and they are already winning elections as The Common Man party shocks the establishment by tapping into the anger about institutuionalised corruption in the world's biggest democracy

Another Conspiracy Theory Becomes Fact: Oil Collapse Is All About Obama's Proxy War With Russia.
While we are distracted with sex scandals at home and terrorists rampaging through the middle east and Africa, the US / EU / NATO confrontation with Russia / China / Iran is geting into a very dangerous state. While the Chinese led move to dump the US dollar as global reserve currency is causing economic chaos, the USA attempts to provoke armed conflict with Russia are getting more reckless and desperate.

Russia throws down the gauntlet: energy supply to Europe cut off; petrodollar abandoned as currency war escalates
There are some big moves taking place on the global stage that you need to know about, as this could all lead to World War III. Yesterday Russia cut off its natural gas supply to Europe, "plunging the continent into an energy crisis 'within hours' as a dispute with Ukraine escalated," the Daily Mail reported.

Russia along with three quarters of the world, is isolated
The latest EU sanctions announced today after last weeks NATO summit have left Russia increasingly isolated in the world according to mainstream media reports of the response from western governments.

Without American leadership, democracy is in peril? Not really.
Much of the corporate propaganda spouting mainstream media are forecasting a bad outcome from the current chaose in Ukraine, with ISIS aka ISIL aka Islamic State in Syria and Iraq and the imminent collapse of the petrodollar. The consensus is that the west is currently not winning because of the failure of American leadership. This is untrue, most of the problems exist because America is leading the world towards war.

G77 Nations vow to destroy petrodollar and America's New World Order
By leading the G7, G8 and G20 economic groups for the past few decades the US government has managed to exploit its status as holder of the global reserve currency until it appeared on the brink og global economic hegemony. The Americans overplayed their hand however, became too blatant in their bullying of smaller nations and helping corporate interests override national laws. Now the world is closing ranks against the USA. Can't say we're sorry.

American Dollar Dumped
The status of the US dollar as global reserve currency has kept the Americasn economy afloat for several decades in spite of the US government's vast debt and profligate public spending. It has looked for some time as if rival powers led by the Chinese were getting ready to topple the dollar from supremacy.

Iran's Oil and the US Dollar
You can't reason with religious fanatics. When the USA (was it the Bush or the Clinton administration?) first imposed economic sanctions on Iran in the hope of turning a medievalist theocracy into a liberal democracy it was always going to backfire. As the US tightened sanctions under Obama, Iran has attacked the USA where it is most vulnerable, taking the initiative in moves to replace the US Dollar as the global reserve currency

Money From Rock Better Than Money From Air
Strange things are happening in the finance markets, very strange. As the FT and Dow Jones main indexes go up and down faster than a whores knickers, commodity prices are behaving weirdly too.

Petrodollar Alert: Putin Prepares To Announce 'Holy Grail' Gas Deal With China
If the West has been trying to force Russia and China to recreate a twenty first century version of the old communist bloc, the alliance of a natural resource superpower and the other a fixed capital, low labour cost high output economic powerhouse and to give these two every possible incentive to create a new global reserve currency

Suppression Of News Used To Influence Scottish Referendum Vote?
Now, in order to avoid being accused of trying to influence the outcome of the Scottish Referendum (because I don't believe in telling the scots how to run their affairs any more than I approve of telling Arabs, Afghans and Ukrainians how their countries should be run) I offer for your consideration this news leaved via Oil and Gas People.

Ukraine failed: War With Syria Is Back On The Agenda

What goes around comes around, only faster and faster it seems. The Syria conflict has been on the back burner since the false flag incident that was supposed to be the trigger for all out war by the…

Now They Know Where Ukraine Is, Americas Lose Interest
Over the past few weeks I have been puzzled to see, while looking at some of the nuttier American news blogs (not necessarily run by creationists or right wingers I must say) who were alarmed by reports that Russian troops were massing on American territory.

Obama Issues Threats As Russia Dumps The US Dollar
Did you see what happened to the $US yesterday? In markets that class movements of one tenth of a cent as dramatic, a two cents drop in the value of the US dollar against the pound and the Euro should make people sit up and take notice.

Putin Flushes The Dollar Down The Toilet - We Told You So
Not long ago members of our little team posting on Boggart Blog, Little Nicky Machiavelli and The Daily Stirrer warned you that the USA and EU had a lot more to lose than Russia if they got into an economic war with The Kremlin. One proud, patriotic and utterly stupid American loftily informed me that the America had nothing to fear because the world trades in US dollars. That used to be right, unfortunately it is no longer so because China and the rest of

Ukraine Economic War
As economic war between the EU / USA and Russia lookes more likely than a shooting war between east and west over Ukraine, we look at the reasons why it has come to this and the likely consequences for our readers.

Ukraine Regime Change
The FUKUS axis - well mainly the US, France and the UK are just sockpuppets as any fule kno - are at it again. With proof having emerged that the USA and the EU have had agnts formenting unrest in Ukraine, it should come as no surprise that the US intelligence in the shape of the CIA is also busy strirring up anti government protest in Venezuela.

Ukraine Revolt Was Sponsored by USA / EU
We told you so - and now a US politician who once ran for the democratic nomination in the Presidential election has confirmed it, the USA and Europe were behind the revolution in Ukraine exactly as they have been in Egypt, Libya, Syria, Yemen, not to mention the wars in Iraq and Afghanistan and as they were when The Balkans expoloded into war in the 1990s

Ukraine On The Brink
It looks like this might be the big one. With all America's plans to destabilise non supine nations in ruins as phase 2, the intstallation of a puppet government proved impossible, Obama who has already been bested by Putin several times cannot back down again. And this time the Russians have forced the crisis in their own backyard where the USA cannot possibly win. Interesting ....

New World Order economically annex Ukraine

Is it true that the uprising in Ukraine was anything but the spontaneous rebellion of a disenchanted population? Was it is fact just another regime change operation orchestrated by the FUKUS axis on behalf of the corporate and financial cartel that has hijacked western democracy.



Recommended Reading




Monday 9 October

Friday 6 October, 2017

---

Thursday 5 October, 2017

RELATED POSTS: br> Elsewhere: [ The Original Boggart Blog] ... [ Daily Stirrer.shtml ]...[Little Nicky Machiavelli]... [ Ian's Authorsden Pages ]... [ It's Bollocks My Dears, All Bollocks ] [Scribd]...[Wikinut] ... [ Boggart Abroad] ... [ Grenteeth Bites ] ... [ Latest Posts ] [Ian Thorpe at Flickr ] ... [Latest Posts] ... [ Tumblr ] ... [ Authorsden blog ] ... [Daily Stirrer Headlines]
[ Ian at Facebook ] 28 March 2017 <26 March 2017

---

---

---

---

---

---

Euroclear Gives Green Light to Russian Bonds




Russia plans to issue more sovereign bonds later this year following its successful May issue, Russian Minister for Economic Development Aleksey Ulyukaev said on Friday. Investors who bought into Russia's sovereign bond sale in May have been vindicated after Euroclear admitted the bonds for settlement last week. The move is interesting because, unlike the USA and most nations in the democratic world, Russia is not running a current account deficit ...

More Daily Stirrer
Death of The Petrodollar
Money and finance

Rise In Intercommunity Confrontations Mean "Civil War Is Inevitable" In France According To State Officials
In the wake of the latest Islamic terrorist outrage in Nice, some state officials in France are warning that if the government does not act to suppress Islamic extremist and regain control of immigrant areas in the cities there will be civil war. The nice attack, in which a Tunisian born French citizen drove a twenty tonne truck into crowds celebration Bastille Day in the costal town of Nice, left over 80 dead and many seriously injured. Like the Charlie Hedbo Massacre and Bataclan massacres in 2015, the perpetrators were living in france but Islamic State were involved at several levels.





Latest Posts we Read

<160321-climate">

This Exchange Proves The BBC, The Green Party and Friends Of The Earth Reject Free Speech
See independent climate expert Piers Corbyn treated appallingly by BBC Big Questions propaganda broadcast and shouted down by an audience packed with left wing activists. The BBC is so biased on a whole range of subjects from 'climate change' to Palestine, Syria and so on that it beggars belief. But here is a most blatant example played out over only a few minutes. BBC presenters take it as read that what the authorities say about alleged 'human-caused climate change' is true and that anyone who challenges this nonsense must be basically lunatics on the fringe.

Will Merkel's Migrant Mishaps Spring Germany's Right-Wing Party Into Power?

by Egbert Nobakon, 8 March 2016

Resuts from local elections held in Germany last weekend indicate that German Chancellor Angela Merkel is in deep trouble. Her party, the Christian Democrats is losing votes to opponents from the right and left, largely because of the illegal immigrant crisis brought on by Merkel's crazy 'open doors' immigration policy which ahas resulted in Germany admitting criminals, terrorists and many illiterates, according to Werner Patzelt, a political analyst at the Technical University in Dresden. Patzelt, a political analyst at the Dresden-based Technical University, described the latest local elections in Germany as another indication of the

fading influence of Chancellor Angela Merkel

as the main beneficiary of her policy disasters is the anti immigration, anti EU party Alternatif fur deutschland (AfD) often described incorrectly as an extereme right wing group. In fact it is Merkel's Christian Democrats that have most resembled Hitler's National Socialists by trying to suspend the right of free speech and suggesting opponents of immigration be charged with crominal offences during the

ongoing crisis

. The interview came after the populist, anti-immigrant

Alternative for Germany (AfD) party finished a strong third

in municipal elections in the country's central state of Hesse, held on March 6. According to Germany's state news outlet DW, Angela Merkel's Christian Democrats finished with 28.2 percent of the vote, ahead of the Social Democrats with 28 percent; Alternative for Germany obtained 13.2 percent of the vote, beating the powerful and well established Green party. The vote took place a ahead of elections to the state legislatures of Baden-Württemberg, Rhineland-Palatinate and Saxony-Anhalt, which are scheduled for March 13. Results will determine if Merkel will survive as Chancellor or will be supplanted by a new leader.

RELATED POSTS: Will Merkel's Migrant Disaster Drive Germany's AfD Into Power?

Elsewhere: [

The Original Boggart Blog

] ...

Daily Stirrer

...[

Little Nicky Machiavelli

]... [

Ian's Authorsden Pages

]... [

Scribd

]...[

Wikinut

] ... [

Boggart Abroad

] ... [

Grenteeth Bites

] ...

Ian Thorpe at Flickr

] ... [

Tumblr

] ... [

Ian at Minds

] ... [

Authorsden blog

] ... [

Daily Stirrer News Aggregator

]

FUKUS axis troops (France, UK, USA) Unable To Halt ISIS March Towards Libyan Oil

The lastest news coming out of Tripoli is that The Islamic State (ISIS) force in Libya is taking on extra personnel faster than anyone can keep up with, some of these are raw recruits from north and sub Saharan Africa but many are experienced fighters (i.e, they know which end of a gun is dangerous) and is advancing towards Libya's oil crescent, eyeing billions of barrels ...
FUKUS axis troops (France, UK, USA) Unable To Halt ISIS March Towards Libyan Oil

Guess Which Political Grouping Wants To Legalise Incest and Necrophilia?
Has the headline sunk in. Yes it says there are people out there who want to legalise incest (brother /sister or parent / child sex) and necrophila (sex with dead people). Puzzled about who would want to legalise such repugnant things? I'll give you a clue, they aren't conservatives, libertarians or nationalists.

EU HoldsBack New Regulation For Fear Of Strengthening Brexit Case
The unelected leaders of the EU in Brussels are smothering discussion of new pan – European laws that would impact the United Kingdom and all other member states, increasing the amount of money they have to contribute to the EU budget and transferring yet more sovereignty to Brussels ...

EU Bosses Fear Brexit Domino Effect
European leaders met for the first time today to discuss the deal reached over changes to the conditions of Britain's membership of the European Union. Public opinion in member states has led to fears that an out vote may prompt other EU member states to follow Britain's lead.

German Government Smartphone Spyware Monitors Citizens' Calls, Typing AND Sees Through Their Cameras

The dirty news always leaks out. Here, after whistleblower sites chipping away at it fr several weeks, is official confirmation that the increasingly fascistic government of Germany has bought a software too enabling security agents to spy on people through their smartphones. That might not sound so bad until you remember the same government in Germany has recently discussed criminalising criticism of Islam and opposition to Merkel's open doors immigration policy and suppressing critics of EU policies. The German Interior Ministry has revealed a new "Bundestrojaner" or government trojan horse software that will enable security agencies to track the smartphone activities of anyone who downloads it. We understand Chancellor Merkel's government has also adopted an "off the shelf" tool from a company which is said to help authoritarian regimes track their citizens ...

New German Government Smartphone Spyware Will Monitor Citizens' Calls, Typing AND See Through Their Camera Lenses

In Parallel With The Upheaval In European Politics, A Similar Cataclysm Is Happening In The USA Having reported for three or four years now the rise of the anti - Integration parties in European Union member nations, UKIP in Britain, the FN in France, AfD in Germany, Denmakr's Peoiple's Party, Five Star and the Liga Nord in Italy, the Sweden Democrats and others in every E U member state, we now look at what is going on in the USA as campaiging for the presidential election gathers pace.

Biological Man Set To Become National Union Of Students' Women's Representative

A straight, biological man is a hot favourite in the race to become the National Union of Students' (NUS) Women's officer. Anna Lee describes himself as a "queer trans disabled lesbian woman", and is currently the LGBT officer at Lancaster University Student Union, having already spent two years on the national women's committee. The NUS women's campaign "exists to represent and extend and defend the rights of women students… led by women students in our governance and decision-making processes", their website claims. Last year, Mr. Lee won a battle to share toilets with biological women at his University, despite being quite open about his sexual interest in them and retaining all his male biology. "I never believed that running to be national women's officer was a possibility", he said in a Facebook post lunching "Anna's" campaign last week. "In my five years in the student movement, I have changed a lot – in fact, some might say it's been a transformative experience ;)" explained the newly self-identifying women. Adding: "I know the Women's Campaign is ready. I know NUS is ready. I'm not convinced that the rest of society is. "But – when the transphobic 'feminists' come and try to tear me down, I will just fight harder, and with the help of amazing activists we will show them", wrote the self declared women. Mr. Lee was also one of the leaders of the NUS's first ever transgender conference last year, and was even invited to give evidence to a Parliamentary committee on transgender issues.

A Furious Turkey Says US Is "Acting Like An Enemy," Demands Washington Brand Kurds "Terrorists

To be sure, the effort to usurp the Bashar al-Assad government wasn't exactly going as planned in the first place. Regime change always takes time, but the conflict in Syria was dragging into its fifth year by the time the Russians got directly involved and although it did indeed look as though the SAA was on the verge of defeat, the future of the rebellion was far from certain. But to whatever extent the rebels' fate was up in the air before September 30, the cause was dealt a devastating blow when Moscow's warplanes began flying sorties from Latakia and while Ankara and Riyadh were

Read More

President Trump

Rod Little gets it; writing in the speccie, he's gunning for Trump for President - if only for the deep, unhealable grief it will cause the BBC mafia and Guardianistas. And all the others - those, as Liddle puts it, "who do not believe that it is even remotely legitimate to have a view which differs from their own."

Imagine Polly Toynbee in hysterical floods of tears, being cradled by a screeching Susanne Moore, onto whose red velvet shoes Toynbee drips salt and snot. Monbiot attempts to end his career by eating a kilo of GM Soya, and all the assorted spouses and offspring of left wing characters in employment at the BBC and print media rail and rant wholly ineffectually. It would be worth a year's pension to see.

Jonathan Freedland also gets it. Two or three weeks ago he analysed Trump's appeal; I think he's right on just about every point he makes ...

Read more >> RELATED POSTS: Loud Trump resonates throughout America At Both Ends Of The Political Spectrum Americans Agree The Government Is FUBAR New Hampshire Primary:Sanders and Trump Victory For Vox Populi

The "Race To Raqqa" Is Quickly Intensifying

This is a look at the larger picture of forces developing around Syria. Several foreign armies are aggregating at the Syrian borders with the intent to invade Syria and to occupy its eastern part. But before we dive into that, a short look at the curious situation developing in the north-west. Near Azaz the U.S. ally Turkey is currently shelling (video) the U.S. ally YPG which is fighting the CIA supported FSA. The Syrian-Kurdish YPG troops were heavily supported by the U.S. in their fight against the Islamic State in north-eastern Syria. Under U.S. tutelage they united with Arab anti-IS fighters under the label Syrian Democratic Forces. Read more >> RELATED POSTS: ISIS Turkey oil trades
ISIS getting US weapons via Turkey
Syria biggest US blunder ever?
Syria, US Proxy war with Russia
Road To World War III: Turkey Shells Syria For Second Day As Saudi Warplanes Arrive
'I'm back from Syria. The media are lying to you.' Eva Bartlett
US Allies Now Fighting CIA-Backed Terror Groups In Syria


---

Turkey and Sadui Arabia Already Have Troops Fighting In Syria
Even mainstream media has been forced to concede that Turkey and Saudi Arabia are apparently ready to send ground forces to the Syrian battlefield as Assad's forces, backed by Russian air power and Iranian elite troops but continue to grind down ISIS forces equipped with US made arms and ammunition via Saudi Arabia and funded by Turkey's illegal oil trade with the terrorist group.

---

---

Landmark Report Explodes The Myth Of Economic Benefits From Mass Immigration
The Contribution politicians and left wing hand wringers claim is by migrants to Britain's economy are "modest" compared to their long term costs, while mass migration depresses wages and harms GDP growth, a report on the findings of research led by a respected academic has found.

November 2015

Why Are Bigots So Offended By Being Called Bigots? As in the case of Iain Lee, the accusation of 'bigotry' seems to be more offensive than the actual bigotry which prompts it

German Scientist Confims Climate Change Ia A Politically Motivated Scam
Even as the inbred idiot Prince Charles was babbling to a hand picked audience about the skid marks in his underpants being caused by Climate Change, a somewhat more scientifically literate person, Dr. Friedrich Karl Ewert, a retired geologist and data computation expert, has confirmed what those of us dubbed 'climate deniers' have been telling you for years ...

War On Cash: Pin Numbers will be obsolete within five years, we will pay with mobile or fingerprints instead. The War On Cash gathers more momentum as political, business and academic elite attempt to advance and agenda that will destroy individual freedom and privacy and give them total control of our lives and finances via technology.

Iran Releases Video Alleging the US, Israel and Allies were Behind Isis and the Paris Attacks
A video released by the office of Iranian Supreme Leader Ali Khamenei entitled, "Who Was Behind the Paris Attacks" alleges that it was the US, Israel and their allies who helped create ISIS in order to further their own interests

Opposition Party to Sue Austrian Government Over Complicity In People Trafficking We have reported previously that in their eagerness to complete the genocide of Europe's white working classes, the political and business elites are prepared to make a mockery of their own laws. One way in which this has been done is by turning a blind eye to people trafficking so that the entry of illegal immigrants to Europe would not be slowed by national law. We can't claim credit for the action reported here, we have very few Austrian readers, but it's good to see oyhers are starting to think.

Accept Everything, Question Nothing A chilling poll published in the US has revealed that 40% of those born in the 21st century – the so-called 'Millennials' – believe government should be able to limit speech regarded as offensive to minorities. The older the generation, the more opposed to outlawing aspects of free speech. The 35-50 'Gen X' group approval of such a move was 27%; for the Baby Boomers (51-69), approval dropped to 24%, whilst the oldest age group asked (70-80) registered just 12% approval.

European Governments Hold "Secret" Meeting To Dismantle Borderless Travel Since the spring of this year, when numbers of migrant flooding across the European Union's border illegaly began to rise exponentially we have predicted that the resultant crisis would bring about the end of the Schengen Agreement - under which 28 EU nations operate open internal borders, unravels in the face of the overwhelming flow of refugees fleeing the war-torn Mid-East

Afghan troops defect to Taliban in Helmand
According to news sources in Pakistan, up to sixty five Afghan soldiers, trained and armed by US and European military advisers, have defected to the resurgent Taliban, taking their weapons and equipment with them. Another 88 are reported to have been killed in heavy fighting between Taliban irregulars and government forces in the southern province of Helmand.

WW3 US GOVERNMENT wants a WORLD WAR 3
The situation in Syria has always been a proxy war between the United States and Russia, and that is even admitted by the mega news networks who don't ever dare to mention Obama's secret orders demanding support for the Syrian rebels back in 2011 (in order to crush the Putin-backed Assad).

German Ministers Preparing 'Putsch' Against Merkel - SpiegelSenior ministers in Germany are no longer trying to reach a compromise on Immigration with German Chancellor Angela Merkel. Traditional political allies and supporterswhose loyalty could be taken for granted are gradually becoming her main opponents. The German Chancellor is not only losing power over the refugee crisis in Europe, but she is also unable to manage her own government, German magazine Der Spiegel wrote ...

Putin Lines Up The Big Guns As Obama 'Shoots Golf' And Kerry Vacillates
Things are getting serious (and very dangerous) in Syria. ISIS do not have warplanea and SAMs are not effective against ground troops so this latest Russian move can only be interpreted as a warning to the USA

Paris Horror Demonstrates Limits On Tolerance And Need For Border Controls As the lawless criminal scum imported by Merkel in her efforts to suck up to Obama threaten to turn Germany into a third world human cespit, it seems public opinion in European is waking up.

posted by Tapestry
Tajammu Al-Ezza brigade fighters on an anti-aircraft weapon inspect the sky for helicopters loyal to Syrian President Bashar al-Assad in the Hama countryside, May 6, 2015. (photo by REUTERS/Mohamad Bayoush) How the Syrian regime forces are attacking opposition under Russian cover HAMA, Syria — The Syrian regime launched a broadscale attack against the opposition …

President Barack Obama will hold a meeting at the White House on Friday with experts from both political parties to discuss the Trans-Pacific Partnership, White House spokesman Josh Earnest said on Friday. The meeting will include four former Secretaries of State -Henry Kissinger, James Baker, Colin Powell and Madeleine Albright – among others.

Cameron's Hopes For EU Membership Reforms For UK Torpedoed By Tusk

David Cameron's hopes of winning serious concessions on sovereignty, border controls, contributions, trade agreements, human rights and labour laws so he could claim to have won a better deal for Britain by the time the in / out referendum starts next year European Union suffered an early blow when European Council President Donald Tusk warned that reaching a deal would be "very tough" ...
Cameron's Hopes For EU Membership Reforms For UK Torpedoed By Tusk

US Debt Is Three Times More Than You Think

http://www.informationclearinghouse.info/article43366.htm "The Hill" - The former U.S. comptroller general says the real U.S. debt is closer to about $65 trillion than the oft-cited figure of $18 trillion. Dave Walker, who headed the Government Accountability Office (GAO) under Presidents Bill Clinton and George W. Bush, said when you add up all of the nation's unfunded liabilities, the national debt is more than three times the number generally advertised. "If you end up adding to that $18.5 trillion the unfunded civilian and military pensions and retiree healthcare, the additional underfunding for Social Security, the additional underfunding for Medicare, various commitments and contingencies that the federal government has, the real number is about $65 trillion rather than $18 trillion, and it's growing automatically absent reforms," Walker told host John Catsimatidis on "The Cats Roundtable" on New York's AM-970 in an interview airing Sunday. The former comptroller general, who is in charge of ensuring federal spending is fiscally responsible, said a burgeoning national debt hampers the ability of government to carry out both domestic and foreign policy initiatives. "If you don't keep your economy strong, and that means to be able to generate more jobs and opportunities, you're not going to be strong internationally with regard to foreign policy, you're not going to be able to invest what you need to invest in national defense and homeland security, and ultimately you're not going to be able to provide the kind of social safety net that we need in this country," he said. He said Americans have "lost touch with reality" when it comes to spending. Walker called for Democrats and Republicans to put aside partisan politics to come together to fix the problem. "You can be a Democrat, you can be a Republican, you can be unaffiliated, you can be whatever you want, but your duty of loyalty needs to be to country rather than to party, and we need to solve some of the large, known, and growing problems that we have," he said. **************************************************

Russia Wins While West Spins

http://www.informationclearinghouse.info/article43359.htm Like a good laundering machine, the Western media operate an efficient spin cycle for rinsing out dirty water. No sooner had Russia's foreign ministry issued a fairly straightforward statement on Syria's political future this week, then Western media news outlets were getting all in a lather with the spin that Moscow was preparing to hang Syrian President Bashar al-Assad out to dry. What that reaction shows is that these outlets are dutifully laundering the political agenda of their governments. That agenda seems to involve getting Russia to implement, unwittingly, the Western objective of regime change in Damascus. Russian foreign ministry spokeswoman Maria Zakharova was quoted by Russian news agency ITAR-TASS as saying that the Syrian leader's hold on power was not a matter of principle for Moscow. She also spoke about other important issues: the imperative to respect the sovereign right of the Syrian people to decide the political future of their country; and that regime change in Syria would usher in even greater disaster from terrorism and refugees. However, it was the words on Assad that got picked up and thrown into the spin cycle with haste. Britain's state broadcaster, the BBC, issued a breaking news flash with the headline: 'Russia says keeping Assad not crucial'. While American channel CNN adverted that: 'Russian leaders were opening the door for Assad's exit'. Such so-called news items are laughably becoming more like commercial breaks. Commercial breaks between, well, more commercial breaks. Low on intelligent content and pitched to get viewers to buy somebody's tawdry product. There was nothing further to back up either report on BBC or CNN – only a selective, speculative interpretation of the words from the Russian foreign ministry. There was no mention of the sovereign right of the Syrian nation nor of the global-scale disaster if regime change were to take place. Just a seemingly puerile gaze at the words about Assad's staying in power not being «a matter of principle» for Moscow. What the Russian foreign ministry spokeswoman actually said was this: «We have never said Assad's staying in power is a principled aspect. We are saying that the change of regime in Syria could become a disaster not only on a local or even regional scale, but, with account for that problem with refugees that we have now, this could become a big black hole». Russia had already warned about Western media «juggling with its words» over Syria, and in particular on attempts to wilfully distort its policy. Following the Vienna summit last weekend on Syria, there was Western speculation that Moscow had tacitly agreed to Assad relinquishing power. Russian Foreign Minister Sergey Lavrov sternly dismissed then what he called were «rumours». «I heard that the rumours are being spread already that it has been or will be agreed that Assad will step down in some period of time. This is not the case,» said Lavrov. If Western media were to provide a journalistic service instead of laundering their governments' political agenda then they might have reported that Russia's position is rightly centred on the sovereignty of Syria and on the defeat of foreign-backed terrorism in that country. That Moscow is saying that the question of Bashar al-Assad staying in power, or not, is not a matter of principle is simply stating that Russia does not view the Syrian leader as a life-long president. Assad's presidency will be subject to the democratic will of the people, which is the all-important sovereign point. What is so controversial or enigmatic about stating that? Nothing, unless there is a mischievous will to misconstrue. Put another way, if Russia had said instead that Assad staying in power was a matter of principle for Moscow, then the Western media would no doubt have gone into double-spin mode and claimed that the Kremlin was dictating that the Syrian leader must remain in presidential office forever – regardless of the will of the electorate. One can imagine the headlines in that scenario: 'Putin lays down law to Syrian people' and so on. Of course, Western media spinning is hardly new and the consequences of the latest dash to misinterpret will no doubt be as fleeting as a soapy bubble. But the alacrity with which Western media outlets operated on the issue is instructive. Russia's military operation in Syria to protect the state and its sovereignty from foreign-orchestrated mercenary terror groups has dealt a devastating blow to Washington's covert military agenda of regime change. That agenda, instrumented by the deployment of mercenary terror groups, predates the outbreak of violence in Syria in March 2011 by several years, as uncovered by American journalist Seymour Hersh. Also as disclosed by former French Foreign Minister Roland Dumas, as well as leaked US diplomatic cables indicate from as early as 2009. Washington and its allies are now being compelled to use a political means to achieve what they couldn't otherwise pull off by covert military means – because of Vladimir Putin's bold intervention in Syria, beginning on September 30. Recall, too, that US Secretary of State John Kerry demanded last month, with typical haughtiness, for Russia to «bring Assad to the negotiating table». Not that there is much to discuss as far as Washington, London or Paris are concerned. Assad has to go, in their arrogant view, sooner or later. By going into so-called «diplomacy mode», as opposed to covert terrorist-supporting mode, what the Western imperial overlords expect is for Russia to comply with a political framework concocted in order to push Assad from power. That modus operandi is a negation of Syrian sovereignty, of course. And Russia is much too intelligent to be hoodwinked by these Western charlatans.

CREATIVE COMMONS: attrib, no comm, no dervs.
KEYWORDS: news, opinion, dailystirrer,

If you liked this, please give it a boost

Close Window and return to previous URL