The Daily Stirrer is constantly looking at the news and trying to dig out the stiory behind the story. With latest news that does not make mainstream media and controversial reporting and opinion, we are loking forward to bringing you inside information on the disintegration of the European Union, the replacement of the Petrodollar as global reserve currency, the continuing decay of the USA (unless Trump can neutralise the authoritarian warmongers of the deep state, and we don't think he can) and the ongoing problems caused by the flood of illegal immigrants from the third world to Europe and North America. We certainly do live in Interesting Times.
Daily Stirrer, March 2019
Editor's note: The Daily Stirrer believs in the universal right of free speech, this does not mean we necessarily agree with the views expressed by our contributors.
The Daily Stirrer is having a few staff problems at the moment, our editor / webmaster Ian is spending a lot of time supporting his wife who is in hospital recovering from a serious illness, science - technology expert Xavier is having health problems himself, not serious but energy sapping, and Phil T Looker who handles finance and economics is not a techie. So posting is a bit patchy. Bear with us, it will come together again. For now we will ensure activity by posting links to othher sources running stories readers might enjoy.
---
---
Macron Isolated After More High Profile Resignations. Pressure Mounts On French President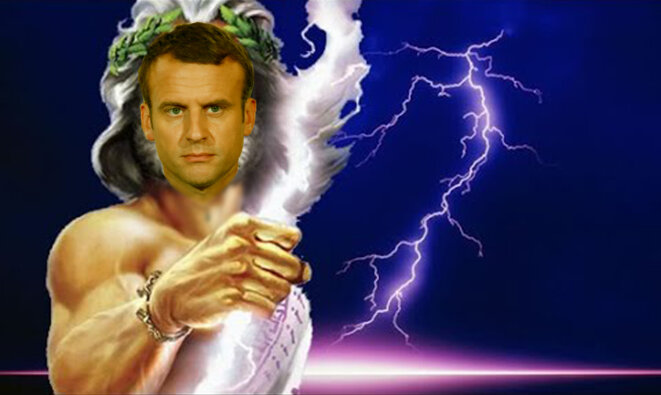 On being elected President of France, Emmanuel Macron said he would rule in the style of Roman God jupiter

On top of the yellow Vests debacle, which is now destabilising France as the anti - government protests continue, a string of high profile resignations from the tottering government of President Emmanuel Macron has prompted Gérard Larcher, leader of the French Senate to warn Macron that his authoritarian tendencies were partly to blame for the civil unrest crisis and political instability that have weakened his presidency. Mr Macron's office announced this wek that government spokesman Benjamin Griveaux and Digital Affairs Minister Mounir Mahjoubi were leaving the administration, along with European Affairs Minister Nathalie Loiseau. Monsieurs Griveaux and Mahjoubi are said to be planning to launch rival bids for next year's mayoral election in Paris. The current mayor, Anne Hidalgo, a socialist is seeking re-election. Mrs Loiseau, was a key player in communicating the French government's stance on Brexit throughout the unsuccessful negotiations, she will move to head up Mr Macron's pro-Europe La République en Marche (LREM) party in the May 26 European parliamentary elections. Mr Griveaux has been government spokesman since November 2017, while Mr Mahjoubi was named digital minister in May 2017. Mrs Loiseau, a career diplomat, joined the Macron government in June 2017. A reshufffle is expected by Monday, the date of the next cabinet meeting, but could be announced early to avoid being bumped down the news bulletins by the coming weekend's Yellow Vest protests. In the last eight months, Mr Macron has waved goodbye to his popular ecology minister Nicolas Hulot, ally and interior minister Gérard Collomb, and close advisor Ismaël Emelien. The latest batch of resignations have further eroded the ceredibility of Macron's leadership, already undermined by easily supportable claims that he is a president for the rich and the global corporations (
The Davosocracy
,) and his policies are putting further pressure on low paid and middle income groups in what is now known to be the most highly taxed nation on the planet. The three ministers who quit the government on Wednesday were all assumed to be close allies of Macron. These latest resignations bring the number of cabinet members who have quit since the boy president took office in May 2017 to ten. "Maybe the [resignations] are a reflection of Mr Macron's vertical governing style … maybe they reflect the head of state's growing isolation," Mr Larcher told Europe 1 radio shortly after the departures were confirmed in an emailed statement. The spate of ministerial resignations, along with rising living costs, tax increases, immigration and Macron's push to integrate France more closely politically and economically with germany have all contributed to the discontent that triggered the Yelloiw Vest movement and now has Marcon's with his political opponents depicting him as an increasingly solitary figure with diminishing popularity and an aura of cluelessness.
The idealistic hope that mass protests and civil disobedience could trigger real social change met with some success in the nineteenth and early twentieth centuries but looked to have died after the USA's 1960s civil rights movement and anti – war protests. The recent mass demonstrations of Frane's gilets jaunes (yellow vests) movement in 2018, a movement …
Continue reading
---
---
5 January, 2019
Violence has erupted across France once again, days after French authorities arrested a key organizer of the Gilets Jaunes (Yellow Vest) movement. After today's protests began peacefully the Paris police once again used riot busting tactics, attacking the yellow vested demonstraters with teargas and batons as protesters began to get noisy during the so-called 'Act VIII" …
Continue reading
Since the first incarnation of the EU an The Common Market, FRANCE has always been considered one of the bastions of European stability and a poster state for financial and political integration among European Union countries. But former Goldman Sachs banker Emmanuel Macron has thrown both France's position as Germany's chief sidekick and the dream …
Continue reading
BRITAIN has teamed up with the Netherlands, Belgium and Spain to block electrical and electronic engineering giants Alstom and Siemens from creating a mega Franco-German corporation to dominate European tech industry. Siemens and Alstom agreed last year to merge certain operations, creating a company with £13.5million (€15billion euros) in revenue and a workforce of 62,000. …
Continue reading
Reuters reports French "yellow vest" protesters wreaked havoc with road transport on Tuesday by occupying autoroute toll booths and even torching some of them. France's biggest toll road operator, Vinci Autoroutes , said there were demonstrations at 40 of its sites and that several highway intersections had been heavily damaged, mainly in southern of France. …
Continue reading
Macron fiddles with himself while Frsnce burns (Picture: express) Travellers in France, mainly around Paris, have been hit by delays at airports as French police slowed down passport controls in a protest over overtime pay. As we predicted last weekend, the Yellow Vests protestors are now being supported by the police service. The first action …
Continue reading

More
Ode To Politicians (poem)
EU Fines Google $1.7 Billion Over 'Abusive' Online Ad Strategies
European Commissioner for Competition Margrethe Vestager says Google broke the law for roughly 10 years by restricting how business partners deal with rivals in search advertising. (Picture credit: Yves Herman/Reuters)
The European Commission has imposed another huge fine of €1.49 billion, ($1.7 billion) for "abusive practices" in online advertising, accusing the search and advertising giant of breaking the EU's antitrust rules and that Google abused dominance position in Internet xsearch by preventing users from seeing search results for Google rivals, or maniplation search results so that rivals pages fell so far down the listings it is unlikely anyone would see them. Google is also accused of preventing its rivals from working with companies that had deals with Google by threatening to harm the business of companies that did business with rivals. The case revolves around search boxes that are embedded on websites and that display ads brokered by Google.
Those adverts are served by AdSense for Search — a business unit of Google through which websites make money when users click on ads in search results pages, much as Google does on its main search page. For years now AdSense contracts have given Google a large degree of control over how the ads are displayed, the EU says. Google included the conditions in contracts that covered how its brokered ads would appear in search tools that are commonly embedded on newspaper sites, blogs and travel companies.
Infographic: The European Union
The conditions evolved over time, from exclusivity clauses in 2006 to "relaxed exclusivity" in later years. But the practice still damaged competition, European regulators said, noting that later requirements let Google control how its rivals' search ads would appear — including the size, color and font they used.
"This is illegal under EU antitrust rules," said EU Commissioner Margrethe Vestager, who is in charge of competition policy. "The misconduct lasted over 10 years and denied other companies the possibility to compete on the merits and to innovate — and consumers the benefits of competition."
She added that in addition to the fine, the ruling means "anyone who has suffered damage because of Google's behavior can also claim compensation from Google through national courts."
This week's fine is the third multibillion-dollar penalty the European Union has recently imposed on Google. Last summer, the European Commission issued a $5 billion antitrust fine for forcing Android phone-makers to install the Google search app and the Chrome Web browser.
And in 2017, the EU fined Google $2.7 billion after an investigation revealed that the company had used its market-dominating search engine to drive people toward another Google product, its shopping service.
In levying the latest fine, the EU noted that the roughly $1.7 billion represents "1.29 percent of Google's turnover in 2018." It adds that the fine was calculated based on Google's search revenues in the EU market. As for what the EU will do with the $1.7 billion it gets from Google, the commission says the fine will lower member nations' contributions to its budget.
---
Bradford Abuser Gang Victim Claims Bradford, Rotherham, Rochdale Gangs 'Linked'
One of the victims of a Bradford grooming gang has told the media that most of the girls at the children's home where she was placed by local authority social workers were being sexually exploited by gangs of immigrant males. She called for a nationwide inquiry, alleging that numerous grooming and abuse gangs across the country — including the most notorious cases in Rochdale and Rotherham — are linked.
Fiona Goddard, 25, told BBC Look North regional news magazine, "I lived in a care home and I know that most of the girls, barring about three, were all getting sexually exploited as well.
"I also met numerous girls while we were out with other guys that maybe didn't come from care homes, but came from broken backgrounds and they were all getting exploited."
On the extent and organisation of the systematic abuse of vulnerable girls from borken homes, she said, "When I was at that house [where she was raped], people came from Birmingham, Rochdale, Rotherham, Blackburn, Glasgow, Oxford.
"It is widespread and they are all linked."
"There definitely needs to be a public inquiry; it needs to be an independent one," she added.
Bradford Council's interim child services chief Gladys Rhodes White said of Ms Goddard's call for an iquiry, "I'm not seeing evidence that there is a wide-scale, large issue specific to Bradford.
"I think if it did come to light that there were lots of victims that had been missed," she added, it would be something the Safeguarding Board would want to "look at". This is typical of the authorities complacent attitude when dealing with sex crimes committed by immigrants.
Ms Goddard came forward with her complaint in 2014, after seeing a report on the abuse of more than 1,500 girls in Rotherham, and warned that while some rape survivors had gone to the police, "there are girls that either lack the understanding or aren't in the situation where they can [come forward]."
She gave evidence in a trial at Bradford Crown Court last month that resulted in the convictions of Parvaze Ahmed, 36, Naveed Akhtar, 43, Saeed Akhtar, 55, Zeeshan Ali, 32, Keiran Harris, 28, Izar Hussain, 32, Fahim Iqbal, 28, Basharat Khaliq, 38, and Mohammed Usman, 31.
The child rapists were found guilty of 22 offences including inciting child prostitution and rape, in abuse that began in 2008 when she and another unnamed victim were 14 years old; all nine were given terms of between 18 and 20 years — but will likely be released from prison much earlier.
The young woman waived her lifelong right to anonymity to discuss her case and reach out to other potential victims of grooming gangs.
MORE ON GROOMING AND RAPE GANGS:
Rotherham
;
Rochdale
;
Oxford
;
London
;
Back to Contents table
---
They Challenge The Narrative, Shoot To Kill Men
Macron Throws Fully Armede Troops Into Action Against Yellow Vfest Protestors
Yellow Vests protest in Paris - Picture credit: Egypt today
French soldiers will be sent into action against Yellow Vest protestors for the first time this weekend as the protests against the Macron government reach their ninetenth week. Some reports out of France suggest the military are being told to avoid protesters, while others indicate they have been given permission to open fire if the protestors threaten the lives of soldiers or police. Our girl in France, Cleo Hart, says the move seems to have heightened tensions between government and people.
According to various print and broadcast news outlets the soldiers have been redeployed from anti-terror Operations duties, and are expected to be stationed around national and municipal government buildings and other sensitive areas rather than engaged in law enforcement and riot control duties, but communication about the exact role they will have in controlling riots has been vague, according to Le Point.
The military deployment, which follows renewed violence last Saturday and the Emmanuel Macron government's decision to ban protesters from the Champs-Elysees and other French city centres this Saturday, has been slammed by many, including Les Republicans senator Bruno Retailleau, who labelled it a "fatal decision."
"It's a turning point, it's mostly a failure! I do not know if we used the army in '68, I do not remember, but using the army, including in static form to protect buildings, is extremely dangerous," he said.
"The military is not trained in policing. They are trained in combat, to kill and neutralize. This decision is absolutely deplorable."
"In what European democracy is the army called in to police a social movement?" added Raphaël Glucksmann, who will lead France's Socialist Party, for which President Macron was a government minister under predecessor François Hollande, in the upcoming European Parliament elections.
MORE ON FRANCE
Europe Unglues
---
Thousands March to Save the Internet from EU Censorship Regulations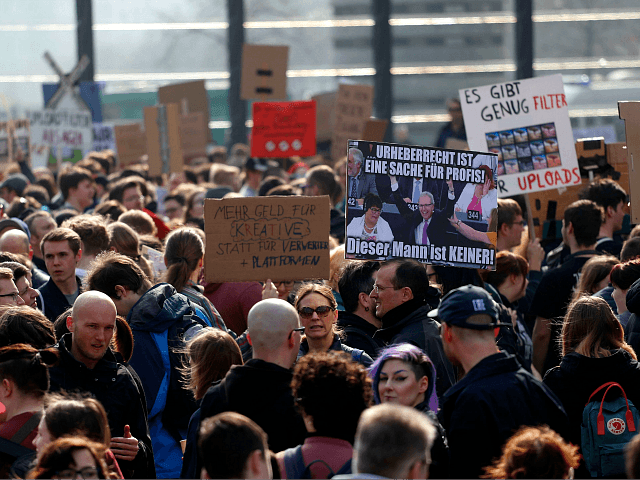 Tens of thousands of people have marched in cities across Germany to protest planned European Union copyright reforms that they fear will lead to online censorship.
The dpa news agency reports the biggest protest Saturday was in Munich, where 40,000 people marched under the motto "save your internet."
Thousands of others took part in smaller demonstrations in the German cities of Cologne, Hamburg, Hannover, Berlin and other cities against the bill that is being voted on this week.
The most controversial clause, Article 13, which applies to information whose main or one of the main purposes is to store and give the public access to a large amount of copyright protected work uploaded by its users which it organises and promotes for profit. Article 13 does not apply to non - profit encyclopedias, educational and scientific repositories and other non profit services.
Creative Commons the content licensing organisation that addresses internet sharing licences specifically posted this tweet: There's no doubt #Article13 will force most EU platforms to implement #uploadfilters. These technologies simply cannot distinguish between infringing and non-infringing uses of a work. Creativity and freedom of expression will suffer. https://www.communia-association.org/2019/03/05/final-x-ray-article-13-dangerous-legislative-wishful-thinking/ …
The most controversial section would compel sites such as YouTube and Facebook to take responsibility for copyrighted material that's uploaded to their platforms. Proponents say the new rules will help ensure authors, artists and journalists are paid. Opponents claim they could restrict freedom of speech, hamper online creativity and force websites to install filters.
---
German Alarm Grows Over EU Determination To Punish Britain For Leaving
The business community and conservative politicians in Germany are becoming more annd more hostile towards the way Brussels is trying to force the UK Parliament to accept the Brexit Withdrawal Agreement (which some say was drafted by arch Federalist Angela Merkel,) as a fundamental failure of European statecraft that can lead only to a diplomatic catastrophe and long term animosity between the EU and one of Germany's largest expot customers.
If the EU's aggressive policy causes a geostrategic rupture with a pillar of the European defence, security, and financial system, as it surely must under existing terms the unelected bureaucrats of the EU Commission are trying to force on Britain, the recriminations in Berlin will be ugly.
"Europe is well on the way to inflicting huge damage on itself for decades by the way it has handled the failed Brexit talks," said Marcel Fratzscher, head of the German Institute for Economic Research (DIW).
The Article 50 process may give the EU legal and psychological leverage as the cliff-edge nears but this does not make it is wise to exploit that power. "Not just the British but the whole European Union will pay an immense price unless EU leaders make a fair offer under plausible terms," he said.
Professor Fratzscher believes the EU is undermining its democratic legitimacy by demanding that Westminster MPs swallow the deal offered by Michel Barnier with a "gun to their chest" and subject to threats of "catastrophic consequences" after two-thirds of British lawmakers have already rejected it. What the EU is doing, from spite rather than a desire to help the Irish leader Leo Varadkar reunite Ireland, is insist that a soft border between The Republic of Ireland and Ulster, which remains part of the United Kingdom, is not acceptable. Yet such soft borders work elsewhere, between Sweden and Norway, between Switzerland and its EU neighbours Germany, France, Italy and Austria.
Parliament is justified in rejecting an arrangement such as the proposed Irish backstop, that would lock UK in a customs union against its will. "No sovereign nation could agree to such terms lightly. The Bundestag itself could hardly have voted otherwise in comparable circumstances," Fratzscher wrote in Der Spiegel this week. He also argues that if MPs capitulate and accept the Withdrawal Agreement this would be "just as catastrophic" as a no-deal Brexit.
It is an obvious political absurdity to try to contain a military power with a large industrial economy in the EU's regulatory and legal orbit without that powerful nation having EU voting rights. This must blow up in acrimony and end in an abrogation crisis. Fratzscher obviously reads this publication, our editor Ian has often written that the way to reselve the brexit crisis is to station Royal Navy Type 45 Destroyers in the mouth of The Rhine, The Seine and The Elbe and wipe several large EU cities off the map. It's a simplistic solution but at least it would get their full attention.
Needless to say, the 'game theory' calculus for Brussels has been greatly influenced by signals from Parliament, the Cabinet Office, and powerful forces within the British economic establishment that Brexit could be eviscerated or reversed altogether.
Sigmar Gabriel, Germany's vice-chancellor until last year, says Europe can't afford the luxury of a total eonomic and military break with Britain. The EU is split politically on multiple lines of - North-South over money, East-West over the rule of law, and elite - people over immigration, taxes, Islamification and the erosion of democracy - and is surrounded by dangerous neighbours.
When the British voters delivered their message of 'shock and awe' to the EU in June 2016, Europe, already aware of the rumblings of discontent throughout the union ought to have steppee back and taken stock, and recognizing that the Monnet - expresswayto a federal European Superstate (EU Acquis) and centralization of power on a committee of unelected bureaucrats in Brussels was no longer viable. It could have come up with a system for a two tier Europe, with Germany and France, along with Belgium and Luxembourg moving towards a single political entity called Greater Germany while ring of countries on the outer fringes of Europe had partial membership of the club on sovereign terms.
This was the plan for a "Continental Partnership" - first for Britain but then as a model for Ukraine, Turkey, and others - put forward by a roster of leading European figures for the Bruegel think tank in Brussels. Among the authors was Emmanuel Macron's top economic adviser Jean Pisani-Ferry. It was shot down in flames. Mr Macron said Britain had to pay a price for its apostasy, and be seen to pay a price. In fact it the the idiotic boy - president Macron who is paying the price for his bettrayal of French sovereignty as the Gilets Jaunes (Yellow vests) protests against Macron's federralism, high taxes, immigration and surrender of French sovereignty to Brussels tear France apart and threaten to bring down the government.
MORE ON BREXIT
---
Is The UK Foolish To Leave The EU
This question, worded slightly differently, comes up innumerable times in comment or Q & A threads on websites. Here's a near pefect answer from a fellow warrior for liberty and opponent of Euronaziism, Barney Lane: Is Brexit a foolish idea? Brexit means Britain is in the EU but is now leaving it. Which part is foolish, the being in part or the leaving part?
---
Theresa May's New Contempt Of Parliament Scandal
On a day that saw her government defeated three times in House of Commons votes on key Brexit issues, a new scandal has erupted around Theresa May's dishonest and duplicitous mismanagement of the Brexit process. The Prime Minister has now been accused of holding secret weekly Brexit meetings with pro EU Cabinet ministers and civil servants of which no record has been made, sparking accusations of a "conspiracy to derail Brexit".
---
'Brits aren't STUPID!' Brexiteer brilliantly DISMANTLES no-deal Brexit scare stories
Brexit supporting businessman Richard Tice has fired back at no deal Brexit scaremongering and said British people "are not stupid" and Remainers should "get real". Mr Tice, the founder of Brexit campaign group Leave Means Leave, insisted the "British bulldog spirit will rise up" in the event of a
no deal Brexit
. Mr Tice told reporters: "Isn't it dreadful? We are not going to be able to watch Netflix. We are going to run out of cheese for our sandwiches. I mean, come on. Get real.
---
---
The end of the affair – and does it also herald the fall of a government?
When the Conservative Party announced its marriage of convenience to the Democratic Unionist Party in Northern Ireland, many of us had tears in our eyes.
We were upset that Theresa May had found some stooges who were willing to prop up a minority Conservative government for the sake of a large bung – £1 billion, almost half of which has been delivered – and we were weeping for the future of the country we love.
---
Theresa May Warns Brexit Could Be Stopped As Draft Deal Faces Overwhelming Opposition
Ahead of a "critical week" that will include a summit with EU bureaucrats in Brussels and culminate with a weekend session of the Cabinet to iron out the final details of the draft Brexit deal, Theresa May has run out of arguments and is reviving project fear threats and scare tactics to force Conservative MPs …
Continue reading
---
If there is a People's Vote on Brexit, will you vote differently to how you voted in the original referendum, and why?
The headline is a question posed on the 'Answers' website Quora. I do not answer questions on Brexit any more because of the vitriolic attacks launched by Remainers or anybody who puts forward a gogent argument making the case for britain's leaving the EU. It isn't the attacks themselves that made me quit, but that when Brexit suporters answer the emotive, fact free rants of remainers, which never contain any links to documented evidence supporting their case and we call them out on their easily exposed lies, they complain to the site moderators and try to get us thrown off the site.
---
Finn Academic Makes "Moral Case" For Letting People Decide Their Own Age
Authored by Edyta Wolk via The College Fix,
A recent article published in The Journal of Medical Ethics by a Finnish bio-ethicist made a moral case for the legal change of a person's age to correspond with that person's "experienced age." The piece, by Joona Räsänen of the University of Oslo in Norway, titled "A Moral Case for Legal Age Change," concludes that there are three scenarios when a change to one's legal age should be allowed:
When "the person genuinely feels his age differs significantly from his chronological age," when "the person's biological age is recognized to be significantly different from his chronological age," and when "age change would likely prevent, stop or reduce ageism, discrimination due to age, he would otherwise face."
Räsänen differentiates between "chronological" age, or how long the person has actually lived; "biological age," or the state of one's body; and "emotional" age, the age as which one identifies.
"Legal age is a cause of severe discrimination for some people whose biological and emotional age do not match their chronological age," he argues.
In an interview with The College Fix, Räsänen said:
"Age is (for some people at least) an important part of their identity. People can identify themselves as older or younger than they actually (chronologically) are…I do not deny people's own experiences."
When asked by The Fix how biological age might be distinguished from chronological age, Räsänen was unable to clarify. "I am not a biologist or medical doctor so I cannot give a definite answer here. I believe this is something biologists and medical doctors should consider and decide together with philosophers and bioethicists."
"Psychologists and psychiatrists should be consulted when a person wants to change her age, such as they are consulted when a person wants to change her sex. How exactly this should be done? I am not sure … but for now, I would say that similar psychological tests should be done when (someone) wants to change her sex," he said.
When asked, Räsänen also explained how he thinks certain potential abuses, such as a pedophile's changing his legal age to get around statutory rape laws, could be avoided.
"Children cannot consent to sex, and that explains why sex with a child is wrong. But if an eight-year-old cannot consent to have sex with a 18-year-old or with a 80-year-old it seems that she cannot consent to have sex with another 8-year-old either."
"If a paedophile changes his age into eight to molest children, it is still unethical for him to have sex with someone who chronologically is eight (because it is unethical for two eight-year-olds to have sex with each other)."
He said that another way to avoid such abuses is "to propose upper and lower limits for age change."
"For example, perhaps age change should be allowed only when the new age of a person is going to be something between 18-60," he said. "Maybe there also should be an age limit for the age change, so that a child could not change her age."
Räsänen acknowledged that his argument was a moral one and that "there are some practical problems … on how to implement the idea of age change into practice."
"I believe that these problems can be solved. I believe that legal age change could be, in some cases, beneficial for the age change candidate and, for example, changing age could offer an additional way to fight against discrimination of the elderly. Perhaps it does not work eventually, but maybe it is worth to try."
The Fix reached out to multiple LGBT experts and campus centers at U.S. universities, inquiring as to whether trans-ageism as outlined by Räsänen is considered a comparable phenomenon to transgenderism, in which individuals born as men and women declare themselves women and men, respectively. None of the centers or experts responded.
Age is the New Apartheid
---
Macron Moves Against yellow Vests, Bans Protests In Neighborhoods With "Ultra" Radicals
France is cracking down on "yellow vest" protesters following a weekend of renewed violence - as the Macron administration announced on Monday that it would ban demonstration in several areas of France - including the Champs Elysees in Paris, if "ultra elements" are present, according to Interior Minister Edouard Philippe.
'We will ban demonstrations if ultra elements' are present, said Philippe, according to CNEWS.
The ban will apply to "neighborhoods that have been most affected as soon as we have knowledge of" the "ultras."
"I am thinking of course the Champs-Elysees in Paris, the place Pey-Berland in Bordeaux, the Capitol Square in Toulouse", Philippe added, where "we will proceed to the immediate dispersal of all groups."
Philippe added that he has asked the State Judicial Agent to "systematically seek the financial responsibility of troublemakers."
---
Media Silence Surrounds Muslim Massacre of Christians
While the world united in an frenzy of outrage (whipped up by mainstream media) at the killing of 50 (and counting) Muslim worshippers in a Mosque in New Zealand this week there was not a whisper about a far bigger numerically at least, massacre of Christians by Muslims in Nigeria.
The mosque attacks were unarguably an atrocity worthy of universal condemnation. Presidents, prime ministers, royalty, and religious leaders rushed to extend their condolences to victims and their families — as well they should — while decrying the hate that purportedly motivated the shootings.
Without exception, the mainstream media gave top billing to the shootings, with newspapers carrying the story on their front pages and television news channels leading off their broadcasts with the story. But we should not forget the crime was committed by, according to the evidence released so far, a lone nutter who may have had one or two supporters who indirectly helped. It was not part of an organised religious war.
The most bizarre aspect of news coverage of crimes inspired by religion this week was not, in fact, the attention paid to a heinous crime committed in New Zealand, but the absolute silence surrounding the simultaneous massacre of scores of Christians by Muslim militants in Africa.
As right - wing Breitbart News reported, Fulani jihadists have racked up a death toll of over 120 Christians over the past three weeks in central Nigeria, employing machetes and gunfire to slaughter men, women, and children, burning down over 140 houses, destroying property, and spreading terror.
There are several possible explanations for this remarkable silence, all of which should concern reasonable, fair minded people. It is well documented that over the past few years, Muslim radicals have killed Christians (and Hindus, Buddhists, secular humanists, Shinto and shamanistic animists,) around the world with alarming frequency, perhaps one more slaughter, and in backward, corrupt Africa, did not seem particularly newsworthy to the editors and PR teams at major news outlets. Muslims being killed, on the other hand, may strike many as newsworthy firstly because it is so rare and secondly because it happened in New Zealand, a peaceful, tolerant, liberal country.
Another motive for the media's blanking news of the massacre of Christians in Nigeria may be geo-political and racial. New Zealand is a first-world country where such things are not supposed to happen, whereas many people still consider Africa to be an uncivilised place where brutality and mass killings are commonplace. The slaughter of black Christians in Africa may not ignite sufficient rage among virtue signalling liberals in the west the way a mass shooting of white and brown Muslims in New Zealand would.
Or perhaps it is simply a case of media companies fearing a Charlie-Hebdo-style attack on their premises and staff if they report the truth about Islam.
Finally, a story about Muslims killing people for not being Muslims, or for being the wrong kind of muslim, simply does not play to the political agenda that many mainstream media would like to advance. How much mileage can be gained from Muslims murdering Christians, when Christians in America and Europe are seen as an obstacle to the "progress" twoards a multicultural society under a global government desired by liberals and the Davosocracy? The left sees Christians in the United States as part of the problem and seeks to undermine their credibility and influence at every turn rather than emboldening them.
Anti-Christian bias has been rightly called "the last acceptable prejudice," one that few bother condemning. "No one much cares about offending Christians," wrote the coalition of African-American pastors in an essay last Tuesday. "In fact, mocking, belittling, and blaspheming Christianity is becoming a bit of a trend in our culture. Anti-Christian bigotry truly is the last acceptable prejudice."
"The hypocrisy on display is astounding," the pastors continued. "Christianity is the dominant religion of our country. It is the foundation of our government and morality. And yet, Christians are treated as fair game for mockery and insult."
Christians are by far the most persecuted religious group in the world, and I say that as someone who has not 'identified' as a Christian since going through puberty, but the mainstream media routinely ignore this fact as if it were unimportant or uninteresting. As a result, many people do not even realize how widespread the persecution is or that 75 percent of the victims of religious persecution around the world are Christians.
More On Nigeria Muslim Terror:
Nigerian President Lies: We Have 'Won the War' Against Boko Haram.
Boko Haram is now a mini-Islamic State, with its own territory
2 girls 'aged 7 or 8' blow themselves up in Nigeria market
---
---
There are sheeple who want to remain in the EU at any price, and then there are people who understand the EU
I am not sure people really are up for reading EU related documents or my guess is a whole load more people would be a lot less excited about the EU.
If people read the chequers plan and the political declaration they would know the only people who leave the EU are the financial sector. Everyone else stays in… Without a vote or veto for two years whilst we negotiate the long term deal. Forget the backstop which at least three European prime ministers so far have inadvertently admitted they intend to use to blackmail the UK. Right now we have a mechanism to leave the EU in article 50 but the Chequers deal introduces mechanisms to stop the UK leaving.
Going the other way there are people pushing to remain. Now I wouldn't expect them to read the European constitution because it is huge and boring (although if you want to be expert enough to join in with Quora debate you really should read it) but they should know that it amalagamates/supercedes previous treaties plus it gives the EU all the required powers and characteristics of a nation state. I should add a nation state where all their powers supercedes our own governmental system. Now it didn't get ratified but if you read 'future of Europe:European Parliament sets out its vision' (available online as a pdf and a mere 28 pages. This is a very recent and relevant document), you will see that a number of federal bodies and mechanisms that didn't get ratified in the constitution are being formed anyway. It will require in every area that nation states pay more money to create more centralised bodies. In terms of Africa it requires they just give loads of money to Africa to stem African immigration. That sounds like a pretty open chequebook that will get wider every summer.
Inevitably these initiatives will mean more %GDP heading to Brussels less power in nation states. This document is clearer about the move away from unaniminity to majority /qualified majority voting. This means that countries can't stop European progress in the way they have in the past by vetoeing articles. I had a nice chap commenting about the Irish economy recently and preferential tax Ireland is using to attract tech firms. He said Ireland would vetoe plans that would effect them. No way, not any more and there's a whole section on harmonising EU corporate tax, so Ireland is potentially in a pickle going forward.
In terms of the wording of the 2000 Nice treaty where closer political union excluded armies there is a clear call for national armies to accept recruitment from all EU countries not just their own and a clear mechanism to create a European army. There's also a much bolder stance regarding the single currency. If the UK went back in it would have to use the Euro and ditch the pound. As a bit of a cherry on the cake and being a bit mischievous, there is even an equivalent of the Hitler youth programme designed to indoctrinate young people and make them more European called the 'European solidarity corps'. It even has a militaristic title…nice.
Basically lots of people are terrified of no deal because of the scare stories and no doubt 'scare realities'. A huge chunk of the population are also terrified of change. The thing is they are desperate to stay in Europe 'so they know where they are' and the political elite have somehow managed to downplay European federalisation so effectively to the extent that Farage, who has been pretty upfront about political unification, federalism and the slow anhilialation of our democracy and way of life appears to be a raving nutter. If people really did read some of these documents and see our nation getting more and more hobbled they would be left with quite a stark choice. If you want to remain you need to know that you are pushing for us to remain forever in an organisation that is morphing into the United States of Europe, one where our own political systems either serve Brussels or are entirely symbolic. If you want to avoid change and just want things to stay the same you will be bitterly disappointed. Moreover get yourselves a copy of Europe Inc or at least watch the YouTube video 'the Brussels business, who runs Europe'. You don't need conspiracy theories. All this stuff is in clear view. It's just that people don't read stuff. We have been quietly surrendering our soverinty and self determination. If that means nothing to you by all means push for remain.
I was never an advocate of a hard no deal Brexit but as I have become more knowledgeable about everything I am coming round to the idea that the only way we will be able to leave is by a no deal Brexit. Moreover a no deal Brexit however traumatic is the best position to achieve a quick/favourable deal with Europe.
MORE ON BREXIT
---
EU Very Good for Germany, Not So Much for Everybody Else
Former Ambassador to Germany Sir Paul Lever said in an interview today that Brexit will have little real impact on the European Union (EU), which is overwhelmingly controlled by Germany. Short term he may be right, but with the German economy stalling what will prop up the Brussels cash burning machine one britain is gone?
Lever cited a study by the Germany-based Centre for European Policy Studies, Lever
told
Spiked in an exclusive interview that Germany had
earned
some €1.9 trillion from adopting the euro in its first 20 years, while France had suffered a
loss
of €3.6 trillion and Italy a
loss
of €4.3 trillion from switching to the euro. "German politicians don't like to admit this," said Sir Paul, who was the British ambassador to Germany between 1997 and 2003. Asked how pivotal Germany is to the European Union economically and politically, he said that the EU was
modelled on
the German economic and politcal model. While many (including the president of France, mistakenly believe that EU is run by the French, "actually it's run on a German paradigm. The EU is Germany writ large," he said. "And this is how it has been from the beginning. It is not some recent German plot to subvert the EU – it is how it was set up," he continued. The actual structures of the EU, including the Commission, the European Parliament, the Council of Ministers, and the European Court exactly mirror Germany's own government structure, Lever said, which is "why the Germans find it so easy to operate in Europe," said Lever, who worked in the EU Commission in the 1980s. He did not mention the
EU's dirty, not-so-little secret
that much of the German model was conceived by officials of Adolf Hitler's National Socialist government (1933 - 1945) Sir Paul also said that the UK's exit from the EU will have little real impact on the power balance or operations of the EU, since in key ways the UK has always been extraneous to them. Germany, the richest, most populous, and most powerful nation in the bloc will continue to rule the roost. This ignores the number of member states that are deeply dissatisfied with the direction in which the EU is heading and are worried at French president Emmanuel Macron's bid to reboot Vichy France by signing a treaty to align his country more closely, economically and politically, with Germany. "The two things that currently matter in the EU, and the things that most matter to Germany, are the Euro and immigration. Since we're not in the Euro and we had opted out of Schengen, Britain's voice hasn't been relevant for years on the two most important issues," he said. All of this means that while Britain's departure will undoubtedly be felt, the EU "won't change fundamentally. And whereas the French "will probably feel that Brexit will enhance their authority within the EU," in reality, the Germans will continue to successfully oppose all French initiatives that do not represent German interests, Lever said. This means that regarding "anything that involves a bigger EU budget, a Eurozone budget or giving German taxpayers responsibility for the creditworthiness of other countries, the answer from Germany is no," he said. German politicians say one thing about the EU but their actions do not always correspond to their words. If one looks at how the Germans have actually behaved over the years, "they push for policies that suit Germany and are opposed to policies that hit the German taxpayer in the wallet.
MORE ON EUROPE:
Merkel: EU Members Must Cede control Of Their Border |To Brussels
German Chanellor Angela Merkel sparked outrage today and pushed the EU cloers to its final disintegration when she stated that EU Member states would be forced to surrender on of their most important sovereign powers, control of their borders, to Brussels in order that the unelected bureaucrats of the European commission could 'manage' immigration (i.e. open the border crossings and let any criminally inclined bunch of fanatics enter Europe.
EU Stitch Up To Promote Euronazi Selmayr's Is Typical Of The EU's Contempt For Democracy
# The former Prime Minister of little Luxembourg Jean-Claude Juncker to ensure his chief of staff was installed as the new Secretary-General of the European Commission, in what one senior Eurocrat has called "an impeccably prepared and audacious power-grab" at the top of the European Union.
EU "Sounds Alarm" Over New US Sanctions On Russia; Germany Threatens Retaliation
Late on Friday (21/07/17), Congressional negotiators agreed to advance a cross - party bill that would punish Russia for its (alleged) interference in the 2016 election according to the Wall Street Journal. And while it seems improbable that President Trump would sign the bill if it reaches his desk, the loudest complaint about the bill to date has emerged not from the Oval Office, but from US allies in NATO and the European Union ...
Fears Over Threat To Sovereignty Could Wreck EU European Army Plan
No they're not Star Wars Imperial Stormtroopers, they are German soldiers assigned to an international peacekeeping force, showing how like Imperial Stormtroopers a pan European army might look (Image source)
Germany Threatens Sanctions Against Poland Over 'Lack of Western Values' (for Western read German)
Last year, Poland's conservative nationalist Law and Justice party (PiS), led by former Prime Minister Jaroslaw Kaczynski, captured both the presidency and parliament at elections in May and November. Since taking office, the party's lawmakers have used their parliamentary majority to initiate a series of controversial legal reforms, causing concerns both at home and abroad, specifically in Brussels and in Berlin.
Europe's Bank Crisis Arrives In Germany: €29 Billion Bremen Landesbank On The Verge Of Failure
... yesterday we observed a surprising development involving Deutsche Bank, namely the bank's decision to quietly liquidate some of its shipping loans. Reuters reported, "Deutsche Bank is looking to sell at least $1 billion of shipping loans [a market sector] whose lenders face closer scrutiny from the European Central Bank.
EU Vows To Use Powers To Block All Elected 'Far Right' Politicians From Power
... populist social conservatives are regularly topping the polls across the Europe, but have been victims of EU orchestrated stitch ups to keep them out of power and ddeny the democratic will, in France, Sweden, Holland, and now Austria – and anti-migrant populists are already in power in Hungary, Poland, and the Czech Republic. Mr. Junker's definition of "far right" is somewhat broad, noted by him previously describing Hungary's conservative president, Viktor Orbán, as a "fascist".
Euronazi Leaders Admit The Voters Are Irrelevant.
European leaders threw threats and warnings at each other at a meeting held on Saturday (24 October) as thousands of undocumented travellers continued to stream across borders into the Balkans. Saturday's meeting was in preparation for European Union talks aimed at deciding on a course of action to tackle the crisis (Source: Reuters)...
A leading German member of the European Parliament has warned that top EU negotiators frustrate Brexit in order to punish Britain and keep other Eurosceptic member-states in line as opposition to the Union's authoritarian style of governance grows all around Europe. Hans-Olaf Henkel, deputy chairman of the European Conservatives and Reformists Group – to which …
Continue reading
Only hours after Donald Trump infuriated Angela Merkel and the rest of his G-7 peers by refusing to endorse the Paris climate treaty, the US President has done it again. Hausfrau Volksfuhrer Merkel has now decided Europe can no longer rely on the USA to commit military support to EU nations that do not pay …
Continue reading
---
14 March 2019
Facebook Senior Execs Jump Ship: Chief Product Officer, WhatsApp CEO Quit
At the beginning of this week the future looked bleak for Facebook as the world fell about laughing at founder and CEO Mark Zuckerberg's claim that he wanted to turn his social media privacy piracy business into a privacy focued platform. Zuckerber has pledged many times before to clean up Facebook's act and in each case the company's violations of users' private data have become more blatant and more outrageous.
But now it is all going wrong for the billionaire who sports a haircut a five year old would be ashamed to be seen with.
Less than a day after Facebook suffered an unprecedented system crash that kept's all Facebook domains offline for hours, and just hours after the New York Times reported that a criminal investigation of its data deals is under way, and that a New York grand jury has subpoenaed records from at least two smartphones manufacturers which gained access to personal data of hundreds of millions of users via Facebook.
Zuckerberg - trustworthiness is not one of his strengths
Today Facebook announced that two top execs had unexpectedly quit the company.
In a blog post for employees on the company's website, Zucherberg said that he wanted "to share some important updates as we organize our company to build out the privacy-focused social platform I discussed in my note last week" adding that "embarking on this new vision represents the start of a new chapter for us", Facebook CEO Mark Zuckerberg wrote that both Chris Cox, Chief Product Officer, and Chris Daniels, CEO of WhatsApp, had decided to leave the company.
For a few years, Chris has been discussing with me his desire to do something else. He is one of the most talented people I know and he has the potential to do anything he wants. But after 2016, we both realized we had too much important work to do to improve our products for society, and he stayed to help us work through these issues and help us chart a course for our family of apps going forward. At this point, we have made real progress on many issues and we have a clear plan for our apps, centered around making private messaging, stories and groups the foundation of the experience, including enabling encryption and interoperability across our services. As we embark on this next major chapter, Chris has decided now is the time to step back from leading these teams. I will really miss Chris, but mostly I am deeply grateful for everything he has done to build this place and serve our community.
Zuckerberg announced that Will Cathcart will be new head of WhatsApp, and Fidji Simo will head the Facebook app operation; meanwhile Zuck said he doesn't plan to immediately appoint anyone to fill Cox's role.
"This is an important change as we begin the next chapter of our work building the privacy-focused social foundation for the future. I'm deeply grateful for everything Chris Cox and Chris Daniels have done here, and I'm looking forward to working with Will and Fidji in their new roles as well as everyone who will be critical to achieving this vision. We have so much important work ahead and I'm excited to continue working to give people the power to build community and bring the world closer together" Zuckerberg wrote.
It seems the departing execs left for a specific reason other than to improve their golf handicap or spend more time with their families - i.e., the increasing political scrutiny over the the company that likes to claim it is now world's most powerful and influential publisher of news (not sure Rupert Murdoch would agree with that, but Zuckerberg is nothing if not hubristic.
MORE ON FACEBOOK
Facebook Privacy Piracy
Facebook Digital Gangsters
Facebook Rattled After Report Claims 50% Of Its Users Are Fake
Friendly fraud: Facebook Encouraged Kids To Spend Fortunes On Online Games
UK Parliament Seizes Internal Facebook Documents
Catalogue of posts on Facebook
---
13 March, 2019
Migrant Crimes Concealed to 'Avoid Stirring Up Prejudice'
Germans prptest against government failure to act on migrant sex crime, (source: world.korupciya.com/ )
Law enforcement and local government authorities in a rural part of Germany have been exposed for covering up the many serious crimes committed by 'asylum seekers' within their jurisdiction. The crimes include rape, assault, and child sex abuse. When questioned why they had allowed migrant crimes to go unpunished officials recited the familiar mantra so as not to "stir up prejudice", it has been alleged.
Internal police figures leaked to immigration watchdog groups showe 117 criminal offences took place at single refugee housing complex in Boostedt, northern Germany, during the last three months, and that third world migrants housed in other accommodation in the municipality were listed as suspects in a further 23 crimes.
But officers declined to act on the reported comes or inform the media after receiving orders from the Interior Ministry, which instructed police that "active" notifications from the force's press office on potential migrant involvement in crimes would be "irresponsible", and likely to "stir up prejudice", local media reports.
According to a regional newspaaper, Lübecker Nachrichten, the offences in question were not immigration-related (i.e. entering the country illegall; making false statements in applications for asylum;, but included assaults — some with weapons, rape, threats, property damage, and theft, along with a number of "particularly serious" cases, among them the reported sexual abuse of a nine-year-old girl in February this year.
Boostedt has seen a vast increase in crime since the opening of the asylum seekers refuge at the height of the migrant crisis in 2015, with the 4,600 population municipality hosting 1,369 asylum seekers at the latest count.
The number of offences linked to the migrant accommodation has doubled almost every year since Chancellor Angela Merkel opened German borders to all comers, with 343 crimes recorded last year — up from 33 in 2015 to 69 the following year, then to 126 in 2017.
And yet in spite of this pattern being repeated in every part of Germany where illegal immigrants have been settled, the nation's out of touch political leaders still call on Germans to accept more illegal immigrants.
---
12 mARCH, 2019
Germany: Economy crisis a growth stalls - car production crashes
Germany's federal Government today reduced its growth forecast for the EU's largest economy today after for the second time in two months as plunging car production figures sent shockwaves through the Eurozone. The German economy, already technically in recession, has been propping up the economically stagnant EU for years. After Brexit of course, with the only other net contributor to the EU gone, even a growing Germany economy could not alone have supported the many economic basket cases the empire builders in Brussels have allowed into the European Union.
Forecast GDP growth has been cut to 0.8 percent for 2019, German business newspaper Handelsblatt has reported, citing an official Government document. The Government had already cut growth expectations for this year in January from 1.8 percent to one percent as the economy technically slipped into recession having contracted for the third consecutive quarter. The eurozone's most powerful economy with GDP at more than £3trillion, has suffered from the effects of trade wars, a weakening global economy, and mounting political instability throughout Europe, as the swing to nationalism continues to gather momentum in the wake of Brexit.
A stagnant or contracting economy could result in tax revenues being lower than anticipated this year, increasing tensions in Chancellor Angela Merkel's coalition government over spending priorities and Merkel's sacred cow 'open doors' immigration policy.
The latest downgrade in the nation's economic expectations came after Germany's National Statistics Office said industrial output dropped 0.8 percent in January - well below market expectations for a 0.5 percent rise. Continuation of that trend would mean a catastrophic recession for Germany which would drag down the rest of the EU.
The news follows bleak forecasts from the Economic Cooperation and Development (OECD) on Wednesday, which lowered its growth forecast for Germany to 0.7 percent, a cut of 0.9 percentage points. Separate data from the Economy Ministry showed car production plunged 9.2 percent in January.
RELATE
Europe unglues
Germany catalogue
Globalisation
Daily Stirrer March 2019
10 March 2019
Twenty Mem Arrested for Child Sexual Exploitation in Wakefield, Yorkshire
Nineteen men and one woman have been arrested in connection with the activities of an alleged grooming gang which perpetrated sexual offences against two underage girls in Wakefield, West Yorkshire. The suspects are alleged to have victimised two girls between 2014 and 2016 when they were aged between 14 and 15, according to the BBC.
Neither the national nor religious backgrounds of the suspects or victims has been made available for publication, and the nature of the alleged offences — first reported in 2016 — have not been disclosed though giventhe similarities with caes in nearby Rotherham and elsewhere it's likely most people will be.
"We have now arrested and bailed 19 men and a woman as part of an ongoing operation into the child sexual exploitation of two females in the Wakefield District," confirmed Detective Chief Inspector Fran Naughton, who has been leading the investigation, in an official statement issued by West Yorkshire Police.
"This large scale enquiry will be ongoing for some time and we will update residents when we can and it is legally appropriate to do so," Naughton added.
"I fully appreciate the concern news of these arrests will cause in communities within the Wakefield area and can assure residents that the force is very experienced at managing investigations of this kind.
"Wakefield, just like other district's in the force, has a dedicated team of experienced safeguarding officers who work to protect those at risk and conduct enquiries to identify and prosecute those seeking to cause harm. We work closely with partners in local authorities, charities and partner agencies to support victims, and are, of course, doing so in this case.
"As always, we continue to urge all victims of sexual abuse whether recent or historic, to report it to the police. We realise the trauma victims suffer as a result of these dreadful offences and can promise those who came forwards will be listened to and supported by trained, dedicated professionals who want to deliver justice for them."
More on UK Abuse scandals
Yellow Vests ransack MASONIC LODGE in French village as protest gets out of hand (VIDEO)
Yellow Vest protesters in the small French town of Terbes broke into and trashed a Masonic lodge. The attack has been condemned by the French government, which accused the protesters of "stupidity" and "intolerance."
A crowd of around 500 protesters gathered in Tarbes on Saturday for the 17th weekend of anti-government demonstrations. At about midnight, according to La Dépêche newspaper, some protesters began shouting "we're going to the freemasons!"
A breakaway group from the main protest marched on the Masonic temple and battered down the door of the secretive organization's lodge headquarters. More protesters pelted the building with rocks and eventually forced their way inside. They smashed furniture, destroyed the mystic art hanging on the walls, and stole four ceremonial swords which they gave back later on.
Police have opened an investigation, and France's Interior Minister Christophe Castaner condemned the vandalism.
MORE ON FRANCE
8 March 2019
div id="190308-gore-brexit">
Al Gore Brands UK Politicians 'Cowards' for Not Forcing Second Brexit Referendum
Former U.S. Vice President Al Gore lashed out at British politicians, calling them "cowards" for failing to betray the will of the majority and force voters into a re-run of the 2016 referendum on Britain's membership of the European Union.
Speaking at the Climate Change Leadership summit in Porto, Portugal,(Gore is one of the leading profiteers from climate change,) the 70-year-old Democrat referred to the notorious "Breaking Point" poster launched by Brexit campaign leader Nigel Farage at the height of the campaign, showing a huge column of what were assumed to be illegal migrants pouring through EU external borders in late 2015.
"One of the most powerful posters in the 'Brexit' campaign was one that showed an endless line of refugees saying, 'The EU failed'," Gore told his hosts — although, in fact, the legend read "The EU has failed us all".
"I do not want to get into the issue, but as a politician I will say that I think politicians of the United Kingdom are cowards for not allowing a second referendum," he declared, suggesting that many migrants — many of whom turned out to be violent criminals or even radical Islamic terrorists — are fleeing climate change.
The multi-millionaire did not press the issue, of Brexit, however, explaining: "I have enough problems in my country, with the crazy Trump." Or perhaps he had other reasons ...
Al who? you might well ask. Al Gore; he's a billionaire who flies round the world in his private jet to make speeches warning people of the catastrophe's that will happen is ordinary wage earners do not reduce their carbon footprint by cutting back on their lifestyles.
Naturally, while hyping up the threat of carbon dioxide Gore never speaks of how he has almost doubled his personal fortune by trading in carbon credits, the permits doled out to developing nations allowing them to produce CO2 'to aid development.'
As some ancient 'bubble and squeak' called Homer (not the one who features in a cartoon comedy,) put it 2500 years ago, "
"I detest that man, who hides one thing in the depths of his heart, and speaks forth another"
Yes, Gore is a destestable hypocrite, and were he in any way qualified to lecture the British on how to manage our domestioc politics we might have been well informed enough to recall one of the major turning points in the referendum campaign was when the war criminal and mass murderer Barack Hussein Obama came to Britain and told us all we must vote "Remain."
---
Dutch professor: "Western countries have never managed to integrate Muslims"
Picture credit: Shutterstock via Voice of Europe
Dutch professor of sociology Ruud Koopmans has carried out a 20-year research project embracing several large scale studies on integration and assimilation, and at the end of it all he concludes that Muslims are more difficult to integrate than other migrant groups.
Koopmans notes that no Western country having received a significant number of Muslim immigrants has successfully managed to persuade them to integrate with local laws and culture. "Muslims are much worse at integration than other groups of migrants, and there is no doubt that in most other groups of migrants, we see great progress from one generation to the next. Although it's not completely absent in Muslims, the change is much slower," he told Danish newspaper Berlingske recently.
The studies found that around 65 percent of Turkish and Moroccan Muslims in the six European countries with the largest Muslim immigrant communities consider religious rules to be more important than the secular law of the country in which they live. Muslims consider themselves a superior caste and segregate themselves from other non-Muslim immigrant groups, going out of their way to minimise social interaction with people ot of their religion.
The fundamentalist interpretation of the Quran, which is prevalent among Sunni Muslims, the most numerous Islamic sect and by far the greatest number of Muslims living in Europe, prevents them from being integrated into Western countries.
Up to 50 percent of Muslims in Europe are of a fundamentalist persuasion, blieving that to honour their god they must live according to rules prescribed in The Koran, which was written in the medieval era. By contrast, the proportion of Christian fundamentalists, who try to fit their morals to The Bible but otherwise accept most of modernity, is much lower, at around 4 percent, according to Koopmans' data.
"I conclude that the Islamic world is lagging behind rest of the world when it comes to democracy, human rights, and political and economic development," Koopmans told Berlingske, pointing out in support of his argument to conservative views on family life the role of women, low investment into children's, particularly girls, education, excessive punishments such as the amputation of a hand for theft or pblic beheading for adulterers, such as have not been seen in the west for hundreds of yearts, and fundamentalist propaganda.
"The main problem is how many Muslims and, globally, many Muslim countries interpret Islam. Namely, in a way that basically claims that the Quran and the Sunna must be taken literally, and that the way the Prophet lived in the 7th century must be the yardstick for how Muslims should live in the 21st century." "Such a brand of Islam is, firstly, a threat to world peace. Secondly, it prevents integration," Koopmans concluded.
He is right of course, The Daily Stirrer and Boggart Blog have commented on the problem of Muslims reluctance to integrate many times.
Catalogue of Daily Stirrer / Boggart Blog posts on Islam
Western Nations Are Not The Only Ones Having Problems With Islam
Germany Rejects Yazidi Asylum Seekers Fleeing Persecution By Islamic Extremists
Finnish "Soldiers Of Odin" Announce Hunt For Rapists & Pedos In Controversial Video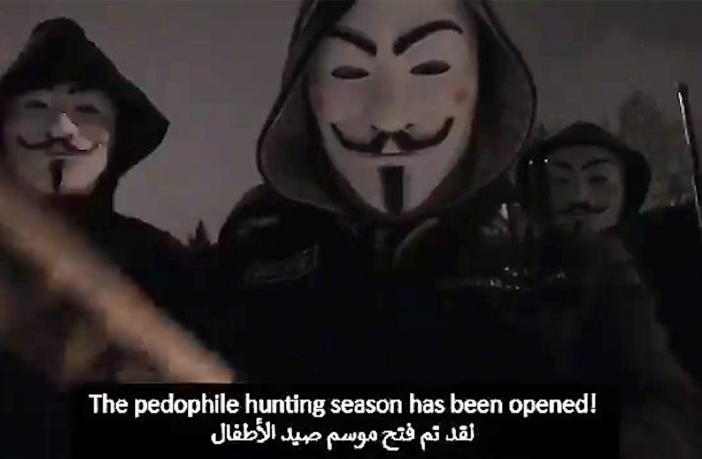 The video, subtitled in English and Arabic, has
since been deleted from both Facebook and Vimeo,
shows a group of masked men dressed in dark
, armed with bats and chains march towards to the camera amid winter darkness, accompanied by heavy metal music. The man at their head acts as a spokesperson and announces that
"The pedophile hunting season has been opened!"
The speaker claims that their targets are the
"sex tourists who have invaded our country" and "hunt our children".
And explains that the Soldiers of Odin are going to take justice into their own hands,
since "the authorities and the politicians do nothing".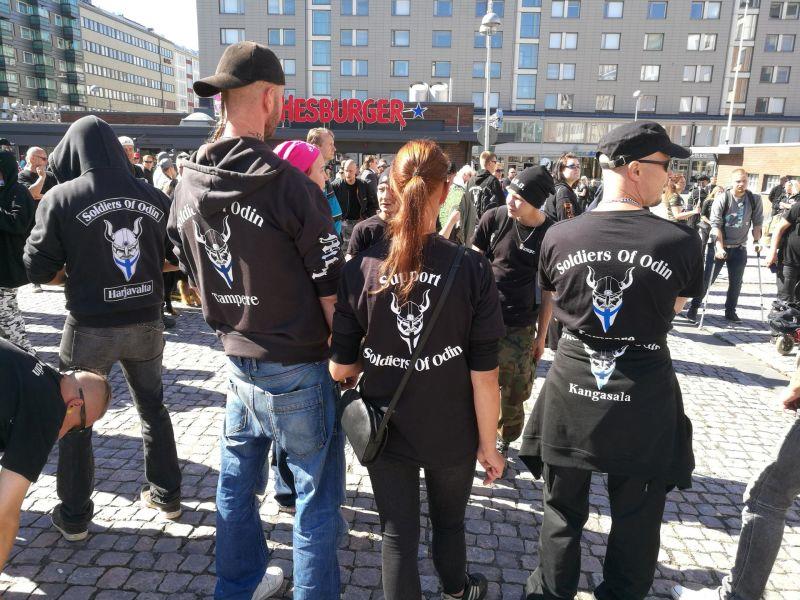 The Soldiers of Odin also say that half of the sexual propositions to underage girls in their city came from Arabs. However, the group stress that the hunt is open for
"domestic pedophiles and rapists of all colours".
\the pattern of a huge incresse in sex crimes against \european women has been repeated across Europe, most notably in Sweden, Germany and
Britain
The Soldiers of Odin do not intend that Finnish men will be seen as so emasculated by politically correct indoctrination they have lost the testicular fortitude to defen their women and girls, as the sokesman explained quite forcefully.
"We guarantee you that a date with us will be memorable. And hey, don't worry, we won't call the police", they state.
The video is a response to the cases of sexual abuse of minors perpetrated in Oulu and Helsinki by a group of foreigners, who have been arrested by the police. The National Police Board has asked the
Helsinki Police Department to assess whether a hate crime toward ethnic groups should be suspected
and to determine which preventive and other measures should be taken regarding the publication. The Police Board says that;
"suspected crimes cannot be systematically responded to with serious offenses"
. And; "responding to sexual crimes with crimes of violence does not help in the protection of human life and health or contribute to public safety." As usual, as we have seen in Britain, Germany, Sweden, Italy, Netherlands, Austria, Belgium, the authorities hide their inaction in reponse to sex crimes by followers of The Religion Of Hate And Misogyny behind weasel words. The hate crime is not telling the truth about migrant crimes, the hate crime is the contempt for free, independent women followers of that religion feel.
RELATED:
Immigration omnibud
Sweden dystopia (omnibus)
Europe Unglues
---
Emmanuel Macron's desperate push for further integration reminds Brexit supporters why we voted to Leave
Daily Telegraph, 6 March
Anyone who though in 2016 that staying in the European Union wass the status quo option will have been disabused by the intervention of Emmanuel Macron and his blueprint for the future of the \europe. The French president is increasingly derided in his homeland for his folie de grandeur; but even his compatriots must be taken aback by his Napoleonic pretensions to create a pan-European state.
Mr Macron, facing insurrection, economic crisis and a pandemic of immigrant crime at home from the gilets jaunes movement, Muslim migrants refugees and angry workers has concluded that the solution to the rise of populism on the continent is "more Europe". You know he has the wrong answer just by looking at those who are cheering him on, the Eurocrats and western europhiliac politicians for whom the "project," i.e. the creation of a federal European superstate, is everything. READ ALL >>>
Europe
More on France
Latest posts
4 March 2019
Macron admits Yellow Vest chaos COULD be his fault - 'I made MISTAKES'
Then he continuing, blaming the rest of the EU, nationalism, Italy and the working classes for the problem.
President Emmanuel Macron of France is trying to appear as if, after sixteen weeks of protests, he is finally acknowledging his initial handling of the yellow vest protest movement was flawed and high handed, admitting it exacerbated the unrest. The europhile president, who recently infuriated his critics by signing a treaty that will lead to closer economic and political integration between France and Germany, also warned against giving in to the wave of nationalism sweeping across the bloc, as he called for a "strong, united and sovereign" Europe.
He said: "When we move ahead too quickly … we make mistakes. I've made mistakes in the past, which are part of the explanation for the [yellow vest] crisis. We cannot leave those who need to work, to live, to move face an uncertain future devoid of opportunities," he continued, as he called for "reconciliation" following 16 weeks of sometimes violent anti-government protests.
In fact that amounts to a non - admission of culpability because Macron treied the same grovelling mea culpa trick back in December, as reported by France 24, before ramping up the police violence in a bid to suppress criticism of his regime.
https://cdn.images.express.co.uk/img/dynamic/78/590x/secondary/vest-1765877.jpg?r=1551718882420
Picture credit: Christian Hartmann, REUTERS www.express.co.uk
The yellow vest movement – which takes its name from the fluorescent safety jackets all French drivers must carry in their cars – started way back in mid-November over rising fuel costs and planned fuel tax hikes but quickly morphed into a popular revolt against Mr Macron's perceived neglect of the working class and globalist, pro-business economic policies.
His government has since deployed paramilitary police to quash the crisis – which is still ongoing – and when that failed he tried promising to increase the minimum wage, slash taxes for low-income pensioners, tax-free overtime pay and a scuttling of the controversial fuel tax. Unfortunately for his government, few people believed him.
Mr Macron also spoke against the continuing growth of support for nationalist parties in Europe, as he called for the soon-to-be 27-member bloc to remain "united and sovereign". The boy Macron seems to have a very vague grasp of what sovereign means as only yesterday his mentor Hausfrau - Volksfuhrer Merkel was demanding that memberr states surrender sovereignty over border control to the EU.
Urging EU states to fight against any form of "retreat into nationalism," the 41-year-old said countries needed to instead focus on an advance into Maoism working together to resolve common problems, such as mass immigration from sub-Saharan Africa and economic slowdowns. Again Macron is talking through his derriere, since being elected he has constantly called for more immigration and more erosion of European cultures to accomodate the excesses of Islamic extremism.
He said: "No country in Europe, not Italy, not France, will solve its problems by opposing itself to other European countries and by turning inwards at national level. We will solve our problems by cooperating." Or as his German allies might put it, "Ve haff vays of making you cooperate."
RELATED POSTS:
Yellow Vests Protest Merkel-Macron Plan To Integrate Defence, Foreign Policy
The Yellow Vests, Deplorables and Gammons Are Here To Stay
Greenteeth posts on France
---
3 March 2019
Gang of Migrants Allegedly Raped Underage Italian Girls
Over the past few years we have focused on reporting the numerous incidences of immigrant sex crimes against white British girls and women, most of which, due to the wrped morality of politically correct thinking that permeates all levels of government and the public sector, went largely unpunished for many years until public pressure forced the authorities to act.
What is it about the left wing mindset that enables them to screech and scream about women's rights and toxic masculinity or claim that a European man putting his hand on a woman's arm consitutes serious sexual assault, but gang rape which is surely one of the most horrible and psychologically damaging crimes, is less serious if the perpetrators have darker skin than their victim?
Migrant sex crimes, and government cover - ups of them are not exclusive to Britain of course, we have occasionally looked at similar problems in Sweden, Germany and France. And now it seems, Italian women are to be sacrificed to the gods of multiculturalism.
A gang of five Muslim migrants have been arrested in Italy after being accused of luring four underage Italian girls with drugs, imprisoning them, and taking turns sexually abusing them. The alleged migrant rape gang consisted of three Albanians and two Moroccans aged between 17 and 20-years-old. They are accused of locking up four Italian girls in an apartment after inviting them over with the promise of alcohol and drugs, Il Giornale reports.
Investigators say the young migrants, who came from "non-disadvantaged, integrated and working families", lured the underage girls in July of last year after meeting them through school. After arriving in the apartment, the migrants locked the girls in the apartment so they would not be able to escape. After the girls begged to be released the migrants threatened them saying they would throw them out of the window. It is a pattern of abuse instantly recognisable to those of us who have followed the grooming and abuse cases in Rotherham, Birmingham, Oxford
and elsewhere in Britain.
One of the girls was then separated from the others and stripped of clothes as the five migrants sexually abused her and filmed the ordeal on their mobile phones. The case comes after two other high profile cases involving migrants drugging and sexually abusing Italian girls over the last year. The first, which occurred in February of 2018, saw 18-year-old Pamela Mastropietro lured away from a drug addiction recovery centre by a Nigerian drug dealer.
Ms Mastropioetro was later killed and her body dismembered and put into suitcases that were left on the side of the road in the Italian commune of Pollenza. Several months later, another young Italian girl, Desirée Mariottini, was found dead in an abandoned building site known to be connected to the city's drug scene in Rome. Witnesses say the 16-year-old was drugged and sexually abused by several migrant men before she died of an overdose which prosecutors allege was caused on purpose by her attackers.
This abuse and brutalisation of European women is sadly becoming the norm. Historically, widespread approval of class, sexual or racially-based scapegoating is a necessary precursor to eventual genocide. The process through which this comes about is well understood and well applied - first ridicule, then demonise and then destroy - and the latest group targets are white nationalist-traditionalist heterosexuals and their children** who are now being assaulted on every front by empowered minority groups of sexual deviants, predatory aliens and avaricious globalists.
Our ruling classes, their MSM propagandists, their uniformed and civilian attired enforcement arms, feral African-heritage criminal empires, the global jihad and their Antifa street soldiers are all still some way away from that stage of dealing with us free thinking and freedom loving reprobates, but the possibility inches slowly forward day by day as history has demonstrated so many times before.
We must stop this abomination now before that disparate collection of predators and parasites coalesces into a united front whilst we remain fragmented and often isolated in relatively safe non-metropolitan bubbles simply getting on with our lives mostly unaffected in our personal 'calm in the eye of the storm' whilst ignoring the tempest closing in around us.
---
---
UPS Halts Deliveries To Swedish No Go Zone:- "Our Drivers Have Been Attacked":
Though European leaders and the more sychphantic mainstream media journalists throughout Europe ans in the USA and Canada have always denied the existence, of no - go zones for Europeans, police and emergency services in migrant-dominated areas of European cities, "no go" zones remain a persistent public safety threat to white, Christian and Jewish residents and to the public in general. It has been widely reported in alternative media (but harly mentioned in mainstream print and broadcast news, that liberal Sweden has been the country worst hit by immigrant violence and lawlessness.
In the latest illustration of how the Swedish government's refusal to accept there is a problem that migrants of certain religious and ethnic backgrounds are not only unwilling to integrate into Swedish society but absolutely refuse to respect Swedish law, culture and traditions, or even acknowledge the fact that - as Swedish police chiefs warned back in 2017 - these areas represent "parallel societies" where Swedish institutions aren't recognized, UPS has ceased delivery to Rosengard, a notorious neighborhood in Malmo, Sweden, after several of its drivers were assaulted and robbed.
According to local media reports cited by RT, delivering to the neighborhood has become too dangerous for UPS, after the US carrier told the press that "our drivers have been attacked and therefore we have decided not to hand out packages at [the district]." Ironically in 2017 a pair of US liberal journalists went to Sweden with the intention of complining a report that would discredit the stories of no - go zones completely and expose the idea as 'a far - right conspiracy theory'. Within a few days of starting their project they were approached by leaders of the local immigrant community and told whites were not welcome in the community and if they did not leave there would be painful consequences. The Americans wisely did not stay to find out what the consequences might be.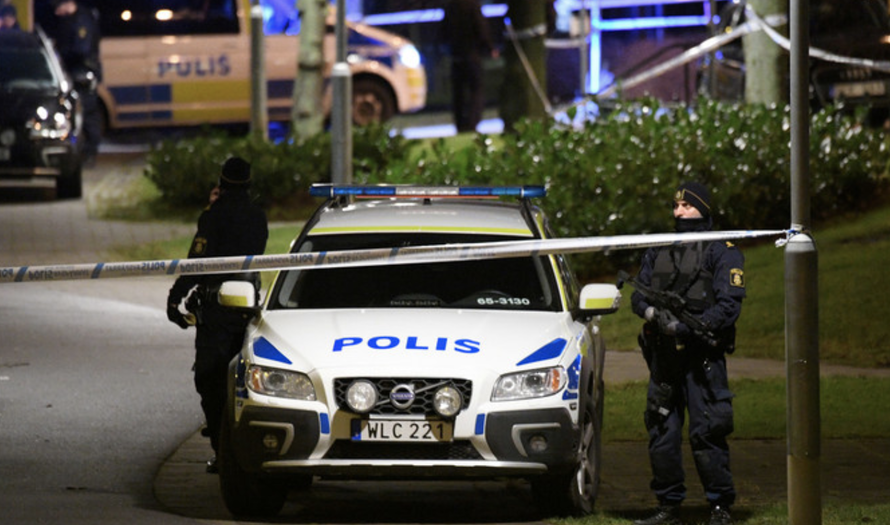 The UPS decision to cease package delivery to one of Sweden's no - go zones follows a spike in crime in the notoriously poverty-stricken neighborhood, where police say they cannot effectively carry out their law enforcement duties.
Rosengard, a troubled, immigrant-dominated neighborhood, has gained notoriety due to a spike in violent crime recorded in recent years. Gun violence, armed robberies, and other offenses seem to have become commonplace there, according to media reports. The district, plagued by unemployment and poverty, has previously appeared on a list of Sweden's 'vulnerable areas', which some media and local politicians refer to as 'no-go zones'.
Across Europe, the term "no go zone" is now used to refer to areas where any government agency, even the police are afraid to enter. UPS isn't the first organization operating in Sweden to adopt an official company police to avoid 'no go' zones. That list also includes PostNord, the country's government run postal service.
For some local service providers at least, the words 'no-go zones' are taken quite literally. In 2017, the Swedish ambulance union said first responders need military-grade protective gear to withstand the dangers of such areas. Later that year, the government-run postal service, PostNord, halted mail delivery to some addresses near the troubled Stockholm suburb of Rinkeby, where large-scale riots were taking place.
Back in 2017, a leaked police report identified 23 'no go' zones across the country where police couldn't effectively operate.
But in the US, the New York Times and its partners in the mainstream press refuse to acknowledge the existence of an immigrant driven spike in crime in parts of the liberal Nordic paradise, just as left wing journalists in Britain continue to deny the grooming and rape of European girls by organised gangs of immigrant men claiming, despite two government commissioned reports confirming these cases and the failings of police and local authorities. Why? Because it contradicts the pro-immigration agenda of the globalist, cultural Marxist consensus among the ruling elites.
MORE ON EUROPE'S iMMIGRATION PROBLEMS
1 March 2019
Merkel: EU Members Must Cede control Of Their Border |To Brussels
German Chanellor Angela Merkel sparked outrage today and pushed the EU cloers to its final disintegration when she stated that EU Member states would be forced to surrender on of their most important sovereign powers, control of their borders, to Brussels in order that the unelected bureaucrats of the European commission could 'manage' immigration (i.e. open the border crossings and let any criminally inclined bunch of fanatics enter Europe.
Several nations responded immediately. The Hungarian government warned that the EU's unelected executive and Germany's Hausfrau - Volksfuhrer Merkel, whose action of opening Germany's borders to all comers spaked the current migrant cvrisis, want to take away national governments' power to control their own borders and thus turn Europe into "a continent of immigrants".
This is a sacred cow policy for globalists and like all globalist ideas would benefit the rich and corporate business by creating a surplus of labour and driving down the wages of Europe's middle and working classes.
Hungary's State Secretary for International Communications and Relations Dr Zoltán Kovács warned that plans to expand the role of the centralised EU Border and Coast Guard Agency (Frontex) were a blatant attempt to wrest sovereign powers from member-states by taking border control out of national governments' remit and handing it to the supranational body.
To support his claims about the intentions of Europes European elite, he quoted arguably the bloc's most influential player, Chancellor Angela Merkel of Germany:
"[President of the European Commission] Jean-Claude Juncker has already put forward a proposal that states that Frontex must be reinforced. However, this also means – and this is what I support, at least – that member-states on the external border of the EU must give up their national competencies in order to give Frontex truly comprehensive competencies."
Kovacs warned fellow national politicians,"Beware when a senior figure says that countries 'with external EU borders' should 'surrender their national competences'. That should set off warning bells throughout the EU," he said. Kovacs then compared Mrs Merkel's words to those of billionaire plutocrat and open borders activist George Soros, who boasted that "our plan treats the protection of refugees as the objective and national borders as the obstacle".
The Hungarian emphasised EU leaders' constant stress on border management — "It's never 'strengthening' or 'defending' borders. It's always about 'managing' them and that's a euphemism for immigration," he asserted.
Meanwhile, Hungarian foreign minister Péter Stíjjártó claimed that the increasing hostility of the Brussels bureaucratic dictatorship to pro-sovereignty, anti-mass migration conservative and national populist governments and parties in Europe is due to their rejection of policies that encourage illegal immigration and their refusal to become "migrant hosts," taking in numbers of illiterate third world peasants dictated in quotas imposed by Brussels. He made the claim at a joint press conference with his Polish counterpart, Jacek Czaputowicz.
In particular, the foreign minister highlighted the EU's anger at Hungary and Poland being among the first European countries to follow U.S. President Donald Trump in rejecting the United Nations Global Compact for Migration — championed by the unelected EU High Representative for Foreign Affairs and Security Policy in what the Hungarian described as an attempt to "force it down nations' throats".
MORE ON IMMIGRATION
Europe: index of posts
28 February 2019
Bradford Gang of nine who abused care home girls jailed for 132 years
Picture credit: www.express.co.uk
A gang of nine Asian men who, in a case that follows the pattern set by similar cases in Rotherham, Rochdale, Birmingham, Newcastle, Oxford, Sheffield, Blackburn, Telford and many other towns which has large Muslim populations in Britain,groomed, raped and abused two teenage girls from a care home were jailed for a total of 132 years at Bradford Crown Court yesterday.
The victims both aged 14 at the time of the abuse, were plied with drink and drugs to desensitise them prior to being forced to have sex with multiple partners. The paedophiles also employed threats and physical violence to groom and sexually abuse the girls in hotels happy to rent rooms by the hour in Bradford.
Sentencing the gang, Judge Durham Hall said: "The damage and hurt you have caused for your sexual pleasure has been revealed to all, and the lengths some of you went to corrupt and groom a girl are truly appalling."
"The jury have seen this case for what it was - clear, determined and insidious grooming." Kama Melly QC, prosecuting, told the court how the girls had been "vulnerable to manipulation" prior to being subjected to sickening abuse at the hands of the men "to satisfy their sexual desires". The teenagers repeatedly ran away from their local authority home in Bradford, but because it was not a restrictive unit, the staff had no power to stop them leaving late at night, Bradford Crown Court heard.
The six-week trial mirrored many in recent years in which gangs of men, typically migrants from Pakistan and Bangladesh, with a sprinking of Somalis, have groomed and abused vulnerable teenage girls.
In a reference to previous cases, Judge Hall said: "No court in England and Wales seems to have escaped grooming by groups or individuals of vulnerable young persons. As the knowledge of the opportunity to take advantage of damaged young people spreads, it is not uncommon for young men to get involved."
Addressing the defendants, he added: "In the trial it was clear you didn't get it, and some of you still do not get it now."
In a victim impact statement one girl said: "I have the most irrational thoughts because of anxiety. I have a fear of going to the shops, and very rarely go to restaurants or out on an evening with friends. I was manipulated, used, nothing but a toy to play with."
The second victim, Fiona Goddard, now 25, who waived her right to anonymity, said: "I showed signs of a promising future and wanted to be a lawyer. Because of the abuse I dropped out of school and was in trouble with police. Rebuilding my life has been hard while my abusers walk the streets, but hopefully getting justice is the first step towards this."
The allegations came to light in 2014 when one of the victims contacted the BBC after seeing a report on the sexual abuse of hundreds of young girls in Rotherham.
Rotherham
,
Rochdale
Immigration omnibus
Sweden dystopia
Germany's migrant problem
Yazidi Genocide
Weaponised rape
---
Across the pond the Islamization of New Jersey schools advances, with little or no opposition
Mainstream media's intentionally misleading headline for this story reads: "Paterson Schools Show 'Cultural Competency' with the introduction of Halal food" for Muslims. But it is NOT 'cultural competency' whatever the Hell that means. It is submission to Islam by ignorant Christians, too busy virtue signalling to see what's going on, and Jews, who never would think of demanding Kosher food to be served in public schools.
It seems our friends in America are fighting the same battles as we are:
Passaic County News
An initiative to ensure
healthy and full meals
Islam-approved food for a large segment of Paterson Schools students was launched Monday when, for the first time, Halal food becames available at John F. Kennedy High School.
According to Superintendent Eileen Shafer, the program will also launch at Paterson School # 5 where she believes as many as 30% of the students will choose the new option while 15% may do so at JFK to comply with religious dietary requirements. The program is projected to eventually reach every school in the city, Shafer added.
On hand was Mohammed Akhtaruzzaman, a former member Paterson City Council, who explained the religious significance of Halal culinary fare.
"Halal meat such as chicken, cattle, or goats, is slaughtered and prepared to follow the (inhumane and barbaric) Islamic way," Akhtaruzzaman said. "Muslims do not eat pork. For food to qualify as Halal, it cannot be fried or mixed with other food that is non-Halal."
Citing cost as an impediment previously Akhtaruzzaman, a native of Bangladesh, said that efforts to introduce Halal food options to the school's menus date back to 2011. "We tried back then and the school board was open to it. However the only place we could get Halal food was from Dearborn, Michigan. It was too expensive."
Meals to feed as many as 500 students were prepared at JFK on the first day of the pilot program Dave Buchholtz, Director of Food Services, said. While the food trucked to the school is all the same its in the preparation, which food services have been specially trained in, that makes the difference.
The previous lack of a Halal food option meant that "there were a number of students in Paterson schools that were not afforded three meals a day," Board of Education Commissioner Nakima Redmon said. (Ever hear of bringing a bag lunch?)
"It is very important for them to have access to food that also considers their culture submits to their religious demands.."
| | |
| --- | --- |
| | |