The Daily Stirrer is constantly looking at the news and trying to dig out the stiory behind the story. With latest news that does not make mainstream media and controversial reporting and opinion, we are loking forward to bringing you inside information on the disintegration of the European Union, the replacement of the Petrodollar as global reserve currency, the continuing decay of the USA (unless Trump can neutralise the authoritarian warmongers of the deep state, and we don't think he can) and the ongoing problems caused by the flood of illegal immigrants from the third world to Europe and North America. We certainly do live in Interesting Times.
Daily Stirrer, April 2019
Editor's note: The Daily Stirrer believs in the universal right of free speech, this does not mean we necessarily agree with the views expressed by our contributors.
30 April 2019
mScientists claim mystery substance 'Dark Matter' does exist and explains 90% of the universe
DARK MATTER is not a hypothetical substance but is real and is a fundamental building block of the universe, according to a shocking new exercise in speculative mathematics. Astrophysicists estimate dark matter accounts for 85 percent to 90 percent of all the matter in the known universe. Scientists, however, have mostly been unable to detect the mystery material because its weak interactions with the electromagnetic force are intangible at best. Instead, astrophysicists have only been able to infer its existence from the gravitational effects it appears to have on normal matter. As a result, dark matter is considered a hypothetical substance likely built from a form of undiscovered subatomic particles.
This has led some scientists to question whether the substance exists and whether it will ever be discovered.
A new study published in The Astrophysical Journal, led by the International School for Advanced Studies (SISSA), has sought to dispel the doubt surrounding dark matter.
Chiara Di Paolo, a doctoral student of astrophysics at SISSA, said: "Three years ago, a few colleagues of the Case Western Reserve University strongly questioned our understanding of the universe and the in-depth work of many researchers, casting doubt on the existence of dark matter in the galaxies.
"Analysing the rotation curves of 153 galaxies, principally the 'classical' spiral kind, they obtained an empirical relationship between total gravitational acceleration of the stars, observed, and the component which we would observe in the presence of sole ordinary matter in the classical Newtonian theory.
I saw some Dark Matter once, it looked just like Rocking Horse Shit.
Sci - Tech menu
27 April 2019
Spainish Election: Vox Party Could Win First Seats In Parliament For Far Right Since Franco Died
In a few days Spain will vote in its third in just four years but with nationalistic and anti EU feeling sweeping the nation as it is the rest of Europe this vote could produce a very different outcome to the inconclusive results of the previous three. The far-right party Vox is predicted to pick up some parliamentary seats for the first time since the country transitioned to democracy about 40 years ago.
Supporters like the Vox party's tough stances against immigration and feminism, and against the push for independence in the Catalonia region in northeastern Spain. Critics say it has revived Spanish nationalist ideas that had become fringe after the fall of Spain's long dictatorship. In consequence, the usual slurs, fascist, Nazi, racist, Islamophobe, hate merchants, far right thugs etc, which are thrown from the left come as no surprise to Juan José Bonilla, Vox's lead organiser in the agricultural, ultra - conservative El Ejido region where support for Vox is strongest. Bonilla only joined the fledgling party last November after years of loyally voting for the mainstream conservative Popular Party (PP).
A patriotic man, Bonilla dismiises the fragmentation of the Spanish Right, waving a Spanish flag from as he addresses the media.
Juan Jose Bonilla prouldly displays a Spanish flag on his desk - Picture: Daily Telegraph
"See this? This flag? It is like we are ashamed of it, you cannot hang it outside or it's looked upon as a disgrace," he says. "When I wave it they call me a 'racist' and 'fascist', but at Vox rallies we fly the flag. It is a question of pride."
His words are clearly nationalistic, but are being echoed all around Europe and further afield as charismatic leaders emerge to galvanise resistsnce to the globalisation of mediocrity.
"They're increasing hate, racism, and a lot of things that were hidden," says María Bayó, 40, who is talking about politics with friends outside a bar in the outskirts of Barcelona, in Catalonia.
Bayó is a supporters of Catalonia's bid for independence from Spain, a divisive issue and a different face of nationalism. But she blames right-wing parties for railing against secessionists and immigration, while distracting from important problems like the lack of jobs and affordable housing. Spain's high unemployment rate, which hovers above 14%, is the top concern for most Spaniards, according to the Center for Sociological Research.
Originally slated for next year, Prime Minister Pedro Sánchez called early elections after his center-left Socialist government failed to get its budget passed in February.
As with both 2015 and 2016 parliamentary elections, no single party is expected to win an overall majority on Sunday. That could mean drawn-out jockeying among parties to form a coalition government. Under its charismatic leader Santiago Abascal, the Vox party - with its slogan 'Por Espana', 'For Spain' - believes it can form a part of a right wing coalition by outperforming polling predictions. The party has been filling sports stadiums and bullfighting rings with huge crowds waving Spanish flags to rousing patriotic music in a way that the Trump campaign enthused supporters in the USA's 2016 election..
It has been an astonishing transformation. At the last election in 2016, Vox polled just 0.2 per cent of the vote, but polls now show it on course to win 10 per cent nationally, translating to more than 30 seats in Spain's 350-seat national parliament.
Mr Bonilla gives three reasons for the sudden success of Vox, which was founded five years ago by a breakaway group of disgruntled PP politicians, and scored its first big electoral win last December in the regional election for Andalusia, where El Ejido voted 29.5 per cent for Vox.
The first is the Catalonia independence issue, and the failure of Spain's mainstream parties to clamp down on regional nationalism; the second is identity and immigration; and the third (and here Mr Bonilla mimes the palming off of backhanders) "corruption, corruption and corruption."
MORE ON SPAIN
EU imposed a
usterity started Spain's political fragmentation
The Dream Of Federal Europe Is Falling Apart
---
26 April, 2019
Google Is Helping Governments Violate Your Privacy
by Xavier Connolly
A new law suit filed in the USA complains that Google is helping the U.S. government circumvent constiutional protections in order to conduct warrantless searches on citizens. The Electronic Privacy Information Center (EPIC) has formally accused Google of scanning billions of personal files of users at the request of the U.S. government. EPIC recently filed a "friend of the court" brief alleging that Google is helping the U.S. government conduct warrantless searches by scanning user files in search of potentially illegal content or evidence of crimes.
The new suit came in response to United States v. Wilson, a case in which it was shown Google scanned billions of users files in an attempt to identify images of children reported as lost or missing by the National Center for Missing and Exploited Children (NCMEC). After scanning images contained om users computers, Google contacts law enforcement agencies with information on individuals who have images that may show missing children. Unfortunately this entire process happens without permission from users or a warrant issued by a court, and without reasonable grounds to suspect the individuals whose files are accessed of involvement in any crome. EPIC's brief argues that "because neither Google nor the government explained how the image matching technique actually works or presented evidence establishing accuracy and reliability, the government's search was unreasonable."
EPIC claims the situation allows law enforcement oficers to ignore civil rights protections against unreasonable search and seizure of property and conduct warrantless searches with help from Google.
"If, for example, police officials would like to examine the digital files of certain suspects, they can simply turn to Google, which will do all the searching for them – and without the time, expense or hassle of getting a warrant for this search," CPO Magazine reports. "For police departments, warrantless searches of digital material would be one way to make their criminal investigations much easier."
This particular case centres on a new Google algorithm that scans files to locate a specific image using image matching. Previously, the NCMEC was required to provide Google with image hashes, used to identify a unique image without showing the actual image. However, Google's new algorithm uses image matching instead of image hashing. EPIC said the "lower court made a key mistake" by confusing file hashing with the more personal method of image matching.
EPIC's concern centers around the ways this technology might be used to target citizens for their religious or political affiliations, or even for viewing content security sgencies disapprove of. Remember, the US Govertnment under the Obama Administration, the UK Government under both Labour and Conservative Administeatuions, the German Government and the French government have all seriously considered crominalising the viewing and discussion of content questioning climate change, vaccine programs, military interventions in sovereign nations and criticism of Islam. After the shooting in Christchurch, New Zealand, (March 2019,) officials threatened jail time to any New Zealand citizen in possession of the shooter's livestream video. With Google's current policy, what's to stop New Zealand's law enforcement from asking Google to search user files for a copy of the banned "hate content"?
This type of arrangement with tech companies allows the government to avoid applying to a court for a warrant and sets dangerous precedents for future extensions of surveillance regimes. The world's largest search engine company is facing increasing scrutiny as news of their comtempt for privacy laws, their deceitful statements to media about privacy policy, and their abuse of illegally obtained user information makes headlines around the world. For example, Google recently came under fire for choosing to build a censored version of their search engine for the Chinese government under the Dragonfly program.
If Google continues to show the world they respect neither privacy laws or users' civil rights, why are so many people still not only using the tool but waxing lyrical about how it has improved our lives? The realities are that Google's search technology made it a lot easier to hide information governments or tech companies do not want you to see, and that corporations will work with governments to erode privacy—and thus, freedom — so long as they know huge numbers of people around the world will still believe what they are told to believe and carry on using the services of corrupt and totally self interested corporate entities.
Google omnibus
Google privacy
Google and Facebook monopoly media
23 April, 2019
May Will Offer Her Brexit Dire Deal For A 4th Vote because She Has No Plan B
Ian R Thorpe
After the Easter recess, the UK Parliament is back at work today and Brexit-related news is back in the headlines. Nothing has changed since May struck an agreement with the EU for a six-month extension of Article 50, which the EU made conditional on The Prime Minister getting her Brexit-In-Name-Only treaty accepted by British lawmakers before elections to the European Parliament in May.
Talks with tho opposition Labour Party, aimed at finding an alternative to Mrs May's Brexit deal remain deadlocked with Labour's insistence on a second referendum the biggest obstacle. Though the Tory and Labour representatives resumed talks on Tuesday, widely cirulated rumours suggest the talks could fall apart in the coming days.
Whatever happens with the talks is of little irrelevance because the EU has been clear that the withdrawal agreement (suspected to have ben drafted by Angela Merkel because of its one sidedness,) is the only deal it will accept. That deal has already been thrown out three times by The British House of Commons. Though the margin of defeat has shrunk in each successive vote it is still substantial. So long as the Irish Backstop, the section which would keep Norther Ireland tied to the EU while mainland Britain left, remains the immovable object blocking the deal's progress it's unlikely that May will be able to win over enough Brexiteers to push the deal through.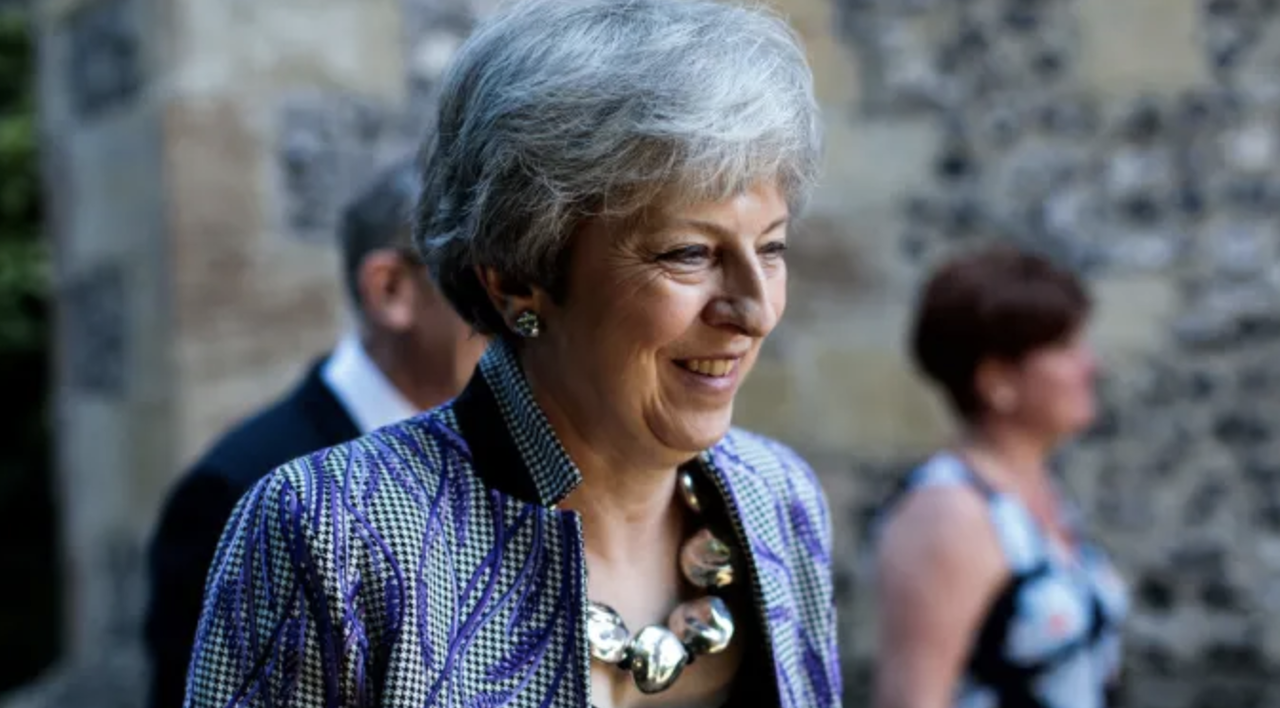 Theresa May looks as if she is about to throw up after hearing the latest Brexit - Picture: Zero Hedge
With few viable alternatives apart from another extension and another and another, the Financial Times reported on Tuesday, surprising absolutely no one, that May, now if not recognised as the most stupid, arrogant, stupid politician ever, surely a contender, is preparing to bring the virtually unaltered withdrawal agreement back for a fourth vote.
Just like the third vote, May will need to embrace some procedural maneuvers to satisfy Speaker Bercow's condition that the deal must be "substantially different" than prior votes if May wants to bring it back. This time, the withdrawal agreement will come packaged in a more far-reaching withdrawal agreement bill.
And a vote could come as soon as next week.
Downing Street sources suggest a fourth vote on May's bill could be the last chance to avoid Britain's participating in the upcoming elections to the EU Parliament, something May had desperately sought to avoid and which would result in the anihilation of the Conservative Party bloc in the European Parliament.
If , as is probable,the bill is defeated again May would be prohibited from bringing it back for another vote until a new session of parliament begins in November. We guess May, ever a fanatical supporter of the EU and globalism, would stubbornly try to find some kind of procedural loophole to keep bringing her deal back and keep Britain in the EU until opposition evaporates from sher fatigue.
Even if it should eventually manage to pass the Commons, there are still procedural hurdles to negotiate before Brexit could be officially delivered. The Daily Telegraph reports:
The treaty the bill is intended to implement includes provisions such as the UK's £39bn exit payment to the EU, protection of citizens' rights, a transition period and the so-called backstop to avoid a hard border on the island of Ireland. If the legislation is rejected, as currently seems likely, the government could not reintroduce it again in this session of parliament.

"It would be quite a big thing," admitted one ally of Mrs May. In those circumstances the bill could only be brought back if the current parliamentary session was ended.

Approval for the legislation would kick off a tortuous passage through parliament during which the bill could be amended. Attempts to add a customs union or a second referendum would be expected. Even if the bill did eventually become law, Downing Street said there would still have to be a separate "meaningful vote" on Mrs May's deal under the terms of 2018 Brexit legislation. However, that would be expected to be a formality if MPs have already approved the bill to put the draft treaty into effect.
Whatever happens, May's deal, along with May herself, may soon become a footnote in history. That's because, as
the Telegraph
reported, Sir Graham Brady, the leader of the influential 1922 Committee of Conservative members with no official government position, is planning to confront the boss on Tuesday and demand that she sets a date for her resignation or the party's members will change the leadership rules to allow her to be ousted (after surviving a no confidence vote late last year, May is immune from further challenges for a year under the current rules).
Other prominent Conservatives, including Nigel Evans, member for Ribble Valley (where I live though I didn't vote for him,) have called on May to resign immediately.
RELATED POSTS:
'Special place in hell' for Brexiteers, says Donald Tusk
Though he is despised in his own country for the way he sold out to the EU, former Polish leader Donald Tusk, now EU Council President, released an astounding attack on Theresa May as she toured Northern Ireland. His comments were condemned by the unionist DUP party, which wants to nix the only thing the EU and UK agree on. Daily Stirrer
'Have you learned NOTHING from Brexit?' Brilliant moment Andrew Neil SKEWERS German MEP
Threat Of Major Scandal Prompted Early Election Move – UKIP
Leaders of the (UKIP) have made astonishing claim that Prime Minister Teresa May's calling an early General Election was done to pre-empt a series of by-elections that could be called following alleged electoral fraud. Accusing the Conservative government of "putting party before country", UKIP appeared to suggest the scandal and ensuing disqualification of MPs could rob the government of its slender majority.
Nigel Farage Swipes Back At Irrational, Screeching, Crazy Clinton
US Democratic Party presidential candidate Hillary Clinton launched a hysterical, irrational attack, filled with half truths and blatant lies, against the most prominent figure in the campaign to get Britain out of the EU (Brexit), UK Independence Party leader Nigel Farage, during a speech at a rally today. Mrs Clinton, responding to Farage's address to a large and enthusiastic audience at a Donald Trump rally, may have been rattled at the prospect of having such a hihly effective campaigner in the rival camp ...
Rebellion Against EU Authoritarianism Escalates As 8th Member Nation Threatens Referendum
Brussels went too far, they crossed the line in moving from an economic union to a political pan - European political empire. In the end it was a race as to which member state would quit first, Britain, Natherlands, Denmark or Italy. In the event it is Britain.
Is Brexit A Harbinger Of Doom For The 'Experts' The Brexit vote, the decision by a democratic majority in Britain to leave the European Union has sent shockwaves around the world. Not only does the EU now face a tsunami of departures, the usurpation of democracy by 'experts' ( technocrats ) has been challenged and exposed as a sham.
BREXIT vs. GREXIT – The Truth About The European Union And How It Treats Members
Unless the testicularly deficient politicians stand up for their nations he only thing that will halt the European Union's push beyond Europe's geographical borders to incorporate Asian, middle eastern and north African nations is war. Power is addictive and the bean counters of Brussels have ambitions far beyond Europe.
The Hypocrisy and Snobbery Of The Remain Campaign And The Antidote

When I had to defriend a Facebook contact because she was arguing in favour of the EU, it was not simply because I support Brexit that I had become pissed of with her, it was the snobbish and condescending way she dismissed supporters of LEAVE and their case. People are entitled to their opinion on the European Union, but they should check the 'facts' they post in support of their arguments.
The Labour Case For Brexit by Kate Hoey M.P.
After my short intro is a savage indictment by Brexit supporting Labour MP Kate Hoey of the way the Labour Party has abandoned the working class and is now trying to betray the party's proud heritage and its roots in the industrial areas by taking Britain into an undemocratic, corporate controlled, capitalist friendly, elite dominated globalist control freak project.
Dutch Referendum This Week Shows why We Should Leave The EU.
Few of you were aware probably that there is an EU referendum vote in The Netherlands this week. As usual with anything negative about the EU barely a word has been printed in the topic in mainstream media and the silence from our notionally unbiased national broadcaster The Bolshevik Broadcasting Corporation (BBC) has been deafening.
French, Belgians, Dutch, Italians Follow Britain in Euroskepticism
Europeans want us British to lead them out of Europe. Don't be fooled by project fear, the European Union (aka the Euronazi Federal Superstate) is falling apart. There will not be chaos if we leave, there will be chaos if we stay.
Head Of European Institute: Brexit 'Better' For Everyone
Brexit would be the best result of Britain's in / out referendum for both Britain and the EU i a Belgian professor who heads up the European Institute at the London School of Economics (LSE) has said.
Johnson's article lines up his reasons why Britain must exit on June 23rd. It's time to be brave
OK, I know a lot of you think Boris is most accurately described by a word many people find offensive, but he's put together a very good argument here on why we must leave the EU. Published in part here under 'fair use' terms and conditions, in the public interest ...
Cameron's EU Package: Not A Deal But A Few Turns In The Spin Machine As we and almost everybody else predicted, David Cameron's deal to improve Britain's relationship with the EU is worthless. It changes nmothing, and can be vetoed once we have voted to stay in.
21 April 2019
Stunning Video Shows Parked Tesla Spontaneously Exploding In Chinese Garage
Xavier Connolly
The last thing troubled electric vehicle maker neded apart from another loony outburst from its insane Founder / CEO Elon Musk, is another story highlighting the inherent problems of the cars's battery technology, which has proved embarrassing time and again for the company since Musk ordered his engineers to sacrifice safety for range.
About 24 hours before Tesla's coming "Investor Day" and just moments after news broke that Tesla had been granted a restraining order on a short seller who has been critical of the company on Twitter, stunning video has surfaced of a Tesla catching fire and exploding, while parked.
It did not appear that anyone was in the vehicle at the time of the explosion.
A self proclaimed Tesla owner in Shanghai that Tweets under the name @ShanghaiJayIn posted video on his Twitter moments ago of what appears to be a Tesla Model S, 1st generation, catching fire spontaneously in a Chinese parking garage ...
---
20 April, 2019
Yellow Vest Violence Erupts Again, 23rd Straight week Of Protests
Clashes between Gilets Jaunes (Yellow Vest) protesters and French riot police on Sturday (20 April,)during the 23rd straight week of protests across France. Police arrested 137 protesters Euro News reports.
Most recent Yellow Vest protest in the wake of Notre Dame cathedral fire - Picture: Anne-Christine Poujoulat / AFP - Getty Images vis Zero Hedge
French authorities had expected the protests to be more violent following the fire at Notre-Dame Cathedral on Monday, which many people in France believe to have been an act of terrorism. Some demonstrators from the left of the political spectrum took issue with the approximately 1 billion euros ($1.12 billion) pledged so far to restore the national treaure by many of the country's wealthiest families, including the owners of luxury groups LVMH and Kering, the Bettencourt family behind the L'Oreal beauty empire, and corporate entities such as BNP, Total, Société Générale and Sanofi, according to Euro News.
Several banners displayed by demonstrators clearly referred to the disastrous fire, which prompted an outpouring of national sorrow but was politicised by some activists. "Millions for Notre-Dame, what about for us, the poor?" read a sign worn by a demonstrator. "Everything for Notre-Dame, nothing for Les Miserables," read another sign that evoked Victor Hugo's well-known novel (or maybe the musical based on it. - Reuters
The police asked that nonviolent Yellow Vests "disassociate yourself from these violent groups, let law enforcement and emergency services intervene."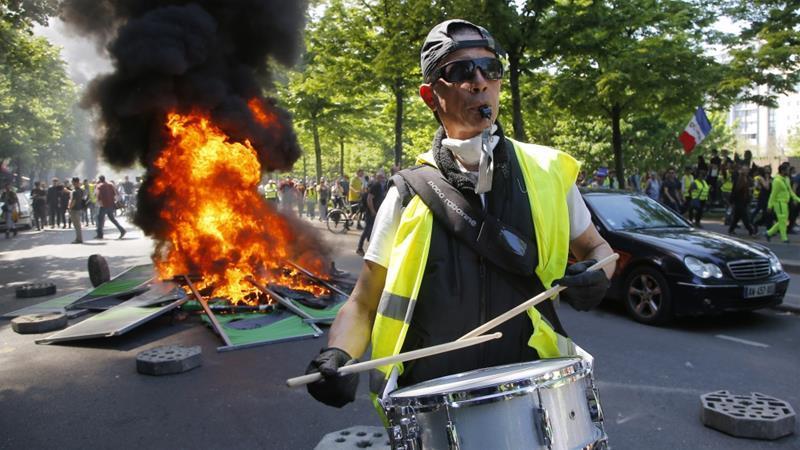 Protesters burned cars and motorcycles, shops closed due to looting, which is now an ordinary event in France
Talking to reporters on Friday, France's Interior Minister Christophe Castaner, said that intelligence services expected rioters to take to the streets in several cities including Toulouse, Montpellier and Bordeaux but "most particularly in Paris."
"The rioters have visibly not been moved by what happened at Notre-Dame," Castaner added, criticising the "polemic" and "the most absurd conspiracy theories" that surfaced following the blaze at Notre Dame Cathedral on Monday. He also condemned calls made on social media to protest near the ravaged monument.
One of the conspiracy theories concerning the Notre Dame fire is that it was a government backed 'false - flag' outrage designed to distract French citizens from the protests and the dissastisfaction that triggered them. Castanters words can only add momentum to that wild rumour.
19 April, 2019
The Daily Stirrer is having a few staff problems at the moment, our editor / webmaster Ian is spending a lot of time supporting his wife who is in hospital recovering from a serious illness, science - technology expert Xavier is having health problems himself, not serious but energy sapping, and Phil T Looker who handles finance and economics is not a techie. So posting is a bit patchy. Bear with us, it will come together again. For now we will ensure activity by posting links to other sources running stories readers might enjoy.
---
---
---
Europe's Nationalists Unite Behind Salvini Ahead Of EU Elections
With the EU elections due in May this year expected to deliver another body blow to the dream of a Federal European superstate, Europe's more conservative nationalist parties have today announced an alliance that is aiming to become the strongest group in the European Parliament, with a view to forcing to radical reform on the EU bureaucracy in Brussels, which dictates policy on security, migration, family and the environment, according to Euro News.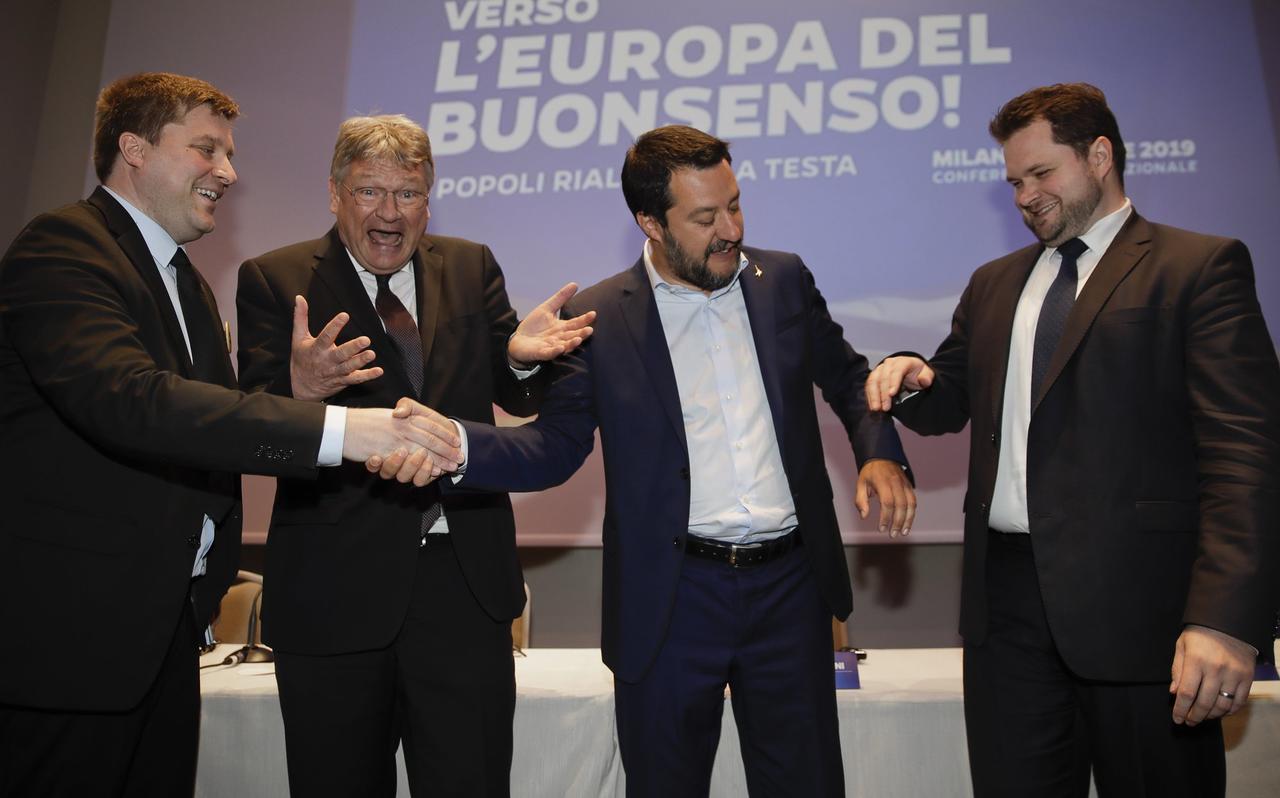 "The news is that we are broadening the community, the family. We are working for a new European dream today. For many Europeans, the EU (European Union) is a nightmare," Italian Deputy Prime Minister Matteo Salvini told reporters following a meeting of Europe's nationalist party leaders in Milan. Salvini is spearheading the alliance, called "Towards a Europe of Common Sense," which he says he hopes will "win and change Europe."
Salvini was joined Monday by the far-right Alternative for Germany's co-leader Joerg Meuthen, Olli Kotro of the euroskeptic populist party The Finns, and Anders Vistisen of the right-wing, populist Danish People's Party. Those parties now come from other parliamentary groups, the European Conservatives and Reformists (ECR) and the Europe of Freedom and Direct Democracy (EFDD). -AP
The alliance hopes to form a majority bloc following the May 23-26 elections - "the most numerous, important, determined and forward-looking group," according to Salvini.
"We are not aiming to lose or just participate. Our goal is to win and change the rules of Europe."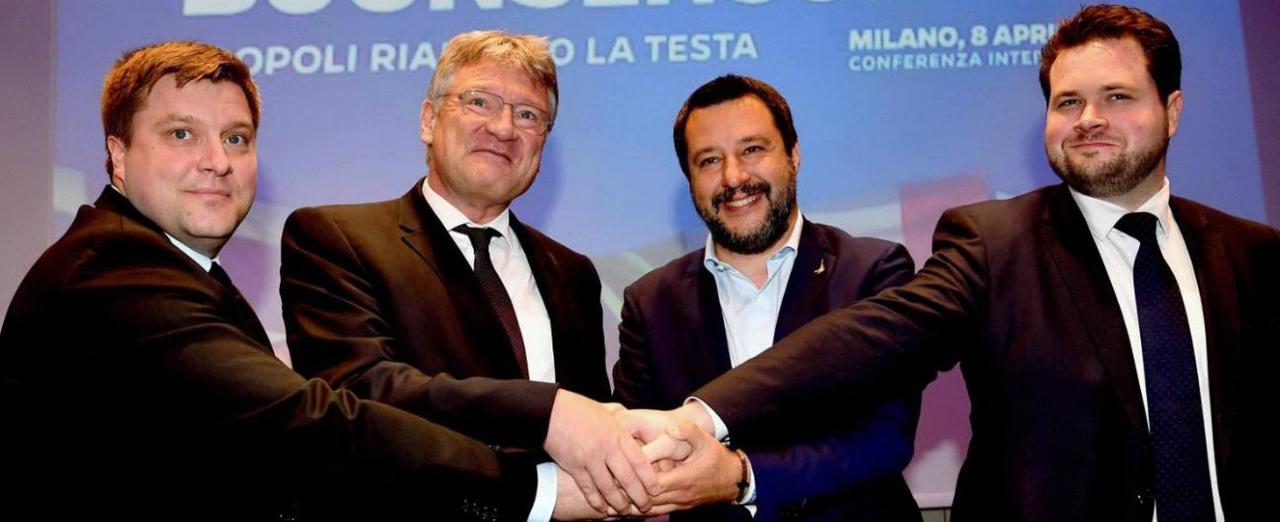 Europe's right-wing populist parties are currently divided into three groups: The Europe of Nations and Freedom (ENF) group — which includes Italy's the League, France's National Rally, Austria's Freedom Party and the Netherlands' Party for Freedom — the European Conservatives and Reformists (ECR), which groups the Danish People's Party and the Finns Party among others, and the Europe of Freedom and Direct Democracy (EFDD), which has the Alternative for Germany (AfD) and the UK's Brexit Party . -Euro News
The group's top priorities are a halt to all illegal immigration, restore political sovereignty to EU nations, protect "European culture," and enforce stronger European border controls. They see the main threat to Europe as Islamic extremism.
"As interior minister for 10 months, the No. 1 risk in Italy and Europe is Islamic extremism, Islamic fanaticism, Islamic terrorism," said Salvini. "There are extreme-right and extreme-left minorities in Italy and in Europe, (but) they fortunately are controlled and of limited numbers."
Salvini rejected the notion that the groups in his alliance are filled with political extremists bent on totalitarian rule. The far - right extremists narrative is of course purely left wing scaremongering by people who describe any suggestion that immigration should be controlled as racist and fascistic.
"Today at this table there are no nostalgic extremists," Salvini said, adding: "The only nostalgics are in power in Brussels. Today, we look ahead with a clear memory of what happened in the past, but the tired debate of right, left, fascist, communist, is not what makes us passionate."
Political experts say the May 23-26 European Parliament vote could prove to be a tipping point in post-war European politics, if traditional political powerhouses lose support and extremist, populist parties gain more clout.

The vote, which involves 705 seats this year, is run as national ballots in each of the bloc's states. National political parties with common ideology then unite in EU-wide groups, like the center-right EPP, the center-left S&D Socialists or the liberal, pro-business ALDE.

The new euroskeptic alliance, launched under the banner "Toward a Europe of common sense," expands on the parliament's four-year-old Europe of Nations and Freedom Group (ENF), which already includes France's far-right National Rally, Austria's Freedom Party and the Netherland's Party for Freedom. -AP
The alliance, which is holding a rally on May 18 in Milan's central Piazza Duomo, says their invitation is open to all like-minded parties who wish to join the faction. If they win a majority in the EU elections, the group would cancel for good the process of inviting Turkey to become a member of the European Union - a process which has been stalled for years. Commenting on this, Salvini said Turkey is nothing to do with Europe, apart from a small enclave around Istanbul, Turkey is on the Asian continental land mass and is different religiously and culturally from anywhere in Europe.
MORE ON THE COLLAPSE OF THE EUROPEAN UNION
Europe Unglues
Europe index
Europe Unglues
Europe index
Brexit index: UK Waved Goodbye To Federal Europe
---
---
Leave would win again in 2nd referendum Diane Abbott admits
BBC interviewer Justin Webb lost it with Diane Abbott during an angry exchange over whether another Brexit referendum vote was one of Labour's "red lines" as negotiations with Theresa May's 'Remain at any cost' negotiating team continue to debate a way forward with members of Jeremy Corbyn's far - left Labour Party, to try to deliver Britain's exit from the EU. The senior Labour politician admitted Britain WOULD vote to leave the EU AGAIN given a second referendum.
Abbott refused to say whether Brits having the final say on any Brexit deal was one of the party'd demands in EU brexit talks with the Government. She was pressed by a BBC host. The Labour Party has been engaged in negotiations with the Conservative Government this week after Theresa May reached out to Jeremy Corbyn to try to get Brexit over the line, which sparked fury among many in the Conservative Party. Speaking on BBC's Today programme, the shadow home secretary was quizzed over whether a second Brexit vote was a "necessity" of the negotiations with the Government, before she admitted Leave would likely win again.
Ms Abbott said: "The Labour Party is united on the fact a People's Vote is still on the table, that is the conference position."
Pressed by Webb on whether any agreement with the Government must have a second vote attached to it, Ms Abbott said: "We are not saying anything definitively but we have a position."
The BBC host snapped back: "Hold on a second, if you had a position you would be saying it definitively wouldn't you?
"Lots of your support, I imagine quite a lot of people listening now, would be saying, 'we need another vote and we need Labour, which is overwhelmingly supported actually by people who would like another opportunity to say they want to remain in the EU, we need to have an opportunity to say that'."
Ms Abbott replied: "People's Vote was part of the policy package we passed at conference. Of course, you can have different types of People's Vote, you can have what is called a confirmatory ballot, where you get a deal and you put it back to the people. That's a standard trade union process, you negotiate a deal, then you bring it back to your members for a vote.
"Or you could have a People's Vote if you thought it was the only way to stop a no deal Brexit, but the principle of the Labour Party supports some kind of People's Vote was set out in the policy agreed at conference."
The BBC host, who was completely wrong to suggest that Labour voters overwhelmingly want a new vote, typically of BBC news department he was looking only at the section of the population domiciled in London while the majority of Labour voters outside London want 'No Deal'. Webb also demanded Ms. Abbott tell him if the British people having another vote after negotiations was a "red line" for Labour's negotiators.
Ms Abbott said Labour was a "member led party and the members are being clear on this question of some kind of People's Vote, so it has to be part of our negotiations with the Government."
Unofficial sources say the talks between Labour and the government have broken down but both sides insist the discussions will reopen in Monday morning.
RELATED POSTS:
EU threatens to torpedo May's Brexit deal as she lies to nation about her surrender
Daily Stirrer
---
Currency Wars: Former UN Under-Secretary-General Calls For One World Currency
In this page, we have covered US attempts to expolit its position as issurer of the global reserve currency, and the moves by China and Russia to resist that. Moves to establish the US$ as a true global currency began a long time ago with the creation of the International Monetary Fund at the Bretton Woods conference in the final months of World War 2, with Germany defeated and the world ready to split into capitalist and communist factions...READ ALL >>>
---
Hijab wearing, Jihad supporting U.S. Congresswoman refuses to condemn stoning of gays.
Ilhan Omar (with Bernie Sanders behind thinking "I wouldn't mind giving her a taste of my pork sausage) - picture credit www.thenation.com
It had to happen, and it was always going to be great comedy value when it did. U.S Liberals were always going to face the moment when their love of Gays, Lesbians and Trannies clashed head to head with their love of terrorists and the Islamic Jihad.
When hijab wearing, Jihad supporting Muslim woman Ilhan Omar was elected to the US Congress in spite of her strongly anti - American opinions, Liberals were creaming their pants and hailing a great victory in the struggle for equality, diversity and multicultruralism. Poor fools are terminally hypocritical in their virtue signalling, how else could they simultaneously claim to support gay rights clauses and the fanatical supporters of a religious sect that imposes a death sentence on gays. Anyone with more brain cells than testicles or tits as the case may be, would have to be aware that support for the LGBT community and support for fundamentalist Islam are incompatible.
The new intake of elected represenatatives were sworn in and took office in late January, so it has not taken long for the truth of Islam top bite the minority loving liberals on the arse.
Condemned many times by Democratic colleagues for her anti-Semitic conspiracy theories, repeating arguments used by Nazi Germany to jusify anti - Semitism and using anti-Semitic tropes. Omar has compared Israel to the world's leading state sponsor of terrorism in media interviews where she also suggested that Israel should not be allowed to exist as a Jewish state.
Conservative news site The Daily Wire contacted Omar's office on Friday to give them a chance to respond to allegations that she had expressed support for the stoning and flogging of homosexuals in compliance with Sharia law, and notified them that a non-response would be considered a 'refusal to condemn' these acts. Omar's office again did not respond to the inquiries."
Omar's obviously realizes that she is widely regarded as anti-Semitic, and if she isn't, should have responded to the allegations and made that clear. Her non-response is in keeping with the Leftist and Islamic supremacist practice of never according opponents even basic human respect and courtesy, a Leninist/Alinskyite practice that has echoes in Muhammad's behavior toward Infidels, and is intended to dehumanize and marginalize them.
But Omar does not just imply her guilt by silence, she also actively expresses her support for the vile, inhumane treatment of certain minorities under Islamic Sharia Law:
"Omar Refuses To Condemn Gays Being Stoned To Death Under Sharia Law, Violence Against Israel From Hamas," by Ryan Saavedra, Daily Wire, March 29, 2019:

"This is abhorrent and inhumane," Omar tweeted of the conditions in which a group of detained migrants was being kept. "It's without a doubt a reflection of what white nationalism is doing to our country. As a country, we have to acknowledge that this is how people are being treated here and decide that we are better and we must do better."

Following Omar's remarks, The Daily Wire reached out to her office via phone and email to get her thoughts on two recent news items.

The first story comes from Brunei, where Sultan of Brunei Hassanal Bolkiah has said that new Sharia laws that are going into effect are a form of "special guidance" from God, according to Sky News.

The nation is going to introduce death by stoning as a punishment for gay sex and "amputation for those guilty of theft under sharia law, with both penalties to also apply to children once implemented."

The second story comes out of the Middle East, where the Palestinian terrorist group Hamas recently fired 20 rockets into Israel and destroyed the homes of innocent civilians.

The Daily Wire asked Omar if she could provide comment on either story and if she found either of these acts to be "abhorrent and inhumane."

The Daily Wire also asked Omar if she would say that these acts are due to radical Islam.

Omar and her office refused to respond to multiple requests for comment.
So which way do American liberals (and certain university brainwashed idiots in Britain (yes Owen fucking Jones I mean you and the negative - IQ morons who follow you, which way do you jump. Is killing people for being gay OK with you, or do you finally agree with the wiser voices you have spent so long condemning and accept there is no room for a religion that advocates barbaric treatment of women and sexual minorities in civilised society.
RELATED POSTS:
Muslim Intolerance
The Left Do Not Tolerate Diversity
How Can The 'Left' Talk Of Equality When They Don't Tolerate Diversity Of Opinion
Bestselling Author Fired for Mocking Publisher's Diversity Policy
Media Silence Surrounds Muslim Massacre of Christians
---
Millions Of Facebook Records Found On Amazon Cloud Servers
Bloomberg reports that researchers at UpGuard, a cybersecurity firm, found troves of user information hiding in plain sight, inadvertently posted publicly on Amazon.com's cloud computing servers. The discovery shows that a year after the Cambridge Analytica scandal exposed how unsecure and widely disseminated Facebook users' information is online, companies that control that information at every step still haven't done enough to seal up private data.
Coming on the back of urging the government to take over regulating his responsibilities and remove his accountabilities, Bloomberg notes that in one instance, Mexico City-based media company Cultura Colectiva openly stored 540 million records on Facebook users, including identification numbers, comments, reactions and account names.
The problem of accidental public storage could be more extensive than those two instances. UpGuard found 100,000 open Amazon-hosted databases for various types of data, some of which it expects aren't supposed to be public.
"The public doesn't realize yet that these high-level systems administrators and developers, the people that are custodians of this data, they are being either risky or lazy or cutting corners," said Chris Vickery, director of cyber risk research at UpGuard.
"Not enough care is being put into the security side of big data."
Notably, the UpGuard page that Bloomberg is referencing is now '404'.
MORE AT ZERO HEDGE >>>
---
---
Macron Isolated After More High Profile Resignations. Pressure Mounts On French President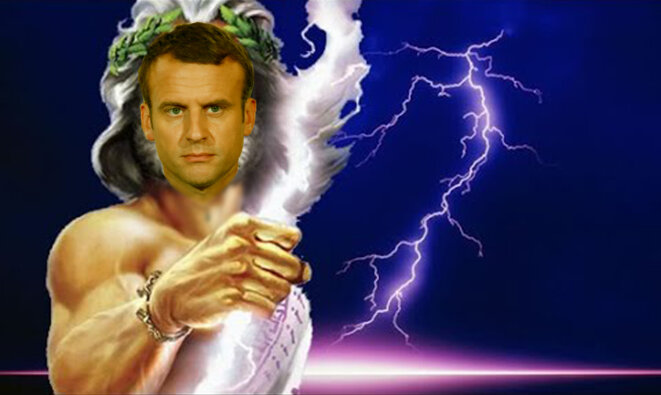 On being elected President of France, Emmanuel Macron said he would rule in the style of Roman God jupiter

On top of the yellow Vests debacle, which is now destabilising France as the anti - government protests continue, a string of high profile resignations from the tottering government of President Emmanuel Macron has prompted Gérard Larcher, leader of the French Senate to warn Macron that his authoritarian tendencies were partly to blame for the civil unrest crisis and political instability that have weakened his presidency. Mr Macron's office announced this wek that government spokesman Benjamin Griveaux and Digital Affairs Minister Mounir Mahjoubi were leaving the administration, along with European Affairs Minister Nathalie Loiseau. Monsieurs Griveaux and Mahjoubi are said to be planning to launch rival bids for next year's mayoral election in Paris. The current mayor, Anne Hidalgo, a socialist is seeking re-election. Mrs Loiseau, was a key player in communicating the French government's stance on Brexit throughout the unsuccessful negotiations, she will move to head up Mr Macron's pro-Europe La République en Marche (LREM) party in the May 26 European parliamentary elections. Mr Griveaux has been government spokesman since November 2017, while Mr Mahjoubi was named digital minister in May 2017. Mrs Loiseau, a career diplomat, joined the Macron government in June 2017. A reshufffle is expected by Monday, the date of the next cabinet meeting, but could be announced early to avoid being bumped down the news bulletins by the coming weekend's Yellow Vest protests. In the last eight months, Mr Macron has waved goodbye to his popular ecology minister Nicolas Hulot, ally and interior minister Gérard Collomb, and close advisor Ismaël Emelien. The latest batch of resignations have further eroded the ceredibility of Macron's leadership, already undermined by easily supportable claims that he is a president for the rich and the global corporations (
The Davosocracy
,) and his policies are putting further pressure on low paid and middle income groups in what is now known to be the most highly taxed nation on the planet. The three ministers who quit the government on Wednesday were all assumed to be close allies of Macron. These latest resignations bring the number of cabinet members who have quit since the boy president took office in May 2017 to ten. "Maybe the [resignations] are a reflection of Mr Macron's vertical governing style … maybe they reflect the head of state's growing isolation," Mr Larcher told Europe 1 radio shortly after the departures were confirmed in an emailed statement. The spate of ministerial resignations, along with rising living costs, tax increases, immigration and Macron's push to integrate France more closely politically and economically with germany have all contributed to the discontent that triggered the Yelloiw Vest movement and now has Marcon's with his political opponents depicting him as an increasingly solitary figure with diminishing popularity and an aura of cluelessness.
The idealistic hope that mass protests and civil disobedience could trigger real social change met with some success in the nineteenth and early twentieth centuries but looked to have died after the USA's 1960s civil rights movement and anti – war protests. The recent mass demonstrations of Frane's gilets jaunes (yellow vests) movement in 2018, a movement …
Continue reading
Latest Posts we Read
<160321-climate">
This Exchange Proves The BBC, The Green Party and Friends Of The Earth Reject Free Speech
See independent climate expert Piers Corbyn treated appallingly by BBC Big Questions propaganda broadcast and shouted down by an audience packed with left wing activists. The BBC is so biased on a whole range of subjects from 'climate change' to Palestine, Syria and so on that it beggars belief. But here is a most blatant example played out over only a few minutes. BBC presenters take it as read that what the authorities say about alleged 'human-caused climate change' is true and that anyone who challenges this nonsense must be basically lunatics on the fringe.
Will Merkel's Migrant Mishaps Spring Germany's Right-Wing Party Into Power?
by Egbert Nobakon, 8 March 2016
Resuts from local elections held in Germany last weekend indicate that German Chancellor Angela Merkel is in deep trouble. Her party, the Christian Democrats is losing votes to opponents from the right and left, largely because of the illegal immigrant crisis brought on by Merkel's crazy 'open doors' immigration policy which ahas resulted in Germany admitting criminals, terrorists and many illiterates, according to Werner Patzelt, a political analyst at the Technical University in Dresden. Patzelt, a political analyst at the Dresden-based Technical University, described the latest local elections in Germany as another indication of the
fading influence of Chancellor Angela Merkel
as the main beneficiary of her policy disasters is the anti immigration, anti EU party Alternatif fur deutschland (AfD) often described incorrectly as an extereme right wing group. In fact it is Merkel's Christian Democrats that have most resembled Hitler's National Socialists by trying to suspend the right of free speech and suggesting opponents of immigration be charged with crominal offences during the
ongoing crisis
. The interview came after the populist, anti-immigrant
Alternative for Germany (AfD) party finished a strong third
in municipal elections in the country's central state of Hesse, held on March 6. According to Germany's state news outlet DW, Angela Merkel's Christian Democrats finished with 28.2 percent of the vote, ahead of the Social Democrats with 28 percent; Alternative for Germany obtained 13.2 percent of the vote, beating the powerful and well established Green party. The vote took place a ahead of elections to the state legislatures of Baden-Württemberg, Rhineland-Palatinate and Saxony-Anhalt, which are scheduled for March 13. Results will determine if Merkel will survive as Chancellor or will be supplanted by a new leader.
RELATED POSTS:
Will Merkel's Migrant Disaster Drive Germany's AfD Into Power?
Elsewhere: [
The Original Boggart Blog
] ...
Daily Stirrer
...[
Little Nicky Machiavelli
]... [
Ian's Authorsden Pages
]... [
Scribd
]...[
Wikinut
] ... [
Boggart Abroad
] ... [
Grenteeth Bites
] ...
Ian Thorpe at Flickr
] ... [
Tumblr
] ... [
Ian at Minds
] ... [
Authorsden blog
] ... [
Daily Stirrer News Aggregator
]
FUKUS axis troops (France, UK, USA) Unable To Halt ISIS March Towards Libyan Oil
The lastest news coming out of Tripoli is that The Islamic State (ISIS) force in Libya is taking on extra personnel faster than anyone can keep up with, some of these are raw recruits from north and sub Saharan Africa but many are experienced fighters (i.e, they know which end of a gun is dangerous) and is advancing towards Libya's oil crescent, eyeing billions of barrels ...
FUKUS axis troops (France, UK, USA) Unable To Halt ISIS March Towards Libyan Oil
Guess Which Political Grouping Wants To Legalise Incest and Necrophilia?
Has the headline sunk in. Yes it says there are people out there who want to legalise incest (brother /sister or parent / child sex) and necrophila (sex with dead people). Puzzled about who would want to legalise such repugnant things? I'll give you a clue, they aren't conservatives, libertarians or nationalists.
EU HoldsBack New Regulation For Fear Of Strengthening Brexit Case
The unelected leaders of the EU in Brussels are smothering discussion of new pan – European laws that would impact the United Kingdom and all other member states, increasing the amount of money they have to contribute to the EU budget and transferring yet more sovereignty to Brussels ...
EU Bosses Fear Brexit Domino Effect
European leaders met for the first time today to discuss the deal reached over changes to the conditions of Britain's membership of the European Union. Public opinion in member states has led to fears that an out vote may prompt other EU member states to follow Britain's lead.
German Government Smartphone Spyware Monitors Citizens' Calls, Typing AND Sees Through Their Cameras
The dirty news always leaks out. Here, after whistleblower sites chipping away at it fr several weeks, is official confirmation that the increasingly fascistic government of Germany has bought a software too enabling security agents to spy on people through their smartphones. That might not sound so bad until you remember the same government in Germany has recently discussed criminalising criticism of Islam and opposition to Merkel's open doors immigration policy and suppressing critics of EU policies. The German Interior Ministry has revealed a new "Bundestrojaner" or government trojan horse software that will enable security agencies to track the smartphone activities of anyone who downloads it. We understand Chancellor Merkel's government has also adopted an "off the shelf" tool from a company which is said to help authoritarian regimes track their citizens ...
New German Government Smartphone Spyware Will Monitor Citizens' Calls, Typing AND See Through Their Camera Lenses
In Parallel With The Upheaval In European Politics, A Similar Cataclysm Is Happening In The USA Having reported for three or four years now the rise of the anti - Integration parties in European Union member nations, UKIP in Britain, the FN in France, AfD in Germany, Denmakr's Peoiple's Party, Five Star and the Liga Nord in Italy, the Sweden Democrats and others in every E U member state, we now look at what is going on in the USA as campaiging for the presidential election gathers pace.
Biological Man Set To Become National Union Of Students' Women's Representative
A straight, biological man is a hot favourite in the race to become the National Union of Students' (NUS) Women's officer. Anna Lee describes himself as a "queer trans disabled lesbian woman", and is currently the LGBT officer at Lancaster University Student Union, having already spent two years on the national women's committee. The NUS women's campaign "exists to represent and extend and defend the rights of women students… led by women students in our governance and decision-making processes", their website claims. Last year, Mr. Lee won a battle to share toilets with biological women at his University, despite being quite open about his sexual interest in them and retaining all his male biology. "I never believed that running to be national women's officer was a possibility", he said in a Facebook post lunching "Anna's" campaign last week. "In my five years in the student movement, I have changed a lot – in fact, some might say it's been a transformative experience ;)" explained the newly self-identifying women. Adding: "I know the Women's Campaign is ready. I know NUS is ready. I'm not convinced that the rest of society is. "But – when the transphobic 'feminists' come and try to tear me down, I will just fight harder, and with the help of amazing activists we will show them", wrote the self declared women. Mr. Lee was also one of the leaders of the NUS's first ever transgender conference last year, and was even invited to give evidence to a Parliamentary committee on transgender issues.
A Furious Turkey Says US Is "Acting Like An Enemy," Demands Washington Brand Kurds "Terrorists
To be sure, the effort to usurp the Bashar al-Assad government wasn't exactly going as planned in the first place. Regime change always takes time, but the conflict in Syria was dragging into its fifth year by the time the Russians got directly involved and although it did indeed look as though the SAA was on the verge of defeat, the future of the rebellion was far from certain. But to whatever extent the rebels' fate was up in the air before September 30, the cause was dealt a devastating blow when Moscow's warplanes began flying sorties from Latakia and while Ankara and Riyadh were
Read More
President Trump
Rod Little gets it; writing in the speccie, he's gunning for Trump for President - if only for the deep, unhealable grief it will cause the BBC mafia and Guardianistas. And all the others - those, as Liddle puts it, "who do not believe that it is even remotely legitimate to have a view which differs from their own."
Imagine Polly Toynbee in hysterical floods of tears, being cradled by a screeching Susanne Moore, onto whose red velvet shoes Toynbee drips salt and snot. Monbiot attempts to end his career by eating a kilo of GM Soya, and all the assorted spouses and offspring of left wing characters in employment at the BBC and print media rail and rant wholly ineffectually. It would be worth a year's pension to see.
Jonathan Freedland also gets it. Two or three weeks ago he analysed Trump's appeal; I think he's right on just about every point he makes ...
Read more >>
RELATED POSTS:
Loud Trump resonates throughout America
At Both Ends Of The Political Spectrum Americans Agree The Government Is FUBAR
New Hampshire Primary:Sanders and Trump Victory For Vox Populi
The "Race To Raqqa" Is Quickly Intensifying
This is a look at the larger picture of forces developing around Syria. Several foreign armies are aggregating at the Syrian borders with the intent to invade Syria and to occupy its eastern part. But before we dive into that, a short look at the curious situation developing in the north-west. Near Azaz the U.S. ally Turkey is currently shelling (video) the U.S. ally YPG which is fighting the CIA supported FSA. The Syrian-Kurdish YPG troops were heavily supported by the U.S. in their fight against the Islamic State in north-eastern Syria. Under U.S. tutelage they united with Arab anti-IS fighters under the label Syrian Democratic Forces.
Read more >>
RELATED POSTS:
ISIS Turkey oil trades
ISIS getting US weapons via Turkey
Syria biggest US blunder ever?
Syria, US Proxy war with Russia
Road To World War III: Turkey Shells Syria For Second Day As Saudi Warplanes Arrive
'I'm back from Syria. The media are lying to you.' Eva Bartlett
US Allies Now Fighting CIA-Backed Terror Groups In Syria
UK Asylum Seekers DEMAND 'VIP' Treatment
Taxpayer-funded three-star hotel accommodation provided for asylum seekers has been labelled discriminatory because paying guests receive better food than migrants who demand their "VIP status" be recognised.
Private contractor Clearsprings is housing 129 refugees at the Mediterranean-themed Europa Gatwick Hotel where migrants have their own rooms, with en-suite bathrooms, plus a television and tea and coffee-making facilities.
Yet, according to the Mail on Sunday, one of them was indignant about the conditions and demanded that they should be treated like VIPs.
The man, who has previously worked at hotels in Dubai, said: "We should be considered VIPs because we are long-staying guests. We are making money for this hotel."
Daily Stirrer Immigration posts
---
Turkey and Sadui Arabia Already Have Troops Fighting In Syria
Even mainstream media has been forced to concede that Turkey and Saudi Arabia are apparently ready to send ground forces to the Syrian battlefield as Assad's forces, backed by Russian air power and Iranian elite troops but continue to grind down ISIS forces equipped with US made arms and ammunition via Saudi Arabia and funded by Turkey's illegal oil trade with the terrorist group.
---
Personal Freedom Versus Political Paternalism
What is the role of government in society? This has been and remains the most fundamental question in all political discussions and debates. Its answer determines the nature of the social order and how people are expected and allowed to interact with one another – on the basis of either force or freedom.
The alternatives are really rather simple. Government may be narrowly limited to perform the essential task of protecting each individual's right to his life, liberty, and honestly acquired property. Or it may be used to try to modify, influence, or dictate the conduct of the citizenry.
In the first case, the government is assigned the duty of impartial umpire, enforcing the societal rules against assault, murder, robbery, and fraud. All human relationships are to be based on mutual consent and voluntary association and exchange.
In the second case, government is an active player in people's affairs, using its legitimized power of coercion to determine how the members of the society may live, work, and associate with each other. The government tries to assure certain outcomes or forms of behavior considered desirable by those who wield political authority.
More Government Means Increased Government Force
It's Official! Labour Party Supports Oppression Of Muslim Women
A Muslim women's rights organisation has sent an open letter to the Labour leader Jeremy Corbyn, outing the innate sexism of the Labour leadership in refusing to take action against the large numbers of male Muslim Labour councillors who have actively blocked Muslim women from entering politics. The group demanded an independent review and accused the party of prioritising votes and being "complicit at the highest levels".
Muslim Women's Network UK (MWNUK) named the Muslim-dominated city councils of Peterborough and Birmingham as a particular concern. The latter is already embroiled in a sexism row, and has been accused of covering up the activities of Muslim gangs alleged to have grooomed, abouse and sexually exploited under - age girls in council run care homes. Recently the Lord Mayor-elect and chairman of Birmingham's Central Mosque was forced to step down because he said forced marriage was not a problem and lied about dealing with horrific cases of domestic abuse.
The MWNUK urged Labour leaders to investigate "systematic misogyny displayed by significant numbers of Muslim male local councillors" and suggested that Muslim men within Labour had been allowed to operate under the "patriarchal 'biradari' system".
"They don't like women to be heard, to be empowered," a group spokeswoman told BBC2's Newsnight, explaining how in Labour dominated councils talented Muslim women had been harassed out of top positions. In the examples given, the party had effectively allowed the men to enforce Sharia principles; ensuring women could not act freely without the permission of male guardians.
Optician Fozia Parveen claims her efforts to become a Labour councillor in Birmingham in 2007-8 were scuppered by Muslim men in the party: "At the time, I was aware of a smear campaign against me, they said that I was having an affair with one of the existing councillors. I was quite taken aback. People were turning up at my family home trying to intimidate my mum."
She claimed Muslim men who were members of the local Labour party were behind the efforts to prevent her from standing.
---
Landmark Report Explodes The Myth Of Economic Benefits From Mass Immigration
The Contribution politicians and left wing hand wringers claim is by migrants to Britain's economy are "modest" compared to their long term costs, while mass migration depresses wages and harms GDP growth, a report on the findings of research led by a respected academic has found.
November 2015
How A Secretive Elite Created The EU To Build A World Government
Voters in Britain's referendum need to understand that the European Union was about building a federal superstate from day one
As the debate over the forthcoming EU referendum gears up, it would be wise perhaps to remember how Britain was led into membership in the first place. It seems to me that most people have little idea why one of the victors of the Second World War should have become almost desperate to join this "club". That's a shame, because answering that question is key to understanding why the EU has gone so wrong.
Most students seem to think that Britain was in dire economic straits, and that the European Economic Community – as it was then called – provided an economic engine which could revitalise our economy. Others seem to believe that after the Second World War Britain needed to recast her geopolitical position away from empire, and towards a more realistic one at the heart of Europe. Neither of these arguments, however, makes any sense at all.
Europe
Why Are Bigots So Offended By Being Called Bigots? As in the case of Iain Lee, the accusation of 'bigotry' seems to be more offensive than the actual bigotry which prompts it
German Scientist Confims Climate Change Ia A Politically Motivated Scam
Even as the inbred idiot Prince Charles was babbling to a hand picked audience about the skid marks in his underpants being caused by Climate Change, a somewhat more scientifically literate person, Dr. Friedrich Karl Ewert, a retired geologist and data computation expert, has confirmed what those of us dubbed 'climate deniers' have been telling you for years ...
War On Cash: Pin Numbers will be obsolete within five years, we will pay with mobile or fingerprints instead.
The War On Cash gathers more momentum as political, business and academic elite attempt to advance and agenda that will destroy individual freedom and privacy and give them total control of our lives and finances via technology.
Iran Releases Video Alleging the US, Israel and Allies were Behind Isis and the Paris Attacks
A video released by the office of Iranian Supreme Leader Ali Khamenei entitled, "Who Was Behind the Paris Attacks" alleges that it was the US, Israel and their allies who helped create ISIS in order to further their own interests
Opposition Party to Sue Austrian Government Over Complicity In People Trafficking
We have reported previously that in their eagerness to complete the genocide of Europe's white working classes, the political and business elites are prepared to make a mockery of their own laws. One way in which this has been done is by turning a blind eye to people trafficking so that the entry of illegal immigrants to Europe would not be slowed by national law. We can't claim credit for the action reported here, we have very few Austrian readers, but it's good to see oyhers are starting to think.
Accept Everything, Question Nothing A chilling poll published in the US has revealed that 40% of those born in the 21st century – the so-called 'Millennials' – believe government should be able to limit speech regarded as offensive to minorities. The older the generation, the more opposed to outlawing aspects of free speech. The 35-50 'Gen X' group approval of such a move was 27%; for the Baby Boomers (51-69), approval dropped to 24%, whilst the oldest age group asked (70-80) registered just 12% approval.
European Governments Hold "Secret" Meeting To Dismantle Borderless Travel Since the spring of this year, when numbers of migrant flooding across the European Union's border illegaly began to rise exponentially we have predicted that the resultant crisis would bring about the end of the Schengen Agreement - under which 28 EU nations operate open internal borders, unravels in the face of the overwhelming flow of refugees fleeing the war-torn Mid-East
Afghan troops defect to Taliban in Helmand
According to news sources in Pakistan, up to sixty five Afghan soldiers, trained and armed by US and European military advisers, have defected to the resurgent Taliban, taking their weapons and equipment with them. Another 88 are reported to have been killed in heavy fighting between Taliban irregulars and government forces in the southern province of Helmand.
WW3 US GOVERNMENT wants a WORLD WAR 3
The situation in Syria has always been a proxy war between the United States and Russia, and that is even admitted by the mega news networks who don't ever dare to mention Obama's secret orders demanding support for the Syrian rebels back in 2011 (in order to crush the Putin-backed Assad).
German Ministers Preparing 'Putsch' Against Merkel - SpiegelSenior ministers in Germany are no longer trying to reach a compromise on Immigration with German Chancellor Angela Merkel. Traditional political allies and supporterswhose loyalty could be taken for granted are gradually becoming her main opponents. The German Chancellor is not only losing power over the refugee crisis in Europe, but she is also unable to manage her own government, German magazine Der Spiegel wrote ...
Putin Lines Up The Big Guns As Obama 'Shoots Golf' And Kerry Vacillates
Things are getting serious (and very dangerous) in Syria. ISIS do not have warplanea and SAMs are not effective against ground troops so this latest Russian move can only be interpreted as a warning to the USA
Paris Horror Demonstrates Limits On Tolerance And Need For Border Controls As the lawless criminal scum imported by Merkel in her efforts to suck up to Obama threaten to turn Germany into a third world human cespit, it seems public opinion in European is waking up.
posted by Tapestry
Tajammu Al-Ezza brigade fighters on an anti-aircraft weapon inspect the sky for helicopters loyal to Syrian President Bashar al-Assad in the Hama countryside, May 6, 2015. (photo by REUTERS/Mohamad Bayoush) How the Syrian regime forces are attacking opposition under Russian cover HAMA, Syria — The Syrian regime launched a broadscale attack against the opposition …
President Barack Obama will hold a meeting at the White House on Friday with experts from both political parties to discuss the Trans-Pacific Partnership, White House spokesman Josh Earnest said on Friday. The meeting will include four former Secretaries of State -Henry Kissinger, James Baker, Colin Powell and Madeleine Albright – among others.
Cameron's Hopes For EU Membership Reforms For UK Torpedoed By Tusk
David Cameron's hopes of winning serious concessions on sovereignty, border controls, contributions, trade agreements, human rights and labour laws so he could claim to have won a better deal for Britain by the time the in / out referendum starts next year European Union suffered an early blow when European Council President Donald Tusk warned that reaching a deal would be "very tough" ...
Cameron's Hopes For EU Membership Reforms For UK Torpedoed By Tusk
US Debt Is Three Times More Than You Think
http://www.informationclearinghouse.info/article43366.htm "The Hill" - The former U.S. comptroller general says the real U.S. debt is closer to about $65 trillion than the oft-cited figure of $18 trillion. Dave Walker, who headed the Government Accountability Office (GAO) under Presidents Bill Clinton and George W. Bush, said when you add up all of the nation's unfunded liabilities, the national debt is more than three times the number generally advertised. "If you end up adding to that $18.5 trillion the unfunded civilian and military pensions and retiree healthcare, the additional underfunding for Social Security, the additional underfunding for Medicare, various commitments and contingencies that the federal government has, the real number is about $65 trillion rather than $18 trillion, and it's growing automatically absent reforms," Walker told host John Catsimatidis on "The Cats Roundtable" on New York's AM-970 in an interview airing Sunday. The former comptroller general, who is in charge of ensuring federal spending is fiscally responsible, said a burgeoning national debt hampers the ability of government to carry out both domestic and foreign policy initiatives. "If you don't keep your economy strong, and that means to be able to generate more jobs and opportunities, you're not going to be strong internationally with regard to foreign policy, you're not going to be able to invest what you need to invest in national defense and homeland security, and ultimately you're not going to be able to provide the kind of social safety net that we need in this country," he said. He said Americans have "lost touch with reality" when it comes to spending. Walker called for Democrats and Republicans to put aside partisan politics to come together to fix the problem. "You can be a Democrat, you can be a Republican, you can be unaffiliated, you can be whatever you want, but your duty of loyalty needs to be to country rather than to party, and we need to solve some of the large, known, and growing problems that we have," he said. **************************************************
Russia Wins While West Spins
http://www.informationclearinghouse.info/article43359.htm Like a good laundering machine, the Western media operate an efficient spin cycle for rinsing out dirty water. No sooner had Russia's foreign ministry issued a fairly straightforward statement on Syria's political future this week, then Western media news outlets were getting all in a lather with the spin that Moscow was preparing to hang Syrian President Bashar al-Assad out to dry. What that reaction shows is that these outlets are dutifully laundering the political agenda of their governments. That agenda seems to involve getting Russia to implement, unwittingly, the Western objective of regime change in Damascus. Russian foreign ministry spokeswoman Maria Zakharova was quoted by Russian news agency ITAR-TASS as saying that the Syrian leader's hold on power was not a matter of principle for Moscow. She also spoke about other important issues: the imperative to respect the sovereign right of the Syrian people to decide the political future of their country; and that regime change in Syria would usher in even greater disaster from terrorism and refugees. However, it was the words on Assad that got picked up and thrown into the spin cycle with haste. Britain's state broadcaster, the BBC, issued a breaking news flash with the headline: '
Russia says keeping Assad not crucial
'. While American channel CNN adverted that: 'Russian leaders were opening the door for Assad's exit'. Such so-called news items are laughably becoming more like commercial breaks. Commercial breaks between, well, more commercial breaks. Low on intelligent content and pitched to get viewers to buy somebody's tawdry product. There was nothing further to back up either report on BBC or CNN – only a selective, speculative interpretation of the words from the Russian foreign ministry. There was no mention of the sovereign right of the Syrian nation nor of the global-scale disaster if regime change were to take place. Just a seemingly puerile gaze at the words about Assad's staying in power not being «a matter of principle» for Moscow. What the Russian foreign ministry spokeswoman actually said was this: «We have never said Assad's staying in power is a principled aspect. We are saying that the change of regime in Syria could become a disaster not only on a local or even regional scale, but, with account for that problem with refugees that we have now, this could become a big black hole». Russia had already warned about Western media «juggling with its words» over Syria, and in particular on attempts to wilfully distort its policy. Following the Vienna summit last weekend on Syria, there was Western speculation that Moscow had tacitly agreed to Assad relinquishing power.
Russian Foreign Minister Sergey Lavrov sternly dismissed
then what he called were «rumours». «I heard that the rumours are being spread already that it has been or will be agreed that Assad will step down in some period of time. This is not the case,» said Lavrov. If Western media were to provide a journalistic service instead of laundering their governments' political agenda then they might have reported that Russia's position is rightly centred on the sovereignty of Syria and on the defeat of foreign-backed terrorism in that country. That Moscow is saying that the question of Bashar al-Assad staying in power, or not, is not a matter of principle is simply stating that Russia does not view the Syrian leader as a life-long president. Assad's presidency will be subject to the democratic will of the people, which is the all-important sovereign point. What is so controversial or enigmatic about stating that? Nothing, unless there is a mischievous will to misconstrue. Put another way, if Russia had said instead that Assad staying in power was a matter of principle for Moscow, then the Western media would no doubt have gone into double-spin mode and claimed that the Kremlin was dictating that the Syrian leader must remain in presidential office forever – regardless of the will of the electorate. One can imagine the headlines in that scenario: 'Putin lays down law to Syrian people' and so on. Of course, Western media spinning is hardly new and the consequences of the latest dash to misinterpret will no doubt be as fleeting as a soapy bubble. But the alacrity with which Western media outlets operated on the issue is instructive. Russia's military operation in Syria to protect the state and its sovereignty from foreign-orchestrated mercenary terror groups has dealt a devastating blow to Washington's covert military agenda of regime change. That agenda, instrumented by the deployment of mercenary terror groups,
predates the outbreak of violence in Syria
in March 2011 by several years, as uncovered by American journalist Seymour Hersh. Also as disclosed by former French Foreign Minister Roland Dumas, as well as leaked US diplomatic cables indicate from as early as 2009. Washington and its allies are now being compelled to use a political means to achieve what they couldn't otherwise pull off by covert military means – because of Vladimir Putin's bold intervention in Syria, beginning on September 30. Recall, too, that US Secretary of State John Kerry
demanded last month
, with typical haughtiness, for Russia to «bring Assad to the negotiating table». Not that there is much to discuss as far as Washington, London or Paris are concerned. Assad has to go, in their arrogant view, sooner or later. By going into so-called «diplomacy mode», as opposed to covert terrorist-supporting mode, what the Western imperial overlords expect is for Russia to comply with a political framework concocted in order to push Assad from power. That modus operandi is a negation of Syrian sovereignty, of course. And Russia is much too intelligent to be hoodwinked by these Western charlatans.