Spain Arrests People Traffickers And Drug Smugglers Crossing From North Africa in Speedboats
Spanish police announced the arrest of 90 people involed in a smuggling rackets that moved both people and drugs from Africa to Europe. The Civil Guard released a statement today stating that the smuggling network regularly moved people and drugs from Ceuta, a Spanish enclave in northern Africa to The Costa del Sol in high powered semi inflatable speedcraft of the type often used to move illegal immigrants from Libya to Italy or Turkey to Greece.
German Green Party Urges Allowing 140 Million "Climate Refugees" To Migrate To West
The virtue signalling of lefties gets more and more insane. First they want to shut down all indistry, transport and commercial activity in the developed nations "to achieve carbon neutrality," then having exported all the work to south east Asia, they want to import all the people from south east Asia to the developed nations so they can say, "See how good and caring we are, all you horrible conservatives."
What they haven't worked out is that just because one is sceptical of the very dodgy science on which the climate change scare is built, that does not necessarily make one a conservative. Trying to the the Socialists and Greens that, however, is like trying to convince a doorstep evangelist there is no God.
The Green Party in Germany is currently putting forward as a matter of policy that up to 140 million "climate refugees" should be allowed to migrate to the west and given citizenship. The question of where we would put 140 million, mostly uneducated and at best semi - literate people and what we would do with them is of course deflected. And the case that the 50 million climate refugees that were predicted to descend on the west, having been displaced by rising sea levels are apparently all hiding under Harry Potter's Cloak of Invisibility is ignored.
Political leaders like Claudia Roth are claiming without any solid evidence to back them up, that island states in the Pacific could "completely disappear" and that entire population groups should be allowed to re-locate to the west as a result. In fact sea levels have been rising very slowly for 20m000 years, at the last glacial maximum (the height of the ice age,) sea levels were 450 - 500 feet lower than they are now. The is no empirical evidence to suggest sea levels are rising any faster than they have in the past 400 years (when records began.)
But there is an agenda in operation here and it has little to do with climate conditions.
"Citizenship in the receiving country can be an option," for people existentially threatened by global warming, said Roth. AHA, so that's it, the old Cultural Marxist plan to flood the developed nations with illiterates who are dependent on government handouts, give them the right to vote and then tell them if any but a socialist government is elected, those handouts will be stoppeed to reduce government debt.
In their proposal, the party cites the World Bank's estimate that there could be as many as 140 million "climate refugees" flooding into the west from Africa, South Asia, and South America by the year 2050. Other parties in Germany were scathing in expressing their opposition to the plan, the nationalist AfD pasrty commmented that creating the idea of "climate refugees" would increase migratory pressure worldwide.
Germany should "not function as Noah's ark for the whole world," remarked FDP general secretary Linda Teuteberg.
The proposal will not be well received by German voters, many of whom have expressed their opposition to mass immigration by voting in large numbers for the AfD party which is both Eurosceptic and opposed to mass immigration, especially by Muslim migranys who, rather than assimilating to German cultural values, insist Germany should assimilate to theirs.
According to the German government's own statistics, which have not been widely reported by mainstream media, violent crime in Germany rose by 10 per cent between 2015 and 2016, when the country began it's 'open doors' immigration policy accepting all migrants who turned up at their borders. Most arrivals weere young unattached males with little education. More than 90 per cent of the rise in violent and sex crime was attributable to young male "refugees."
Germany also suffered a mass molestation of women in Cologne on New Year's Eve 2015, attacks almost exclusively carried out by migrant men.
Given the establishment and the left's increasingly desperate effort to push the "climate emergency," as an axcuse for continuing mass migration as public resistance threatents to halt the progress of their agenda, primarily by using the Swedish muppet Greta Thunberg as a poster child, look out for global warming hysteria to be the next excuse as to why the west needs to absorb tens of millions more migrants. It is no more valid that "the economy needs millions more office cleaners, sandwich stuffers and Uber drivers," or "immigration culturally enriched our communities."
RELATED POSTS:
Immigration Germany
Sweden Dystopia
Germany sliding into 'dangerous' anti-Europe hysteria warns top economist
Germany Heading ForPolitical Instability After European Assembly Elections?
Chechen Islamic Police Now Enforcing Sharia Law On Streets Of Berlin
German Interior Minister Demands Tougher Asylum Laws After 'Orgy of Violence' Mob Attack

Macron Vows to Fight 'Islamist Separatism' with New Reforms
French President Emmanuel Macron has declared his government will fight against "Islamist separatism" with reforms including ending residency for foreign imams.
Page Contents
Germany Heading For Political Instability After European Assembly Elections?
Mainstream media's reaction to the European election results in Germany for the EU elections rejoiced in the poor showing of the Eurosceptic, anti - immigration AfD but chose to ignore the far more significant trends that are emerging in German politics, trends that threaten the political and by extension economic stability of the EU's most powerful nation.
The media trumpeted the regression of the right. Alternative for Germany's (AfD) finishing with 11% of votes cast after after polling at a high of 18% in 2018 was spun as proof Chancellor Merkel had turned back the tide of nationalism and put Germany back on its integrationist, globalist path.
But while it may be premature to write off the AfD because it is entirely possible their supporters suffered a bout of apathy with regard to the European Parliament, being aware the European Commission will not allow any nationalist grouping to gain influence in the parliament, the Left made some astonishing gains at the expence of Merkel's CDU and its coalition partners the CSU and SDP. The always fragile coalition is now in even more trouble, combining votes for coalition members gives them only only 45% of votes cast with the collapse of the once invincible Social Democrats (SPD) continuing as they gained just 15.6 % of the vote. The conservatives of the CDU / CSU alliance gained a combined 28.7%
The result in Bremen gave a powerful illustration of how Germans have abandoned the centre left. The city has voted solid SPD for 73 years, but last month lost to the Merkel's CDU in both European and regional elections. This was not a tial success for the CDU however, they simply haemorrhaged votes to the AfD nationalists and the classical liberals of the Free Democrats Party at a lower rate that SDP voters deserted the party for the far - left Greens and the Marxist Left Party.
With Merkel allegedly disavowing her promise to retire as head of the Christian Democratic Union (CDU) and SDP leader Andrea Nehles resigning as a consequence of the party's disastrous deecline, his has now thrown the survival of the current Grand Coalition into doubt. The question now is whether it can survive until the next election in 2021 although some political commentators are saying it is unlikely to survive beyond three regional elections in German federal states where the CDU and SDP are seen as vulnerable.
Meanwhile The Greens surged to more than 20% nationally and from being traditional recipients of the protest vote on as a protest vote twenty years ago over have become serious contenders for power as voters rejected another four years of the SPD lamely rubber-stamping Merkel's EU-first policies because they was they could keep a couple of fingers on the levers of power.
The greater significance of these statistics lies in trends outside Germany. These EU election results imply that the SPD may be, like the Tories in the U.K., in terminal decline. The Greens in Germany are of the most aggressively far left of all environmentalist paries in the EU. They are far more committed to about enacting societal change through Progressive aka Culrural Marxist policies and believe the SPD have been Merkel's stooges as the pushed for the integration of EU member states into a single political entity for too long. Their success in the European elections will only make them more strident.
Germany's Greens are more closely aligned with the far - left wing of the US Democrats whose rising star Alexandria Ocasio - Cortez, proposer of the notorious Green New Deal, which the Bambi - eyed, Goofy - brained Ms Cortez is not well read enough to recognise as Stalinism with an environmentalist veneer.
The rise ofThe Green Party in Germany will have knock-on effects throughout the EU as too.
As Nigel Farage said after the Brexit Party's stunning victory in Britain's European election, politics is changing. New parties of both left and right are gaining at the expense of the mainstream parties who have long taken for granted the votes of their core constituencies as they plotted and schemed to transfer power to unaccountable supra - national bureaucracies and global corporate cartels. The rise of left and right factions (the labels have little significance now,) indicates a desire among voters to localise power. Enough centralisation, they say. A global approach to certain problems does not need a globalist government of appointed bureaucrats.
Many commentators have written,, the center isn't holding in Europe, nor in the USA, Australia or Canada it seems. The election of Donald Trump in the USA, the UK's vote to leave the EU, the vicory of left wing, anti - EU Syriza in Greece back in 2015, the collapse of centre right and centre left in Spain which has seen the country stumble along without an effective government since 2014, the success of anti - EU, anti - immigration League in Italy all show a swing away from the centre. Even Germany's Greens are campaigning for more attention to be paid to Germany's problems and less to the globalist agenda.
It adds up to the conclusion that the era of centrist consensus are over, politicians like Merkel are dinosaurs, Grand coalitions such as hers with their traditional opponents the SDP, which stand for nothing except the advancement of the European federalisation project have, from both sides of the political aisle, been the big losers in recent elections .
From now on political radicals of both left and right will have far greater influence over the course of the European Union and the democratic world. Merkel is on the way out anyway, and as the cadidates to replace her from within her own party look every bit as mediocre as the SDP hopefuls who hope to remove her from power in an election, it is posssible someone from The Green Party or Alternatif fur Deutschland could become Chancellor.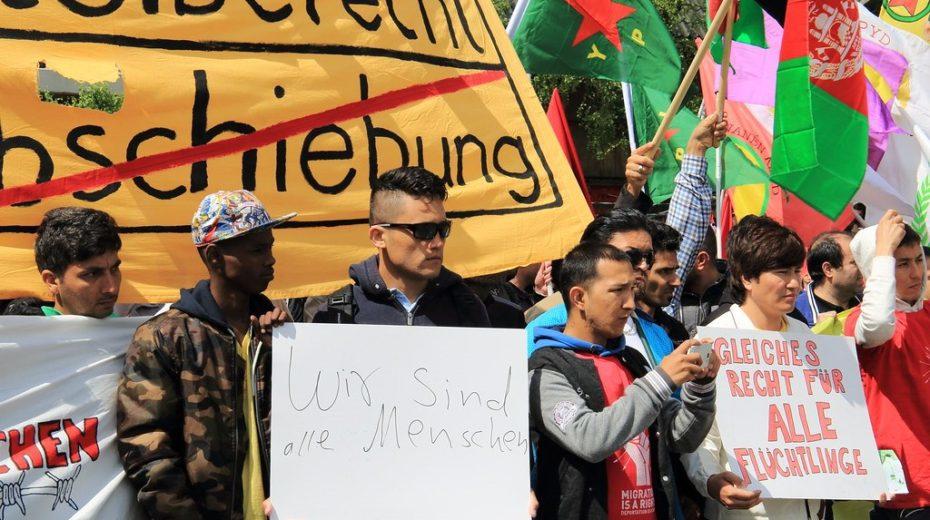 The problem for Germany, however, as has occurred in Spain, Belgium and the UK is that there is now neither natural party of government as the UK's Conservatives or germany's SDP once were, nor a workable coalition available.
The Greens, with their extreme anti - industry agenda were the main reason Merkel had such a difficult time putting a coalition together after 2017's election when Germany functioned without a government for six months. She will either have to move left to appease the Greens, which would drive a wedge between her party Bavaria's Christian Social Union (CSU) or consider a coalition with AfD, which is anathema to anyone who supports the Federal Europe project. Merkel has alienated many older and more conservative CDU voters over the past eighteen months by focusing on defending her disastrous 'open doors' immigration policy and decrying the rise of AfD that it has now become almost certain that immigration and the federal Europe project could cause the coalition to fall apart.
This augurs ill for her party in three big state elections in eastern Germany later this year — Brandenburg, Saxony and Thuringia. All are AfD strongholds now, AfD holding power in the regional assemblies in Brandenburg and Saxony and being the main opposition in Thuringia. Should AfD recover from the European election setback the shift in the power balance will set up a strong East/West divide in Germany which Merkel's talk of closer integration with France and her criticism of Poland's nationalist government is doing nothing to improve.
Yellow Vests Protest Merkel-Macron Plan To Integrate Defence, Foreign Policy
The left wing wankerati will not doubt be screaming about racism and xenophobia when they learn of the latest exploits of the German Yellow Vest movement who were out protesting against the latest step Hausfrau - Volksfuhrer Merkel and The Boy Macron have taken towards politically integrating Germany and France, on which Original Boggart Blog and The Daily Stirrer have been following developments ...
Residents Of Paris Suburb With Migrant Ghetto Feel 'Abandoned' as Crime Surges
In the areas where [ migrants ] have congregated, usually places with a surfeit of run down municipal housing the lawless behaviour in the migrant communities is causing problems for French people. Despite promises from government to increase police presence, residents of the 18th arrondissement of Paris say they feel abandoned as crime rises in the area.
LITTLE ISTANBUL: Turkish Muslims have made Germans feel like foreigners in their own country
When Turks buy a building, they don't allow any German people to move in. The next thing you know, there is a mosque and soon the whole neighborhood has become a 'NO GO Zone' for non-Muslims.
'Islam Doesn't Belong to Germany' - New Interior Minister
While mainstream media was hailing the political mastery of Hausfrau - Volksfuhrer Merkel in negotiationg a new coalition deal to keep her in power for another four years, after Germany had been without a government for almost six months, The Daily Stirrer (and other alt_news sites to be fair) warned that the new government of Europe's most powwerful economy was fragile and full of holes. Only days after Merkel was sworn in for a fourth term, the holes in her coalition started to appear ...
Continue Reading">
After Triggering Mass Migration Crisis, Germany Bribing Foreigners To Leave
Though Angela Merkel clings to power the effects of her 'open doors' immigration policy damage Germany. It may amuse nationalists to observe as, with one face the pledges support for a United Nations initiative to open all national borders, while with the other she tries to persuade German voters she has listened to public opinion and understands her mass immigration policy is abhorred by a majority of voters ... German Election: Will Another Term For Merkel destroy German Economy According to the latest round of opinion polling ahead of the German elections, Angela Merkel looks set to become the joint longest-serving modern German chancellor, that's despite having been accused of "putting problems on the back burner, and staved off several attempts to indict her on treason charges for her role in the immigrant crisis. Business organisations have also raised doubts about the economic consequences of re-electing her, warning that her new term may bring "stagnation" for Germany.
Majority of Germans Favour Snap Election as Merkel Coalition Talks Stumble
There appears to be no end in sight to Germany's crisis of democracy as the European Union's most populous and economically powerful state continues to stumble along without an effective government. Coalition talks between Chancellor Merkel's CDU/CSU and the left wing Greens and classical liberal Free Domocrats have stalled over irreconcilable policy demands.
Germany Sees Fourfold Rise in Terrorism-Related Cases
According to a report in the Welt am Sonntag, Germany has experienced a huge rise in the number of terror-related cases in just one year, with prosecutors having dealt with more than 900 cases so far in 2017, compared with 250 cases initiated throughout 2016. Around 700 Islamic extremists now living in Germany have been identified by the Federal Criminal Police Office (BKA) as posing a potential terror threat.
Merkel Faces Crisis As German Ruling Coalition Collapses
German Chancellor Angela Merkel faces a crisis in her ruling coalition after Bavarian Premier Horst Seehofer demanded she take steps to halt the tide of illegal immigrants entering the country. To have any chance of surviving, the government must present new initiatives for controlling illegal immigration, deal with the critical situation on the Austrian border ...
New German Coalition in Peril as Potential Partners Clash over 200,000 Annual Migrant Limit
Reports that German Chancellor Angela Merkel has agreed a proposal from coalition partner and leader of the Christian Social Union (CSU) Horst Seehofer to limit the number of asylum seekers in Germany to 200,000 per year to secure a ruling coalition may be somewhat premature. Other coalition partners are not as positive on the policy.
Merkel Calls for Beginning of Coalition Talks With Greens, Free Democratic Party
German Chancellor Angela Merkel officially announced on Saturday for the first time that her conservative bloc of the Christian Democratic Union (CDU) and its Bavarian sister party Christian Social Union (CSU) will seek to form a coalition government with the centre right Free Democratic Party (FDP) and left wing loony Greens.
German Elections: Anti - EU party AfD 3rd In Polls
Elections take place in Germany this Sunday, September 24, for the federal assembly (Bundestag) and the presidency (Chancellor). While Angela Merkel looks set to win a fourth term as Chancellor and the most likely outcome of the election is another "Grand Coalition" between Christian Democrats and Social Democrats that coalition will be a much-weakened if late polls are to be believed.
More news from September 2017
Chechen Islamic Police Now Enforcing Sharia Law On Streets Of Berlin
A hundred Islamists are now openly enforcing Sharia law on the streets of Berlin, according to German police officers who are investigating a recent string of violent assaults in the German capital. The self-appointed religious police consist entirely of Salafists (Muslim fundmentalists) from Chechnya, a predominantly Sunni Muslim region in the Caucasus. The vigilantes are name-and-shame tactics and physical violence to intimidate Chechen migrants and dissuade them from integrating into German society;
Is USA Preparing For War Against Russia In The Baltic Region?
The US government has been making preparations for a possible war against Russia in Europe's Baltic States, German business newspaper Deutsche Wirtschafts Nachrichten (DWN) reports (link goes to page in original German). The report claims that all the NATO war games organized in the region by Washington have been intended to prepare various military response scenarios.
Page Contents
---
'Black Vests' African Protestors Take Over Paris Airport
Hundreds of illegal migrants, mostly from sub - Saharan Africa occupied the Paris Charles de Gaulle airport, the main air terminal in France yesterday, preventing people from boarding their flights and demanding that President Emmanuel Macron's prime minister, Edouard Philippe met them to hear their demands. Predicably the cheese - earting - surrender - monkey government gave in to the demands of these criminal scumbags and granted them all immediate citizenship.
"France does not belong to the French! Everyone has a right to be here!" yelled one of the migrants, through a loudspeaker, as they pressed for their presence in the country to be regularised. The protest was organised by the pro-migration La Chapelle Debout group,
What We've Lost To Globalism
Calling themselves "Black Vests" in a bid to claim similar legitimacy to the Yellow Vests, the working and middle class movements who have been protesting Emmanuel Macron's 'government for the rich and globalism' policies for months, the migrants also demanded Air France "stop any financial, material, logistical or political participation in deportations" in a statement published on Facebook.
Due to the kid gloves approach taken by successive French governments to the criminal acts ofIllegal migrants, these thugs now appear to have little fear of reprisals for lawlessness, with hundreds having conducted a similar protest demanding regularisation outside the Paris police quarters in January, according to Le Parisien.
They were even more arrogant in 2018, storming the historic Basilica of Saint-Denis, which holds the tombs of France's kings. They were joined in that action by far left anti-borders activists who helped vandalise the church and descecrate several tombs, forcing clergymen to cancel a Catholic mass and remaining in situ until the authorities forcibly ejected them from the premises.
It has also been widely rumoured that Muslim extremists elements in the illegal immigrant community were responsible for burning the national shrine, Notre Dame de Paris cathedral last month. The official narative which claimed the inferno was started by an electrical fault or building materials in a part of the 1000 year old church undergoing renovation were debunked by contractors who conformed there were no live electrical circuits in the area where work was in progress and neither were combustible materials stored in the area.
Populist politician Marine Le Pen, leader of Rassemlement National, the Eurosceptic, anti - immigration party condemned the seeming involvement of left-wing politicians in organising and promoting the demonstration, saying that "By calling migrants to desecrate the Basilica of St. Denis, Necropolis of our Kings… the far-left show that, in their immigrationist madness, they are ready to trample our civilisation and desecrate a place of historical worship."
If the French Prime Minister has truly caved in to the demands of these criminals it sets a dangerous precedent for European Union nations. In the whole of sub - Saharan Africa there is only one abundant skill set, that of holding out a begging bowl and looking pathetic. Start giving such people what they ask for and you will never be rid of them.
RELATED:
The Islamic Republic Of France
France's left-wing elite are accused of cowardice for failing to support 16-year-old girl facing death threats after she insulted Islam online, the ruling class have been also accused of cowardice for failing to support a 16-year-old girl who has faced death threats after she allegedly insulted Islam online.
French Intellectual Jailed for Calling Mass Immigration an "Invasion"
French intellectual Renaud Camus (above) has been conditionally sentenced to 2 months imprisonment for arguing that mass immigration in Europe represents an "invasion." Summit.news reports: The writer, who is the author of Le Grand Remplacement (The Great Replacement), was charged with "public incitement to hate or violence on the basis of origin, ethnicity, nationality, race or religion."
Residents Of Paris Suburb With Migrant Ghetto Feel 'Abandoned' as Crime Surges
In the areas where [ migrants ] have congregated, usually places with a surfeit of run down municipal housing the lawless behaviour in the migrant communities is causing problems for French people. Despite promises from government to increase police presence, residents of the 18th arrondissement of Paris say they feel abandoned as crime rises in the area.
Page Contents
---
Election fraud allowed to take place in Muslim communities because of 'political correctness', report warns
lection fraud has been allowed to take place in Muslim communities because of "political correctness", a major report finds as it calls for unprecedented reforms to the British voting system. In a report commissioned by the Government, Sir Eric Pickles, the former Conservative Cabinet minister, today warns that the authorities are in a "state of denial" and are "turning a blind eye" to election fraud.
---
The Immigration Problem - Who Says We Have To Hand Our Nations To Alien Cultures
Look at that poster and weep and realise that it will become a reality if the establishment cartel remains in power. We are entering a dangerous time and being led by fools and cowards is a sure route to disaster.
Imagine a foreign and alien justice system enforced by religious thugs, this monstrous abomination is nearer now than ever and we can thank the cowardly snivelling appeasers of the establishment cartel for that. Imagine living in a country where women can be flogged for going out of their homes without an accompanying male relative, or for walking around with faces or hair uncovered. Imagine living in a country where a woman is still her husband's chattel to do with as he wishes, even if he wishes to beat her or force her to have sex against her will or threat her as a domestic slave.
Imagine living in a country where the ritual mutilation of little girls' vaginas is not only tolerated but celebrated. Or where a father can sell his daughter into marriage to a man she detests, a man who may be old enough to be her grandfather. Imagine living in a country where parents killing a daughter for trying to refuse such a marriage is considred to be something to do with honour.
Imagine the level of congnitive dissonance the screeching 'liberals' have to draw on in order attempt to justify some Muslim's doing all of these things in Britain while simultaneoully screeching "Racism, sexism," when a white Englishman makes any slightly off colour remark about women or calls for immigration controls to be properly enforced.
Imagine the country the politically correct screechers of The Conservative, Labour and Liberal Democrat Parties want to turn Britain into. (h/t Cassandra King)
RELATED POSTS:
Back to Contents table
Germany Opens Gates, Welcomes ALL Syrian Asylum Seekers: Urges UK To Do The Same


Germany has thrown open her doors to Syria, declaring it will welcome all that country's asylum seekers. In doing so, it has overturned a EU convention which insists that asylum seekers must register in the first country they reach. Germany will now cease handing out forms which ask new arrivals to declare where they landed in the EU.

A Swedish Voter Loses It With The Politically Correct Idiots Running His Country
The problems caused by government created immigrant ghettoes in Swedish cities have turned the once safe streets into war zones as rival gangs from various immigrant communities vie for control of the drugs, prostitution and illegal gambling trades.
Brexit - The End Of The European Superstate Dream?
David Cameron, having won the election with a wafer thin majority is now under the cosh from eurosceptics in his own party as well as party managers panicked by the rise of UKIP. He has promised an early in-out referendum on Britain's future membership of the EU but can he win the concessions he needs to secure a yes vote from the punters
Gogglebox on the Charlie Hebdo atrocity
Mainstream media has lost even more cribility because editors were afraid to publlish the Charlie Hebdo cartoons that are thought to have provoked the attack. boggart Blog, fearless as ever, has run them, along with our own cartoon on the topic.
EU Accused of Using Migrant Boat Crisis to Further Integration
The unelected bureaucrats who run EU stand accused of cynically exploiting the Mediterranean boat people crisis to further it's European integration program that will result in the national sovereignty of 28 ~(and growing) member states being abolished as they are amalgamated into a single federal superstate.
Latest Posts
Elsewhere: [Boggart Blog]...[Little Nicky Machiavelli]...[Scribd]...[Wikinut]
>The Immigration Problem (part 1): If you Want To Help Migrants First Stop Killing Them
As Britain, its voters divided between pragmatism and politically correct thinking, heads for political chaos in an election likely to produce and inconclusive result, the big issue that none of the established parties want to talk about looks set to dominate the political debate through the next government's term in office.
At the centre of the problem of course is they all too typical hypocrisy and self righteousness of the political left. In their zeal to be seen to care about 'the poor' they are incapable of taking a step back from superficial aspects of the issue and those heart - rending pictures of people desperately clinging to sinking boats in the Mediterranean, and see that by encouraging people to try to get to Europe in the first place they are only thrusting the victims of poverty , oppression and persecution into the hands of ruthless criminals who as soon as they have secured the exhorbitant fees for transportation and 'legal fees' simply don't care what happens to the people who have been duped.
The Immigration Problem (part 1)
RELATED POSTS:
Back to Contents table
Warring Migrant Tribes, Street Shootouts, Grenade Attacks, Government Says Its Multiculturalism?
"Sweden, that's where they commit suicide and the king rides a bicycle," a character in an Alan Bennet play famously said back in the 1980s, a reference to Sweden's reputation as the most boring country in the world. That reputation has long gone, thanks to 'enlightened and progressive' immigration politicies, the elegantstreets of Sweden's gothic styled cities are now more like Chicago in the Al Capone era.
Sham Marriages To Beat Immigration Laws Are Out Of Control
With main immigration news on being dominated by the Mediterranean boat people crisis and the masses at Calais hoping to stow away in a freight container, we forget that another way of getting somebody into the country is the sham marriage. Numbers involved may be small, but it is another indication of our governments' failure to address the immigration problem.
Autumn Gets More Interesting As Merkel Admists She May Have Caused balkans War.
The autumn of 2015 has been interesting with the escalation of the war against ISIS by Russian air Force jets and Iranian ground troops in Syria and Iraq, Europe's migrant crisis pushing prosperous north European nations towards civil unrest, and the downing of a Russian airliner over Sinai by as yet unknown causes though western intelligence reports suggest a terrorist bomb was planted on board before take off. And it is set to get more interesting ...
Latest Posts
Immigration - Europe's burden
Immigration: the plight of the Mediterranean boat people
Is Sweden's immigration policy national suicide
Immigration: there is no promised land
Immigration marginalising the white working classes
The impact of immigration on hospitals and schools
Elsewhere: [Boggart Blog]...[Little Nicky Machiavelli]...[Scribd]...[Wikinut] ... [ Boggart Abroad] ... [ Grenteeth Bites ] ... Ian Thorpe at Flickr ]