Hungarian Leader Says Soros-Funded Groups Are Making Money From The Immigration Crisis
Contents
---
Hungarian Leader Says Soros-Funded Groups Are Making Money From The Immigration Crisis
by Ian R Thorpe - 15 September, 2015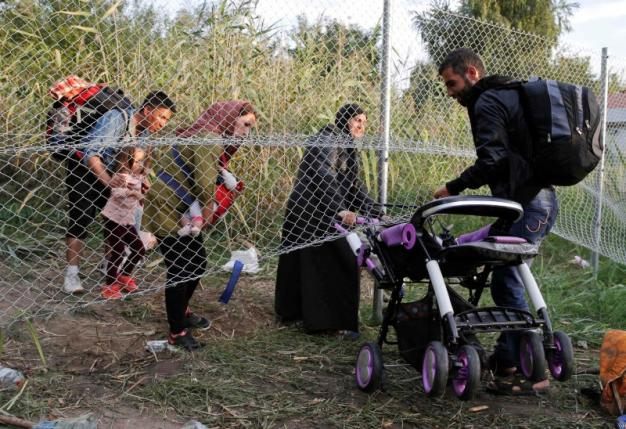 Image source:
Breitbart
What a delicious irony it is to find the left wing hate mobs are supporting the latest scam devised by one of their leading 'evil capitalist' hate objects, the hungarian - American billionaire financier George Soros.
Hungarian leader and a man rapidly becoming another hate figure for the sheeple of the left, Viktor Orban attacked pro-migration non-governmental organisations (NGOs) today, focusing his criticism on those funded by Hungarian-American George Soros. Orban said they (the Soros funded NGOs) are "drawing a living from the immigration crisis" while Hungary is simply trying to protect the standard of living of its people.
In an interview with the Hungarian-language TV2 television network, Orban said his actions simply reflected the will of the Hungarian people, and mocked the Austrians and the Germans for now following Hungary by closing and securing their country's borders.
"…one could joke that Austrians are now doing something they had previously continually criticised Hungary for, but this is not the time to do so," he quipped, adding: "Europe is, after all, the land of democracy and it is impossible to go against the will of the people for a long time and without arguments".
Under fire from the West's left dominated media, following his stated concern that the majority of migrants entering his country were Muslim, he said last week: "If we lose sight of the European idea, [Christianity] can become, on its own continent, a minority."
When asked about this, he doubled down, stating "the truth is that we are protecting our way of life".
And according to him, the migrants are no longer "refugees". They have, since leaving conflict zones, passed through a number of safe countries before reaching Hungary, and attempting to go further into Europe to places like Sweden and Germany.
Those "rush across" the continent aren't running for their lives, he said, adding that they simply wanted a German standard of living. Nobody can ask us to share what we have worked for with people who are no longer in trouble or running for their lives".
But he saved his most fierce attack for the charities and non-governmental organisations that have become the talking heads on television sets across Europe since the start of the crisis. He named the Hungarian-American billionaire George Soros, and insisted that his groups "are drawing a living from the immigration crisis", according to Hungary Today.
Another irony is most Eastern European countries have developed their economies by exporting the unskilled and unemployed to countries such as the UK, Netherlands and Germany. These people are often found to be using a loophole in EU law to claim benefits in the UK for family members who are not living with them, and sending the cash back to the homeland. There have been various reports and a number of investigations in the past showing this has been going on for years in thousands of cases.
The European Union has destroyed the concept of the nation state (in accordance with the intention engraved on a plaque in Bâtiment Jean Monnet, Luxembourg, HQ of the EU Commission, and of individual countries putting their own people first. The end result is the mass immigration of Eastern Europeans into the UK as a result of EU free movement of people legislation has contributed heavily to creating the current crisis.
Europe needs to go back to a time when each country was sovereign within clearly defined borders (the Westphalian System) and entry was controlled, each country put its own people first and if you wanted to live and work in another country then you apply for a work permit that gives no entitlement to benefits what so ever. Benefits should only be for citizens of that country, the idea that they can be claimed by foreigners who have only been in the country a few days is utterly absurd.
The EU want more immigrants, and as the leaders of Germany and Sweden have plainly stated the intention is to replace the culturally diverse peoples of each European country by creating a majority of thid world immigrants. The elite want to wipe out the white race, presumably because the masses have become to educated and demanding of accountability from their governments. As this push towards a synthetic monoculture has gathered pace there has been a reciprogal rise in opposition to the goals of the elite, (some call them cultural Marxists, I prefer the labelled given to the Big Brother regime in George Orwell's 1984, Oligarchical Colllectivists)) so I believe mass migrant has become the weapon of genocide.
The dark forces are more mobilised than they have ever been. The BBC has shamelessly discarded any pretence of political neutrality and are bombarding the airwaves with left wing propaganda. Same goes for most quality newspapers (while the tabloids stick to celebrity gossip). Germany has revealed itself as dangerously fascist and still intent on dominating Europe and Britain, as in the 1930s has spinless leaders who think appeasement will buy us indulgences.
What the ruling elites have not planned for however is the short and long term consequences of inviting the whole of north Africa and middle east into the westrn Europe within a short time scale. That's why even the Germans, whose Chancellor Merkel was only days ago saying "Let them all come," has now closed its eastern borders with EU states and deployed the army on their streets to arrest those in the country illegally.
So what will happen next? We will probably see a sudden disappearance of the migrant crisis disappear from our news programmes and publications and replaced by another crisis to distract people away from the failure of globalist social and economic policies while the migrant movement will continue in the background. The only way to stop it is to elect political parties that reject globalist socialist ideologies.
RELATED POSTS:
Back to Contents table

Britain Must Stop |Vilifying Asylum Seekers And Let Them Work Say Conservative Rebels
A growing backlash by members on the Conservative benches of the House of Commmons over the Government's restrictions which bar asylum seekers from working while they await the outcome of their applications, is the latest embarrassment for Rishi Sunak's Conservative In Name Only government. The rebels demand that Britain must stop vilifying asylum seekers, dump its "mad" work ban on asylum seekers who could plug labour shortages, says a former minister in the immigration department.
Europe's Liberal Snowflakes In Meltdown As Renzi Says "Italy Has No Moral Duty To Take In Migrants"
The liberal mask behind which Europe's political, academic and financial elite hide their grand plan to undermine the solidarity of the working classes by flooding the continent with unskilled, illiterate, illegal immigrants from impoversished and confict stricken third world nations took a massive hit on Friday, when Italy's Former Prime Minister and current leader of The Democratic Party Matteo Renzi, said his country has "no moral duty to take in migrants",
A Different Perspective On Mass Migration
A top Polish magazine editor is calling for the Polish government to hold a national referendum on the EU Pact on Migration and Asylum, warning that the new law, which allows for the forced relocation of migrants to countries across Central Europe, is going to radically change the ethnic composition of the countries most opposed to mass immigration. - Read full article
As UK National Socialist Leader Jeremy Corbyn Corbyn makes 'socialist case' for EU ...
As Jeremy Corbyn goes over to the dark side and tries to pretend the EU is a democratic, socialist organisation, George Soros reveals his plan to marginalise educated Europeans by flooding europe with ignorant, illiterate third world migrants to provide cheap and easily controlled Labour for industry
Starting Pistol Fired In Race To Succeed Merkel
While the odds of Merkel being deposed by a putsch in her own party may seem slim, they have been improved vastly by her party's monumental failure in German state elections on Sunday, with her migration policy as the rationale for huge numbers of voters abandoning the CDU for the anti - integration, anti - immigration AfD party.
Sharia courts creating dual justice system in UK?
As if we did not have enough immigration problems to deal with as the inflow of illegal immigrants (or refugees and asylum seekers as our ruling elites insist on calling them) shows no sign of slowing. from RT.uk:
Thousands Flood The Streets In Germany As Fury Over Refugee Sex Assaults Reaches Boiling Point
What mostly news reports in English speaking countries initially believed was isolated riot by newly arrived migrants in Cologne's city center now appears not to have been confined to the German city but was a bloc-wide phenomenon as women in Austria, Switzerland, Finland, Sweden, Denmark, The Netherlands, Norway, France and other places have come forward to report being molested
Hungarian Government Minister Slams Down German Call To Show 'Humanity' To Illegals
A senior member of the Hungarian government accused a German Foreign Affairs minister of having lost his grip on reality after the German insisted that in order to stop further atrocities like the one in Paris, more open borders and less restrictions on movement were needed.German Federal Foreign Office minister of state Michael Roth yesterday insisted the Paris attacks showed Europe should move to integrate more fully ...
Muslim Only No Go Areas For Police And Emergency Services In Our Cities? - It Already Happened In Sweden.
Sweden continues to lead the way in surrendering its nation, culture and self respect to exremist Muslim dickheads, reasoning that the violent rapists and murderers of the relion of peace will thank them rather than kill them all. but the people all over Europe are waking to the betrayal of their elites.
Hungary speeds up fence building as criticisms of its 'no more migrants' policy mount
With the criticisms from Austrian and German leaders still echoing through the strets of Prague, likening their treatment of undocumented travellers who are trying to enter the country illegally to Nazi holocaust deportations, the Hungarians have been rushing to finish their razor-wire fence along ...
Mediterranean Immigrant Composite
The flow of undocumented migrants from Africa trying to cross the Mediterranean from the coast of Libya to Italian, Greek and Maltese territory seems unstoppable. Two factors in the problem however have been western (particlarly American meddling in the internal affairs of African states, and wester aid leading to a population explosion national infrastructures are unable to cope with. And of course European leaders haven't a clue how to deal with the problem.
p>
The West Is Always To Blame For Africa's Troubles
It seems to us that according to the the political left of European and north American nation, we in the west are responsible for all of Africa's racial, economic and it was even the 'evil white man' who instigated tribal wars and genocides that took place before and parts of the continent was colonised. But excusing Africa's endemic problems is a parh to self destruction.
Soros Attacks Trump - New World Order Fears The Pushback
Europe's Immigration Burden
Immigration Omnibus - posts on Immigration problems
How immigration his European hospitals and schools
Immigration boat people
Populist Authoritarianism
Broken Societies
Equal Rights Campaigners Not Christians Are Imposing Their Belief On Others
Europe Unglues - is the union coming apart
Champagne Socialists
Corruption is the root of the EU problems
European Union stealing members' sovereignty
Latest Posts
Elsewhere: [Boggart Blog]...[Little Nicky Machiavelli]...[Scribd]...[Wikinut] ... [ Boggart Abroad] ... [ Grenteeth Bites ] ... Ian Thorpe at Flickr ] ... [ Tumblr ] ... [ Ian at Minds ] ... [ The Origninal Boggart Blog]