Hungarian Leader Says Soros-Funded Groups Are Making Money From The Immigration Crisis
Contents
---
Hungarian Leader Says Soros-Funded Groups Are Making Money From The Immigration Crisis
by Ian R Thorpe - 15 September, 2015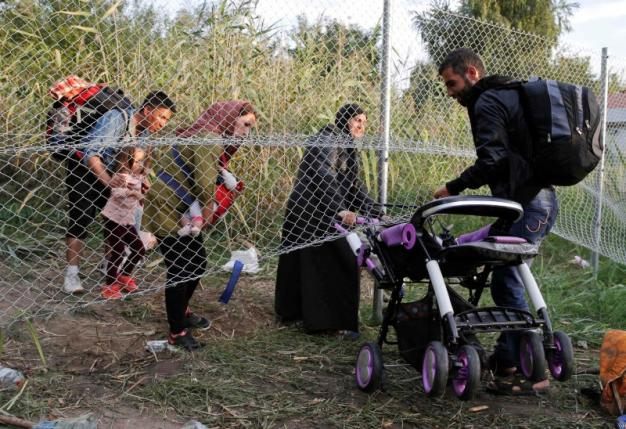 Image source:
Breitbart
What a delicious irony it is to find the left wing hate mobs are supporting the latest scam devised by one of their leading 'evil capitalist' hate objects, the hungarian - American billionaire financier George Soros.
Hungarian leader and a man rapidly becoming another hate figure for the sheeple of the left, Viktor Orban attacked pro-migration non-governmental organisations (NGOs) today, focusing his criticism on those funded by Hungarian-American George Soros. Orban said they (the Soros funded NGOs) are "drawing a living from the immigration crisis" while Hungary is simply trying to protect the standard of living of its people.
In an interview with the Hungarian-language TV2 television network, Orban said his actions simply reflected the will of the Hungarian people, and mocked the Austrians and the Germans for now following Hungary by closing and securing their country's borders.
"…one could joke that Austrians are now doing something they had previously continually criticised Hungary for, but this is not the time to do so," he quipped, adding: "Europe is, after all, the land of democracy and it is impossible to go against the will of the people for a long time and without arguments".
Under fire from the West's left dominated media, following his stated concern that the majority of migrants entering his country were Muslim, he said last week: "If we lose sight of the European idea, [Christianity] can become, on its own continent, a minority."
When asked about this, he doubled down, stating "the truth is that we are protecting our way of life".
And according to him, the migrants are no longer "refugees". They have, since leaving conflict zones, passed through a number of safe countries before reaching Hungary, and attempting to go further into Europe to places like Sweden and Germany.
Those "rush across" the continent aren't running for their lives, he said, adding that they simply wanted a German standard of living. Nobody can ask us to share what we have worked for with people who are no longer in trouble or running for their lives".
But he saved his most fierce attack for the charities and non-governmental organisations that have become the talking heads on television sets across Europe since the start of the crisis. He named the Hungarian-American billionaire George Soros, and insisted that his groups "are drawing a living from the immigration crisis", according to Hungary Today.
Another irony is most Eastern European countries have developed their economies by exporting the unskilled and unemployed to countries such as the UK, Netherlands and Germany. These people are often found to be using a loophole in EU law to claim benefits in the UK for family members who are not living with them, and sending the cash back to the homeland. There have been various reports and a number of investigations in the past showing this has been going on for years in thousands of cases.
The European Union has destroyed the concept of the nation state (in accordance with the intention engraved on a plaque in Bâtiment Jean Monnet, Luxembourg, HQ of the EU Commission, and of individual countries putting their own people first. The end result is the mass immigration of Eastern Europeans into the UK as a result of EU free movement of people legislation has contributed heavily to creating the current crisis.
Europe needs to go back to a time when each country was sovereign within clearly defined borders (the Westphalian System) and entry was controlled, each country put its own people first and if you wanted to live and work in another country then you apply for a work permit that gives no entitlement to benefits what so ever. Benefits should only be for citizens of that country, the idea that they can be claimed by foreigners who have only been in the country a few days is utterly absurd.
The EU want more immigrants, and as the leaders of Germany and Sweden have plainly stated the intention is to replace the culturally diverse peoples of each European country by creating a majority of thid world immigrants. The elite want to wipe out the white race, presumably because the masses have become to educated and demanding of accountability from their governments. As this push towards a synthetic monoculture has gathered pace there has been a reciprogal rise in opposition to the goals of the elite, (some call them cultural Marxists, I prefer the labelled given to the Big Brother regime in George Orwell's 1984, Oligarchical Colllectivists)) so I believe mass migrant has become the weapon of genocide.
The dark forces are more mobilised than they have ever been. The BBC has shamelessly discarded any pretence of political neutrality and are bombarding the airwaves with left wing propaganda. Same goes for most quality newspapers (while the tabloids stick to celebrity gossip). Germany has revealed itself as dangerously fascist and still intent on dominating Europe and Britain, as in the 1930s has spinless leaders who think appeasement will buy us indulgences.
What the ruling elites have not planned for however is the short and long term consequences of inviting the whole of north Africa and middle east into the westrn Europe within a short time scale. That's why even the Germans, whose Chancellor Merkel was only days ago saying "Let them all come," has now closed its eastern borders with EU states and deployed the army on their streets to arrest those in the country illegally.
So what will happen next? We will probably see a sudden disappearance of the migrant crisis disappear from our news programmes and publications and replaced by another crisis to distract people away from the failure of globalist social and economic policies while the migrant movement will continue in the background. The only way to stop it is to elect political parties that reject globalist socialist ideologies.
RELATED POSTS:
Back to Contents table
Europe's Liberal Snowflakes In Meltdown As Renzi Says "Italy Has No Moral Duty To Take In Migrants"The liberal mask behind which Europe's political, academic and financial elite hide their grand plan to undermine the solidarity of the working classes by flooding the continent with unskilled, illiterate, illegal immigrants from impoversished and confict stricken third world nations took a massive hit on Friday, when Italy's Former Prime Minister and current leader of The Democratic Party Matteo Renzi, said his country has "no moral duty to take in migrants",

As UK National Socialist Leader Jeremy Corbyn Corbyn makes 'socialist case' for EU ...
As Jeremy Corbyn goes over to the dark side and tries to pretend the EU is a democratic, socialist organisation, George Soros reveals his plan to marginalise educated Europeans by flooding europe with ignorant, illiterate third world migrants to provide cheap and easily controlled Labour for industry
Starting Pistol Fired In Race To Succeed Merkel
While the odds of Merkel being deposed by a putsch in her own party may seem slim, they have been improved vastly by her party's monumental failure in German state elections on Sunday, with her migration policy as the rationale for huge numbers of voters abandoning the CDU for the anti - integration, anti - immigration AfD party.
Sharia courts creating dual justice system in UK?
As if we did not have enough immigration problems to deal with as the inflow of illegal immigrants (or refugees and asylum seekers as our ruling elites insist on calling them) shows no sign of slowing. from RT.uk:
Thousands Flood The Streets In Germany As Fury Over Refugee Sex Assaults Reaches Boiling Point
What mostly news reports in English speaking countries initially believed was isolated riot by newly arrived migrants in Cologne's city center now appears not to have been confined to the German city but was a bloc-wide phenomenon as women in Austria, Switzerland, Finland, Sweden, Denmark, The Netherlands, Norway, France and other places have come forward to report being molested
Hungarian Government Minister Slams Down German Call To Show 'Humanity' To Illegals
A senior member of the Hungarian government accused a German Foreign Affairs minister of having lost his grip on reality after the German insisted that in order to stop further atrocities like the one in Paris, more open borders and less restrictions on movement were needed.German Federal Foreign Office minister of state Michael Roth yesterday insisted the Paris attacks showed Europe should move to integrate more fully ...
Muslim Only No Go Areas For Police And Emergency Services In Our Cities? - It Already Happened In Sweden.
Sweden continues to lead the way in surrendering its nation, culture and self respect to exremist Muslim dickheads, reasoning that the violent rapists and murderers of the relion of peace will thank them rather than kill them all. but the people all over Europe are waking to the betrayal of their elites.
Hungary speeds up fence building as criticisms of its 'no more migrants' policy mount
With the criticisms from Austrian and German leaders still echoing through the strets of Prague, likening their treatment of undocumented travellers who are trying to enter the country illegally to Nazi holocaust deportations, the Hungarians have been rushing to finish their razor-wire fence along ...
Mediterranean Immigrant Composite
The flow of undocumented migrants from Africa trying to cross the Mediterranean from the coast of Libya to Italian, Greek and Maltese territory seems unstoppable. Two factors in the problem however have been western (particlarly American meddling in the internal affairs of African states, and wester aid leading to a population explosion national infrastructures are unable to cope with. And of course European leaders haven't a clue how to deal with the problem.
p>
The West Is Always To Blame For Africa's Troubles
It seems to us that according to the the political left of European and north American nation, we in the west are responsible for all of Africa's racial, economic and it was even the 'evil white man' who instigated tribal wars and genocides that took place before and parts of the continent was colonised. But excusing Africa's endemic problems is a parh to self destruction.
Soros Attacks Trump - New World Order Fears The Pushback
Europe's Immigration Burden
Immigration Omnibus - posts on Immigration problems
How immigration his European hospitals and schools
Immigration boat people
Populist Authoritarianism
Broken Societies
Equal Rights Campaigners Not Christians Are Imposing Their Belief On Others
Europe Unglues - is the union coming apart
Champagne Socialists
Corruption is the root of the EU problems
European Union stealing members' sovereignty
Latest Posts
Elsewhere: [Boggart Blog]...[Little Nicky Machiavelli]...[Scribd]...[Wikinut] ... [ Boggart Abroad] ... [ Grenteeth Bites ] ... Ian Thorpe at Flickr ] ... [ Tumblr ] ... [ Ian at Minds ] ... [ The Origninal Boggart Blog]
---
Switzerland's environmental agency announces national moratorium on 5G
This blog has warned about the health risks of 5G wireless technology before, almost from the moment it was announced people who understand this technology (and two out of the three of us do,) have been saying that while there is always a risk from electro – magnetic radiation, with earlier technologis it was easily manageable if a loittle common sense was deployed. The exponentially higher intensity of 5G frequencies however, takes the health risks to humans to a whole different level.
Criminal damage in Cambridge reveals the police soft peddaling on Extinction Rebellion crimes Nobody is allowed to walk on the grass outside Trinity College Cambridge. I suppose an exception might be made if you were a 365-year-old don who once lolled under the famous apple tree with Sir Isaac Newton (probably a couple of those old fellows still holed up in the port cellar).
Otherwise, set one foot on that sacred turf and you will soon find yourself experiencing the full force of Newtonian gravity; rugby-tackled to the ground by a puce-faced porter in a bowler hat.
Germany's ruling party split over how to respond to AfD
Germany's Christian Democrat party (CDU) is as deeply divided as Britain's Labour Party over how to respond to the upsurge of nationalism. Facing a serious challenge from the nationalist (but not far right please, they are not that,) Alternative for Germany party (AFD) the CDU seems pitifully unprepared for departure of the Chancellor Merkel at a point when Germany its facing most serious political and economic crisis for decades.
Afer EU Engineered Hiatus Italy Heading For New Elections?
Matteo Salvini's Lega are by far the most popular political party in Italy and have been for some time, only a stitch up engineered by the Brussels bureaucracy has kept them out of power. But Brussels determination to prevent any Eurosceptic party becoming part of a governing coalition in any member state reveals the true, authoritarian nature of the European Union.
Sweden dystopia omnibus
Swedish Communist Party: The Left Has Abandoned the Working Class For Migrants & LGBT issues
Are the left getting it at last? Is the message sinking in that the grass roots movements have been infiltrated and hijacked by middle class intellectuals. Are they starting to realise that the obsession with identity politics has supplanted income inequality, housing availability, jobs and the cost of living ... ?
Is the World Health Organization involved in biological warfare research?
Dr. Francis Boyle, a professor of international law, talked in a recent interview with about the Wuhan coronavirus now sweeping through the far east, laboratory in Wuhan, China, where the genetically modified virus appears to have originated, and the World Health Organization's (WHO) clandestine involvement in biological warfare research ...Continue reading
13-year-old fights school policy allowing 'trans girls' into girls' changing room February 7, 2020 (Paul Smeaton, LifeSiteNews) – A 13-year-old UK girl is taking her local council to court after it issued guidance that would allow boys who identify as "transgender girls" to access girls' bathrooms, changing rooms, and dormitory rooms on student trips.
The guidance was issued last year as part of the Oxfordshire County Council's "Trans Inclusion Toolkit for School 2019" project.
RACIST BRITAIN: 'Black Studies' Professor Says British Empire Was Worse Than Nazi GermanyBritain's first professor of "Black Studies", (yes you can get a Mickey Mouse degree from Toytown University in Black Studies,) who is aquiring quite a reputation for uttering 'hate speech' against Britain and white people in general, has now opined the British Empire did "far more harm" than Hitler's Germany, and branded "whiteness" a "... Continue reading".
Big Pharma billionaire charged with conspiracy and bribery of doctors
Not long ago it would have been inconceivable that one day a Big Pharma company founder and owner would be arrested for running a criminal drug cartel, but that is exactly what happened a few days ago. "Federal authorities arrested the billionaire founder and owner of Insys Therapeutics Thursday on charges of bribing doctors and pain clinics into prescribing the company's fentanyl product to their patients ...
Coronavirus Contains "HIV Insertions": Claim Stokes Fears Over Genetically Modified BioweaponFor the past two weeks mainstream media reporting of the epidemic of a new strain of coronavirus in China has been getting more and more hysterical. However, reports have pushed back against one "conspiracy theory" about the origins of the virus that has now infected as many as 70,000+ people in the central China city of Wuhan alone (depending on whom you believe).

Corona Virus: Should We Worry
The official data coming out of China and from other sources including the World Health Organisation (WHO) on the spread of the Wuhan coronavirus continues to suggest an exponential growth rate. With more and more infectious disease experts are now openly calling the virus a full-blown global pandemic, many people are asking should we in the west be worried and how bad might things get?
The Islamic Republic Of France
France's left-wing elite are accused of cowardice for failing to support 16-year-old girl facing death threats after she insulted Islam online, the ruling class have been also accused of cowardice for failing to support a 16-year-old girl who has faced death threats after she allegedly insulted Islam online.
Clinton Kill List To Determine Who Will Be US 2020 Presidential Candidate?
And then, in accordance with Murphy's law, which states just when you think things can't get any worse, they do, Hillary Clinton has emerged, having found what she obviously thinks is a sure – fire route to the presidency, to offer her services as vice presidential candidate to whoever wins the nomination. And just to show how far The Democrats are removed from reality, many leading figures in the party and the left leaning media think it's a good idea.
January 2020
Coronavirus Contains "HIV Insertions": Claim Stokes Fears Over Genetically Modified Bioweapon
The theory that China obtained the coronavirus via a Canadian research program, and started molding it into a bioweapon at the Institute of Virology in Wuhan before it somehow escaped could be an attempt by the establishment (the Davosocracy,) to spread fear and panic as they see resurgent nationalism across the developed world and growing scepticism about
Italy most likely member to quit the EU and demand independence after Brexit -shock poll 23:01 (11 pm) 31 January, the United Kingdom is no longer part of the European Union.
Throughout the day, the last on which the UK will be a member of the European Union, more than 7,000 people took part in an online, and completely meaningless except as a gesture, poll which asked which nation they thought would be next to leave the 27 member bloc ...
US Democratic Party Orders Google To Spread Globalist Propaganda
The U.S. House of Representatives Select Committee on the Climate Crisis has demanded, in a letter to Google CEO Sudar Pichai that the Internet Search giant demonetize climate skeptics, and provide 'education' to millions of people who have been exposed to "dangerous misinformation". Key actions demanded of Google by The Democrats are:
Time is NOT real: Physicists show EVERYTHING happens at the same time
The concept of time is simply an illusion made up of human memories, everything that has ever been and ever will be is happening RIGHT NOW. That is the theory according to a group of esteemed physicists who aim to solve one of the universe's mysteries.
Most people do not even consider the concept of time but there is nothing in the laws of physics to state that it should move in the forward direction that we know. The laws of physics are symmetric ultimately meaning that time could have easily moved in a backward direction as it does forward. Indeed some adherents to the 'big crunch' theory say time WILL run backwards when the universe stops expanding and starts contracting back in on itself.
The BBC is panicking at the public's rejection of its arrogant Left-liberal worldview
This is nearly over – this weird disconnect between what most of us understand as reality and the world as seen through the eyes of an all pervasive Authority that was apparently appointed (although we never knew by whom) to establish the limits of public discourse. The crisis of confidence at the BBC – and make no mistake, it is a full blown, all alarm bells ringing, catastrophic crisis ...
The grooming gang cover-up is Britain's real racism scandal
Forget pathetic 'Princess Pushy' Megan Markle petulantly playing the race card when she found life in the goldfish bowl occupied by Britain's Royal Family was not to her liking, the grooming gang cover up is Britain's racist scandal - and it is far worse than the trivialities that get American libtards screaming about "White Privilege ..."
John McCain's Widow Comments on Jeffrey Epstein's Sex Trafficking ChargesJohn McCain's Widow Comments on Jeffrey Epstein's Sex Trafficking Charges
Speaking at a human trafficking event in Florida, McCain revealed that her family was quite familiar with Epstein's wrongdoings as one girl from her daughter's high school was actually among the financier's underage victims, then suddenly acknowledging that she "knew" about his crimes.
More posts:
French Intellectual Jailed for Calling Mass Immigration an "Invasion"
French intellectual Renaud Camus (above) has been conditionally sentenced to 2 months imprisonment for arguing that mass immigration in Europe represents an "invasion." Summit.news reports: The writer, who is the author of Le Grand Remplacement (The Great Replacement), was charged with "public incitement to hate or violence on the basis of origin, ethnicity, nationality, race or religion."
"Hard" Of Hearing? PornHub Being Sued By Deaf Man For Lack Of Subtitles
We read today that sex supermaket site PornHub is being sued by Yaroslav Suris, who has filed a lawsuit claiming that its lack of PornHub's lack of subtitles for the hard of hearing is discriminatory. Suris' bone of contention is that the website violates his rights under the Americans With Disabilities Act, according to showbiz gossip site TMZ, which broke the story ...
Quitaly Back On As Salvini Prepares To Take On The EU
While the bureaucraps of Brussels were still congratuating themselves on forcing Matteo Salvini's Lega party out of Italy's governernment, mainstream media barely bothered to cover the news that Lega won the state elections in Umbria towards the end of October 2019. Thus the story that should have had Europhiles like Emmanuel Macron and Guy Verhofshit crapping themselves was barely noticed.
Police Failed To Act Against Muslim Grooming Gang Due To Fears Over "Community Tensions" A new report based on the evidence of former Grester Manchester Police Detective Constable Maggie Oliver acknowledges that the force failed to stop dozens of girls being groomed and sexually exploited by a network of Pakistani men despite being fully aware of what was happening due to fears over creating "community tensions." The report notes that the instruction to avoid prosecuting came "right from the top ..."
Asian grooming gang given free pass to rape; police officers told 'find other ethnicities' to investigate – detective.
A report published today, authored by child protection specialist Malcolm Newsam CBE and former senior police officer Gary Ridgway, comes following the reopening of an investigation into the death of 15-year-old Victoria Agoglia, who – after years of abuse and days after she was injected with heroin by a 50-year-old man – died in hospital of an overdose in 2003.
Greta Thunberg Slams Australia for Coal Industry, Expands List of Climate Demands
Little Greta Thunberg, who was elected by nobody apparently now speaks for us all on matters relating to climate change. The Swedish climate change hustler who is making a fortune for her handlers from donations to her campaign, again castigated Australia for continuing to mine and export coal despite her previous complaints, adding a call for an end worldwide to the actibity to her list of climate demands to be delivered at the upcoming World Economic Forum in Davos ...
Macron Digs In Against The General Strike, But Could It Finish Him?
As the French braces itself for the latest wave of protests and strikes across the country, as attitudes harden against President Emmanuel Macron's pension and retirement system reforms. Karel Vereycken, vice-president of France's Solidarity and Progress Party, has given his version what's behind the recent wave of strikes and why Macron's efforts to calm the situation down are backfiring.