Google, Facebook, Microsoft, Sold You Out To Big Government Then Lied To You About It.
by Ed Butt
The U S Government has been engulfed by scandals over the past few months and the latest one, which dates back to before the current administration took office is the snooping on citizens' internet, emain and cellphone records.
Contact us:

Google, Facebook, Microsoft, Sold You Out To Big Government Then Lied To You About It.
by Ed Butt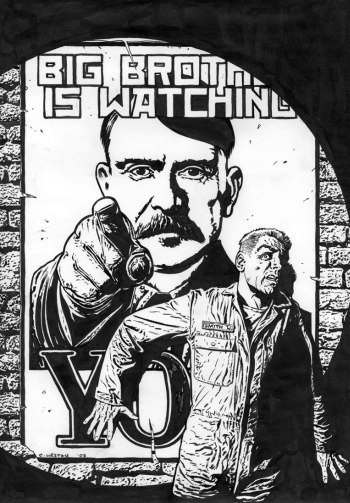 When news broke of the U S Government's massive surveillance of e-mails, web transactions and cell phone activity the power crazy billionaires of Silicon Valley were quick to deny that their organizations had any involvement. Given the track record of these creeps on honesty, nobody should have needed to be told they were all in up to their nacks on the scam. I mean, Bill Gates, puh! He's the guy you may remember who has told us that every new generation of Windows was great. And they were all not fit for purpose from our POV.
From the perspective of Microsoft and their business partners however these packages did exactly the job they were intended to. Each was so clunky and full of bugs Microsoft has to load millions of patches and fixes so that our systems quickly became so bloated we had to but new, more powerful hardware. Every generation was so full of loopholes for hackers and malware merchants to exploit we needed new security software. And by the time we had all that, our desktop was so incompatible with legacy software we had to buy later versions of our favourite packages.
I admit to having an advantage here, having been a computer consultant I thought ahead and simply kept my old drives which I slot into a docking station and thus I can load up Win 98 if I wish and use my old software. (the latest Windows I have is XP, I went Linux after that).
The whole Windows / Internet thing has been the biggest scam ever, with a decent operating system 90 per cent of people could do everything they will ever want to do on a Pentium 2. I know, I run Linux on a ten year old system for my photo, music and movie editing.
Given that the whole scam has been pulled off with the complicity of governments it was obvious that at some stage government would call in the favours. It is not a new thing, have a look at what Project Echelon (set up in the 1990s) is about. www.character-education.us/echelon.htm
Of course the internet companies were in on it. Government (your tax money) bought them the hugely expensive infrastructure for their search and social networking businesses.
So when Facebook's Zuckerberg and Google's Larry Page stepped forward to deny having given your private data to government agencies, apart from the fact that neither of the semi autistic little nerds would recognise the truth if it ran up and kicked them in the cobblers, it was obvious they were lying. Well it was obvious to someone like me, if the Pentagon can't keep British and Dutch geeks out of their servers, let alone Chinese, Russian and Iranian spies, Facebook andGoogle, with their clunky sites built by script kiddies rather than veteran programmers who know how computer systems and networks work are not going to be able to keep the Government out.
Zsuckerberg and Page caught out in PRISM data mining lies www.dailymail.co.uk/news/article-2337863/PRISM-Google-Facebook-DID-allow-NSA-access-data-talks-set-spying-rooms-despite-denials-Zuckerberg-Page-controversial-project.html
But as I said, these companies would not try to resist the government, they are all far too cosy with each other. The reason governments have sunk so much money into building the internet infrastructure is because the technology, even before the www was launched, offered the potential for total monitoring and total control of the information we see. It is deeper and more perevasive than most people would ever imagine.
Did you know for example that Windows, for so long the market leading operating system by an overwhelming margin has been government-snooper-friendly since 1999?
This from Global Research blows the whistle on the cosy arrangement between Microsoft and the U S Government.
In researching the stunning pervasiveness of spying by the government (it's much more wide spread than you've heard even now), we ran across the fact that the FBI wants software programmers to install a backdoor in all software.
Digging a little further, we found a 1999 article by leading European computer publication Heise which noted that the NSA had already built a backdoor into all Windows software:
A careless mistake by Microsoft programmers has revealed that special access codes prepared by the US National Security Agency have been secretly built into Windows. The NSA access system is built into every version of the Windows operating system now in use, except early releases of Windows 95 (and its predecessors). The discovery comes close on the heels of the revelations earlier this year that another US software giant, Lotus, had built an NSA "help information" trapdoor into its Notes system, and that security functions on other software systems had been deliberately crippled.
The first discovery of the new NSA access system was made two years ago by British researcher Dr Nicko van Someren [an expert in computer security]. But it was only a few weeks ago when a second researcher rediscovered the access system. With it, he found the evidence linking it to NSA.
Two weeks ago, a US security company came up with conclusive evidence that the second key belongs to NSA. Like Dr van Someren, Andrew Fernandez, chief scientist with Cryptonym of Morrisville, North Carolina, had been probing the presence and significance of the two keys. Then he checked the latest Service Pack release for Windows NT4, Service Pack 5. He found that Microsoft's developers had failed to remove or "strip" the debugging symbols used to test this software before they released it. Inside the code were the labels for the two keys. One was called "KEY". The other was called "NSAKEY".
Fernandes reported his re-discovery of the two CAPI keys, and their secret meaning, to "Advances in Cryptology, Crypto'99? conference held in Santa Barbara. According to those present at the conference, Windows developers attending the conference did not deny that the "NSA" key was built into their software. But they refused to talk about what the key did, or why it had been put there without users' knowledge.
A third key?!
But according to two witnesses attending the conference, even Microsoft's top crypto programmers were astonished to learn that the version of ADVAPI.DLL shipping with Windows 2000 contains not two, but three keys. Brian LaMachia, head of CAPI development at Microsoft was "stunned" to learn of these discoveries, by outsiders. The latest discovery by Dr van Someren is based on advanced search methods which test and report on the "entropy" of programming code.
Within the Microsoft organisation, access to Windows source code is said to be highly compartmentalized, making it easy for modifications to be inserted without the knowledge of even the respective product managers.
Stunning isn't it. I was vaguely aware of rumours about this arrangement but being British, resident in Britain and having heard nothing about a similar deal between Microsoft and our government I have never done any digging myself.
The problem with the internet that too few people understood for any serious resistance to emerge to the drive to put our entire lives online is that far from freeing information it actually puts control of information into the hands of governments and their corporate allies. You have read how governments in places like China, North Korea, Indonesia and Saudi Arabia block certain information. Well it is just as easy to do it in the western democracies, much easier than silencing a free press for example.
All that is needed is a filter (a very simple string matching routine) at certain points on the data path and any data containing a certain word, phrase, domain name, IP address etc. can be steered into a black hole. It's a dictatorships wet dream.
RELATED POSTS:
Facebook's evil empire
Google's surveillance society
Internet privacy theft
Slaves To The Machine
Them (poem)
Ed Butt at Bubblews.com
Science and Technology
CREATIVE COMMONS: attrib, no comm, no dervs.
KEYWORDS: news, opinion, dailystirrer,
If you liked this, please give it a boost
Close Window and return to previous URL

Skip RSS Feeds and go to Greenteeth Menu Panel
News Feeds (Go back to top)
BBC News





Updated : Sat, 20 Dec 2014 18:18:07 GMT


Researchers in Brazil discover "super-bacteria" in the sea waters where sailing and windsurfing events will be held during the 2016 Olympics.
Publ.Date : Tue, 16 Dec 2014 02:21:51 GMT


Obesity can constitute a disability if the health effects have an impact on people's working lives, the European Court of Justice rules.
Publ.Date : Thu, 18 Dec 2014 13:26:29 GMT


Small measures that could boost children's care
Publ.Date : Fri, 28 Nov 2014 02:18:50 GMT


It's almost Christmas, and Sula's new ear implants mean she will be able to hear carols and jingle bells this year.
Publ.Date : Fri, 19 Dec 2014 07:29:47 GMT


The precise part of the brain that gives people a sense of direction has been pinpointed by scientists.
Publ.Date : Fri, 19 Dec 2014 01:46:58 GMT







CNN



Updated :


FREETOWN, Sierra Leone (AP) — A Sierra Leone military official says the country is withdrawing from the African Union peacekeeping force in Somalia after being blocked from rotating its soldiers over concerns about the spread of Ebola.
Publ.Date : Sat, 20 Dec 2014 11:34:05 -0500




By Mary Wisniewski CHICAGO (Reuters) - A child who arrived in Chicago with a fever was under observation on Friday at a city hospital to rule out the Ebola virus, hospital officials said. Federal officials screening arriving passengers at O'Hare International Airport detected the fever, but no other symptoms of the disease, the University of Chicago Medical Center said in a statement. The patient was isolated under strict quarantine protocols until the child's condition improves and a diagnosis is established, the hospital said. The child was in stable condition. ...



Publ.Date : Sat, 20 Dec 2014 09:52:37 -0500




MONROVIA, Liberia (AP) — Health workers carrying thermometers and sanitizers manned polling stations across Liberia on Saturday as voters cast their ballots in a twice-delayed Senate election that has been criticized for its potential to spread the deadly Ebola disease.



Publ.Date : Sat, 20 Dec 2014 14:04:45 -0500




By Matthew Mpoke Bigg CONAKRY (Reuters) - U.N. Secretary-General Ban Ki-moon on Saturday urged countries affected by the Ebola virus to avoid discriminating against healthcare workers fighting to end the disease. Ban was speaking in Guinea on the second day of a whistle-stop tour aimed at thanking healthcare workers of the countries at the heart of the epidemic. According to the latest World Health Organization figures, 7,373 people have died of Ebola in the three worst-affected countries, Liberia, Sierra Leone and Guinea. ...



Publ.Date : Sat, 20 Dec 2014 08:55:37 -0500




By James Harding Giahyue MONROVIA (Reuters) - Turnout for Liberian parliamentary elections on Saturday appeared to be low as concerns about Ebola kept many voters at home. Polling stations were largely empty after voting began at 8 a.m. (3.00 a.m. ET) in the seafront capital Monrovia, with voters occasionally drifting in, despite precautions put in place by the National Elections Commission (NEC). Staff with temperature guns at polling stations checked voters for any signs of the hemorrhagic fever, which is spread via bodily fluids. ...



Publ.Date : Sat, 20 Dec 2014 16:42:57 -0500






" HSPACE=2 VSPACE=2>
SITE SEARCH
find keywords on
this domain

This free script provided by
JavaScript Kit
INFORMATION
NAVIGATION
navigate
navigate

CATEGORIES

Fiction
Animal related
Art Menu
Belief, Faith and Religion
Celebrity mocking and knocking
Climate and Environment
Comedy, Satire, Humour
Debt Crisis and Money Matters
Driven To Drink
Education Menu
Fear and Panic
Health Menu
History - new perspectives
Humanitas
Jobs Crisis
Living Within The conspiracy
Middle East
Nanny State and The Thought Police
Past Perspectives
Philo & Sophia
Politically Correct Stupidity
Fools & Dreamers
Politics and Economy
Latest News Science and Technology
Sex and sexuality
Sport
Weird and Supernatural
SNACKS (sub topics)
The Ageing population
America
Religion and spirituality
Climate Change
Comedy and Humour
Education is overrated
The environment
Europe
Health
Internet Technology
Jobs and employment
Money and finance
Myths and traditions
Nanny Orwell
People and Places
Science, technology
Society
UK politics
War
World Politics


Our Internet Places

Scribd
Blogster
Ed Butt at Bubblews
Wikinuts
Boggart Blog
Little Nicky Machiavelli
Boggart Network News
Greenteeth Bites
Greenboggart
Boggart Blog Central
Daily Stirrer briefing
Boggart Network News
BOGGART BLOG ARCHIVES


BBselect001
BBselect002
BBselect003
BBselect004
BBselect005
BBselect006


Bubblews Archives
[ 1 ] [ 2 ] [ 3 ] MULTI MEDIA
Spoken Word
Video
Music
Graphic Art