July 2021
Daily Stirrer - January 2022 January 2022 26 January 2022 Daily Covid Crimes Roundup - 26 January 2022

Covid Vaccines A Spectacular Failure Data Shows

Data analyses from multiple countries show a negative correlation between COVID vaccination rates and worsening infection rates and other health trends.

Miss a day, miss a lot. Subscribe to The Defender's Top News of the Day. It's free.

Story at-a-glance:

British data show the COVID shots are an abysmal failure, as COVID infection rates in the UK are higher among the "fully vaccinated" in all adult cohorts.
Infection rates are also rising faster among the fully vaxxed than in unvaccinated cohorts of all ages. All in all, these data prove that vaccine passports and mandates are completely pointless.
Data from Scotland show more of the same. Double-jabbed Scots are more likely to be admitted to the hospital for COVID than unvaccinated. Since Omicron became dominant, COVID case rates are also lower among the unvaccinated than among the single-, double- and even triple-jabbed.
Internationally, journalists are now starting to try to switch the narrative away from cases, hospitalizations and deaths by pointing out how unreliable these data are. What they don't admit is that "dangerous misinformants" have highlighted these problems for two years already.
Omicron is blowing huge holes in the pandemic narrative, as it predominantly affects the vaxxed, thus proving mandates and vaccine passports are irrational and useless.

At this point, there is simply no question. The COVID shots are an abysmal failure in every way possible. Again and again, data analyses from around the world show a negative correlation between "vaccination" rates and worsening infection rates and other health trends.

There's no rationale for passports and mandates

Among the latest data sets to show this are official statistics from the UK government. Its "National Flu and COVID-19 Surveillance Report: 13 January 2022 (Week 2)" shows COVID infection rates in the UK are higher among the "fully vaccinated" in all adult cohorts.

Infection growth rates are also rising faster among the fully vaxxed than in unvaccinated cohorts of all ages. All in all, these data prove that vaccine passports and mandates are completely pointless and nothing more than a coercion tool. In no way do they reduce infection rates, hospitalizations or deaths from COVID.

Regardless of how many shots a person has received, they're still getting infected and transmitting it. Plus, we know the jabbed are veritable incubators for mutating strains. Everything about this mass vaccination campaign is detrimental to public health.

Continue reading >>>

[

Daily Stirrer

] ... [

Our Page on on Substack

]... [

Boggart Aboad

] ... [

Greenteeth Home

] ... [

Greenteeth on Minds.com

] ... [

Latest Posts

]

---

Fully Vaccinated College Campuses Are Seeing A Surge In COVID Cases from SHTFplan.com https://www.shtfplan.com/headline-news/fully-vaccinated-college-campuses-are-seeing-a-surge-in-covid-cases Mac Slavo
January 26th, 2022
SHTFplan.com


The ruling class continues to tell everyone else that these "vaccines" are safe and effective. At this point, perhaps they don't know the meaning of the word "safe" or "effective," unless "effective" means something other than being able to stop the transmission of the virus.

Some rulers have actually said these shots are worthless now, while others have kept the propaganda going strong to maintain their grip on power over others.

CDC Director: "What Vaccines Can't Do Anymore Is Prevent Transmission"

The mainstream media claims that cases are spiking on college campuses because, despite the rapid spread of the omicron variant, most schools are beginning their spring semesters in person. Just 14% of colleges are beginning the semester online, according to new data from the College Crisis Initiative. This time last year, before there were vaccines, about 40% of colleges started online.

Continue reading >>>

[

Daily Stirrer

] ... [

Our Page on on Substack

]... [

Boggart Aboad

] ... [

Greenteeth Home

] ... [

Greenteeth on Minds.com

] ... [

Latest Posts

]

---

Israel now #1 in covid cases per capita, proving all the draconian vaccinations, lockdowns and restrictions are utterly worthless and stupid

(Natural News) Despite the fact that Israel has implemented some of the most draconian COVID-19 pandemic measures in the world, the country is now number one in the world in new cases, according to local reports.

According to the Times of Israel, a leading health expert in the country said that 0.6 percent of the population was testing positive daily for the virus — most likely the latest variant, omicron, which is highly contagious but also very mild.

Prof. Eran Segal of The Weizmann Institute said at that rate, Israel currently leads the world in per capita infection rates, even though the population is required to get the latest version of vaccines available and despite heavy quarantine and lockdown regimes.

However, Segal tried to excuse the high infection rate:

But Segal noted it was likely that Israel was not truly the country with the highest infection rate. Rather, he attributed the figures to Israel being a leading country in the number of tests performed each day, relative to its population size.

Israel is followed in the highest daily cases worldwide ranking by Mongolia, Peru, Canada and Georgia.

The fact is, either you're the number one country, per capita, in daily infections — or you're not. And right now, Israel is No. 1, period, no matter how you look at the data.

But instead of realizing that this novel coronavirus is not the world-ender that the world has been propagandized to believe, Israeli Prime Minister Naftali Bennett is quadrupling down on idiot policies that have not worked yet and are never going to work (because viruses virus — that's what they do and nothing humans do will stop them from spreading).

Continue reading >>>

[

Daily Stirrer

] ... [

Our Page on on Substack

]... [

Boggart Aboad

] ... [

Greenteeth Home

] ... [

Greenteeth on Minds.com

] ... [

Latest Posts

]

---

24 January 2022
SUN is a UK political movement which aims to counter the collusion and crony institutions and systems undermining freedom, the rule of law, democracy and the peace of the United Kingdom. "Our emblem is the white and red poppy. It's in honour of all of those who fight and have fought for our freedom, democracy, rule of law and peace."
Just over 12 months from deployment of the Covid emergency use experimental injections scientific studies in the thousands and reports of criminal complaints of assault and murder from the illegal, unlawful use of biochemical poisons made to police forces around the country, verify an assault on an unsuspecting UK population.
Irrefutable science shows that the Covid injection is not safe and not effective in limiting transmission or infection from the SARS-CoV-2 coronavirus pathogen. The "safe and effective" false propaganda, put out by public officials who now are continuing to push this injection, is a clear breach of duty. A public office holder is subject to, and aware of, a duty to prevent death or serious injury that arises only by virtue of the functions of the public office.
Continue reading >>>
[Daily Stirrer] ... [ Our Page on on Substack ]... [Boggart Aboad] ... [ Greenteeth Home ] ... [ Greenteeth on Minds.com ] ... [ Latest Posts ]>/p?
---
Nervous system disorders after the jab – a case study
by Sally Beck, TCW Defending Freedom, January 24, 2022
NERVOUS system disorders following Covid vaccination are being recorded in shocking numbers, with reports to the UK's Yellow Card Scheme of almost 300,000 injuries and 300 deaths.
Despite this, the Medicines and Healthcare products Regulatory Agency (MHRA), who run the Yellow Card scheme and review all suspected injuries, are sticking with their mantra that Covid vaccines are 'safe and effective'.
Their message infuriates music manager Georgia-Rose Segal, 34, from Hertfordshire, a previously active fitness fan. Supremely healthy, and at low risk of contracting Covid-19, she was worried about getting the experimental jab, but decided to take it after being reassured by three GPs. She could then travel abroad for her job, about once a quarter, and visit family in Israel to celebrate Rosh Hashanah, the Jewish new year.
It is a decision she bitterly regrets as she is now a statistic, one of the 100,000 victims suffering with 300,000 neurological injuries reported up to January 5, 2022, which we have analysed in our special report below.
After her adverse jab reaction, Georgia, who is articulate, down-to-earth and had clearly made the effort to be well informed, was admitted to Stoke Mandeville Hospital in Buckinghamshire – a spinal injury specialist – with symptoms which included lack of balance, dizzy spells, tremors, tics, short-term memory loss and brain fog.
Georgia had her first dose of Pfizer-BioNTech Covid-19 vaccination on May 13, 2021 at Hemel Hempstead pop-up vaccine centre. It wiped her out. 'I felt like I could have slept for a year. I felt like that for a couple of days,' she said. She had her second dose on June 29. 'Within four hours I felt dizzy and light-headed. I fainted that evening, then over the following days, I began fainting up to three times a day. Continue reading >>>

How COVID Vaccines Suppress the Immune System
from Childrens Health Defender

In a preprint paper, Stephanie Seneff, Ph.D., described a mechanism of the COVID shots that results in the suppression of the innate immune system, and how that is leading to an increase in cancer cases in people who got the vaccines.
Miss a day, miss a lot. Subscribe to The Defender's Top News of the Day. It's free.
Story at-a-glance:
In a non-peer-reviewed research paper last week, Stephanie Seneff, Ph.D., describes a mechanism of the COVID shots that results in the suppression of your innate immune system. It does this by inhibiting the type-1 interferon pathway.
The COVID jab can cause neurons in your brain to produce toxic spike protein, or take up circulating spike protein, and the neurons try to eliminate the spike protein by transmitting them through exosomes. The exosomes are picked up by microglia, immune cells in your brain, which activate an inflammatory response, which can contribute to degenerative brain disorders.

Two microRNAs, miR-148a and miR-590, are central in this process. These microRNAs — excreted in the exosomes along with the spike protein — significantly disrupt the type-1 interferon response in any cell, including immune cells.

On average, there are twice as many reports of cancer following the COVID shots compared to all other vaccines combined over the last 31 years.

The fact that the signal is that strong is even more remarkable when you consider that most people don't think the COVID shot could be a variable in their cancer emergence, so they never report it.
In this interview, return guest Stephanie Seneff, Ph.D., a senior research scientist at MIT who has been at MIT for over five decades, discusses her latest paper, "Innate Immune Suppression by SARS-CoV-2 mRNA Vaccinations. The Role of G-quadruplexes, Exosomes and MicroRNAs," co-written with Dr. Peter McCullough, along with two other authors, Dr. Greg Nigh and Dr. Anthony Kyriakopoulos.
Previously, Nigh and Seneff co-wrote an entire paper detailing the differences between the spike protein and the COVID jab spike protein.
In a non-peer-reviewed research paper published last week on the preprint service Authorea, they and their other co-authors delve deeply into the mechanisms of the COVID shots, showing how they absolutely, in no way, shape or form, are safe or effective. The shots actually suppress your innate immune system.
"I think McCullough is fantastic and I'm so happy to have him collaborate with me," Seneff says. "I really hope we will be able to find a journal that is willing to publish it. We may have to seek some kind of alternative media to get it published.
"It's really incredible the amount of censorship that's going on right now. I'm in a state of shock all the time. I just keep thinking it's not going to get any worse, and it's truly going to get better, and it just seems to keep on getting worse and worse.
"I don't know where the end is. It's very discouraging … Pharma has so much money behind [them] and they've got it all set up to make sure that nothing gets past them …
"We're hoping to put it up as a preprint, but … remarkably, they can reject it at the level of preprint as well. We're working on that angle, but it's not easy. When you're writing something this radical, they really fight hard to keep it off the web."
On Jan. 16, 2022, the pre-print service Authorea published this paper on its website, assigning it a Digital Object Identifier, thus making it official.
Exceptionally strong safety signals
As noted by Seneff, when you look at the various databases for adverse effects, you can see an exceptionally strong safety signal — and the COVID shot developers know that. "The numbers are out of sight," Seneff says, and this goes for all levels of side effects, from mild to catastrophic.
Continue reading >>>
[
Daily Stirrer
] ... [
Our Page on on Substack
]... [
Boggart Aboad
] ... [
Greenteeth Home
] ... [
Greenteeth on Minds.com
] ... [
Latest Po
sts ]
---
---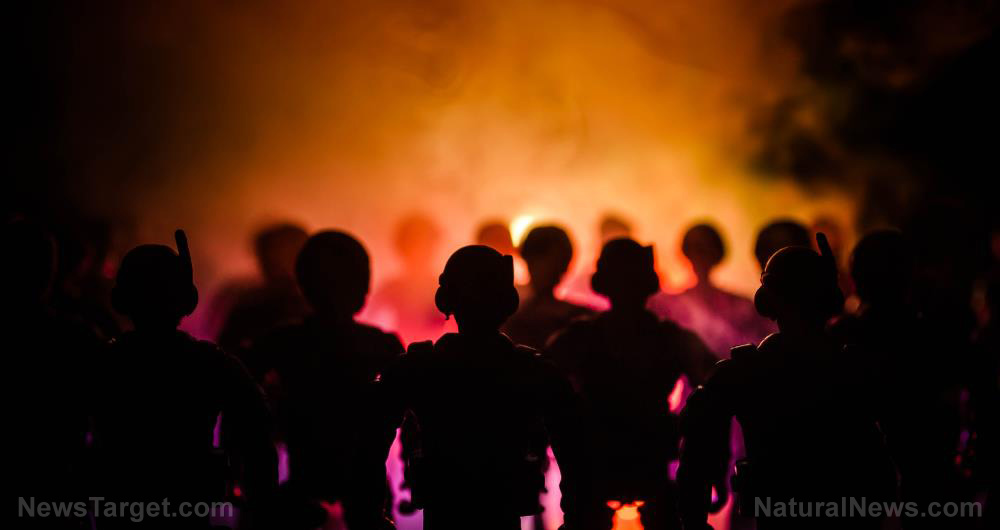 At least 600 law enforcement officers in Austria have written a letter to Austrian Interior Minister Gerhard Karner requesting that proposals for forced Wuhan coronavirus (Covid-19) "vaccination" be withdrawn.
This cohort of police officers also wants the Austrian government to stop discriminating against the unvaccinated, who are now being treated like second-class citizens just for refusing to permanently modify their DNA with experimental Big Pharma chemicals.
"We do not want to face the population in a threatening manner during what are predominantly peaceful demonstrations which were organized due to the increasing dissatisfaction of the people with politicians," the letter, written on January 10, reads.
The petition was signed by three law enforcement personnel who claim to represent hundreds of other law enforcement officials who oppose the mandates.
Over the weekend, some 20,000 protesters converged on Vienna to protest the government's fascist dictate that all citizens over the age of 18 must get jabbed for the Fauci Flu in order to continue living normal lives like everybody else.
23 January 2022
German Government "Concerned" About Massive Anti-COVID Restriction Protests
Authored by Paul Joseph Watson via Summit News,
The German government is seriously "concerned" over the sheer number of protests against COVID restrictions in recent weeks, which are the most widespread in the country's history.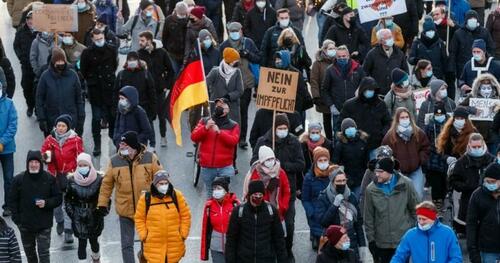 Influential German broadsheet Die Welt reveals that on the same day, protests took place in over 1,000 locations across the country.
"The government is concerned about the decentralized actions," reports the newspaper, with one source labeling the "immensity" of the demonstrations "depressing."

"Never before in the history of the Federal Republic have there been demonstrations that are more widespread than in the last few weeks," states the report, with the government counting 1,046 separate protests involving around 188,000 participants.
Instead of describing such developments as "depressing," you'd think authorities in Germany would maybe considering listening to the will of their people.
A scandal in Hamburg where the Mayor falsely claimed that the unvaccinated represented 95% of COVID cases didn't do anything to restore trust.
A Senate investigation reported the actual number to be 14.3%.
Germany is still pushing ahead with plans to make the COVID vaccine mandatory, with a parliamentary debate on the issue planned for next week.
Las year, the editor-in-chief of Germany's top newspaper Bild apologized for the news outlet's fear-driven coverage of COVID, specifically to children who were told "that they were going to murder their grandma."
As we highlighted earlier, the Czech Republic has abandoned plans to make the COVID vaccine mandatory for some groups after numerous large protests took place in Prague.
Continue reading >>>
[
Daily Stirrer
] ... [
Our Page on on Substack
]... [
Boggart Aboad
] ... [
Greenteeth Home
] ... [
Greenteeth on Minds.com
] ... [
Latest Posts
] ... [
Germany
]
---
Rare Spinal Cord Condition Flagged as Potential Adverse Effect Of COVID-19 Vaccines: EU Drug Regulator
A rare spinal cord condition could be amongst the vaccine's adverse side effects, according to an EU drug regulatory authority. The committee even, who reviewed the data over a three day conference, made a suggestion addressing vaccine manufacturers to add a warning and spread awareness.
A change to the product information has been indicated by the European Union's drug regulator, for COVID-19 vaccines from AstraZeneca and Johnson & Johnson, recommends to include a warning of a rare spinal cord condition called transverse myelitis.
Transverse Myelitis is a rare condition that involves inflammation of one or both sides of the spinal cord. Symptoms can include tingling and weakness in the limbs, pain or numbness, loss of pain sensation, or issues with bowel and bladder function.
The change was recommended by Pharmacovigilance and Risk Assessment Committee (PRAC), the European Medicines Agency's (EMA) committee that assesses the safety of human medicines, on Jan. 14 after concluding that a causal link between the two vaccines and TM is "at least a reasonable possibility."
It recommends changing the product information for the COVID-19 shots — Johnson & Johnson's Janssen and AstraZeneca's Vaxzevria – to include a warning of "very rare cases of transverse myelitis (TM) reported following vaccination." TM will also be added as an adverse reaction with an unknown frequency to the vaccine profile.
#
Continue reading >>>
[
Daily Stirrer
] ... [
Our Page on on Substack
]... [
Boggart Aboad
] ... [
Greenteeth Home
] ... [
Greenteeth on Minds.com
] ... [
Latest Posts
]
---
A comparison of official Government reports suggests the Fully Vaccinated are suffering Antibody Dependent Enhancement
Official Government and Public Health data available from around the world strongly suggests that the triple/double Covid-19 vaccinated population are suffering from antibody dependent enhancement.
In some cases, antibodies can enhance virus entry and replication in cells. This phenomenon is called antibody-dependent infection enhancement (ADE). ADE not only promotes the virus to be recognized by the target cell and enters the target cell, but also affects the signal transmission in the target cell.
In other words, ADE occurs when the antibodies generated during an immune response recognise and bind to a pathogen, but they are unable to prevent infection. Instead, these antibodies act as a "Trojan horse," allowing the pathogen to get into cells and exacerbate the immune response.
The result is often more severe illness than if the person had been unvaccinated, and this is precisely what we are now seeing around the world.
Covid news – live: BA.2 variant 'under investigation', as total post-Christmas cases nearly hit 500,000 a day
Colin Drury, The Independent via Yahoo News,Sat, 22 January 2022
Health chiefs have revealed they are officially monitoring a new version of Covid-19 – which has been nicknamed "stealth Omicron".
The UK Health Security Agency has marked BA.2 a "variant under investigation" – one level below a "variant of concern" – after early data suggested it may be both more transmissible and better able to evade vaccines than previous strains of the killer virus.
It is a sub-lineage of the original Omicron – BA.1 – but appears to have certain differences that may make it both faster at spreading and harder to detect.
According to the World Health Organisation, it is now probably outpacing the earlier strain with some 8,000 cases identified in more than 40 countries, including the US, India, Germany and Australia.
Health chiefs have revealed they are officially monitoring a new version of Covid-19 – which has been nicknamed "stealth Omicron".
The UK Health Security Agency has marked BA.2 a "variant under investigation" – one level below a "variant of concern" – after early data suggested it may be both more transmissible and better able to evade vaccines than previous strains of the killer virus.
It is a sub-lineage of the original Omicron – BA.1 – but appears to have certain differences that may make it both faster at spreading and harder to detect.
According to the World Health Organisation, it is now probably outpacing the earlier strain with some 8,000 cases identified in more than 40 countries, including the US, India, Germany and Australia.
In the UK, some 426 cases have been detected since the new lineage was first designated in December. Although that number may seem small in comparison with the tens of thousand of daily cases of Covid-19 over the last two months, it is thought the real figure of BA.2 will be many times higher because only a fraction of infections are checked for variations.
Its stealth nickname comes from one of its key differences with the original Omicron.
Continue reading >>>
[ Coronavirus Fear And Panic ] ... [Daily Stirrer] ... [ Our Page on on Substack ]... [Boggart Aboad] ... [ Greenteeth Home ] ... [ Greenteeth on Minds.com ] ... [ Latest Posts ] ... [ ]
---
-->
Ivermectin Could Destroy Justification For Lockdowns And Vaccine Mandates
Authored by Harry Lee and Nicholas VandenNieuwenhof via The Epoch Times,
Federal health agencies haven't recognized ivermectin as an effective treatment for COVID-19 patients. According to Doctor Leland Stillman, the reason is more political than scientific, because otherwise there would be no basis for lockdowns or vaccine mandates.
"If ivermectin were recognized by the public health and academic establishment as the drug that it is, that treats acute viral illnesses, one of which is COVID-19, the entire justification for lockdowns, mandates, let alone vaccine research and development would evaporate overnight," Stillman told The Epoch Times in a recent interview.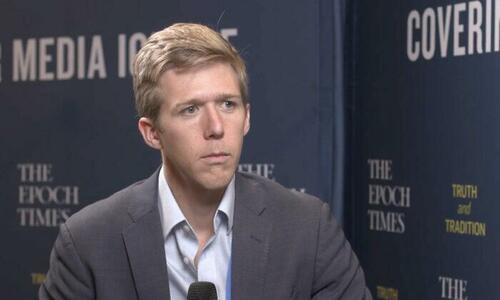 Dr. Leland Stillman in an interview with The Epoch Times in Arizona in December, 2021. (The Epoch Times)
According to Section 564 of the Food, Drug, and Cosmetic Act (pdf), the Secretary of the Department of Health and Human Services (HHS) can only issue emergency use authorization if certain criteria are met, including "there is no adequate, approved, and available alternative to the product."
So if there's an approved alternative, the Food and Drug Administration (FDA)—an agency in HHS—can't issue emergency use authorization for COVID-19 vaccines.
Stillman said it's not a conspiracy theory or even an isolated opinion that ivermectin works for treating COVID-19, because tens of thousands of physicians all over the world have recognized its effectiveness.
Continue reading >>>
[Daily Stirrer] ... [ Our Page on on Substack ]... [Boggart Aboad] ... [ Greenteeth Home ] ... [ Greenteeth on Minds.com ] ... [ Latest Posts ]
back to menu
---
The British Medical Journal (BMJ) has demanded the full and immediate release of all data related to COVID-19 vaccines and treatments, saying it is in the public's interest to do so.
BMJ, a weekly peer-reviewed medical trade journal published by the trade union the British Medical Association, called for the release of the data in an editorial published on Wednesday.
"Today, despite the global rollout of COVID-19 vaccines and treatments, the anonymized participant-level data underlying the trials for these new products remain inaccessible to doctors, researchers, and the public—and are likely to remain that way for years to come," BMJ said.

"This is morally indefensible for all trials, but especially for those involving major public health interventions."
BMJ also accused pharmaceutical companies of "reaping vast profits without adequate independent scrutiny of their scientific claims," pointing to Pfizer, whose COVID vaccine trial was "funded by the company and designed, run, analyzed, and authored by Pfizer employees."
New York-headquartered Pfizer still holds that trial data and has indicated that it won't begin considering requests for such data until May 2025—24 months after the primary study completion date of May 15, 2023, which is listed on ClinicalTrials.gov.
Continue reading >>>
[Daily Stirrer] ... [ Our Page on on Substack ]... [Boggart Aboad] ... [ Greenteeth Home ] ... [ Greenteeth on Minds.com ] ... [ Latest Posts ]
back to menu
---
COVID Vaccine Mandates Strongly Opposed in Europe, US as Vaccine Failures Increase



Since coronavirus pandemic lockdowns were implemented by many governments in 2020, people around the world have held largely peaceful protests against unprecedented social distancing restrictions that are devastating global economies and ruining people's lives. Now, faced with being ordered to obey new laws that require them to be injected with COVID-19 vaccines in order to enter public spaces or hold a job, on July 24, 2021–World Freedom Day–hundreds of thousands of people of all ages took to the streets in Australia, United Kingdom, France, Italy, Greece and Germany to publicly challenge oppressive public health laws.
The messages on the signs they held were diverse but they were united in pushing back against government overreach. The brave determination of people, in democracies around the world who are publicly defending civil liberties–freedom of thought, speech, conscience and assembly–and the human right to informed consent to medical risk taking, demonstrates that the spirit of freedom lives in the hearts and minds of people everywhere. Both those who gather in the public squares of cities big and small and those who are watching are inspired by this commitment to defending liberty.
In the United States, no large demonstrations have been held yet, but polls reveal the nation is sharply divided about COVID-19 vaccine mandates. A Politico/Harvard poll taken in late June 2021 found that Americans were evenly split on whether children should be required to get the COVID-19 vaccine to go to school and more than half of employed Americans are against COVID-19 vaccine requirements for holding a job
Thousands of Italians join protests against "Super Green Pass" COVID-19 vaccine passport and mandate
(Natural News) Thousands of Italians have taken to the streets of the country's largest cities to protest against plans to create a "Super Green Pass" and the newest Wuhan coronavirus (COVID-19) vaccine mandate.
Protests were held in the streets of Rome and in many other cities to demonstrate against the recent tightening of "Green Pass" requirements. The pass is the country's version of the vaccine passport, and it is what Italians need to present to be allowed to participate in certain activities including religious ceremonies, travel, dining and shopping.
According to the new restrictions, starting Feb. 15, all public and private workers in Italy have to present the Super Green Pass before they can be granted access to their own workplaces. (Related: Italy imposes more covid fascism on citizens, says they must get vaccinated to work and enjoy public life.)
The Super Green Pass is a "reinforced" version of the "basic" Green Pass. It can only be obtained by people who are fully vaccinated or have recently recovered from COVID-19 infection.
The Super Green Pass regulation applies to both Italian citizens and foreign residents.
People in Italy who want to ride any form of public transportation must now present a Super Green Pass. Commuters are also obliged to wear face masks.
The pass is now also required for people who want to enter cinemas, theaters, stadiums, hotels, ski lifts, museums, gyms, public swimming pools, theme parks and wedding receptions.
Continue reading >>>
[Daily Stirrer] ... [ Our Page on on Substack ]... [Boggart Aboad] ... [ Greenteeth Home ] ... [ Greenteeth on Minds.com ] ... [ Latest Posts ]
back to menu
---
Seven hospitals in Turkey applied the treatment protocol with and without vitamin C to study its effectiveness for shortening the duration of illness and prevention of death. Out of the 237 hospitalized patients, (ages 22-99), one passed away at the age of 70. The patient had severe vitamin D deficiency and underlying heart and lung disease.
The remaining 99.58% of patients recovered with broad spectrum, natural immunity. During the study, the researchers found that 97% of all the hospitalized patients were vitamin D deficient. Patients who were severely vitamin D deficient (55%) were more likely to end up in the ICU and be hospitalized longer.
A majority (73%) of hospitalized patients also suffered from underlying comorbidities such as diabetes, heart and lung disease. The researchers found that intravenous vitamin C sped up patient recovery from an average of 45 days in the hospital to 15 days. The study concludes that a "treatment protocol of HCQ, AZM, and zinc with or without vitamin C is safe and effective in the treatment of COVID-19, with high dose IV vitamin C leading to a significantly quicker recovery."
Of course, it's being blamed on those horrible truckers who continue to refuse to comply with the authoritarian police state being rolled out all across the globe. In an article by Quartz, the author literally blames the unvaccinated for having the audacity to want to choose what goes into their bodies.
Extreme weather and supply-chain snarls are among the reasons for shortages in grocery stores. Here's another: Unvaccinated truck drivers. –Quartz It's the fault of the un"vaccinated" truck drivers because they won't roll over and comply with further enslavement.
In Canada, where as much as 90% of the country's fruits and vegetables come from the US during the winter, a vaccine mandate for truckers is slowing down food shipments. Drivers who aren't fully vaccinated against covid-19 have to quarantine for two weeks after entering Canada.
Daily Rounup Of Covid Crime Stories - 17 January 2022
Covid Vaccine Fascism
EXPLORE OUR SITES:
[
Daily Stirrer
] ... [
Our Page on on Sunstack
]... [
Boggart Aboad
] ... [
Greenteeth Home
] ... [
Greenteeth on Minds.com
] ... [
Latest Posts
]
---
22 January
Latest Posts we Read
Guess Which Political Grouping Wants To Legalise Incest and Necrophilia?
Has the headline sunk in. Yes it says there are people out there who want to legalise incest (brother /sister or parent / child sex) and necrophila (sex with dead people). Puzzled about who would want to legalise such repugnant things? I'll give you a clue, they aren't conservatives, libertarians or nationalists.
EU HoldsBack New Regulation For Fear Of Strengthening Brexit Case
The unelected leaders of the EU in Brussels are smothering discussion of new pan – European laws that would impact the United Kingdom and all other member states, increasing the amount of money they have to contribute to the EU budget and transferring yet more sovereignty to Brussels ...
EU Bosses Fear Brexit Domino Effect
European leaders met for the first time today to discuss the deal reached over changes to the conditions of Britain's membership of the European Union. Public opinion in member states has led to fears that an out vote may prompt other EU member states to follow Britain's lead.
The "Race To Raqqa" Is Quickly Intensifying
This is a look at the larger picture of forces developing around Syria. Several foreign armies are aggregating at the Syrian borders with the intent to invade Syria and to occupy its eastern part. But before we dive into that, a short look at the curious situation developing in the north-west. Near Azaz the U.S. ally Turkey is currently shelling (video) the U.S. ally YPG which is fighting the CIA supported FSA. The Syrian-Kurdish YPG troops were heavily supported by the U.S. in their fight against the Islamic State in north-eastern Syria. Under U.S. tutelage they united with Arab anti-IS fighters under the label Syrian Democratic Forces.
Read more >>
RELATED POSTS:
ISIS Turkey oil trades
ISIS getting US weapons via Turkey
Syria biggest US blunder ever?
Syria, US Proxy war with Russia
Road To World War III: Turkey Shells Syria For Second Day As Saudi Warplanes Arrive
'I'm back from Syria. The media are lying to you.' Eva Bartlett
US Allies Now Fighting CIA-Backed Terror Groups In Syria
UK Asylum Seekers DEMAND 'VIP' Treatment
Taxpayer-funded three-star hotel accommodation provided for asylum seekers has been labelled discriminatory because paying guests receive better food than migrants who demand their "VIP status" be recognised.
Private contractor Clearsprings is housing 129 refugees at the Mediterranean-themed Europa Gatwick Hotel where migrants have their own rooms, with en-suite bathrooms, plus a television and tea and coffee-making facilities.
Yet, according to the Mail on Sunday, one of them was indignant about the conditions and demanded that they should be treated like VIPs.
The man, who has previously worked at hotels in Dubai, said: "We should be considered VIPs because we are long-staying guests. We are making money for this hotel."
Daily Stirrer Immigration posts
---
Turkey and Sadui Arabia Already Have Troops Fighting In Syria
Even mainstream media has been forced to concede that Turkey and Saudi Arabia are apparently ready to send ground forces to the Syrian battlefield as Assad's forces, backed by Russian air power and Iranian elite troops but continue to grind down ISIS forces equipped with US made arms and ammunition via Saudi Arabia and funded by Turkey's illegal oil trade with the terrorist group.
---
Personal Freedom Versus Political Paternalism
What is the role of government in society? This has been and remains the most fundamental question in all political discussions and debates. Its answer determines the nature of the social order and how people are expected and allowed to interact with one another – on the basis of either force or freedom.
The alternatives are really rather simple. Government may be narrowly limited to perform the essential task of protecting each individual's right to his life, liberty, and honestly acquired property. Or it may be used to try to modify, influence, or dictate the conduct of the citizenry.
In the first case, the government is assigned the duty of impartial umpire, enforcing the societal rules against assault, murder, robbery, and fraud. All human relationships are to be based on mutual consent and voluntary association and exchange.
In the second case, government is an active player in people's affairs, using its legitimized power of coercion to determine how the members of the society may live, work, and associate with each other. The government tries to assure certain outcomes or forms of behavior considered desirable by those who wield political authority.
More Government Means Increased Government Force
It's Official! Labour Party Supports Oppression Of Muslim Women
A Muslim women's rights organisation has sent an open letter to the Labour leader Jeremy Corbyn, outing the innate sexism of the Labour leadership in refusing to take action against the large numbers of male Muslim Labour councillors who have actively blocked Muslim women from entering politics. The group demanded an independent review and accused the party of prioritising votes and being "complicit at the highest levels".
Muslim Women's Network UK (MWNUK) named the Muslim-dominated city councils of Peterborough and Birmingham as a particular concern. The latter is already embroiled in a sexism row, and has been accused of covering up the activities of Muslim gangs alleged to have grooomed, abouse and sexually exploited under - age girls in council run care homes. Recently the Lord Mayor-elect and chairman of Birmingham's Central Mosque was forced to step down because he said forced marriage was not a problem and lied about dealing with horrific cases of domestic abuse.
The MWNUK urged Labour leaders to investigate "systematic misogyny displayed by significant numbers of Muslim male local councillors" and suggested that Muslim men within Labour had been allowed to operate under the "patriarchal 'biradari' system".
"They don't like women to be heard, to be empowered," a group spokeswoman told BBC2's Newsnight, explaining how in Labour dominated councils talented Muslim women had been harassed out of top positions. In the examples given, the party had effectively allowed the men to enforce Sharia principles; ensuring women could not act freely without the permission of male guardians.
Optician Fozia Parveen claims her efforts to become a Labour councillor in Birmingham in 2007-8 were scuppered by Muslim men in the party: "At the time, I was aware of a smear campaign against me, they said that I was having an affair with one of the existing councillors. I was quite taken aback. People were turning up at my family home trying to intimidate my mum."
She claimed Muslim men who were members of the local Labour party were behind the efforts to prevent her from standing.
---
Landmark Report Explodes The Myth Of Economic Benefits From Mass Immigration
The Contribution politicians and left wing hand wringers claim is by migrants to Britain's economy are "modest" compared to their long term costs, while mass migration depresses wages and harms GDP growth, a report on the findings of research led by a respected academic has found.
November 2015
How A Secretive Elite Created The EU To Build A World Government
Voters in Britain's referendum need to understand that the European Union was about building a federal superstate from day one
As the debate over the forthcoming EU referendum gears up, it would be wise perhaps to remember how Britain was led into membership in the first place. It seems to me that most people have little idea why one of the victors of the Second World War should have become almost desperate to join this "club". That's a shame, because answering that question is key to understanding why the EU has gone so wrong.
Most students seem to think that Britain was in dire economic straits, and that the European Economic Community – as it was then called – provided an economic engine which could revitalise our economy. Others seem to believe that after the Second World War Britain needed to recast her geopolitical position away from empire, and towards a more realistic one at the heart of Europe. Neither of these arguments, however, makes any sense at all.
Europe
Why Are Bigots So Offended By Being Called Bigots? As in the case of Iain Lee, the accusation of 'bigotry' seems to be more offensive than the actual bigotry which prompts it
German Scientist Confims Climate Change Ia A Politically Motivated Scam
Even as the inbred idiot Prince Charles was babbling to a hand picked audience about the skid marks in his underpants being caused by Climate Change, a somewhat more scientifically literate person, Dr. Friedrich Karl Ewert, a retired geologist and data computation expert, has confirmed what those of us dubbed 'climate deniers' have been telling you for years ...
War On Cash: Pin Numbers will be obsolete within five years, we will pay with mobile or fingerprints instead.
The War On Cash gathers more momentum as political, business and academic elite attempt to advance and agenda that will destroy individual freedom and privacy and give them total control of our lives and finances via technology.
Iran Releases Video Alleging the US, Israel and Allies were Behind Isis and the Paris Attacks
A video released by the office of Iranian Supreme Leader Ali Khamenei entitled, "Who Was Behind the Paris Attacks" alleges that it was the US, Israel and their allies who helped create ISIS in order to further their own interests
Opposition Party to Sue Austrian Government Over Complicity In People Trafficking
We have reported previously that in their eagerness to complete the genocide of Europe's white working classes, the political and business elites are prepared to make a mockery of their own laws. One way in which this has been done is by turning a blind eye to people trafficking so that the entry of illegal immigrants to Europe would not be slowed by national law. We can't claim credit for the action reported here, we have very few Austrian readers, but it's good to see oyhers are starting to think.
Accept Everything, Question Nothing A chilling poll published in the US has revealed that 40% of those born in the 21st century – the so-called 'Millennials' – believe government should be able to limit speech regarded as offensive to minorities. The older the generation, the more opposed to outlawing aspects of free speech. The 35-50 'Gen X' group approval of such a move was 27%; for the Baby Boomers (51-69), approval dropped to 24%, whilst the oldest age group asked (70-80) registered just 12% approval.
European Governments Hold "Secret" Meeting To Dismantle Borderless Travel Since the spring of this year, when numbers of migrant flooding across the European Union's border illegaly began to rise exponentially we have predicted that the resultant crisis would bring about the end of the Schengen Agreement - under which 28 EU nations operate open internal borders, unravels in the face of the overwhelming flow of refugees fleeing the war-torn Mid-East
Afghan troops defect to Taliban in Helmand
According to news sources in Pakistan, up to sixty five Afghan soldiers, trained and armed by US and European military advisers, have defected to the resurgent Taliban, taking their weapons and equipment with them. Another 88 are reported to have been killed in heavy fighting between Taliban irregulars and government forces in the southern province of Helmand.
WW3 US GOVERNMENT wants a WORLD WAR 3
The situation in Syria has always been a proxy war between the United States and Russia, and that is even admitted by the mega news networks who don't ever dare to mention Obama's secret orders demanding support for the Syrian rebels back in 2011 (in order to crush the Putin-backed Assad).
German Ministers Preparing 'Putsch' Against Merkel - SpiegelSenior ministers in Germany are no longer trying to reach a compromise on Immigration with German Chancellor Angela Merkel. Traditional political allies and supporterswhose loyalty could be taken for granted are gradually becoming her main opponents. The German Chancellor is not only losing power over the refugee crisis in Europe, but she is also unable to manage her own government, German magazine Der Spiegel wrote ...
Putin Lines Up The Big Guns As Obama 'Shoots Golf' And Kerry Vacillates
Things are getting serious (and very dangerous) in Syria. ISIS do not have warplanea and SAMs are not effective against ground troops so this latest Russian move can only be interpreted as a warning to the USA
Paris Horror Demonstrates Limits On Tolerance And Need For Border Controls As the lawless criminal scum imported by Merkel in her efforts to suck up to Obama threaten to turn Germany into a third world human cespit, it seems public opinion in European is waking up.
posted by Tapestry
Tajammu Al-Ezza brigade fighters on an anti-aircraft weapon inspect the sky for helicopters loyal to Syrian President Bashar al-Assad in the Hama countryside, May 6, 2015. (photo by REUTERS/Mohamad Bayoush) How the Syrian regime forces are attacking opposition under Russian cover HAMA, Syria — The Syrian regime launched a broadscale attack against the opposition …
President Barack Obama will hold a meeting at the White House on Friday with experts from both political parties to discuss the Trans-Pacific Partnership, White House spokesman Josh Earnest said on Friday. The meeting will include four former Secretaries of State -Henry Kissinger, James Baker, Colin Powell and Madeleine Albright – among others.
Cameron's Hopes For EU Membership Reforms For UK Torpedoed By Tusk
David Cameron's hopes of winning serious concessions on sovereignty, border controls, contributions, trade agreements, human rights and labour laws so he could claim to have won a better deal for Britain by the time the in / out referendum starts next year European Union suffered an early blow when European Council President Donald Tusk warned that reaching a deal would be "very tough" ...
Cameron's Hopes For EU Membership Reforms For UK Torpedoed By Tusk
US Debt Is Three Times More Than You Think
http://www.informationclearinghouse.info/article43366.htm "The Hill" - The former U.S. comptroller general says the real U.S. debt is closer to about $65 trillion than the oft-cited figure of $18 trillion. Dave Walker, who headed the Government Accountability Office (GAO) under Presidents Bill Clinton and George W. Bush, said when you add up all of the nation's unfunded liabilities, the national debt is more than three times the number generally advertised. "If you end up adding to that $18.5 trillion the unfunded civilian and military pensions and retiree healthcare, the additional underfunding for Social Security, the additional underfunding for Medicare, various commitments and contingencies that the federal government has, the real number is about $65 trillion rather than $18 trillion, and it's growing automatically absent reforms," Walker told host John Catsimatidis on "The Cats Roundtable" on New York's AM-970 in an interview airing Sunday. The former comptroller general, who is in charge of ensuring federal spending is fiscally responsible, said a burgeoning national debt hampers the ability of government to carry out both domestic and foreign policy initiatives. "If you don't keep your economy strong, and that means to be able to generate more jobs and opportunities, you're not going to be strong internationally with regard to foreign policy, you're not going to be able to invest what you need to invest in national defense and homeland security, and ultimately you're not going to be able to provide the kind of social safety net that we need in this country," he said. He said Americans have "lost touch with reality" when it comes to spending. Walker called for Democrats and Republicans to put aside partisan politics to come together to fix the problem. "You can be a Democrat, you can be a Republican, you can be unaffiliated, you can be whatever you want, but your duty of loyalty needs to be to country rather than to party, and we need to solve some of the large, known, and growing problems that we have," he said. **************************************************
Russia Wins While West Spins
http://www.informationclearinghouse.info/article43359.htm Like a good laundering machine, the Western media operate an efficient spin cycle for rinsing out dirty water. No sooner had Russia's foreign ministry issued a fairly straightforward statement on Syria's political future this week, then Western media news outlets were getting all in a lather with the spin that Moscow was preparing to hang Syrian President Bashar al-Assad out to dry. What that reaction shows is that these outlets are dutifully laundering the political agenda of their governments. That agenda seems to involve getting Russia to implement, unwittingly, the Western objective of regime change in Damascus. Russian foreign ministry spokeswoman Maria Zakharova was quoted by Russian news agency ITAR-TASS as saying that the Syrian leader's hold on power was not a matter of principle for Moscow. She also spoke about other important issues: the imperative to respect the sovereign right of the Syrian people to decide the political future of their country; and that regime change in Syria would usher in even greater disaster from terrorism and refugees. However, it was the words on Assad that got picked up and thrown into the spin cycle with haste. Britain's state broadcaster, the BBC, issued a breaking news flash with the headline: '
Russia says keeping Assad not crucial
'. While American channel CNN adverted that: 'Russian leaders were opening the door for Assad's exit'. Such so-called news items are laughably becoming more like commercial breaks. Commercial breaks between, well, more commercial breaks. Low on intelligent content and pitched to get viewers to buy somebody's tawdry product. There was nothing further to back up either report on BBC or CNN – only a selective, speculative interpretation of the words from the Russian foreign ministry. There was no mention of the sovereign right of the Syrian nation nor of the global-scale disaster if regime change were to take place. Just a seemingly puerile gaze at the words about Assad's staying in power not being «a matter of principle» for Moscow. What the Russian foreign ministry spokeswoman actually said was this: «We have never said Assad's staying in power is a principled aspect. We are saying that the change of regime in Syria could become a disaster not only on a local or even regional scale, but, with account for that problem with refugees that we have now, this could become a big black hole». Russia had already warned about Western media «juggling with its words» over Syria, and in particular on attempts to wilfully distort its policy. Following the Vienna summit last weekend on Syria, there was Western speculation that Moscow had tacitly agreed to Assad relinquishing power.
Russian Foreign Minister Sergey Lavrov sternly dismissed
then what he called were «rumours». «I heard that the rumours are being spread already that it has been or will be agreed that Assad will step down in some period of time. This is not the case,» said Lavrov. If Western media were to provide a journalistic service instead of laundering their governments' political agenda then they might have reported that Russia's position is rightly centred on the sovereignty of Syria and on the defeat of foreign-backed terrorism in that country. That Moscow is saying that the question of Bashar al-Assad staying in power, or not, is not a matter of principle is simply stating that Russia does not view the Syrian leader as a life-long president. Assad's presidency will be subject to the democratic will of the people, which is the all-important sovereign point. What is so controversial or enigmatic about stating that? Nothing, unless there is a mischievous will to misconstrue. Put another way, if Russia had said instead that Assad staying in power was a matter of principle for Moscow, then the Western media would no doubt have gone into double-spin mode and claimed that the Kremlin was dictating that the Syrian leader must remain in presidential office forever – regardless of the will of the electorate. One can imagine the headlines in that scenario: 'Putin lays down law to Syrian people' and so on. Of course, Western media spinning is hardly new and the consequences of the latest dash to misinterpret will no doubt be as fleeting as a soapy bubble. But the alacrity with which Western media outlets operated on the issue is instructive. Russia's military operation in Syria to protect the state and its sovereignty from foreign-orchestrated mercenary terror groups has dealt a devastating blow to Washington's covert military agenda of regime change. That agenda, instrumented by the deployment of mercenary terror groups,
predates the outbreak of violence in Syria
in March 2011 by several years, as uncovered by American journalist Seymour Hersh. Also as disclosed by former French Foreign Minister Roland Dumas, as well as leaked US diplomatic cables indicate from as early as 2009. Washington and its allies are now being compelled to use a political means to achieve what they couldn't otherwise pull off by covert military means – because of Vladimir Putin's bold intervention in Syria, beginning on September 30. Recall, too, that US Secretary of State John Kerry
demanded last month
, with typical haughtiness, for Russia to «bring Assad to the negotiating table». Not that there is much to discuss as far as Washington, London or Paris are concerned. Assad has to go, in their arrogant view, sooner or later. By going into so-called «diplomacy mode», as opposed to covert terrorist-supporting mode, what the Western imperial overlords expect is for Russia to comply with a political framework concocted in order to push Assad from power. That modus operandi is a negation of Syrian sovereignty, of course. And Russia is much too intelligent to be hoodwinked by these Western charlatans.